33 Best Things To Do in Puerto Escondido, Oaxaca in 2023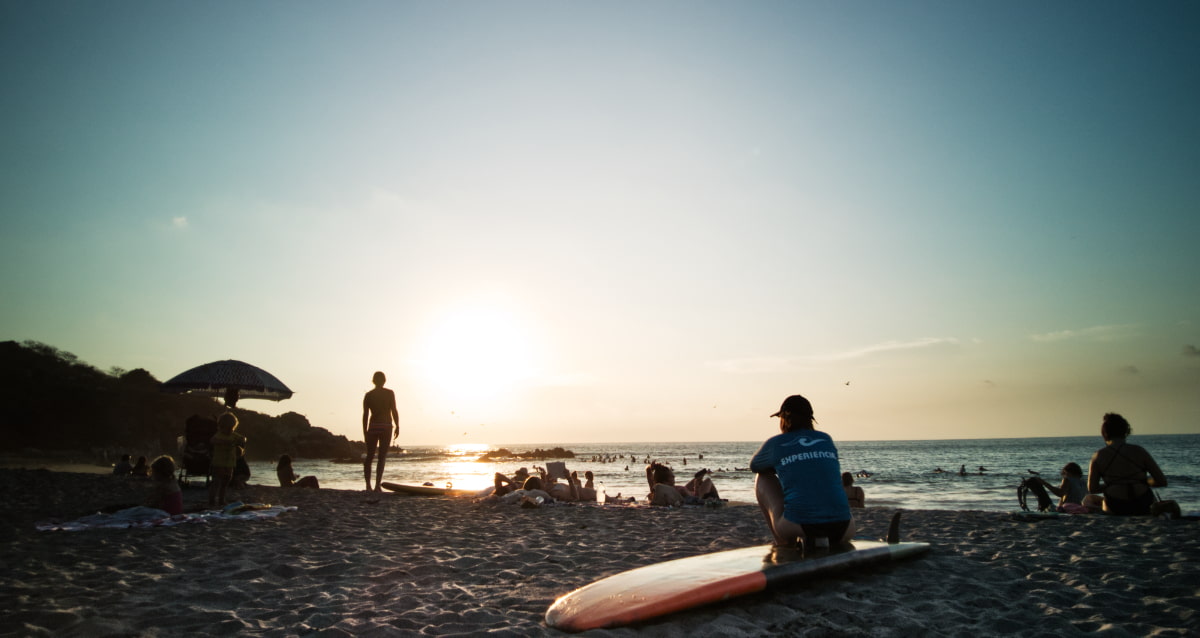 If you're looking for what to do in Puerto Escondido, you're in the right place. This Mexican surfing town quickly became one of my favorite destinations on the Oaxacan coast.
There is no shortage of things to do in Puerto Escondido, Mexico. There are beautiful beaches, amazing wildlife, world-class surfing, and incredible day trips nearby.
Not to mention it's in the state of Oaxaca which is known for producing some of the best food and mezcal in Mexico. And this comprehensive guide will prove that you don't need to be a surfer to enjoy this beachside destination.
A trip to Puerto Escondido will appeal to just about everyone due to the wide range of activities available.
I attribute some of this to the distinctly different areas of the city – Centro, Rinconada, Zicatela, and La Punta. But no matter which of these areas you prefer to stay in, most are a quick walk, taxi, or colectivo ride away from the best things to do.
I've curated this list of Puerto Escondido activities from my multiple visits to the town, so let's dive into the top things to do in Puerto Escondido, Oaxaca.
This article may contain affiliate links. This means if you click a link on our blog and make a purchase, we earn a commission at no additional cost to you. For full information, please see our disclosure.
1. Discover the Beaches of Puerto Escondido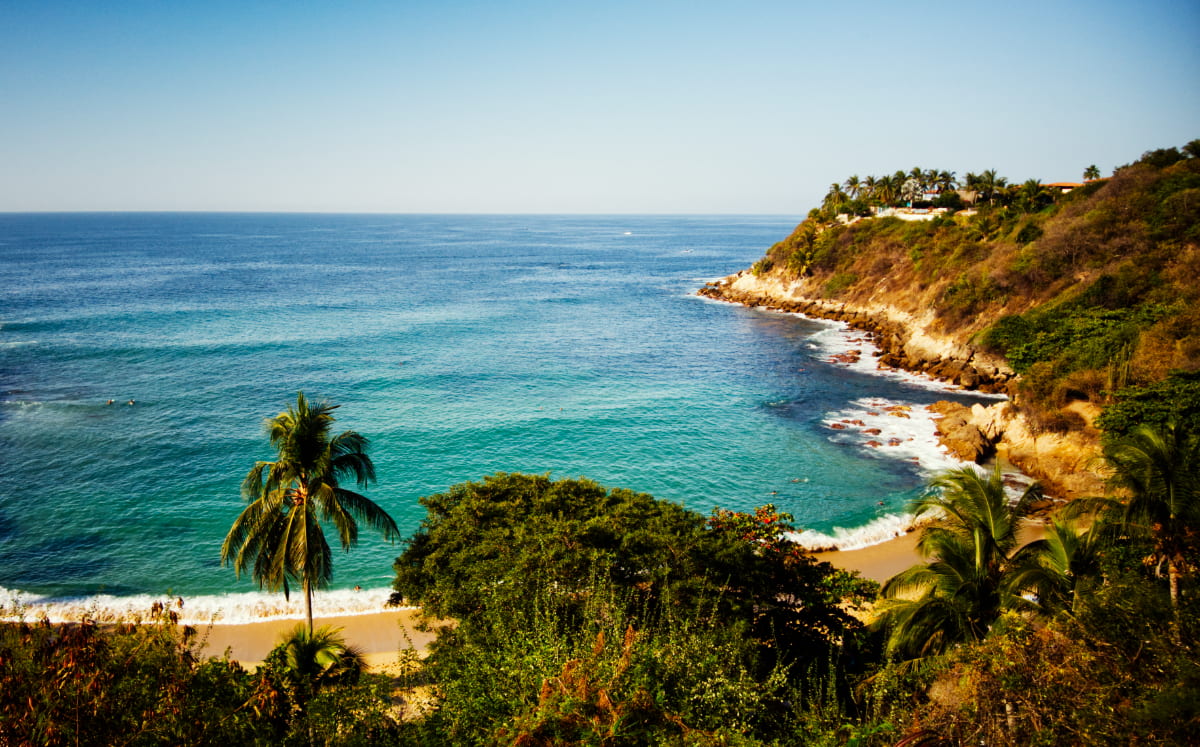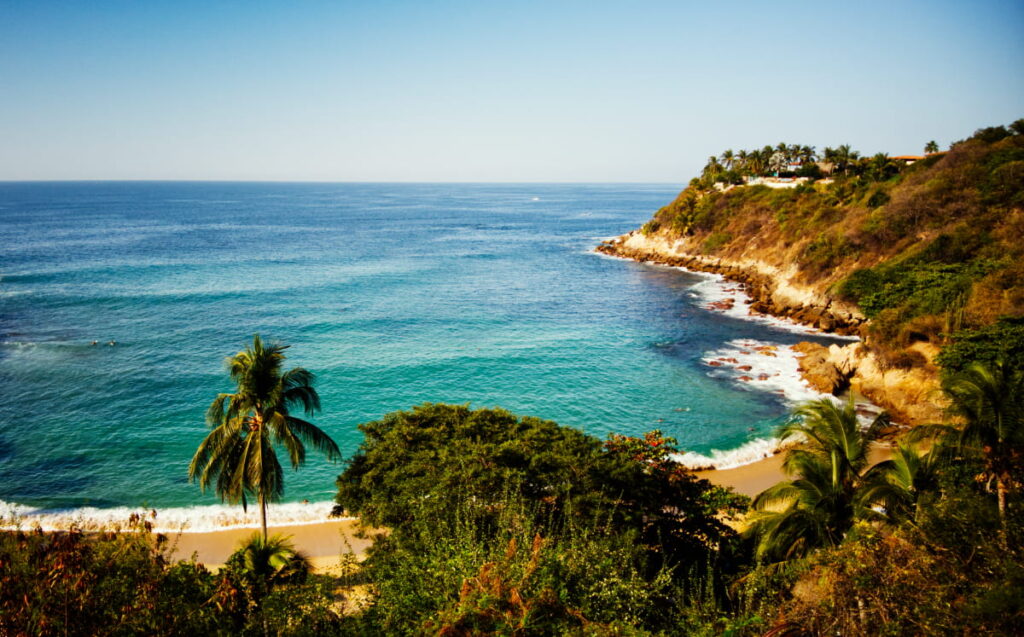 No doubt a beach day (or two, or three) will top your list of the best things to do in Puerto Escondido.
In my opinion, Puerto Escondido has the most accessible beaches of any location along the Oaxacan coast. In this guide to Puerto Escondido beaches, I detail a different beach for every day of the week.
In fact, most places to stay in Puerto Escondido are within walking distance of a beach. This means you could plan a beach day every day and well, that's the main reason you're here, isn't it?
2. Dolphin, Turtle, and Whale Watching Tour
If you're visiting during whale season, roughly November – March, you should absolutely book this whale watching and dolphin tour in Puerto Escondido. After a slightly disappointing tour with others from my hostel, I booked this one a few days later which was a much better experience.
Before you go, it is important to keep in mind that nothing is guaranteed in nature. Most tours will guarantee dolphin and turtle sightings. The whales prove to be a little more elusive. If you want to learn more, read about my experience whale watching in Puerto Escondido.
But the established tours are in communication with each other throughout the morning. If someone spots a whale, they will share the location with each other so that everyone has the best experience possible. This is definitely one of the best things to do in Puerto Escondido.
3. Turtle Release at Playa Bacocho
Every evening before sunset, a large group of people gathers at Vive Mar, located on Bacocho Beach.
The mission of this organization is to protect the sea turtle eggs that are laid on Oaxacan shores. For a 100 peso donation, you are given a jicara (dried gourd bowl) with a baby sea turtle inside. Everyone then lines up to release their baby turtle.
The volunteers stand nearby to throw sand at any predators (mainly birds and crabs) that show interest in the hundred or so baby sea turtles as they journey across the sand into the ocean.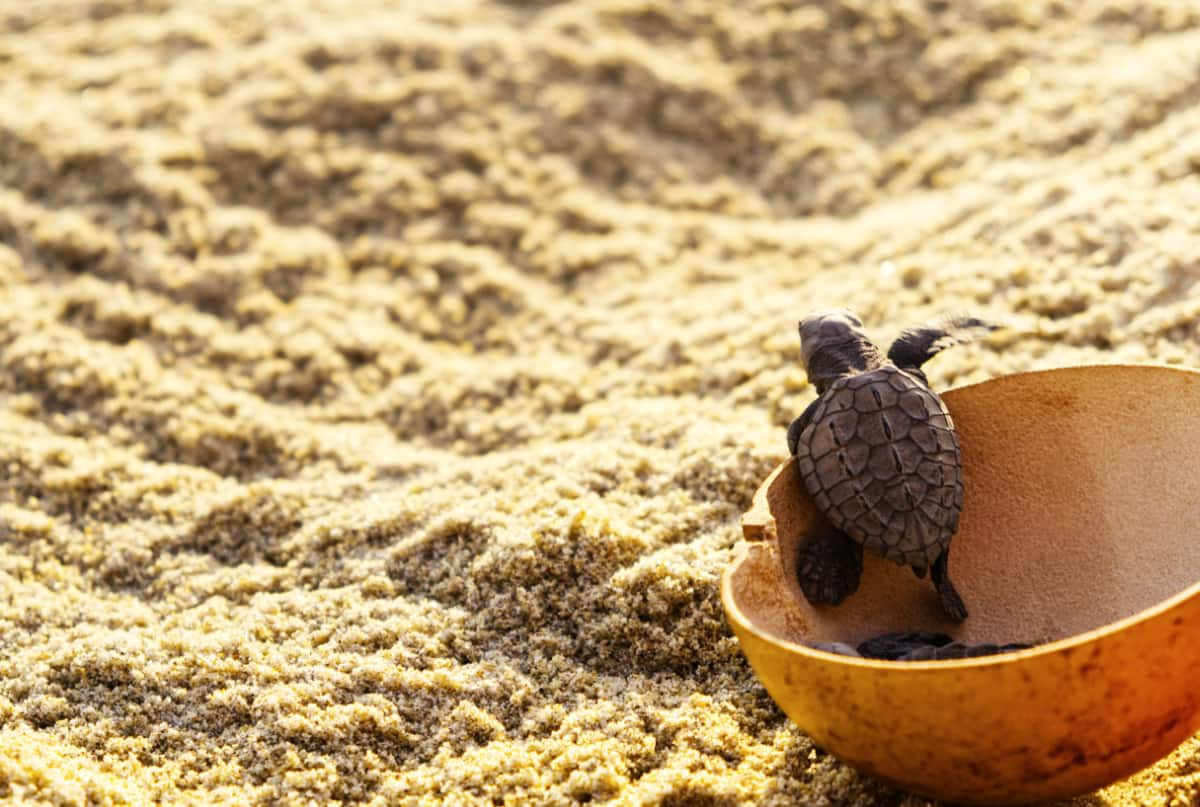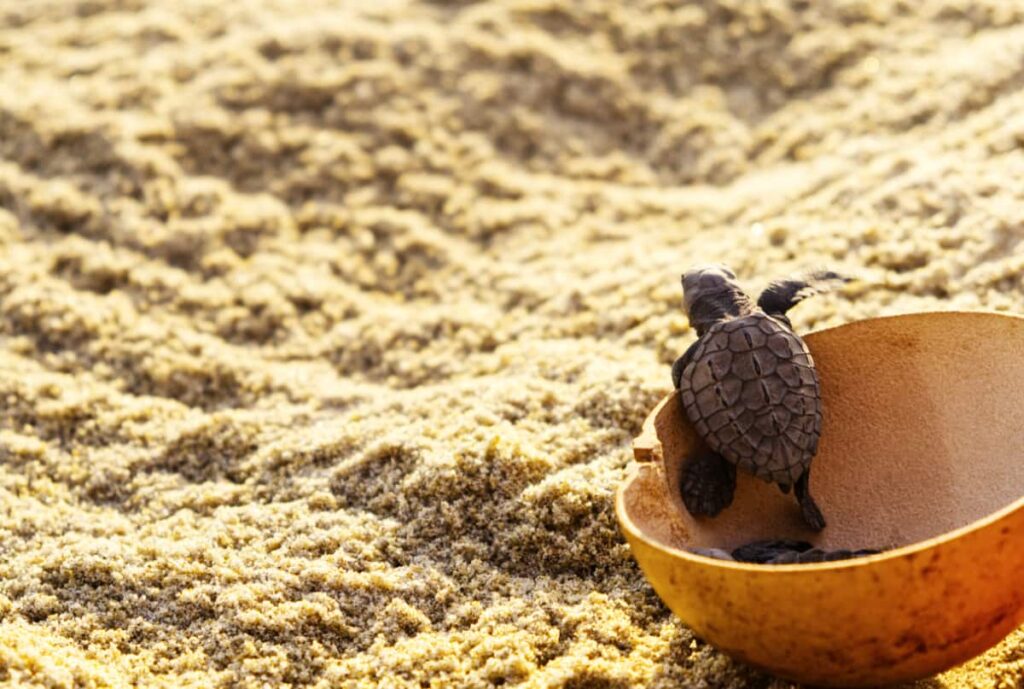 The turtle release in Puerto Escondido is one of the best things to do. The passion of the volunteers is evident as they explain a little about the different types of sea turtles in Oaxaca in English and Spanish.
To participate, arrive at Bacocho Beach at 5 pm. Vive Mar is located just to the right of the main entrance to the beach.
If you prefer a semi-private experience with more explanation about the turtles, you can book this turtle release experience which includes transport to a different beach further west with a similar organization.
4. Watch a Movie on the Beach
After the turtle release on Playa Bacocho, stay to watch the sunset and a movie. On Wednesday nights during high season (mid-November to mid-May), Villasol Beach Club hosts Cine en la Playa.
Each week a different movie is projected onto a screen set up on the beach. Plant yourself in a provided chair next to the ocean and enjoy a movie under the stars.
The entrance to the movie is free. Food and drinks are available for purchase. You can check which movie will be playing on their Facebook page. They typically announce the movie a couple of days before.
5. Taste the Food of Oaxaca
The state of Oaxaca is known for its incredible food. And there's no better way to discover a city's food scene than by taking a food tour led by a local.
I definitely recommend you book this Oaxacan Food Tour at the beginning of your trip so that you have time to return to your favorite places. These tour guides are passionate about Oaxaca and the history of Puerto Escondido.
The tour includes a visit to the local mercado where you'll learn about the different foods in Puerto Escondido. You'll also visit a variety of restaurants and food stands in the city while the guides explain the origins of what you're tasting.
6. Visit a Mezcal Distillery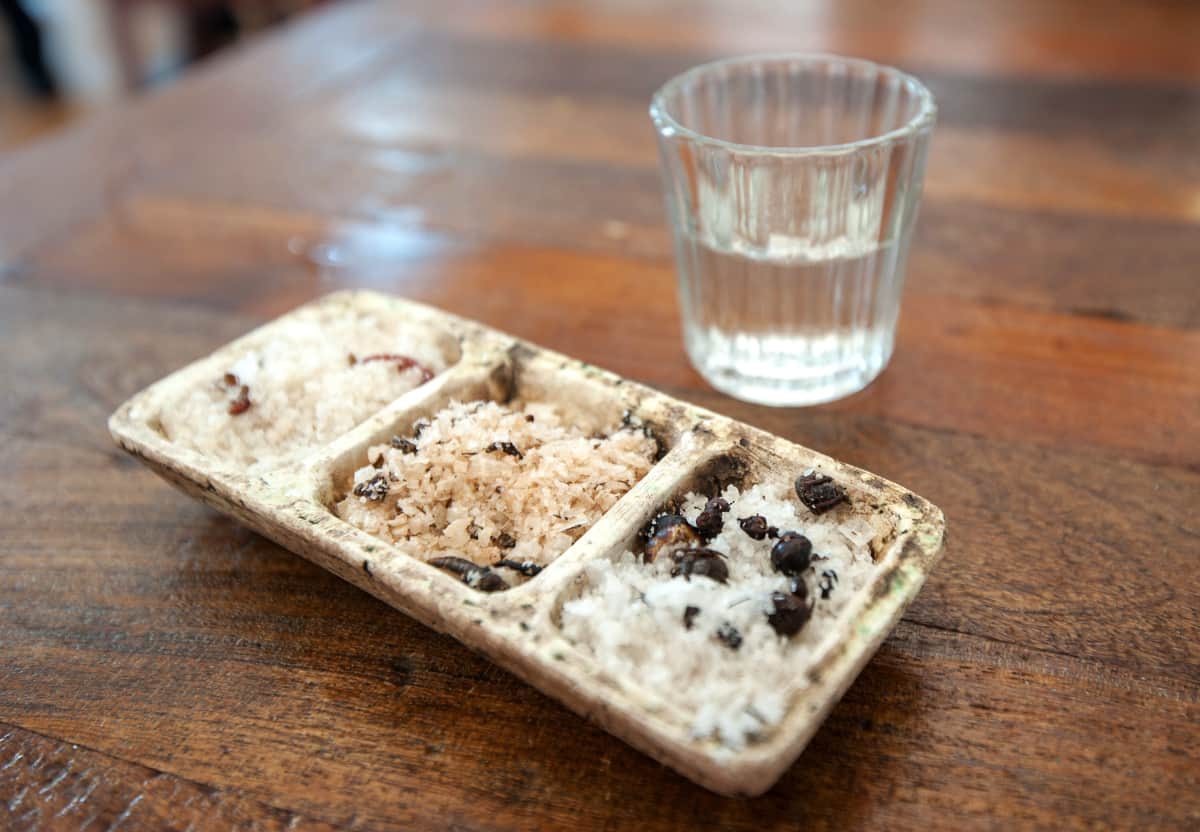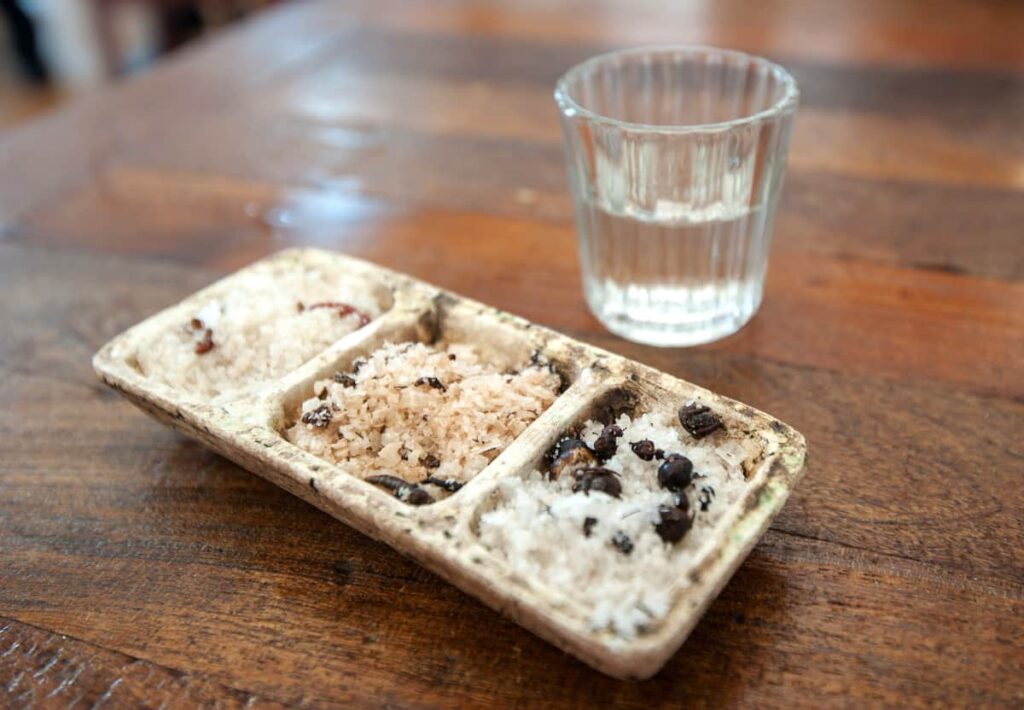 The state of Oaxaca is also famous for mezcal, a distilled liquor made from the agave plant. Only nine states in Mexico are allowed to produce mezcal and Oaxaca is by far the most well-known. A distillery tour is a perfect way to learn (and taste!) this trending spirit that has a long history in Mexico.
Antoine starts this mezcal distillery tour with an interactive presentation about mezcal, its history, and the process of production. You'll then tour an ancestral mezcal distillery just outside of Puerto Escondido that has been in the same family for six generations.
There you'll be able to try 10 different types of mezcal. And mezcal will of course be available to purchase and take home, though you should not feel pressured to buy.
7. Go Snorkeling
The calm bays and clear water on the Oaxacan coast make it a great area for snorkeling. If this is a priority, you will definitely want to visit the beaches of Huatulco, where I would argue snorkeling is better. But there are a couple of places to go snorkeling in Puerto Escondido.
In fact, there's an opportunity to snorkel from the shore at two of my favorite beaches – Playa Manzanillo and Playa Carrizalillo. Both are calm bays, though you will want to be careful of boats at Manzanillo and the rocks at Playa Carrizalillo.
8. Learn How to Surf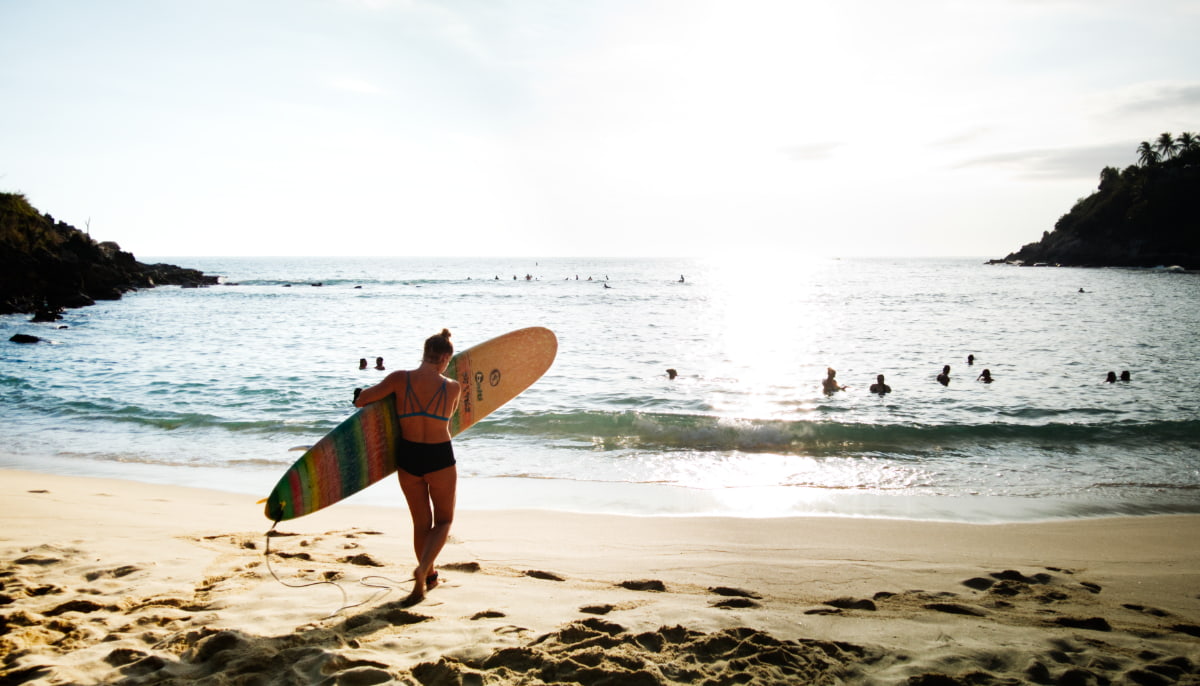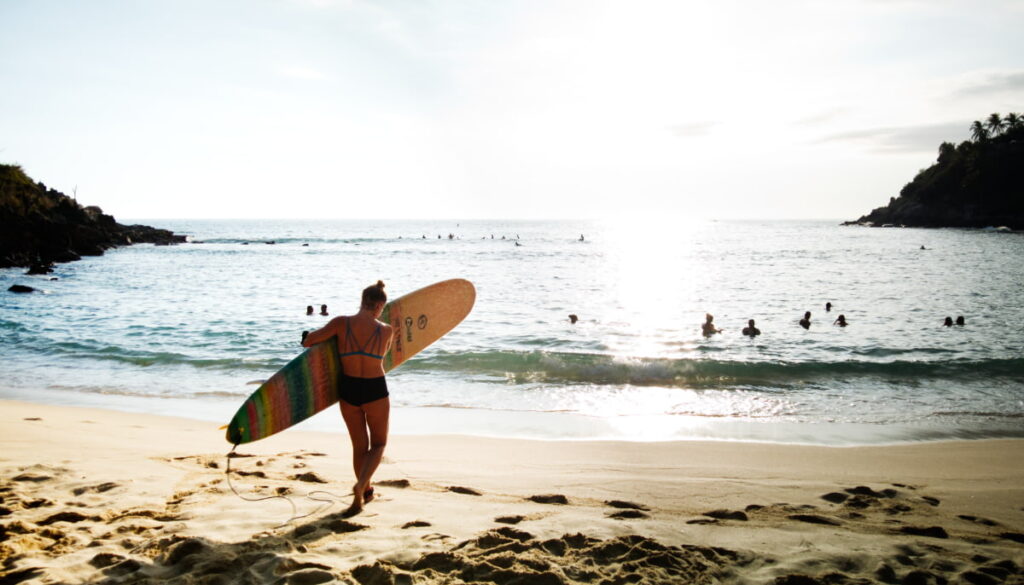 Surfing is one of the most popular things to do in Puerto Escondido. And if you've never tried this sport, it's a great location to learn since there are several surf breaks at various skill levels. You'll find surf lessons at several of the beaches.
But I recommend you book a surfing lesson tailored to your level and experience. This two-hour surf lesson includes detailed instruction and practice before entering the water to start surfing.
9. Watch Surfers Ride the Waves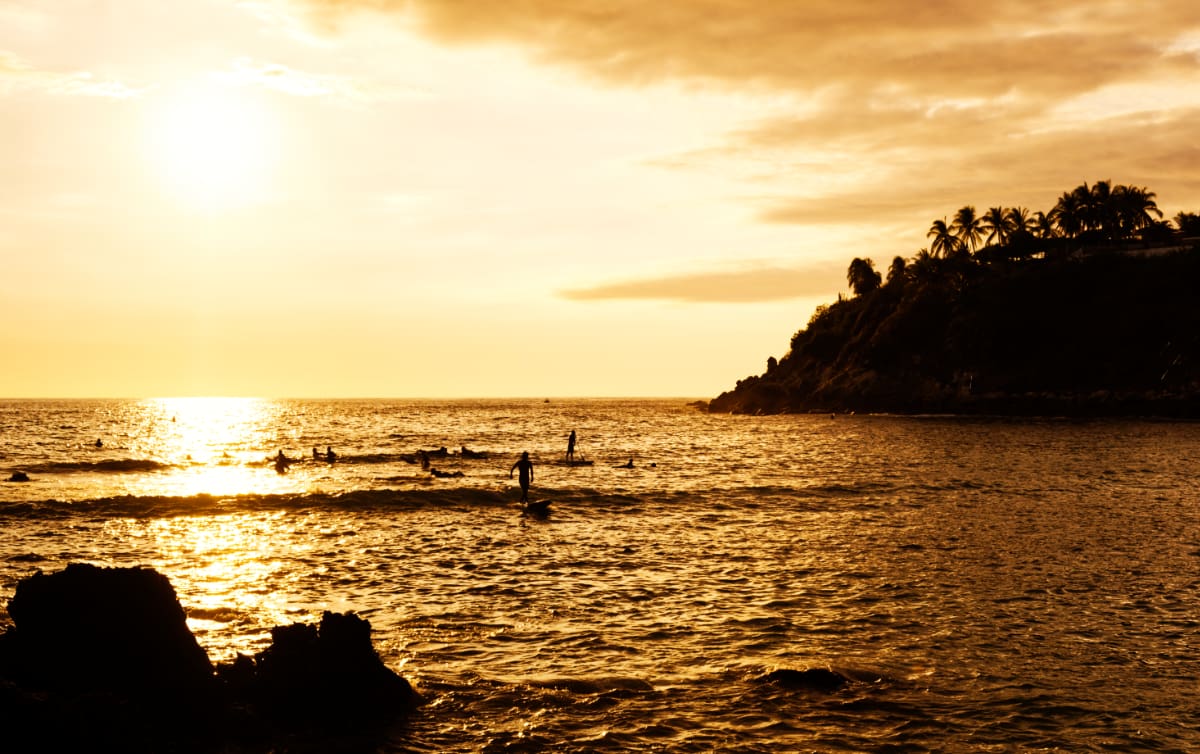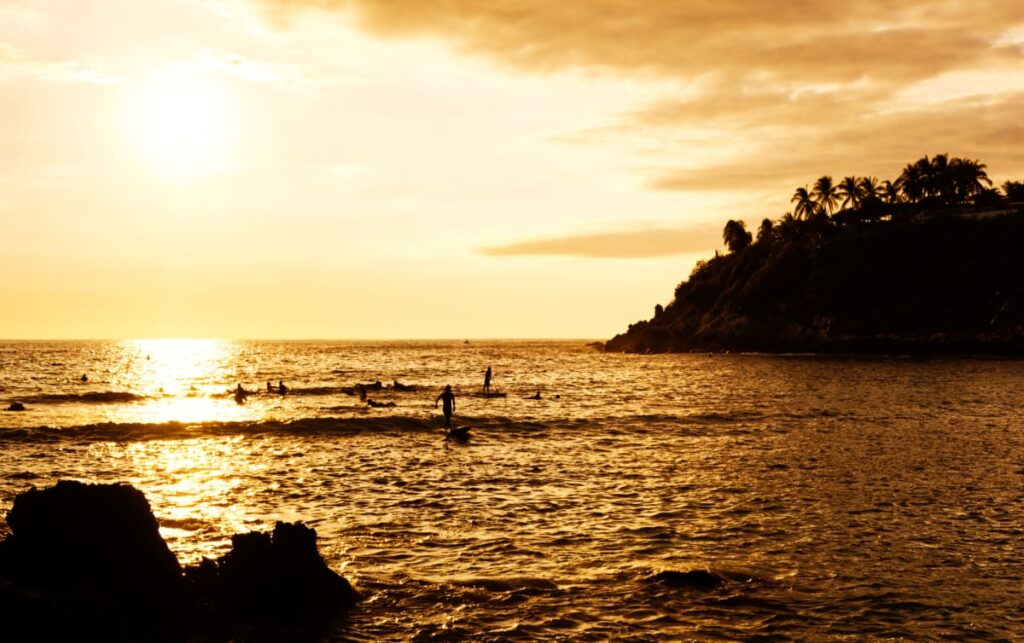 Whether you've decided to take up the sport yourself or not, it's always fun to watch surfers catch a wave. There are several beaches where you can do this, depending on the season and even the day.
In the summer, the most popular is Zicatela Beach, where professional surfing competitions are held during the high surfing season. La Punta is a great place to watch surfers during sunset. And at Playa Carizalillo there are always surfers at the break on the left.
10. Play Beach Volleyball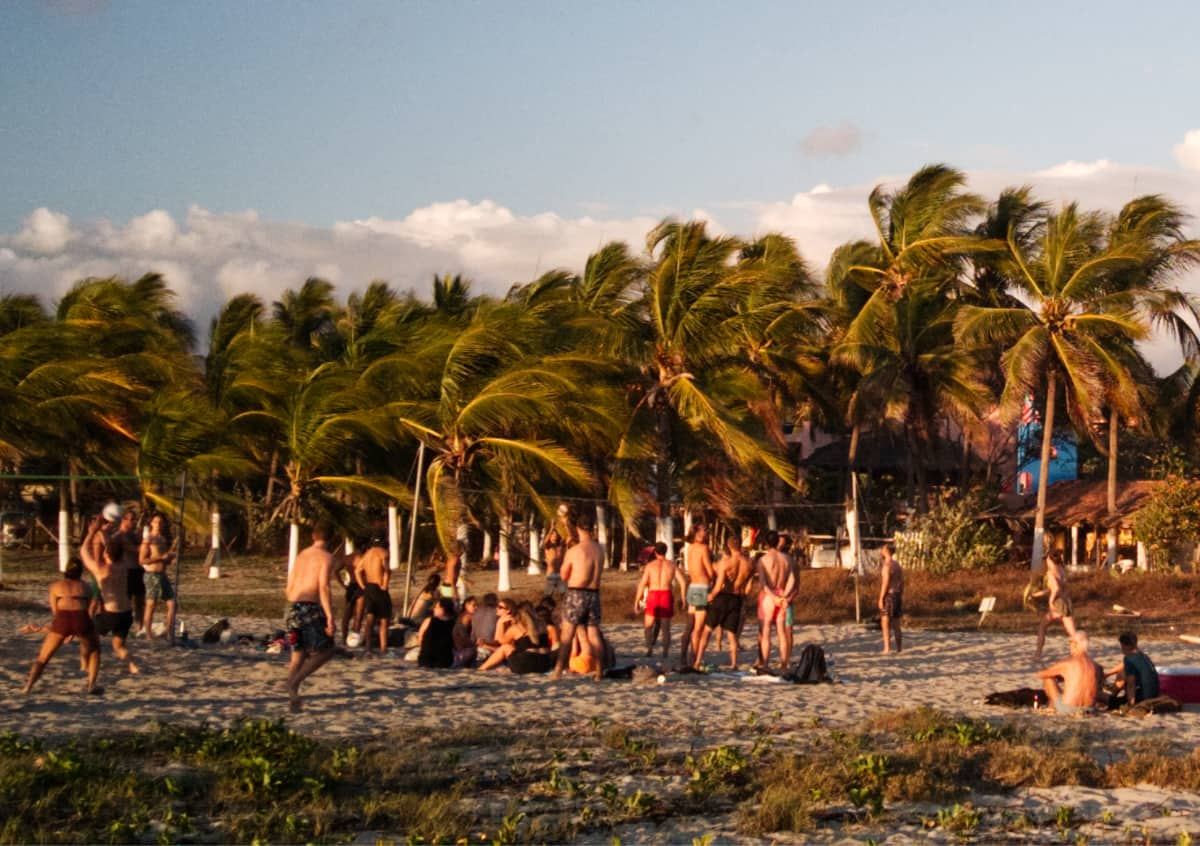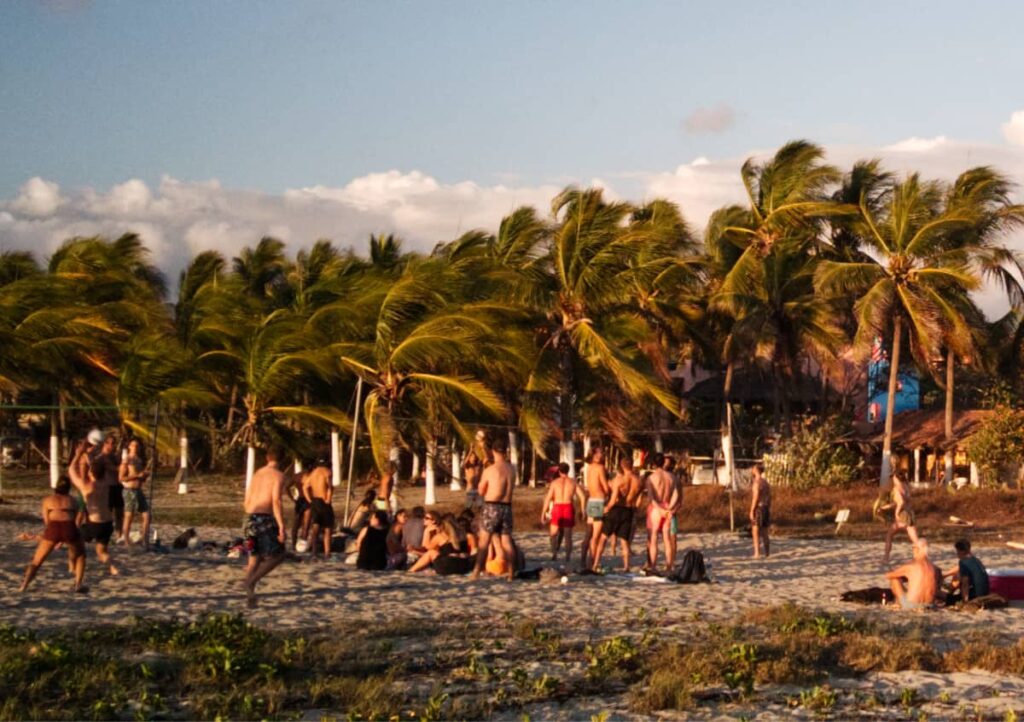 On the long stretches of beach, you can find a friendly game of volleyball every afternoon.
This is especially true in La Punta, though I often saw volleyball games at Playa Zicatela and Bacocho as well. The courts are sometimes but not always associated with a beach club. Just ask if you can join the next game.
11. Sunset Horseback Ride on the Beach
For one of the most romantic things to do in Puerto Escondido, book this horseback ride on the beach for sunset.
You'll start by riding along the Manialtepec River, between fields of livestock and agriculture. At the point where the river meets the lagoon, your guide will help you cross and turn onto the beach for sunset.
This horseback tour finishes with a stop at a local beachside restaurant where you can purchase drinks and a seafood snack if you'd like.
12. Bioluminescence Tour, Puerto Escondido
Go swimming under the starry skies at a lagoon near Puerto Escondido as the sea life lights up the water. You want to book this bioluminescence tour when the skies are darkest (around a new moon is best) so that you can see the chemical reaction called bioluminescence.
It's an amazing phenomenon that is not as uncommon as you might think. If you've ever seen a firefly, you've seen bioluminescence. Yet there's something special about seeing the water around you turn an almost neon blue-green.
The first time I ever swam to see bioluminescence, I was nervous about swimming in a dark lake. But then, the water lights up around you for a magical experience. Just keep in mind that the best time to experience this is near a new moon.
13. Bird Watching in Manialtepec Lagoon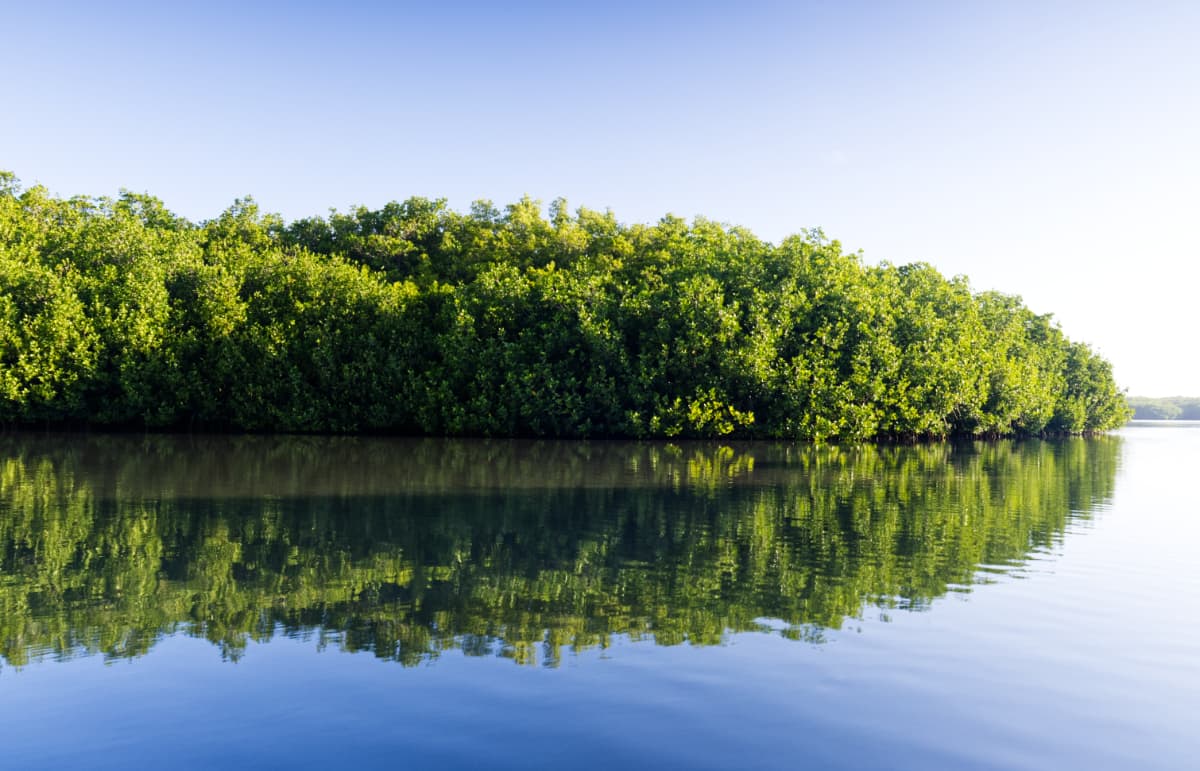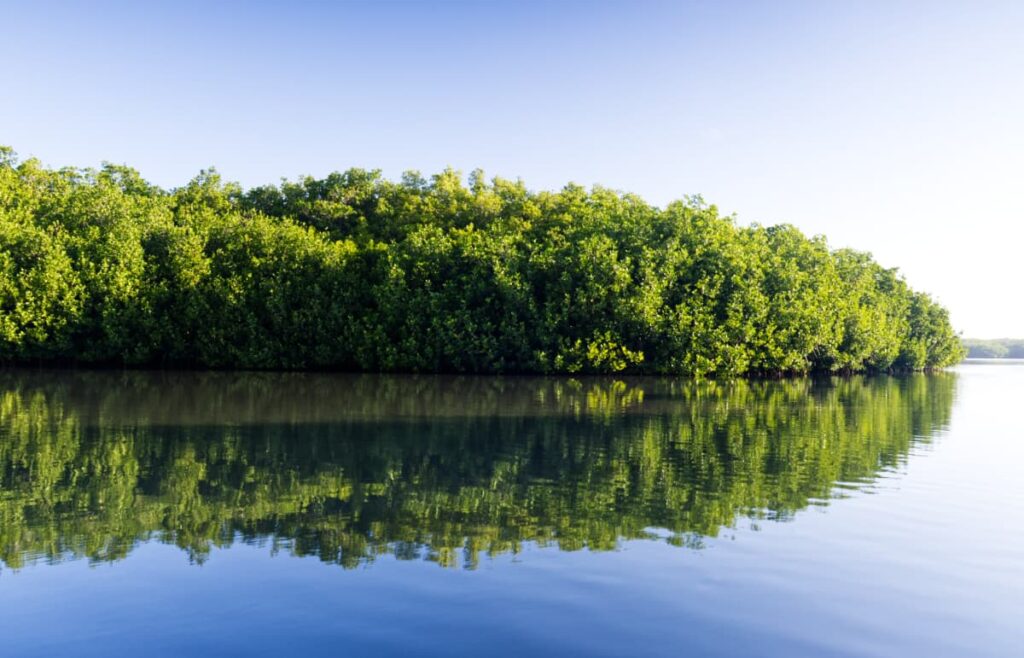 Journey on a peaceful sunrise boat ride of Manialtepec Lagoon, home to a wide variety of birds. From the boat, you and the captain will be able to identify ibis, herons, roseate spoonbills, and more.
It's one of the best things to do near Puerto Escondido even if you're not a birdwatcher. The lush mangroves around Puerto are some of the healthiest I've seen in Mexico.
In addition, when you book this eco-tour, you help create awareness of the importance of the lagoon's ecosystem. Round trip transportation is included, which you'll especially appreciate in the early morning hours.
14. Visit the Local Markets
The local market is a great way to get a glimpse of daily life in a new place. And in Puerto Escondido, there are two – Mercado Benito Juarez and Mercado Zicatela.
Mercado Benito Juarez
The Benito Juarez market is the traditional market in Puerto Escondido and is located in the center of town.
It's a great place to buy fresh fruit and vegetables if you plan on cooking. And its small restaurants, called comedores, are also a great place to eat breakfast in Puerto Escondido.
Mercado Zicatela, Puerto Escondido
This newer market also has fresh fruit and veggies, but the highlight is the panoramic ocean view of Playa Zicatela.
While the building is quite new, Mercado Zicatela has the characteristics of a traditional market blended with some of the best restaurants in Puerto Escondido, many of which have the same view from their dining area.
15. Explore the Dining Scene in Puerto Escondido
There is a surprising variety of restaurants throughout Puerto Escondido, Oaxaca.
Whether you're looking for cheap tacos, local Oaxacan food, fresh seafood, sushi, or other international food, you'll want to read my picks for the best places to eat in Puerto Escondido.
The list is organized by area so you can find the best place to eat no matter what part of town you are in.
16. Walk Along the Andador Escénico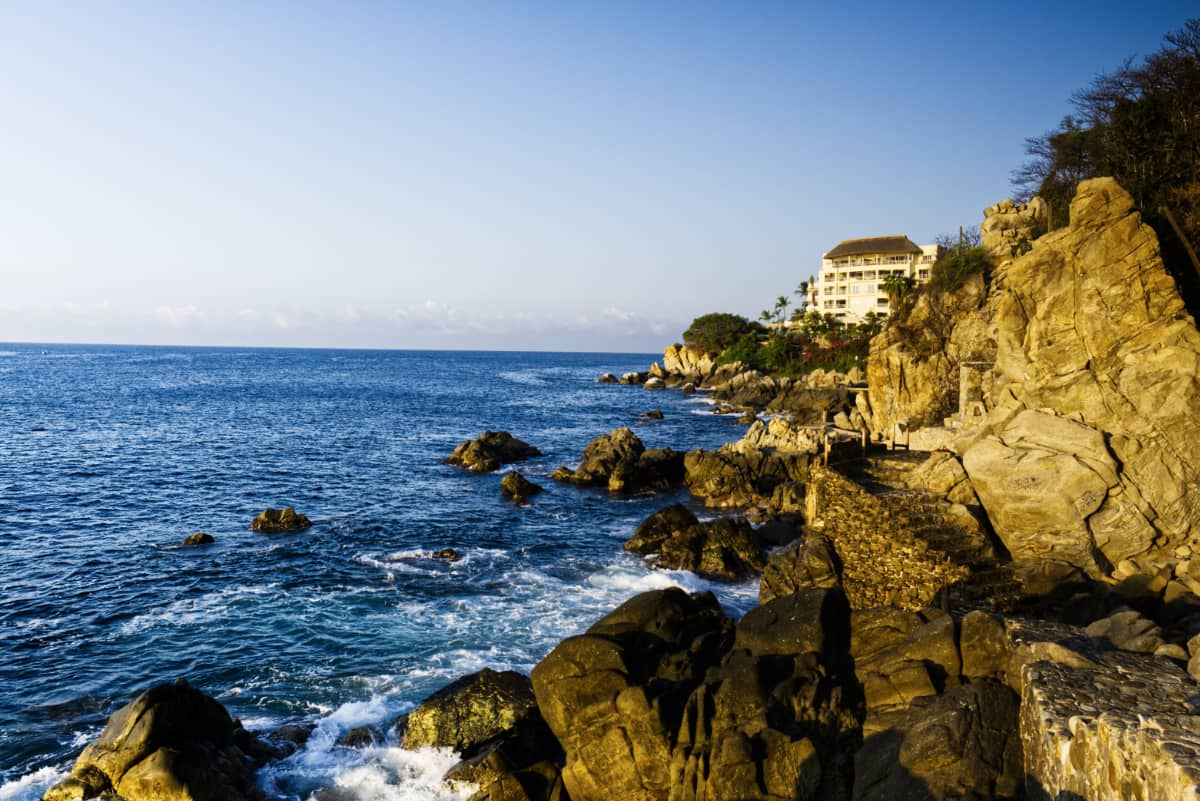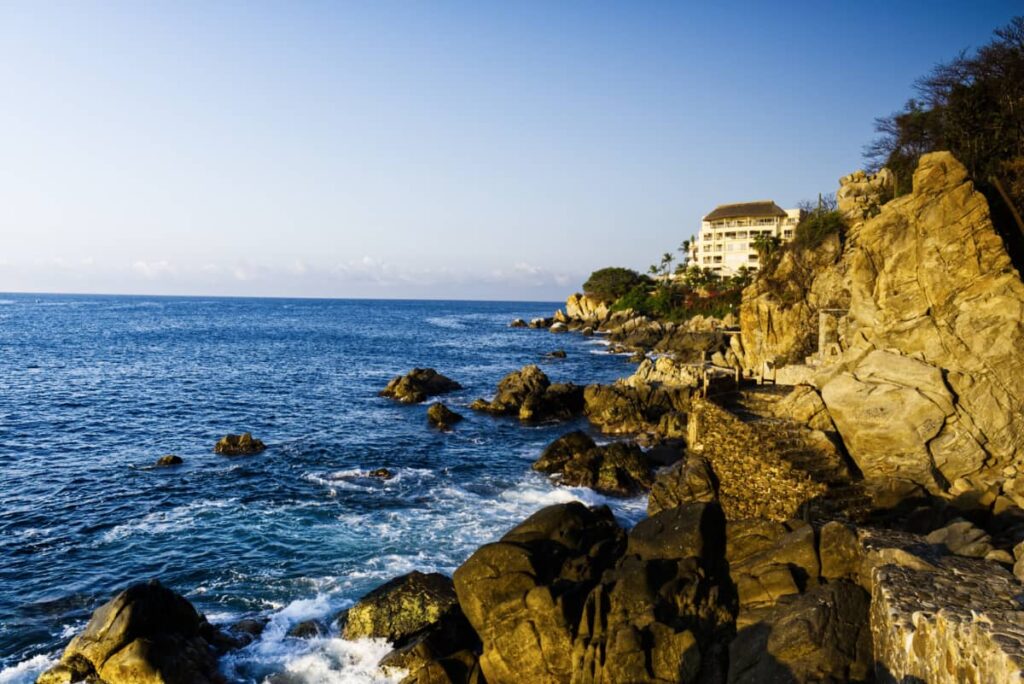 This is a short walk that takes you along the ocean from Playa Principal towards Rinconada. A series of concrete pathways and steps guide the way as the ocean crashes into the rocks below. I highly recommend timing this small hike during sunrise or sunset when the sun is not as intense.
If you want to do the entire walk, you will need sturdy shoes. The elements have taken their toll, creating precarious passages at some points. And you may want to think about the tide and avoid windy days which intensify the waves.
I started this path from here during sunrise. I only made it halfway due to time constraints, but also because it would have required climbing over rocks to continue further. Alternatively, you can start on the other side where the path starts from the beach.
Want to explore more of the Oaxaca coast? Discover these best beaches in Oaxaca.
17. Watch the Sunset Over the Ocean
There are several amazing places to watch the sunset in Puerto Escondido. And due to the way the coast curves around and points to the west, the sunset views are often directly over the ocean.
The following locations are some of the best locations to watch the sunset for various reasons.
Sunset Swim at Playa Carrizalillo
During my last trip to Puerto Escondido, I became enchanted with swimming at Playa Carrizalillo at sunset. Watching the sun dip below the horizon while the golden light reflects in the crests of the waves is magical.
And while this popular beach can be crowded, I was consistently surprised at how few people were in the water for sunset and even more surprised about how many people left before sunset.
Mirador Las Tortugas
This turned out to be one of my favorite places to watch the sunset in Puerto Escondido. Some say it's similar to the sunset at Punta Cometa in Mazunte. While there are similarities, Punta Cometa has a mystical atmosphere and stunning vistas that are hard to beat.
Mirador Las Tortugas is relatively easy to get to. It's located along the western edge of Rinconada with a paved road leading directly to the path down the hill.
The path itself requires some mobility but it's fairly short. If you're unable to climb the path down to the rocks near the crashing waves, you can watch the sunset from the top near the road.
Sunset at Playa Bacocho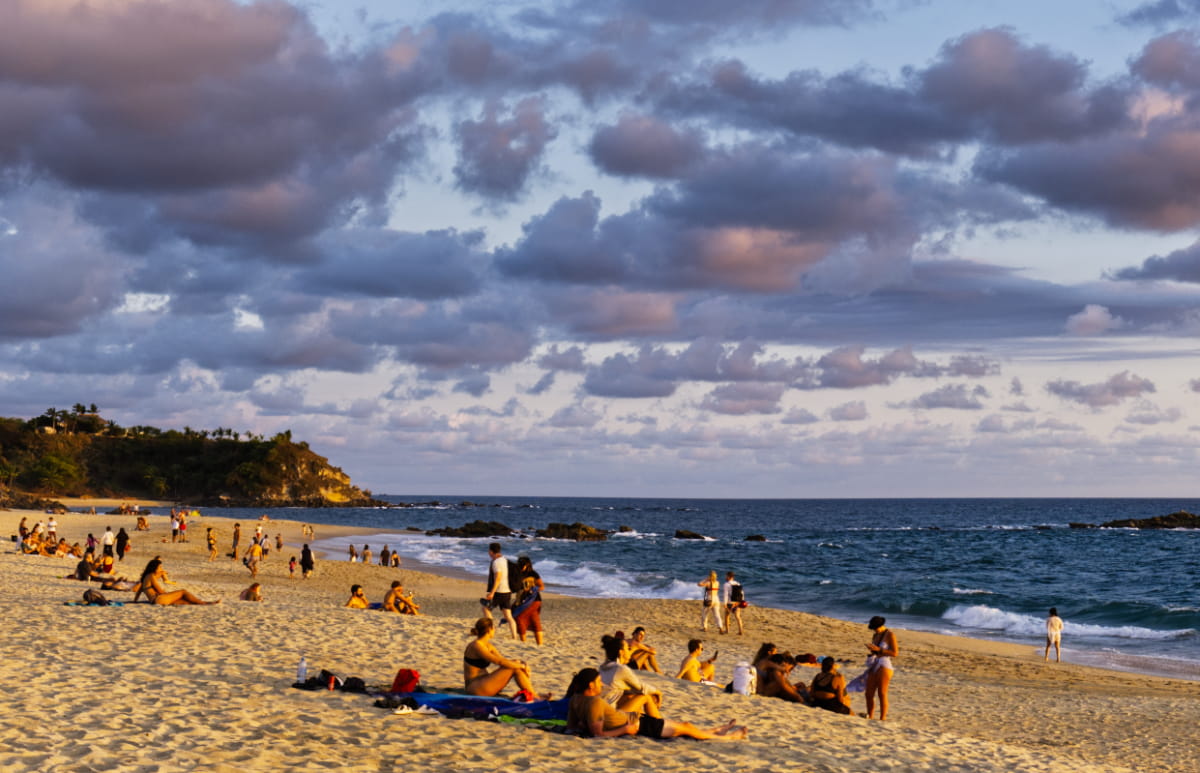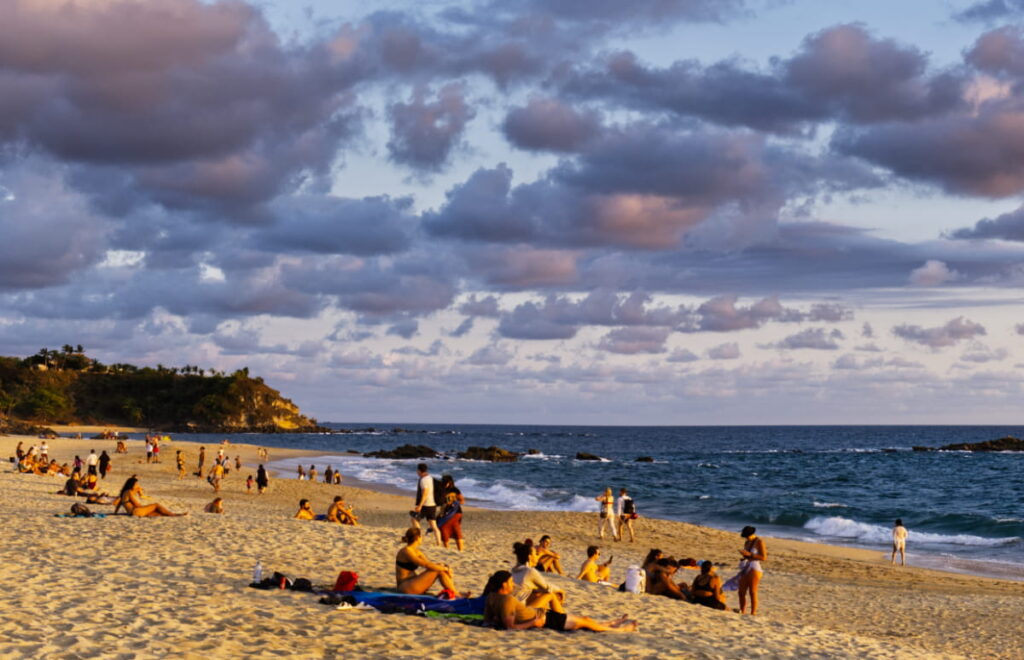 After helping baby turtles start their new life in the ocean, you should definitely take a moment to reflect. Find a spot in the sand and turn towards to ocean to watch the sunset at Playa Bacocho.
I believe I caught a particularly beautiful sunset here. But I also think the wide-open sky and slight turn of the coastline make for a stunning show as the colors fill the sky after the sun dips below the horizon.
Sunset at Playa Zicatela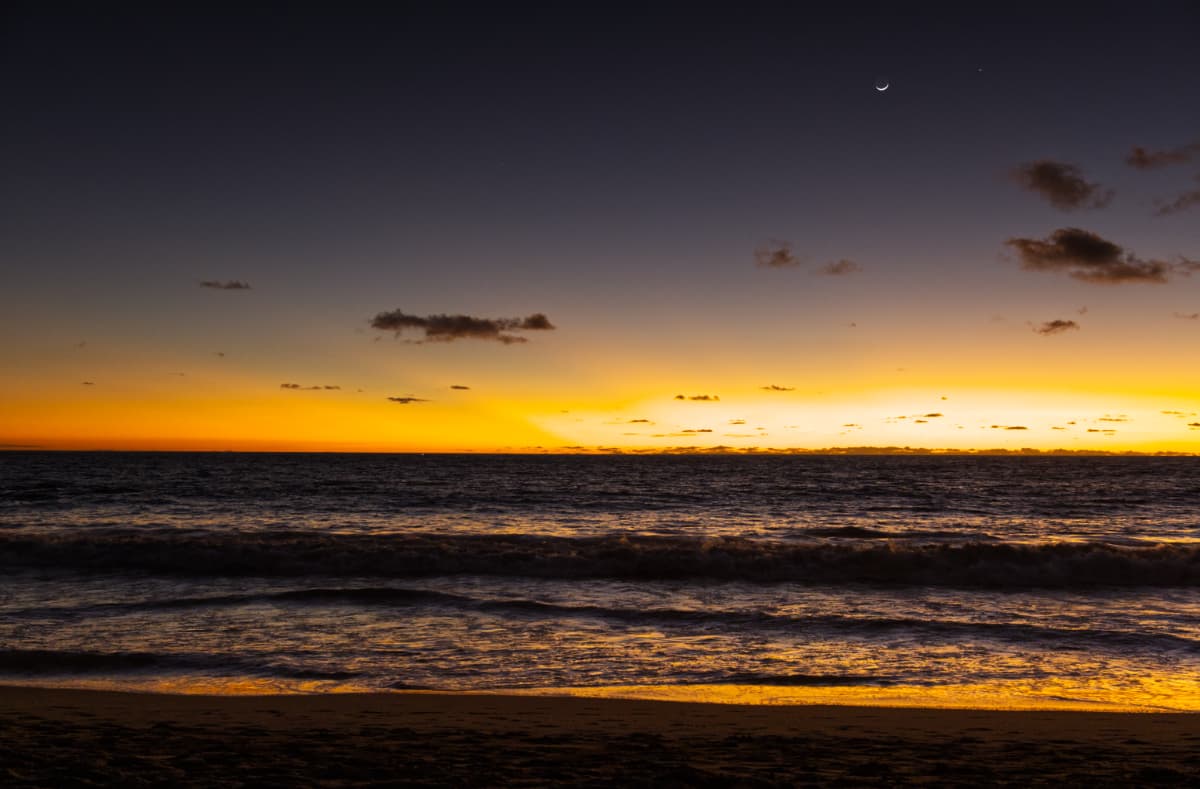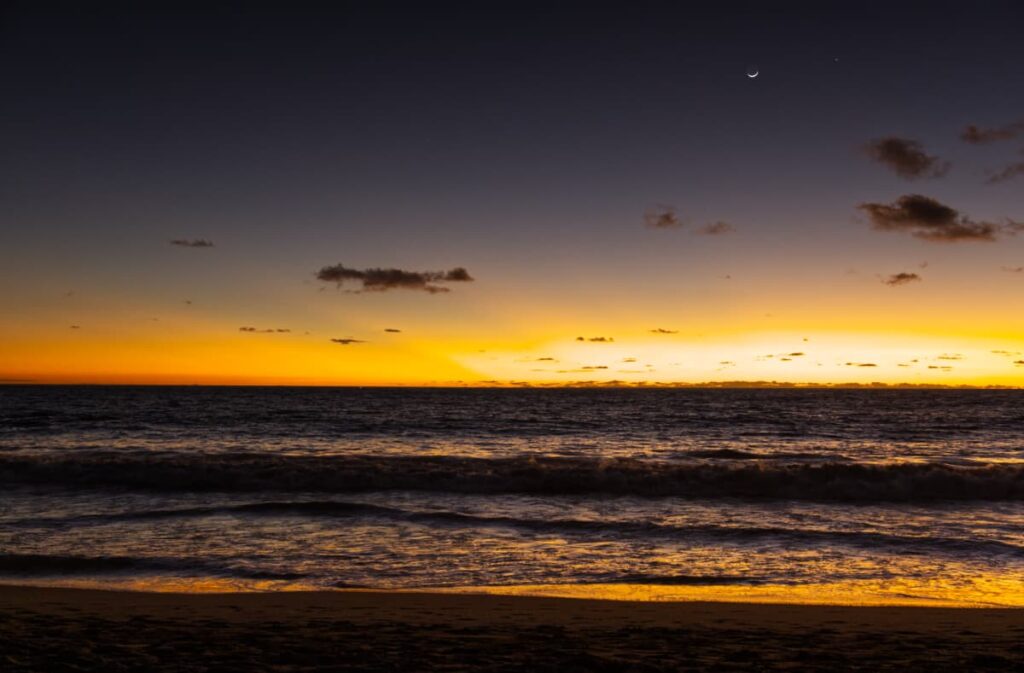 I nearly wrote off this sunset location even though it's one of the most popular places to watch the sunset in Puerto Escondido. At first, I found the straight coastline a little bit boring. But then I watched the sunset on Playa Zicatela a little further down towards La Punta.
With less view of the city, the straight-on sunset above the ocean was mesmerizing. Simply watching the waves come onto shore with the setting sun above is an experience that can't be missed.
Sunset at La Punta
If you walk the main road in La Punta until the end, there's an opening to the beach. It gets busy in the evening as people come to watch the surfers and the sunset. In fact, this is probably one of the most popular places to watch the sunset in Puerto Escondido.
On the left is a large rock cliff with fishermen casting their nets, birds circling overhead, and surfers along the break trying to catch the last waves of the day. The entire scene is lovely as the sun sets over the ocean.
Read Next – Oaxaca to Puerto Escondido: Transportation Options for Every Budget
18. Go Salsa Dancing at Congo Bar
Wednesday nights in Puerto Escondido are for salsa dancing at Congo Bar. This place gets crowded! And even the open-air terrace gets hot.
If you're keen on salsa dancing, arrive early when there is more space. There are drink specials until 11 pm and around midnight, the live salsa music turns to Reggaeton.
What To Do in Zicatela, Puerto Escondido
This area is best known for surfing but there are a few other interesting things to do in Zicatela. Not surprisingly, most revolve around the beach. Zicatela is also known for the best nightlife in Puerto Escondido.
19. Eco Gym on the Beach
If you like to work out while on vacation, what could be more motivating than a gym on the beach? Paradise Gym is an eco-gym located directly on the beach in Zicatela. That's right, you can hear the sounds of the ocean while you exercise.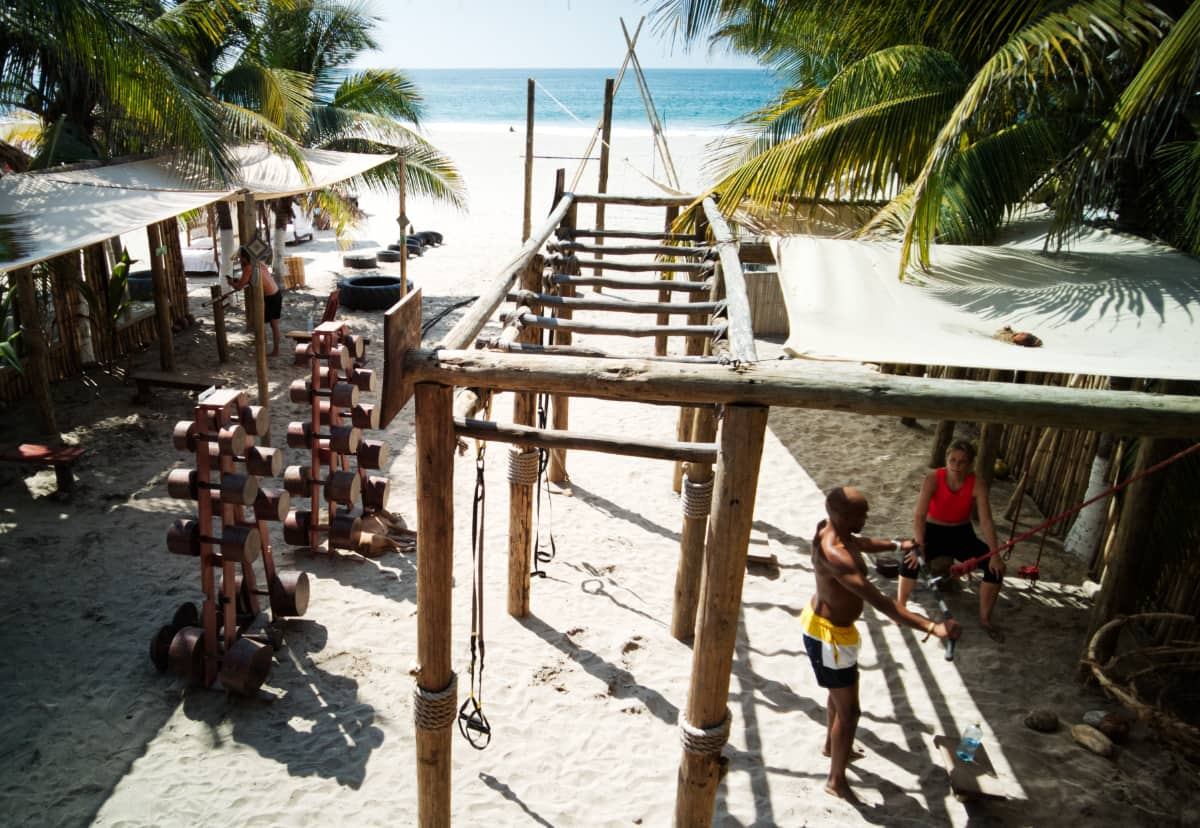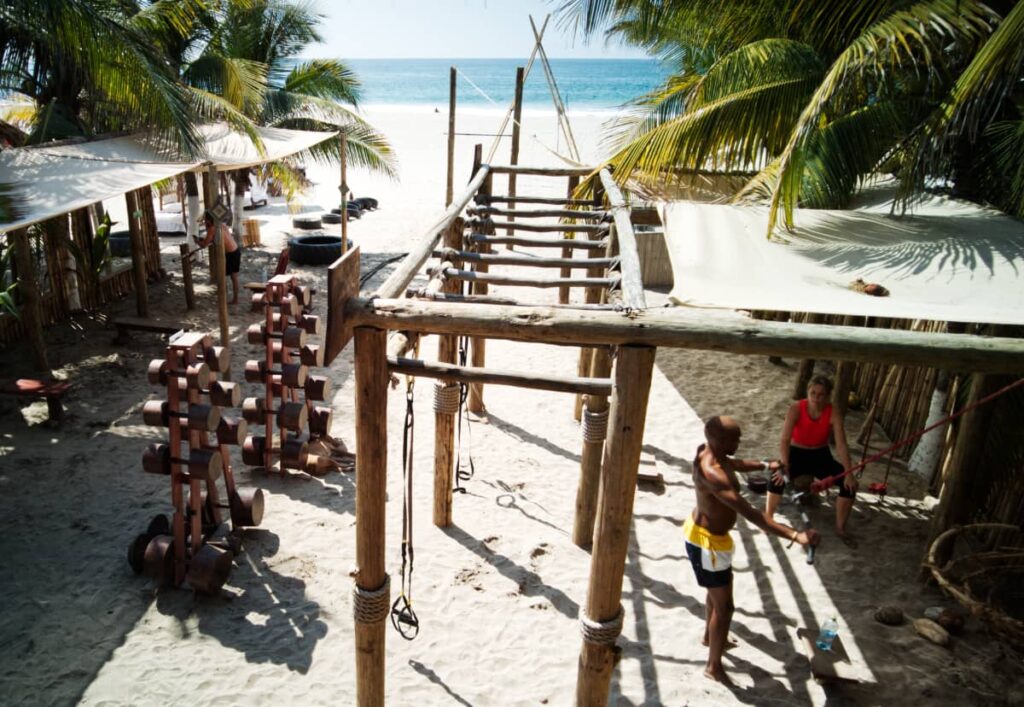 It's a unique concept that features workout equipment made from wood and other natural materials. While the day pass is a bit expensive, the value increases drastically with a week or month pass. And their operating hours (7 am to 7 pm weekdays, 10 am to 5 pm weekends) are plentiful.
They also offer yoga and other classes on the second-story palapa deck. Here you'll find the best views of the ocean. And to top it off, the on-site smoothie bar from Ki'luum means you won't have to leave the beach to refuel after your workout.
20. Play Pool on the Beach
While Playa Zicatela may not be a swimmable beach, it is lined with restaurants and beach bars that ensure a good time.
In fact, you don't even need to leave the beach to play a game of pool. Restaurante Bar Esmeralda is best described as a pool hall with a tropical vibe.
It's located directly on the beach. About a dozen pool tables are set up under the open-air palapa.
It's a nice atmosphere that gets busy in the afternoon and evenings. Keep in mind, the quality and prices of food, beers, and cocktails are pretty standard for a beach bar.
21. Go Skydiving at Playa Zicatela
For an unforgettable experience, go skydiving at Zicatela Beach. You'll take in the views of Puerto Escondido from a different angle – 17,000 feet in the sky.
Skydive Puerto Escondido employs only USPA certified instructors who value safety first. But of course, skydiving comes with its own risks that you should research before you go.
Keep in mind that this skydiving outfit is only open during the high season. During that time, they offer tandem jumps every two hours from 9 am – 5 pm. You'll need to book at least a day in advance.
If you've always wanted to try this exhilarating sport, I can't imagine a better landing than on the beach at sunset.
Things to do in La Punta, Puerto Escondido
Looking for what to do in Puerto Escondido, specifically La Punta? This popular spot is liveliest during the day and early evenings.
There's a big restaurant scene here with a lot of international food. You can read about all my favorites in this post about Puerto Escondido restaurants. Some places stay busy later, though most people venture to Zicatela for nightlife.
22. Hike the Point at La Punta
At the far end of the beach, just past the surf break is a large cliff from which La Punta gets its name. You should definitely take the time to explore this point as I think this is one of the best things to do in Puerto Escondido, Oaxaca.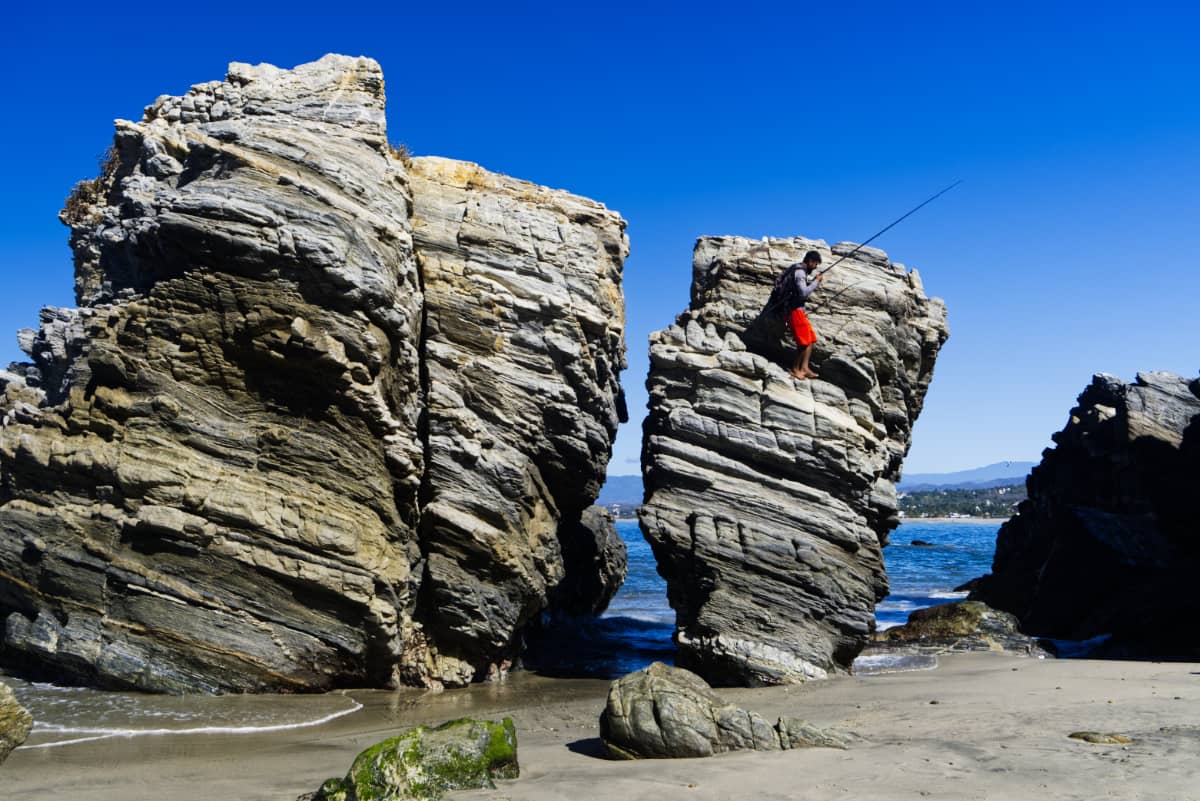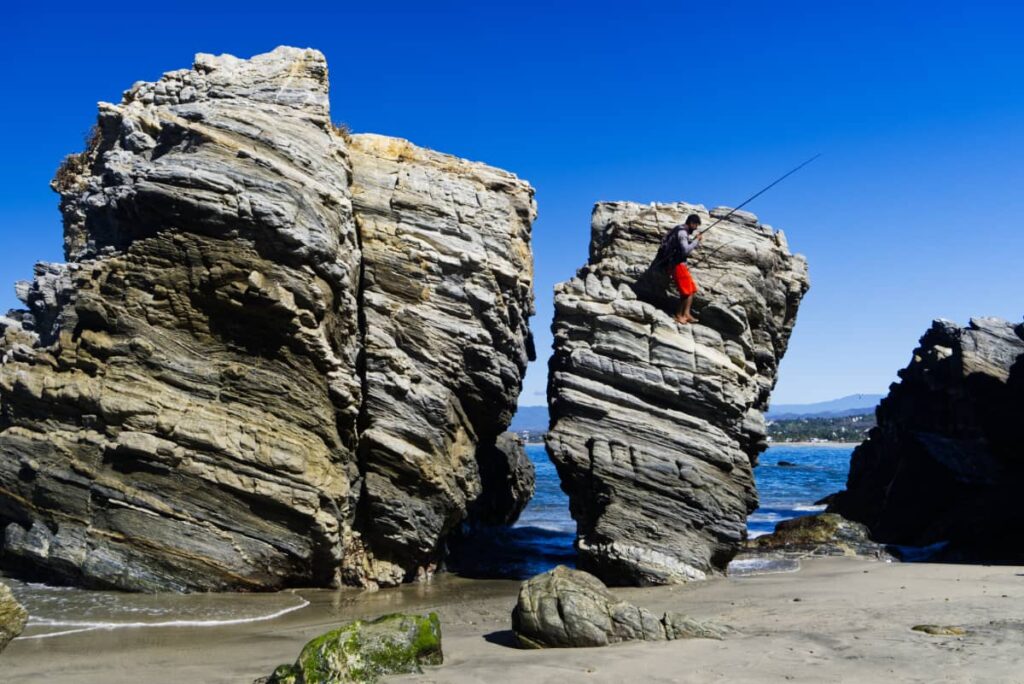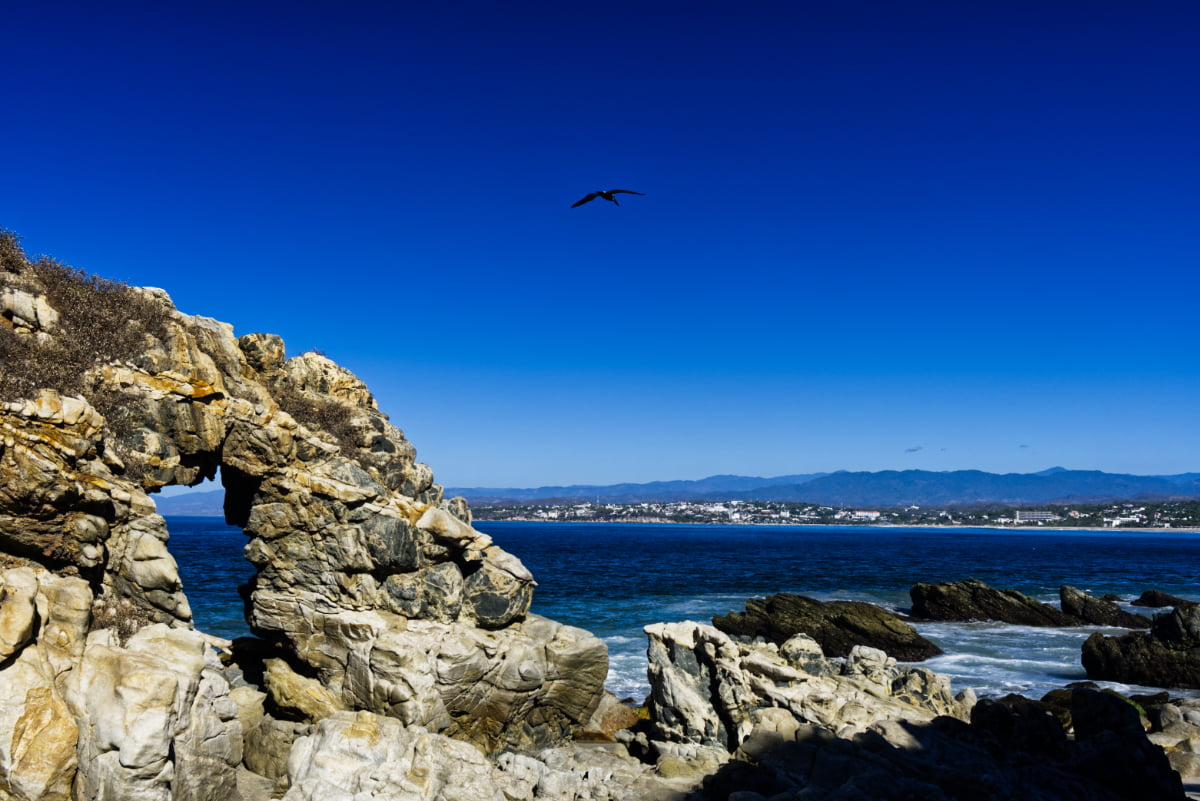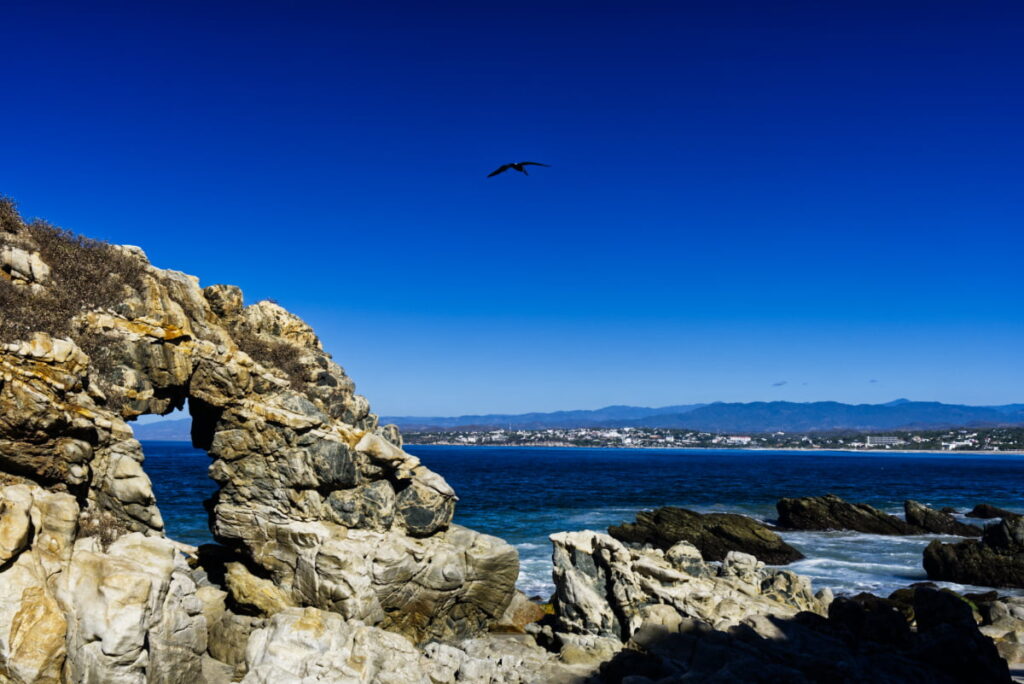 What you'll find is stunning rock formations along a stroll to a more secluded beach. Wander this area in the morning when the soft light illuminates the rocks. Or later in the day when you can frame the beautiful colors of the sunset through the large arch.
To get there, look for a path on the left that leads up the cliff before you get to the small cave area. It's a fairly easy climb that can even be done in sandals.
23. Tuesday Night Trivia at Bonita Escondida
Everyone in La Punta knows that Tuesday night is trivia night at Bonita Escondida, the biggest party hostel in Puerto Escondido.
But the beauty is, everyone's invited.
The open pool and bar area is the ideal location to host this party. There is often a professional giving tattoos and body piercings. When speaking with the manager he told me nearly the entire staff has their nipples pierced!
But back to the trivia. Groups are encouraged to form a team and of course, decide on a fun team name. It's a friendly game that lasts a few hours before nearly everyone heads out to Zicatela for the nightlife.
Bonus: Bonita Escondida hosts a live band on Monday nights. And again, everyone is invited to attend.
24. Thursday Open Mic Night
Every Thursday, Punta Origen hosts an open mic night that starts around 8 pm. This Puerto Escondido activity draws a variety of talented musicians and a crowd of hundreds of people, so it's best to arrive early.
You can grab dinner from one of several restaurants that make up this food court beforehand. In addition, they have a beer plus mezcal special which is oh so very Oaxacan.
Speaking of hostels… If you're planning a trip, you'll want to check out my guide to the best hostels in Puerto Escondido. It includes the top hostels in Centro, Rinconada, Zicatela, and La Punta.
25. Hang out at The Boneyard
Surfing isn't the only board sport in Puerto Escondido. Skateboarding hangs in there too. And at The Boneyard in La Punta, skateboarders are front and center.
You can enjoy a beer or snack while watching skateboarders glide through the large bowl in the center of the bar. The increased energy creates a fun atmosphere.
The space also features a tattoo studio, skate shop, and clothing store. Sometimes there is live music, and I've heard the pina colada is tasty!
26. Sunday BBQ in La Punta
If Sunday rolls around and you're looking for what to do in Puerto Escondido, venture to La Punta for the BBQ hosted at Punta Vida.
This unfinished hostel on the beach hosts a chicken barbeque (with a veggie option), salad, and potatoes. The cost is 200 pesos for food and three beers.
Several of the hostels in Puerto Escondido include this BBQ in their weekly events, so it's always a good time. The food starts just after 6 pm and stops around 8:30 or 9 pm. Offten a DJ plays after.
Day Trips from Puerto Escondido
There are a lot of fantastic things to do near Puerto Escondido due to the geography of the area. In many places, the mountains are close to the ocean and ascend quickly.
As a result, there is a wide variety of day trips from Puerto Escondido. Yet many are relatively close to the city. Let's take a look.
27. Catamaran and Snorkeling Tour of Huatulco
Huatulco is famous for its 9 bays with more than 30 beaches tucked inside. And I think the beaches in Huatulco are some of the most beautiful along the coast of Oaxaca.
The best way to explore them as a day trip from Puerto Escondido is to book this Catamaran tour of Huatulco's bays which includes snorkeling and roundtrip transportation.
28. Explore Other Oaxaca Beach Towns
While Puerto Escondido and Huatulco the most popular, there are several other beach towns in Oaxaca worth exploring. I've detailed a few that make a great day trip from Puerto Escondido below.
You can also book this Oaxaca Coast Adventure tour which visits several of them in one day.
Mazunte
Mazunte has become one of the most popular small towns along the coast of Oaxaca. It draws artists, yogis, and bohemian travelers to its beaches and the sacred hills of Punta Cometa.
The increased tourism has helped to expand the variety of restaurants in Mazunte, including a lot of vegan and vegetarian food. Mazunte also hosts an International Jazz Festival in mid-November.
The holistic offerings have also expanded in Mazunte to include several yoga retreats, women's retreats, and more.
San Agustinillo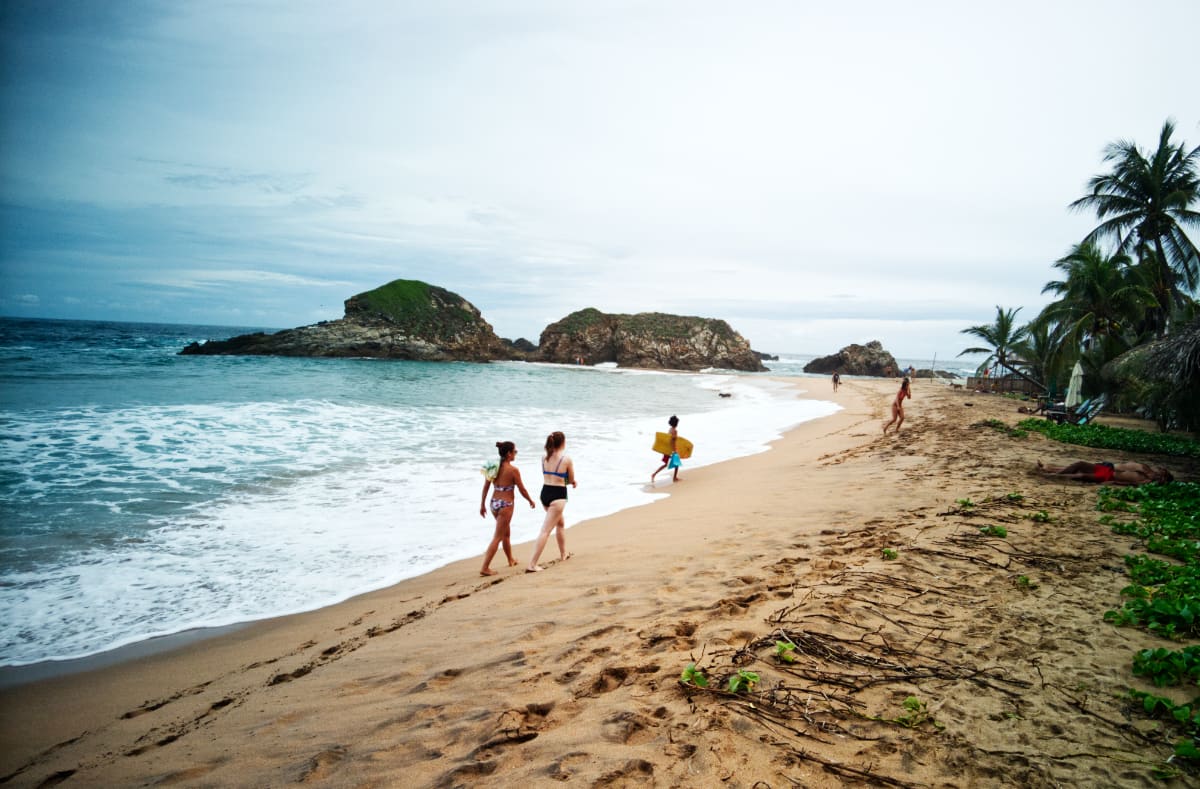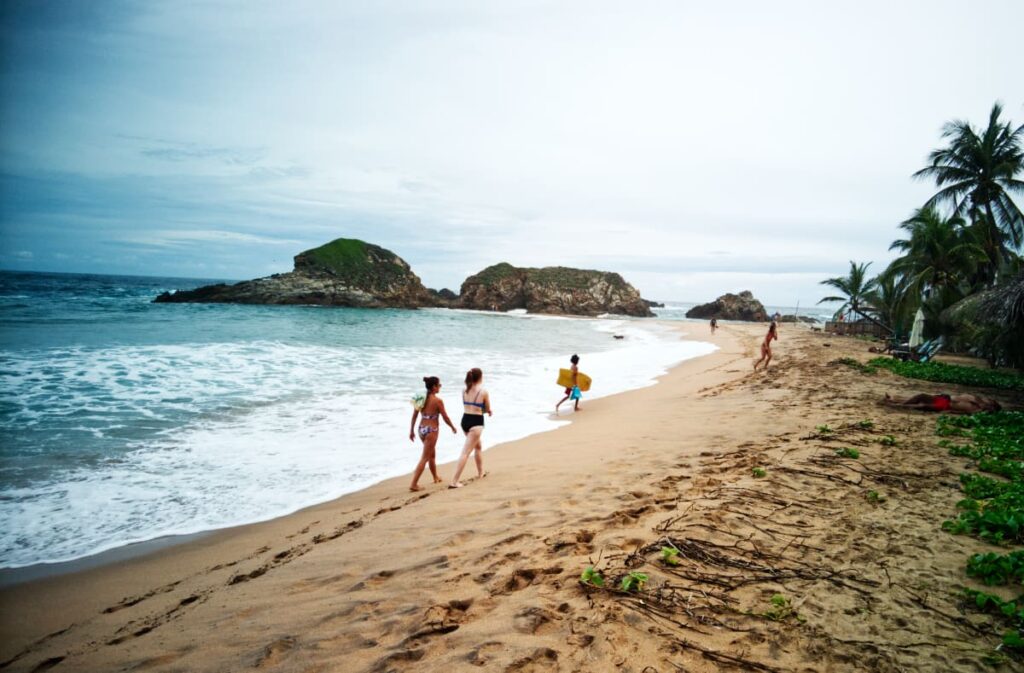 San Agustinillo is a sleepy beach town that mostly consists of a stretch of beach between Mazunte and Zipolite with several restaurants and boutique hotels.
The beach is noted for large rocks at either end that sweep around to form several bays that are sometimes calm for swimming.
While there are colectivos that connect all of these beach towns, San Agustinillo is also close enough to walk to Mazunte.
Zipolite
Zipolite is a laid back beach town most famous for being the only legal nude beach in Mexico. The relaxed vibe of Zipolite extends into the small town which has a mix of restaurants and hotels.
The beach is a long stretch that takes about 20 minutes to walk from one end to the other before it curves into Playa del Amor. During the first weekend in February, nudists converge for Zipolite's Nudist Festival.
Puerto Angel
Puerto Angel is a local fishing village that is the least visited by foreign tourists. It is also the location of one of my favorite beaches, Playa Estacahuite.
29. Mazunte and Sunset at Punta Cometa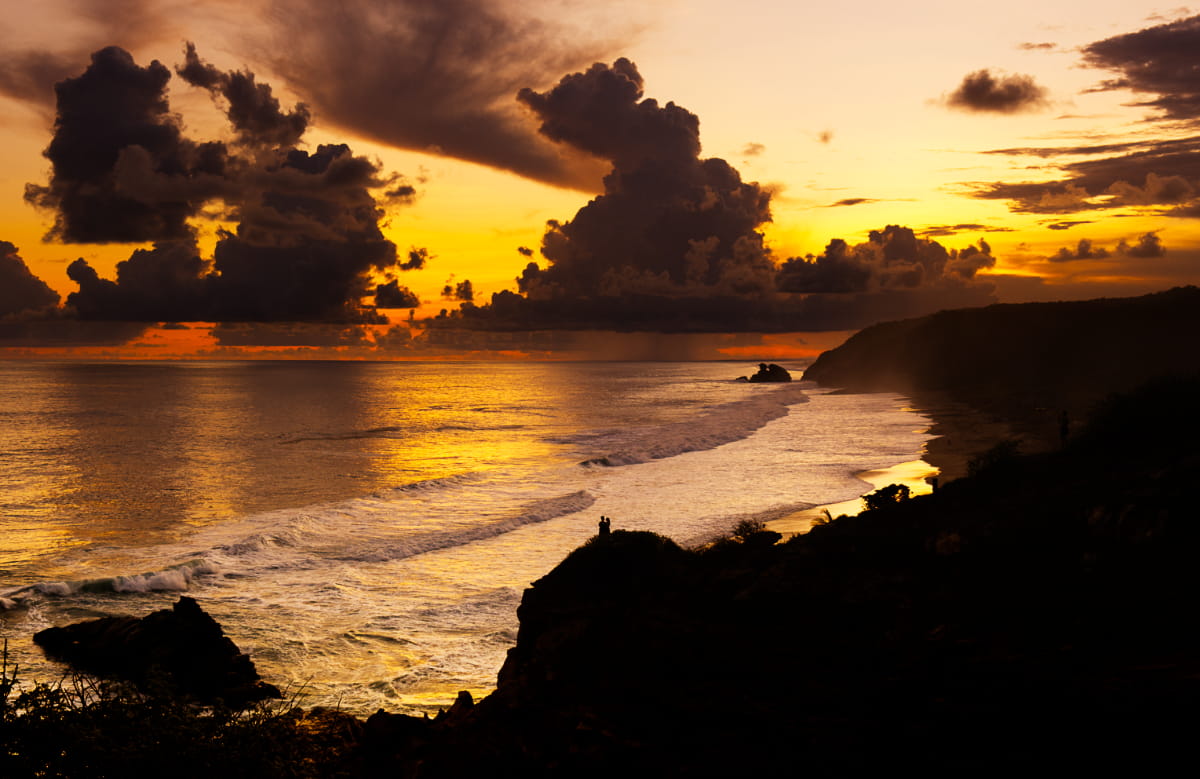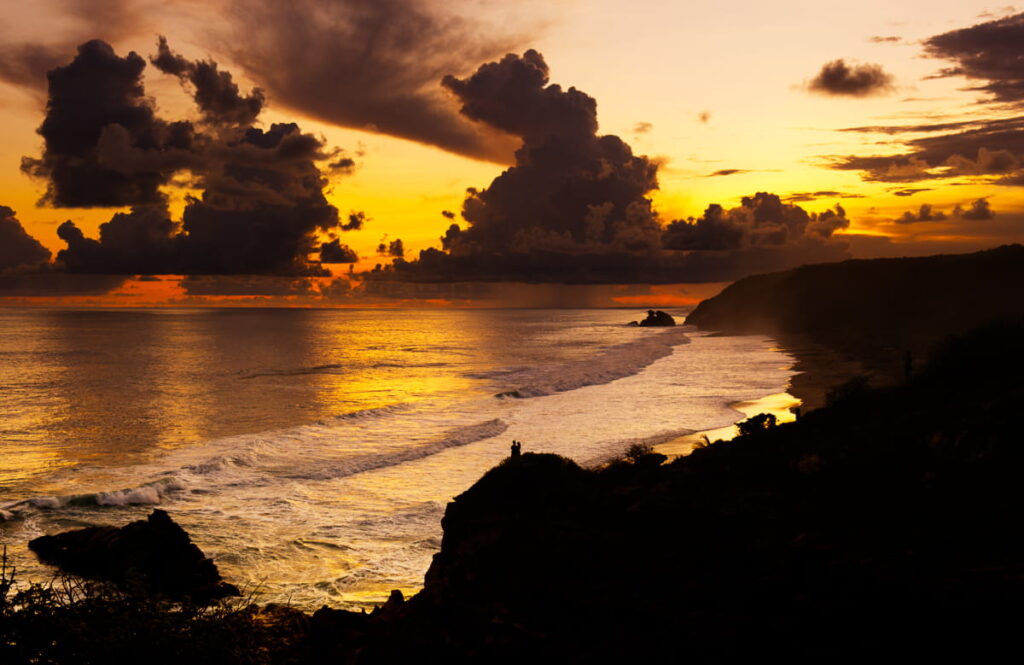 While there are several amazing places to watch the sunset in Puerto Escondido, none can compare to the sunset at Punta Cometa.
Located in the beach town of Mazunte, this set of sacred hills is the southernmost point in Oaxaca and features a stunning sunset over Mermejita Beach.
I recommend spending the day at the beach in Mazunte and staying for the sunset. If you take public transportation, you may have trouble finding a bus or collective to return to Puerto Escondido since they stop just after sunset.
Instead, book this tour for a beach and sunset in Mazunte which includes roundtrip transportation.
30. Visit Lagunas de Chacahua National Park
Whether you visit for a day trip or for a few nights, a visit to the Lagunas de Chacahua National Park is an incredible experience. The park, which was established in 1937, includes several lagoons and a beachfront. It takes about three hours to get to Chacahua on your own through a series of transportation modes.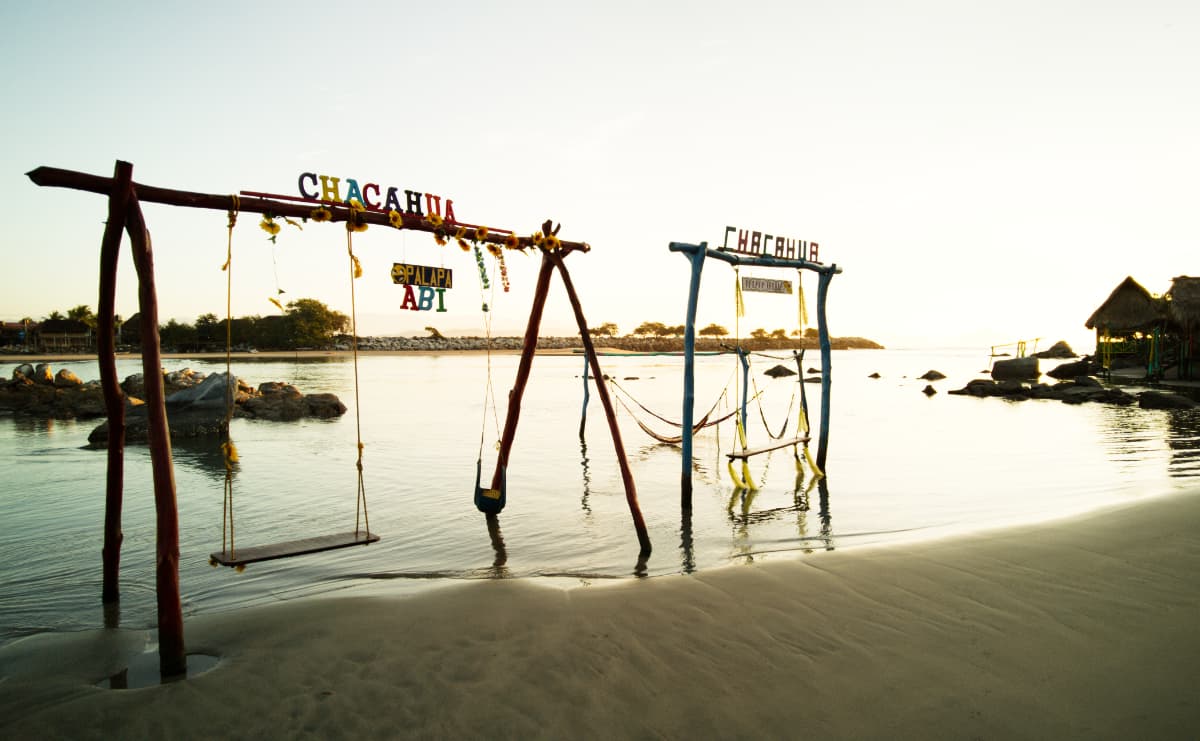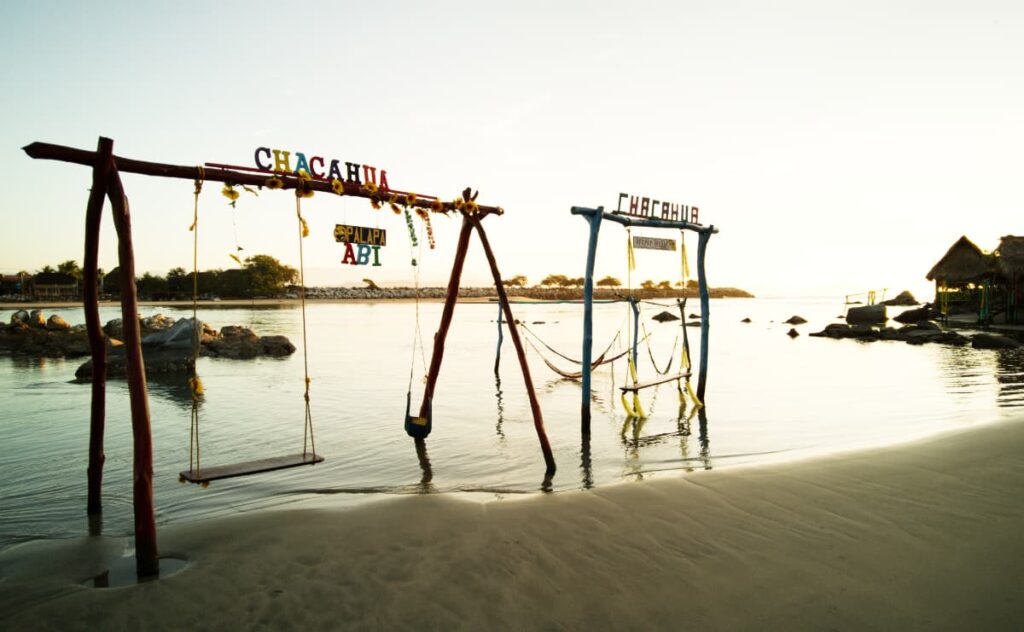 The small village of Chacahua is positioned between a mangrove lagoon and the open ocean. It's a unique, somewhat remote community with an African influence.
Lately, it's been discovered as a surfing destination and with that, tourism has followed. It's a special place with incredible sunrise and sunset views.
If you're short on time or only want to visit for a day, you can book this tour to Chacahua which includes transportation.
Once you arrive at Chacahua National Park, you'll enjoy a peaceful boat ride through the lagoon which is full of mangroves and several species of birds. After lunch and a swim along the water, you'll take a short hike up to the lighthouse for extraordinary views.
31. Waterfall Hike and Zipline
For more adventurous travelers, this Puerto Escondido day trip is a must. After a 90-minute drive through the mountains, you'll explore the town of San Juan Lachao before a 45-minute hike to a refreshing waterfall.
Then glide under the canopy of trees along an exhilarating 2,500 meter zipline through the southern Sierra Madre mountains. This tour is one of the top things to do around Puerto Escondido. Click to read the reviews of this tour, which rave about the views and guides.
32. Horseback Ride to the Hot Springs
If you are surprised to discover there are hot springs around Puerto Escondido, then the mountains are closer than you realize. Join a local guide on a day trip from Puerto Escondido to discover these hot springs by horseback.
You'll definitely want to book this horseback tour of the hot springs if you're keen to take a break from the city and explore nature. The hot springs are located in a rural area just outside of San José Manialtepec, about an hour from Puerto. Keep in mind that this adventure is only offered on Mondays.
33. Go Mountain Biking in Puerto Escondido
Mountain biking enthusiasts should not miss this adventurous exploration of the southern Sierra Madre mountains. Along a roughly 15 km ride, you'll discover several rural villages near Puerto Escondido.
The bike ride traverses through mountains and farmland before refueling with a traditional Oaxacan breakfast in one of the small pueblos. Click to read the reviews of this mountain biking tour which are very positive about the experience, including the guides.
That concludes the best things to do in Puerto Escondido, Oaxaca. As you can see, there's a huge variety of Puerto Escondido activities that will appeal to different travelers.
Questions about Puerto Escondido, Oaxaca
Is Puerto Escondido worth visiting?
Yes, Puerto Escondido is absolutely worth visiting. If you like beaches, surfing, or nature this beachside town has it all. Within the town, there are many things to do but the day trips from Puerto Escondido expand the list even further. There are Puerto Escondido activities for everyone.
What is Puerto Escondido known for?
Puerto Escondido is best known for its surf break, which is lovingly called the Mexican Pipeline. It's also known for its gorgeous beaches, whale watching tours, the turtle release program, a bioluminescent lagoon, and other nature available on nearby day trips. Even if you aren't a surfer, you'll find plenty of things to do in Puerto Escondido.
How many days do you need in Puerto Escondido?
You should spend at least a few days in Puerto Escondido to fully take in the beaches and everything there is to do. But you could easily spend a week or more in Puerto Escondido, especially if you take up surfing lessons or love the beach.
What airport do you fly into for Puerto Escondido?
There is an airport in Puerto Escondido, located about 10 minutes from the center of town. Most people fly into Puerto Escondido from Mexico City. However, there are direct flights to Puerto Escondido from Oaxaca City via Aerotucán. Alternatively, you could fly into the airport in Huatulco, Oaxaca.
Is Puerto Escondido walkable?
Puerto Escondido is walkable within the individual neighborhoods of Centro, Rinconada, Zicatela, and La Punta. To travel between these areas, it's best to take a taxi or colectivo (shared transport). Yellow taxis can be flagged down on the street. To catch the colectivo, flag it down on the highway, jump in the back, and ring the bell when you're ready to get off.
Are taxis safe in Puerto Escondido?
Taxis and other public transportation are relatively safe in Puerto Escondido. To stay safe in Puerto Escondido, it's always important to mind the basic rules of traveling – be aware and don't drink too much. If you are out late, it is best to be with at least one other person you can trust.
Can I use a credit card at Puerto Escondido?
Very few places will accept credit cards in Puerto Escondido. For most transactions, it is best to have cash (pesos). Businesses that do accept credit cards in Puerto Escondido are larger, the Chedraui grocery store for instance. High-end restaurants and hotels may accept credit cards as well.
Is Puerto Escondido a party town?
Puerto Escondido is considered a party town in some areas. It must be something about the beach, the surfer vibe, and the young crowd that it draws. Zicatela is known for the best nightlife in Puerto Escondido. And on Wednesday nights, Congo Bar is known for salsa dancing. There are other areas in Puerto Escondido that are great for families – Rinconada is my top pick.
Should I go to Oaxaca or Puerto Escondido?
You should go to both Oaxaca and Puerto Escondido. While both are in the state of Oaxaca, they are very different. Oaxaca City is known for its colonial buildings, incredible food, artisanal mezcal, and artisan villages. Puerto Escondido is known for its beaches, surfing, and nature. If you are limited on time, you will need to choose between the city and the beach.