Huatulco Beaches | Discover the Best Beaches in Huatulco, Mexico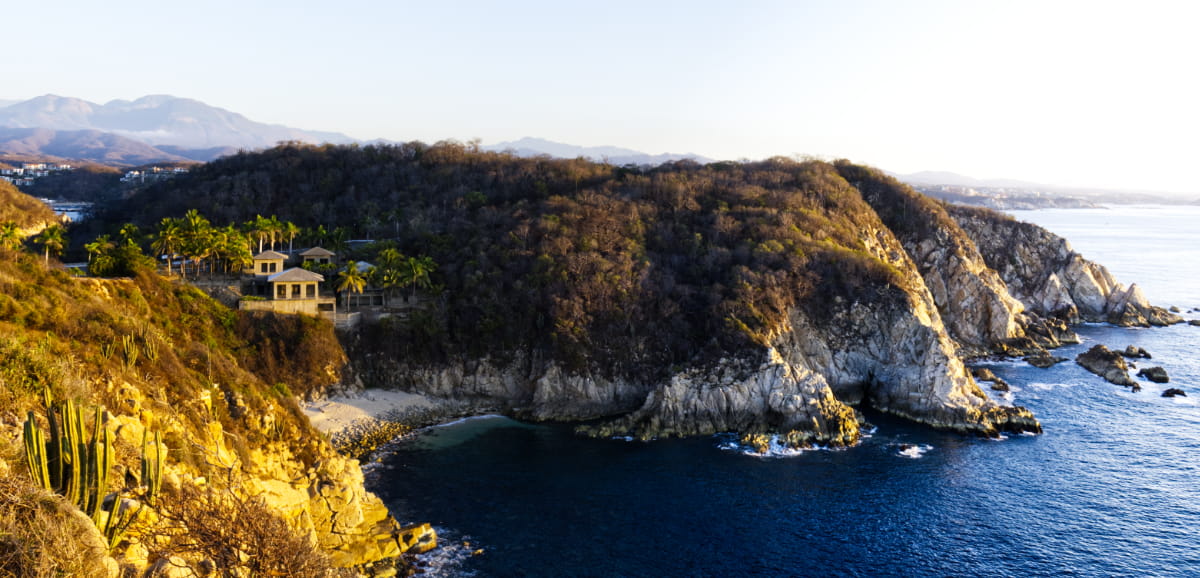 Huatulco beaches are some of the most beautiful on the coast of Oaxaca. Along the roughly 22 miles of coastline are more than 9 bays with an incredible 30+ beaches tucked inside.
The beaches in Huatulco are surrounded by nature. The resorts are regulated to keep a low profile. And several of the bays are protected from development by being designated a UNESCO Biosphere Reserve.
It wasn't until my second visit to Huatulco that I had a better idea of how the bays and beaches are laid out. This list of Huatulco beaches starts with those located within the Huatulco National Park as they are some of my favorites.
Let's discover the best beaches in Huatulco.
How to Get to the Beaches in Huatulco
Many of the best beaches in Huatulco are located within the Huatulco National Park. While harder but not impossible to access, these beaches often come with the perk of fewer people.
Several of the bays in Huatulco are walkable from the downtown area called La Crucecita. Although most require you to drive or hire a taxi. You may find it worth it to rent a car in Huatulco, which is the best way to get to a few of the beaches on the outer edges.
And there are a handful of beaches that are only accessible by boat. In fact, I recommend you book this affordable tour of the Huatulco bays when you first arrive.
This will allow you to see many beaches in a short amount of time. Then you can spend the next days revisiting your favorites or discovering others.
Want to explore more of the Oaxaca Coast? Read this guide to the best beaches in Oaxaca.
Cacaluta Beach – An Unspoiled Beach in Huatulco
Located within a beautiful bay of the same name, Cacaluta beach feels like an unspoiled beach you'd find in the movies. And actually, that's not so far-fetched.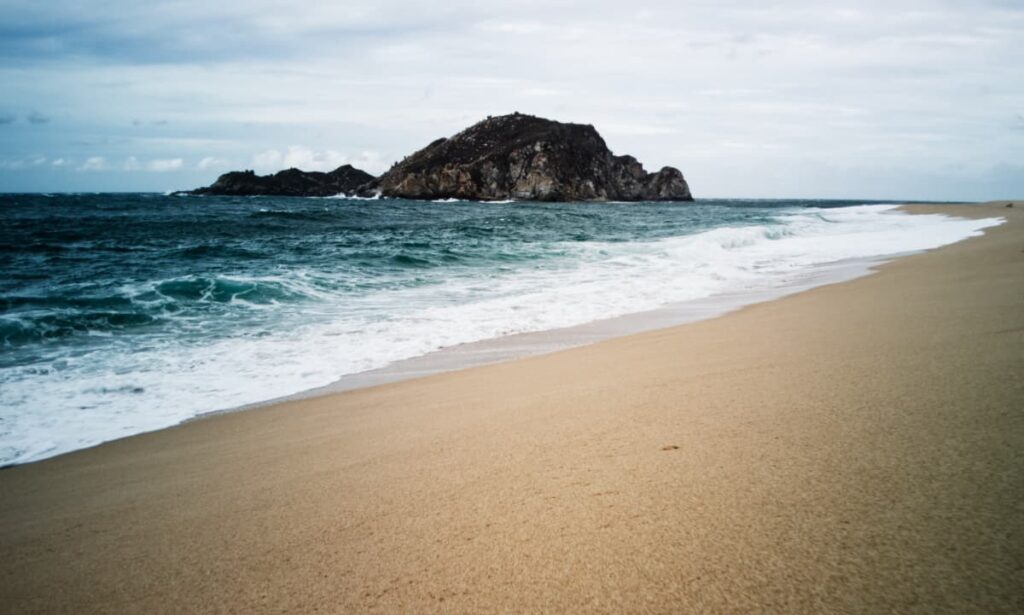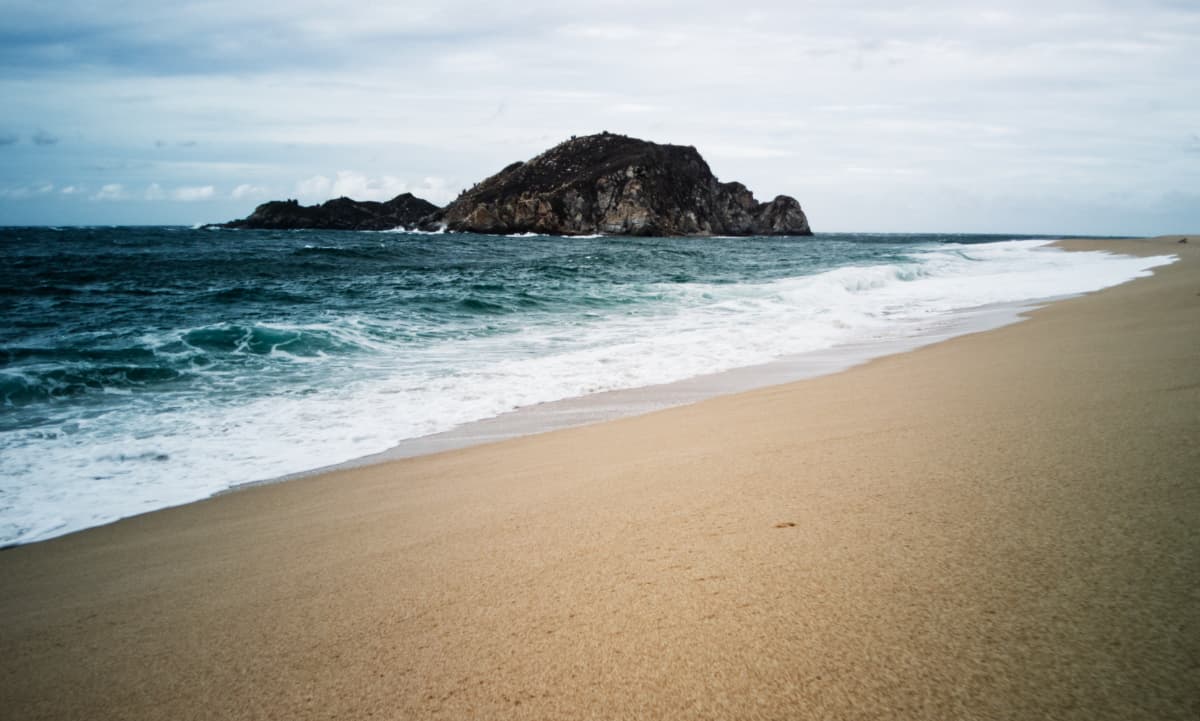 Cacaluta beach was the backdrop for the movie, Y Tu Mamá También. The plot follows two young Mexican men and an older woman who take off on a road trip from Mexico City to find an undiscovered beach along the coast of Oaxaca.
It takes a little effort to arrive at this beach in Huatulco since it's located deep within the National Park. But it's totally worth it on a calm day. And if the conditions are right, you can snorkel here.
How to get to Cacaluta Beach
The easiest way to get here is to hire a private boat for the day and specify where you wish to go. I opted to book this tour to Cacaluta Beach which includes ground transportation and snorkeling at a nearby beach after.
If you rent a car to explore Huatulco, you can drive here and look for the path that leads to the beach. The walk through the Huatulco National Park takes about 40 minutes, half of which is along a manmade walkway. 
There are beautiful plants and wildlife as well as a few lookout points along the way. I have recently heard about a family of wild boar spotted in the area, so it's always a good idea to be aware to keep safe.
Bahía del Orgáno – A Little Slice of Paradise
Organo Bay is also located within the Huatulco National Park. It's easier to access than Cacaluta beach but of course, that also means there will be slightly more people. Nonetheless, this Huatulco beach still feels like a little slice of paradise.
Surrounded on both sides by tall cliffs, the protected cove of Organo Bay has calm waves of turquoise water. There are no restaurants and not a lot of shade, just a beautiful wild beach with golden sand.
How to get to Organo Beach
To get to Bahía del Orgáno, you will need to access the path that leads you along a 10-minute shaded walk to the beach. It's not marked on maps but a taxi should know where to go.
You could also walk from La Crucecita as my friends did. There is a sidewalk that stretches all the way to the path, but it takes about 40 minutes to arrive and there is no shade.
Want more beach days? Read this guide to the best beaches in Puerto Escondido.
Chachacual Bay
This large bay also backs up to the Huatulco National Park, just before San Agustin Bay. Within Chachacual Bay is a gorgeous beach, La India, that is only accessible by boat.
Playa La India – A Picturesque Huatulco Beach
When we arrived at Playa La India on this tour of Huatulco's bays, I was in awe of the white sand beach and crystal clear water. It was a Saturday, so my feeling was quickly dismissed when two huge boats arrived and started to ferry throngs of people to shore.
But we came here to snorkel. So, I stuck my face in the water for the next hour and blissed out among the sea life.
Our guide told us the beach is much quieter during the week, so keep that in mind if you book the tour. Playa La India could be a picture-perfect beach without the crowds.
While there aren't restaurants here, there are refreshing drinks and micheladas for sale as well as vendors that rent chairs and umbrellas.
San Agustin Bay – A Beautiful Beach Near Huatulco
Every time I asked my taxi driver, "What's your favorite beach in Huatulco," the answer was always San Agustin. But due to its somewhat remote location, I didn't get to this Huatulco bay until my second visit.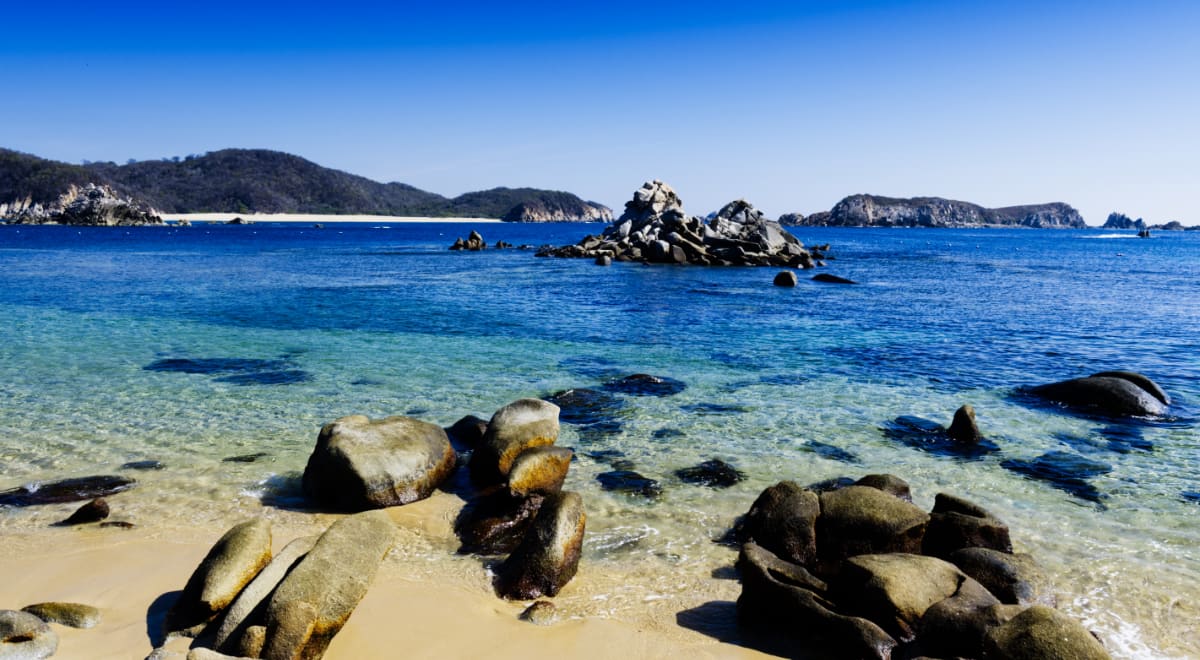 San Agustin is a long sweeping bay with calm waters. A fairly large reef extends from the shore towards the large rocks in the center. I spent a nice hour snorkeling here despite renting a leaky mask from one of the beachside restaurants.
Even though it's a 45-minute drive from La Crucecita (half of which is along a dusty dirt road), this beach gets busy. I arrived early in the morning, directly after an early morning drive from Oaxaca. By the time I was leaving, quite a few people had started to fill the restaurants along the shore.
Bonus Huatulco Beach | Riscalillo Bay
I wasn't even aware of this remote bay until someone mentioned it while I was on a boat tour of the bays of Huatulco. It's a bit too far for the tour, so I didn't make it here. But if you're visiting San Agustin Bay, you should consider driving the extra way to Riscalillo Bay.
Maguey Bay – A Good Beach for Families
This popular bay is located just west of Organo but it feels like a totally different world. If you're driving, you'll be pulled in different directions by the various parking attendants when you arrive. Their job is to get you to park at (and thus patronize) their restaurant.
And it's pretty much impossible to know which restaurant you prefer to enjoy the beach from when you're staring at the back of the buildings. Although I did appreciate the secure, shaded parking.
There's a lot of activity at this beach in Huatulco. Luckily it's a fairly large beach to accommodate the various boat tours that leave from shore (not recommended by the way).
Other activities at Maguey Bay include banana boat rides and snorkeling. There are also a lot of vendors that stroll this beach.
Santa Cruz Bay
Santa Cruz is the central bay in Huatulco where many visitors choose to stay. This area centers around a large park surrounded by hotels and restaurants. It's also walkable from La Crucecita via a well-planned pedestrian walkway.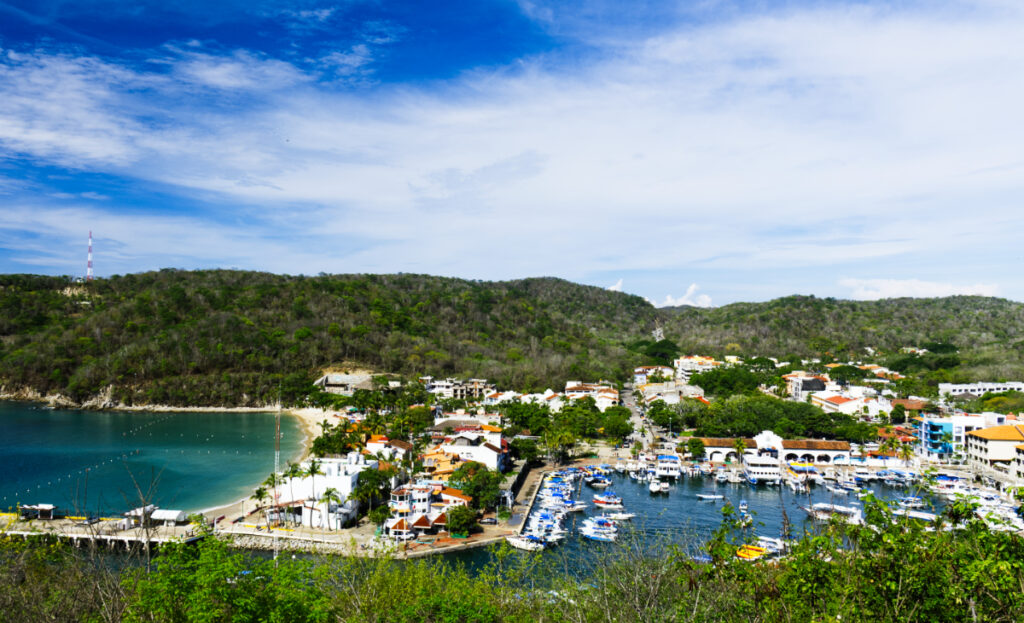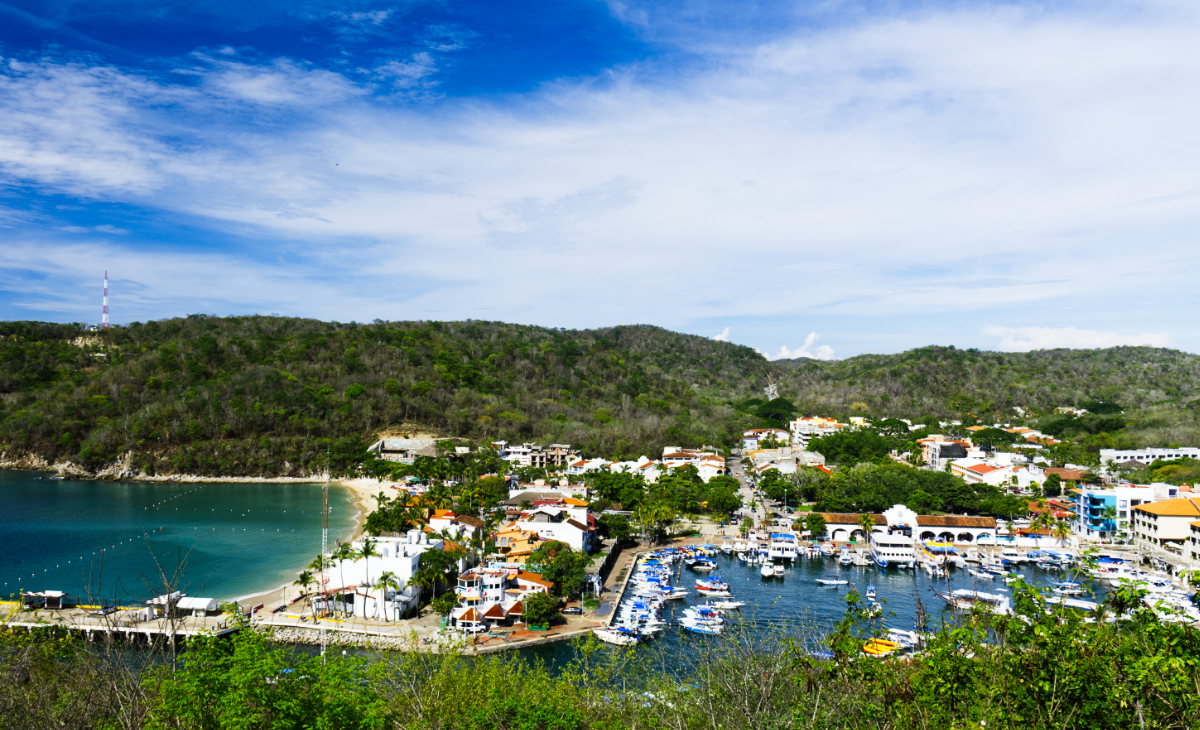 Santa Cruz Beach – Most Central Beach in Huatulco
The beach in Santa Cruz Bay is not one of my favorites but it is convenient and the waves are calm for swimming. The bustling restaurants create a really busy atmosphere that lacks a peaceful vibe. As a result, I didn't spend much time at Playa Santa Cruz.
However, tucked away on a far corner of the beach, away from the hustle and bustle is the upscale Niru Beach Club.
The reviews highlight the infinity pool with ocean views and describe the food as satisfactory. Just be aware of the limited hours (10 am – 5 pm) if you purchase a day pass. Drink service begins at 11 am, with food starting at 1 pm.
Playa La Entrega – Nearby Beach for Snorkeling
Located just down the coastline is La Entrega, another popular beach in Huatulco known for snorkeling. This wide bay has gentle waves and a beach lined with restaurants. The large reef is one of the best places in Huatulco to snorkel.
While Playa La Entrega is technically within Santa Cruz Bay, the road to get there is long. It's a convenient taxi ride. Or you can drive the 15 minutes and leave your car in the large parking lot. I did meet a traveler that walked to La Entrega, though it takes over an hour.
Where to Stay in Santa Cruz Bay
Playa el Violin – A Secret Cove Beach
This is a lovely beach in Huatulco that feels like a little secret. And while it's quite possible you'll have this beach all to yourself, this small beach is no secret.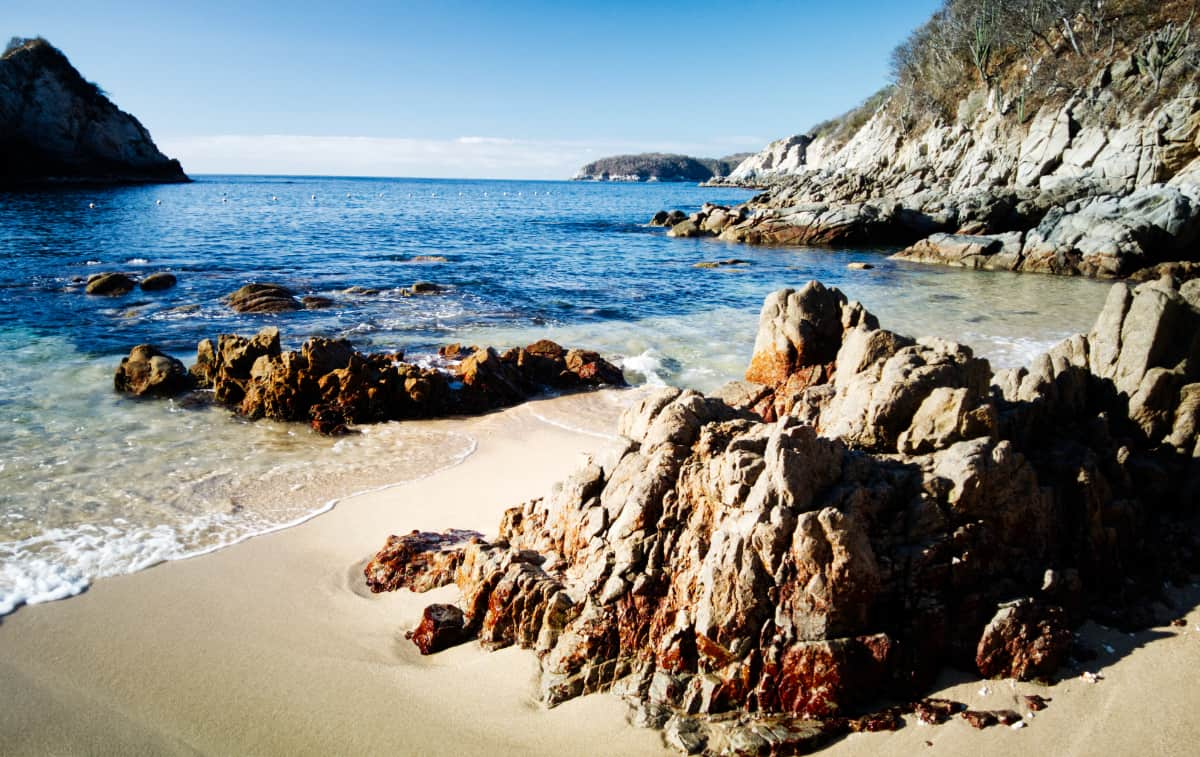 I think what keeps most people from coming here is the steep rocky path you need to navigate to get to Playa el Violin. But for those with able bodies, it's perfectly doable.
The shallow waters have a few small rocks and an area to snorkel with typically calm waves.
Playa Chahue – Centrally Located Beach in Huatulco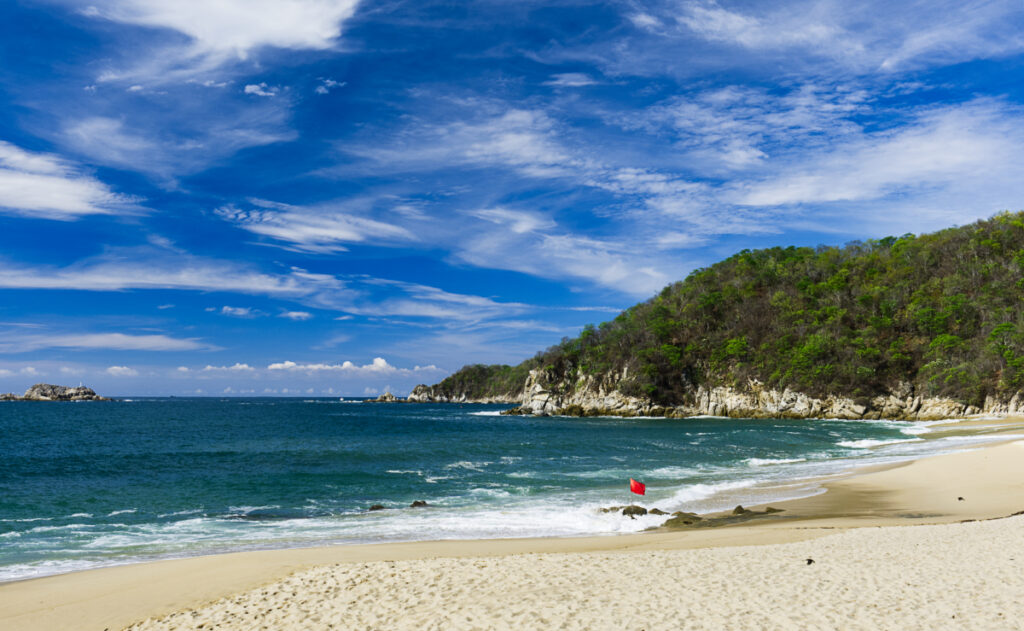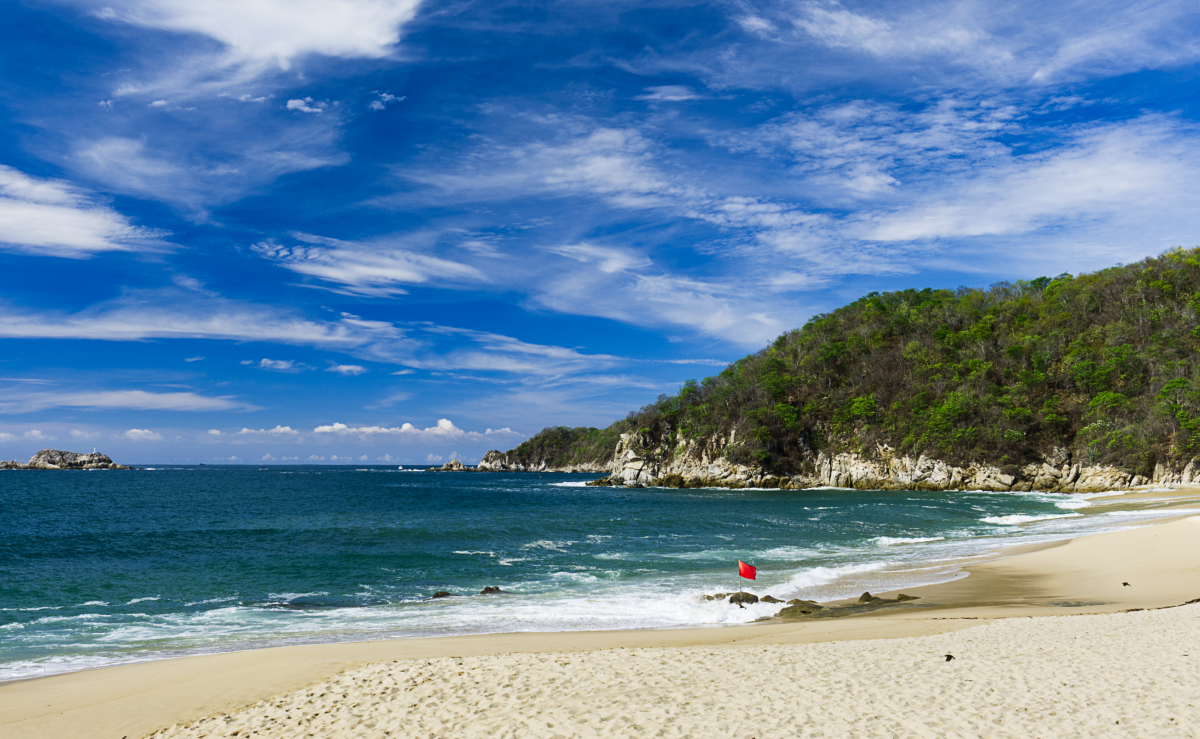 This is another convenient Huatulco beach, located within a 30-minute walk from La Crucecita. The is a well-kept beach with bathrooms, showers, and a maintained walkway. There are a few restaurants here, though not much other shade.
This long stretch of beach has stronger waves and currents than the protected coves. It's recommended for experienced swimmers. And even then, you should be aware of any warnings or flags.

When I was there in June, there was a red flag indicating it was not safe to swim. When I returned in the winter, I was able to get in the water but the waves were stronger than at other beaches.
Playa El Tejon – A Secluded Hualtuco Beach
This secluded beach in Huatulco comes with a private chef! While there aren't restaurants at Tejon Beach, there is an amazing seafood vendor that will cook for you directly on the beach.
Chef Pablo, who used to work for Secrets resort, offers a beachside picnic of fresh-caught fish and shrimp. The seafood platter is accompanied by rice, pineapple, tomatoes, and cucumber, all served with real plates and silverware.
Playa el Tejon is an unspoiled beach, typically with few people. To get here, it's best to drive or hire a taxi as the route from La Crucecita is mainly along the highway.
Playa Arrocito – Small Cove in a Residential Area
Arrocito Beach is tucked into a residential area that includes the upscale Ocean Restaurant. If you go on a weekday, you may very well feel as though you have this beach to yourself.
The small cove typically has gentle waves for swimming and large grains of sand, hence the name which translates to little rice. Until the late afternoon, the only shade is accessible by patronizing the overpriced restaurant on the beach.
Where to Stay Near Arrocito Beach
Tangolunda Bay – Huatulco Beach for Resort Stays
The stretch of beach within Tangolunda Bay is perfect for long walks. Swimming conditions should be assessed on the day of and initially guided by the color-coded flags.
When I first visited in June, a small storm was passing off the coast. At this time, even the far shallow area was too rough to swim.
Regardless, Tangolunda Bay is one of the most picturesque bays in Huatulco. The tall palms, wide beach of golden sand, and turquoise waters give tropical vibes that perfectly fit with the resorts that line this beach.
Where to Stay in Tangolunda Bay
Playa Conejos – A Dramatic Beach in Huatulco
Large, rugged rocks jut out from the sandy beach to create a dramatic landscape at Playa Conejos. It is photogenic, but Conejos Beach is not recommended for swimming. The waves can be strong and the ocean quickly becomes deep.
This crescent bay is home to the adults-only Secrets Resort & Spa. If you aren't staying at the resort, there is public access via a short path from the parking lot.
Questions About the Beaches in Huatulco
Can you swim in the ocean in Huatulco?
Yes. Huatulco beaches are some of the most swimmable along the coast. You should always watch the ocean before jumping in, pay attention to where others are swimming, and look for red flags which indicate it's not safe to swim.
Are there beaches in Huatulco Mexico?
Yes! The beaches in Huatulco, Mexico are amazing. There are more than 9 bays with over 30 beaches tucked inside.
Is Huatulco Mexico safe for tourists?
Huatulco, Mexico is very safe for tourists. The small community was developed as a tourist destination and has a reputation of safety to uphold. Read more about safety in Oaxaca here.
What is better Puerto Escondido or Huatulco?
The answer to whether Puerto Escondido or Huatulco is better will vary. Typically, families and couples will think Huatulco is better while younger travelers will prefer Puerto Escondido. But you should check them both out and decide for yourself.
That wraps up the best beaches in Huatulco, Mexico. Which Huatulco beach are you most excited about visiting? Tell me in the comments!