10 Best Puerto Escondido Beaches You Need to Visit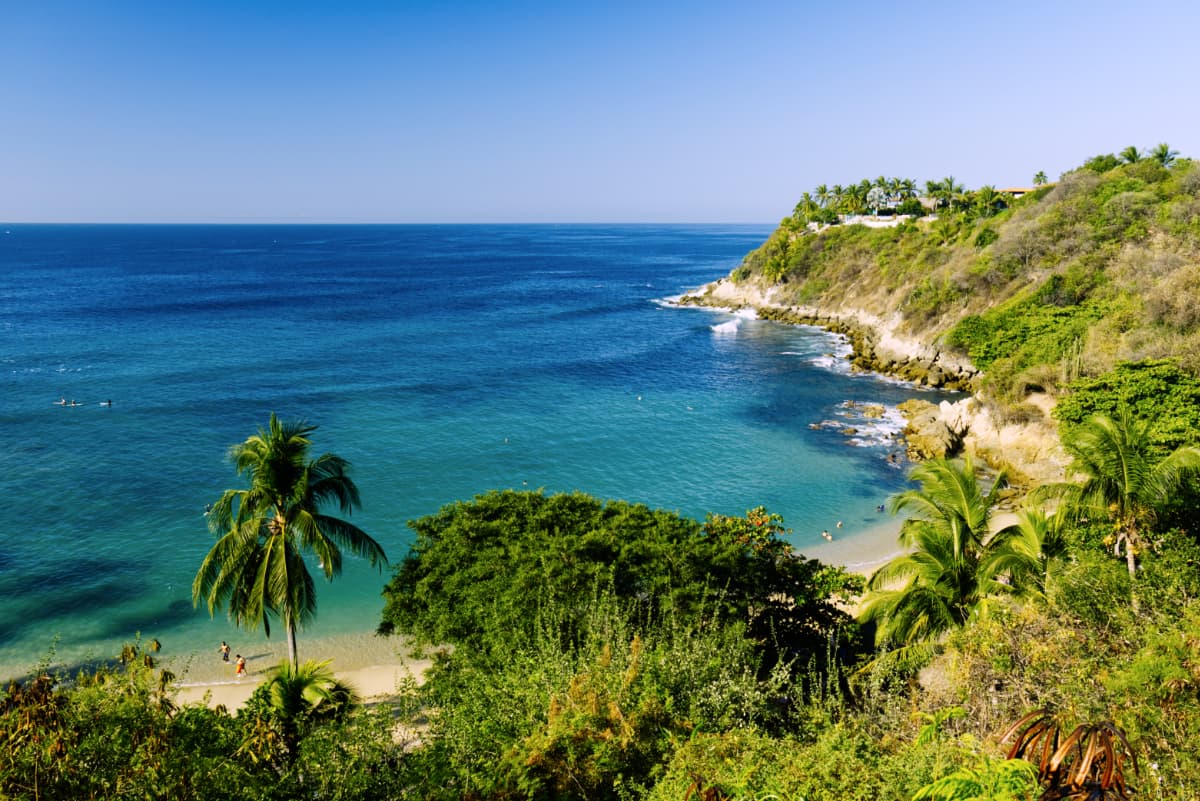 Would you believe me if I told you there is a Puerto Escondido beach for every day of the week? Well, it's true and you're about to discover them all.
The beauty of visiting this long stretch of coastline is that there's a wide range of beaches for every person and every mood. In fact, you could visit a different beach in Puerto Escondido every day and there would still be a couple extra to squeeze into your itinerary.
The diversity in both the neighborhoods and Puerto Escondido beaches is one of my favorite things about visiting this surfer town. I also find these beaches to be some of the most accessible along the coast of Oaxaca.
I've loosely organized this list to showcase my favorite beaches in Puerto Escondido first. But I also organized it by those that are geographically close to each other.
Keep in mind that swimming conditions vary day to day and by season. No matter where you are in the world, I always recommend that you observe the ocean and how the waves approach the shoreline before jumping in. For even more insight, pay attention to where other people are swimming and follow suit.
This article may contain affiliate links. This means if you click a link on our blog and make a purchase, we earn a commission at no additional cost to you. For full information, please see our disclosure.
Playa Carrizalillo – Most Beautiful Beach in Puerto Escondido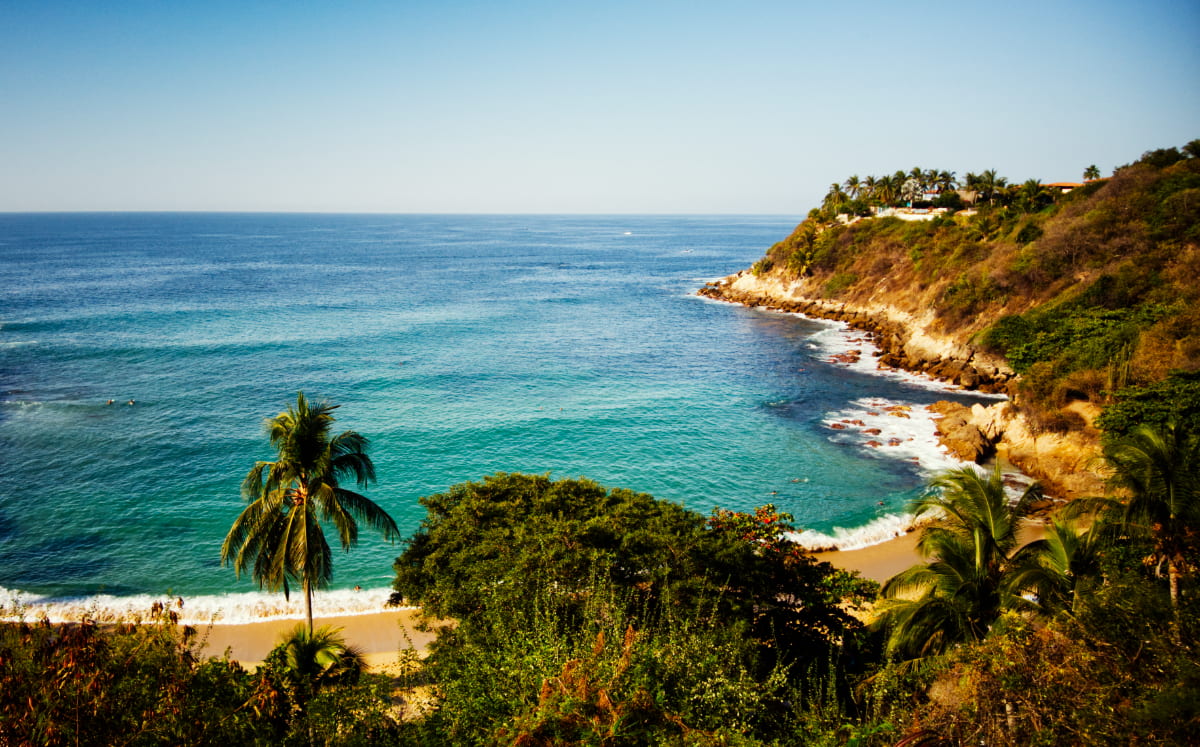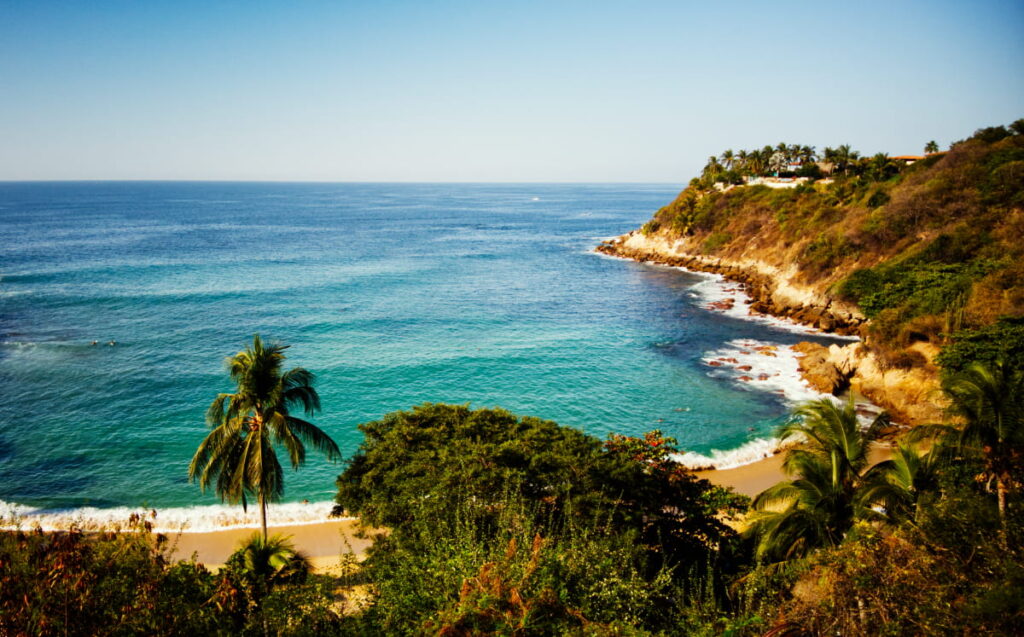 Various hues of turquoise water edged by tall cliffs and palm trees form a breathtaking bay that is often regarded as the best beach in Puerto Escondido. It's also one of the most crowded, but don't let that stop you from visiting regularly.
Playa Carrizalillo is one of the best beaches for swimming. Typically the waves are relatively gentle with enough crest to still have fun. The waves in the center of the beach break close to the shoreline which means it's just a short swim past the breaking point.
This is also the best beach for beginner surfers. On the left, is a surf break where there are a handful of surfers from the early morning until the sunset. You can arrange surf lessons or rent a board directly on the beach. However, I've heard the prices here are higher than on other beaches.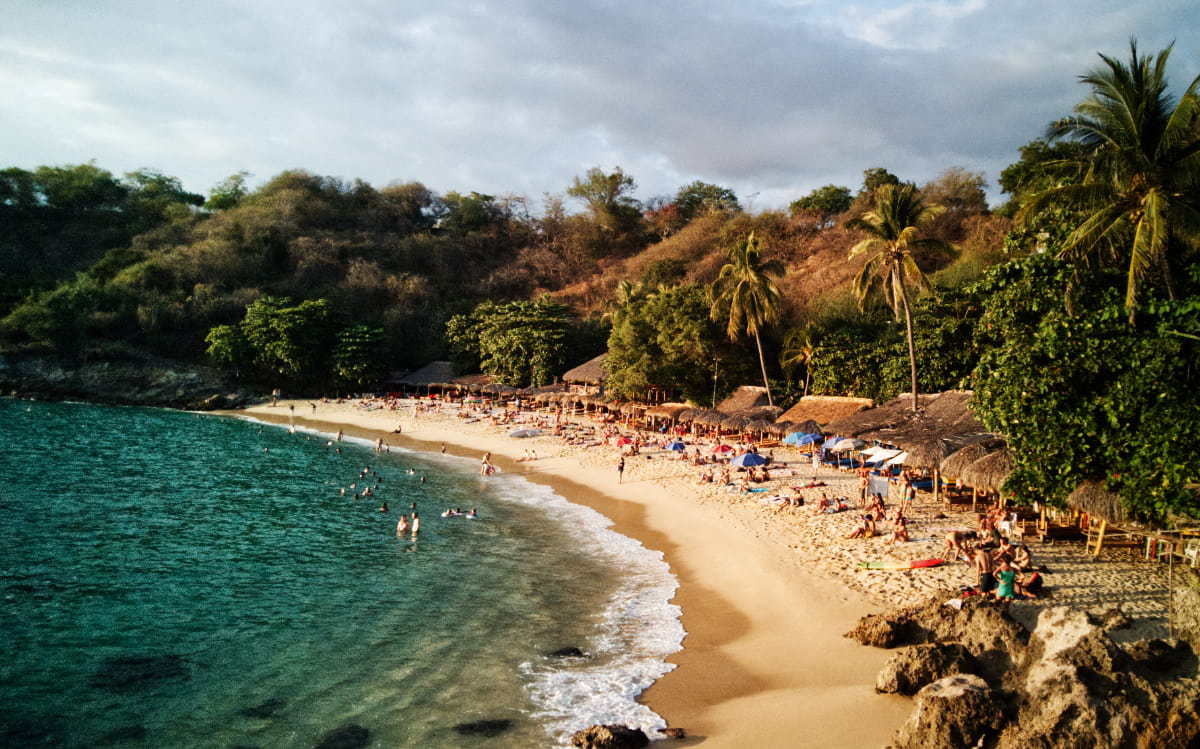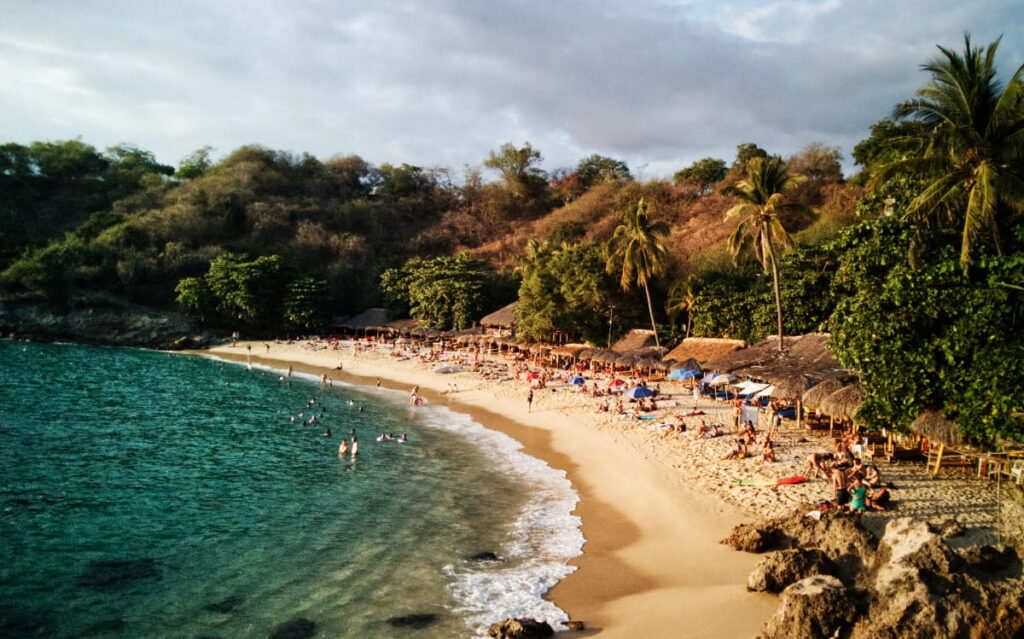 Playa Carrizalillo (don't forget to roll the double R and turn the double L into a Y sound!) is located in Rinconada, a neighborhood with a strip of restaurants. Other than the beachside restaurants, a tree produces some shade on the far right.
To get there you'll need to descend the steps (over 150 of them!) to the soft golden sand below. This became my favorite beach in Puerto Escondido, so trust me when I say the rigorous climb back up at the end of your beach day will be totally worth it.
Playa Manzanillo and Puerto Angelito – Best Puerto Escondido Beaches for Families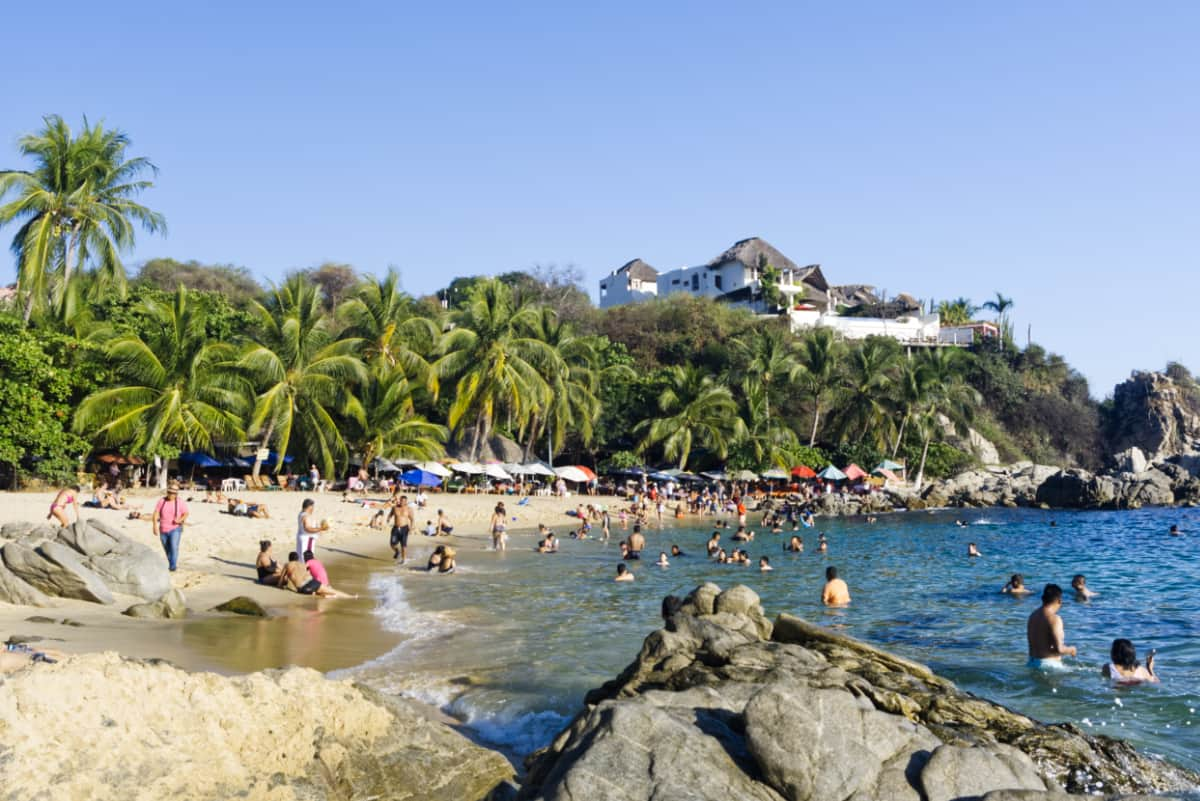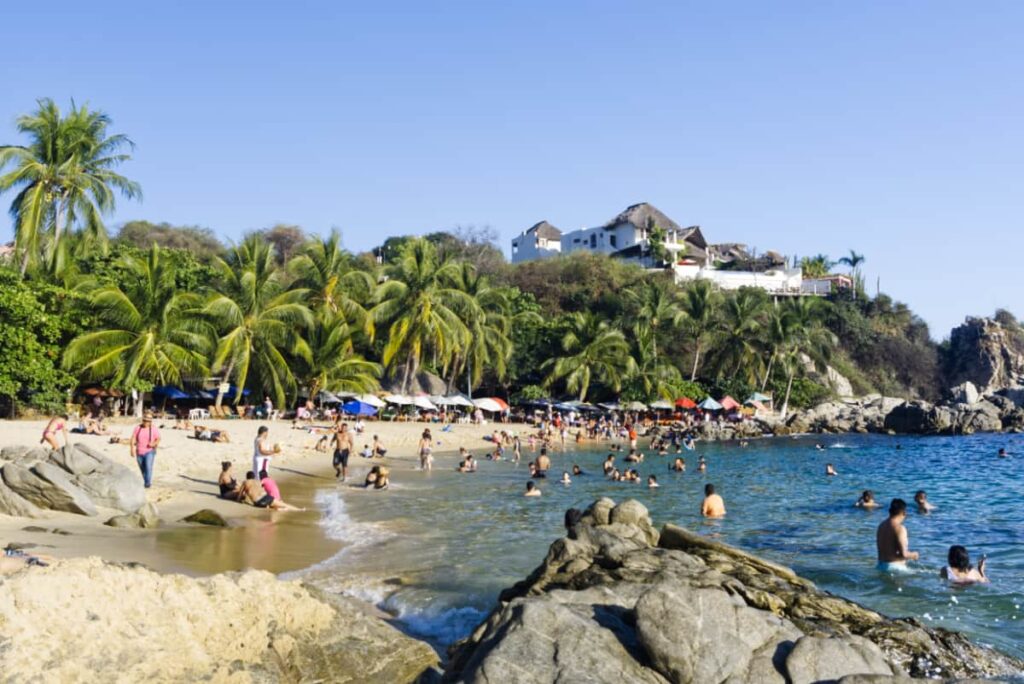 Located in the same bay, these two Puerto Escondido beaches have some of the calmest waves which make them perfect for families.
As you descend towards the beach, Playa Manzanillo will be on your left and Puerto Angelito on your right. There is a walkway between the two so you can easily choose which beach to visit once you arrive.
With fewer boats anchored close to shore, Playa Manzanillo is a better beach for swimming. And on the left, near the rocks is an area to snorkel. Just be aware of potential currents and boats.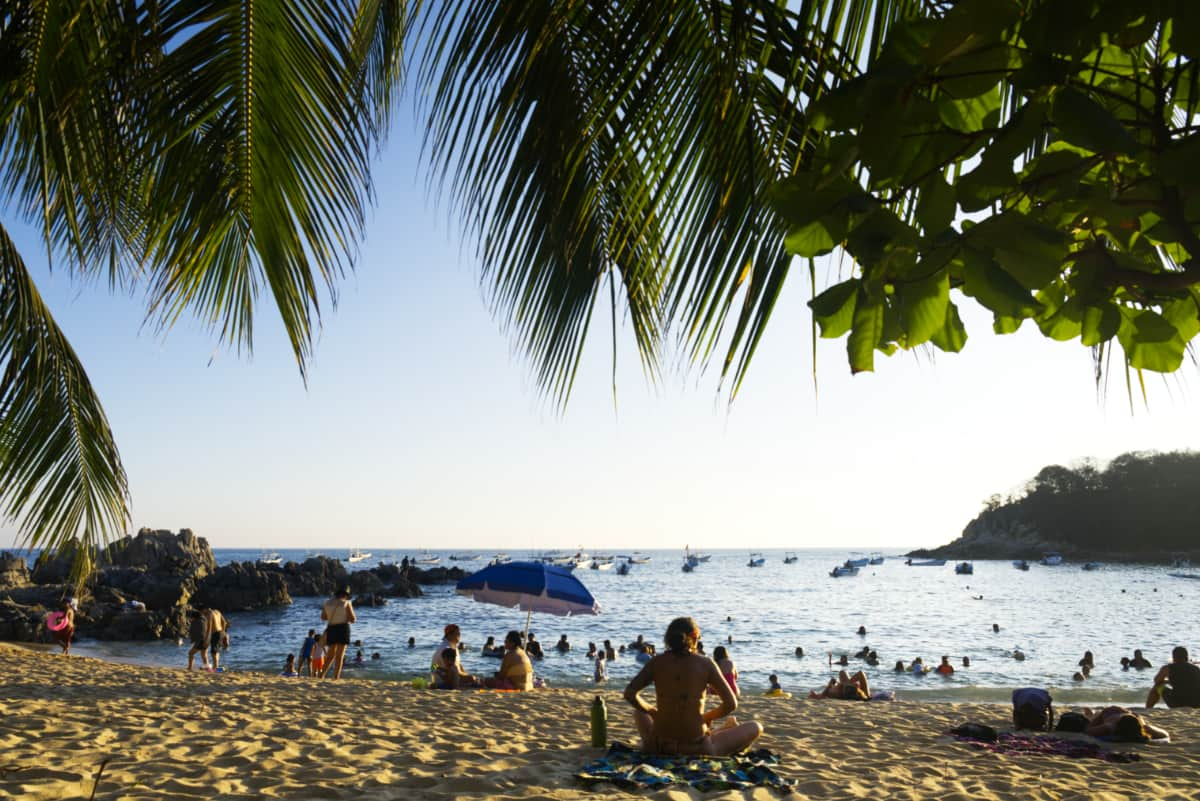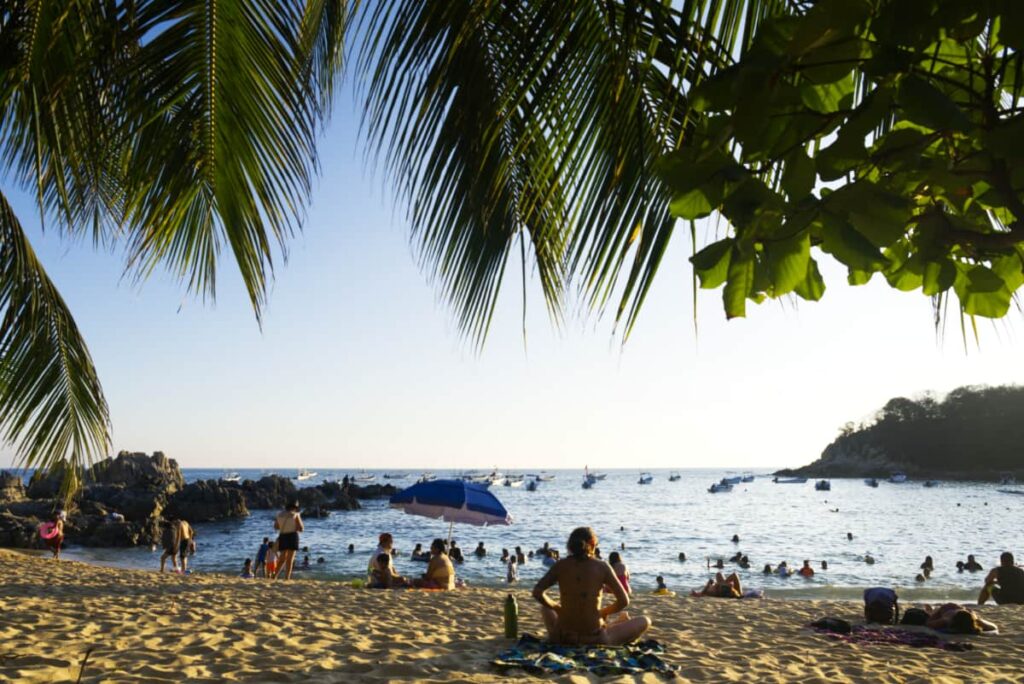 Both beaches are lined with seafood restaurants which will provide the shade of an umbrella with the purchase of food or drinks. La Palapa de Carrasco in Playa Manzanillo is highly rated. And I was surprised a minimum spend was not required when I was there.
Also, there is a decent amount of shade in the late afternoon along this beach. I found both rocks and trees provided small shaded pockets to lounge without necessarily needing to patronize a restaurant.
Puerto Angelito is where you will start if you book this dolphin and whale tour, which you absolutely should. If you're curious, you can read more about my experience on a whale and dolphin tour.
Playa Zicatela – Puerto Escondido's Surfing Beach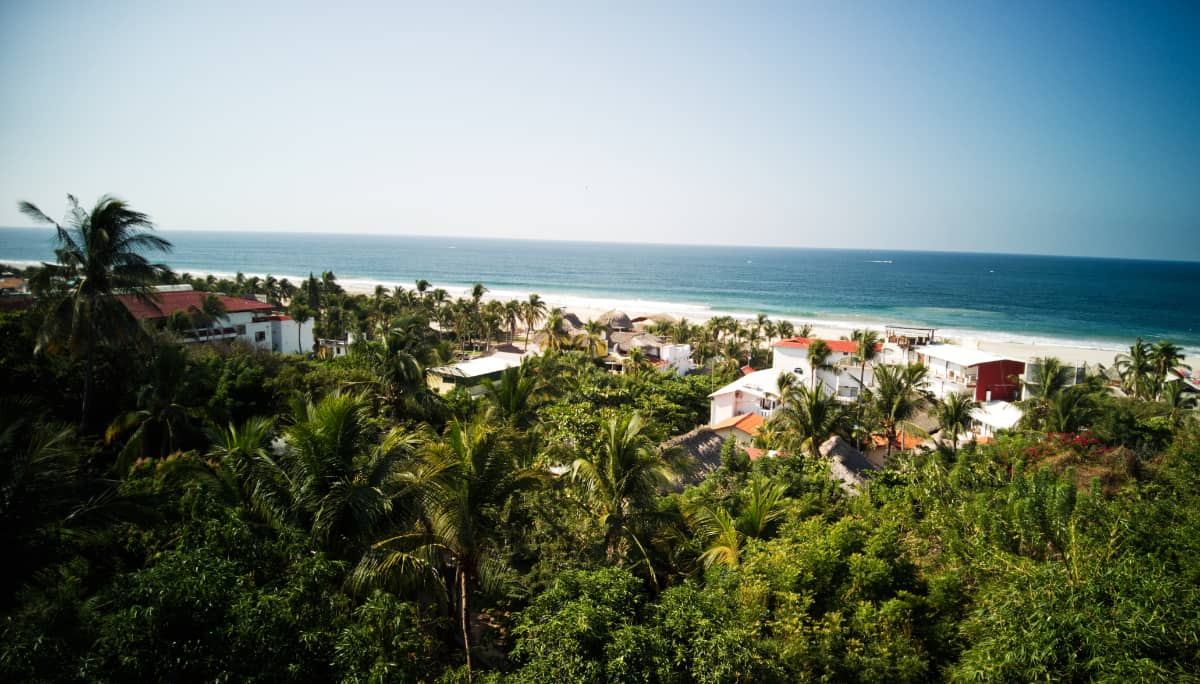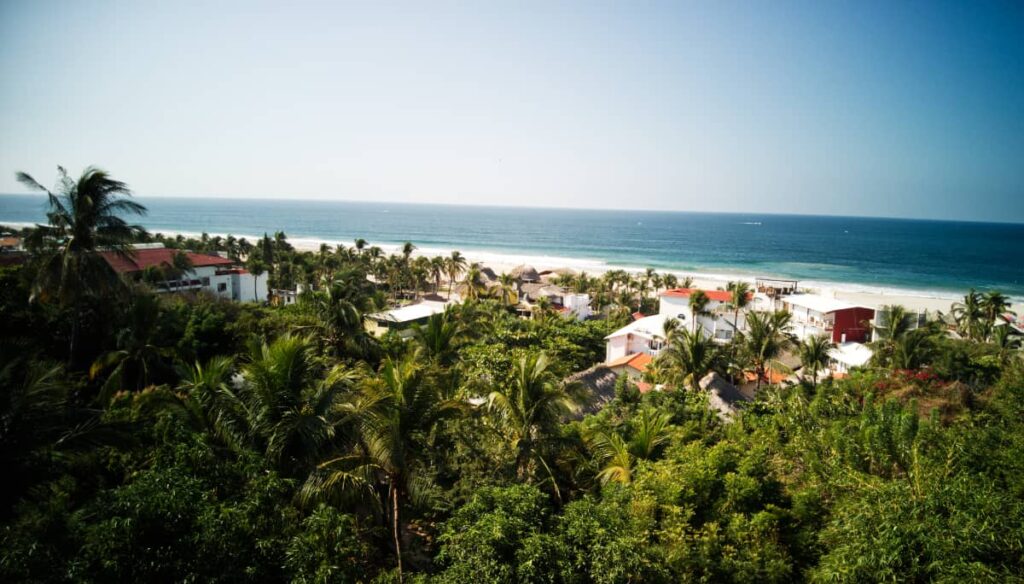 Playa Zicatela, Puerto Escondido's most famous surfing beach, stretches 3.5 km south of the city. This is not a swimming beach. And surfing at Playa Zicatela should be left to the professionals.
Playa Zicatela has some of the largest waves in the world. The surf break is affectionately called the Mexican Pipeline. During the main surf season between April and October, international surf competitions are held here.
Other than surfing, Playa Zicatela has many beach bars and restaurants as well as a co-working space at Selina Hostel. At night, Playa Zicatela is known for the best nightlife in Puerto Escondido.
While you're planning your trip, check out my guide to the best hostels in Puerto Escondido.
La Punta Beach – Surfer, Backpacker, and Hippie Vibes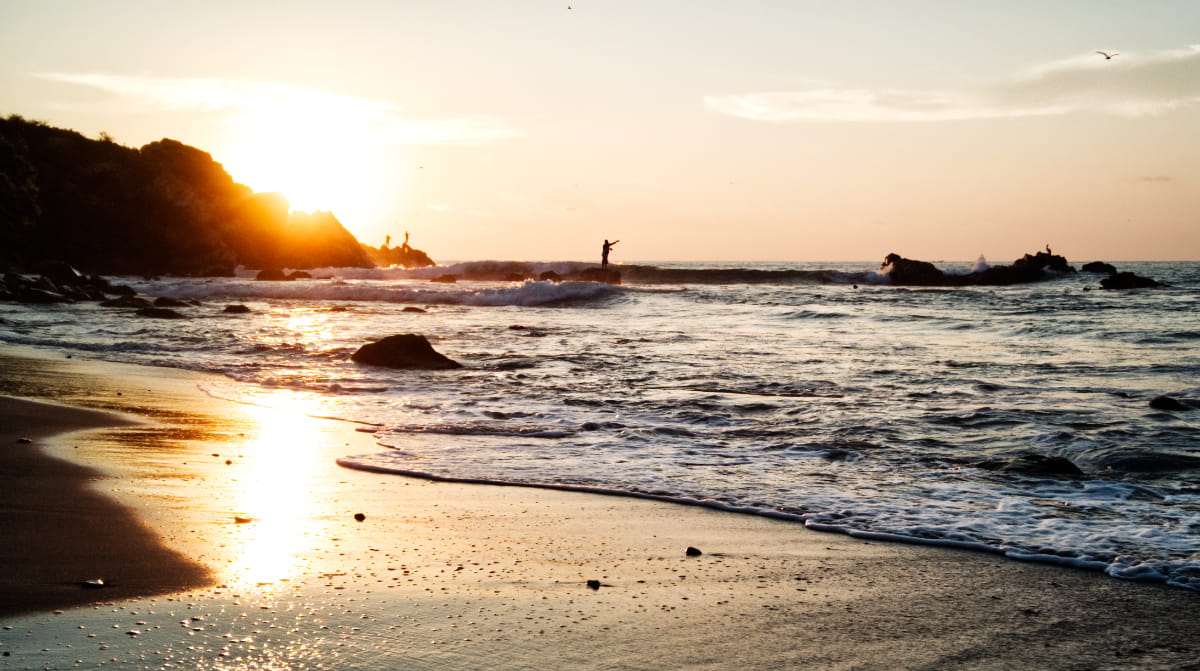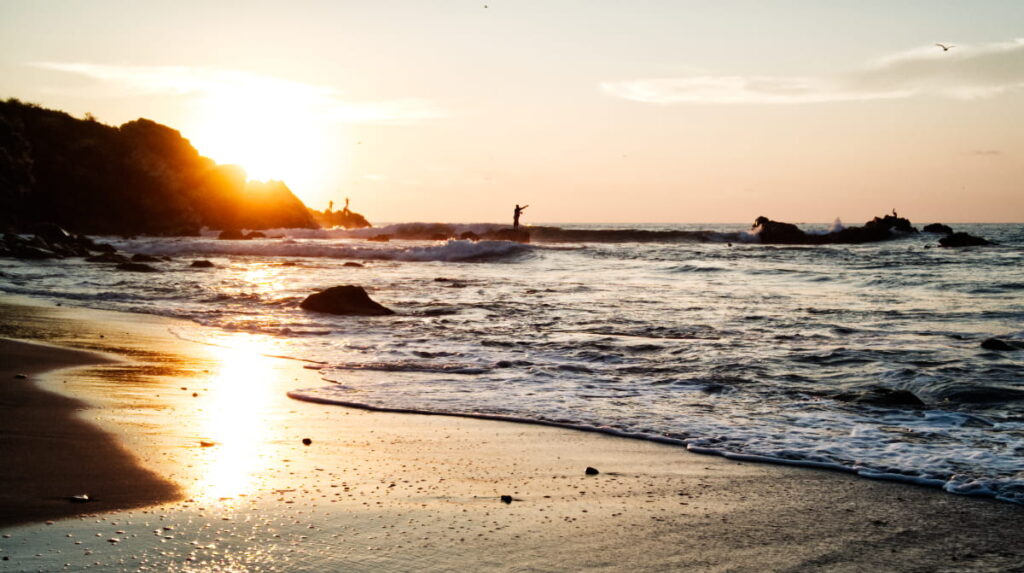 At the south end of Zicatela is La Punta, an area known for fabulous sunsets and an intermediate surf break. During the day everyone heads to the beach or to surf. And after sunset, everyone floods the restaurants before going out for the night.
The unpaved, sandy streets have a laidback surfer/hippie/backpacker vibe. And the restaurants are largely weighted toward international cuisine. You can read about these and more in my guide to Puerto Escondido restaurants.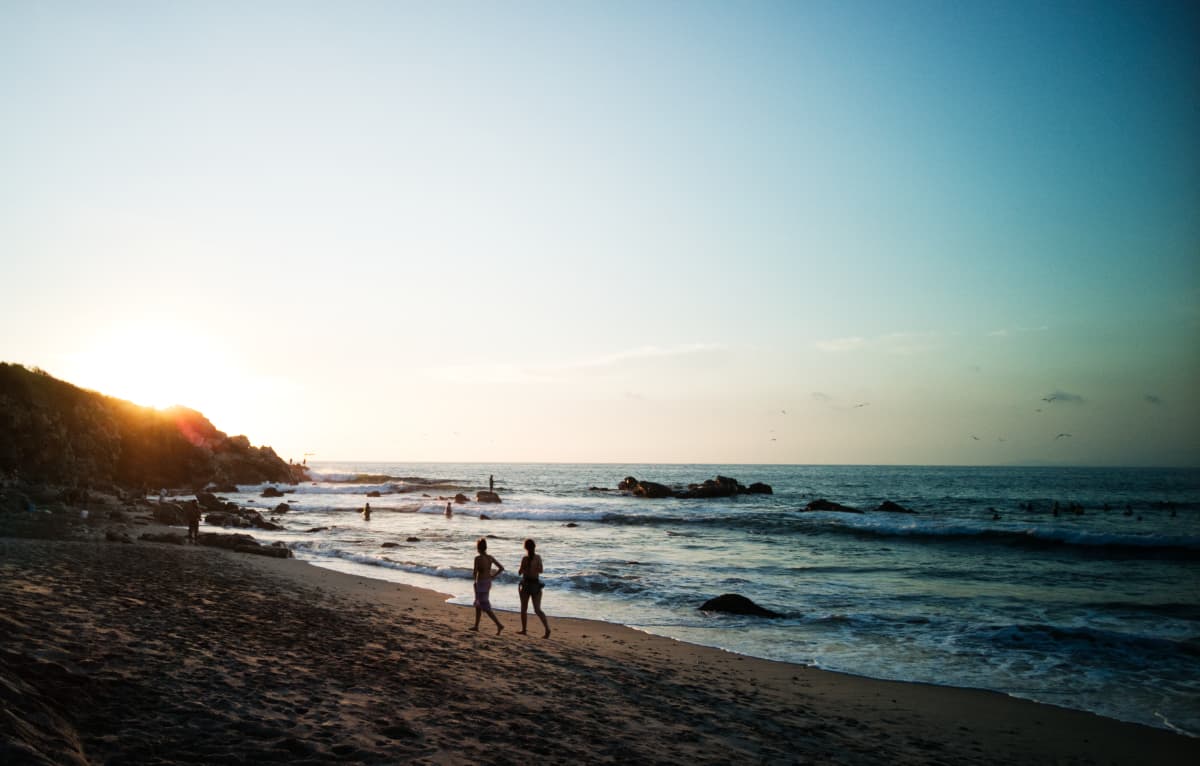 There are also a lot of beach clubs in La Punta. If your perfect day consists of lounging on the beach with a cocktail or beer, I recommend Punta Puerto. It's one of the best beach clubs in La Punta.
This area has seen a lot of development as of late. While the bohemian style was sometimes refreshing, I hope it will retain some of its Mexican roots as it continues to grow.
Planning to travel to Puerto Escondido? Learn about the neighborhoods and the best places to stay.
A Bonus Beach in Puerto Escondido, Mexico
Perhaps you've already watched the sunset in La Punta, but have you ever wondered what is behind the large cliff that gives the area its name?
Well, the answer is, another beach! But this isn't just a secluded beach. There are also impressive rock formations and a beautiful rock archway.
I became so wrapped up in the stunning rocks that I didn't have much time to check out the beach. However, its exposed location and sea turtle nesting lead me to believe it's not a swimming beach. But, it is a fabulous place to walk in the morning or before sunset.
To get there, walk La Punta beach past the surfers and look for a path on the cliff to your left. It's a short climb up and then down onto the beach. While I typically prefer sturdy shoes you can easily climb in flip flops if you find yourself there with nothing else as I did.
Playa Bacocho – Best for Long Walks, Turtle Release, and Sunset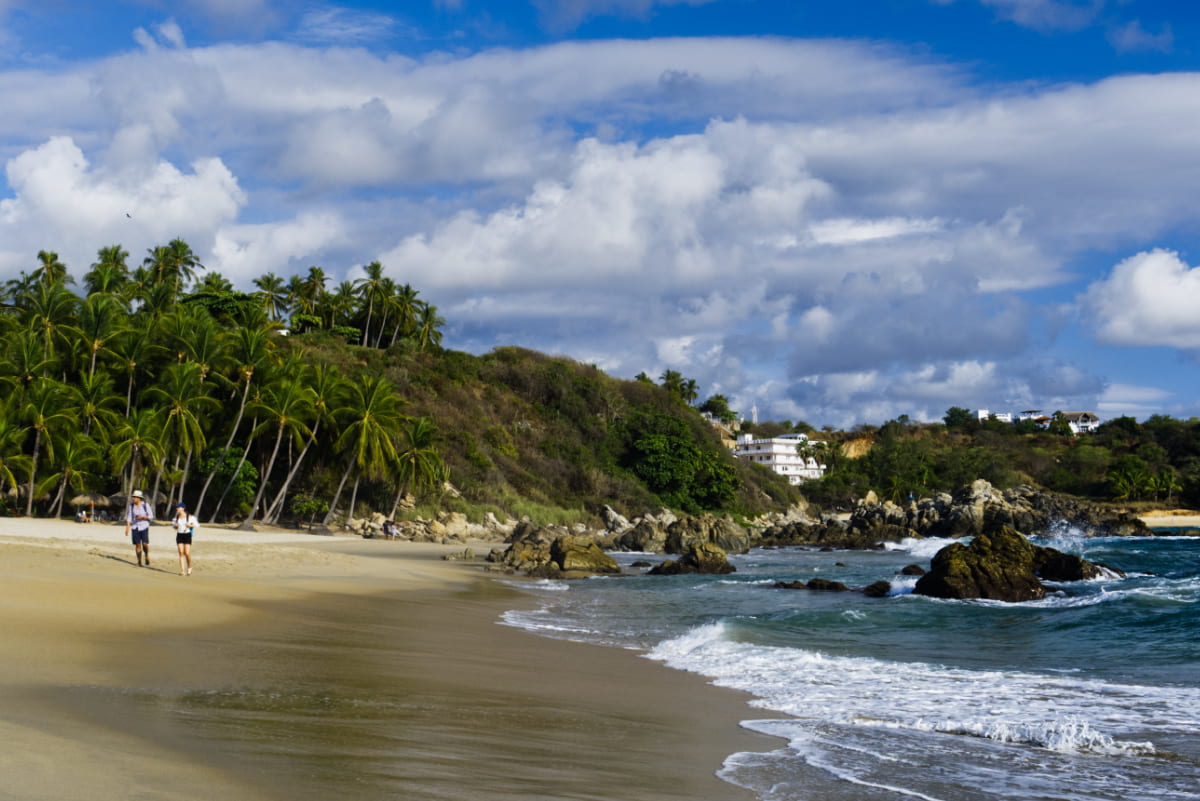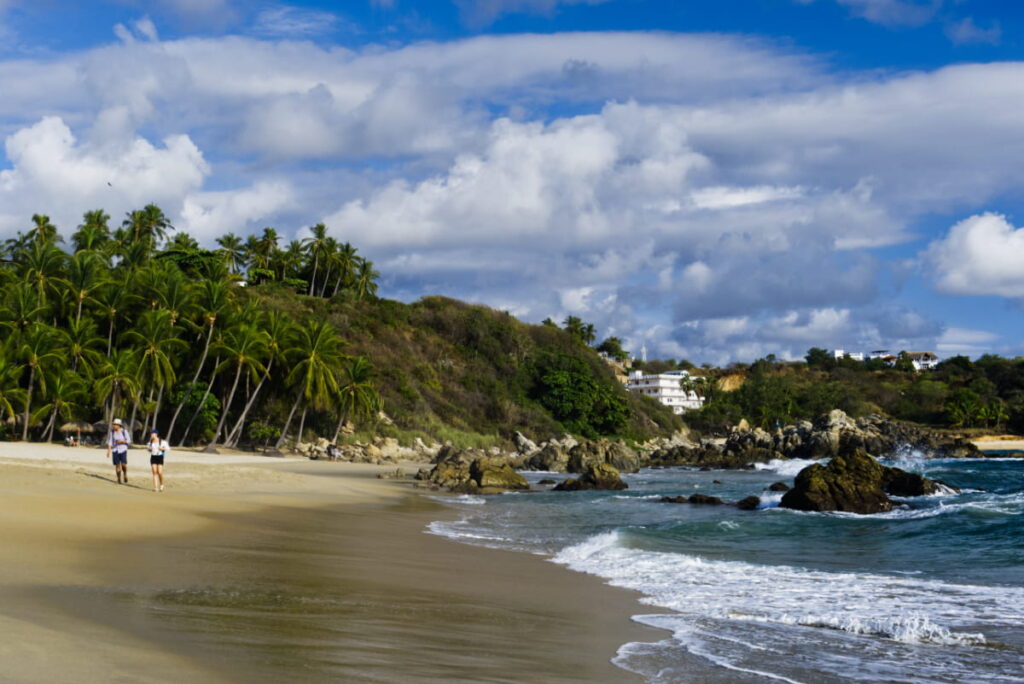 It seems as though this long beach stretches to infinity without much shade in sight. And with a strong undercurrent, Playa Bacocho is a Puerto Escondido beach that's best for a long walk before sunset.
There are a couple of high-end beach clubs with swimming pools and towering palm trees. But unless you want to feel like you are at a resort, I think there are better options with more swimmable beaches.
Another highlight of Playa Bacocho is the turtle release at Vive Mar which made my list of the best things to do in Puerto Escondido. It happens every evening before sunset.
I think the perfect combination is a beach afternoon at Playa Coral (see next) followed by the turtle release and sunset at Playa Bacocho.
Seeking more beach days? Discover the best beaches in Huatulco, Oaxaca.
Playa Coral – A Hidden Beach in Puerto Escondido
This small, nearly hidden beach in Puerto Escondido is better for swimming than its neighbor, Bacocho. However, you should still use caution as there is a steep drop-off and possible undercurrents.
So while not as calm as other Puerto Escondido beaches, its relatively remote location means there are also fewer people.
The soft white sand and clear water that flows into the bay will make you feel like you've discovered a special cove. The beach lacks afternoon shade and there are no beach bars, so you will need to bring everything you need for the day.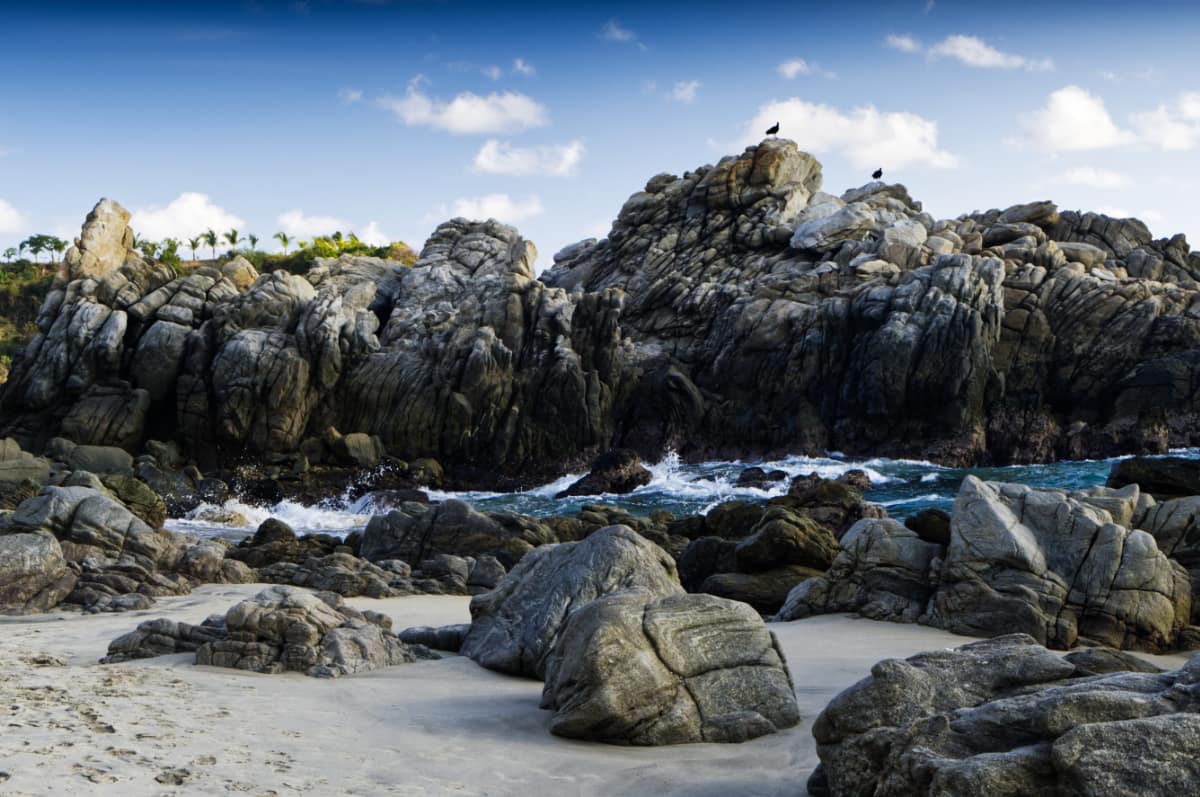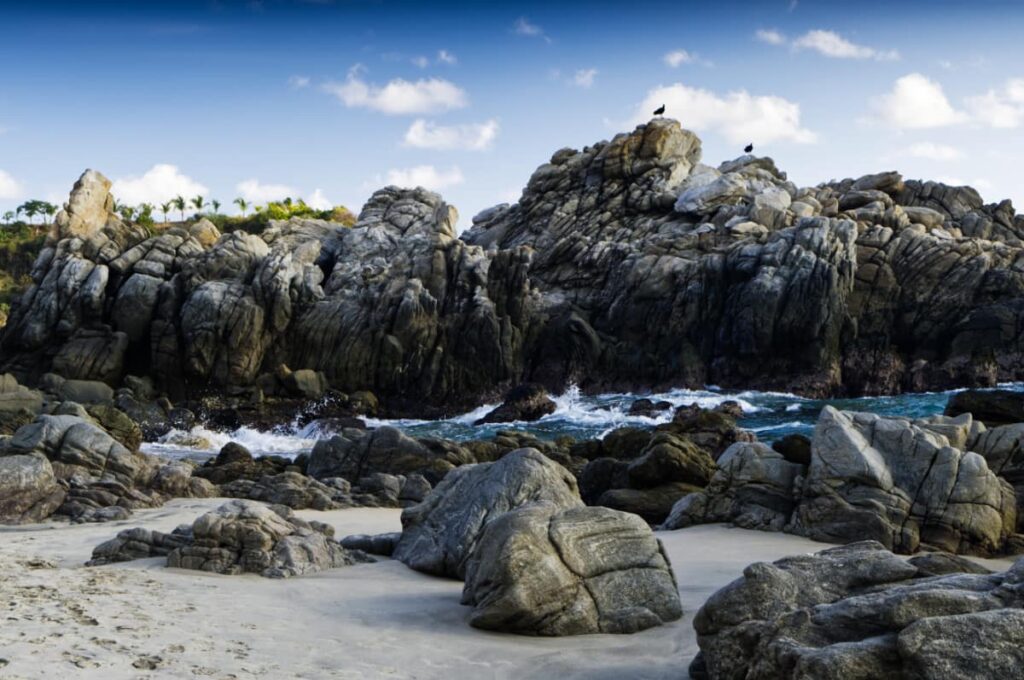 The best way to get to Playa Coral is to walk from Playa Bacocho. Just past the two resorts near the tall palms is a sandy pathway with large rocks. The beginning involves some maneuvering around the rocks, but it's quite easy.
There is also a pathway at the top of the road, though I've heard it has become more precarious lately. You can also opt to get to Playa Coral through Villa Mexicana if you pay a fee. Even though it includes a free beer and a hamburger, I personally would rather not promote privatizing access to the beaches.
So my solution was to taxi to Playa Bacocho in the afternoon heat. Then I enjoyed both beaches and the turtle release before walking back to town after the sunset. It was a lovely afternoon.
If you're coming from Oaxaca, read this guide on how to get from Oaxaca to Puerto Escondido
Bahia Principal – Central Puerto Escondido Beach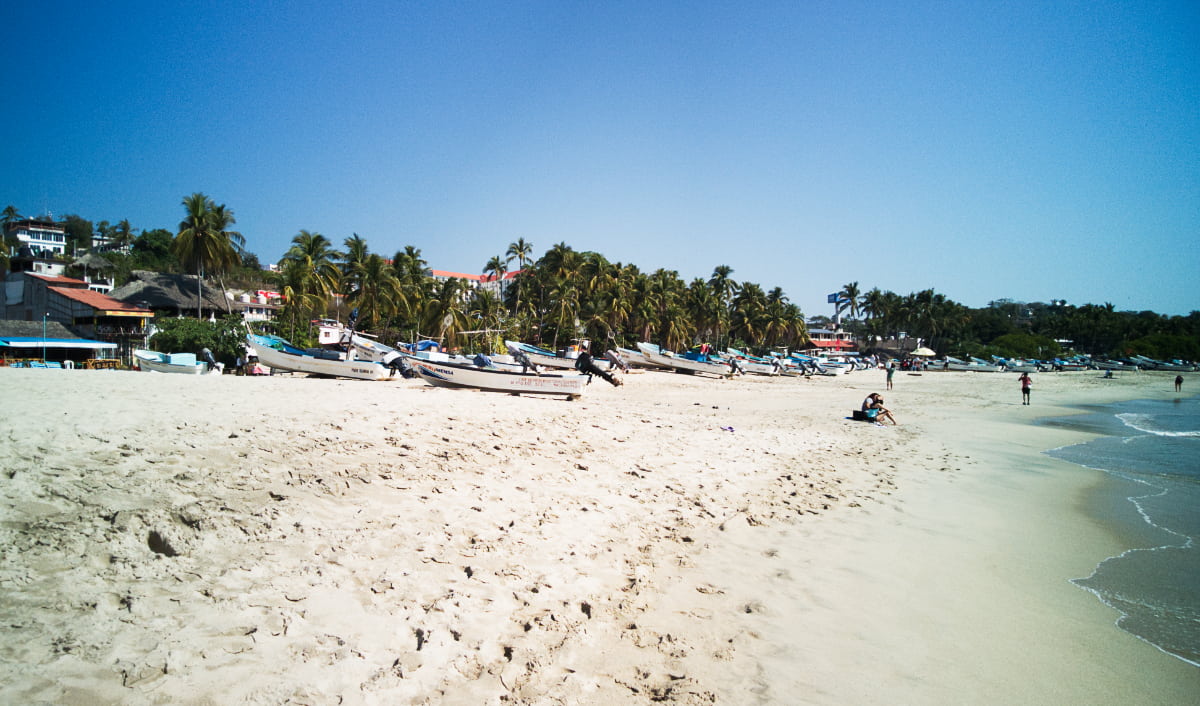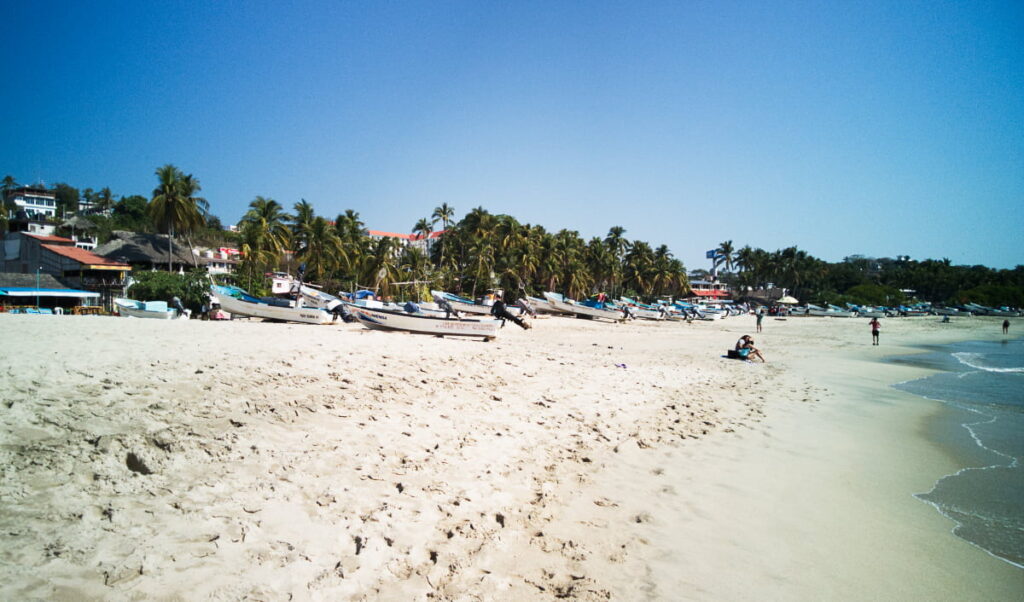 Like many Mexican beach towns, the central bay tends to be where most motorboats anchor. As a result, Bahía Principal is not my favorite beach in Puerto Escondido.
However, it is the beach to visit if you want to watch the fishermen come in with their catch of the day. You'll also likely find a few Mexican families playing in the gentle waves.
If you need to take refuge in the shade, there are a few beach bars here. In addition, this area is close to Artesanías El Adoquin if you want to buy some souvenirs. Though, you're likely to find better prices at Mercado Benito Juarez, which you should plan to visit anyhow.
Playa Marinera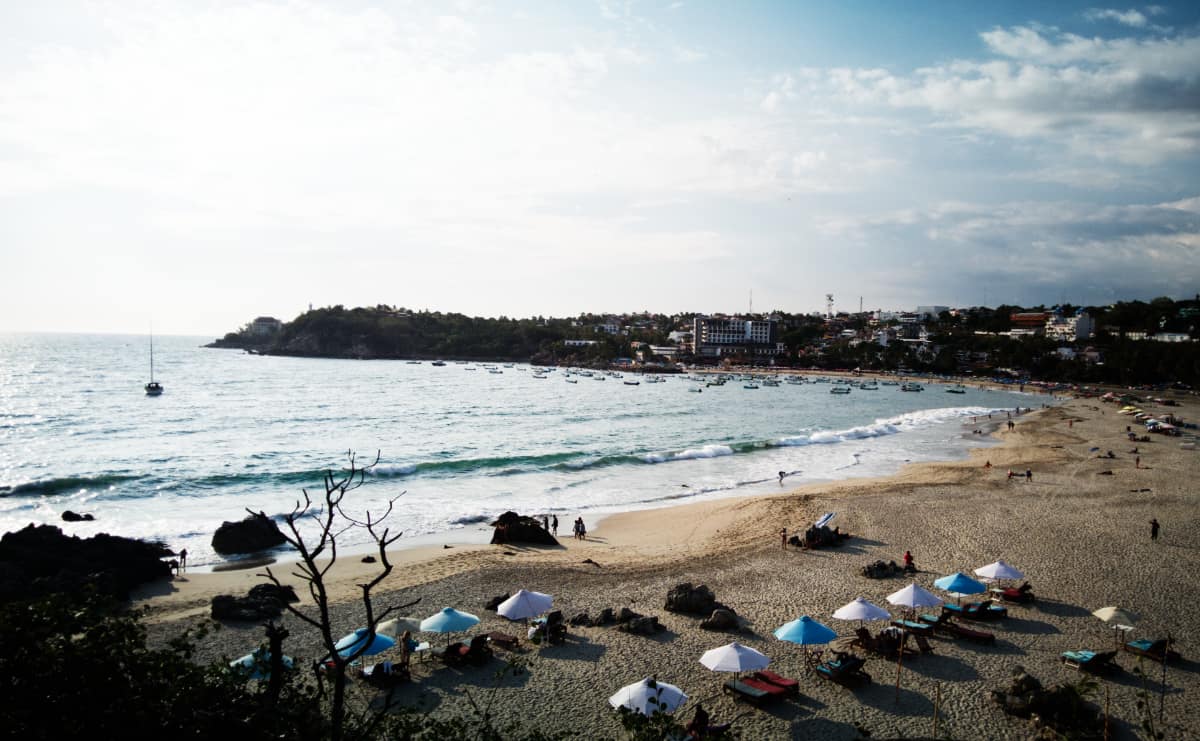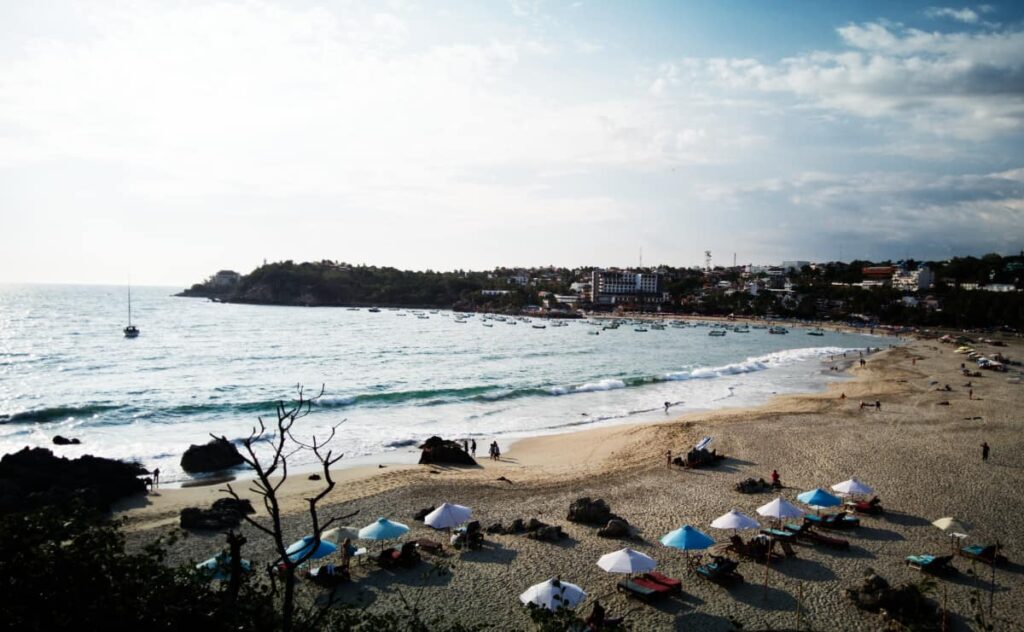 This beach could be considered an extension of the principal beach mentioned above. During the rainy season, a lagoon often forms between the two. If that's the case, you can get to this beach via access north of Playa Zicatela, near the large hand sculpture.
The waves are smaller than nearby Playa Zicatela and known for body surfing, though I would still use caution. And if you prefer, the few restaurants have lounge chairs and umbrellas along the beach.

I only explored this beach around sunset when I stopped by the restaurant, La Mariinera, for a margarita and plate of fresh sashimi. It's located directly on the beach with a beautiful sunset view.
Have you visited any of these Puerto Escondido beaches? Perhaps you have a favorite. Let me know in the comments!
Questions About Puerto Escondido Beaches
How many beaches are in Puerto Escondido?
There are eight main beaches in Puerto Escondido. They range in size from small bays to long stretches of sandy beach.
Can you swim in the ocean in Puerto Escondido?
You can swim in the ocean at most beaches in Puerto Escondido. However, some have a strong undercurrent. It's always a good idea to observe the ocean and the waves before jumping in.
Does Puerto Escondido have clear water?
The water in Puerto Escondido is very clear. The smaller bays have hues of turquoise that will make your head spin. The larger beaches tend to have stronger waves that kick up the sand and obscure the water.
Why is Puerto Escondido so popular?
Puerto Escondido is popular for its beautiful beaches and its internationally known surf break called the Mexican Pipeline. While the surf break at Zicatela should be left to the professionals, there are many other Puerto Escondido beaches that are safe for swimming, snorkeling, and surfing. In fact, you could visit a different beach in Puerto Escondido every day of the week.
How big do the waves get in Puerto Escondido?
During the summer, the waves in Puerto Escondido can get as high as 40+ feet at the main surf break in Puerto Escondido. However, the waves are calmer at other beaches, especially in the winter when there is less activity in the Pacific Ocean. You should always check where other people are swimming and watch the ocean before getting in.
Is Puerto Escondido a party town?
Puerto Escondido is considered a party town in some areas. It must be something about the beach, the surfer vibe, and the young crowd that it draws. Zicatela is known for the best nightlife in Puerto Escondido. And on Wednesday nights, Congo Bar is known for salsa dancing. There are other areas in Puerto Escondido that are great for families – Rinconada is my top pick.
Is Puerto Escondido walkable?
Puerto Escondido is walkable within the individual neighborhoods of Centro, Rinconada, Zicatela, and La Punta. To travel between these areas, it's best to take a taxi or colectivo (shared transport). Yellow taxis can be flagged down on the street. To catch the colectivo, flag it down on the highway, jump in the back, and ring the bell when you're ready to get off.
Should I go to Oaxaca or Puerto Escondido?
You should go to both Oaxaca and Puerto Escondido. While both are in the state of Oaxaca, they are very different. Oaxaca City is known for its colonial buildings, incredible food, artisanal mezcal, and artisan villages. Puerto Escondido is known for its beaches, surfing, and nature. If you are limited on time, you will need to choose between the city and the beach.