Whale Watching Puerto Escondido: Everything You Need to Know
When I returned to the coast of Oaxaca last winter, whale watching in Puerto Escondido was at the top of my list of things to do.
I ended up going on two different whale and dolphin tours because nothing is guaranteed in nature. And I think that is really important for you to keep in mind as your journey out into the ocean during whale season in Puerto Escondido.
Most tours will guarantee dolphin and turtle sightings. The whales have proven to be a little more elusive.
In this post, I will detail my experience, including my recommendations for a whale and dolphin tour in Puerto Escondido.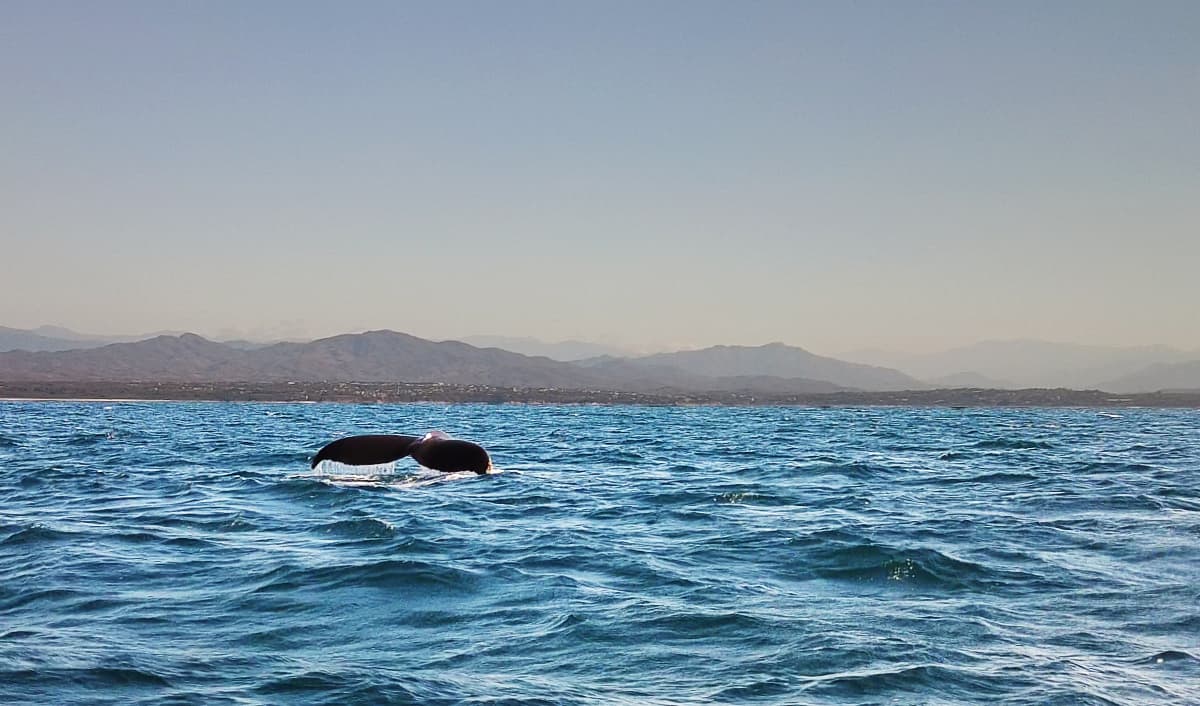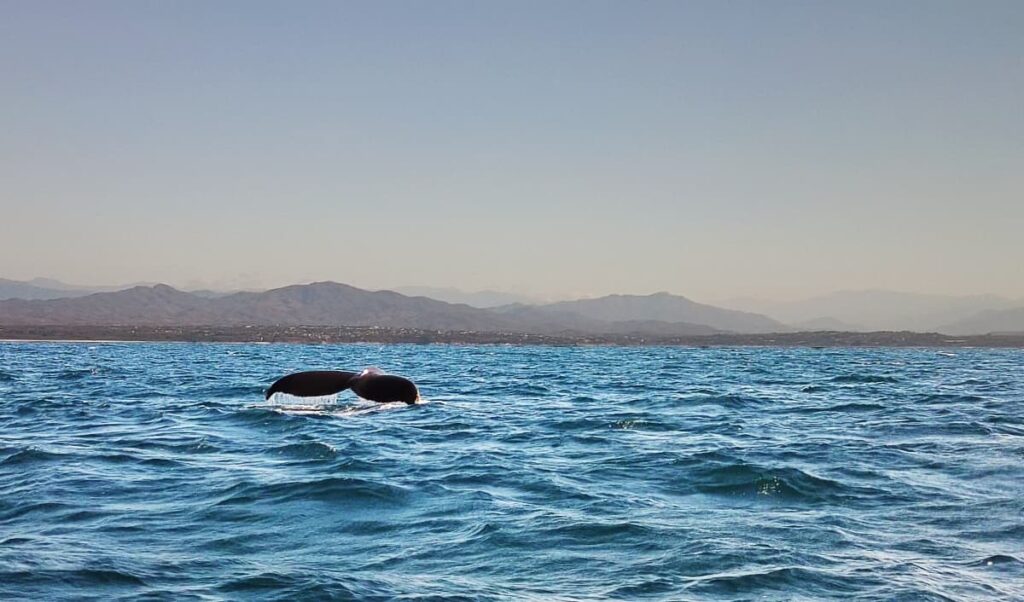 This article may contain affiliate links. This means if you click a link on our blog and make a purchase, we earn a commission at no additional cost to you. For full information, please see our disclosure.
Whale and Dolphin Tour | Puerto Escondido
You can book a whale and dolphin tour from one of the beaches in Puerto Escondido. Most boats leave from either Playa Principal or Puerto Angelito. If you have a group of 6 or more, you can set up a tour in person for about 500 pesos per person.
However, I highly recommend you book this whale and dolphin tour which was a more professional experience than the first tour I took. If you're a small group, it will also be the best option since they can pair you with other travelers.
In addition, the established tours are in communication with each other throughout the morning. If someone spots a whale, they will share the location with each other so that everyone has the best experience possible.
As I briefly mentioned earlier, I recommend going in with an open mind. Be appreciative of the wildlife you do encounter, without expectations. Because nature is unpredictable.
My First Experience Whale Watching, Puerto Escondido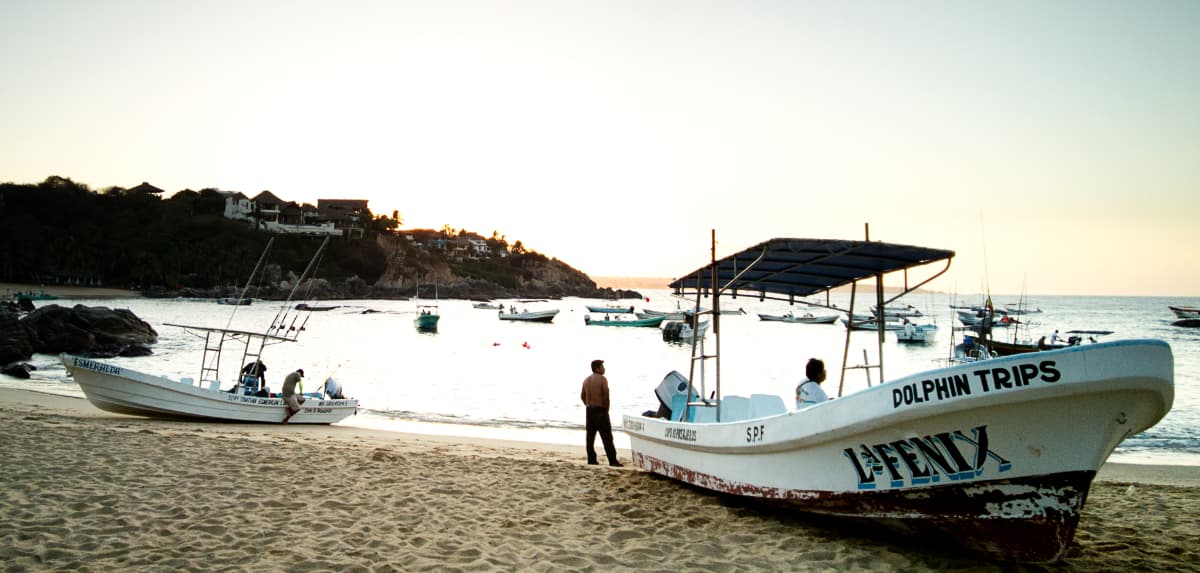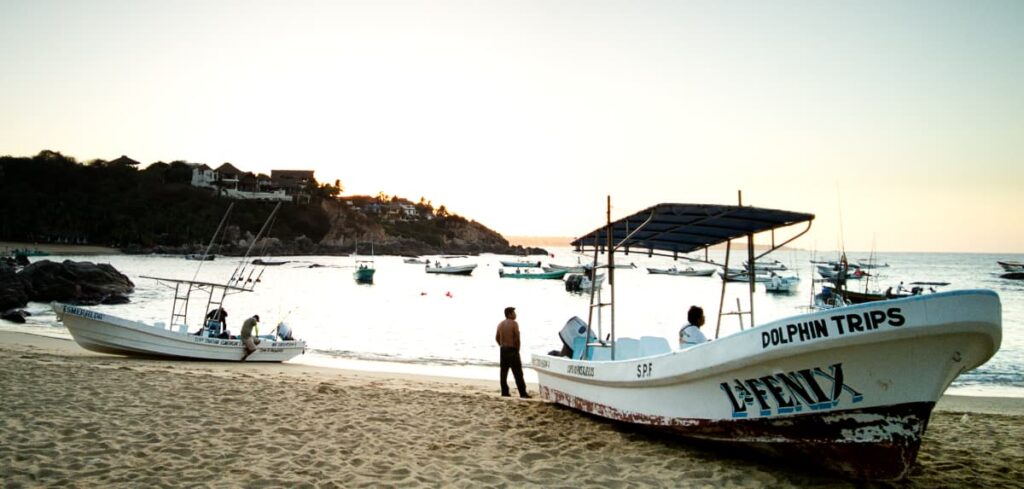 The first time I went whale watching in Puerto, I joined a group from my hostel. The tour was sold to them by a guy that was simply the driver. He drove us to the beach, introduced us to the boat captain, asked for payment, and left.
At that point, there was no incentive to follow through. The boat captain was friendly but after spotting a large pod of dolphins, it seemed as though he felt his job was done.
He spent the rest of the morning on his phone while we continued looking for whales, turtles, and more dolphins.
We never spotted a whale. And since I know you can't force nature, I was okay with that. The dolphin experience was incredible, but I left the beach still yearning to see whales.
This was actually my second disappointing experience setting up a boat tour directly at the beach on the Oaxacan coast, which leads me to believe booking a tour online where the operator relies on reviews may be the best way to go.
Keep reading to learn about the better experience I had with a second tour that I booked online.
A Better Experience Whale Watching, Puerto Escondido
A couple of weeks later, I decided to try again. But this time I booked this Puerto Escondido dolphin and whale watching tour with a highly-reviewed company. The entire experience from hotel pick-up to the whale and dolphin tour itself was more professional.
After being picked up in a van, we drove to the beach where we met up with other travelers. Aboard the boat was not only our knowledgeable captain but a younger man who stood at the bow of the boat as a spotter.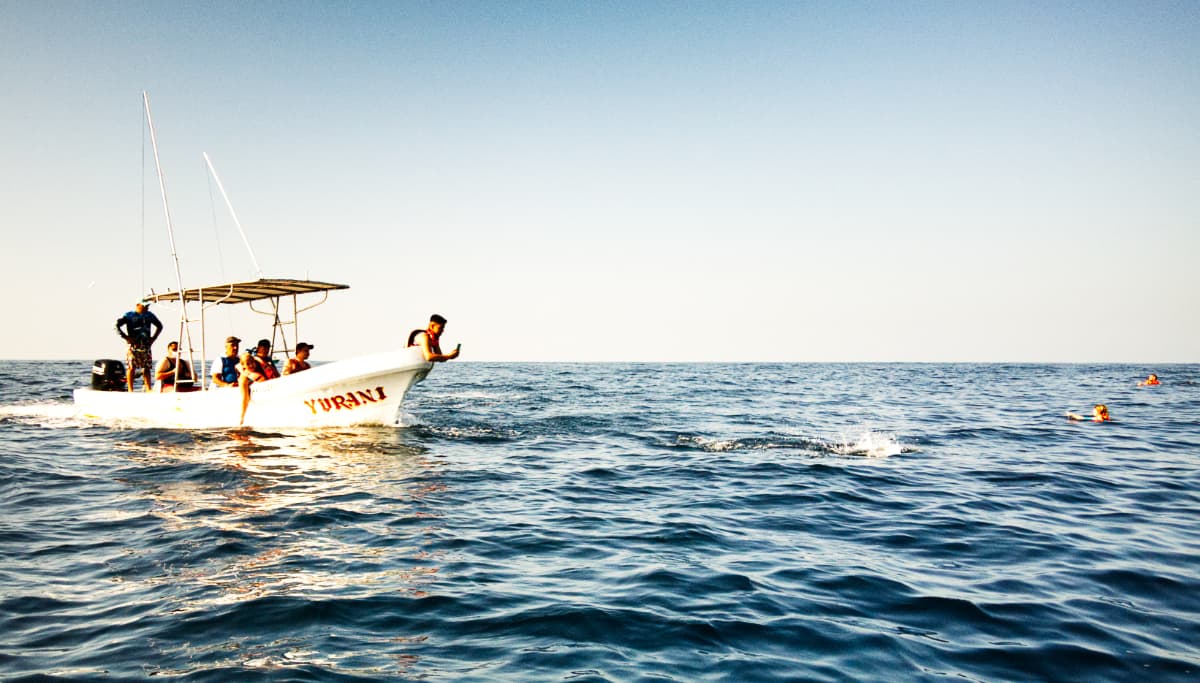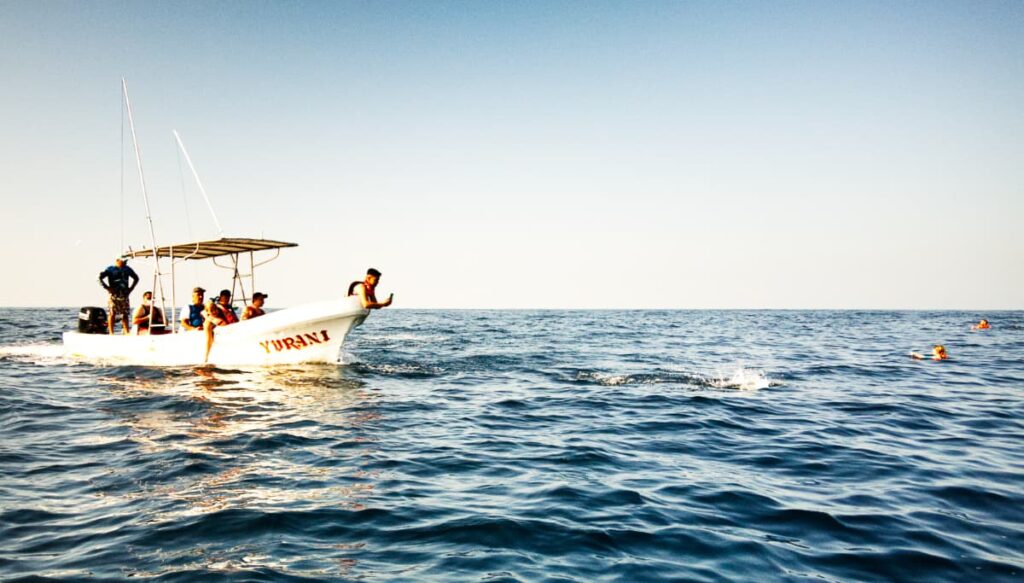 That morning we found a small pod of about 200 spotted dolphins. The captain gave us information about this type of dolphin and explained that they breach the surface of the ocean in pairs.
After cruising alongside the dolphins, we continued to look for whales but it seemed as though luck was not on our side. After a couple of hours on the water, we started to head back to shore.
Tip: Check the weather before you go. In hindsight, there was a small storm approaching Puerto Escondido that day which I why I think it was difficult for us to spot a whale. I only realized when the strong wind picked up later in the day.
When we were about halfway back to the beach in Puerto Escondido, the captain received a call. Another boat had spotted a humpback whale.
We excitedly turned around and set off for the general location. By the time we returned, the whale had moved. It took a moment, but with the spotter as our guide, we encountered the whale just as it was breaching the surface.
It was a beautiful sight with this massive wild animal swimming in the ocean in front of us. It breached the water a few more times before giving us a spectacular show as its tail came out of the ocean and everyone on the boat gasped in unison.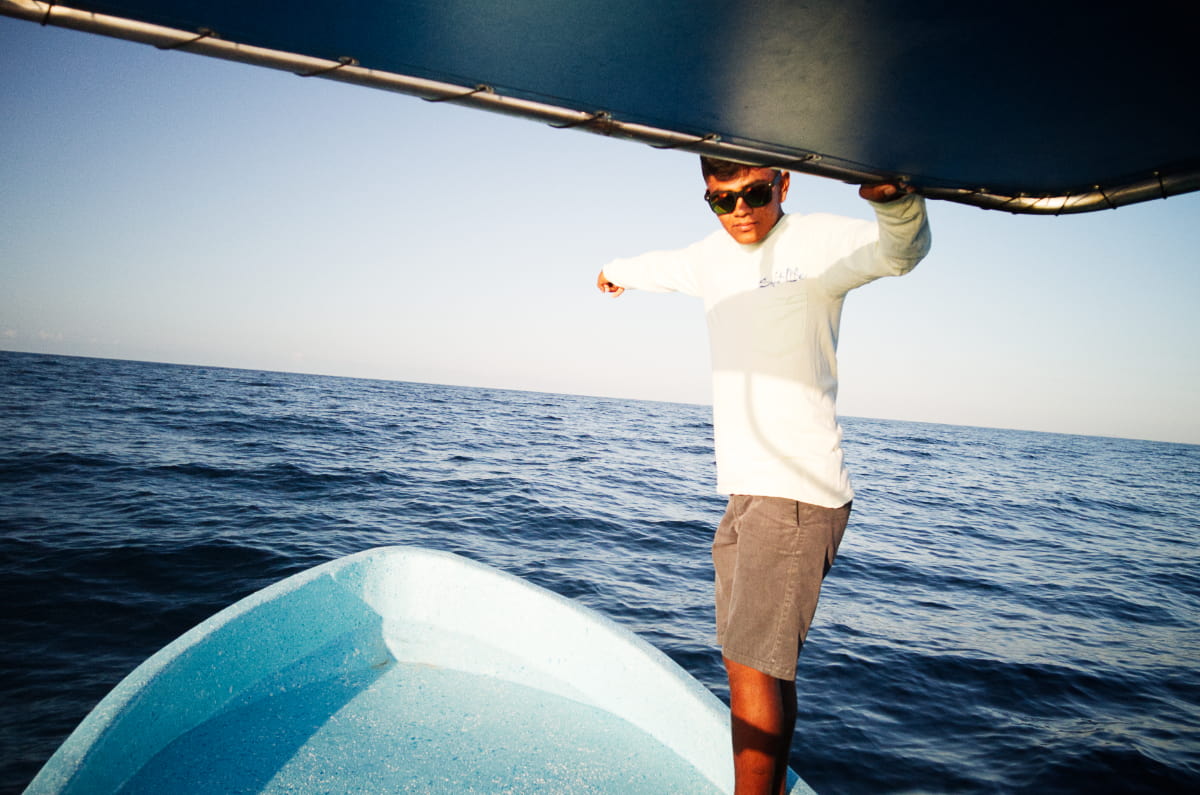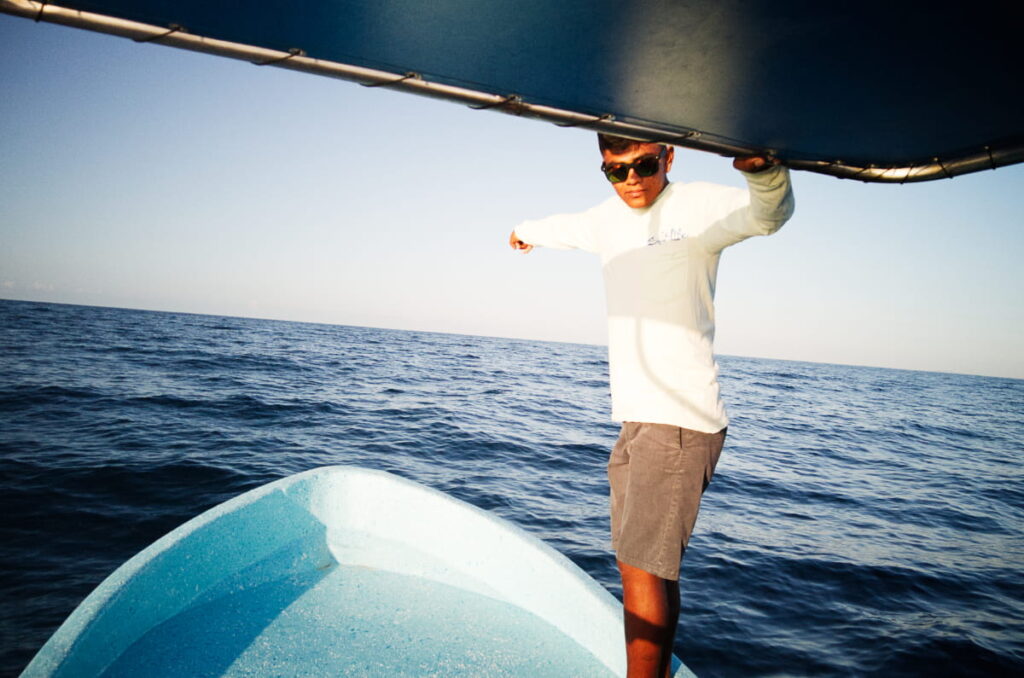 Whales Puerto Escondido
One morning, while eating breakfast at a restaurant perched above Playa Carrizalillo, the server excitedly pointed to a whale sighting in the ocean below. It was whale season in Puerto Escondido and there was a buzz in the air.
Seeing whales in Puerto Escondido is definitely one of the best things to do. If you're visiting during whale season, you should definitely make it a point to add this experience to the top of your list.
Whale Season in Puerto Escondido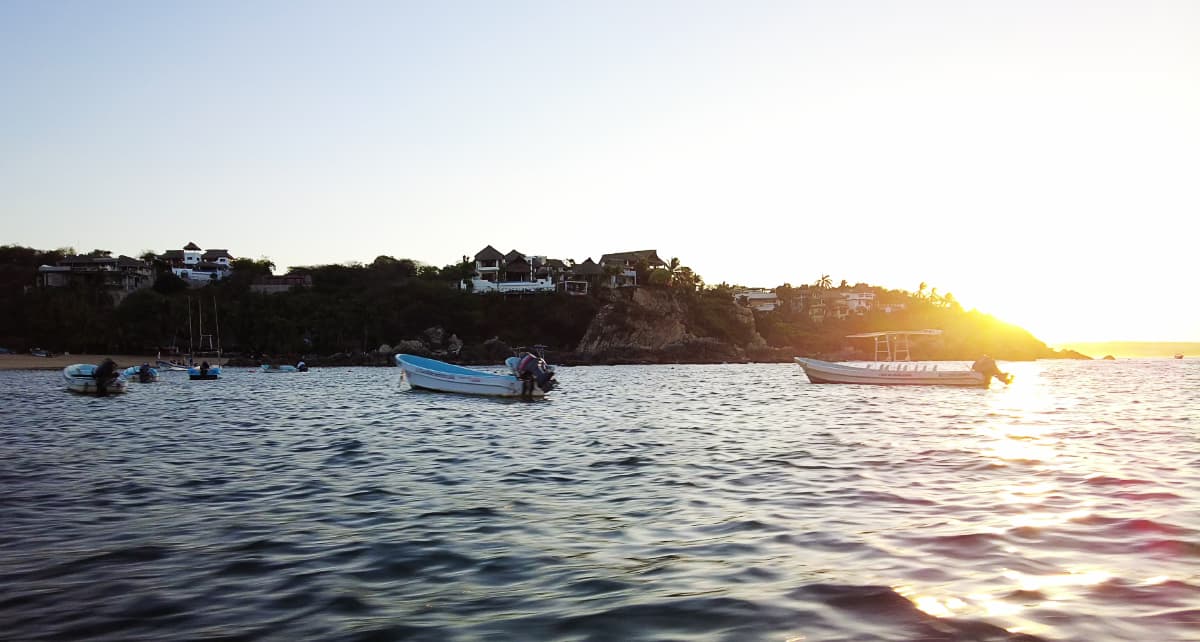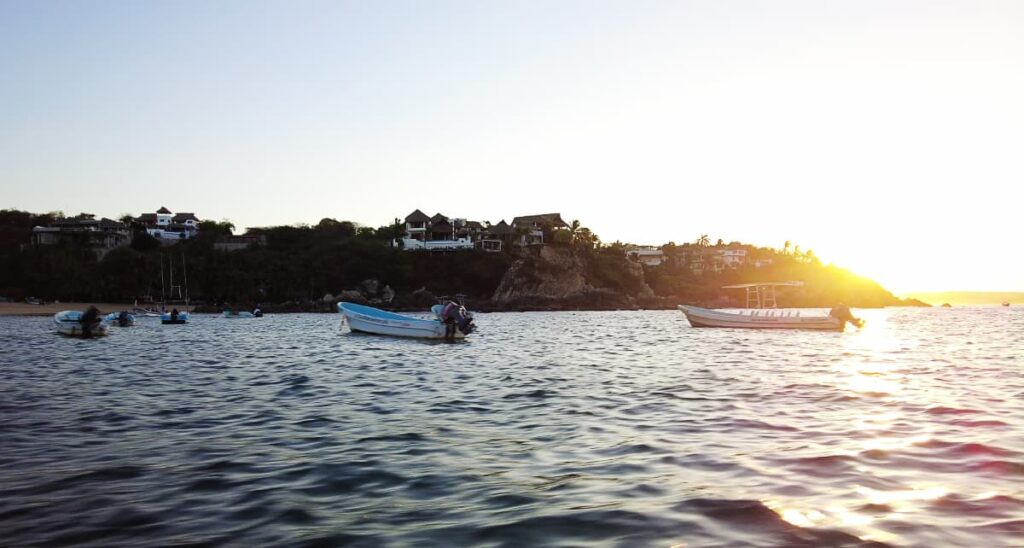 Puerto Escondido whale watching season starts as early as November. The peak of the season is from December through February before whale season in Puerto Escondido ends in late March.
During this time, whales migrate from northern waters to the Pacific Ocean off the coast of Oaxaca to mate and give birth. Humpback whales are the most common, though it's possible to see blue whales, gray whales, and orcas.
Puerto Escondido Dolphins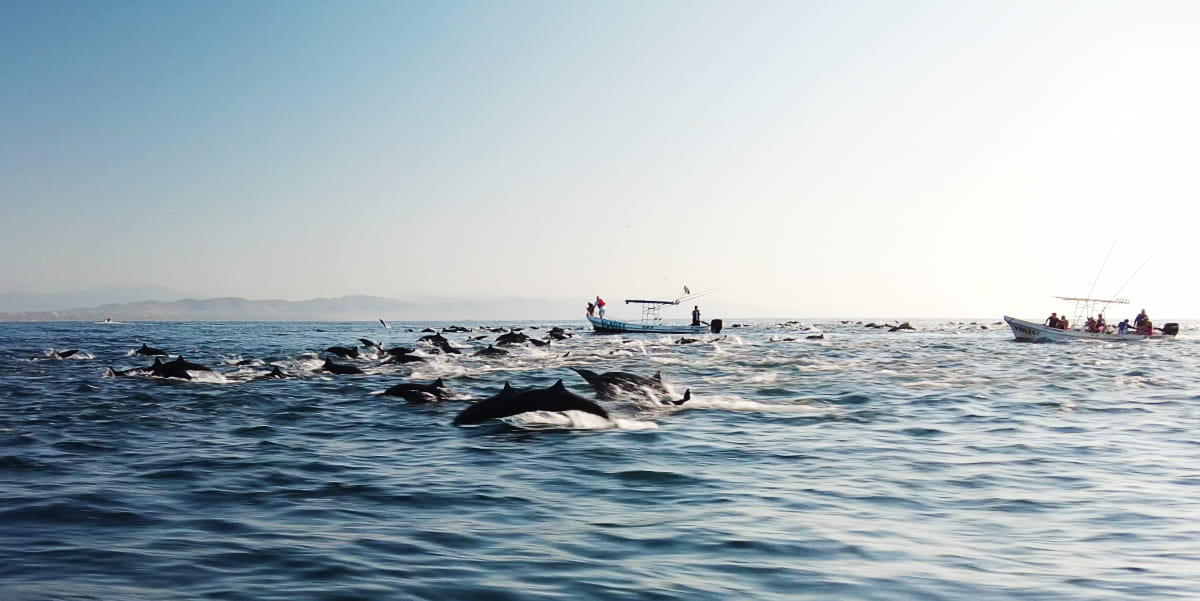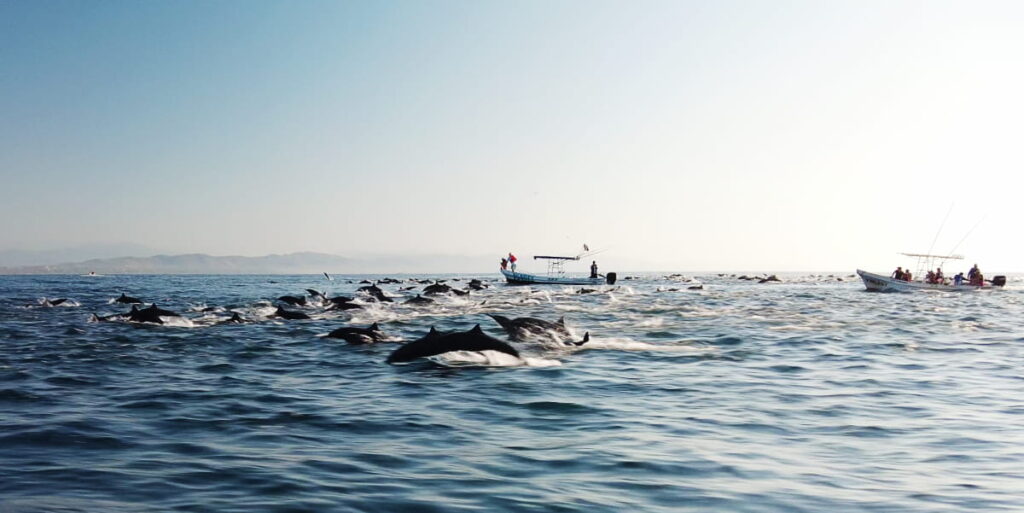 When the group from my hostel first brought up the idea of the tour, they referenced it as a dolphin tour. So after clarifying that we would also be whale watching, I agreed to join.
I grew up living near the ocean so I was a bit nonchalant about the idea of seeing dolphins in Puerto Escondido. However, my stance quickly changed once we started cruising with a pod of several thousand spinner dolphins.
It was a magical experience as they swam alongside the boat and leaped out of the water, quickly spinning around before falling back down with a splash.
Experiencing a large group of wild animals in their natural environment is always impressive. And this was no different.
So if you find yourself along the coast before the start of whale season, I would still encourage you to book a dolphin tour in Puerto Escondido.
Questions About Puerto Escondido Whale Watching
Can you see whales in Puerto Escondido?
Yes, you can see whales in Puerto Escondido. The area is the second whale observation zone designated in Oaxaca. It's best to see whales in Puerto Escondido on a boat tour, however, you can sometimes spot them from the shoreline.
When can I see whales in Puerto Escondido?
In Puerto Escondido, the whales begin to arrive in November and December. They start to return north, to their feeding grounds, in February and March. And typically, by April there are not many whales in Puerto Escondido.
What is the best month to go whale watching?
The best months to go whale watching in Puerto Escondido are January and February. You should choose a clear day and leave early in the morning.
When can you see dolphins in Puerto Escondido?
You can see dolphins in Puerto Escondido throughout the year, although clear and calm days are best. When you take a dolphin tour on a boat, you can find a pod of 1,000 or more dolphins. You can then cruise alongside them as they play, jump, and feed in the water.
Is it better to whale watch in the morning or afternoon?
Generally, it is better to whale watch in the morning when the ocean is calmer. It is best to check the weather conditions and choose to go whale watching on a day with calm seas and less wind.