21 Places to Eat the Best Tacos in Oaxaca City
Oaxaca City is famous for tlayudas, mole, and other regional specialties. So, when you think of eating in Oaxaca, tacos are probably not the first thing that comes to mind.
While there are many places to eat tacos in Oaxaca City (it is Mexico after all), it's not particularly obvious where to go to find the best tacos in Oaxaca.
While it would be impossible to list all of the best tacos, this list focuses on the areas of Centro and Reforma since that's where most visitors to Oaxaca City explore.
And I determined it would be best to organize these Oaxaca tacos by area since eating tacos is often last minute decision. This list includes tacos de lechon, tacos de cazuela, late night street tacos, and of course tacos al pastor.
Let's dive into the best tacos in Oaxaca City.
Quick Tip – Street carts are prohibited in Oaxaca City on Wednesdays as a way to give the streets a rest. Although I have found that the ban doesn't seem to apply to the areas around the main mercados in Oaxaca – Benito Juarez and 20 de Noviembre.
Best Tacos in Oaxaca Centro
Tacos y Consome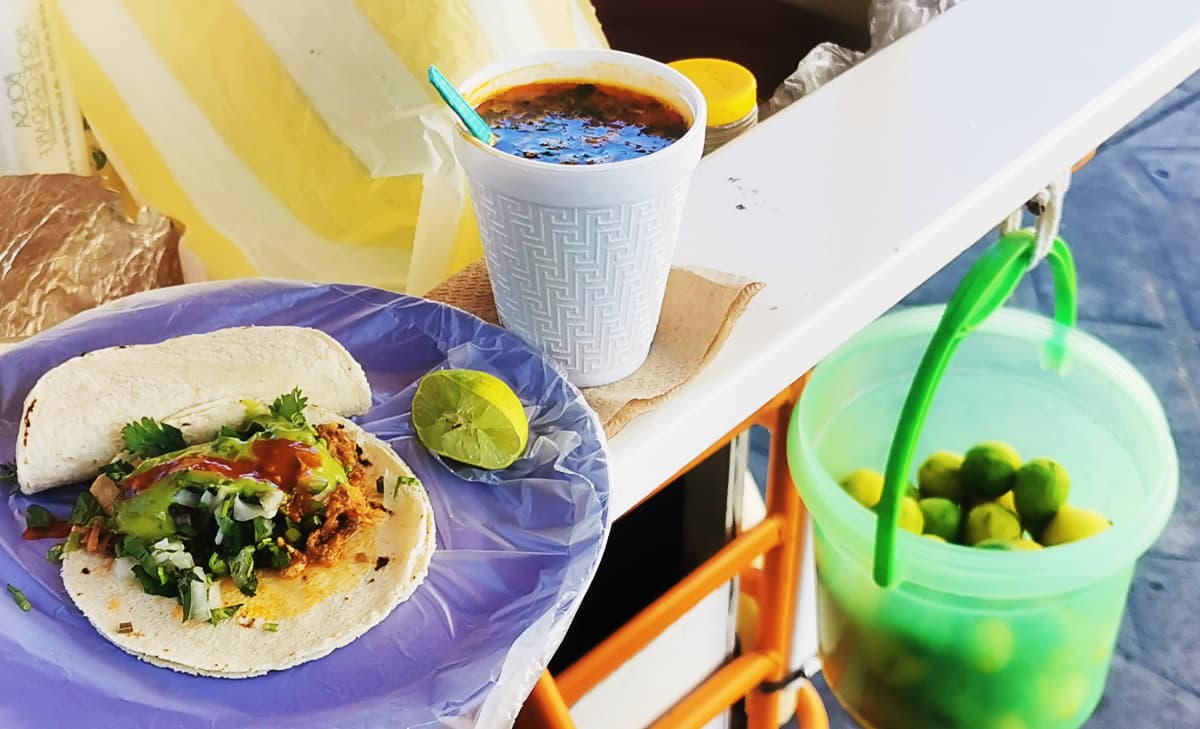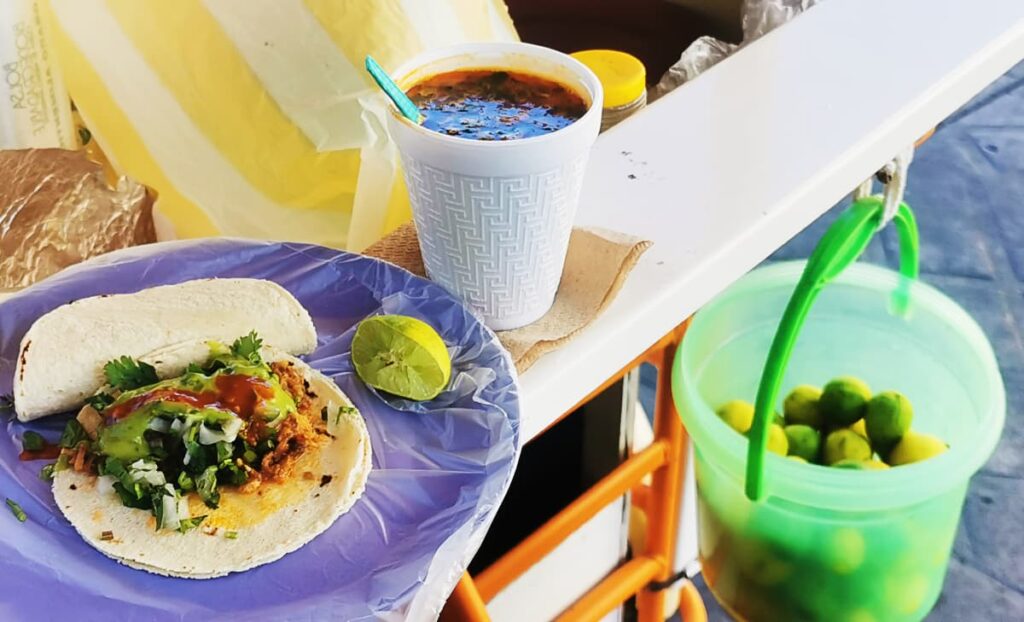 I lost count of the number of times I passed by this Oaxaca taco stand before stopping to eat here. And after one bite of taco, I immediately wondered why.
I think I found the name, Tacos y Consume, to be a bit boring. And honestly always wondered why you'd want to eat beef barbacoa when there is incredible lamb barbacoa in Oaxaca.
Well, now I can think of two reasons. Lamb barbacoa is hard to find during the week. And beef tacos are more affordable.
In reality, the beef barbacoa tacos are quite tasty. I was told they cook the beef with avocado leaves which are also used in Oaxaca food, most notably when cooking a pot of beans.
I recommend starting with two tacos and a cup of consume. Eat the tacos as the consome cools. And then order two more tacos, because you know you want to!
This Oaxaca taco stand has two locations, neither of which I could find on Google Maps. The one near this corner (map) sets up in the morning and serves tacos into the early afternoon.
The other usually sets up shop around 12 pm in front of the Botanical Garden, one of the top things to do in Oaxaca.
Keep in mind, both are closed on Wednesdays when street food carts aren't allowed in the city.
Tacos del Carmen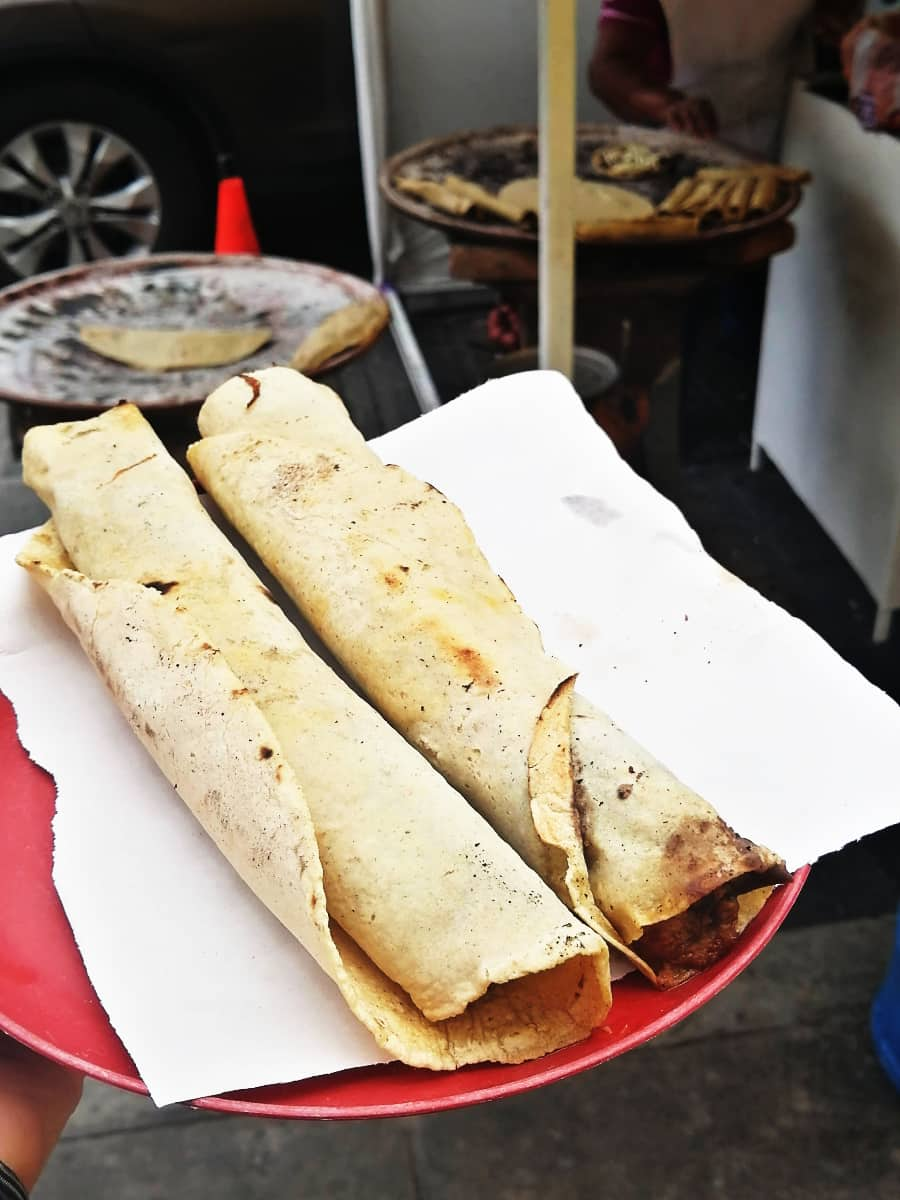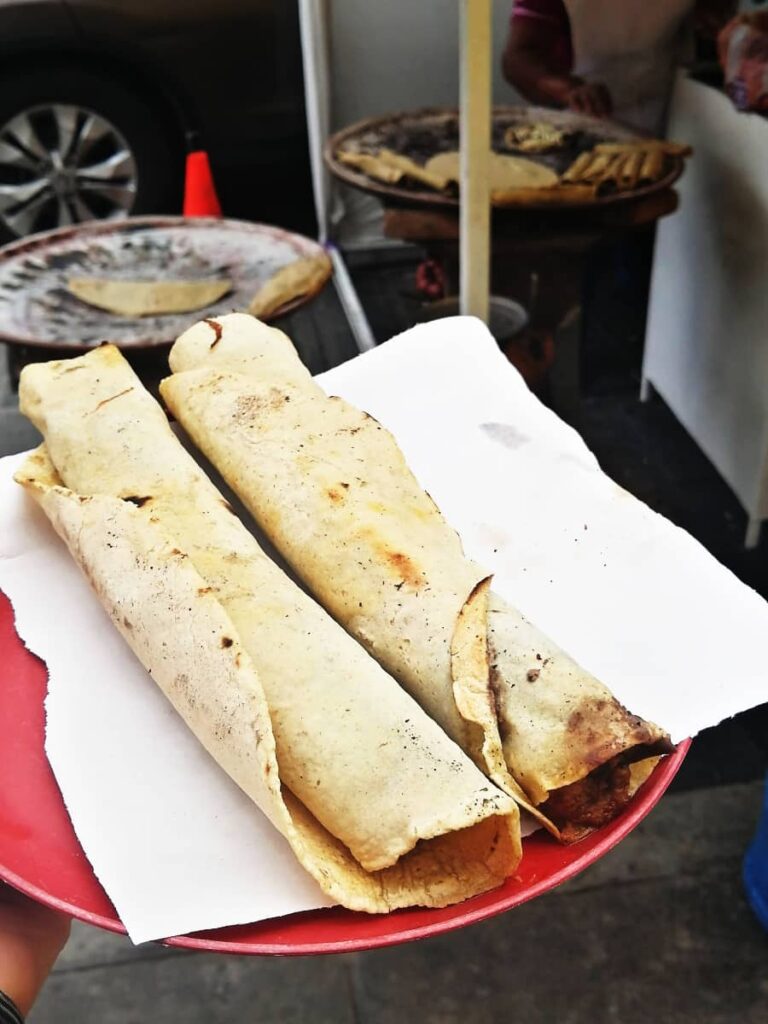 This daytime taco stand is one of my favorite places for street food in Oaxaca. And the menu includes more than tacos.
They also serve other Oaxacan classics, such as quesadillas, tlayudas, memelas, and one of my favorites – the empanada amarilla. The chile relleno taco is also a standout on the menu.
Tacos del Carmen closes by midafternoon. If you miss this place, their neighbor Empanadas del Carmen sets up shop with many of the same classics around 6 pm.
And while the neighbor stand was featured on Netflix special about Oaxaca street food, I prefer the flavors of Tacos del Carmen.
Taquería Tacomer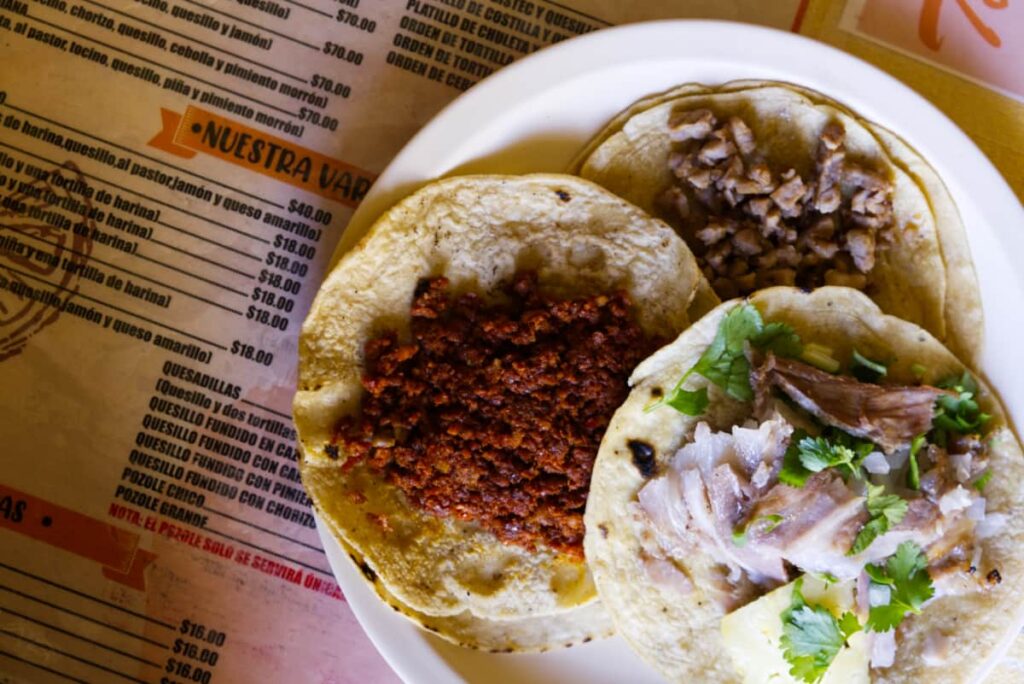 If you're looking for simple but flavorful tacos in Oaxaca, I highly recommend stopping at Taquería Tacomer.
Like most of these cheap taco spots, they are open late and the pastor tacos are the highlight of the menu.
You can order as many as you'd like or a plate of five. The menu includes other options such as plates of alambre and gringa tacos which are made with flour tortillas and cheese.
The first time I ate at Taqueria Tacomer, I ordered a mix of different tacos to try. While good, I recommend sticking with tacos al pastor. I like this taco spot so much that I included it in my favorite restaurants in Oaxaca.
Chefinita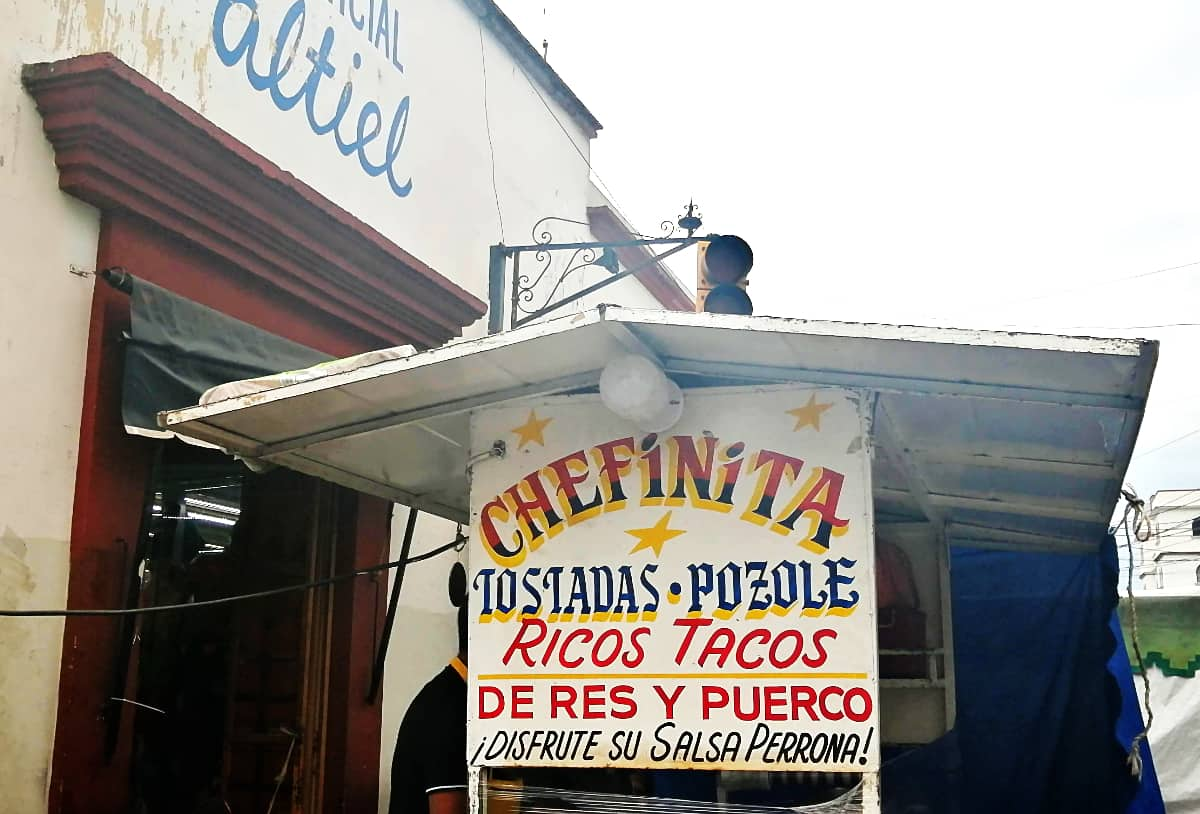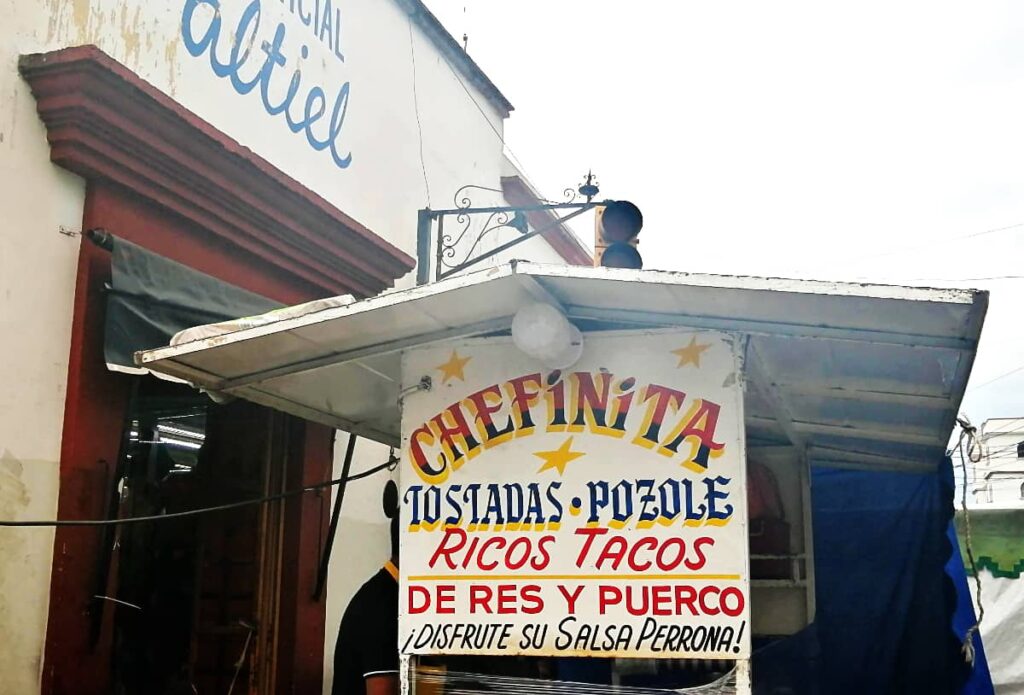 Perhaps the most popular thing about Chefinita is the fire-hot habanero salsa that's available to add to your tacos. But that's not to discount the food itself. It's also incredibly flavorful.
The beef and pork tacos (or tostadas if you prefer) are succulent and flavorful. And while this is meant to be a list of the best tacos in Oaxaca, the pozole at Chefinita also stands out for its rich flavor.
This taco spot in Oaxaca opens when the sun sets and stays open late. It's located in the bustling 20 de Noviembre market area so just make sure to watch your belongings as you're drooling over this street food stand.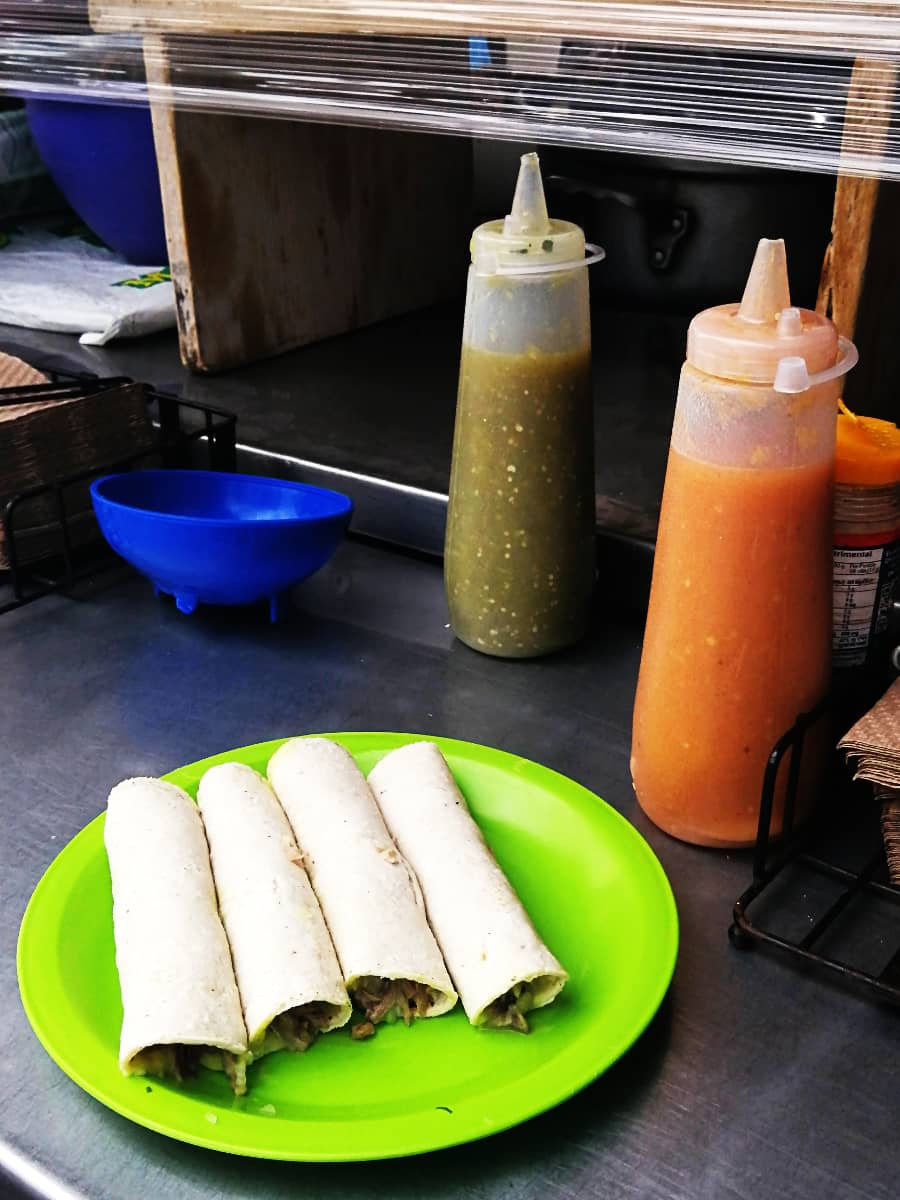 Taqueria El Primo
While eating my plate of pastor tacos, I found myself a bit disappointed with this taqueria in Oaxaca. Then I tried my friend's costilla (rib meat) tacos and found myself ordering several of them.
Seriously, they are where it's at. Taqueria El Primo wouldn't have made this list of the best tacos in Oaxaca if I hadn't made the leap over to the other side.
Although among the reviews there seems to be plenty of raving fans of their tacos al pastor as well. So I recommend trying both and making the decision for yourself.
This is a family-run taco restaurant in Oaxaca with prices to match.
Tacos Del Llano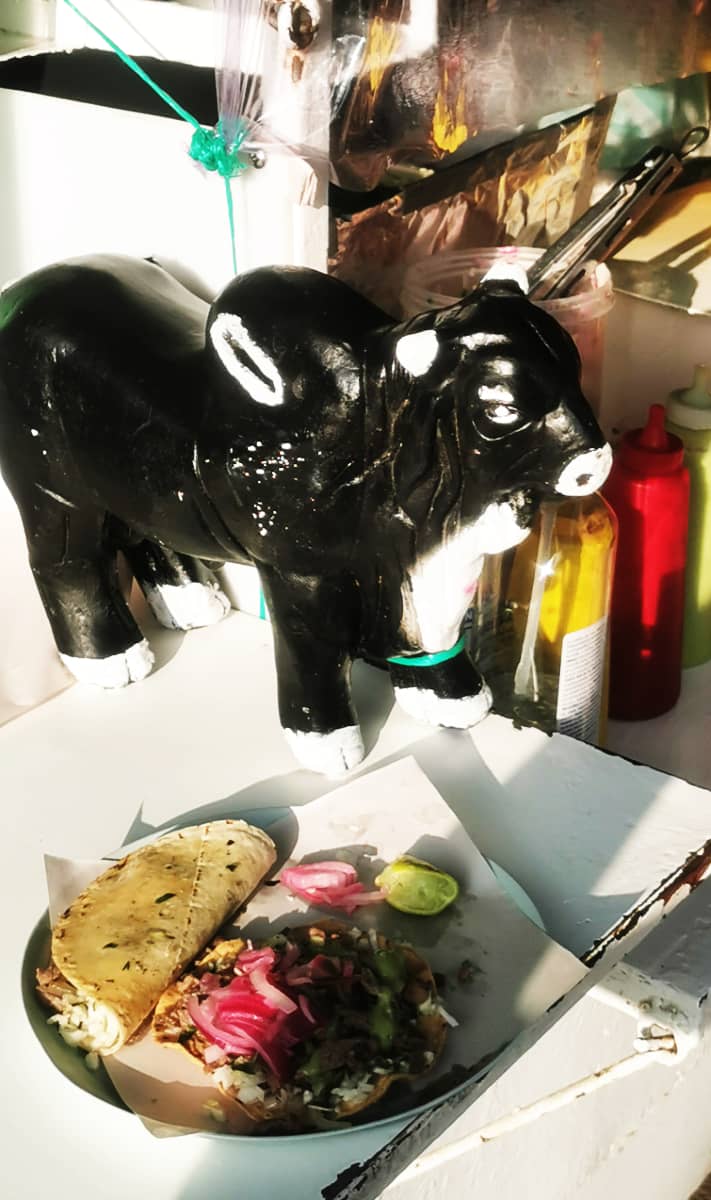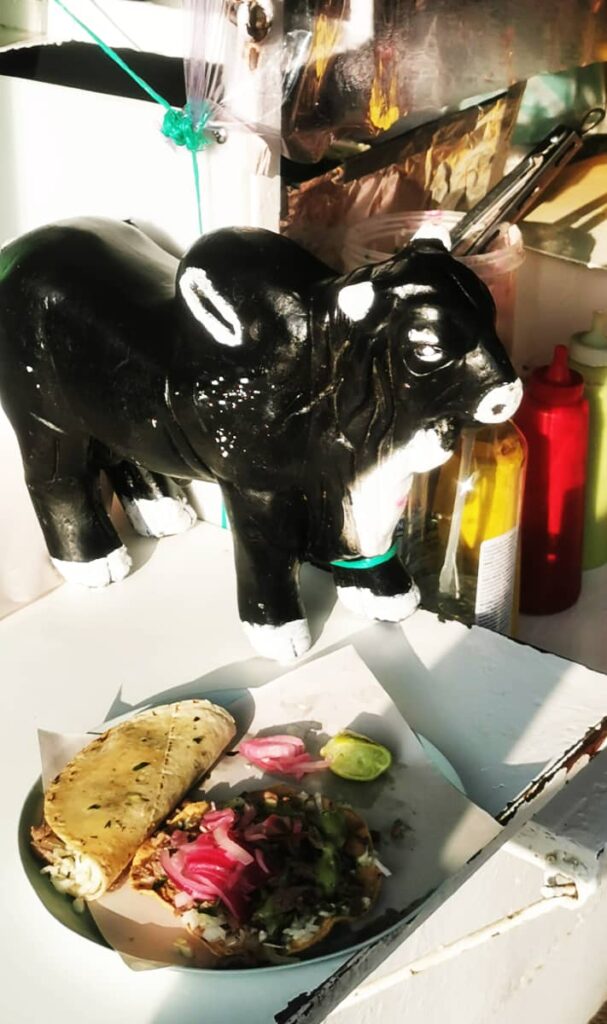 This taco stand in Oaxaca is known for its tasajo, a thin cured beef that is one of the most popular things to eat in Oaxaca. It's a thinly sliced beef that is sometimes cured before cooking.
Tasajo is classic Oaxaca and most often seen on a tlayuda. So I was surprised to find it chopped up and stuffed into tacos.
But as I passed the long line that forms at night, something told me I should try them.
The tasajo was succulent and topped with shredded cabbage. Though I preferred the crunch of the tasajo tostadas.
If you're a fan of tasajo, this is a solid Oaxaca taco stand located in El Llano park.
Pepe Pica Papas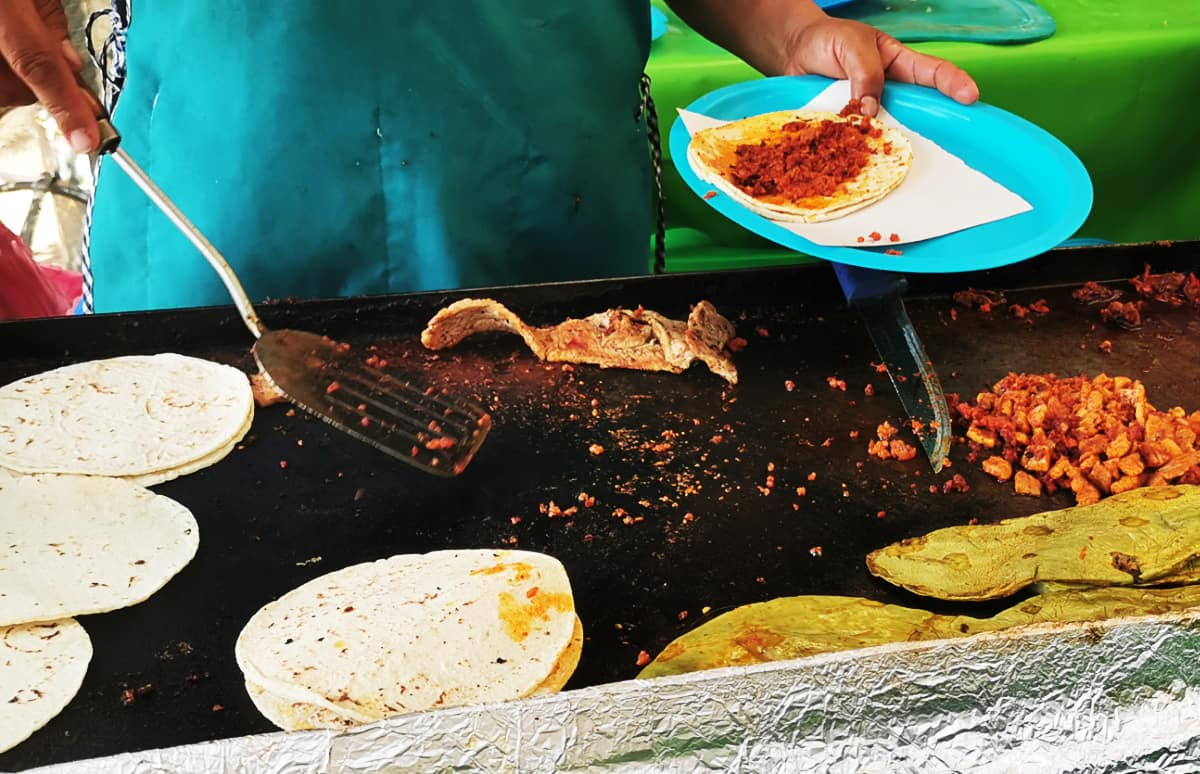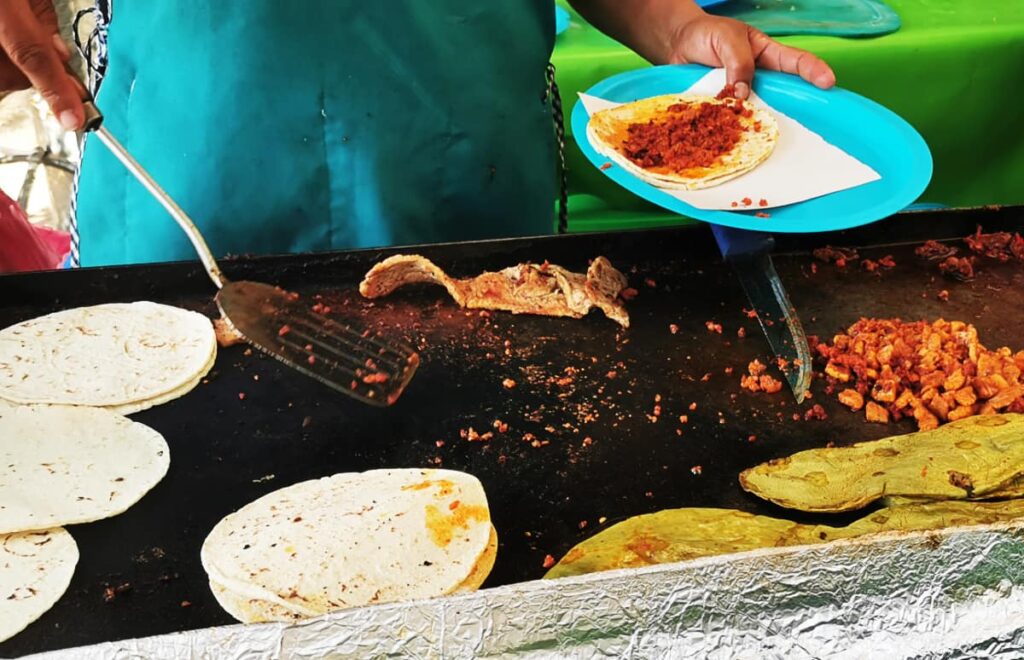 This taco stand only serves three options – bistec, chorizo, and a mix of the two called Campechano. And honestly, my opinion is that the meat is good but leaves room for improvement.
So why did this stand make my list of the best tacos in Oaxaca City?
The answer is simple. Toppings. After receiving your plate of tacos, make your way to the end for an array of toppings that you can freely add to your tacos.
Grilled nopales, fried onions, white beans with chiles, various salsas, french fries, and slices of fresh cucumber are all included.
While I imagine the oil-soaked french fries are the most popular, my eyes were on the strips of green cactus. And the beauty is, each customer can load up their tacos exactly as they wish.
I struggled to locate this taco stand on google maps. But you'll find them near the southwest corner of El Llano Park from 9:30 am to 5 pm every day except Wednesdays.
Chayito | Tacos de Cazuela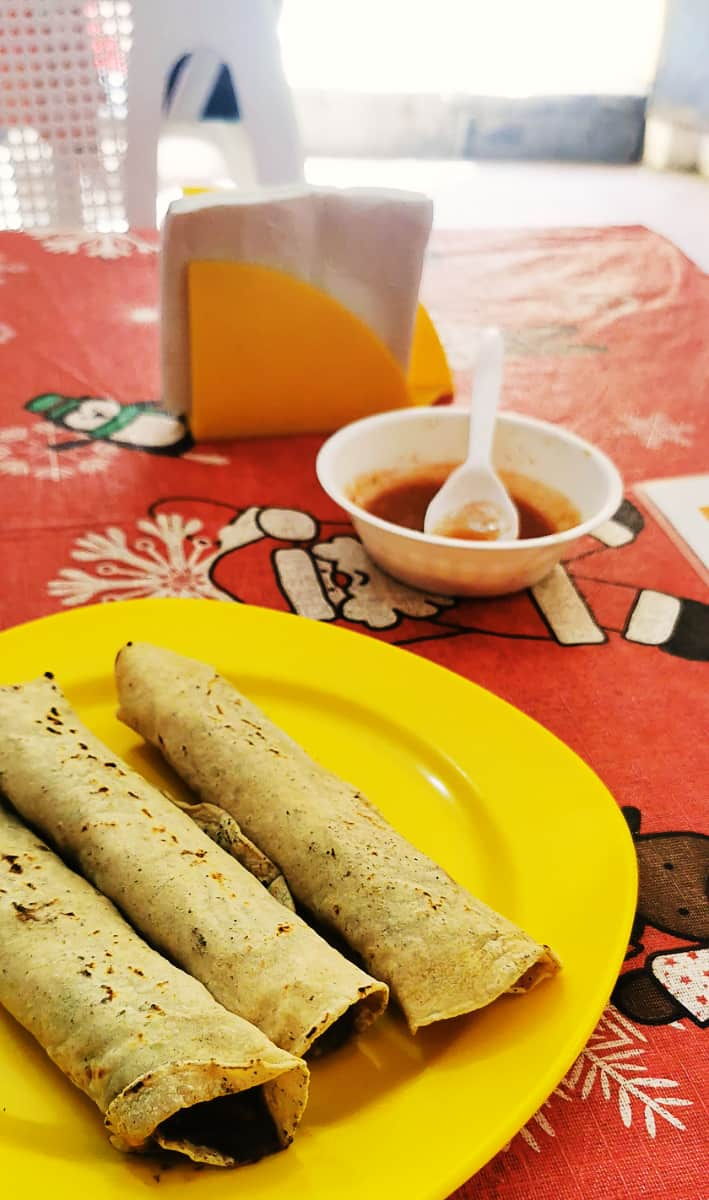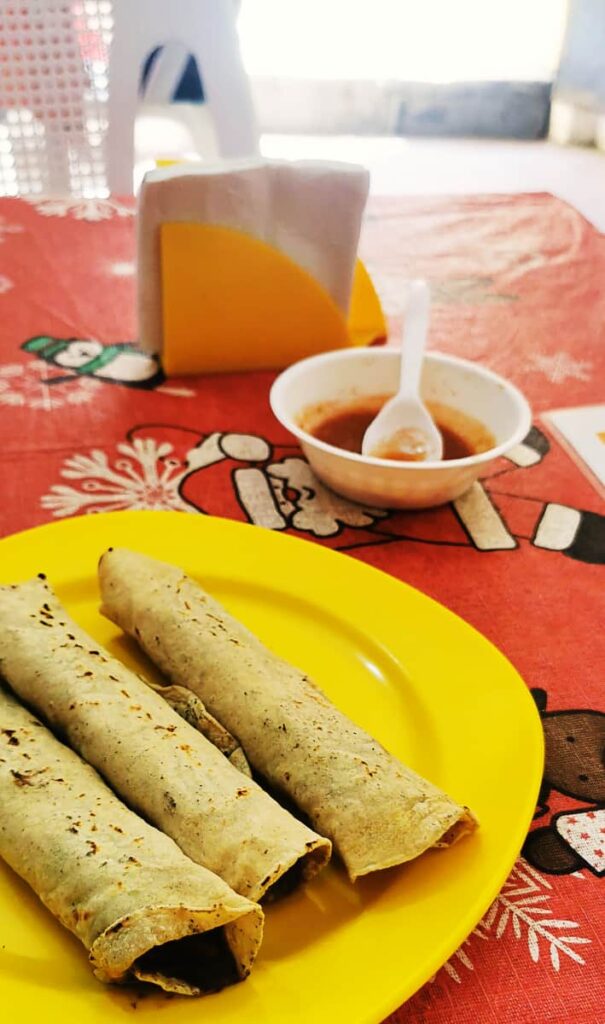 While the name implies this restaurant is simply a place to eat tacos in Oaxaca, the truth is the menu is varied enough to include it on a list of the best places for breakfast in the city too.
The menu at Tacos Chayito includes breakfast classics such as enfrijoladas and chilaquiles as well as memelas, tortas, and other items. They also offer a menu del día on weekdays from 1-5 pm.
But I came here for tacos and I particularly like tacos de cazuela which gives you a choice of various guisados (stews) to stuff inside.
And the stews at La Chayito did not disappoint. The costilla en salsa morita was perfection as the tangy sauce smothered the rib meat. There's also an option to order a plate of two or three guisados de cazuela served with beans and tortillas. Call it deconstructed tacos, if you will.
D'Oscar Tacos | Late Night Street Tacos in Oaxaca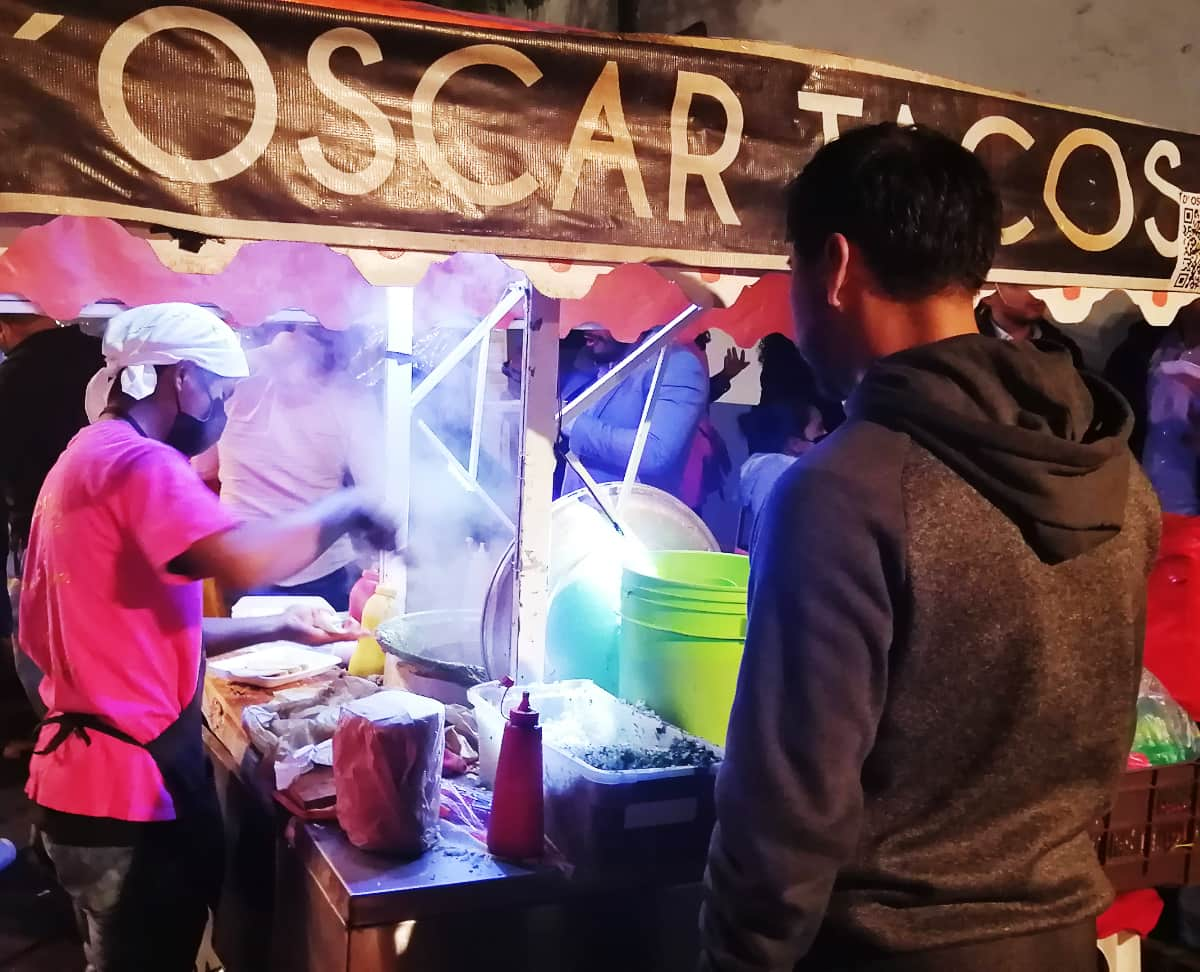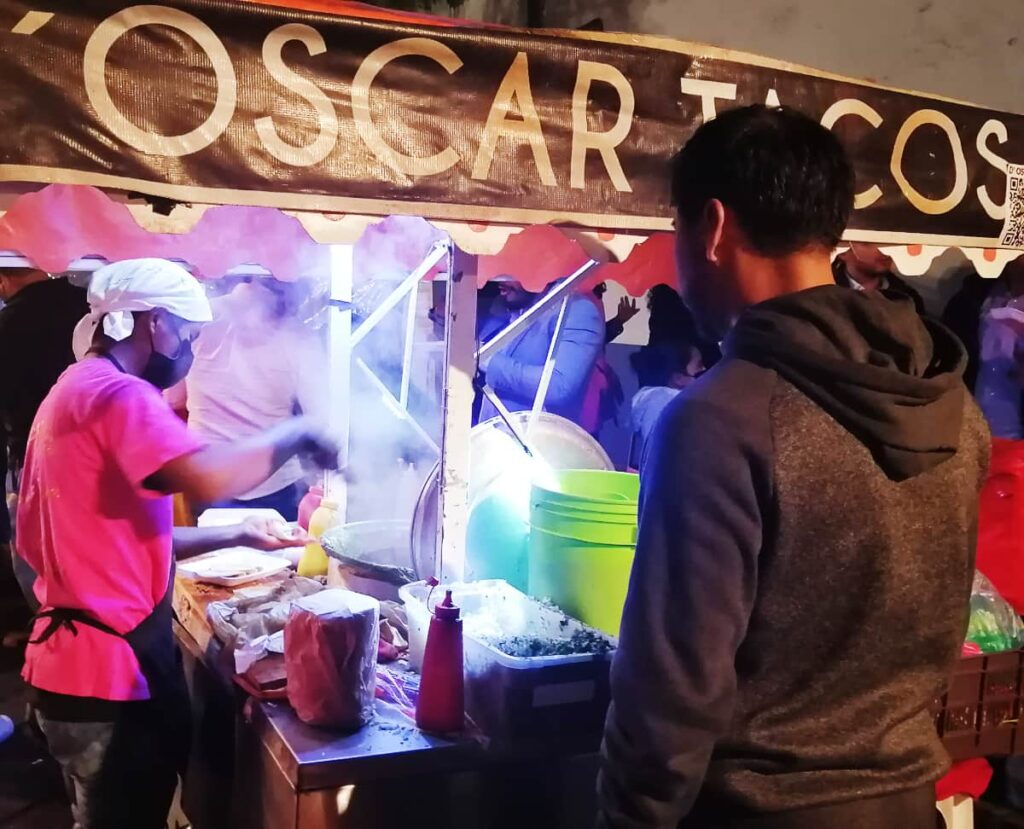 D'Oscar Tacos sets up shop most nights in front of Tlaxaparta, a popular music venue and bar in Oaxaca.
As a result, this stand is one of the most popular spots for late-night street tacos in Oaxaca.
These tacos go down easy without being greasy. They are the perfect cap to a night of mezcal, beer, or whatever else may be in your stomach after a night out in Oaxaca.
An order of five beef barbacoa tacos is served with a cup of consome (broth). And as one review stated, "then you can go to sleep like a little angel."
Herbívora | Best Vegan Tacos in Oaxaca
Before you write this taco joint off because it's vegan and you're a meat eater, you have to taste the flavors coming out of this kitchen. I would argue this is some of the best vegan food in Oaxaca City.
Herbivora creatively replicates classic Mexican tacos using all vegan ingredients. Meaty portobello tacos take on the essence of barbacoa from Hidalgo while lightly breaded oyster mushrooms are treated like a thin slice of milanesa.
In the papas con chorizo, the housemade chorizo is made of seeds and spices which perfectly pair with the crispy yet smooth potatoes.
And the rajas con crema explodes with the flavors of slightly spicy poblano peppers and sweet corn topped with a tangy vegan Ranchero cheese.
Even meat eaters will appreciate these tasty tacos.
Tacos Don Juanito
With several locations in Oaxaca, Tacos Don Juanito is known for its steamed tacos and pozole.
Being my first experience with steamed tacos, I wasn't sure what to expect.
These tacos are stuffed and rolled before being steamed. I personally love how the steam softens the corn tortillas, making them slightly wet and supple.
This is a solid option for tacos in Oaxaca. And since most locations open around 2 pm, you can eat at Tacos Don Juanito for lunch or dinner.
Tacos Roy
With so many locations around Oaxaca, Tacos Roy is a favorite spot for locals and travelers alike. And while it's definitely not my favorite, I've included it because of its popularity.
Their specialty is pastor tacos which is evident by the large rotating spit that starts fresh each day. However, the alambre plates with cheese are also popular.
I've tried several locations on various occasions and my verdict is that the tacos are a bit dry. But go see for yourself. These tacos won't break the bank after all.
Lechoncito de Oro
Lechoncito de Oro is another popular taco stand in Oaxaca that is a favorite in the city. And if you're looking for lechon (slow-cooked baby pig) tacos, it's probably your best bet.
But again, these tacos are not my favorite, despite being a pork lover. I find their lechon to be incredibly fatty.
Perhaps I'm reminiscing about the beautifully cooked, meaty lechon I randomly found at an unassuming spot in a small town in Colombia.
Regardless, I recommend ordering your taco or torta with chicharrones to add a bit of crunch to the fattiness of the meat.
This taco joint has a permanent location in Santa Lucia del Camino and sets up a stand most nights in centro around 8 pm that stays open until the wee hours of the morning.
Another spot for lechon tacos in Oaxaca recently opened called Taquería Ta' Bihui (map). They are highly rated by customers but I personally found them to be too fatty as well, though adding chicharrones for crunch definitely helped.
Best Tacos in Reforma, Oaxaca
Tacos y Antojitos El Rodeo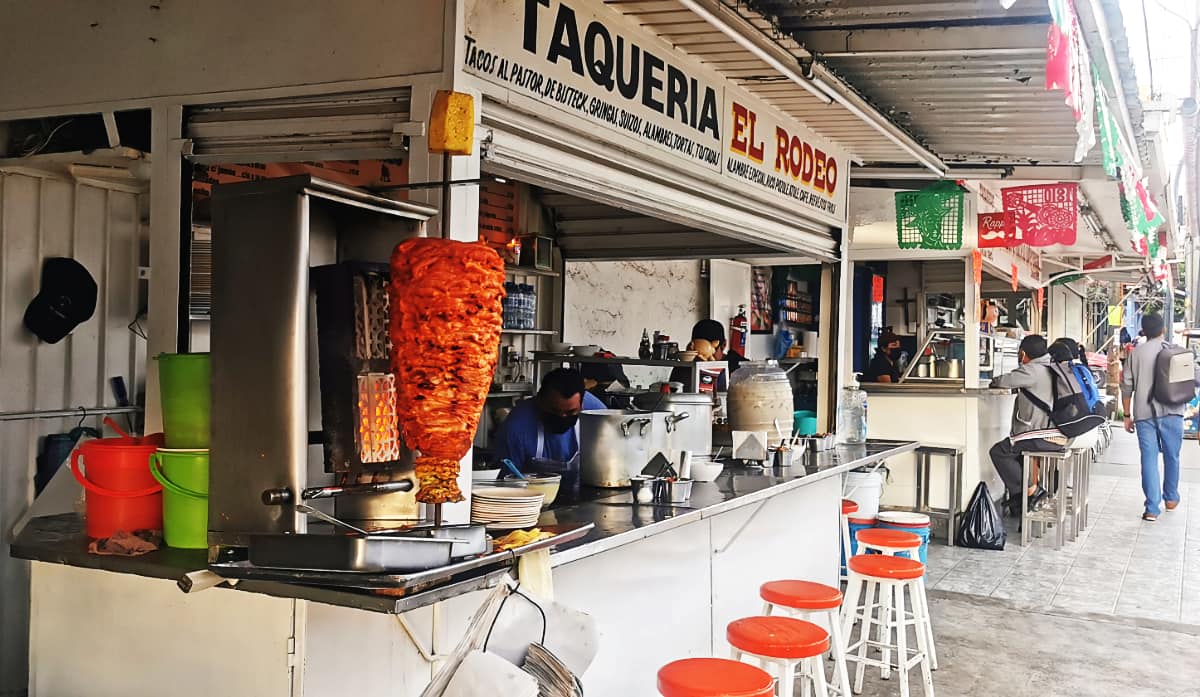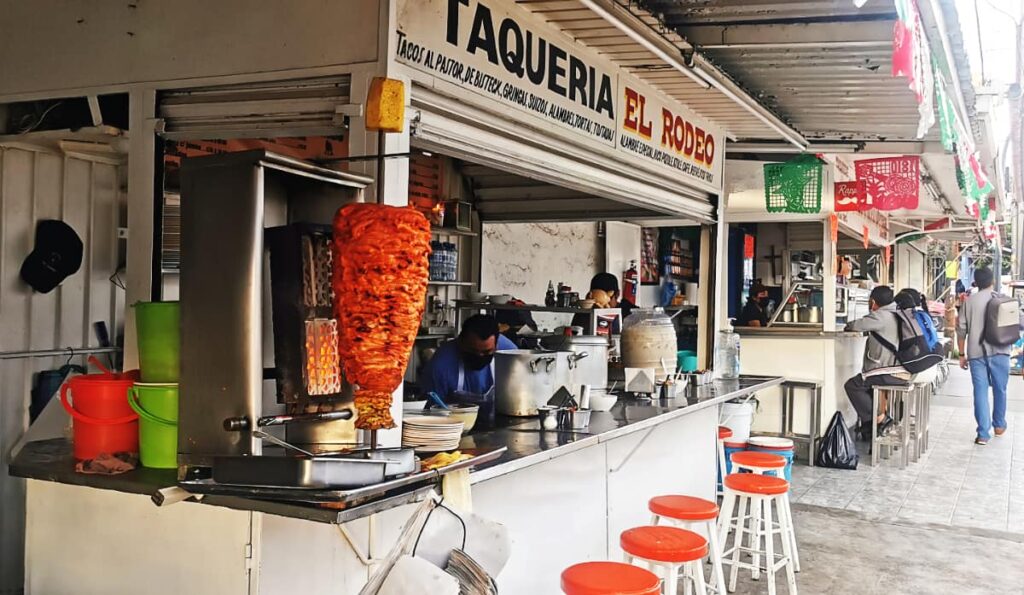 Across from the ADO bus station is a group of taco stands that open around 6 pm. Many serve the classics – pastor, chorizo, and bistec as well as tortas of roasted pork leg.
As I assessed the lineup, Tacos El Rodeo stood out to me. And their pastor tacos is where they shine.
The seasoning was well-balanced and the meat itself wasn't dried out which is often the downfall of al pastor for me.
At the same time, there were crunchy charred bits that added the perfect combination of textures.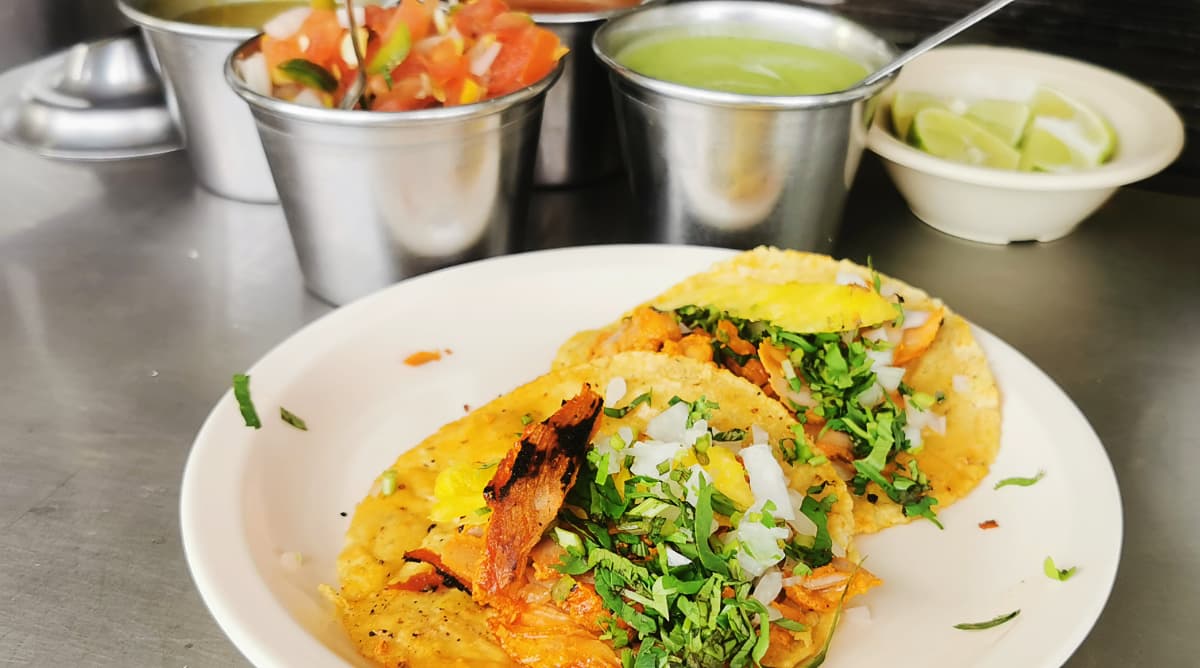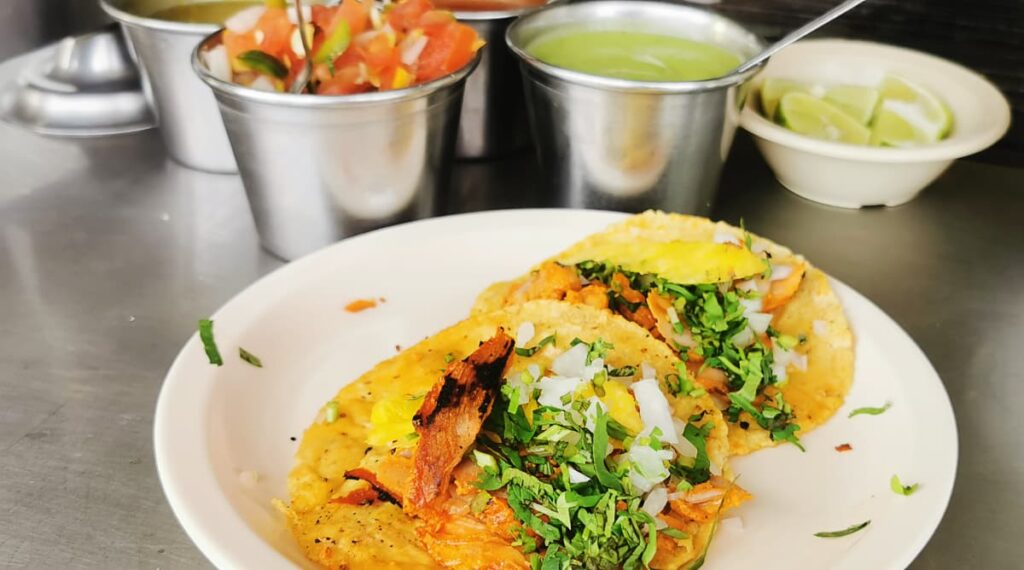 Tlayudas Mexico 68
I know what you're thinking. This is a list of the best tacos in Oaxaca, so why are we talking about tlayudas? Hear me out.
There's a lot of innovation going on at this Oaxaca street food stand. And if you like tlayudas but prefer a taco, you will want to order a tacobijado.
The innovation starts by taking the large tlayuda tortilla and treating it like a giant taco.
It's filled with meat, cheese, and some veggies before being rolled up and grilled.
Next, the innovation gets a queso loco treatment. The next step is to place a cheese layer on the grill that melts and envelopes this giant taco.
It's so big, it's cut into four pieces before being served on a plate. Dress it with guacamole and salsa to your liking.
Birria Tacos, Oaxaca | La Casa de Marcelo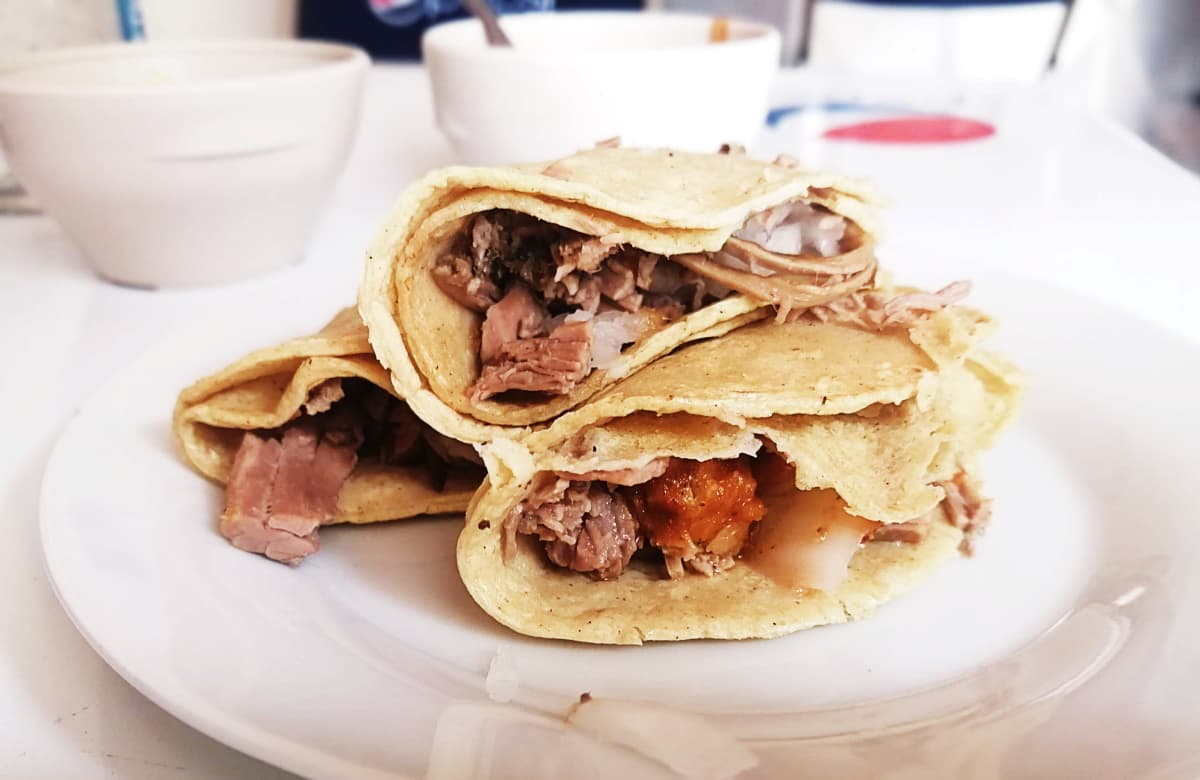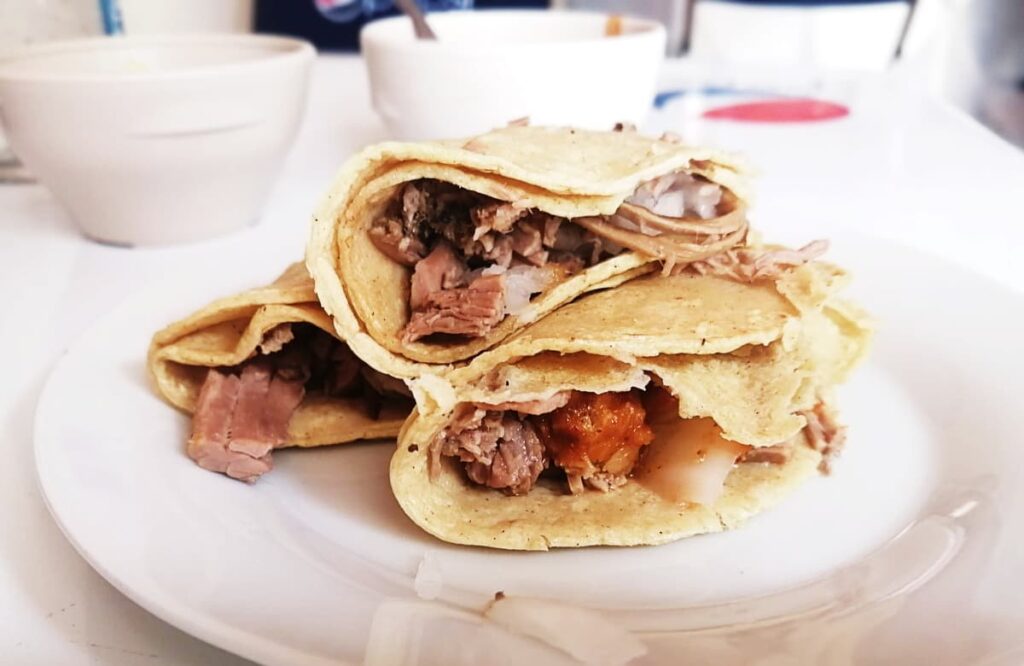 When I'm craving barbacoa tacos during the week, I turn to the next best thing. La Casa de Marcelo serves my favorite birria tacos in Oaxaca.
Located in front of his home, this unassuming taco spot only serves one thing – birria – in various ways.
You can order consome, birria tacos, a birria burger, chilaquiles topped with birria, or simply by the kilo.
But perhaps the most popular are quesabirrias which add cheese to the tacos before grilling to perfection for toasty, crispy bites.
Taquería Los Combinados | 24 hour Tacos in Oaxaca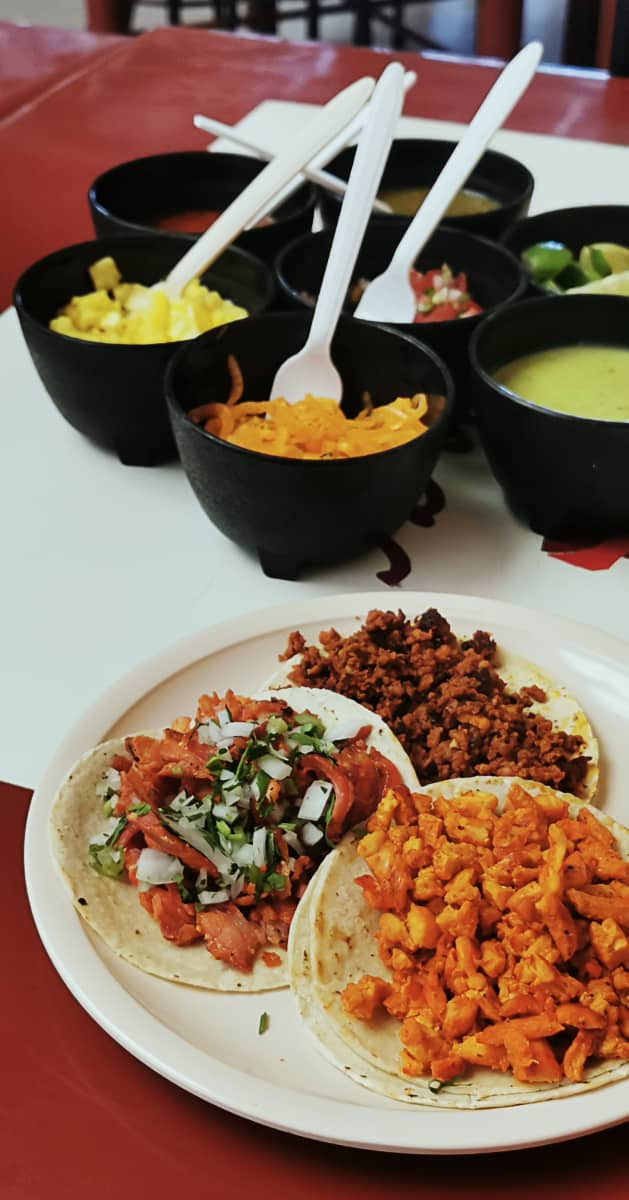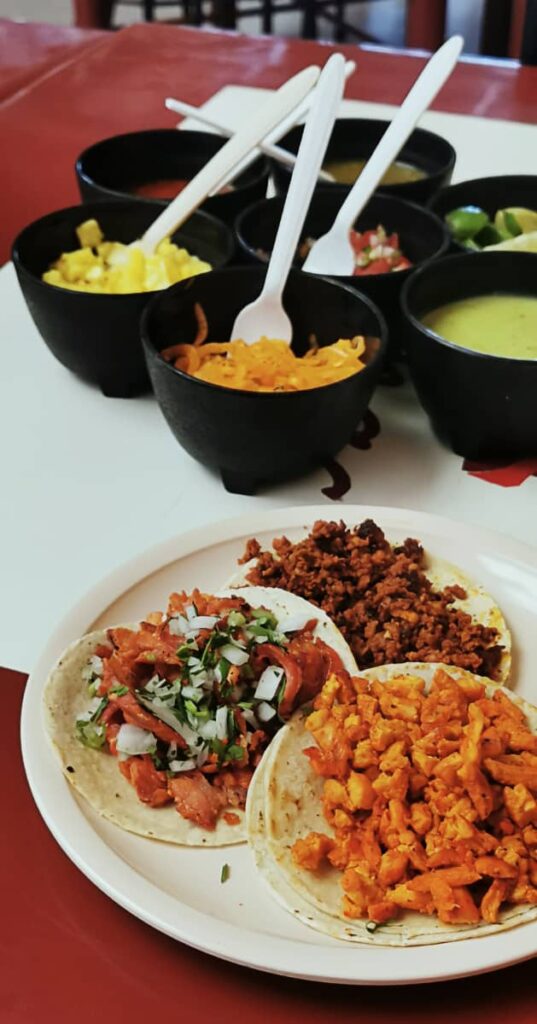 Yes, you read that correctly. This taco joint in Reforma, Oaxaca is open 24 hours.
While that automatically makes this a popular late night taco spot, it's also a great place to get your taco fix during the day. Tacos for breakfast anyone?
The menu is varied, expanding past your typical tacos to include tlayudas, tortas, grilled plates, alambre, and even a burrito (not classic Mexican, I know).
Shortly after ordering, I realized the prices are slightly expensive for tacos in Oaxaca.
Sure enough, they came piled high with meat. So much so that three tacos more than filled me and I nearly had to ask for my frijoles charros to go.
The drinks, beers, and mezcals are also reasonably priced with a slightly discounted beer special from 10 am to 6 pm when you order two.
Tacos Rico's | Best Tacos de Cabeza
I have to confess, the only tacos I tried at Tacos Rico's were the lengua (beef tongue) tacos. And that's because I don't care for the other head meat tacos.
But for those that enjoy tacos made from the head of the cow, the reviews make me believe these are the best tacos de cabeza in Oaxaca.
The menu also includes a combo of three tacos, consume, and agua del dia for a very reasonable price.
Señor Rodeo Tacos | Don Sirloin
This is another Oaxaca taco restaurant whose star is beef. In this case, the meat is cooked in the same way as tacos al pastor, slowly rotating around a flame which creates crispy, crunchy bits of meat.
And yes, there is also a spit of the more traditional tacos al pastor (seasoned pork) rotating next to it. But trust me, order the sirloin tacos. In fact, this place is affectionately called Don Sirloin. They serve chorizo and arrachera tacos as well.
Other highlights of the menu include a quesachori (essentially a chorizo quesadilla) and mashed potatoes stuffed with chorizo, ham, bacon, and your choice of other meat. Essentially drunk people food.
Every table is given a tower of various salsas. If you like spicy, ask for a bowl of chopped pineapple with habanero salsa.
La Flamita Mixe Taquería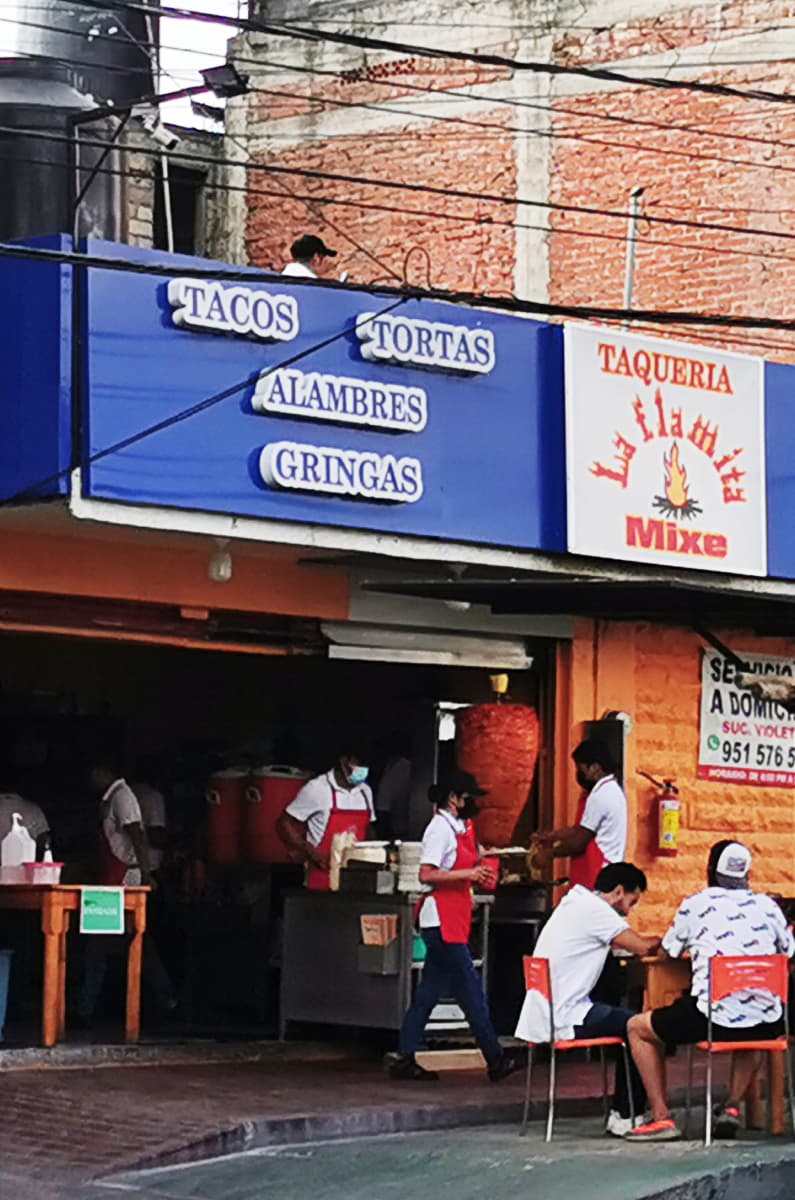 I initially assumed La Flamita Mixe was a cheap taco spot, though in an uninspired way rather than a budget-friendly way.
Although, after a night of beers, mezcals, and lucha libre in Oaxaca I decided to give them a try. Again, the specialty here is tacos al pastor and they are solid.
And in case you haven't had your fill of mezcal for the night, they serve rather smooth Espadin for 20 pesos.
So yeah, the incredibly priced mezcal may have clouded my judgment, but I still think La Flamita Mixe deserves a spot on this list of the best tacos in Oaxaca City.