Oaxaca Vegan + Vegetarian Food: 19 Best Restaurants (2023)
Searching for the best vegetarian and vegan food in Oaxaca?
I've watched the Oaxaca vegan scene blossom while living in the city for the last two years. And lucky for you, I've been taking notes.
In some ways, vegan and vegetarian food in Oaxaca comes naturally. Squash blossoms, nopal cactus, wild mushrooms, radishes, and other vegetables are regularly used in traditional dishes.
The problem sneaks up with the use of asiento (pork fat) and other ingredients used in mole and other sauces. Plus there is a heavy use of cheese in many Oaxacan dishes.
But vegetarian and vegan restaurants in Oaxaca have been rapidly growing. Their use of plant based ingredients to replicate traditional Oaxacan dishes are simply amazing.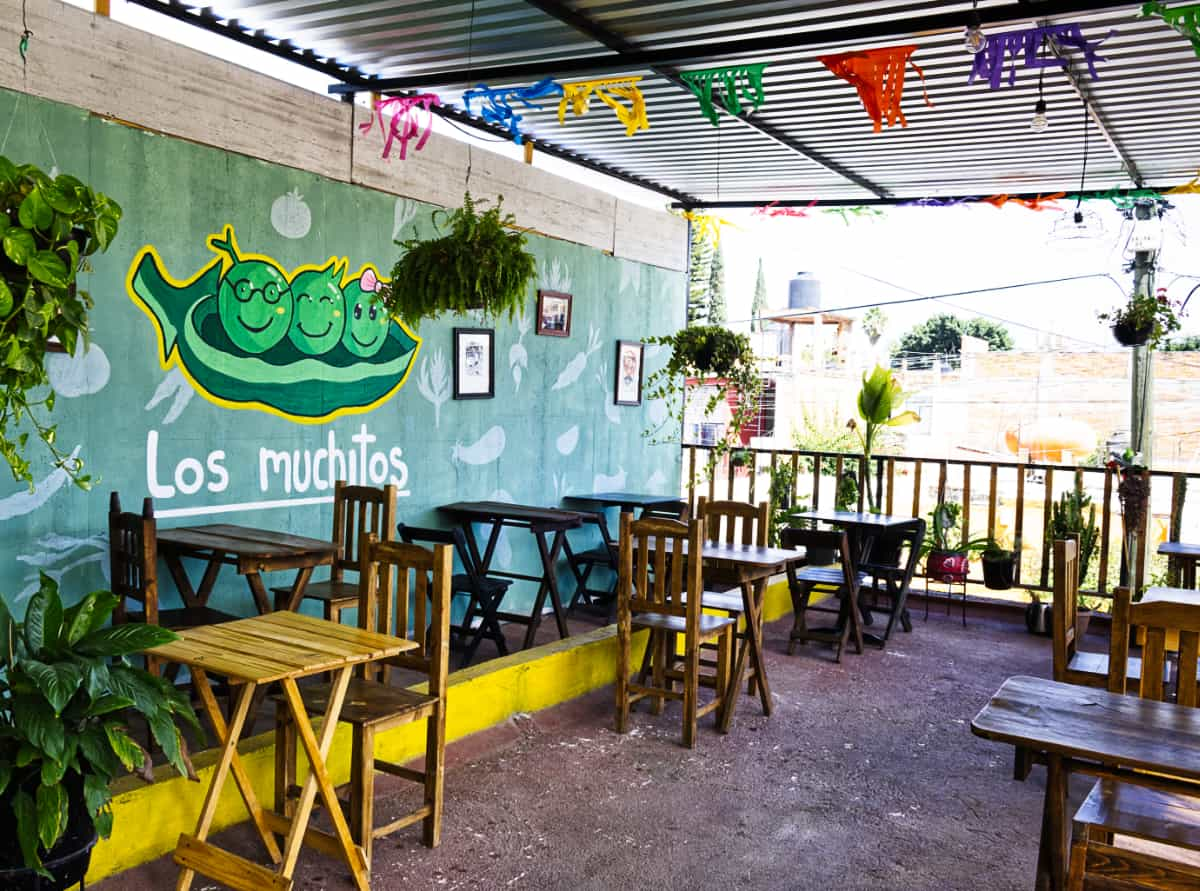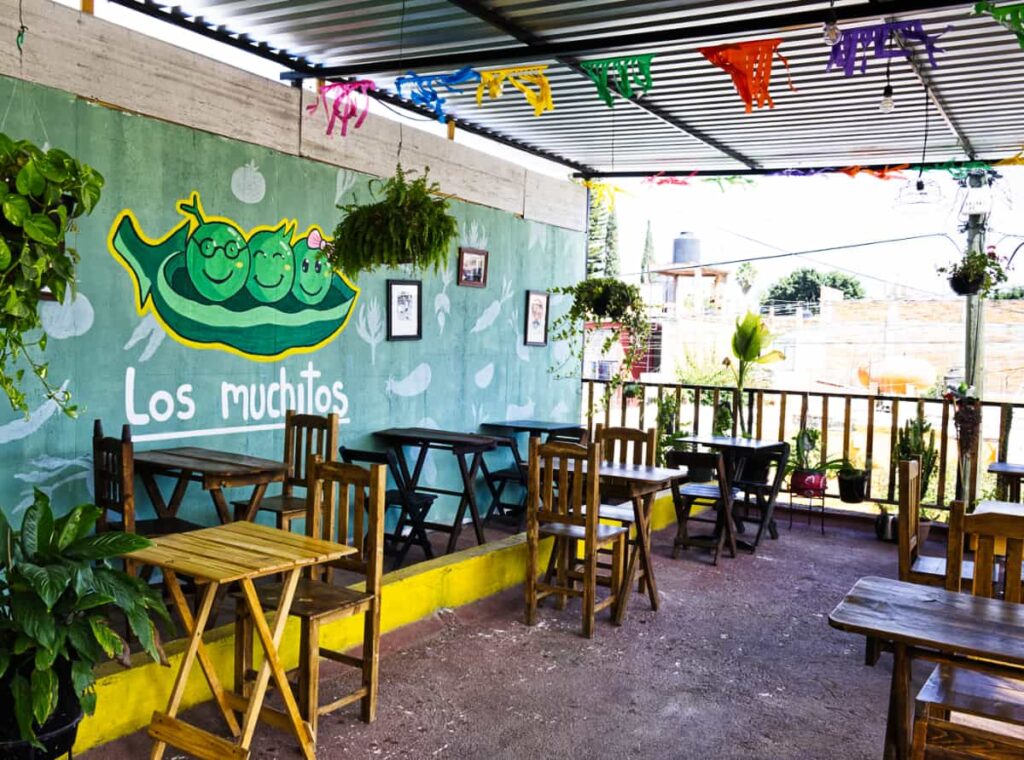 This article may contain affiliate links. This means if you click a link on our blog and make a purchase, we earn a commission at no additional cost to you. For full information, please see our disclosure.
Vegan Restaurants in Oaxaca
Over the last year, Oaxaca vegan restaurants have evolved into something magical. And these first few restaurants are a testament to that magic.
While it was always possible to find restaurants with vegetarian food, vegan often meant a slight modification. Thanks to these unique restaurants, finding vegan food in Oaxaca just got a bit easier.
1. Los Muchitos Comida Vegana
This vegan restaurant in Oaxaca is located on a breezy covered balcony in the south of the city. It's decorated with lots of green plants and the cutest logo of three peas in a pod painted on the wall.
The menu at Los Muchitos is strictly vegan and incredibly affordable with many plates around 60 pesos. The food is mostly Mexican, using vegetables and other healthy ingredients to replicate classic Oaxacan dishes in creative ways.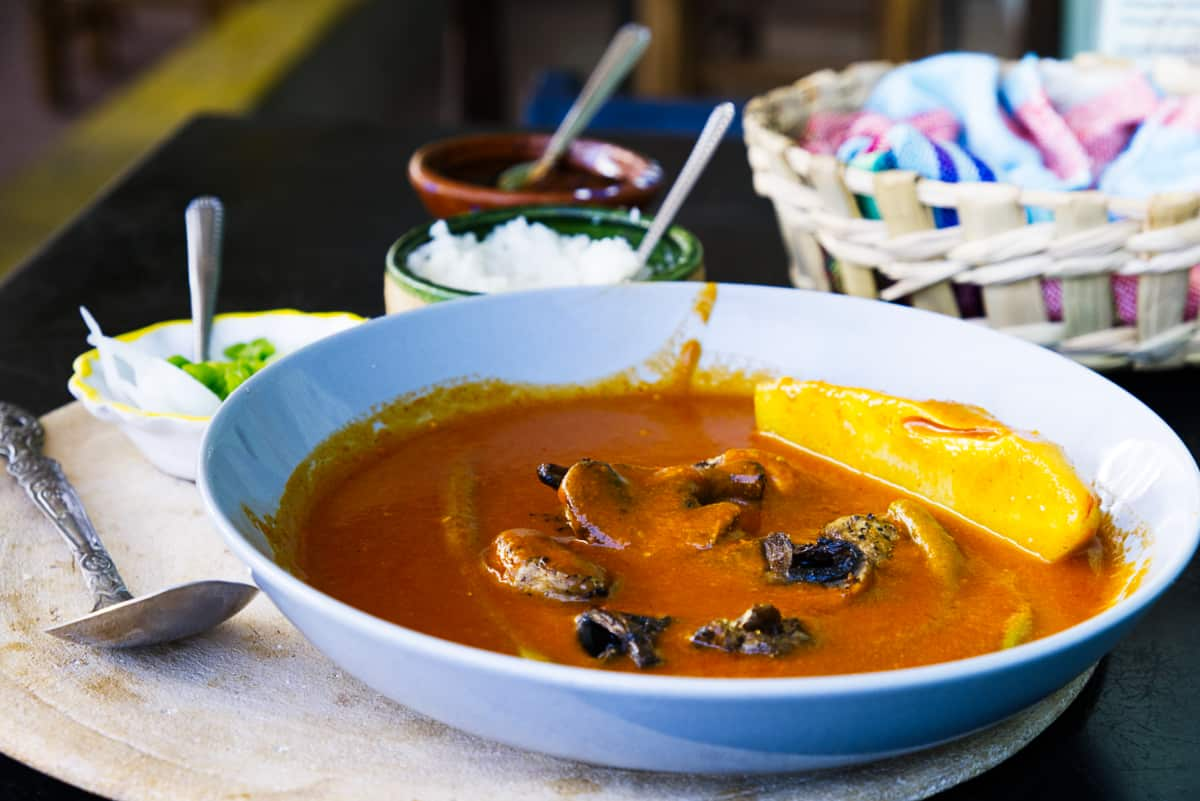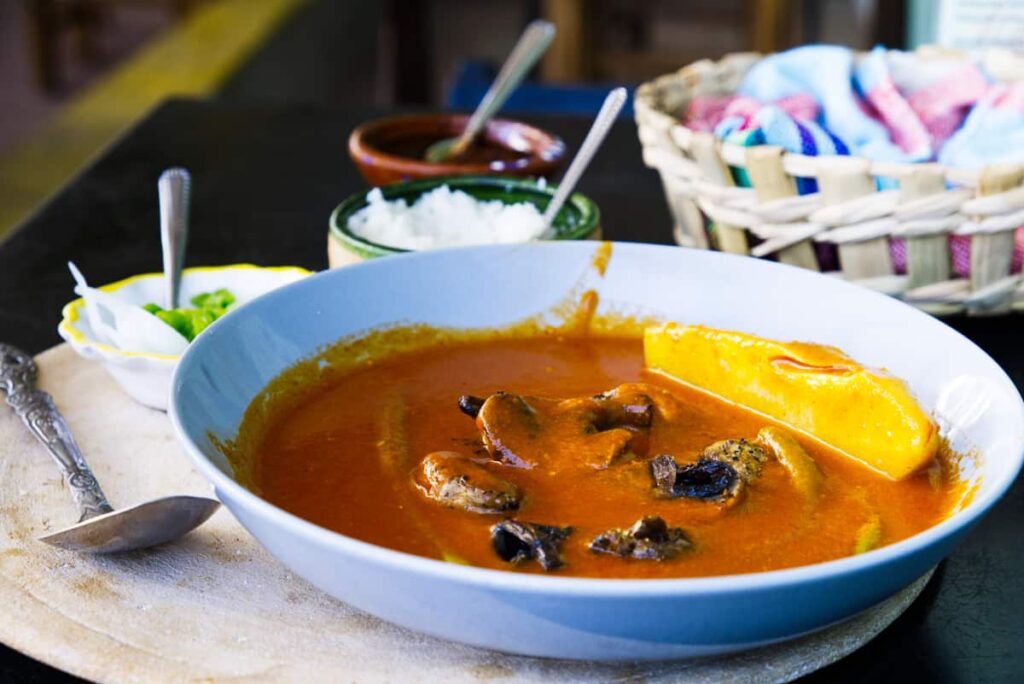 Most interesting is their homemade asiento (pork fat) which is crafted from seeds and used to cook the tlayudas. And their milanesa (traditionally a thin piece of meat that is breaded and fried) is made from chickpeas.
While some of the portions are small, the low prices allow you to round your meal with a soup or salad and still keep your bill around 100 pesos. Or save room for the truffles made with seeds and chocolate for dessert.
Breakfast is served until 1 pm. And the lunch menu, which includes a menu del día, is served into the evening. If you're looking for flavorful Oaxaca vegan food that won't break the bank, Los Muchitos Comida Vegana should top your list.
2. Viriditas Cocina Vegana
The menu at this vegan restaurant in Oaxaca leans Asian. The Japanese influenced dishes include several types of ramen and vegan sushi. And the menu expands to include a sandwich (lentil, tempeh, or zucchini), falafel, and a seasonal vegan Chile en Nogada, the national dish of Mexico.
In addition, the vegan menu del día is very reasonably priced. It includes soup to start, an entree of guisado (stew), dessert, and a glass of chilled tea.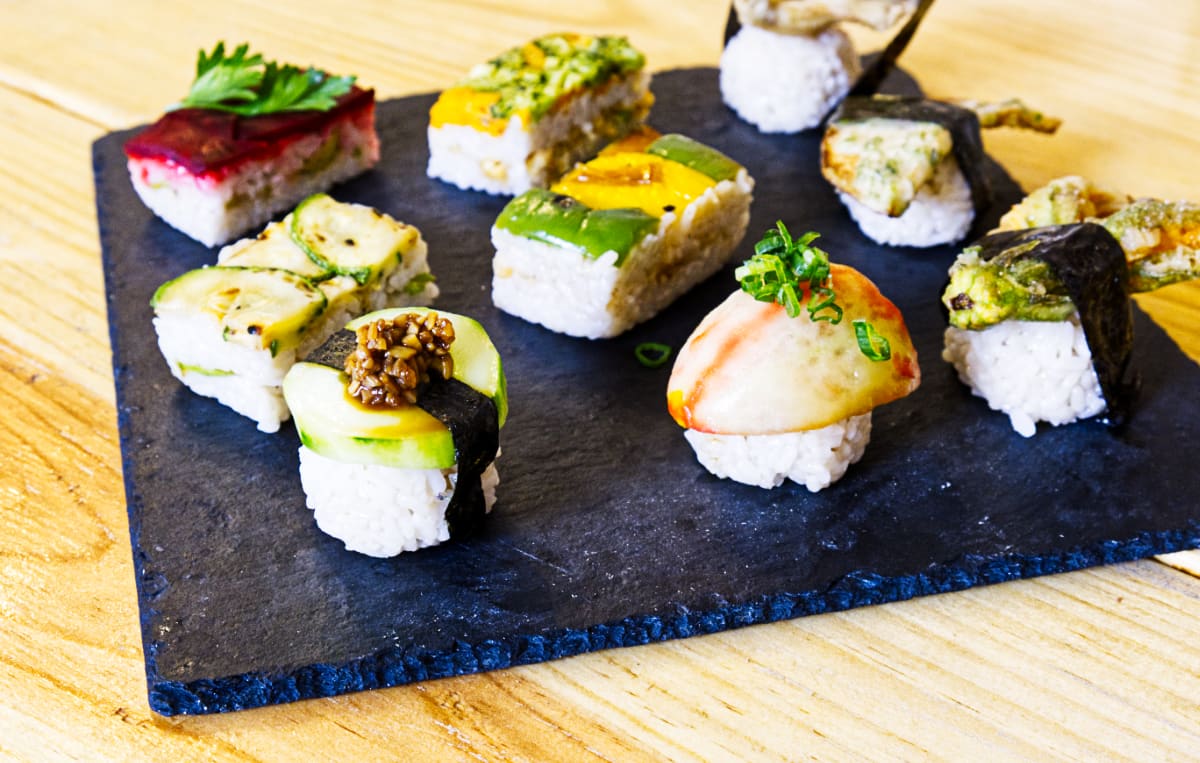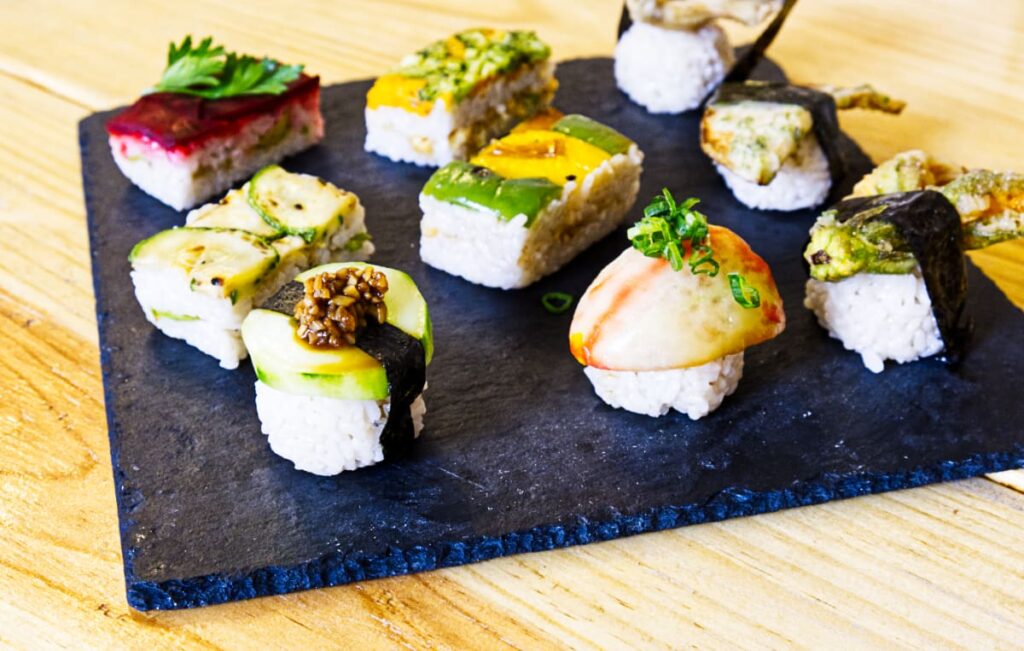 Although the vegan sushi is what piqued my interest. It's also available to order as a combo which includes soup, dessert, and tea. The soup is a light Asian broth. But the star is the gorgeous plate of vegan sushi which I was pleased to discover tastes as interesting as it looks.
Lightly fried tempura vegetables such as oyster mushroom, squash blossom, and zucchini were placed on rice, nigiri style. Other pieces of sushi that looked as though they were simply vegetables on rice were seasoned to give an unami flavor explosion.
3. Herbívora – Vegan Tacos
The menu at Herbívora creatively spins classic Mexican tacos into flavorful vegan creations. They are so good and easily made my list of the best tacos in Oaxaca.
In the barbacoa tacos, thin strips of meaty portobello replicate a white barbacoa in the style of Hidalgo. And the lightly breaded and fried oyster mushrooms take the form of milanesa.
Then there is the classic combination of papas con chorizo which uses a housemade chorizo made of seeds and spices. And the rajas con crema is a creamy blend of poblano pepper and corn with a tart bite of ranchero vegan cheese.
On display at this vegan taco spot are various containers of spices, chiles, and other ingredients used to make what I consider some of the best tacos in Oaxaca. As I watch the owner perfect each taco on the flat-top grill, I realize this is very much a labor of love that comes through in the incredibly rich flavors.
4. La Selva de los Gatos – Vegan Cat Cafe
With a large open garden area and shaded dining space, this cat sanctuary is appropriately named La Selva de los Gatos, or The Jungle of the Cats. It's a cat cafe with a strictly vegan menu, including the vegetable milk used in their hot coffee drinks.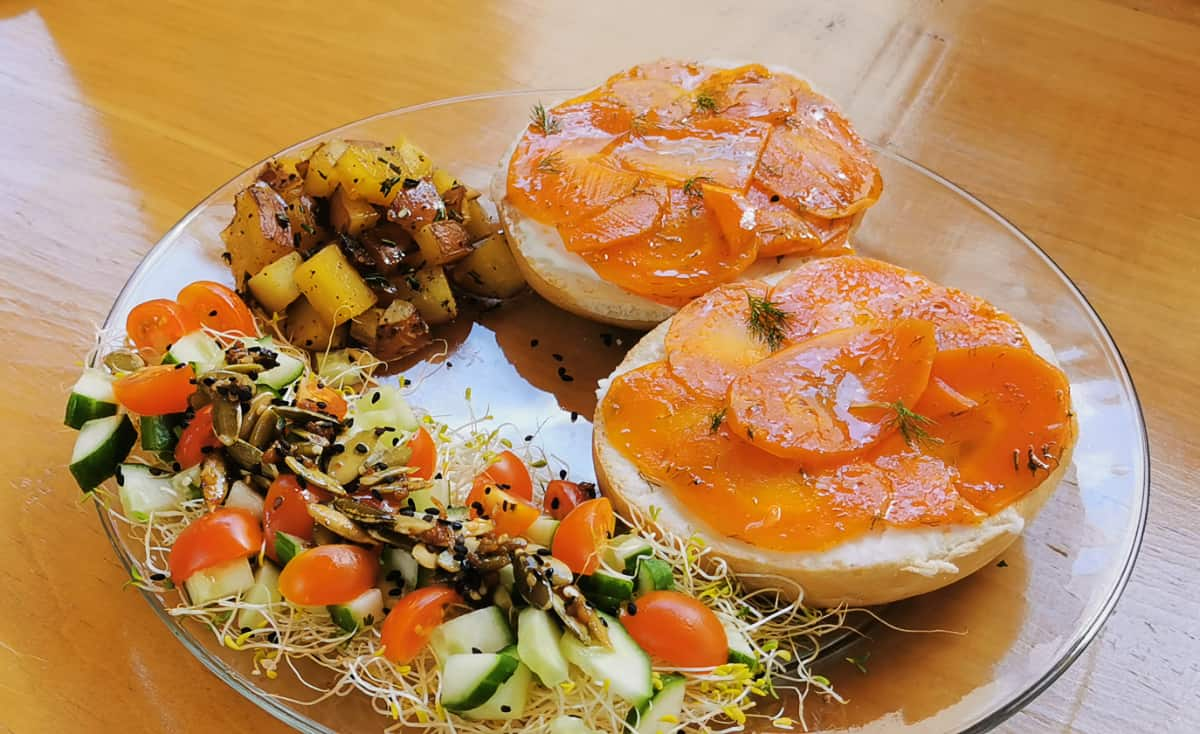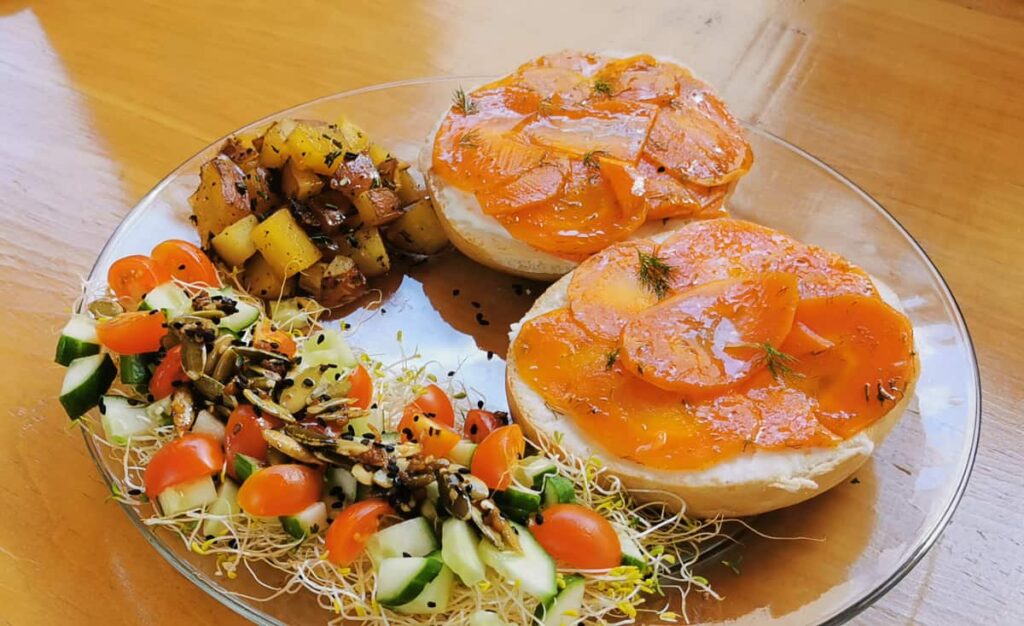 The menu is small, with just a few offerings per day, most of which include a large fresh salad on the side. And while it's small, the vegan food gets creative, such as the bagel with carrot "lox" which tasted amazingly similar to the real deal.
There are also a lot of gluten free items, vegan baked goods, and a strawberry ice cream with mangos that has reviewers dreaming about trying it again.
If you're a vegan cat lover, I highly recommend supporting and spending an afternoon at La Selva de los Gatos. In fact, it made my list of the best cafes in Oaxaca, especially if you need to get work done and don't mind the company of sweet furry companions.
5. Etnofood – Vegan Restaurant and Food Lab
Etnofood is two parts. First, it's one of the best vegan restaurants in Oaxaca City. The lunch menu features several vegan Mexican classics without the use of soy products. Dishes include enfrijoladas, choriqueso, mole negro, and al pastor all using plant based ingredients and vegan cheese.
Second, Etnofood is also a food lab where you can book a vegetarian cooking class to learn about using ingredients and techniques specific to Oaxaca. The founders of Etnofood developed these classes as a way to create memorable experiences through learning about Oaxacan gastronomy.
They have also created a second project called TeoLab which is part Oaxaca coworking space, part Airbnb, and part foodie workspace to train young people and women from Oaxaca that are interested in innovating food issues within the region of Oaxaca.
6. Hierba Dulce
Hierba Dulce is one of the original vegan restaurants in Oaxaca. The menu features 7 Oaxacan moles, enchiladas, tlayudas, and other traditional dishes. Furthermore, all of the vegan food at Hierba Dulce is made using local, organic products.
There are some unique dishes on the menu at Hierba Dulce, including a mushroom ceviche, nopal (cactus) salad, stuffed squash, and several traditional dishes from the Yucatan. The plates are beautifully presented, as are the beverages.
My only complaint, which is also confirmed in the reviews, is that sometimes the flavors are off or lacking. Regardless, this is a vegan restaurant that's worth trying for the variety.
Traveling to the coast next? Check out my review of the best places for vegetarian and vegan food in Puerto Escondido.
Vegetarian Restaurants in Oaxaca
These vegetarian restaurants in Oaxaca often have many vegan food items as well, although I've listed them in a different section since they are not strictly vegan.
7. Aguacate Veggie Bar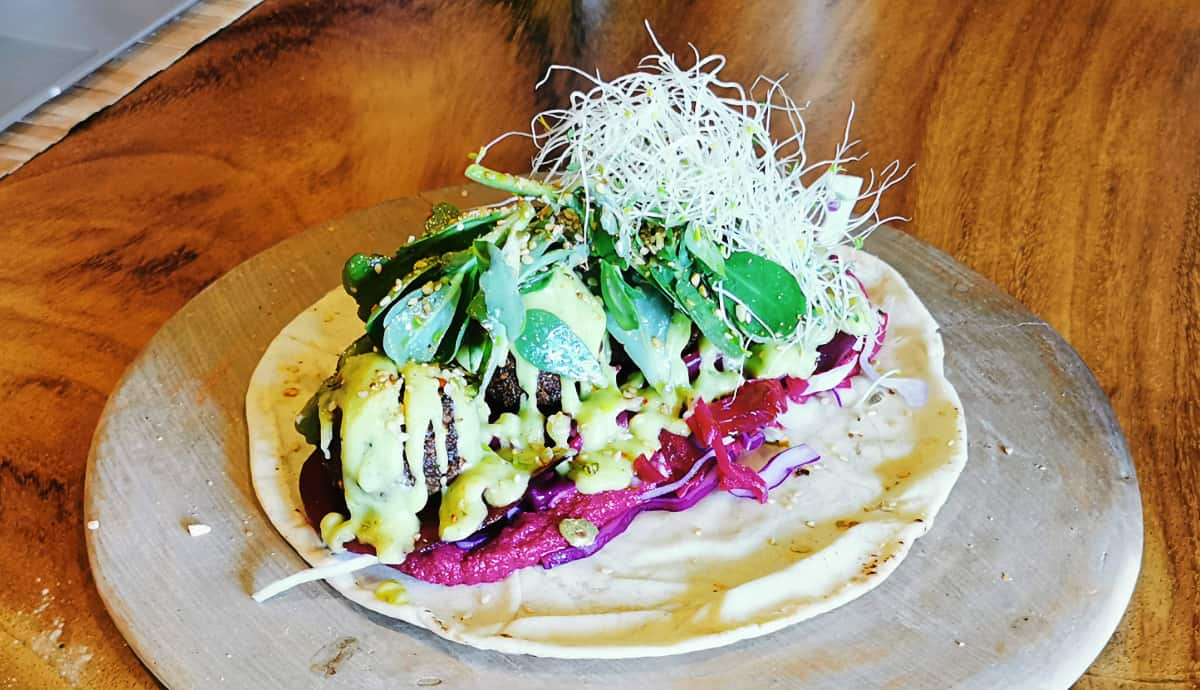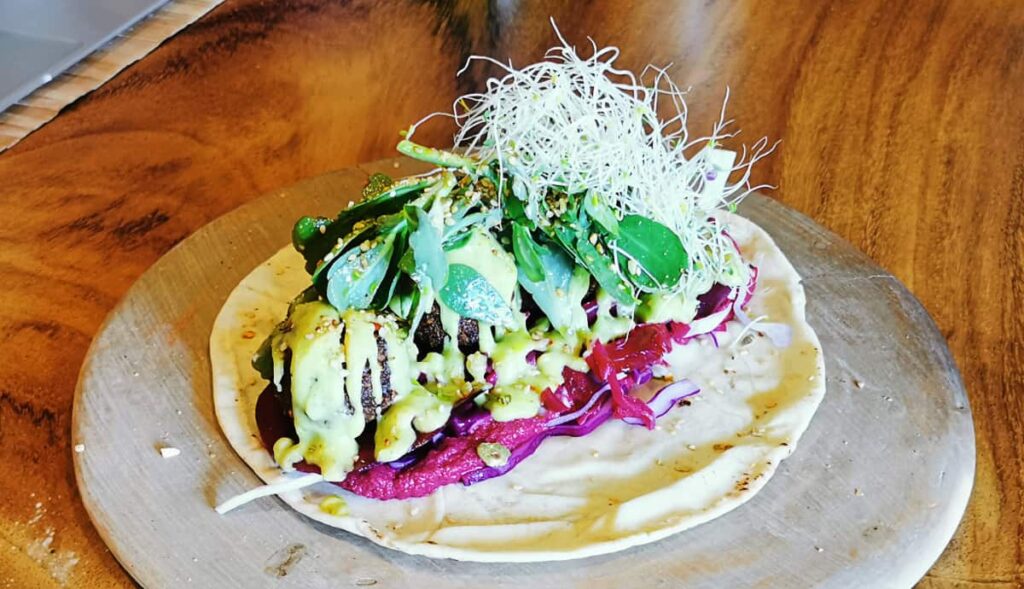 Located on the first floor of Casa de Barro, the atmosphere at this vegetarian restaurant in Oaxaca is dreamy. The space at Aguacate Veggie Bar is filled with natural light, wooden tables, and a variety of natural plant elements.
The strictly vegan and vegetarian menu features a variety of plant based bowls and other items. And nearly every dish includes an option to increase your protein intake by adding egg, tofu, vegan meatballs, falafel, or extra avocado. In addition, many of the dishes include a seed mix of pumpkin, sesame, and chile flakes for an extra boost of protein.
8. Glück
This restaurant has a small menu of mostly traditional Oaxacan food adjusted to be vegan and vegetarian. The menu also includes a few sweet items such as oat flour waffles and chia pudding.
I will say, the prices are a bit elevated, especially the drinks at 60 peso cappuccino, plus extra for vegetable milk.
The enchiladas roja were tasty, smothered in a slightly spicy red sauce (salsa verde is also an option), and filled with mushrooms and squash. And the vegan cheese gave the dish a nice punch.
The atmosphere of this vegetarian restaurant is quite pleasing as well. The minimal look is immediately presented with a modern juice and coffee bar as soon as you walk in.
Upstairs reveals small rooms of the colonial style house that have been converted into dining spaces. Overall, I like the space of Gluck and it's a good place for a healthy snack.
9. Adamá
The atmosphere at Adamá feels as fresh as the dishes they serve. It's a Middle Eastern restaurant that serves a variety of vegetarian food with a punch of flavor.
Since there isn't a tasting plate, I prefer to eat here with a small group and share the plates of falafel, hummus, baba ganush, labane, and other items.
While this isn't strictly a vegetarian restaurant, I'm including it because the menu only includes two dishes that are not meat-free, both of which use lamb.
Other Restaurants With Vegetarian and Vegan Food
10. Casa Armadillo Negro
$$ | Map Location
While there are only a few vegetarian items at Casa Armadillo Negro, the mushroom tacos have me coming here again and again. They are loaded with veggies and succulent mushrooms sauteed in chile oil.
The menu also includes a vegetarian tlayuda that is loaded with grilled vegetables and prepared with an oil made from seeds in place of pork fat. To top it off, this Jalatlaco restaurant serves tasty cocktails which makes it one of my favorite places to come for dinner.
11. Restaurante Arugula
Restaurante Arugula made the list of my favorite restaurants in Oaxaca for a healthy lunch. Each day after about 1 pm, they offer a menu del dia that consists of about 5 vegetarian options and 5 carnivore options.
The dishes feature local ingredients, many of which are sourced from the chef's farm. And for those looking for vegan food in Oaxaca, Restaurante Arugula is also a good choice.
Typically, several of the plates are vegan or can be with slight customization. And every time I've eaten here, one of the starter soup options is a creamy vegetable soup that is lactose-free.
But the vegetarian options don't stop there. The menu del dia also includes three sides served with each main dish. Typically there is a salad, a vegetable, and a carb. You can choose to have all three sides or just the ones you prefer. As an example, on my last visit, the vegetable side was zucchini noodles in a light pesto.
If you are a vegan, vegetarian, or simply someone that wishes to have more vegetables in your diet, Restaurante Arugula should be at the top of your list.
12. Santa Hierba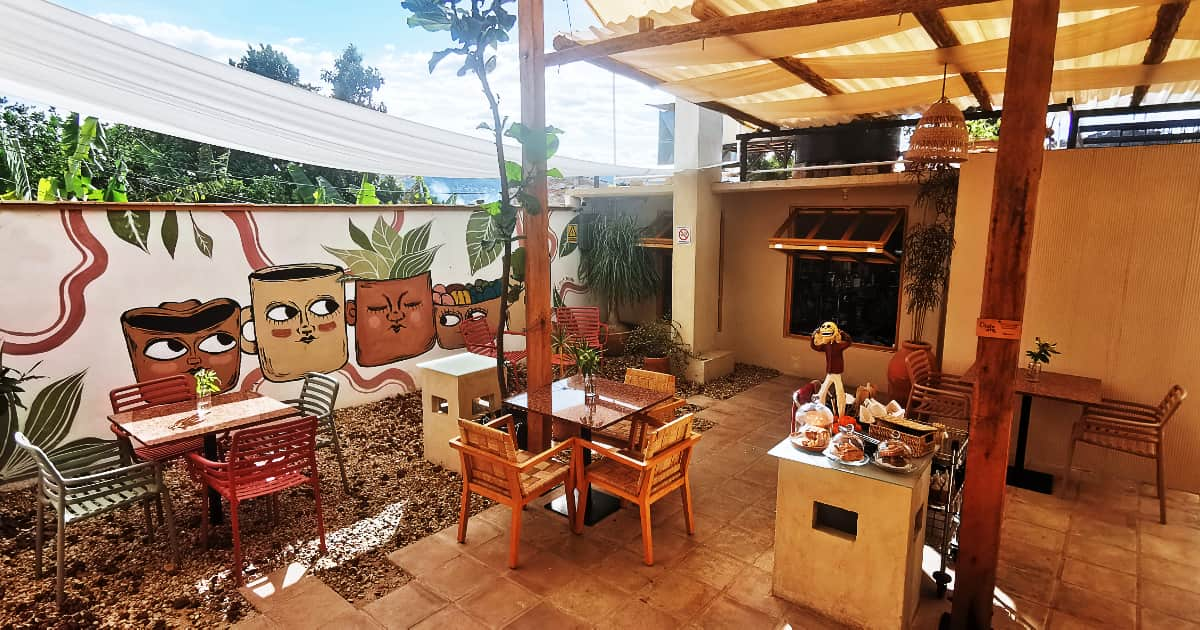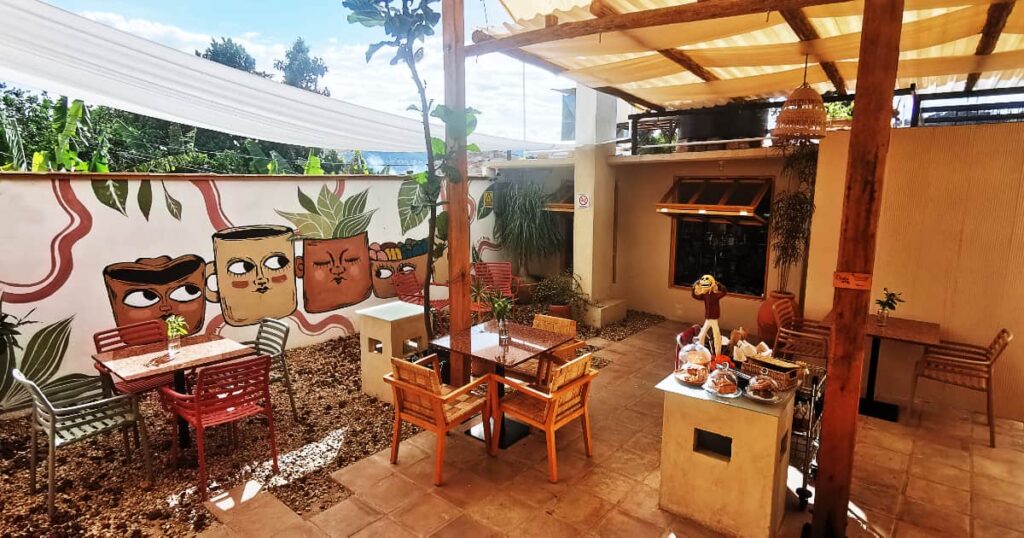 I love the rooftop patio at Santa Hierba and honestly, I would come for that reason alone. Although the food is also quite tasty, with many interesting vegan and vegetarian dishes.
The philosophy behind Santa Hierba is to be a healthy food concept that is inclusive of different diets. Their main objective is honesty with the food they create and the quality of the ingredients they use.
The long and varied menu includes a variety of traditional and nontraditional vegan dishes. In addition, the gluten free and vegan food options are clearly marked. While prices are relatively high all around, I think this is still a solid choice.
13. Onnno Loncheria
I'm a sucker for juicy sauteed mushrooms, and Onnno Loncheria has one of my favorite versions as a sandwich topped with fresh goat cheese. The menu includes several salads, sandwiches, and a vegan tahini bowl loaded with cauliflower, eggplants, carrots, sweet potatoes, and garbanzos.
While there are not a lot of vegan options at Onno Loncheria, many of the vegetarian dishes can easily be made vegan if you omit the cheese. In addition, the coffee and the atmosphere with a hidden back patio are lovely.
14. La Cosecha Organic Market
La Cosecha translates to The Harvest. And while this market in Oaxaca is a great place to buy organic fruits and veggies, there are more prepared food stalls than produce stalls.
This is one of my favorite markets in Oaxaca to bring visitors for lunch because you can order a variety of items from different stalls. Most of the dishes are classic Oaxacan, with quite a few vegan and vegetarian options.
In addition, this is a great place to try ancestral drinks of Oaxaca, such as tejate which is a fermented pineapple drink. I find the one at La Cosecha to have just the right amount of sweetness.
15. Nana Cafe
You might not suspect this teeny tiny cafe is capable of making tasty food, much less vegetarian options. While the menu is small, nearly all of their sandwiches and salads have the option to substitute the meat for either mushrooms or eggplant. In addition, all of the bread they use are homemade with natural ferments.
Each sandwich features a different type of bread – focaccia, ciabatta, or pita, served with your choice of salad or french fries. They also have a few vegetarian bowls and breakfast items. The drinks include your typical coffee selections, homemade kombucha, and agua del dia.
16. Calabacitas Tiernas
Vegan and vegetarian travelers visiting Oaxaca City should add Calabacitas Tiernas to their list not just because of the restaurant, but because of the health food store in front (more on that later).
While this is not a strictly vegetarian restaurant, the menu has a lot of vegan and vegetarian food options. My favorite time to eat at Calabacita Tiernas is for lunch. On Wednesdays and Thursdays, the affordable menu del dia is completely vegan while on Fridays and Saturdays, the menu del dia is vegetarian. Both include a main dish with salad, the water of the day, and dessert. The exact menu is posted on their Facebook page.
This restaurant is centrally located in Oaxaca and features an interesting bookstore on one side and a health food store on the other. The health food store is a great place to find alternative, plant based foods as well as homemade beauty products.
17. La Tribu
La Tribu restaurant is a decent option if you're looking for a healthy bowl or snack. The menu includes several vegan and vegetarian toasts, smoothie bowls, and savory healthy bowls, all of which are labeled with the amount of protein, lipids, and carbohydrates.
In addition, they serve fresh juice blends, smoothies, coffee, tea, and interesting fruit water blends to round out the healthy options.
18. Oscuro Brebaje
While Oscuro Brebaje serves things other than vegan food, there is an entire page of the menu devoted to vegan dishes, plus a few more dishes throughout the menu, such as vegan tacos and chilaquiles.
In fact, the vegan chilaquiles is what I recommend ordering here. There is also a vegan hamburger served with potatoes, chocolate banana waffles, and a sauteed veggie sandwich with hummus and avocado. The prices are quite affordable too.