10 Incredible Oaxaca Festivals You Need to Experience in 2022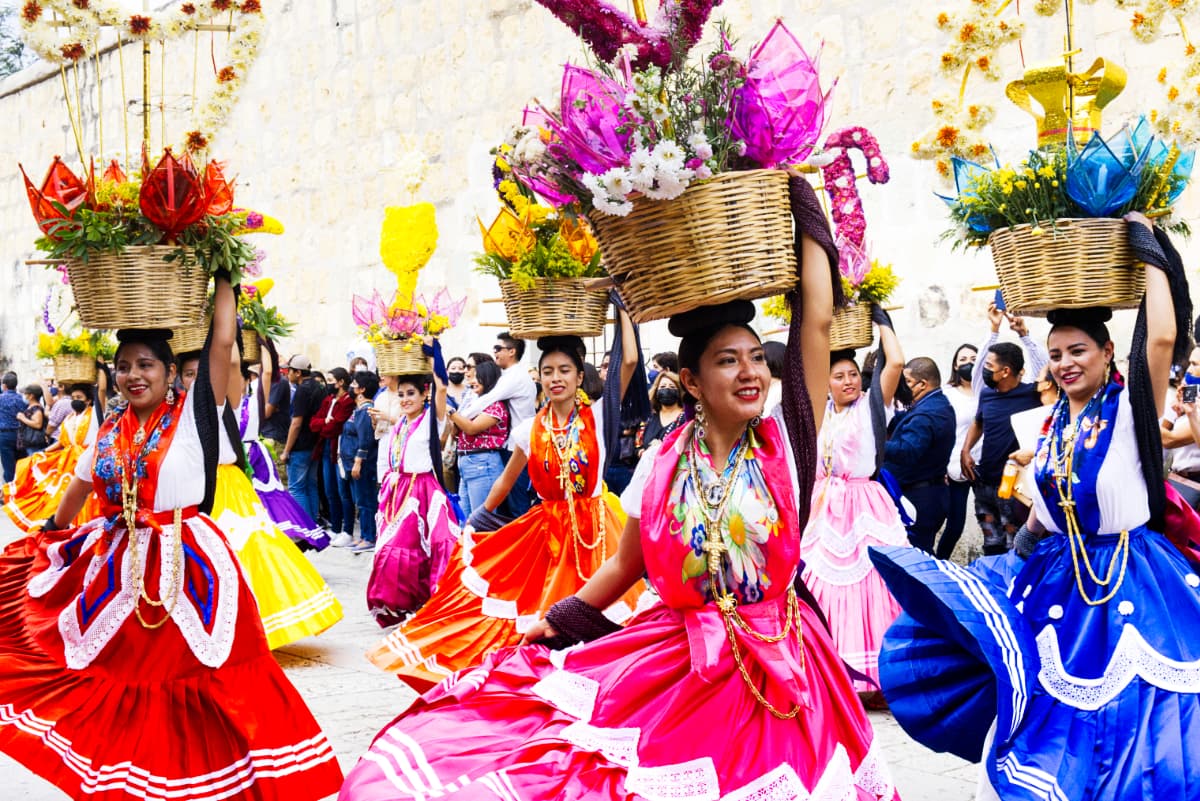 Oaxaca festivals are steeped in tradition. They are colorful, passionate, and full of life.
Some say it feels as though there is always a festival in Oaxaca. While this may be true, the city becomes even more alive during a festival. The streets are festive. There are parades. And often the mezcal is free flowing.
The biggest Oaxaca festivals are Guelaguetza, Day of the Dead, Carnaval, Semana Santa, and Noche de Rabanos.
This post focuses mostly on festivals in Oaxaca that you won't find in other parts of Mexico. It also includes a few noteworthy festivals outside of the city, such as the Oaxaca Mushroom Festival.
Without further ado and to inspire your Oaxaca travels, here are the incredible festivals you need to experience in 2022 (plus three bonus festivals you can't miss!)
1. Guelaguetza | The Grand Oaxaca Festival (July)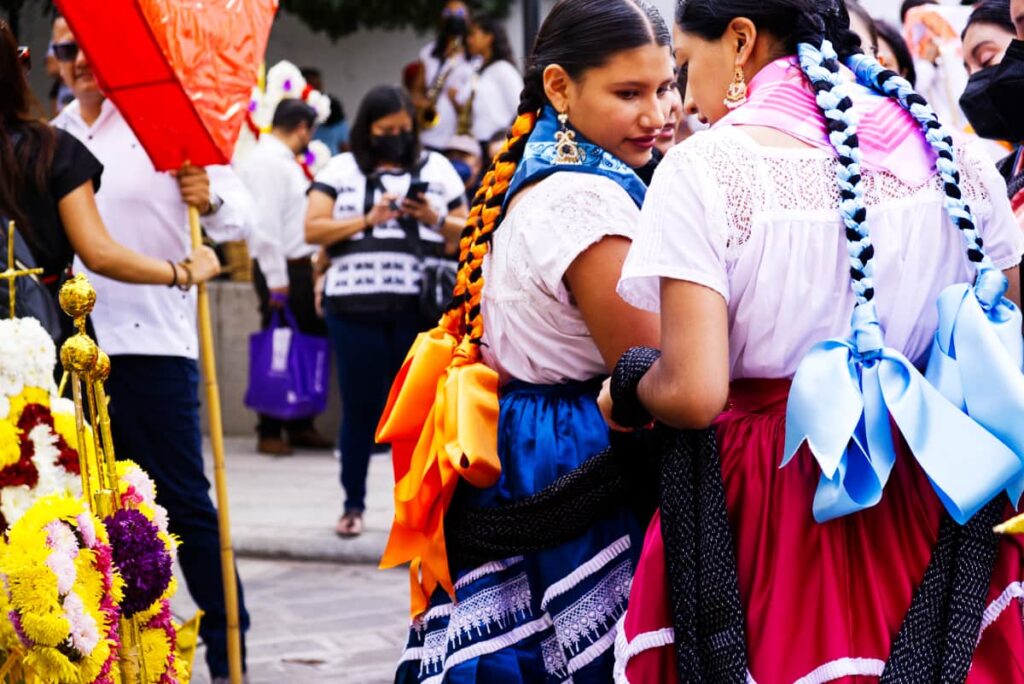 Often referred to as "La Fiesta Máxima," Guelaguetza is the biggest festival in Oaxaca. Its arrival is highly anticipated, with various events that occur for weeks leading up to the start of the festival.
The Guelaguetza Festival celebrates the cultural diversity of the eight regions of Oaxaca. On display are the rich traditions of the 16 different ethnic groups in Oaxaca.
Incredibly, the roots of this Oaxaca festival begin with the Zapotecs, before the arrival of the Spanish. That means the Guelaguetza Festival is over 500 years old!
The Zapotecs decided to bring communities together to participate in a system of collaboration and exchange. Much like the festival today, there was traditional music, dancing, dress, and food to be shared among the participants.
When is the Guelaguetza Festival?
The main events occur on two consecutive Mondays, Los Lunes del Cerro (The Mondays of the Hill), in mid-July at the Guelaguetza Auditorium.
Although, some of the best events happen outside of these dates and in small towns throughout the state of Oaxaca.
Generally, the festival falls on and between the two Mondays following July 16th. The exception is when the first Monday falls on July 18th (the official date of Benito Juarez's death), for which the start of the Guelaguetza celebration is delayed to the following Monday.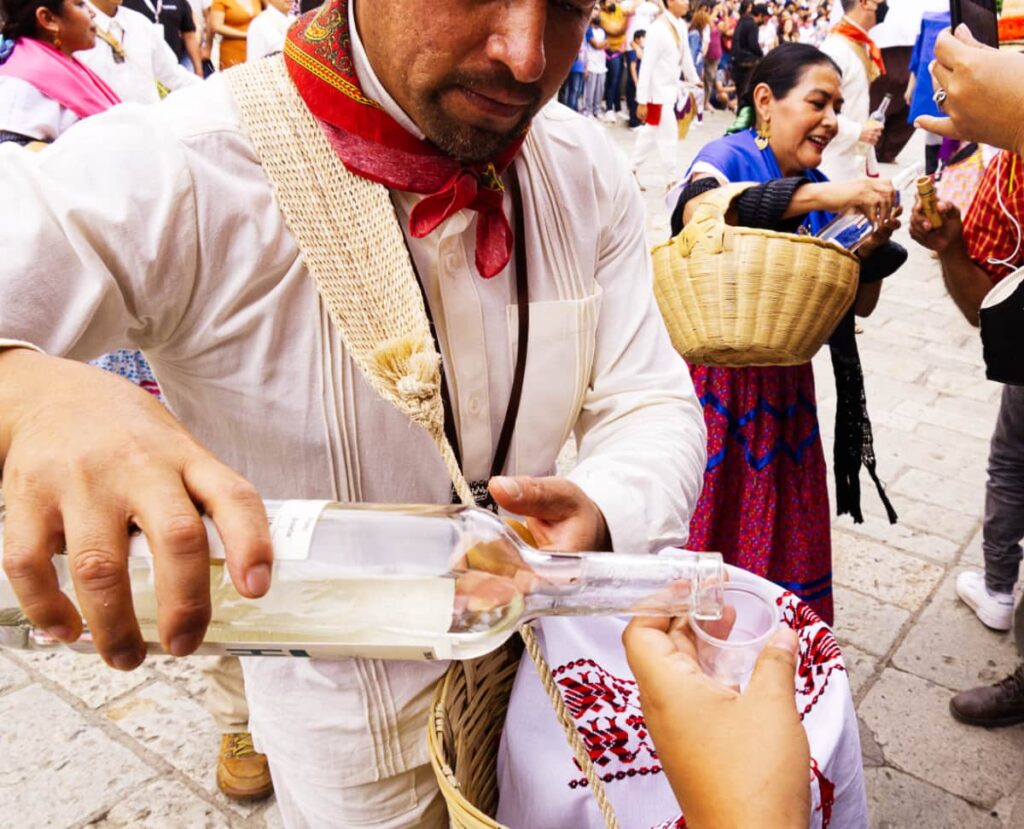 2. Oaxaca Mezcal Festival (July)
Mezcal lovers rejoice!
There is a festival in Oaxaca dedicated to the beloved spirit of Mezcal, for which the area is known.
Located in the Convention Center, La Feria de Mezcal (The Mezcal Fair) showcases over 125 Oaxacan companies. While the focus is Oaxacan mezcal, the participants have expanded to include local beer brewers, coffee producers, traditional foods, and artisans.
At the Oaxaca Mezcal Festival, you'll be able to learn about different types of agaves, the mezcal distillation process, and of course taste a variety of locally produced mezcal.
This event takes place around the same time as the Guelaguetza Festival, perfect for combining two Oaxaca festivals.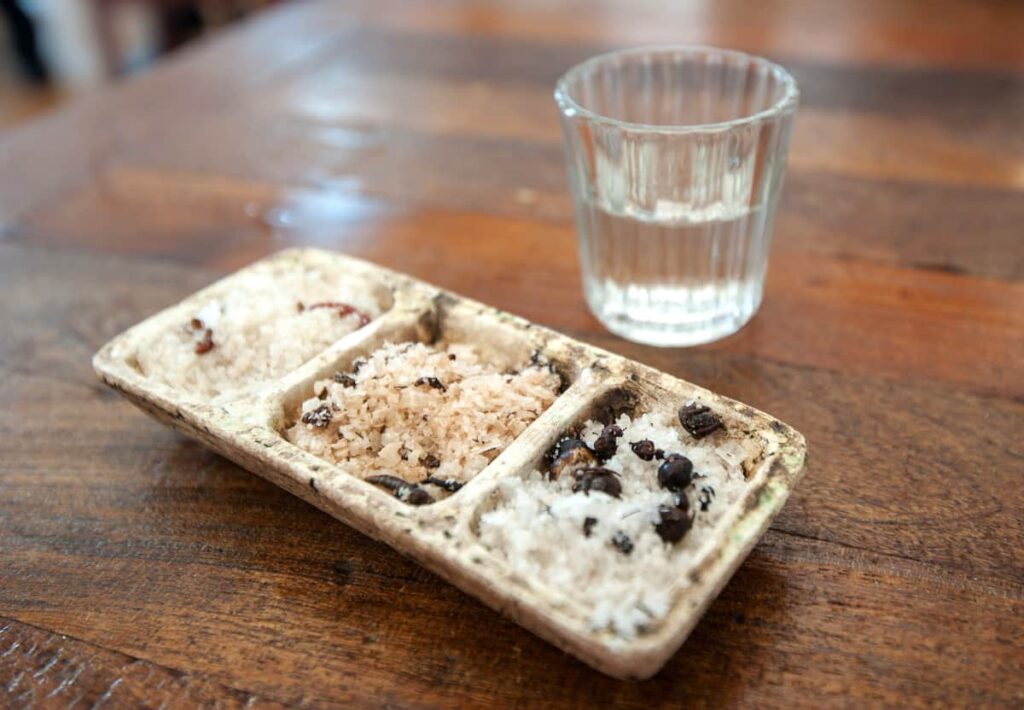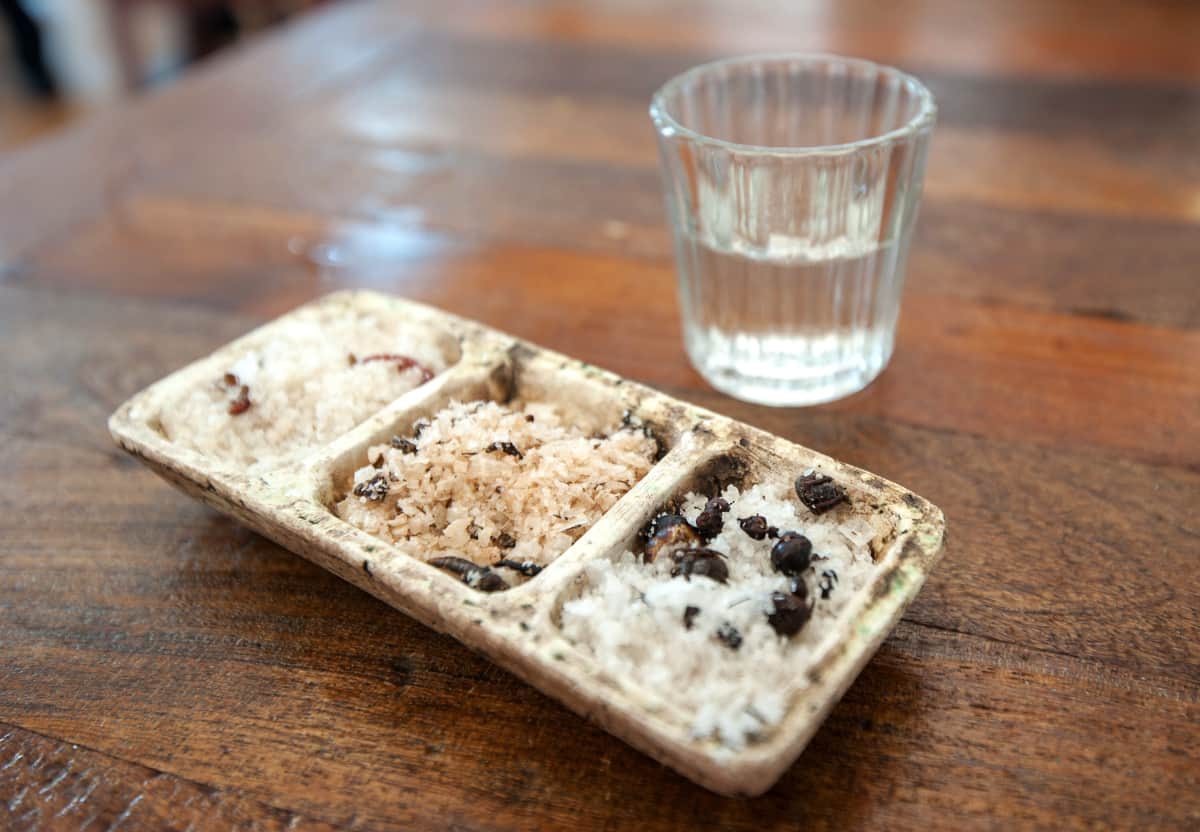 Bonus Festival | La Gran Fiesta del Mezcal (July)
As the self-proclaimed "World Capital of Mezcal," the town of Santiago Matatlán has planned its first annual mezcal festival in 2022.
La Gran Fiesta del Mezcal (The Great Mezcal Party) is scheduled over five days during the Guelaguetza Festival.
Participating mezcal producers will offer tastings as well as palenque and distillery tours. You can find out more about specific events on their Facebook page.
3. Day of the Dead | Dia de los Muertos (November)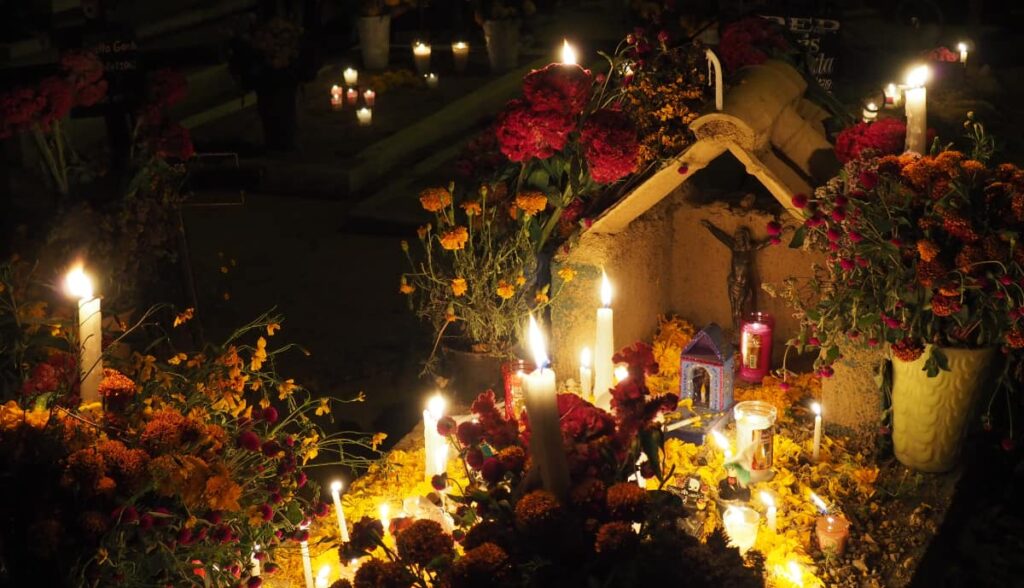 No list of Oaxaca festivals would be complete without Day of the Dead, or Dia de los Muertos.
This festival draws a large number of international visitors who are interested in learning about how Mexicans regard death and the afterlife. And there's no better place to learn than Oaxaca.
Day of the Dead in Oaxaca is still rooted in tradition. Families gather in the evenings to visit with the spirits of the deceased, who they believe visit during this time.
It's a celebration. A celebration of life and of death. So like any celebration in Oaxaca, there are incredible parades and other events throughout the city.
The entire city is awash in the festivities, with altars and flower decorations taking over the buildings.
It's a magical time to be in Oaxaca.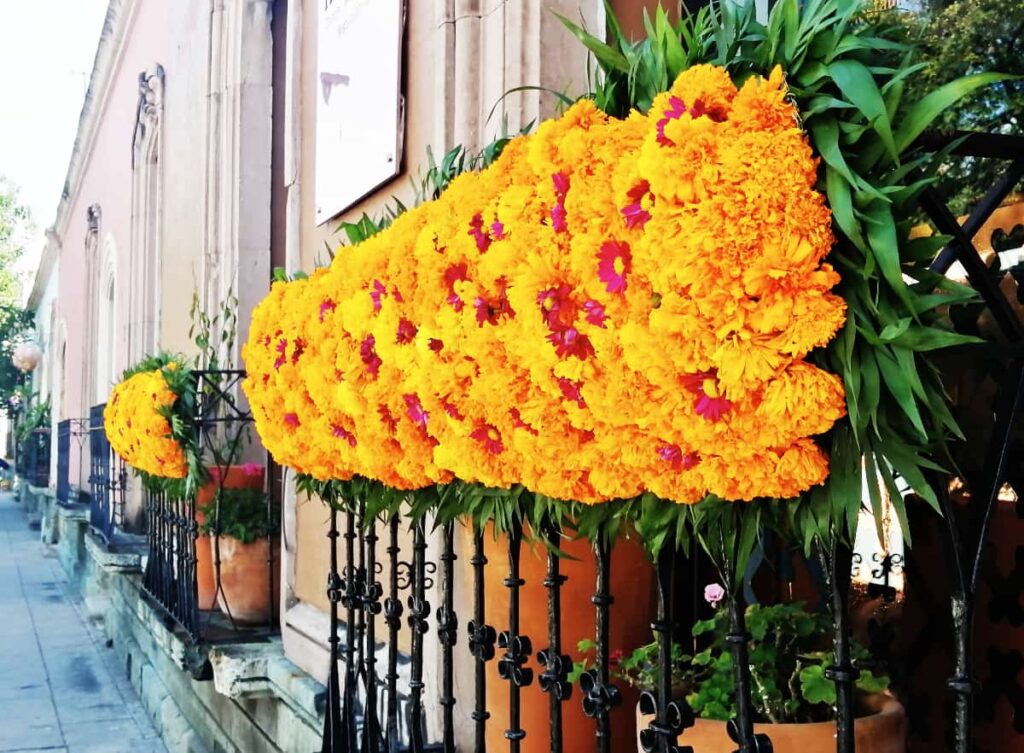 When is Day of the Dead in Oaxaca?
Day of the Dead is celebrated on November 1st and 2nd, though technically it starts the night of October 31st when it's believed souls of the dead arrive to visit.
In addition, Day of the Dead in Oaxaca fills the air in the preceding days. I recommend arriving at least a few days before to really soak up the energy.
4. Night of Radishes | Noche de Rabanos (December)
This quirky Oaxaca festival started over 100 years ago. The focus of Noche de Rabanos is red radishes, or specifically a radish carving competition.
To kick off the Oaxaca Radish Festival, artisans begin carving their oversized radishes in the Zocalo on the morning of December 23rd. This is a great time to visit so that you can see the details and works in progress up close.
Then, return to the Zocalo in the evening to see the finished products. Since these carved radishes have a limited lifespan of a few hours, there are often long lines to see these works of art.
Also on display are pieces made with corn husks and dried flowers, often with the same religious theme as the radishes.
5. Oaxaca Carnaval (February)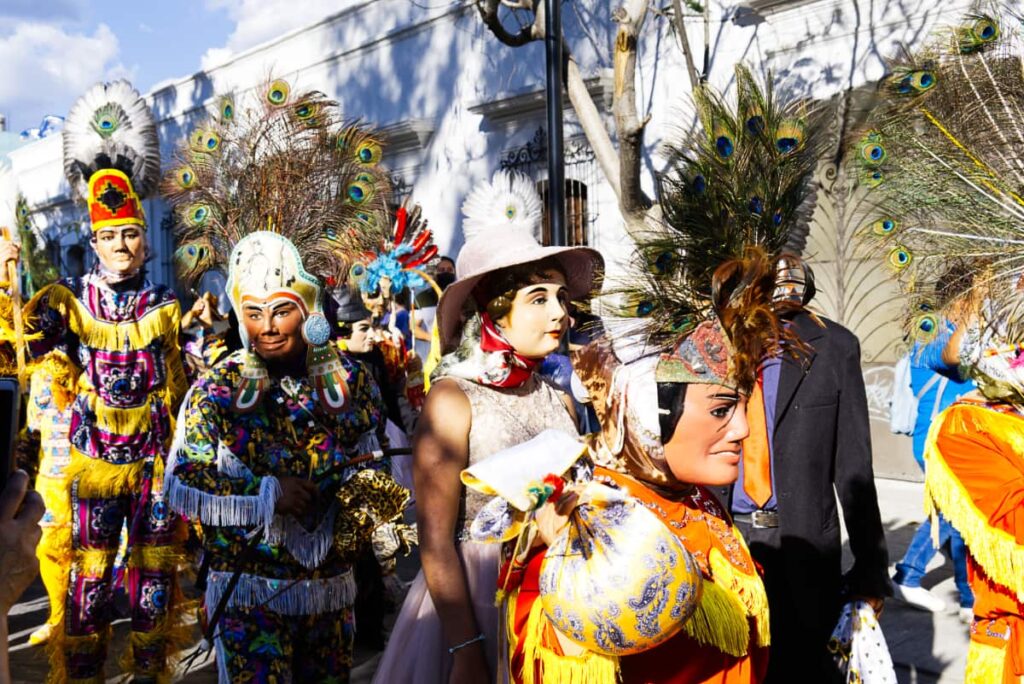 Carnaval is one of my favorite festivals in Oaxaca.
It's the last day of temptation. The last day to sin before Lent begins. And nothing is held back.
The costumes are marvelous and the energy is vibrant.
Pueblos in the state of Oaxaca celebrate Carnaval with different costumes and traditions specific to their community. But you don't need to travel all over the state of Oaxaca to see these incredible costumes.
On Saturday before Lent begins, over a dozen communities travel to Oaxaca City to represent their community in one big parade.
It starts at Plaza Cruz de Piedra and travels past Santo Domingo, down the Andador, and to the Zocalo.
The central location is convenient and the event gives you a fascinating view of the different Carnaval celebrations in Oaxaca.
For the full experience, travel an hour south of Oaxaca City to the San Martin Tilcajete Carnaval. It takes place on the Tuesday before Lent, or what is called "Fat Tuesday" in the United States.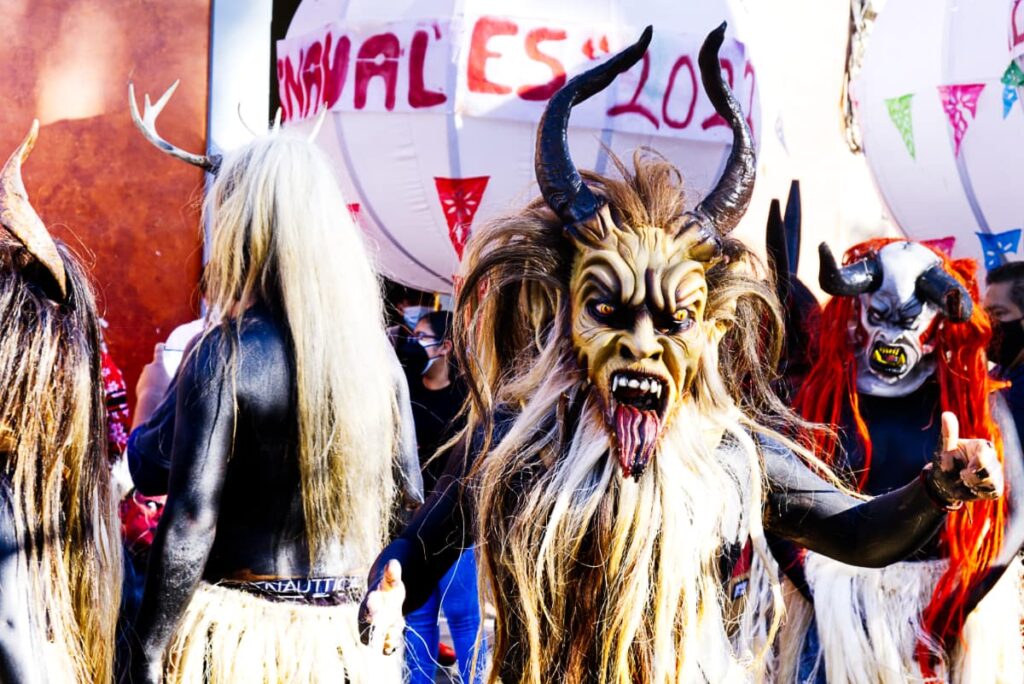 When Is the Carnaval Festival in Oaxaca?
The dates of Carnaval change from year to year since it is based around Easter. Typically Carnaval takes place in late February.
The Carnaval parade in Oaxaca City is held on Saturday before Lent begins. Actually, there is also a second parade on the Saturday following but I found the first parade to be more energetic.
6. Easter in Oaxaca | Semana Santa (April)
After Carnaval, Oaxaca City is dusted a light purple, the color of Lent.
In Xochimilco, one of the oldest neighborhoods in Oaxaca, purple and white papel picado flutter above the streets. And doorways throughout the city are framed with woven palm leaf decorations that are sold in the markets of Oaxaca.
There are parades and other events throughout the week during Semana Santa in Oaxaca. It begins on Palm Sunday with the blessing of palms and a procession from the Cathedral of Oaxaca.
On Jueves Santo (Holy Thursday), the Visit to the Seven Houses leads Oaxacans through the churches in the historic center.
And you shouldn't miss the most noted event, the meditative Procession of Silence, which takes place on the evening of Good Friday. The Archbishop of Oaxaca leads this procession from the Catedral Metropolitana, up the Andador, and past Santo Domingo Church.
During this week, the Catedral Metropolitana also hosts religious concerts featuring a choir and organ music. And the neighborhood of Xochimilco organizes several small events near the church.
Bonus Oaxaca Festival | Good Samaritan's Day
Dia de la Samaritana, or Good Samaritan's Day, is a purely Oaxaca festival that occurs on the fourth Friday of Lent. It's a wholesome celebration where Oaxaqueños and visitors receive glasses of agua fresca from various churches, businesses, and homes throughout the city.
Agua fresca, which literally translates to "fresh water," is water flavored with fresh fruits, herbs, flowers, and/or other ingredients.
You've probably had one while eating at a food stand or local restaurant. Most common are agua de jamaica, agua de tamarindo, and horchata.
The tradition of Good Samaritan's Day originates from a biblical story of a thirsty Jesus who asked a Samaritan woman for water and she obliged.
TIP – Bring your own cup for this festival. Oaxaca City recently asked everyone to bring their own in an effort to cut down on waste. I love that many Oaxacans embrace being eco-friendly!
7. Oaxaca Festival of Traditional Chefs (April)
For one weekend in late April, the aromas of the eight regions of Oaxaca fill the air at Plaza de la Danza.
Cocineras Tradicionales de Oaxaca is a gastronomic event that brings together 50 chefs and over 150 traditional dishes from Oaxaca. In addition, there are various sweets, nieves, and ancestral Oaxacan drinks.
There are soups and stews, tamales filled with various ingredients, and specialty dishes that are typically reserved for special occasions. And the stand that caught everyone's attention was that from San Juan Bautista in which the chefs consistently rotated skewered half pigs over a fire throughout the weekend.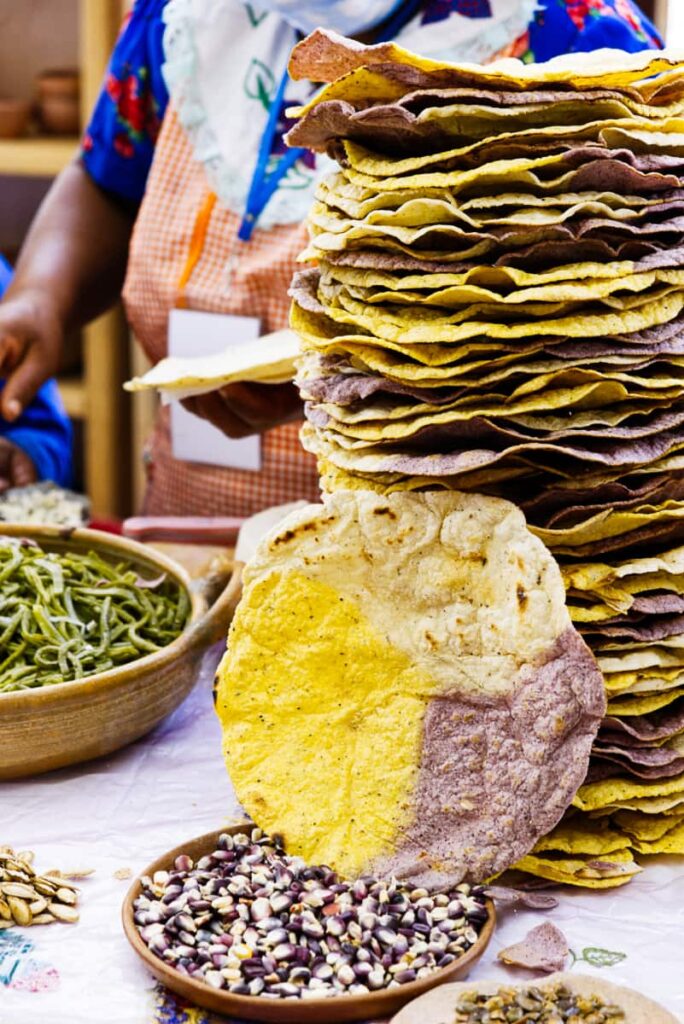 This impressive festival goes beyond the food of Oaxaca. One room highlights Oaxacan pottery and other art made for the dining table. Another is devoted to artisanal food products for home use.
The events of this festival also include over a dozen various gastronomic presentations (in Spanish) throughout the weekend. You can find more information and the schedule on their Facebook page.
Furthermore, there was no use of plastic in sight, a rarity for an event like this. Food and drinks were either served on ceramic dishes or paper products and the silverware was real. Admission to the festival is free and the dishes average 70 pesos.
If you find yourself in the city during this time, you should definitely support and eat your way through this festival in Oaxaca, which aims to promote and preserve traditional Oaxacan cuisine.
Bonus Festival in Oaxaca | Feliz Cumpleaños (April)
The site of what we now called Oaxaca City has been occupied for thousands of years by Mixtecs, Zapotecs, and other indigenous groups. Each of these communities had different names for the area.
The city of Oaxaca was founded in 1532, after the conquest of the Spanish who built the colonial city we know today. And that is the year that is celebrated as Oaxaca's Birthday.
There's not a lot going on for this celebration which occurs around the end of the Festival of Traditional Chefs. But, it is an opportunity to purchase weavings and other Oaxaca artisan works without taking a day trip to the surrounding villages.
The artisan market is set up along the walking street, just north of Santo Domingo Church. In addition, there is a comparsa (parade) on the afternoon of April 25th.
8. Oaxaca Mushroom Festival (August)
This festival opens up the mystical world of fungi.
In this case, we are talking about wild mushrooms (called hongos) for cooking, rather than the other kind that has made San Jose del Pacifico popular.
In Mexico, there are about 2,000 common names for edible mushrooms, many of which come from indigenous languages.
And it is estimated that indigenous communities consumed around 200 species of mushrooms in addition to mushrooms for healing and rituals.
A mushroom festival in Oaxaca has been held for over 15 years in the Sierra Norte town of San Antonio Cuajimoloyas. However, since the Pueblos Mancomunados have been closed for the last two years, this festival has taken a hiatus.
In 2022, a new Oaxaca mushroom festival emerged in the town of San Mateo Rio Hondo.
For two and a half days in early August, the Festival del Hongo includes talks about mushrooms, nature walks to forage for wild mushrooms, tastings, and a contest of traditional dishes using hongos. And it wouldn't be a Oaxaca festival without a calenda (parade) to kick things off!
You can find out more on their Facebook page. The dates of the Oaxaca Mushroom Festival 2022 are August 5-7th. All of the events are free except the mushroom walk. For 200 pesos per person, the walk includes a water bottle or commemorative hat, a refreshment, and knowledgeable guide.
Important – You should only forage for mushrooms with a guide that is knowledgeable about edible mushrooms in the area. For this reason, this mushroom festival in Oaxaca is a great way to learn about the local mushrooms.
Bonus Mushroom Festival Oaxaca (August)
There is another Oaxaca Mushroom Festival in the forest near Tlaxiaco on August 13 and 14, 2022. Fiesta de los Hongos Mixtecos is an opportunity to taste, learn, and share about the culture of mushrooms from the Mixteca region.
There are mushroom walks with local guides, gastronomic events, traditional music and dance, a temazcal, and more. The mushroom festival takes place at Hotel y Cabañas Yucunuvichi (map) and you can find more information on their Facebook page.
There are various packages depending on the activities you are interested in attending, some of which include transportation from Oaxaca City.
9. Los Cachudos | Santa María Coyotepec (July)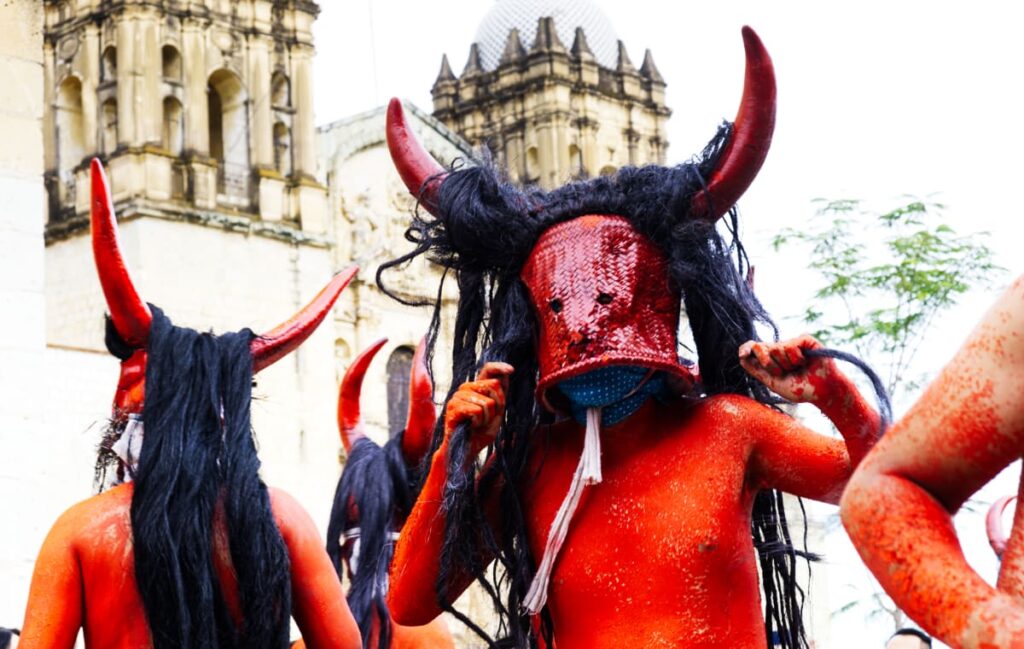 Celebrate the tradition of Los Cachudos on July 9th in the town of Santa María Coyotepec, about 20 minutes south of Oaxaca City. This festival mixes Meso-American tradition with Christianity as it celebrates the arrival of the rains and honors Santa Isabel from Portugal.
The festivities begin with a parade through the streets of Santa María Coyotepec where you'll find men dressed as devils (Los Chachudos). Much like Oaxaca Carnaval, their bodies are painted in various colors and their faces are covered with masks made of natural materials.
Like most festivals in Oaxaca, this is a celebration with free-flowing mezcal. So you'll want to get some food in your stomach as well. When the parade finishes, you'll be invited to sit down to a plate of traditional food.
After eating, suddenly everyone departs. But the festival isn't over. They're headed to the horse races! This is an incredibly fun Oaxaca festival without a lot of foreigners.
10. La Vela Muxe | Vela de las Intrépidas (November)
Now let's travel towards the coast of Oaxaca and to the town of Juchitán de Zaragoza for La Vela Muxe, a unique festival in Oaxaca.
In this town, located in the Isthmus of Tehuantepec region of Oaxaca, they recognize a third gender, called muxe.
Muxes (pronounced MOO-shays) are born male, although many adopt roles traditionally associated with women. They have been celebrated by the Zapotecs since pre-Hispanic times and some consider it lucky to have a muxe as a child.
The festival began in the 1970s when the muxe of Juchitán were subject to judgment and persecution within their community. The muxe banded together and formed a group by the incredible name of the Authentic, Intrepid Seekers of Danger.
Each year in November, they host a festival. Each member is allowed to invite up to 50 guests. And the most anticipated event is a catwalk.
Final Thoughts About Oaxaca Festivals
Can you feel the rich culture that flows through these festivals? If you've ever visited Oaxaca, you know that vibrant energy can be felt throughout the city. On any given day you may run into a comparsa or other special event.
But there is nothing like experiencing one of these Oaxaca festivals firsthand. Which festival in Oaxaca are you most excited about experiencing? Tell me in the comments. I'd love to hear from you!