Is Oaxaca Safe? (2023) The Truth About Oaxaca Safety
---
If you're planning a trip to Oaxaca, the thought "Is Oaxaca safe?" has likely crossed your mind at least once. And if so, you're in the right place.
Yes, I was mugged in Oaxaca City. But I've stuck around and gotten to know the city that I've called home for over two years.
I'm here to tell my story and give you practical tips for staying safe in Oaxaca.
This guide to Oaxaca safety primarily focuses on Oaxaca City since that's where most of the crime is being reported. Although, I will cover the coastal region as well as some of the natural disasters that could pose a risk to safety in Oaxaca.
Is Oaxaca Safe Right Now? (2023)
In general, Oaxaca is safe. In fact, the state of Oaxaca is considered one of the safer states in Mexico.
It has avoided the cartel turf wars that have sadly wreaked havoc on other areas, such as rural parts of Michoacan, where crops like avocados have become the new gold.
It is important to mention that Oaxaca is one of the poorest states in Mexico, second to nearby Chiapas. Although, in my opinion, this is not where the crime is coming from.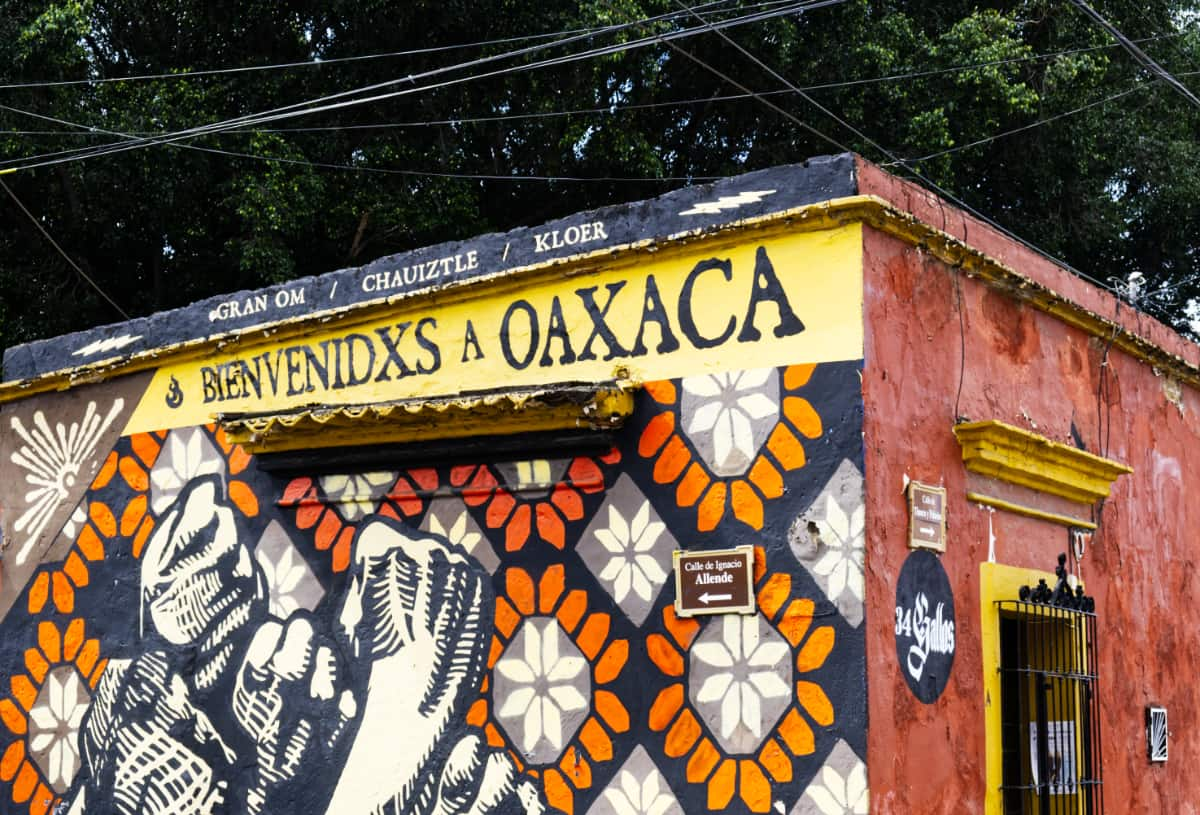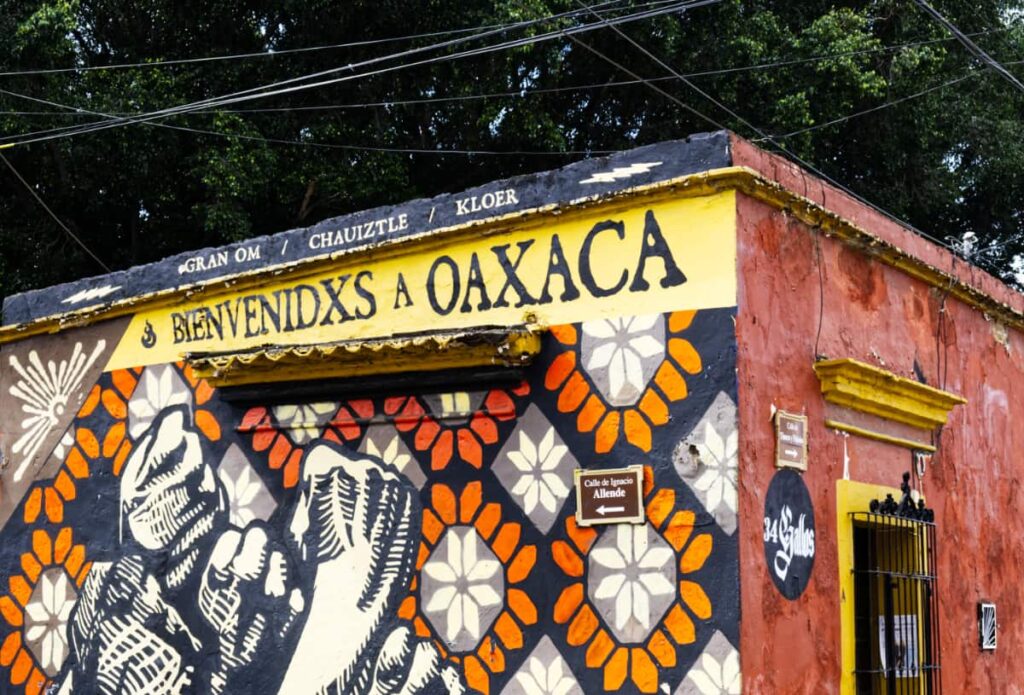 Is Oaxaca City Safe?
Oaxaca City is currently experiencing waves of insecurity, in particular street muggings.
This surge of crime in Oaxaca started around the spring of 2021. It has included moments of intensity, most notably in the fall when tourists flocked to the city to celebrate Day of the Dead and the holiday season shortly after.
While these incidents were initially mostly occurring at night, recently there have been several reports of muggings in the late afternoon. When living in various parts of the city, I noticed many of the streets on the edges of centro are often quiet on Sundays and holidays.
More concerning is the rise of gun use during these robberies. Although as scary as that is, I do believe the perpetrators generally don't wish to harm the people they target.
In multiple reported robberies using a gun, I have yet to hear of the robbers actually firing their weapons. In fact, the only times I've heard of violence during these incidents is when there is resistance.
Planning a trip to Oaxaca? Discover the best time to visit Oaxaca – both the city and the beaches.
Oaxaca Safety On the Coast
Some of the most beautiful beaches in Mexico can be found along the rugged coast of Oaxaca. The most visited beach towns in Oaxaca are generally very safe.
As far as the safety of swimming at the beautiful Oaxaca beaches, that needs to be assessed daily as conditions can change.
If you're heading to the coast, follow these tips for swimming:
Observe where other people are swimming.
Watch the ocean, waves, and currents for a while before jumping in yourself.
Pay attention to the warning of any red flags.
Let's take a deeper dive into safety in two of the biggest towns along the coast.
---
Is Huatulco Mexico Safe? (2023)
In the 1980s, the Mexican government developed Huatulco into a beachside resort area. The small community has successfully become one of the top destinations on the coast.
So, how safe is Huatulco, Mexico? The answer is very safe.
In fact, I would say Huatulco is one of the safest places in Oaxaca. The town of La Crucecita and the surrounding area have well-lit streets, wide sidewalks, and a reputation to uphold as a safe destination for tourists.
Read Next – How to Get From Oaxaca to Huatulco
Puerto Escondido Safety
This surfing town has seen a significant rise in popularity recently, which has decreased safety in Puerto Escondido slightly.
That said, it still remains a town that remains relatively safe. I felt safer walking around Puerto Escondido than I did in Oaxaca City. Although you should still take normal precautions.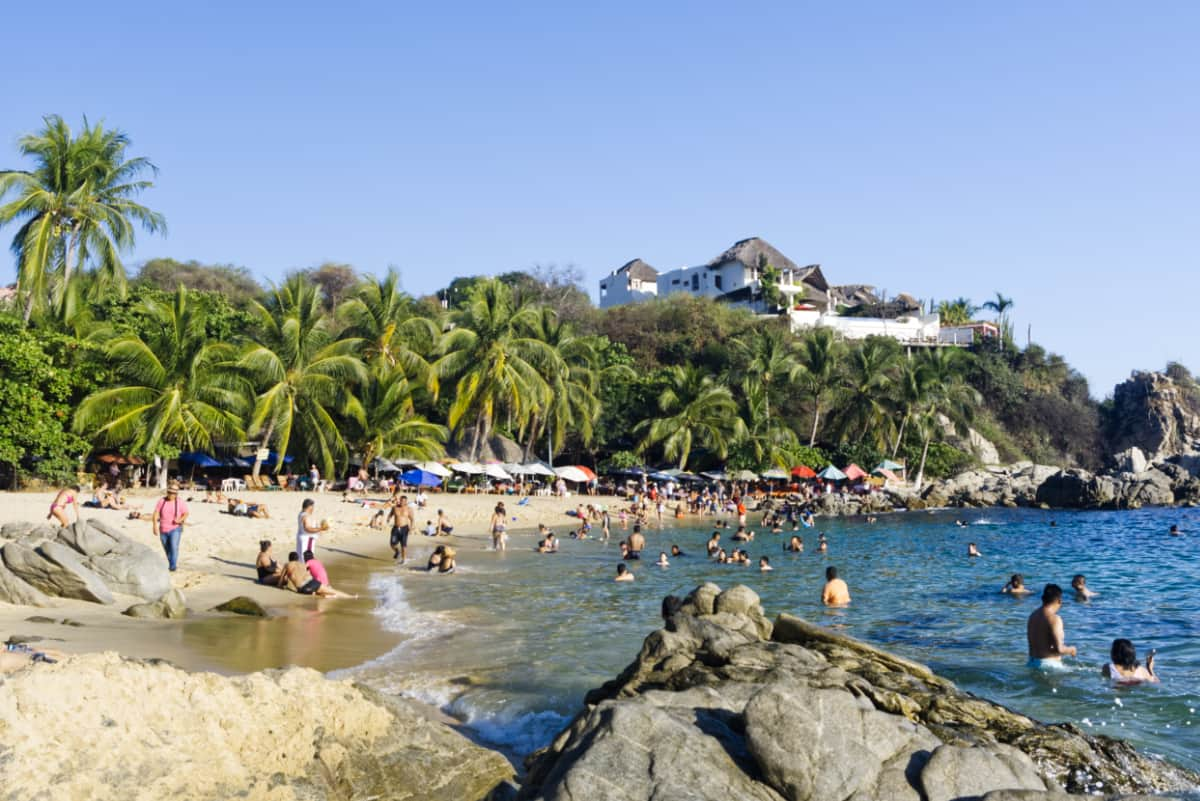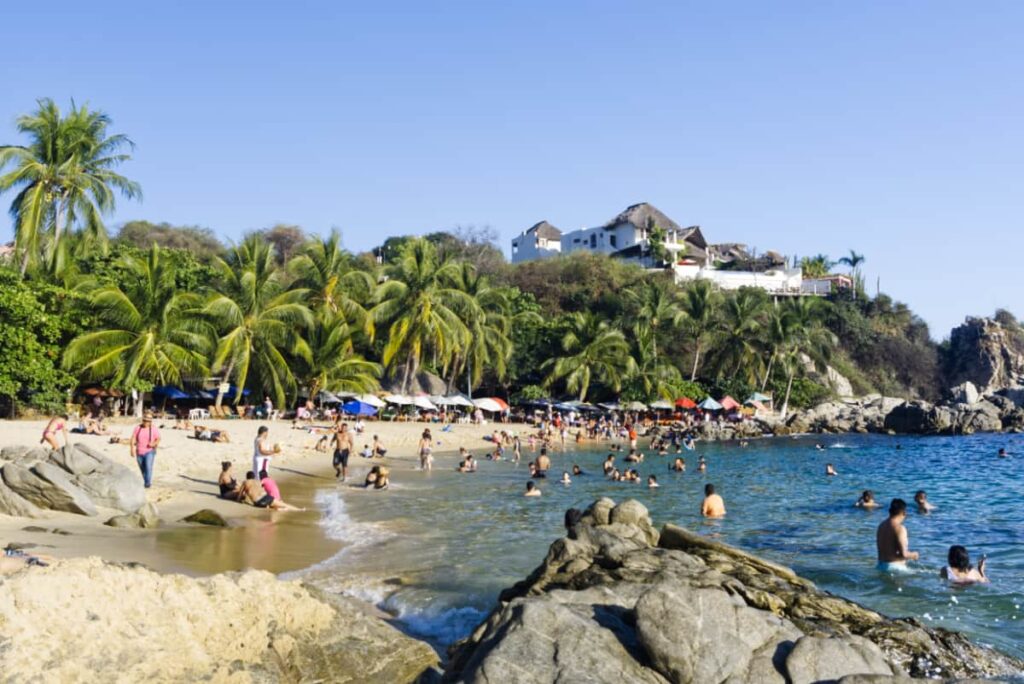 As a surfing destination with a variety of beautiful beaches, Puerto Escondido is also a party destination, which can bring its own safety concerns. Like anywhere, it's important to mind your alcohol intake and go out with friends you can trust.
I have not heard of much crime in Puerto Escondido other than petty theft. And this was also confirmed when I asked at each hostel about any safety concerns.
The only warning I received was not to walk on the beach at night, specifically in Zicatela and La Punta. There are reports of cops approaching travelers and fabricating a story about finding drugs in order to receive a bribe. I never saw this personally, but it's something to be aware of.
Are you planning to visit this surfer town? Discover the best things to do in Puerto Escondido.
Oaxaca Crime: My First Hand Experience
It was a beautiful July night in Oaxaca. After spending a few days breathing the fresh air in the mountains of San Jose del Pacifico, my friend and I were ready to explore the vibrant culture of Oaxaca City. It was my friend's first time in Oaxaca and I wanted to show him what made me fall in love with the city.
Being a Friday night, we headed out for a delicious meal at one of my favorite restaurants in Oaxaca. We shared plates of traditional Oaxacan dishes and a couple of beers.
Afterward, we went for a mezcal (or two or three). That was our first mistake.
We ended the night listening to Leon and his band play at Zapotec, one of my favorite things to do in Oaxaca. By the end of the night, everyone in the bar was singing along.
It left me with a feeling so high that when we left, the thought didn't even cross my mind to take a taxi. That was our second mistake.
It was close to 11 pm and I knew better, but I had become really comfortable in Oaxaca City.
Are Taxis In Oaxaca Safe?
Yes, taxis in Oaxaca are safe, particularly the yellow taxis. To increase safety, you can use Didi to call a taxi. Or ask the hotel, bar, or restaurant to call a taxi for you.
The Didi app uses the same yellow taxis that are on the street. The big safety difference is that your trip will be tracked in the app. And it allows you to safely wait inside while the taxi arrives. Uber has also recently arrived in Oaxaca, though there is less availability.
If you're taking a taxi at night within centro or slightly north to the areas of Reforma or San Felipe del Agua, you should feel safe. I have heard from local friends that they would not feel safe taking a taxi at night to towns further outside of centro, such as San Agustín Etla.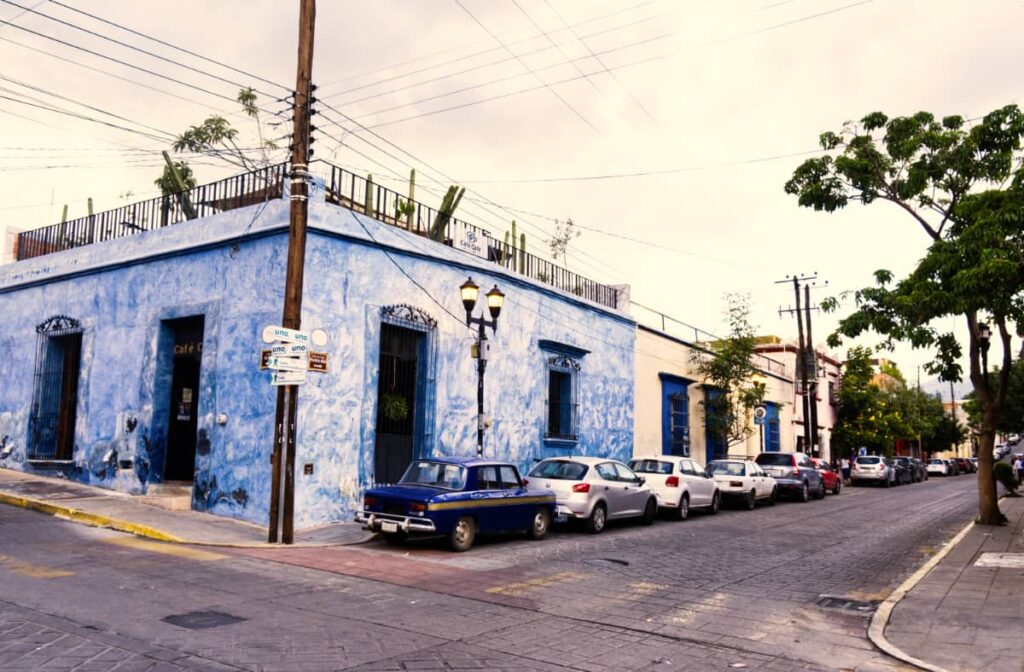 My Experience with Crime in Oaxaca, Continued
My friend and I crossed through the city of Oaxaca and past Andador Turístico, the walking street that is generally safe and full of people. Then we turned in the direction of our hotel.
The streets started to feel empty and quiet. This should have been our first warning. But we were still too elated with the night and mezcal to notice.
---
It felt like they came out of nowhere. I didn't realize it at the time but they hit my friend over the head first. Now separated, they pushed me down to the sidewalk and my forehead scraped the concrete. It was jarring but again, it didn't seem like they wanted to hurt us.
As I lay on the sidewalk in a bit of a daze, I looked up to see several figures standing around me. I felt one slip my purse off from across my body and then they took off by foot.
In a state of shock, my friend and I gathered ourselves and hailed a taxi. Even though we were just a couple of blocks from where we were staying, I felt an immediate need to get off the street and to safety.
Once inside, the shock started to wear off and I felt a strong range of emotions. From anger to stupidity and everything in between. Our next days in Oaxaca were subdued. But I was determined not to allow the experience to ruin my friend's time in Oaxaca City.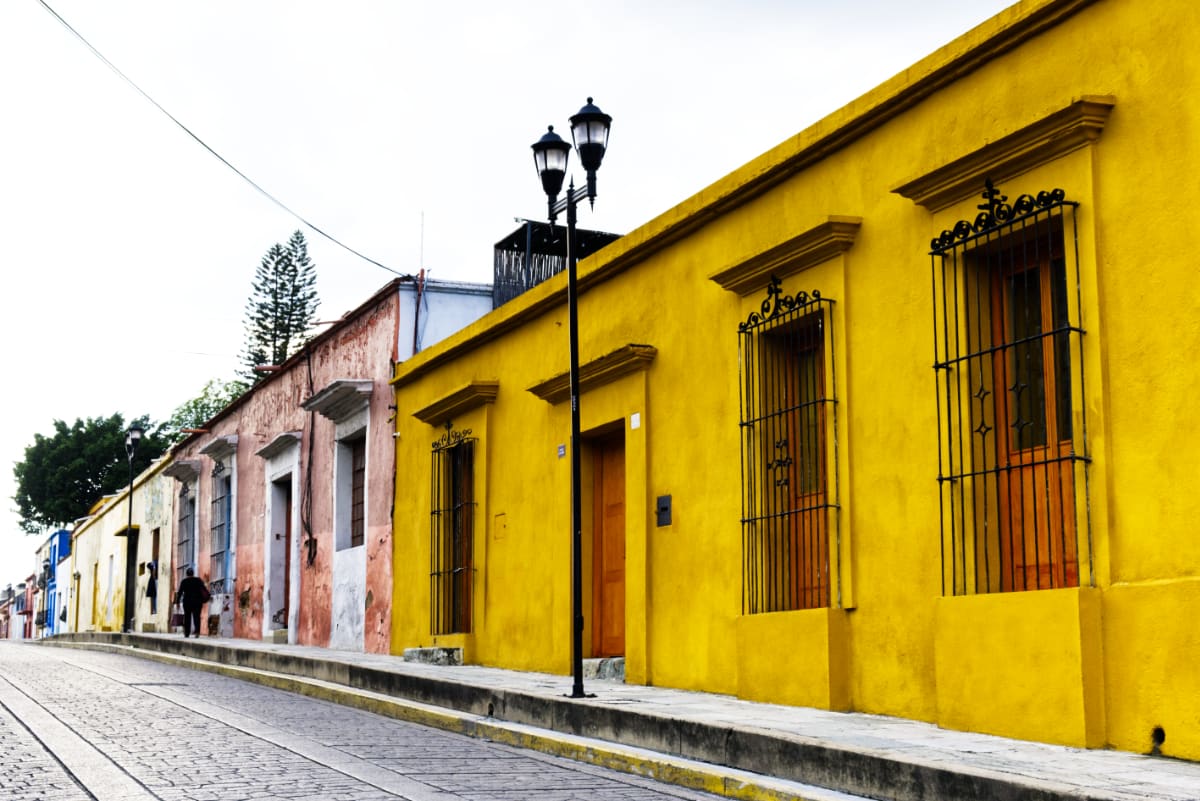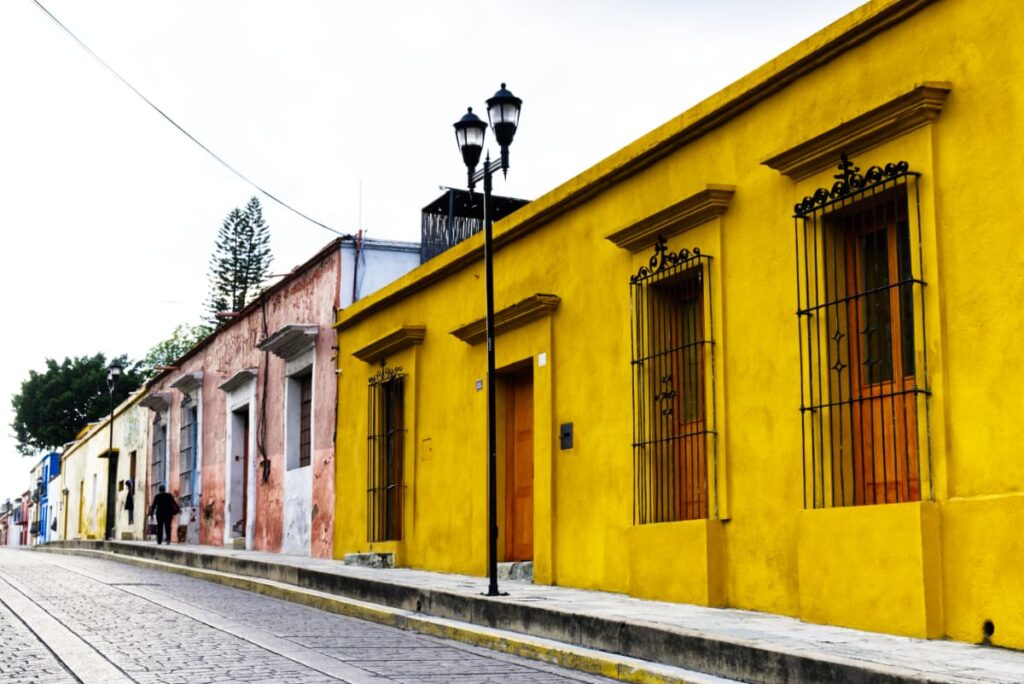 How Safe Is Oaxaca Mexico?
In general, I feel safe in Oaxaca City. I continue to walk in the streets during the day while admiring the beauty of the city.
I now have a strict rule to always take a taxi after dark. Even if it's 9 pm. Even if I'm going a short distance.
I don't hesitate to take a colectivo (red taxi) to go on a day trip from Oaxaca City to any of the surrounding pueblos. And I've always felt safe when taking a yellow taxi in the city.
But I think it's important to be aware. Aware of your surroundings. Aware of your mezcal intake. Aware of how quickly your walk can turn quiet and void of other people. And to be aware of what to do in those situations.
Is Oaxaca Safe For Tourists?
For the most part, Oaxaca Mexico is safe for tourists. Tourism in Oaxaca has been steadily climbing, with over 1 million visitors to the capital city alone in 2018.
Sometimes we develop unrealistic expectations about safety when we travel. I consider my hometown to be relatively safe.
After I was robbed in Oaxaca, I realized I wouldn't have walked home at night in my own city. So why did I feel it was safe to walk home at night in a city of similar size?
Just as you would in any medium-sized city, it's important to be aware of your surroundings and take precautions when you go out.
Is Oaxaca Safe to Travel for Families?
Oaxaca is generally a safe place for families to visit. The same precautions that apply to other travelers, also apply to families traveling to Oaxaca.
Take a taxi home at night and watch out for your belongings when you're exploring the city. Oaxaca is a walking city with tons of things to do for families.
In the evenings, Oaxaca comes alive with families strolling along the walking street, hanging out in the Zocalo, and playing games and exercising in El Llano Park.
Travelers with kids will also love the many day trips from Oaxaca City where you can learn about different artisan crafts and often tour the workshops.
Is Oaxaca Safe For Solo Female Travelers?
As a solo female traveler, I have spent two years exploring and living in Oaxaca City with a few trips to the coast and other areas of the state. My feeling is that Oaxaca is safe for solo female travelers. Like any medium-sized city, it's important to take precautions.
You should always taxi home at night, whether it's 9 pm or midnight. I would also advise against wearing jewelry or clothing that draws unwanted attention. Be vigilant about your surroundings. And, I'll say it again, mind your alcohol intake.
Is It Safe To Walk Around Oaxaca At Night?
As in most cities, crime in Oaxaca increases at night. In general, Oaxaca is safe to walk at night in places where other people are hanging out, such as Santo Domingo Church, the Zocalo, and the walking street that connects the two.
Other nearby streets in Oaxaca centro can quickly turn dark and void of other people. It's for this reason that I recommend you take a taxi at night in Oaxaca.
Is Oaxaca Safe To Live?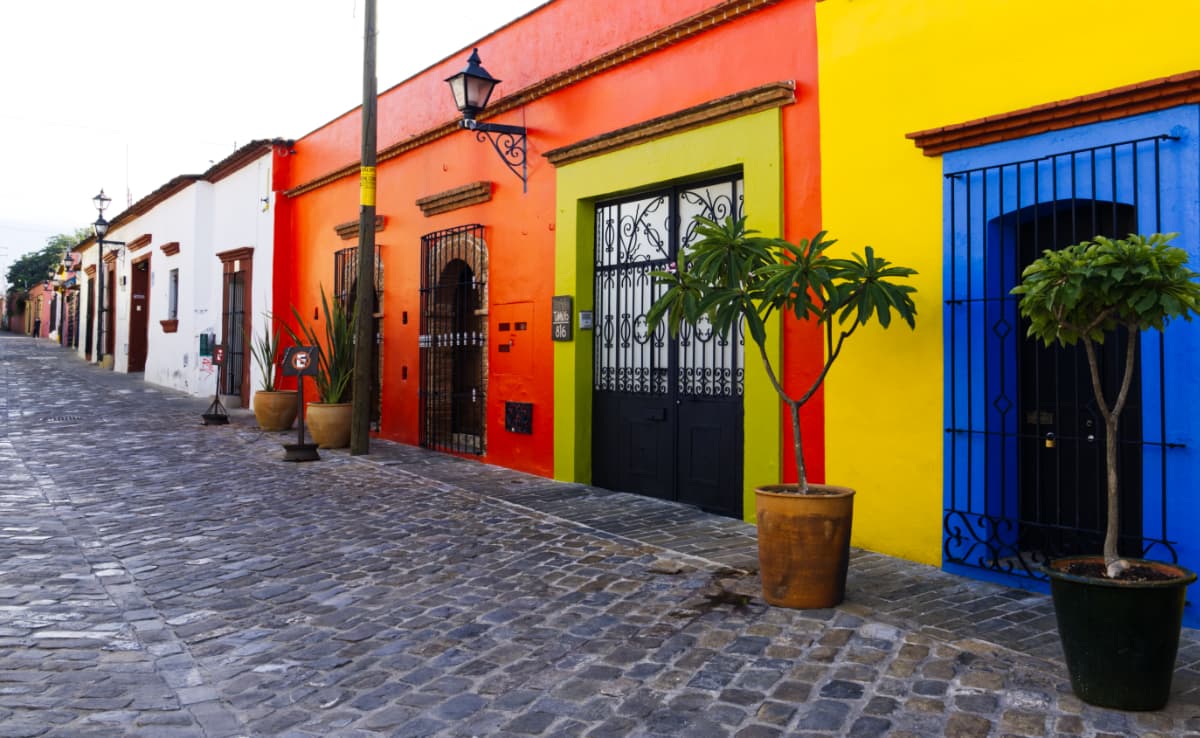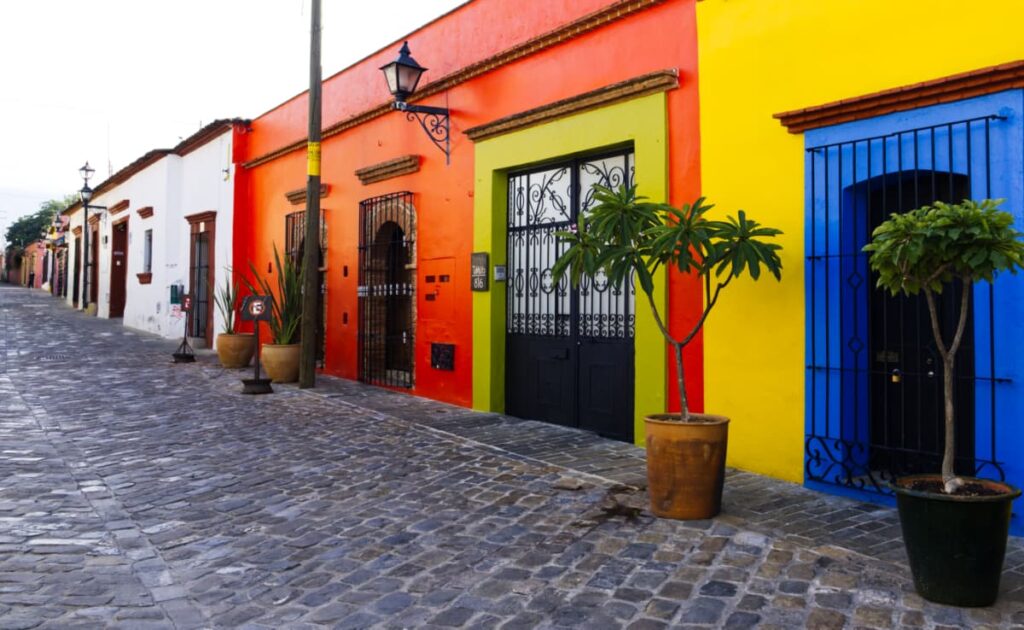 Oaxaca is one of my favorite places to live in Mexico. Oaxaca City is known for its beautiful architecture, colorful street art, and rich cultural events.
The surrounding valleys are dotted with small pueblos celebrated for their skilled artisans. And the beaches on the coast of Oaxaca are magical.
Oaxaca is a safe place to live, but as we've been discussing, there has been a rise in crime in Oaxaca City. If you generally follow the tips for staying safe in Oaxaca (see below), it will feel like a safe place to live.
Can you drink the water in Oaxaca, Mexico?
Like most of Mexico, it is not safe to drink the water in Oaxaca. For ultimate safety, you should also avoid using tap water to brush your teeth.
Most households receive drinking water in 5-gallon jugs called a garrafon. In restaurants and at most street food stands, both the water and ice cubes are purified water that is safe to drink.
Many hostels also supply water in a garrafon or use a filter, which you can use to refill your own water bottle.
Sadly many hotels do not offer drinking water. But it never hurts to ask! Often hotels are happy to refill your water bottles and/or give you a carafe of fresh drinking water to keep in your room.
10 Tips for Increasing Your Safety in Oaxaca
In general, you should feel safe in Oaxaca. It is important to stay attentive, just as you would in other places you're exploring. Here are some tips for safety in Oaxaca.
Take precautions when using ATMs – Always withdraw money from an ATM during the day. Try to use ATMs within a bank. Stand-alone machines can be more easily manipulated with hacking devices.
Use a money belt and a dummy wallet – A money belt is a safe way to store valuables while you are out and about. Furthermore, keeping money in separate places can reduce your losses if you do encounter trouble.
Don't flash valuables. It's best to leave flashy jewelry and watches at home. Yes, you can wear jewelry in most places, just be sensible.
Avoid using your cell phone on the street. This is one of the easiest ways to expose yourself to crime in Oaxaca. When thieves see this vulnerability, they have been reported to pull up beside you on a moto. The passenger takes your phone from your hands and the driver speeds away before you've had time to contemplate what just happened. Instead, step inside the doorway of a business if you need to use your phone for a moment.
Always take a taxi at night. Yellow taxis are considered safe in Oaxaca. For further safety, you can use an app like Didi to request a taxi. This also allows you to stay inside while waiting for the taxi to arrive.
Mind your alcohol intake. It can be easy to overindulge when you're in an exciting new place and tasting strong mezcals (seriously, it can sneak up on you!) But it's important to remain alert, especially when you may not know your surroundings well.
Don't leave drinks unattended. This is a safety rule everywhere in the world. And always a good reminder.
If you are robbed, don't resist. I rarely hear of violent robberies in Oaxaca. But when I do, it's usually because the victim resisted handing over their valuables. It sucks to lose your phone but it's certainly not worth getting hurt over.
Be careful while swimming at the beach. Oaxaca is home to quite a few incredible beaches. Some are not suitable for swimming due to strong currents. Although, conditions on any beach can change daily or even hourly. It's important to watch the water before jumping in, follow where other people are swimming, and look out for red flags and other signs that indicate it's not safe to swim.
Educate yourself about what to do in the event of an earthquake. You are unlikely to experience a large earthquake in Oaxaca. However, you should read these basic guidelines about what to do.
Oaxaca Safety: A Brief History
This article about Oaxaca safety wouldn't be complete without talking about the political demonstrations in Oaxaca, known as bloqueos. Unions use these as a tool to negotiate with the government, though the union's origins have come into question at times.
If you live in Oaxaca, you'll learn they can disrupt daily life and make it difficult to travel outside of the city. And if you're traveling to Oaxaca, chances are you may not notice them unless they close the airport (which has been known to happen).
The biggest conflict occurred in 2006 in Oaxaca City. What started as a local teacher strike in the Zocalo turned violent after police fired on the nonviolent protesters.
It's important to note that these teacher protests have occurred every May for over 30 years. In previous years the strikes lasted a few weeks and resulted in slightly higher wages for the teachers.
---
The year 2006 was to be no different until the governor refused to negotiate and sent the police in to break up the encampment at the Zocalo.
The state of Oaxaca includes 16 indigenous groups, many with their own subgroups. Each has its own language and traditions which is what makes Oaxaca so culturally rich.
These protests can be a powerful tool for otherwise overlooked subsets of the population to get the attention of the government.
At some points, it feels as though there is always a small bloqueo somewhere in the city. But if you stay out of the way and just allow them to happen, they shouldn't affect your safety.
Did you know it's illegal for foreigners to participate in protests in Mexico? Even taking pictures can be considered a form of participation. Just another tip to keep you safe in Oaxaca.
How Safe Is Oaxaca?: A Conclusion
I spent several months writing this article while living in Oaxaca City. The question, "Is Oaxaca safe?" was often in the back of my mind as I navigated the streets and tried to put my feelings about Oaxaca safety into words.
In reading the news, it's clear that Oaxaca City is not the only place experiencing an uptick in petty crime. And many living in Oaxaca will tell you they feel safer here than in their home city.
Oaxaca City is bigger than most people realize since many only visit centro. Past the main area, the neighborhoods sprawl towards the mountains to accommodate its more than 700,000 residents. And the population has likely unofficially increased recently as more digital nomads find a home in Oaxaca.
The crime wave has not changed my opinion on safety in Oaxaca. Unfortunately, I believe it is in line with many other cities right now. It's simply a good reminder to take more precautions no matter where you are in the world.