25 Best Cafes in Oaxaca | Coffee and WiFi in the City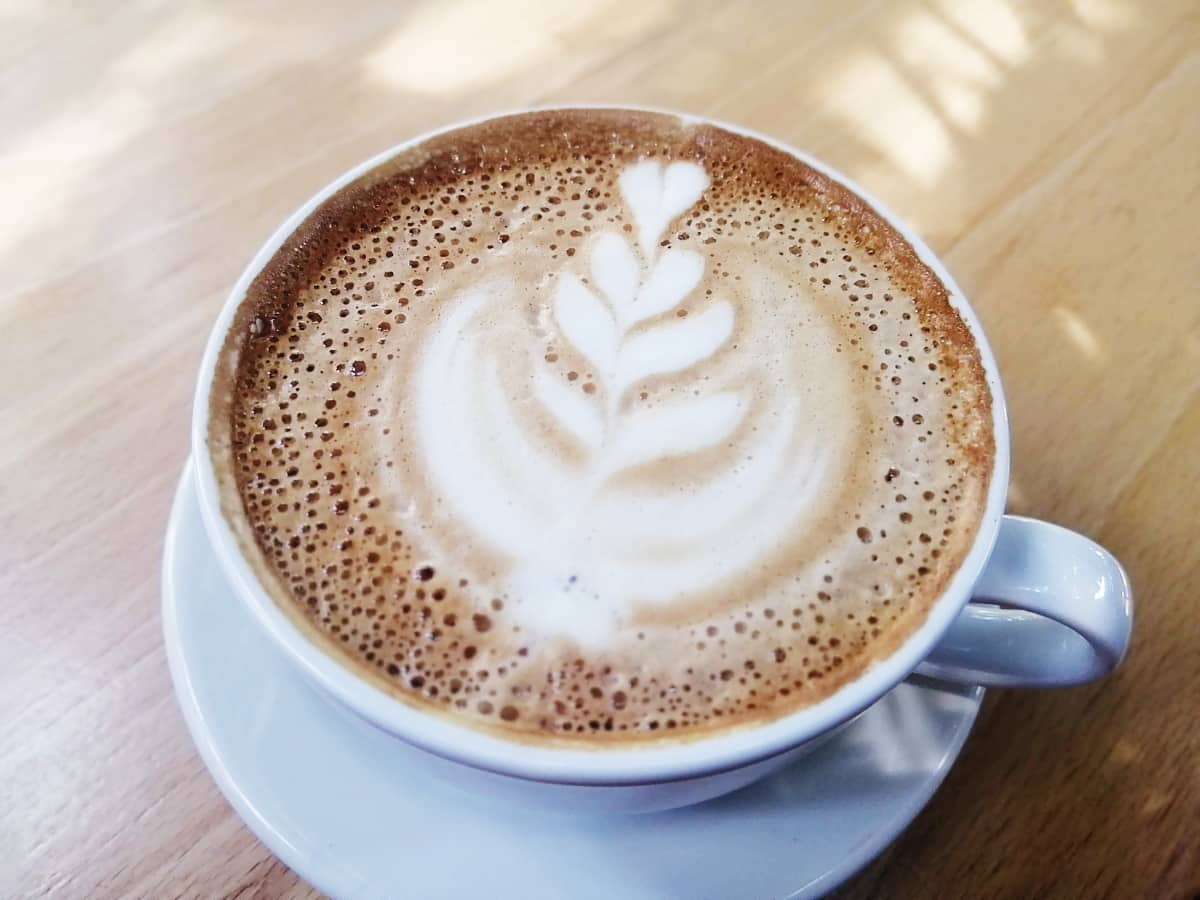 Whether you're looking to get work done or you simply want to sip on a rich cup of Oaxacan coffee, this list of the best cafes in Oaxaca has you covered.
I've divided this list of Oaxaca cafes by location and included whether they are a good spot to get work done.
If you're simply looking for the best coffee in Oaxaca make sure you catch the end where I included a few smaller cafes. I personally think they showcase some of the richest Oaxaca coffee.
If it's a cafe in Oaxaca to work from, I've included a general internet speed. Though keep in mind, it can vary from day to day.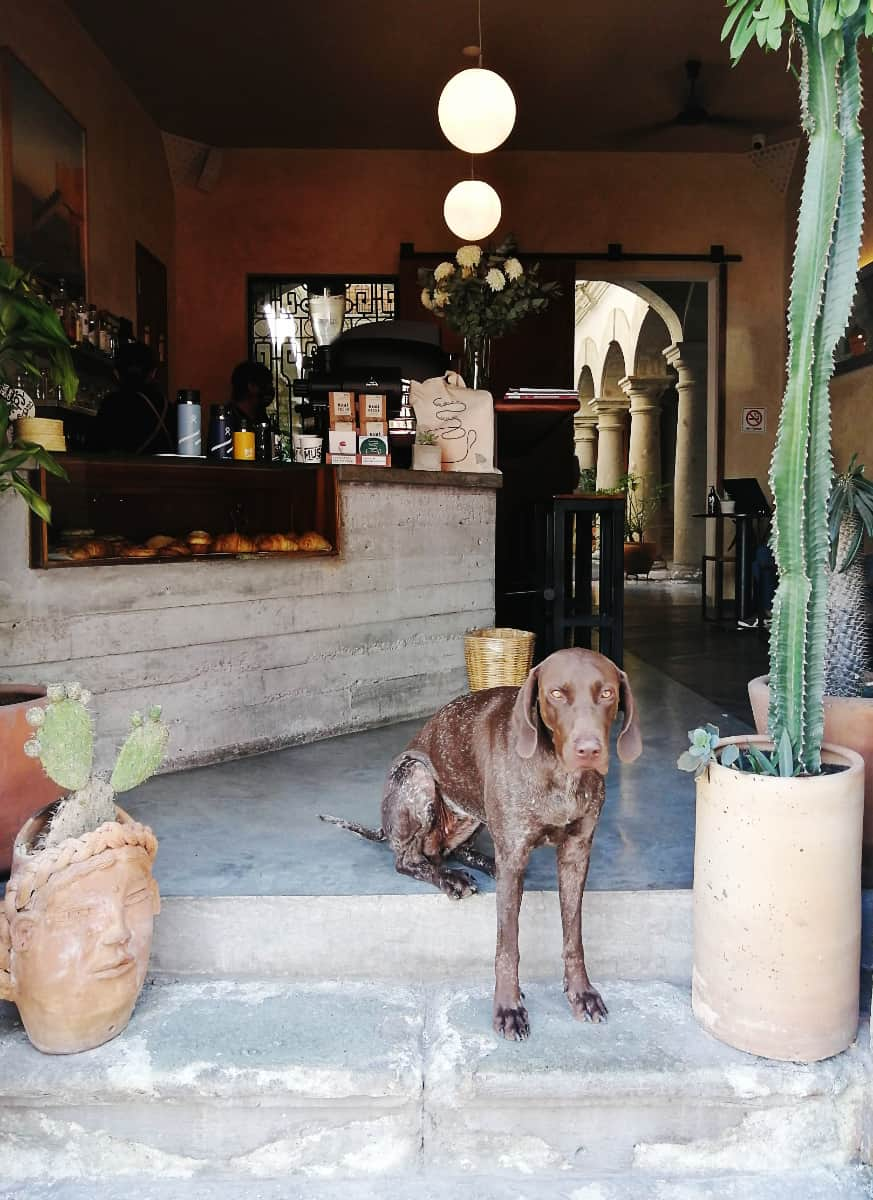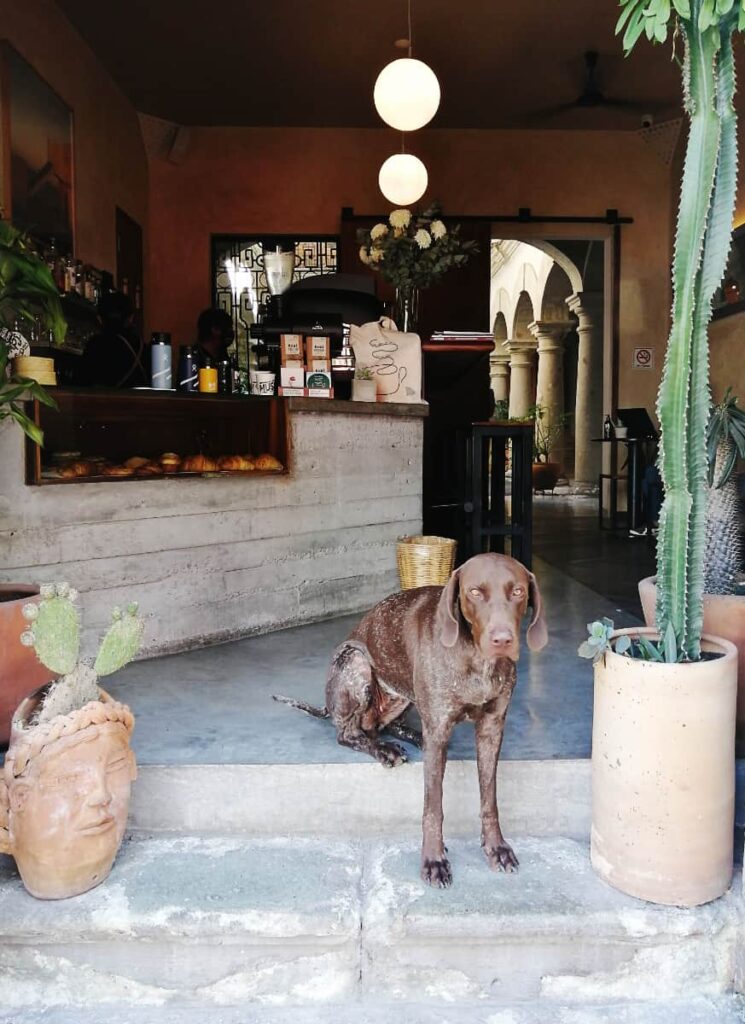 Best Cafes in Oaxaca, Centro
You'll find some of the best cafes in Oaxaca Centro. There's just something about the renovated historic buildings that often embody an enchanting atmosphere.
Sometimes the Oaxaca cafes in centro look small from the street. But once inside an unexpected area may be revealed in the form of a beautiful courtyard or rooftop. Just something to keep in mind as you're looking for your go-to coffee spot.
1. Muss Cafe
Muss Cafe is one of the most popular cafes in Oaxaca. Located in a renovated hotel, I consider this an upscale Oaxaca cafe.
The main cafe is tiny but it expands to a semi-open courtyard with a large table to work. In the afternoons, the upstairs bar and rooftop are open, further increasing the work areas.
In fact, I prefer the tranquility of the upper level with tables surrounded by plants and beautiful architecture.
The food menu is small and slightly expensive for the portion size. I wasn't wowed by the flavors but I know others that rave about the food at Muss Cafe. Nonetheless, this is a great cafe to work or simply sip on a cup of coffee.
2. Yegole Cafe
This is a small but airy cafe located in Oaxaca Centro's northeast corner. While the mostly bench seating isn't ideal for long working days, the wifi is fast at 100 Mbps.
The varied menu distinguishes the handful of vegan and gluten-free items. Breakfast includes several classics and expands to more unusual dishes such as an egg enveloped in hoja santa.
There are also half a dozen options of toast topped with different ingredients, several sandwiches, and salads. Drinks include typical coffee drinks, a matcha latte, smoothies, and housemade kombucha.
My only complaint is the street noise which was distracting at times and impossible to escape while working from this cafe.
3. Marito & Moglie Café
Started by a Mexican-Italian couple, this is a gem of a cafe in Oaxaca Centro.
Inside, past the coffee bar is a minimalist, rustic room with a few tables to sit. It's another Oaxaca cafe that instantly expands with an intimate courtyard in the back.
The non-Mexican breakfast menu is simple but inspired. And the taste and presentation of the food do not disappoint. In fact, this small cafe in Oaxaca centro also made my list for the best breakfast and brunch in the city.
4. Filemón | Coffee Producers & Munchies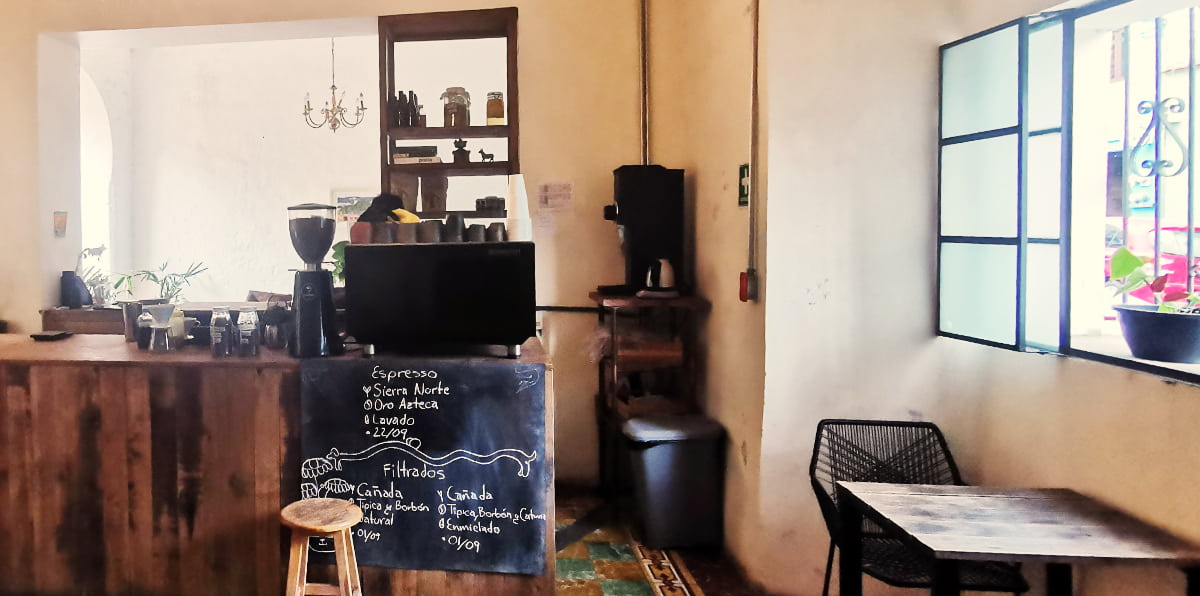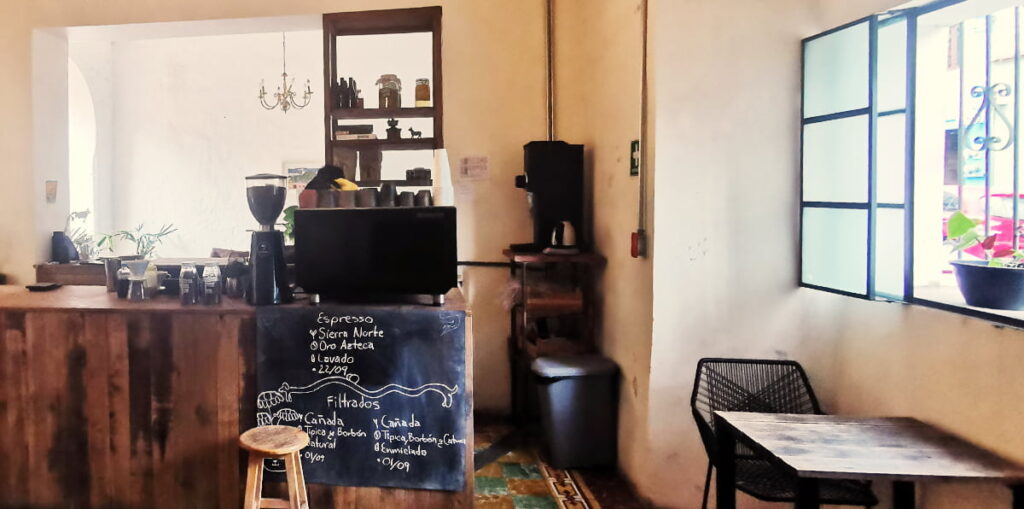 This cafe in Oaxaca centro flows from room to room through the lower level of a historic building.
Tall arched ceilings and colorful tiles keep the atmosphere cool. And the small patio expands the areas to sit.
The laidback feeling replicates drinking coffee at a good friend's home. And the coffee is rich!
Filemon is another Oaxaca cafe that made my list of the best breakfast. While prices are a little elevated, the menu has an array of incredibly interesting dishes.
The spaces to work are generally comfortable and the wifi is stable, though not the fastest.
5. Pozonque Cafe | Oaxaca en una Taza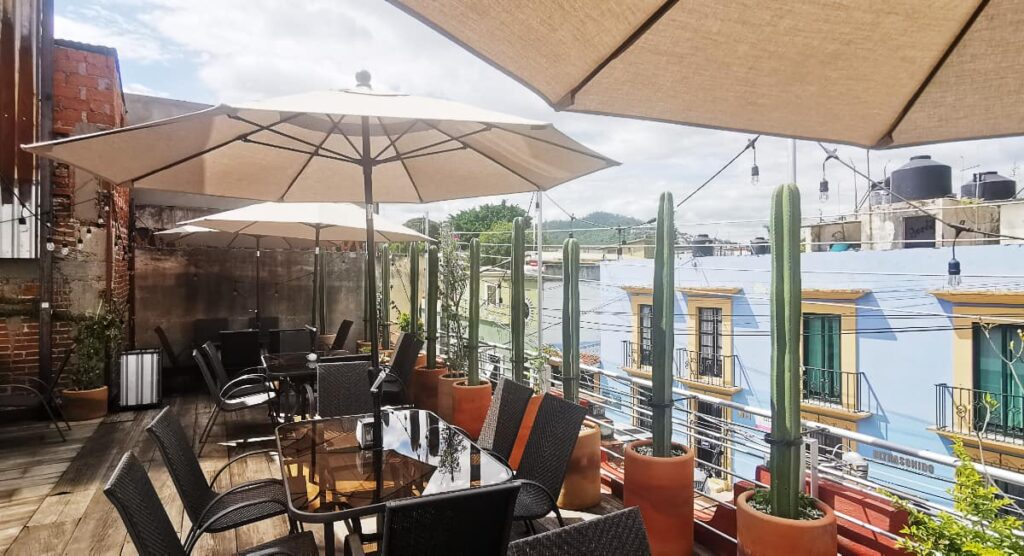 The glass display of croissants and other pastries at this unassuming cafe in Oaxaca has caught my eye more than once.
But it wasn't until I peeked inside and asked about more seating that I discovered the incredible rooftop terrace.
It's a wide open space with large tables and chairs. Half of the seating is under a covered roof while the other half is shaded with large umbrellas.
The menu at Pozonque Cafe consists of a range of mostly breakfast items that are available until 2:30 pm. And the drinks expand beyond coffee to include smoothies and a list of over a dozen different flavors of drinking chocolate including 70% and 100% cacao.
Unfortunately for work, the internet signal was inconsistent and slow, with a speed test barely reaching 5 Mbps, although the upload speed was slightly faster.
6. Cafe SL28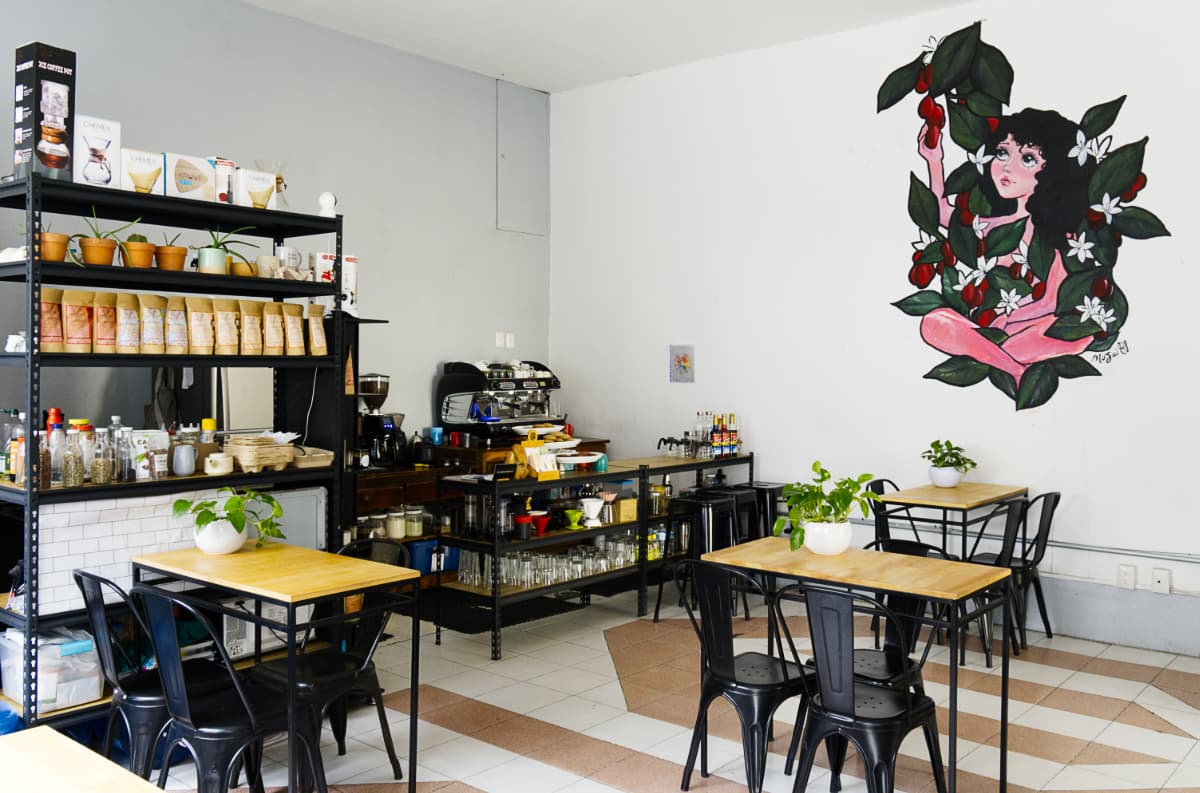 This Oaxaca cafe has a family-friendly feeling. The space is bright and airy without feeling pretentious. And they serve coffee from different regions of Mexico.
The menu of salads, sandwiches, and breakfast items is affordable and tasty though nothing to write home about.
As far as working from this cafe in Oaxaca, the wifi is sufficient and it's comfortable despite the slightly high tables.
7. Cafe Brujula – Alcala Location
Cafe Brujula is a local chain of coffee shops with different locations throughout Oaxaca City.
I particularly like the Alcala location for its colonial architecture and open courtyard. It's lined with large columns and a stone floor that helps keep things cool.
While it can get busy, there is plenty of seating, multiple outlets, and perhaps most importantly, fast wifi.
Speed tests resulted in 89 Mbps download and 40 Mbps upload which was sustained as more and more people filled the cafe.
8. CafeBre
This is another cafe in Oaxaca with seating in a central courtyard.
Long community tables span the center while the colonial architecture allows the space to have a few nooks of smaller tables for more privacy.
The menu includes several housemade bagels with various toppings. And their cappuccino ranks among some of the best coffee in Oaxaca.
The wifi is stable with a download speed that doubled to nearly 40 Mbps when there were fewer people.
This popular cafe can get busy. The noise level is only increased with the music that plays from a small stereo at the doorway. Some may find it too distracting to work from this cafe.
9. Pataxte Café y Diseño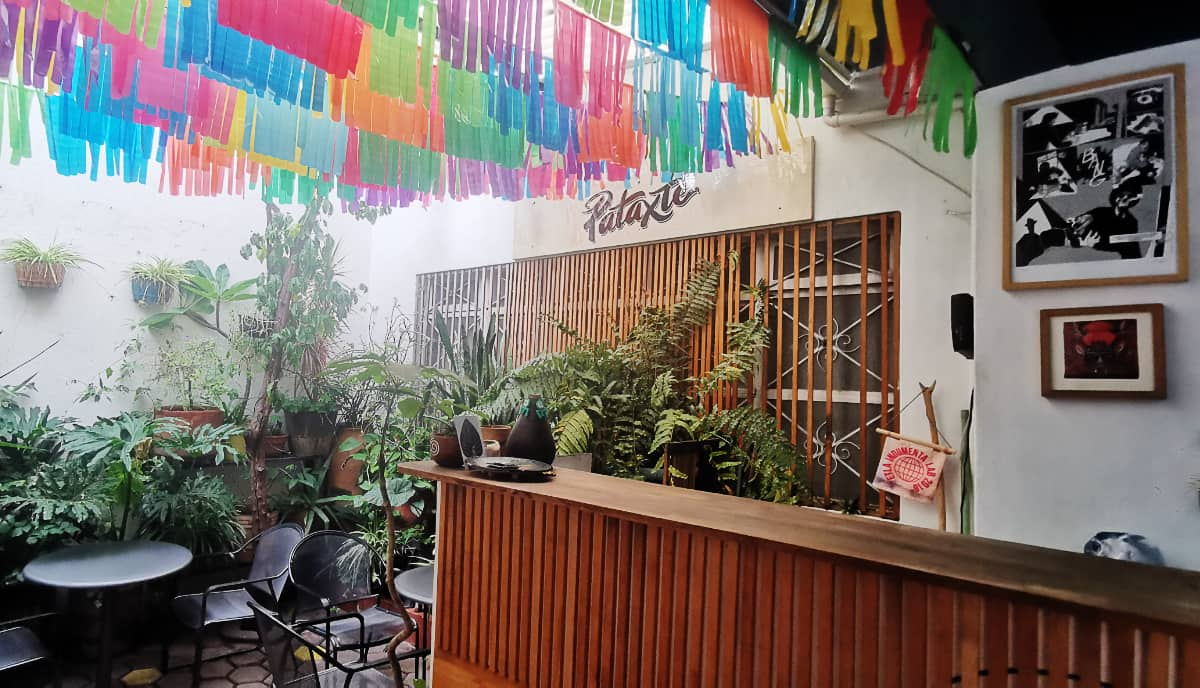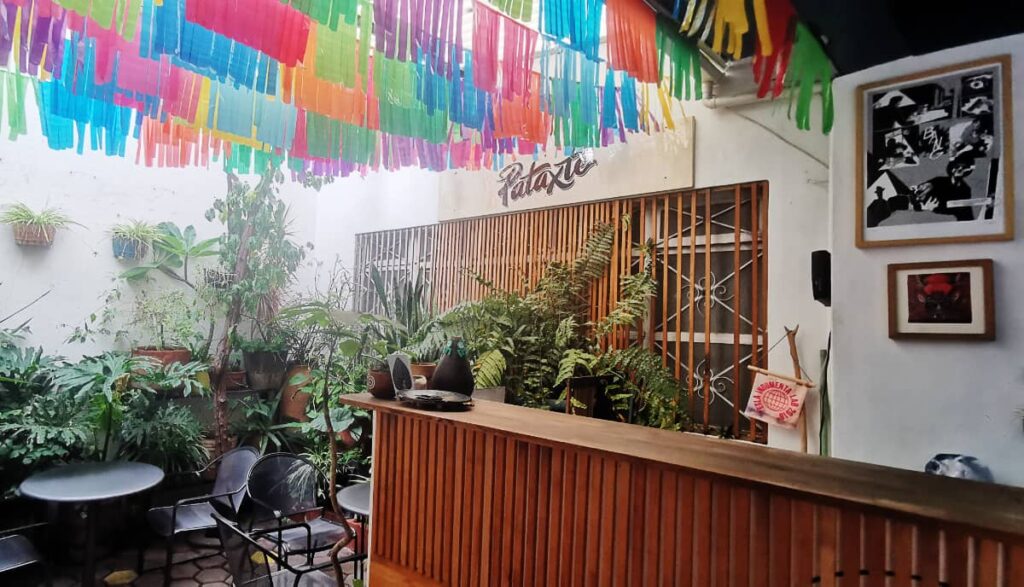 This small cafe and design studio has just a few tables to sit on a covered patio. While it's not a top cafe for working, the internet is solid with a download speed of 40 Mbps when I ran a test.
The menu includes a varied list of smoothies, coffee drinks, and more refreshing beverages such as the Ginger Mich which blends the freshness of a limonada with ginger, yum!
The food menu is small but interesting, consisting mostly of a few sandwiches. Many, like the falafel sandwich, include a side of pickled vegetables which was brightly flavored delight.
10. Lluvia y Cosecha Cafe
This Oaxaca cafe features natural decor that is also represented in its clay coffee mugs and stone plates. Inside are several wooden tables surrounded by a mix of benches, stools, and chairs for seating.
They proudly serve Oaxacan coffee from Pluma, a mountainous region south of the city towards the coast.
Lluvia and Cosecha is a self-described "Barra de Experiencias." They host popup food events and live music in the evenings.
The daytime food options are limited to two ham sandwiches which technically expands to four depending on your bread choice (a baguette or seedy sandwich bread).
But I must say, the sandwich was tasty with an unexpected addition of sun-dried tomatoes and sauteed jalapenos on the side.
The wifi is fast enough for most people, coming in above 40mbps download and a measly 4 upload. Although, I was the only patron at the time.
11. Cactus Cafe
Cactus Cafe is a small space tucked away on the western edge of Centro, near Plaza de la Danza.
Downstairs is an inviting space with wood tables, chairs, and hand-painted cactus wall art. Alternatively, you can choose to work from this cafe upstairs which offers a more private feel.
The prices at this Oaxaca cafe are really reasonable with most drinks at 60 pesos or less.
The food menu includes a handful of reasonably priced salads and tasty sandwiches. There are also a few plates sold as a package that includes coffee or tea and a bowl of fruit.
12. Sorbo Café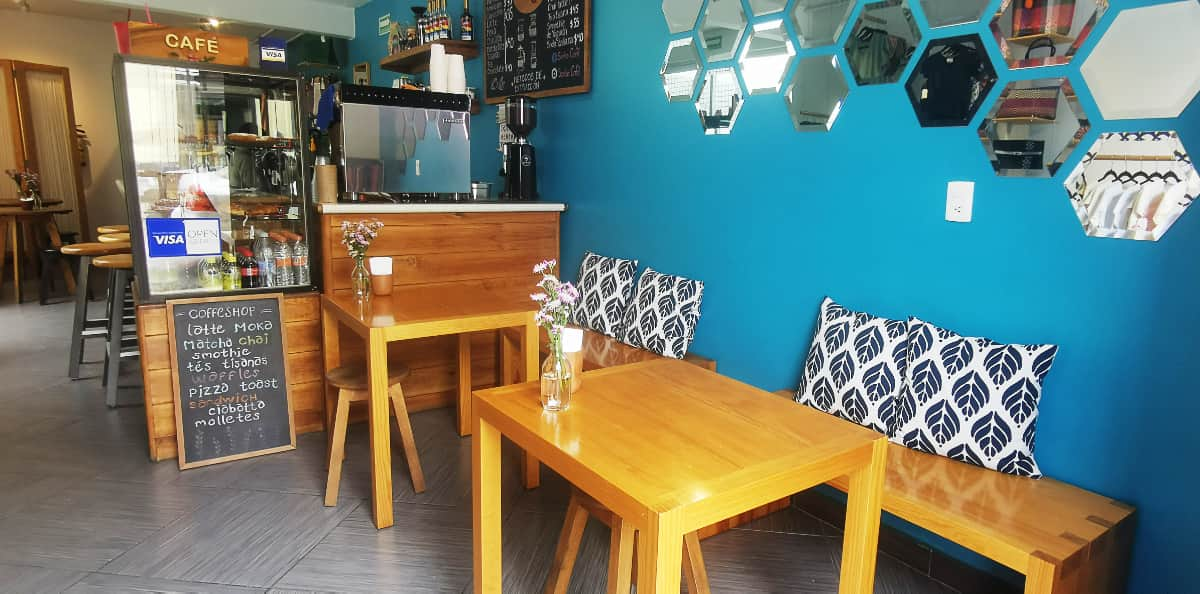 This stylish cafe is located in the south area of Centro. Rich turquoise walls balance the wooden tables while handmade textiles add a splash of Oaxaca.
The intimate space is comfortable, although the wifi speed isn't conducive for working.
The limited menu is affordable and tasty. Overall this is a great cafe in you're in the area.
Best Cafes in Oaxaca | Jalatlaco and Around
The density of coffee shops in Jalatlaco shouldn't come as a surprise. It fits this artsy neighborhood.
Although finding a coffee shop in Jalatlaco that is conducive to getting work done is more of a challenge. For that reason, I expanded this list to a few Oaxaca cafes that are just outside of Jalatlaco.
13. La Selva de los Gatos | Cat Cafe in Oaxaca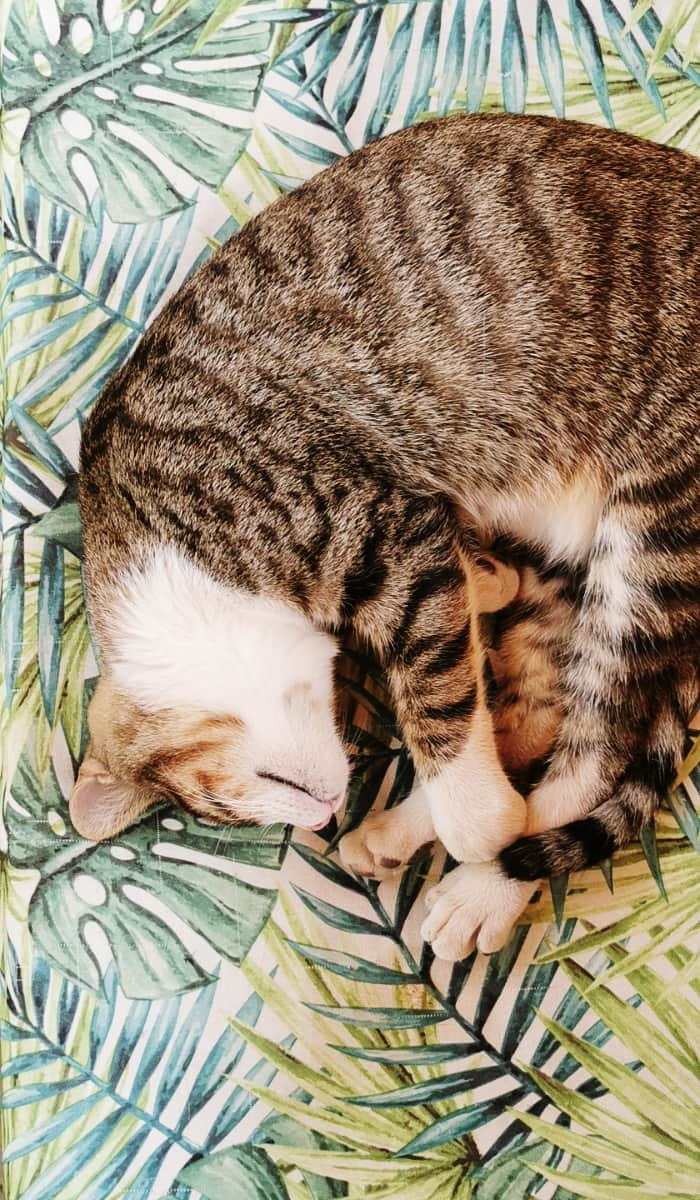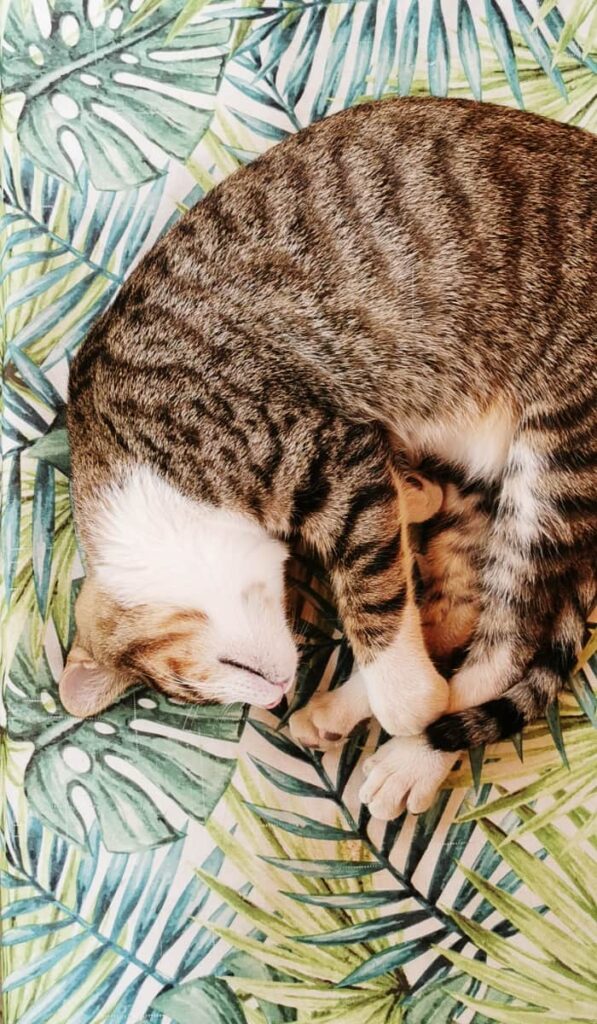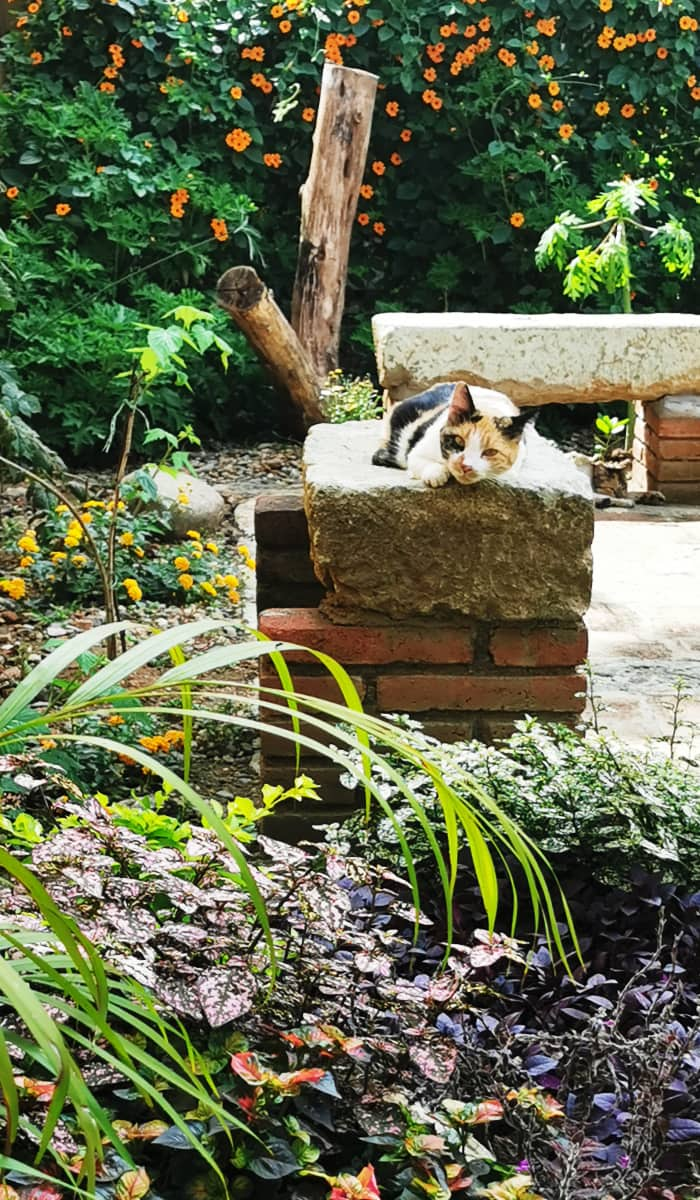 Yes, there is a cat cafe in Oaxaca that is appropriately named The Jungle of the Cats.
And this central courtyard is just that. It's a cat oasis. The more than a dozen cats are free to roam while customers enjoy their company.
In addition to having cute cats, La Selva de los Gatos serves all vegan food and an array of homemade gluten-free vegan desserts. I was a little disappointed with their milk-heavy cappuccino using coconut milk. But the cats more than made up for it.
All of the cats are rescues looking for a permanent home, so regardless cat lovers will feel good about supporting this Oaxaca cafe. Keep in mind, the hours are currently limited to the weekends and are sometimes unreliable.
14. Gudelia Cafe and Gallery
Local artist, Bouler, has added a slight twist to the best cafes in Oaxaca with this sweet spot.
On every table in Gudelia Cafe is an array of colored pencils. As you sit down, someone slips a paper placemat in front of you.
It doubles as coloring therapy. And the tranquil back patio is perfect for a contemplative mindset while sipping a hot coffee.
Both the indoor and outdoor spaces are comfortable for working with super fast wifi near 100 Mbps download speed.
In addition to coffee drinks, they offer teas, smoothies, kombucha, fruit water, and drinking chocolate (including an 80% cacao!) The food menu is limited to chilaquiles until 1 pm and sandwiches after 1 pm.
15. ME Brew Bar
This small coffee shop has an assortment of tables and chairs. The eclectic nature is also evident in the assorted plants and decor. And that's what made me enjoy my time here.
The places to sit aren't ideal workspaces, so this isn't a Oaxaca cafe to spend a few hours in. But it's a decent stop if you are nearby.
16. Del Jardin Café | Casa de Barro
Within Casa de Barro are several cafes, restaurants, and other businesses. It's a modern building not quite in Jalatlaco, but on the northeastern edge of centro.
Del Jardin cafe has a large comfortable space inside and smaller tables next to the covered walkway. I appreciate the open, well lit space though it's not my go to when I want a good cup of coffee.
The food menu is rich and varied, though a bit expensive for the portion size. Nonetheless, it's a nice cafe in Oaxaca to work.
17. Cafe de Barro
Just a few doors down from Jardin is Cafe de Barro. The atmosphere is a bit more casual with prices to match. The menu has a range of salads and sandwiches that are solid, though perhaps inconsistent.
They have a similar outdoor space that is my favorite area to work if I don't need access to an outlet. Similar to the other cafe, the outdoor area next to the covered walkway and surrounded by plants.
Coffee Shops in Reforma, Oaxaca
If you're living in Oaxaca for any length of time, you'll likely want to expand your options of places to work.
In the Reforma neighborhood (north of centro) are several cafes with comfortable spaces to get work done. There is also a cafe-coworking space that quickly became my spot to focus and get work done.
18. La Proveedora | Libreria, Papeleria, y Cafe
La Proveedora is a store with multiple locations in Oaxaca selling school and office supplies.
The Reforma location expands with a bookstore and cafe on the second level. I find it an inspiring place to work.
The seating is surrounded by shelves of books with a large bank of windows to let in plenty of natural light.
Hanging on the walls are large black and white portraits of Mexican literary figures, gazing across the room as though they are keeping an eye on the space.
Being on the second level, it can feel slightly warm on a spring afternoon. Although as I sit here writing this, the air conditioner kicked on for some relief.
The internet is fast at nearly 50 Mbps, the coffee is tasty, and the food is on point. What more could you ask for?
Did you know? April and May are traditionally the hottest months of the year in many places in Mexico. Discover the best time to visit Oaxaca.
19. Work Coffe Inc.
Work Coffe is a cafe and coworking space located in Reforma. What it lacks in esthetics, it makes up for with other amenities conducive to working.
The tables and umbrellas in the small courtyard give off cafe vibes. And the long tables on the right are a great space for getting work done on their blazing fast wifi that reached speeds over 150 Mbps.
If you require a more proper work area, there is an enclosed room with a large shared table and office chairs. They also rent small to large rooms for business meetings and presentations.
The on-site restaurant, Sushi Cat, appropriately serves sushi and wings. The cafe also serves sandwiches in addition to a variety of coffee, infused teas, and other beverages.
For me, this is one of the best coworking spaces in Oaxaca. Especially since you can patronize the cafe without needing to rent a space to work.
20. Brio Cafe
This small cafe has a handful of tables with a fresh breeze that flows through the open windows and doors.
It's shaded by a wooden rooftop that pauses to make room for the tree that grows through the center of the patio.
The wifi is sufficient, registering 57 Mbps download and 5 Mbps upload when I visited.
Brio Cafe lacks the outlets needed to make it a cafe for multiple people to work. But considering its location, it's not on the radar of most digital nomads in Oaxaca.
The breakfast menu is lovely. It features a variety of cazuelas, including two variations of a shakshuka – one red and one green (we are in Mexico!)
They also have super fluffy pancakes that looked to be about 3 inches tall. They are served with your choice of fruit or eggs and bacon. Overall this is a great cafe to have breakfast and work for a short time.
21. Mosso Cafe
Mosso Cafe is a modern cafe just north of Reforma in the neighborhood of Victoria Guadalupe.
Upstairs on the covered rooftop terrace, are beautiful wooden tables with comfortable chairs surrounded by plants and other natural elements.
It's a breezy space with turquoise accents that enhance the tropical vibe.
The breakfast menu focuses on Oaxacan specialties with a few other options. The lunch menu includes a few Oaxacan classics and expands to salads, hamburgers, pasta dishes, and crepes.
Best Coffee in Oaxaca
While most of this list is focused on the best cafes in Oaxaca to work, I made a distinction to include smaller cafes with amazing coffee.
Most of these cafes aren't places to work on a computer as they are simply too small. But they are some of the cafes where I found the best coffee in Oaxaca.
22. Kun Cafe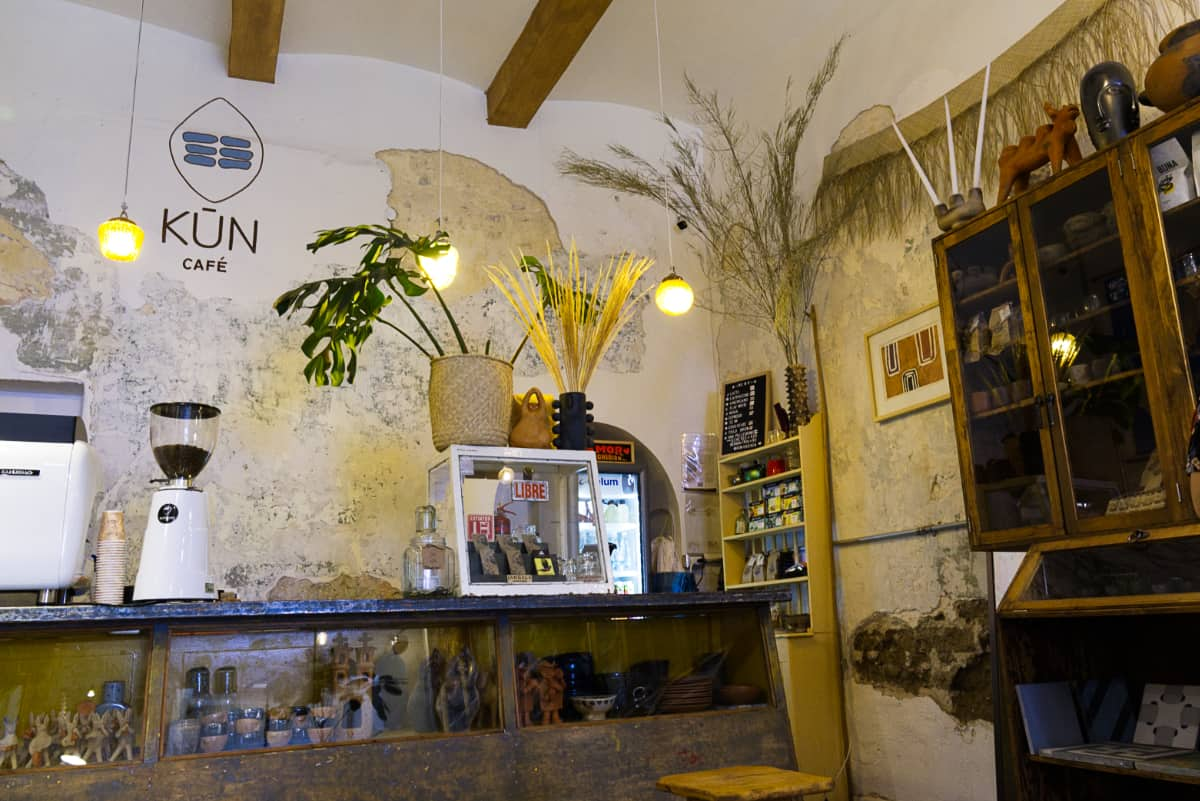 Located in the heart of Oaxaca City, Kun Cafe is both a coffee shop and a beautifully curated boutique.
A cup of some of the best coffee in Oaxaca and authentic artisan goods in a central location. What more could you ask for?
Well, perhaps some proper seating. But that's a minor concession when the coffee is this rich and the artisan pieces are that beautiful.
23. Terna Cafe
This is a tiny cafe just north of Jardin Conzatti that serves some of the best coffee in Oaxaca.
While technically you can work at the few tables in Terna Cafe, it's so small that it may be full when you arrive.
But not to worry, there are several other nearby cafes if that is the case.
Keep in mind, this cafe is marked as Alma de Cafe on Google maps.
24. Kiyo Cafe
Kiyo Cafe has the most interesting drink menu for a cafe in Oaxaca. Their house specialties include a lavender-infused latte and another with lion's mane tincture.
And if you're looking for more of a dessert with your coffee, don't miss their coconut ice cream shake with espresso and chocolate nibs.
The cafe has a surprising amount of seating for its size. While I wouldn't consider this a top place to get work done, it is possible. Oh and the food menu is small but just as interesting as the beverages.
25. Nono Cafe
With clean lines and light wooden decor, Nono cafe exudes a minimalist design. There are just a few tables and a bar area to sit.
The workspace is comfortable and the internet is relatively fast. However, noises from the street are a bit distracting.
Unfortunately, the food menu is minimal as well while the prices are not. For these reasons, this has not become a go-to Oaxaca cafe to work. But it is a nice space to enjoy a cup of Oaxacan coffee.