Chacahua Oaxaca: Discover Lagunas de Chacahua (2023)
Chacahua Oaxaca is a magical place.
Among the backdrop of the Sierra Madre Sur mountains, lush green mangroves fill Las Lagunas de Chacahua National Park which is home to many species of plants and wildlife.
The Lagunas de Chacahua is home to several small communities. I'm going to focus on Chacahua which has become a beach and surfing destination for travelers.
To start, let's go over the logistics – how to get to Chacahua from Puerto Escondido, where to stay in Chacahua, and what to do once you're there.
But I encourage you to read my thoughts about the potential changes within the community due to tourism at the end of this article.
This article may contain affiliate links. This means if you click a link on our blog and make a purchase, we earn a commission at no additional cost to you. For full information, please see our disclosure.
Where is Chacahua Oaxaca?
Chacahua is located about 65 km (40 mi) west of Puerto Escondido in the southern Mexican state of Oaxaca.
The national park, which was established in 1937, has three main lagoons that connect to each other through small estuaries. The middle lagoon has a large opening where the water flows through to mix with the Pacific Ocean and where the community of Chacahua is located.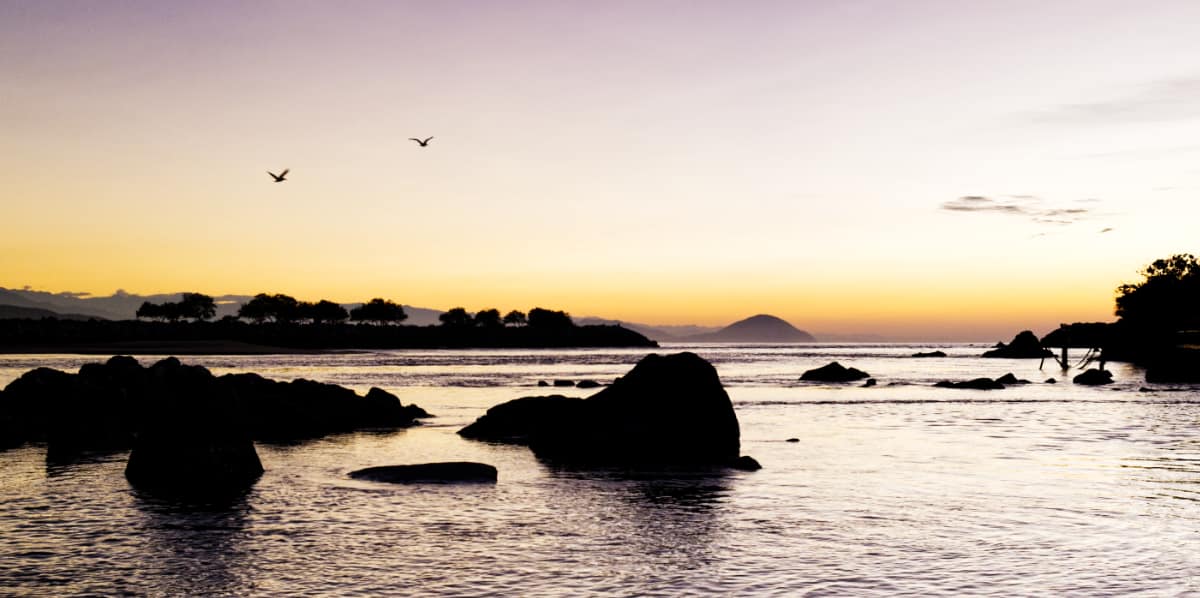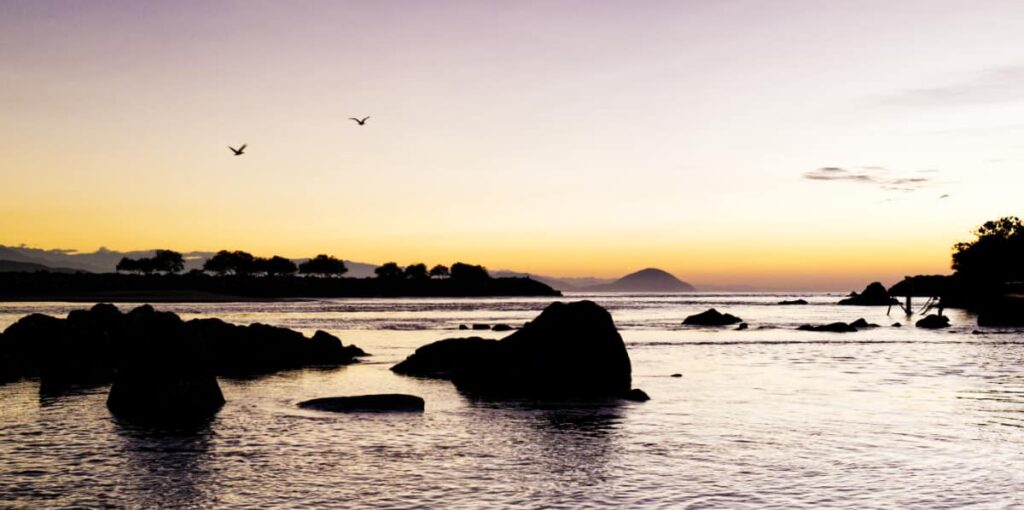 How to Get to Chacahua From Puerto Escondido
The journey from Puerto Escondido to Chacahua takes about three hours and involves several types of transport. I recommend starting early (no later than midday) to ensure you arrive during daylight hours.
Let's go over how to get to Chacahua from Puerto Escondido.
Take a colectivo van just past Rio Grande (get off here). It's a good idea to tell the driver you are going to Chacahua so that he knows to stop as well. The drive is about one hour and costs 55 pesos.
I found two places in Puerto Escondido to take the colectivo towards Rio Grande. Terminal Tur is located on the highway, next to the ADO bus station. Or Union de Transportes Rio Grande near the Mercado Benito Juarez is convenient if you're staying in centro.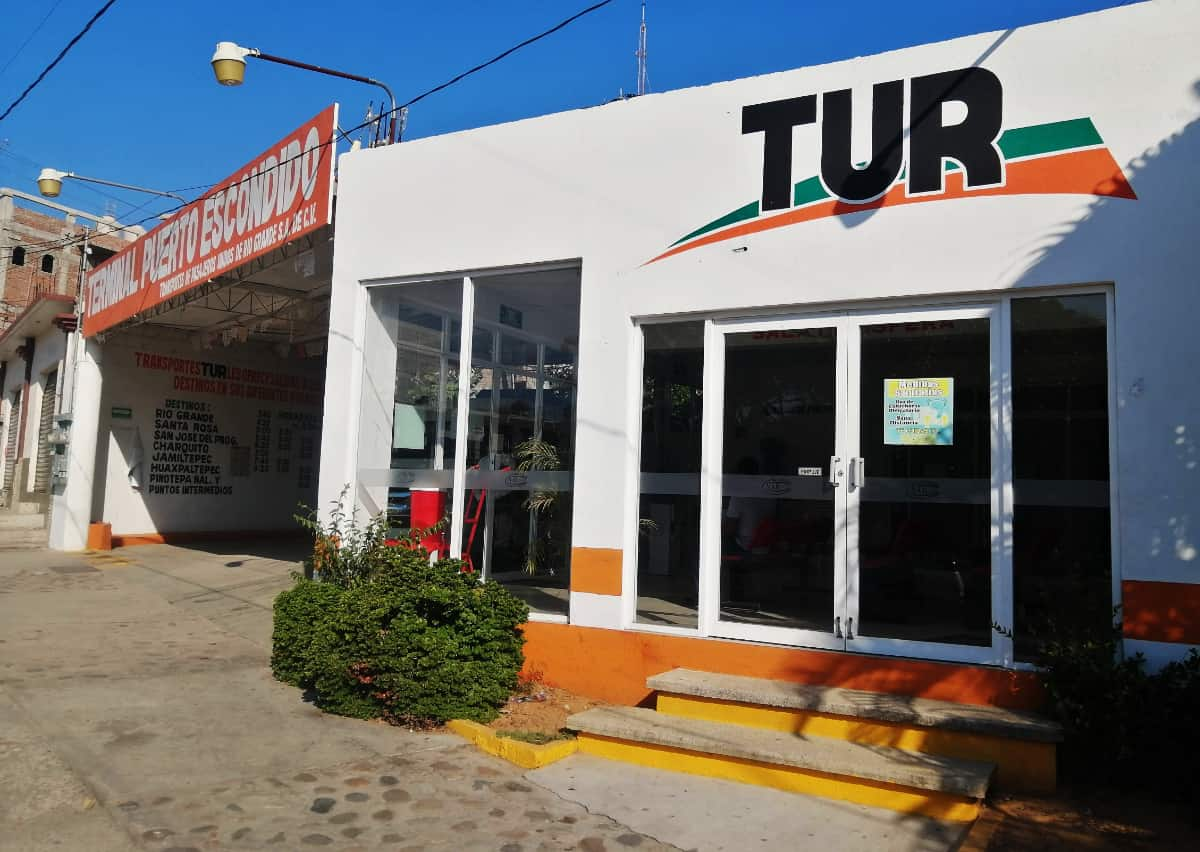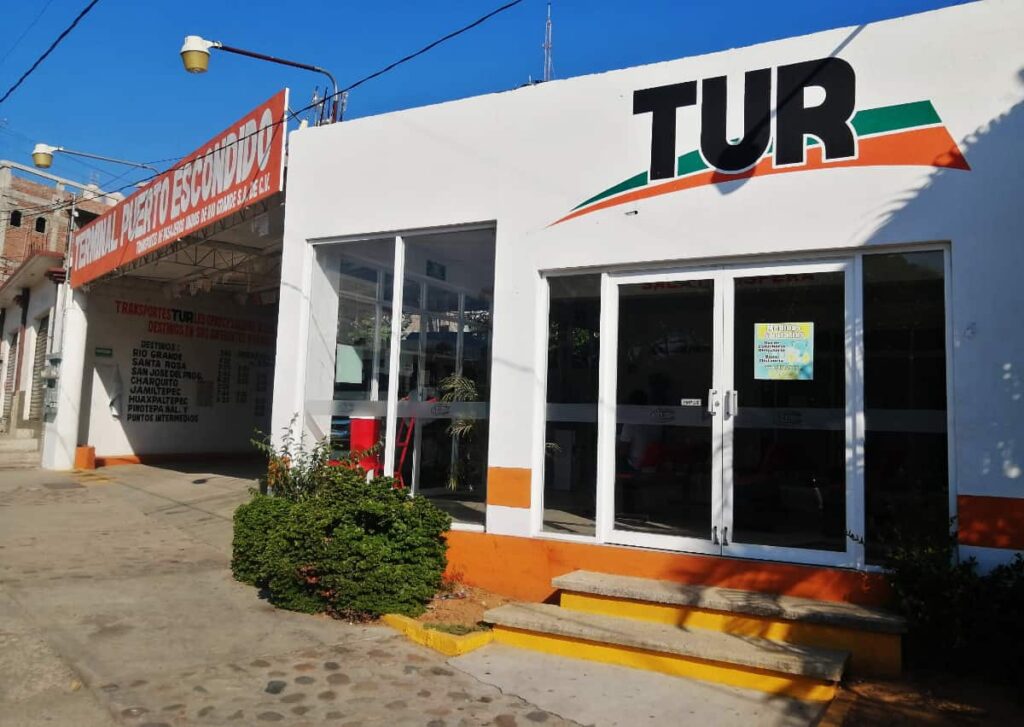 After you get off, carefully cross the highway. Under the metal roof on the right are colectivo taxis that will take you to Zapotalito (10 min) for 20 pesos. They leave when full. If you are a group, you can ask about the regular taxis that often wait on the side of the highway where you get out of the van.
Once you arrive in the village of Zapotalito, you have two options.
Take a short ride on a shared boat to Banco de Piedra for 50 pesos per person. There a colectivo pickup will be waiting to take you through the back way to Chacahua for another 50 pesos.
Take a longer boat ride through the lagoon, all the way to the center of Chacahua. The price and availability will depend on how many people there are to share it with. The cost is 2,000 pesos per boat which should turn out to be 200 pesos per person.
When I arrived in Zapotalito, the second option didn't seem feasible since there was no one else around to share the cost. It was easier to take the long boat ride through the lagoon when I was leaving Chacahua to return to Puerto Escondido.
While it may seem like a lot of transfers to get to Chacahua from Puerto Escondido, it's actually relatively easy. To return to Puerto Escondido, follow these directions in reverse.
If you simply don't have time to travel to Chacahua on your own, you can book a tour from Puerto Escondido to Chacahaua for the day.
Where to Stay in Chacahua
Now that Chacahua has been discovered, the advice to simply arrive and find a cabin is outdated. And it's a pain to arrive, trudge down the beach in the hot sun with your bags while looking for a place to stay in Chacahua.
I highly recommend you book a cabin close to the beach. You'll appreciate being able to walk out of your cabaña and onto the sand to see the sun rising over the ocean.
The number of accommodations in Chacahua that you can book online has increased recently. Let's look at a few of them, both traditional hotels and camping.
Chacahua Hotels and Cabañas
All of these cabins are located on the beach. I've chosen various locations depending on your budget and whether you prefer to be centrally located or in a more remote area.
Casa UwU ($$$$) – Oceanfront bungalow with gorgeous ocean views and a swimming pool.
Casa Gitana ($$$) – Modern rooms with beautiful, minimalistic decor and some with ocean views.
Cabañas Alta Mar ($$) – Traditional cabin with balcony and gorgeous ocean views from the bed.
Porã Chacahua ($) – Eco-friendly glamping in a remote location directly on the beach.
Chacahua Camping
I met a fellow traveler that had been camping in Chacahua for two weeks. For him the rustic vibe was pleasurable. The camping area was under a roof, though it wasn't exactly waterproof.
One night we came home to a downpour and everyone was in a frenzy to move each tent to safety.
By that point, everything was soaked and it wasn't a very pleasant night for those camping in a tent. But the strong sun meant everything was dry before the next night.
Whether you decide to camp or rent a cabin in Chacahua, consider leaving some of your things at your hostel in Puerto Escondido. I did this at Paziflora which has lockers you can rent by the day.
There is no ATM in Chacahua. I recommend safely bringing more money than you think you will need. I did so and still came close to running out of cash.
10 Things To Do in Chacahua, Oaxaca
The pure beauty of Chacahua may keep you from seeking out specific things to do while you are there. But the Lagunas de Chacahua National Park offers a lot of activities in this natural setting.
1. Watch the Sunrise Over the Ocean
Early one morning, I stepped out of my cabin and onto the beach. The sun had yet to peek over the horizon but the sky was awash in gorgeous orange hues that nearly consumed the silver-blue mountains in the distance.
A sliver of the new moon was setting over the ocean. As I walked into the shallow water, calm waves washed over my bare feet. The scene took my breath away.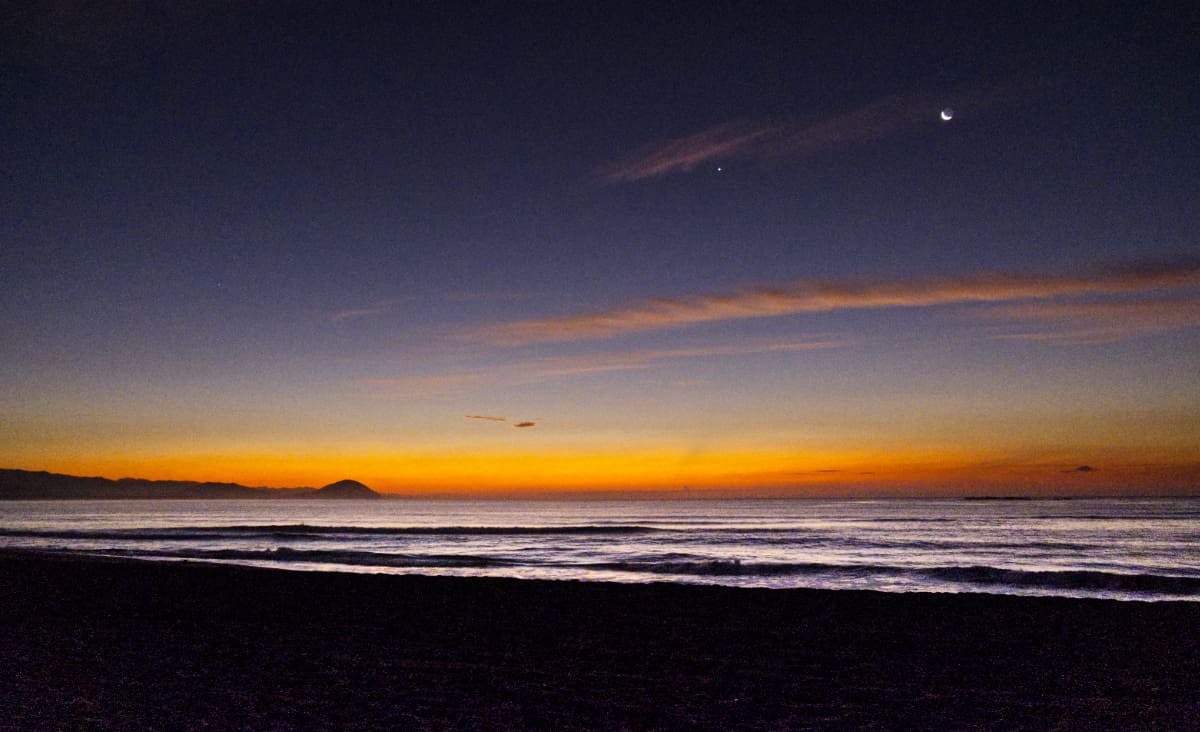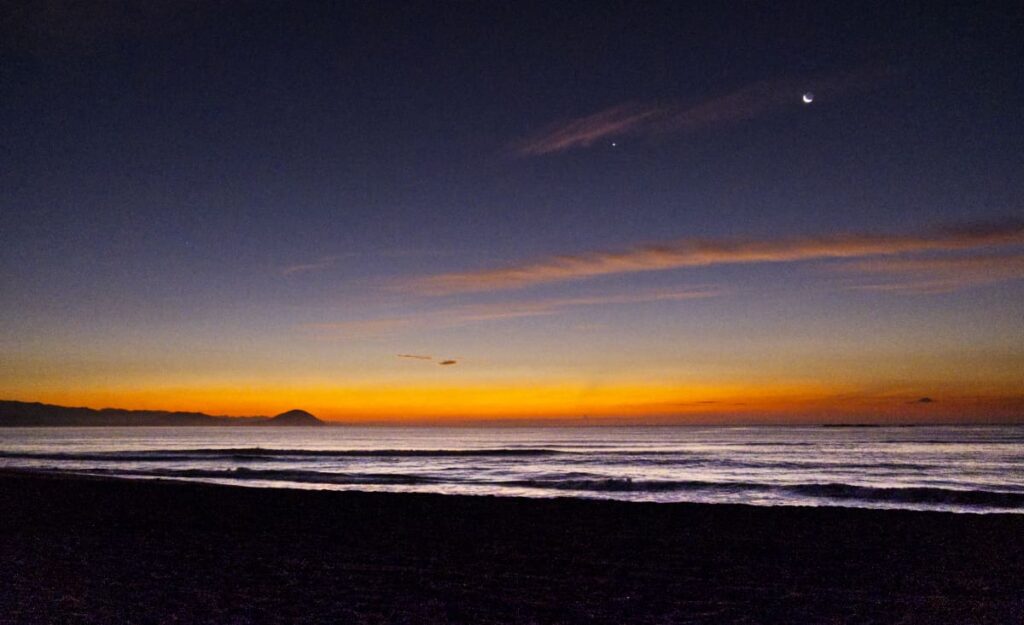 You must watch the sunrise in Chachacha at least once. And to experience the scene I described means getting out onto the beach before the sun actually rises.
Not many people were on the beach at this time. Most came out after the sun had risen above the mountains. It was still beautiful, but with a different vibe. For those that woke up earlier, it felt like a second sunrise.
2. Take Boat Tour of Lagunas de Chacahua National Park
Within the Lagunas de Chacahua National Park are multiple types of vegetation, including a vast mangrove system that appears to be very healthy. It's home to over 200 species of flowers and more than 150 species of animals.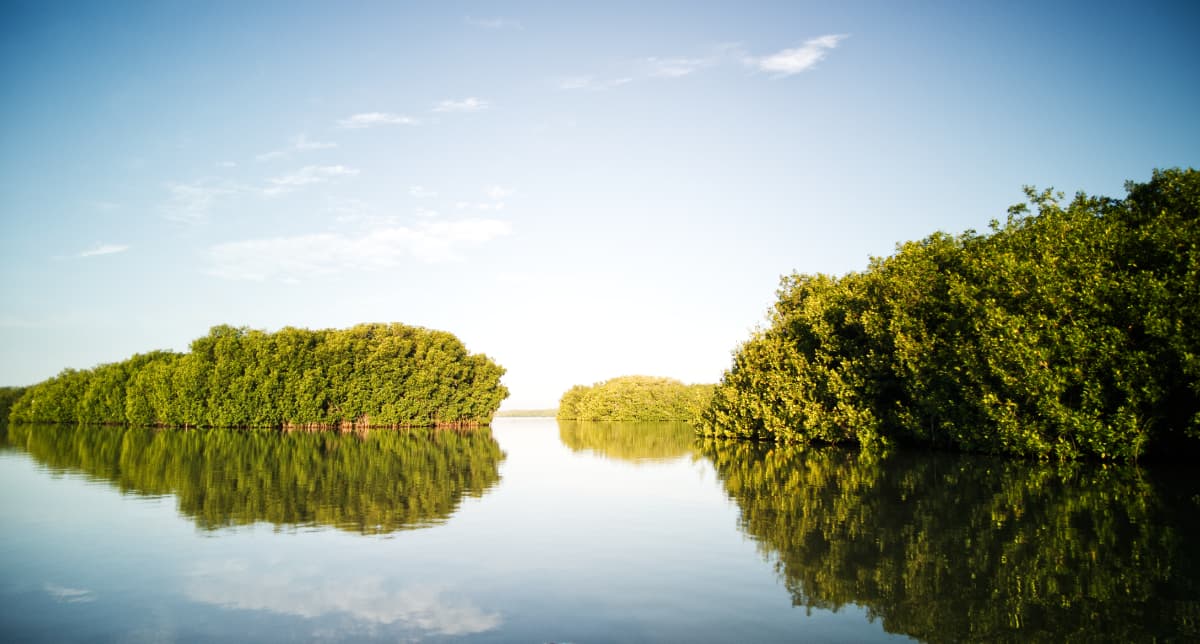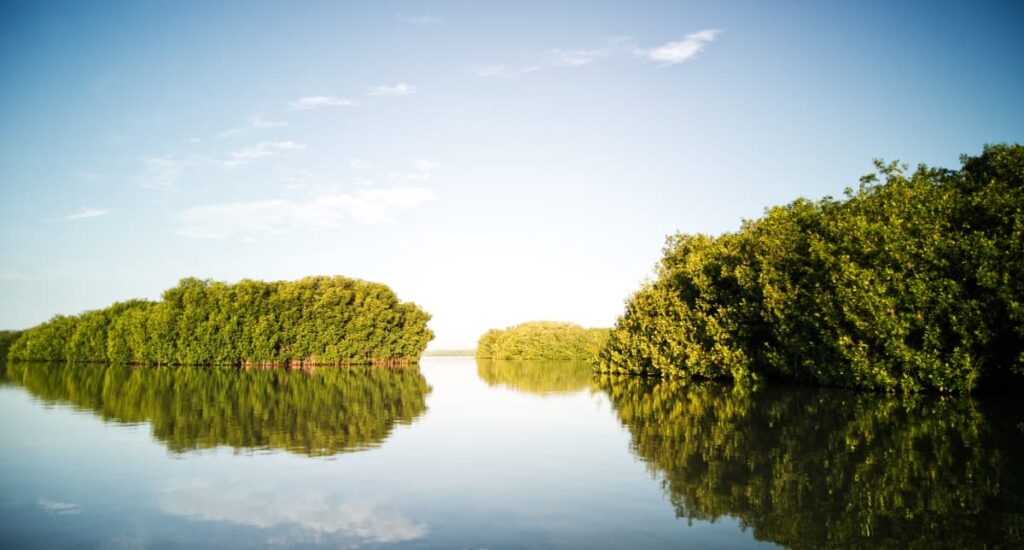 The birds include spoonbills, storks, herons, blue-winged teals, and more. Three species of turtles also come to the national park to lay their eggs.
One day when I was on the road near the lagoon, I inquired about a morning tour of the Lagunas de Chacahua National Park.
A young man by the name of Eriberto suggested we go early, starting with sunrise on the top of the lighthouse before taking a boat into the mangroves. I like his energy and we agreed to meet at 6:30 the next morning.
If bird watching is a priority for you, I recommend starting with the tour and saving the lighthouse for a different morning (you can go on your own). Regardless of bird sightings, I enjoyed the peaceful atmosphere of the lagoon with the mountains of Oaxaca in the distance.
As we passed close to a mangrove tree in the middle of the lagoon, I could hear a sound coming from underneath the water. I began to imagine all the life that this mangrove system supports. From the organisms at its roots to the birds and other animals that make a home in its branches.
Going on a boat tour of the lagoons is a great way to support ecotourism in Chacahua and encourage the preservation of this natural area.
3. Swim in the Chacahua Lagoon
Swimming in the Chacahua Lagoon is a great activity to do in the late afternoon, before watching the sunset. The lagoon is shallow and calm which makes it perfect for kids.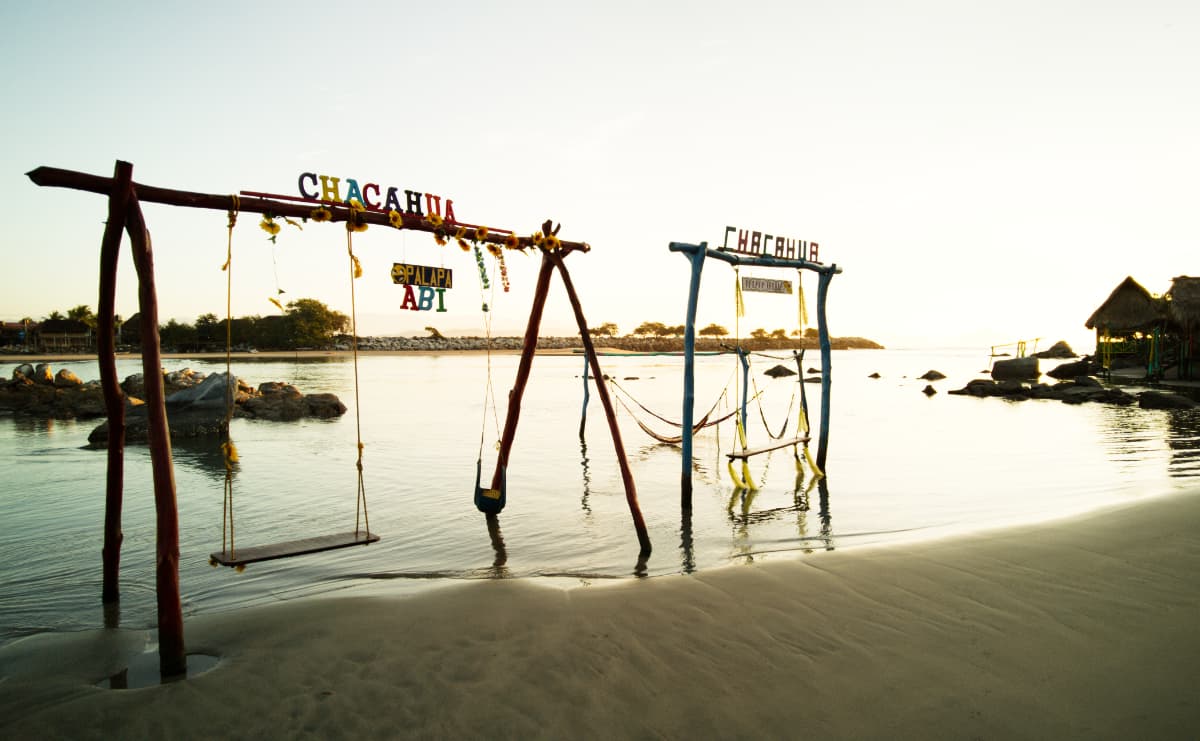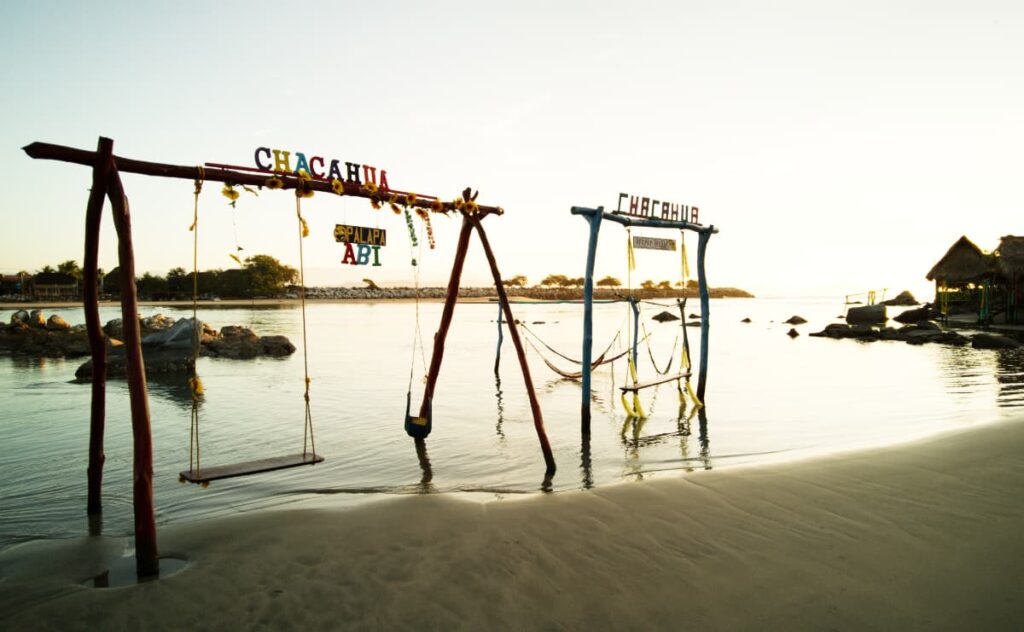 In the shallow waters are colorful swings and hammocks suspended so that they barely brush the refreshing water of the lagoon. And the nearby restaurants expand the places to eat in Chacahua.
Afterward, continue on the path behind the restaurants to Arco de Tiempo or the lighthouse to watch the sunset (see below).
4. Watch the Sunset From Arco de Tiempo Across the Lagoon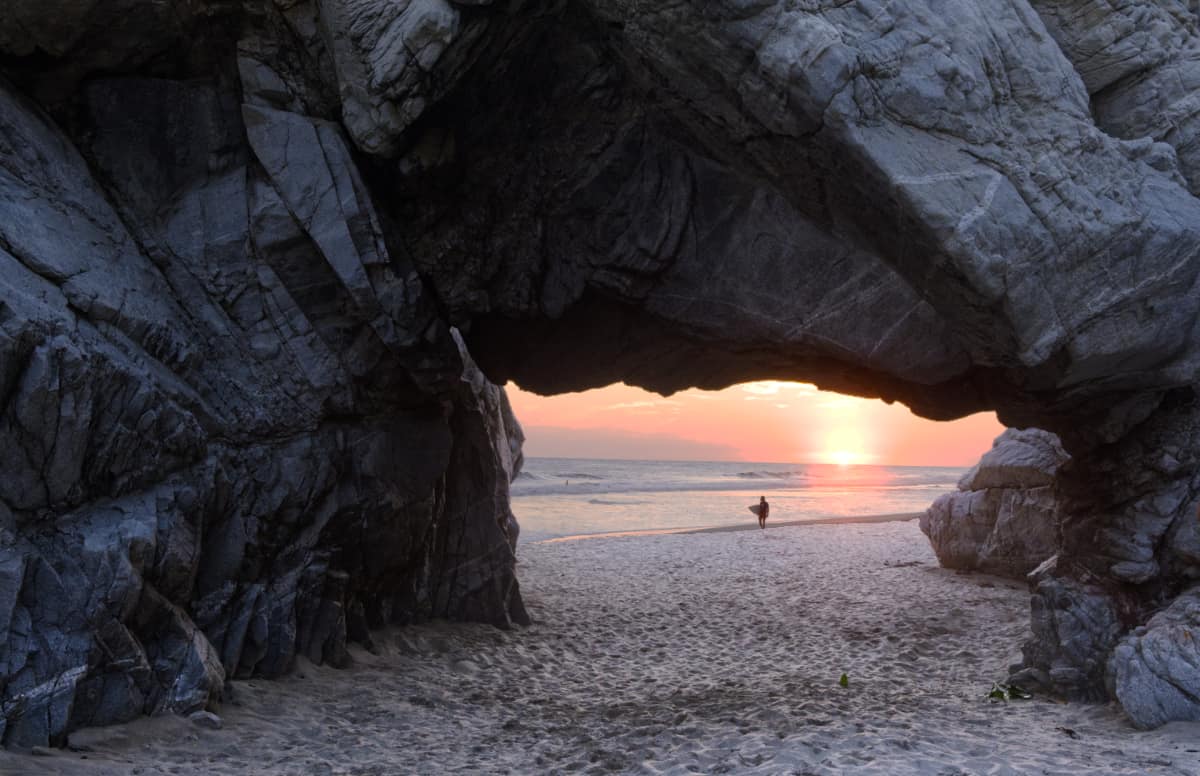 Watching the sunset from Arco de Tiempo or from atop the lighthouse is one of the top things to do in Chacahua. It reminds me of the nightly hike to Punta Cometa in Mazunte. Except in Chacahua, there are fewer people.
I prefer to watch the sunset from Arco de Tiempo for its natural, raw beauty. You can climb the large rock for slightly elevated views or stay on the beach where the sun is framed within the arch as it sets over the ocean. If you plan to climb the rock, I recommend good shoes or going barefoot.
Around dusk, keep your eyes out for ghost crabs (called saramuyos in Mexico) as they rapidly dart in and out of their shelter. Their translucent shell easily camouflages with the sand. And upon a closer look, the patterns appear to be painted like a snow leopard.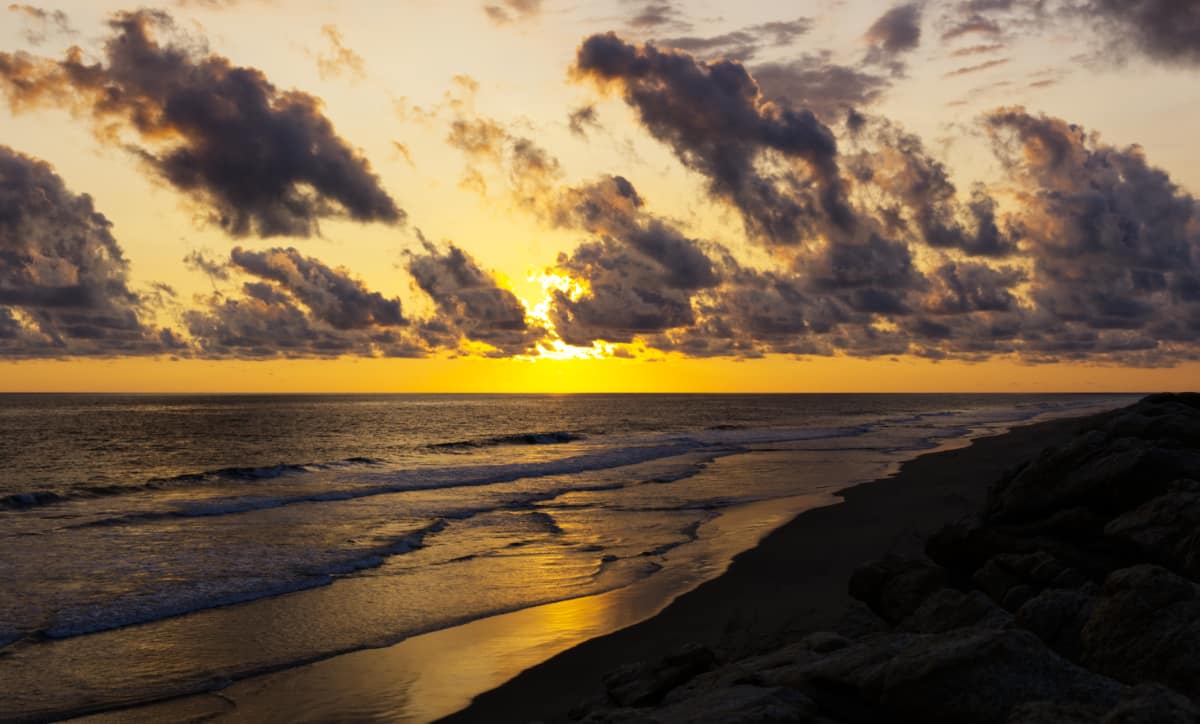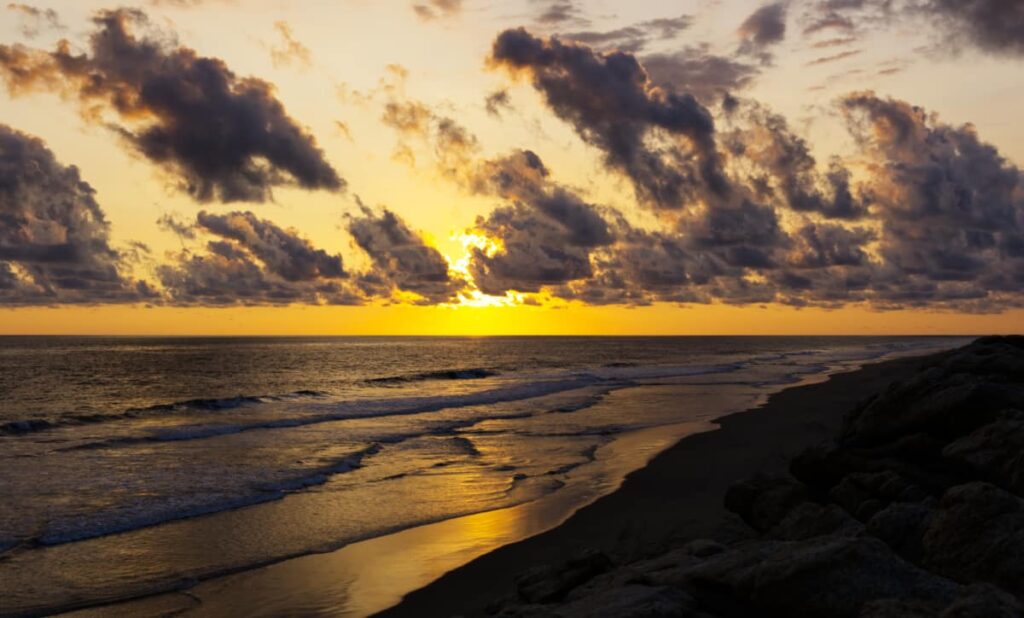 How to Get to Arco de Tiempo
To get to Arco de Tiempo, walk just past the beach where the sandy road curves into town. There's an opening to the lagoon on the left where men eagerly wait to take you on their small motorboat to the other side.
Various boat owners will try to herd you to their boat as you walk down to the shoreline in a non-aggressive way. They playfully joke among themselves about the ability of each other and their boats. The cost is 20 pesos per person and takes about two minutes, if that.
After you cross the lagoon, walk to the road behind the restaurants and turn right. On the left is a path that goes up the mountain to the lighthouse. And just past that is another path towards the beach and Arco de Tiempo. If you miss this path as I did, the road also curves around for a slightly longer walk.
After the sunset, walk back to the lagoon to take a boat back to the main area of Chacahua. While there seem to always be boats going back across, the service does wrap up around dark.
5. Go Surfing in Chacahua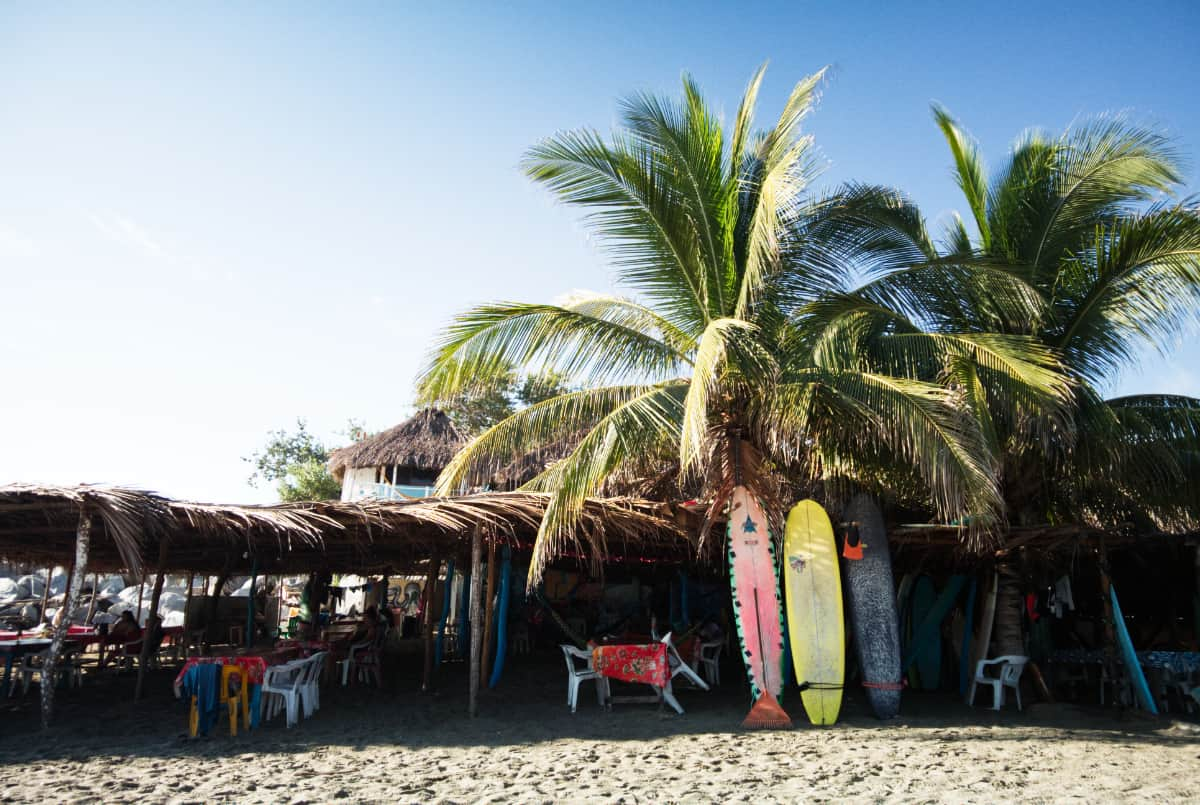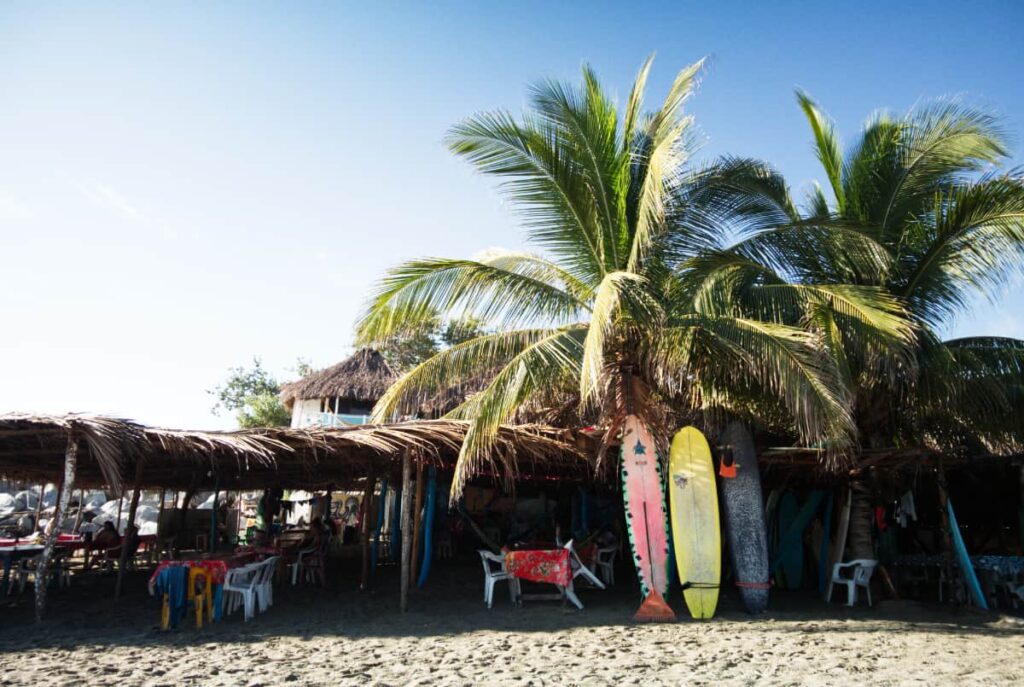 The Chacahua surf is what first drew travelers to this remote destination. Some come for the day just to go surfing in Chacahua, while others plan on a multiple-day stay around catching waves.
I've heard Chacahua is a great place to surf when the waves in Puerto Escondido become too strong for beginner to intermediate surfers. Board rentals and surfing lessons are available from the beach.
I also saw people use their surfboards to swim across the lagoon and go surfing in the ocean near Arco de Tiempo.
6. Chacahua Bioluminescence Tour in the Lagoon
Just about everyone in Chacahua offers a nighttime bioluminescence tour in the lagoon. Many of the same guides that take you across for 20 pesos also offer a bioluminescence tour. Or you can ask the hosts at your accommodation (see where to stay).
The bioluminescence is only visible during a new moon when the light is low. If your Chacahua trip isn't planned at this time, this is also one of the top things to do in Puerto Escondido.
7. Wander the Sandy Streets of Chacahua
While I do recommend you book a place to stay in Chacahua on the beach, you should also take the time to wander the sandy streets that lead through the rest of the community.
Among the homes and small tiendas, you'll find more daily life – groups hanging out in the afternoon, a small church, and other pieces of life in Chacahua.
8. Do Absolutely Nothing
In the middle of the day when the sun is blaring, you'll probably opt to do absolutely nothing. Well, unless you consider taking a siesta in a hammock on the beach, doing something.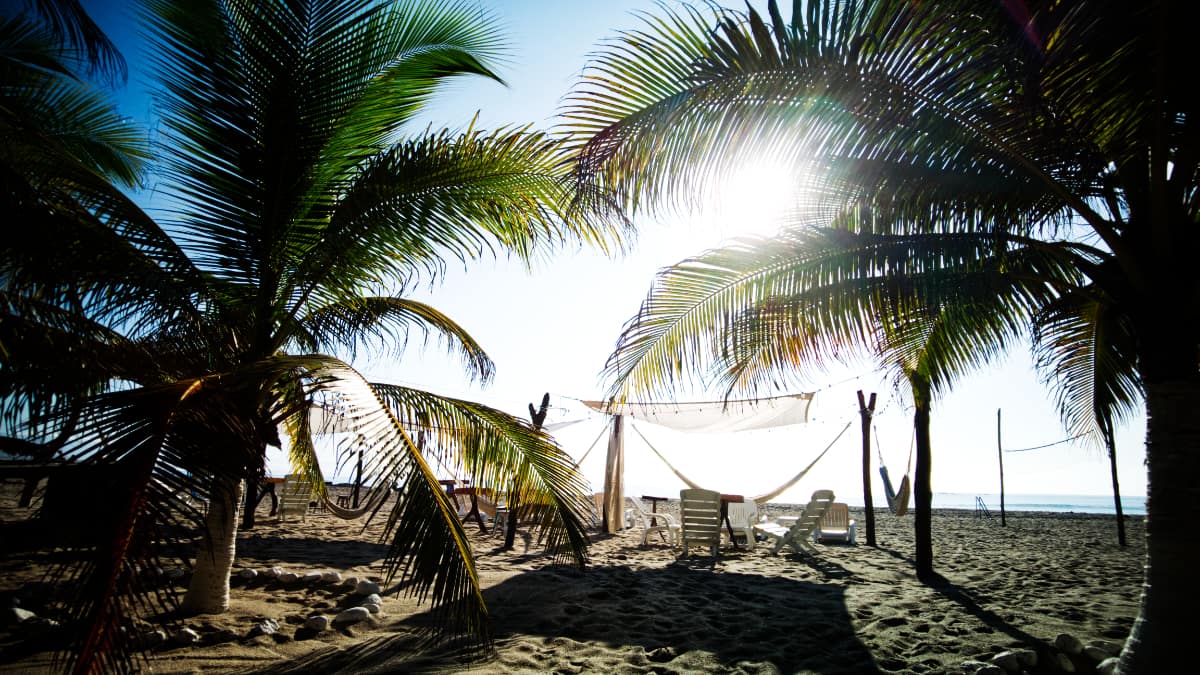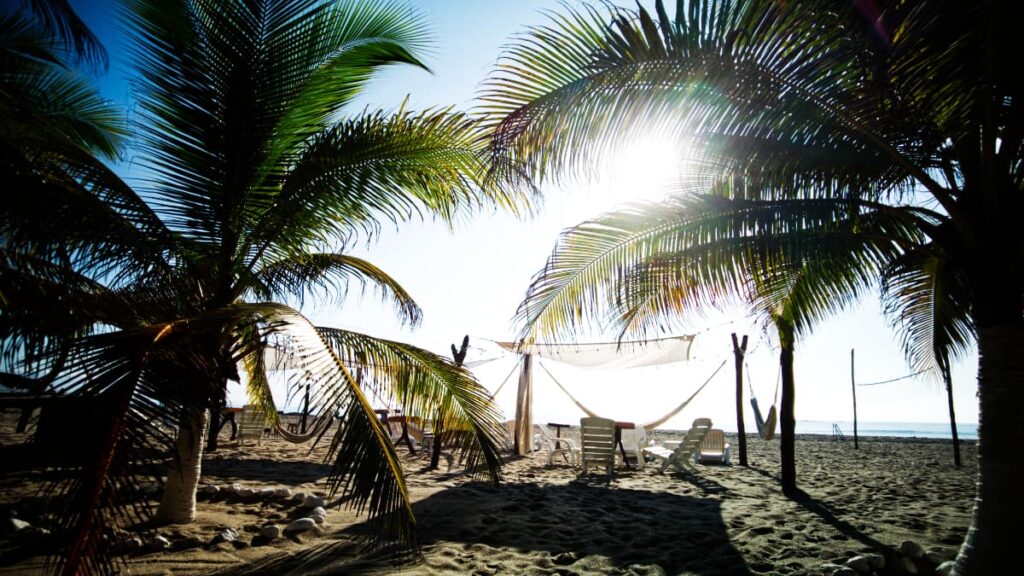 9. Explore the Lighthouse
The view from the lighthouse is expansive. You can see the community of Chacahua on the left, just past the shallow lagoon. On the right, fishermen traverse the open ocean by boat.
It's a beautiful way to see a second sunrise after those gorgeous orange hues depart from the sky with the rising sun. Whether you decide to explore the lighthouse for sunrise (when you'll likely have it all to yourself) or another time of day, I recommend doing so for an overall view of Chacahua.
How to Get to the Lighthouse in Chacahua
Similar to Arco de Tiempo, you'll need to take a boat road (20 pesos per person) to the other side of the lagoon. Then walk to the road behind the restaurants and turn right.
On your left is a path that goes up the tree covered cliff to the lighthouse. The dirt path is steep and rocky but not too difficult. I recommend wearing good shoes, not flip-flops.
10. Relax With A Massage By Verenice
Casa Venado Flor Y Canto is a relaxing oasis located along the lagoon. This self-proclaimed cultural house combines the passions of Verenice and her husband. He is a Chacahua native that leads visitors on tours for fishing, bioluminescence, and more.
Verenice is a healer from Mexico City that fell in love with Chacahua, Oaxaca. She offers massage, reflexology, yoga, temazcal, and more. She's passionate about the community and it shows.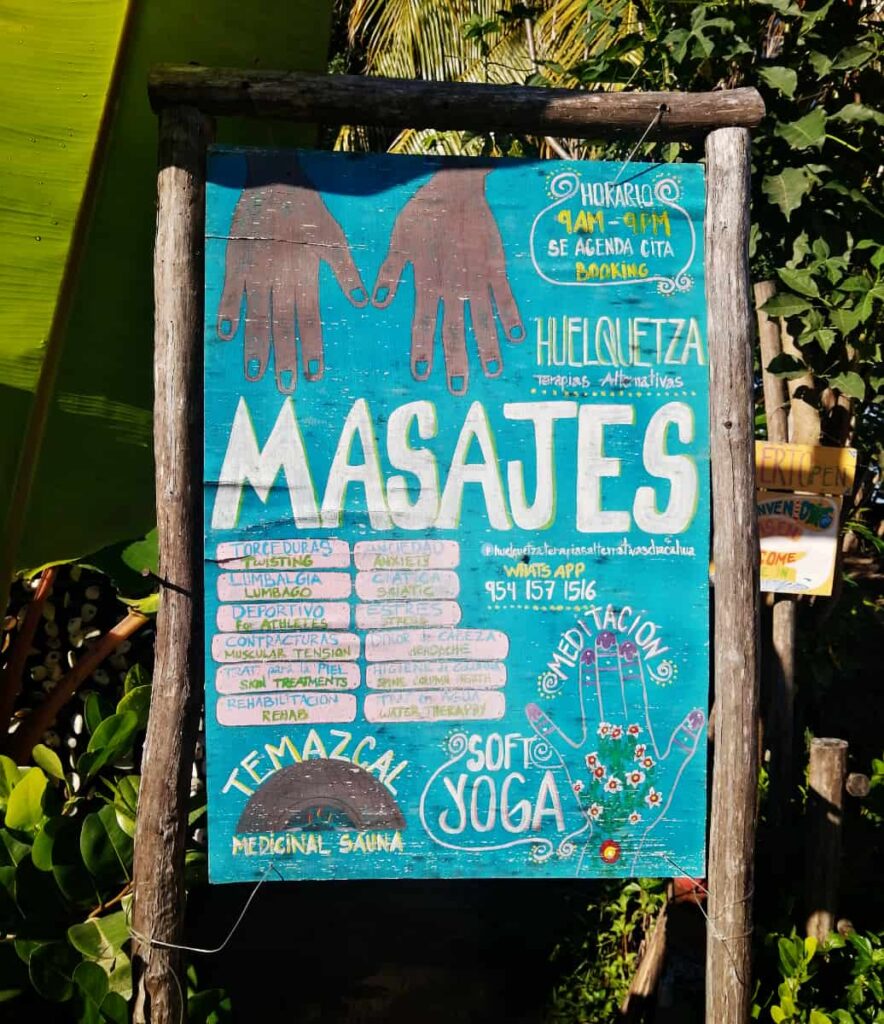 Once you arrive for your massage appointment, you'll be led to a small palapa at the back of the property, next to the lagoon. Holistic music with chanting, singing, and a hint of indigenous undertones plays softly in the background.
It's a relaxing space, though the everyday sounds of Chacahua still seep through. The passing colectivo honks to alert potential passengers. The woman from the restaurant next door stops by to sell fruit. And there is the faint sound of boats passing by on the lagoon, though it is balanced by the sounds of waves that flow to shore shortly after.
The massage is performed on a mat on the floor. Verenice's technique is intuitive, varying her pressure and using massage cups when needed.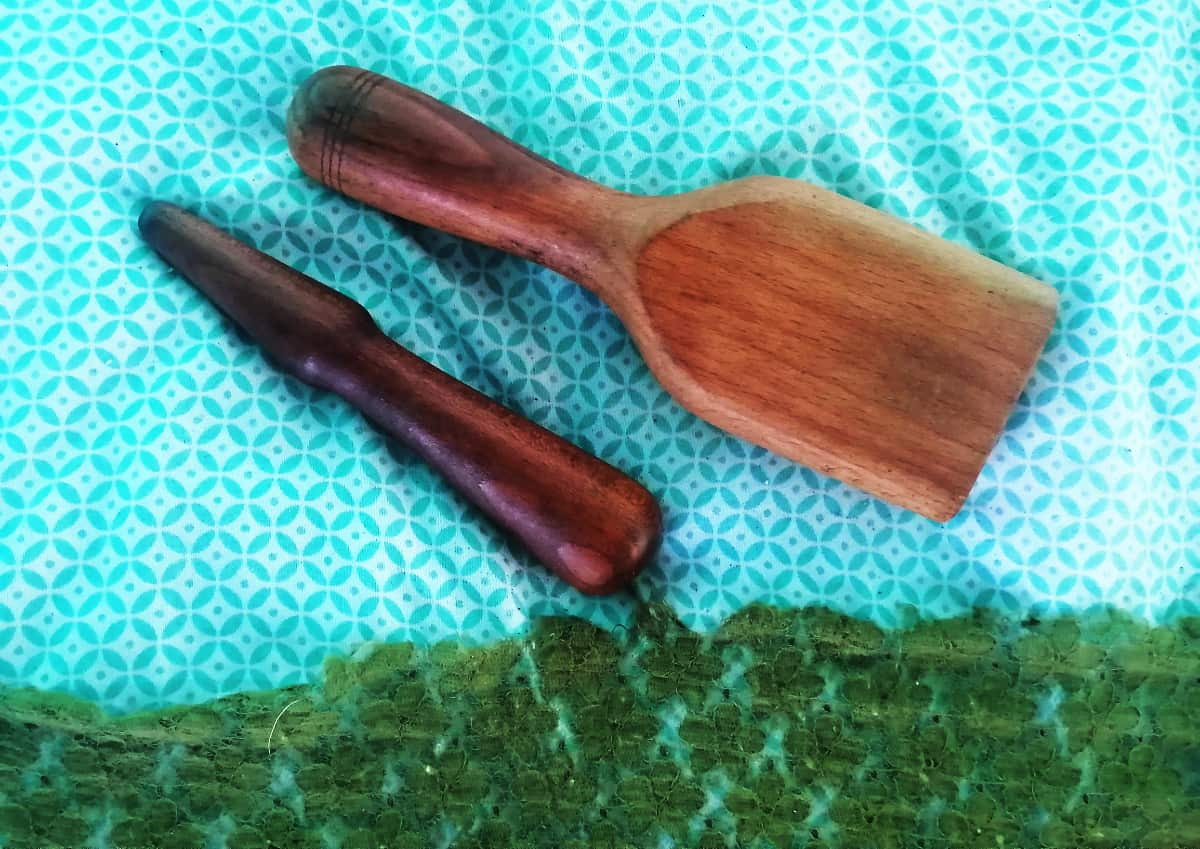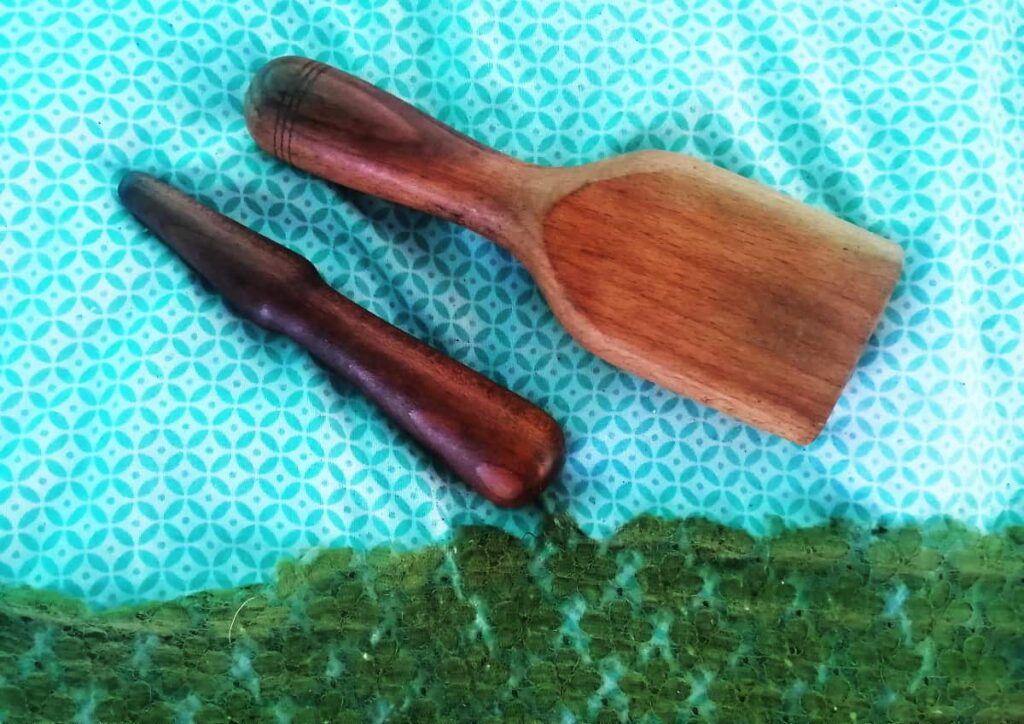 Perhaps most unique was the special tool made of wood. Consisting of two pieces, she places the one with a large, round point directly on the muscle. She uses the second wooden piece like a mallet. As she lightly taps, they gently break up the tight muscle with the sounds, "tink, tink, tink."
Where To Eat In Chacahua
Most accommodations in Chacahua don't provide a kitchen. So plan on eating out for about every meal. There is a small corner store to buy fruit in the center of town. And there are quite a few restaurants in Chacahua, but I found they kept odd hours or quickly became full.
There is a restaurant on the beach that is quite popular for breakfast as it's one of the more affordable places to eat. However, I waited over an hour for food that continued to be promised and never arrived. The single server was simply way too busy.
I found the best food away from the beach, including these two places to eat in Chacahua.
Fresh Fish at Restaurante 2 Hermanos
Across from the pharmacy, along the road that parallels the lagoon is a family-run restaurant with fish any way you wish – fried, diablo, steamed in paper with garlic, au gratin, or a la Veracruz.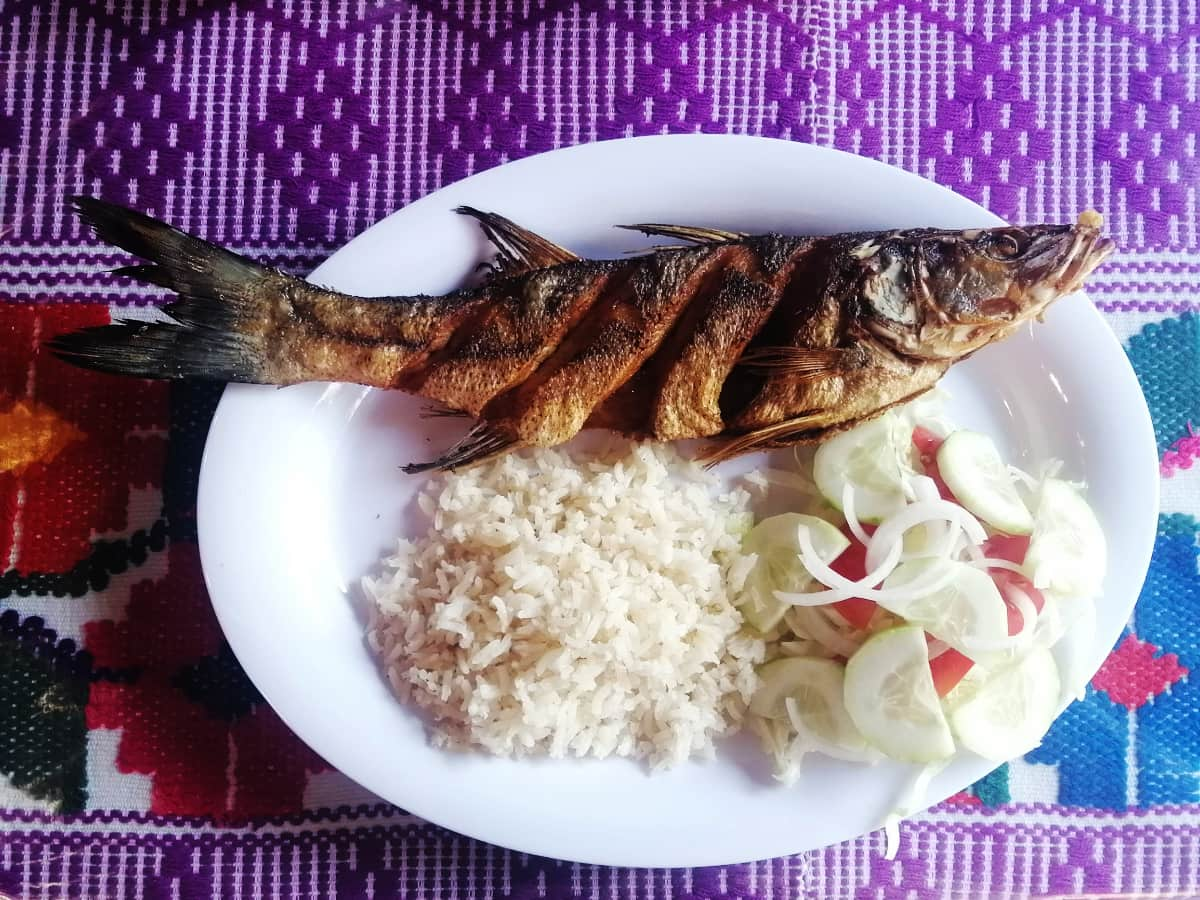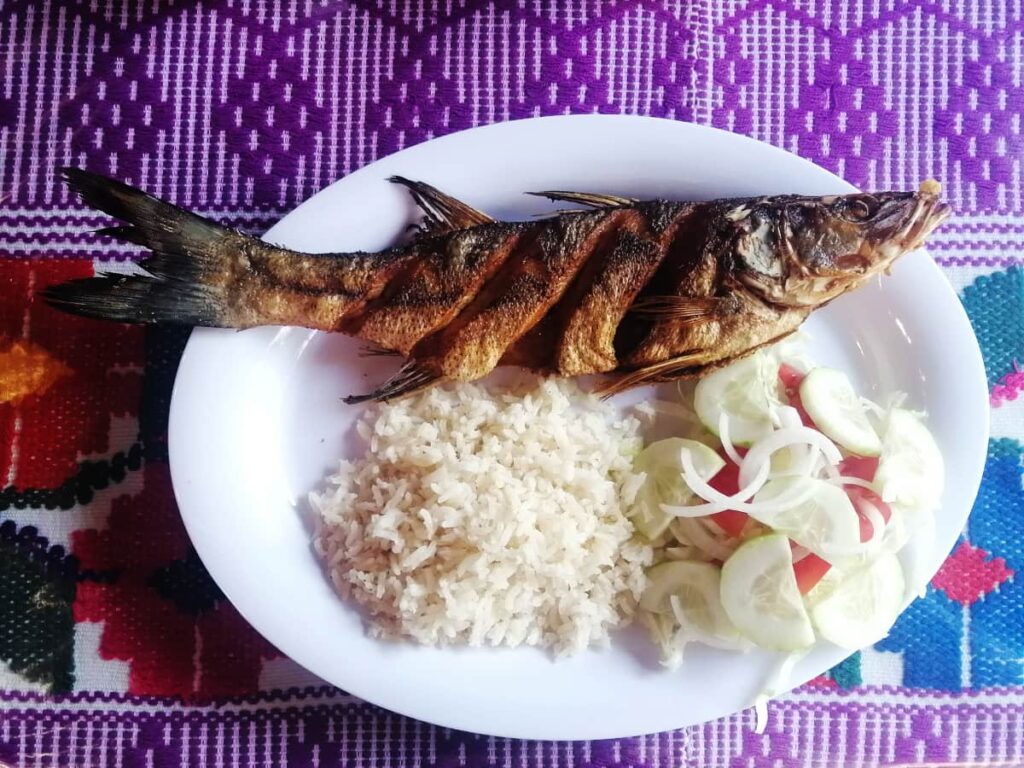 I was told this was one of the most affordable places to eat fish, which makes sense because it's not oceanfront. The price depends on the size, starting at 150 pesos. The fish was perfectly cooked and delicious.
Reyna's Lentil Soup
This restaurant only serves one dish, but it is delicious and affordable. Reyna's bowl of lentils is a tomato-based lentil soup with the addition of sweet plantains and a few green vegetables. At 40 pesos per bowl, you really can't beat it.
The Future of Chacahua, Oaxaca
I was never certain I was going to write about Chacahua for my website as I didn't want to draw even more attention to this popular destination. But then it became clear that this place has already been discovered.
However, I can't write about traveling to Chacahua, Mexico without addressing what I believe to be a big issue currently facing the community.
Chacahua is at a precipice. It's balancing between preserving its essence and a developing party scene that's quickly changing the atmosphere of this coastal community.
The hotel, bar, and restaurant scene is rapidly expanding further down the beach. I can tell from the google maps just how many more places have been built within the few months since my visit.
Outside money is beginning to invest in Chacahua. And that has a real potential to transform this special place forever.
After speaking with the massage therapist, Verenice, she agreed that it's already having an effect on some of the residents.
She also referenced a word I had not heard before – malinchismo which is a behavior of someone who develops a fascination with another culture while dismissing their own as inferior.
The word is rooted in Mexican history when over five centuries ago, a native woman named Malinche served as an interpreter for Hernán Cortés, became his mistress and gave birth to his child.
Honestly, none of this is a new problem with tourism. But it is a good reminder to tread lightly wherever you are in the world.
Chacahua, Mexico | A Conclusion
I have mixed feelings about travelers infiltrating Chacahua. I imagine the increased tourism has been an economic boom. It's helped to develop ecotourism within the Lagunas de Chacahua National Park. As a result, this will likely increase the desire to protect this natural environment.
I wish the development of Chacahua would stop and stay as it is now. Someone that arrived five years ago probably wished the same at that time. And yet it goes.
In five more years, it may become unrecognizable to me and someone else will feel the same as I do now.
Questions About Chacahua
How long does it take to get to Chacahua from Puerto Escondido?
It takes about three hours to get to Chacahua from Puerto Escondido using public transport. There are three different components to the journey, though everything is fairly straightforward.
How do you get to Lagunas de Chacahua?
To get to Lagunas de Chacahua by public transport, you need to arrive first at this location, just past Rio Grande. Then take a colectivo taxi to El Zapotalito and a boat or boat plus colectivo to Chacahua.
Can you drive to Chacahua?
While you can't drive directly to Chacahua, you can drive to El Zapotalito and take a boat to Chacahua. The drive from Puerto Escondido takes just over an hour. I don't have information about a safe place to leave your car in El Zapotalito, so I would recommend taking public transport instead.
Does Chacahua have internet?
Some Chacahua accommodations do have internet. Although, you should only rely on the wifi to be stable enough to occasionally check and send WhatsApp messages. The internet in Chacahua is not very fast or stable.
Is Chacahua an island?
Yes, Chacahua is an island. You can only access Chacahua by boat since small estuaries in the lagoon separate it from the mainland. Although, the distance from El Zapotalito to the road on the eastern side of the island is not very far.