15 Best Hostels in Puerto Escondido in 2023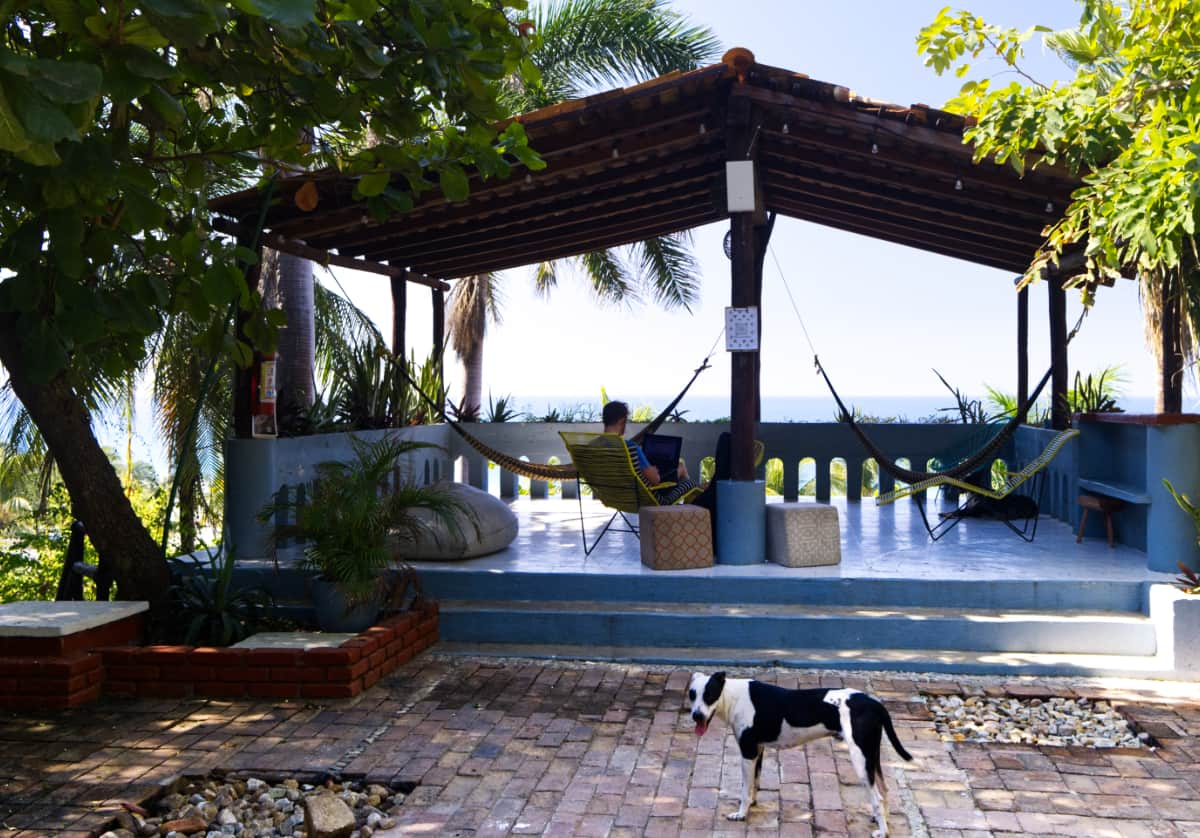 It was never my intention to stay in so many hostels in Puerto Escondido, Mexico. But that's the result of not booking in advance during the high season (roughly November – March).
So I highly recommend using this guide to the best hostels in Puerto Escondido to narrow down your search and book in advance. Otherwise, you may be bouncing around more than you prefer.
Puerto Escondido hostel prices vary quite a bit. It seems the amenities of a swimming pool and air conditioner are in high demand which is reflected in the price.
On the other hand, some higher-priced hostels, such as Selina Puerto Escondido, include free yoga and other workout classes which add considerable value.
There are essentially four areas to stay in Puerto Escondido, each of which has its own vibe.
If you're in Puerto Escondido for a week or more, you may consider staying in two different areas. But if you prefer to stay in just one, it's easy to get around using the colectivo which mainly travels the highway between La Punta and downtown.
This article may contain affiliate links. This means if you click a link on our blog and make a purchase, we earn a commission at no additional cost to you. For full information, please see our disclosure.
Quick Look – Top Puerto Escondido Hostels
Best Hostel in Puerto Escondido
I don't usually rate one top hostel in a city since I think it can be a personal opinion based on what you value. But Vivo Escondido is a near-perfect blend of what most people want in a hostel.
For this reason, I can confidently say it will rank as the best hostel in Puerto Escondido for a variety of people. As far as amenities, it has a swimming pool, air conditioner, incredible art on the walls, and included breakfast for a very fair rate.
1. Vivo Escondido Hostel
Rinconada | $
This hostel in Rinconada is located in a spacious villa that essentially feels like a vacation beach house you would rent with your friends.
From the social lounge areas to the incredible wall art, the vibe at Vivo Escondido Hostel fosters a sense of community rather than a money-making machine. It's evident in the great price per bed, included breakfast, affordable bar, and the lowest daily rate for surfboard rental I encountered.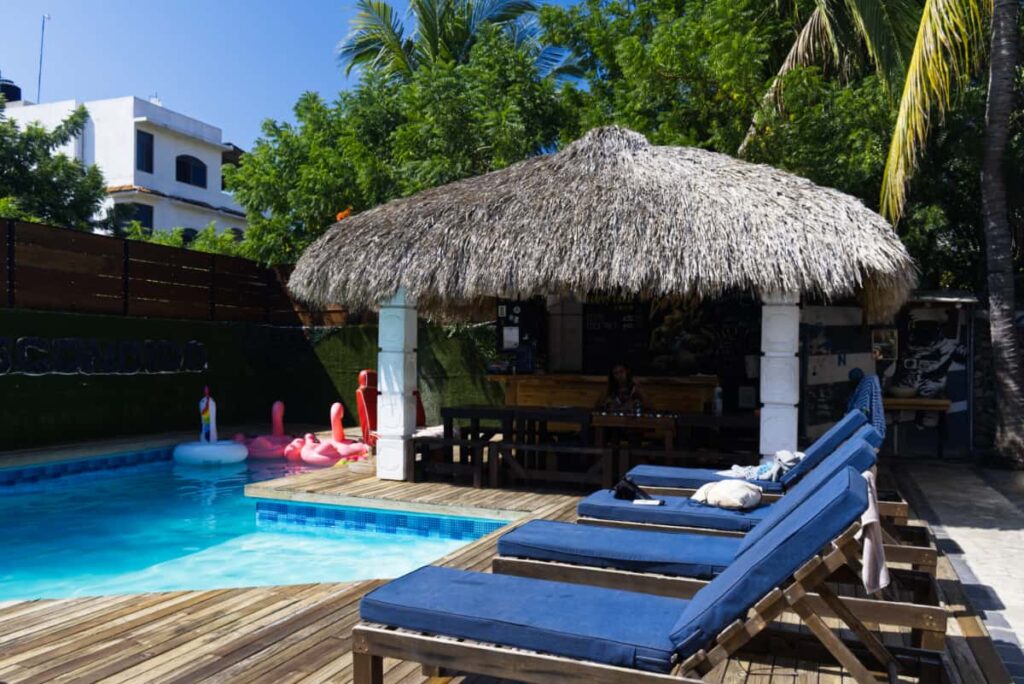 Downstairs features a huge comfy sectional couch and a large dining table where travelers gather in the mornings for the included breakfast.
The spacious kitchen is well organized with plastic bins to keep food organized in the industrial style, glass door fridge. Seriously, I've never seen such a clean hostel fridge.
The wide staircase leads you upstairs to the shared dorm rooms which include plenty of bathrooms and showers.
Just past the small patio, stairs lead to the rooftop with a nice breeze, a slight ocean view, and five hammocks to lounge in. The whole area overlooks the pool and bar area while being far enough away to relax.
The swimming pool has sun loungers and a small bar. The bar is affordable with 25 peso beers and 40 peso cocktails and a slight discount for happy hour. Oh, and beers are available to take on the honor system. Did I mention this feels like staying with a group of friends?
To top it off, Vivo Escondido Hostel is located in my favorite neighborhood – Rinconada. It's just a few blocks from one of the best beaches as well as lots of restaurants. Yet it's on a quiet residential street.
Best Hostels For Digital Nomads
A lot has changed for digital nomads in Puerto Escondido recently with the drastic improvement of the internet. If you work from your computer, finding accommodation with stable internet will be vital.
Each of these Puerto Escondido hostels has an attached coworking space, although I find the vibe of each to be quite different. Continue reading to see which is best for you.
2. Casa Losodeli and Coworking
Rinconada | $$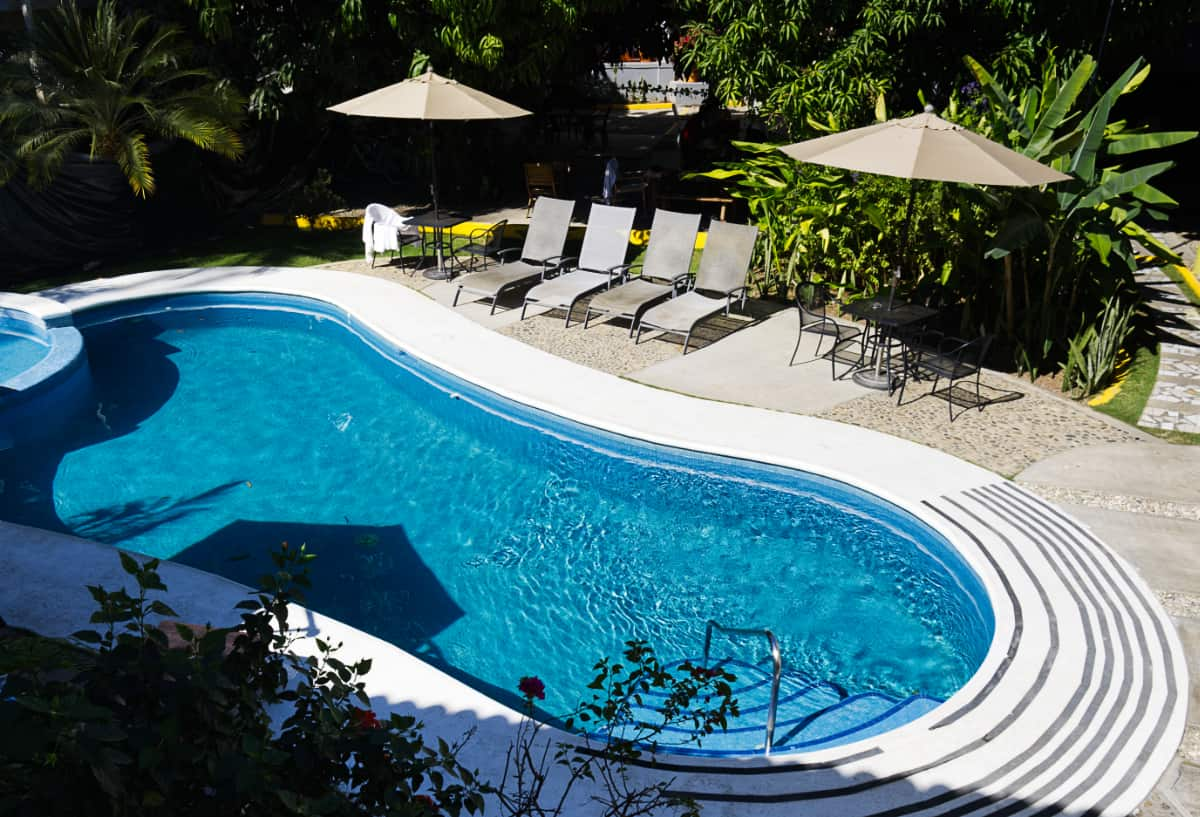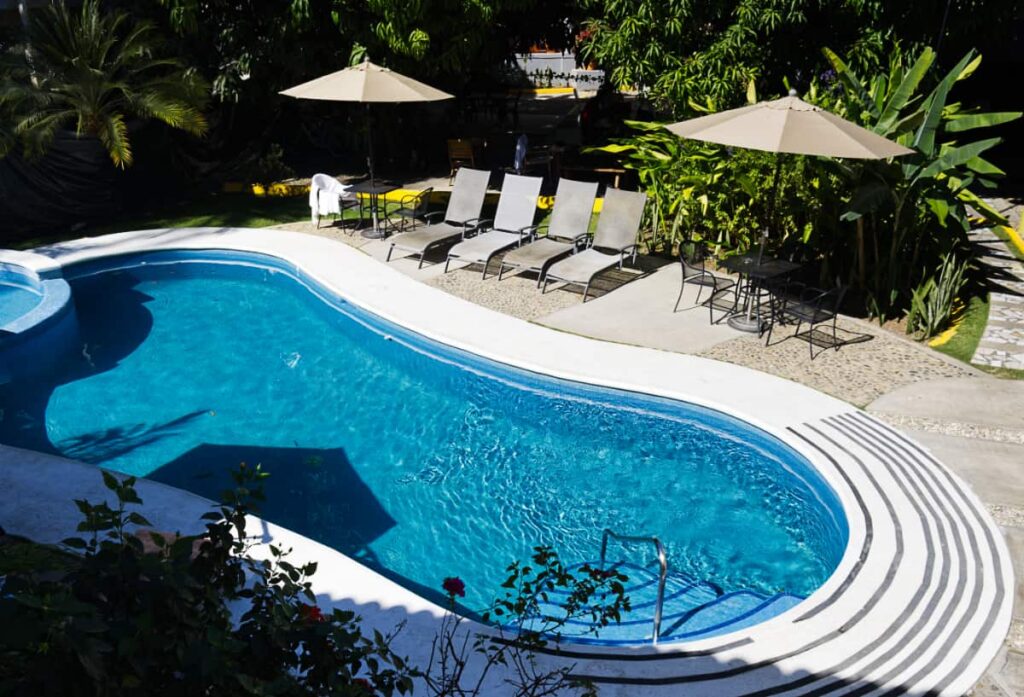 Casa Losodeli draws a community of remote workers in Puerto Escondido. When you book a room at Casa Losodeli, the coworking space is included in the rate which makes this an incredibly affordable hostel for digital nomads.
And you aren't limited to the formal air conditioned coworking space. The high-speed internet reaches the garden area near the pool and the rooftop with beautiful ocean views of Playa Zicatela. In fact, Casa Losodeli ranks on my list of the best coworking spaces in Puerto Escondido whether you're staying there or not.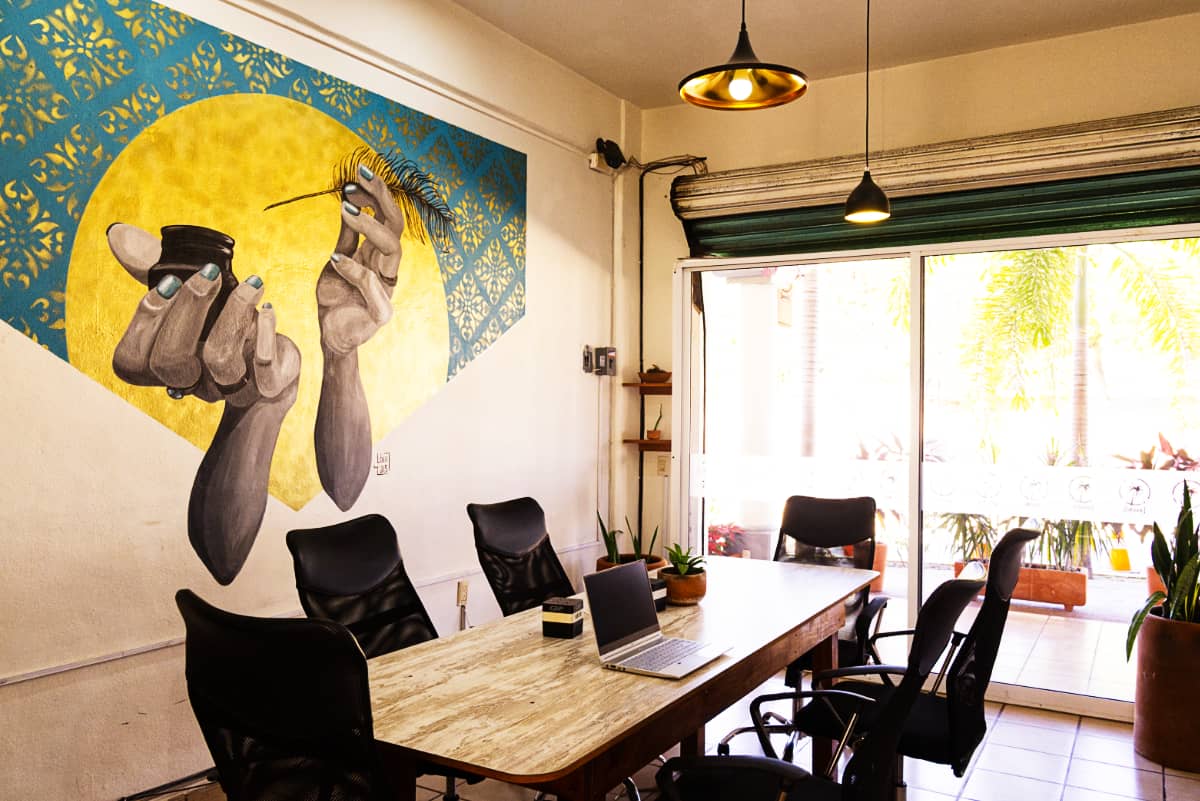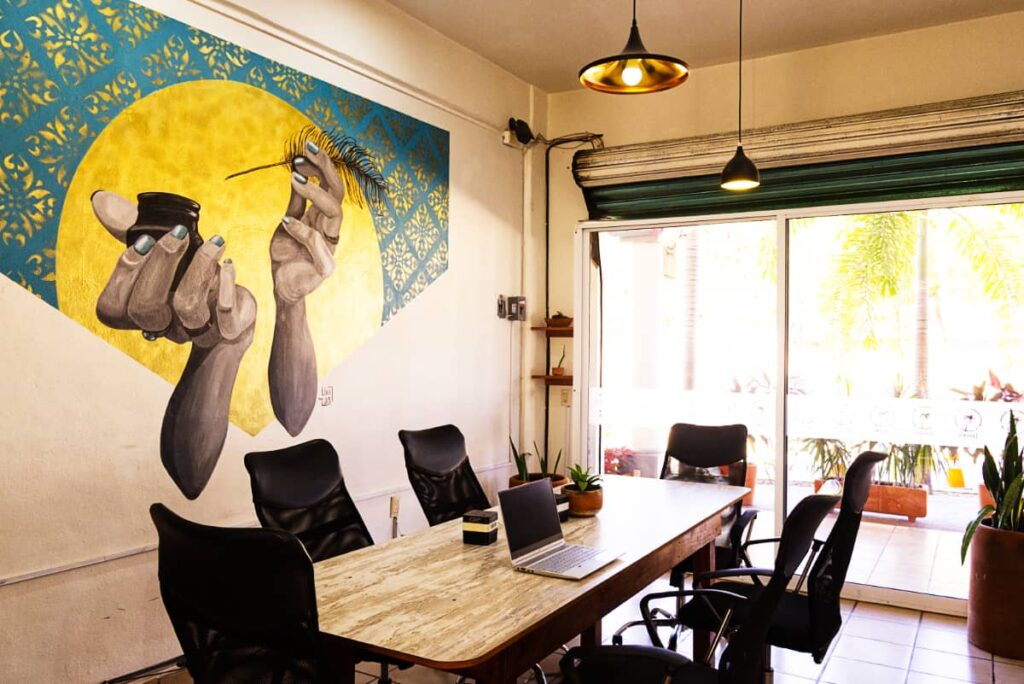 Casa Losodeli also hosts regular yoga classes and events which you can learn about through the front desk or the WhatsApp group. And while there is a social bar in the garden area, it quiets down fairly early since most people have work to do the next day.
In addition, the kitchen is large with plenty of space to cook and the shared bathrooms and showers are sufficient.
3. Villa Bonobo
Close to La Punta | $$$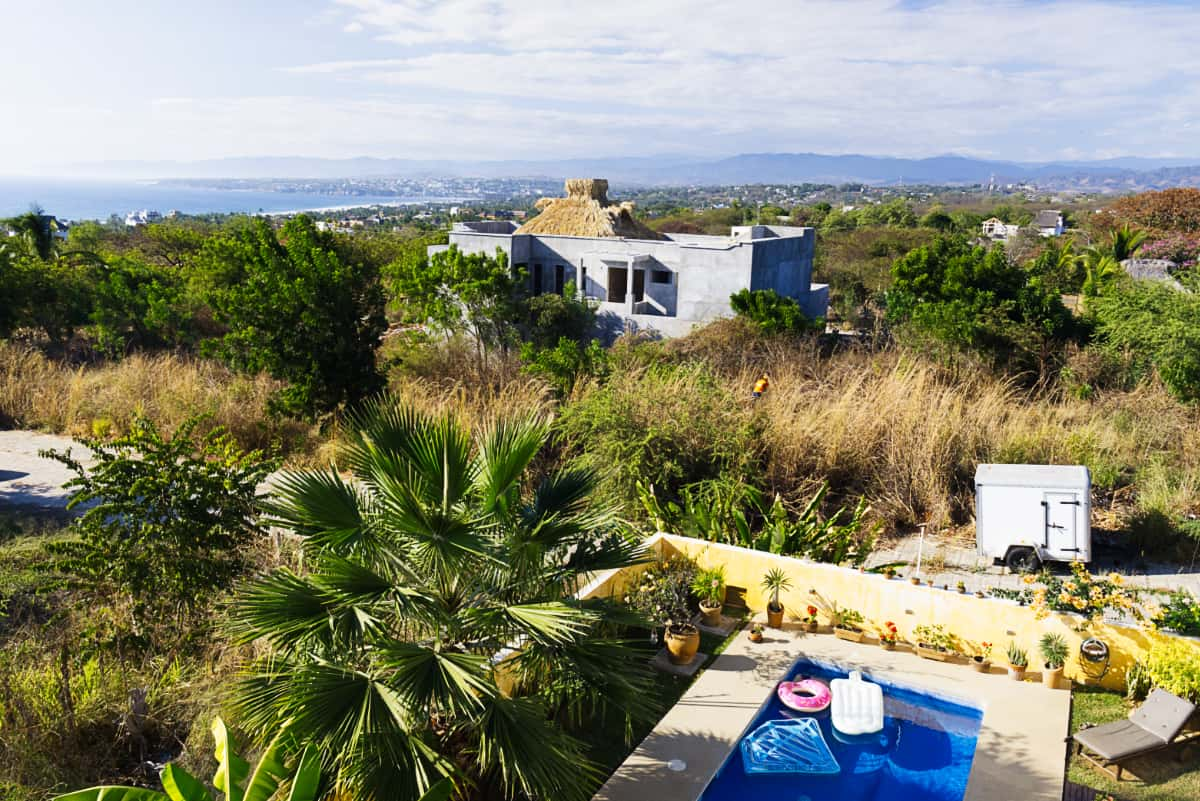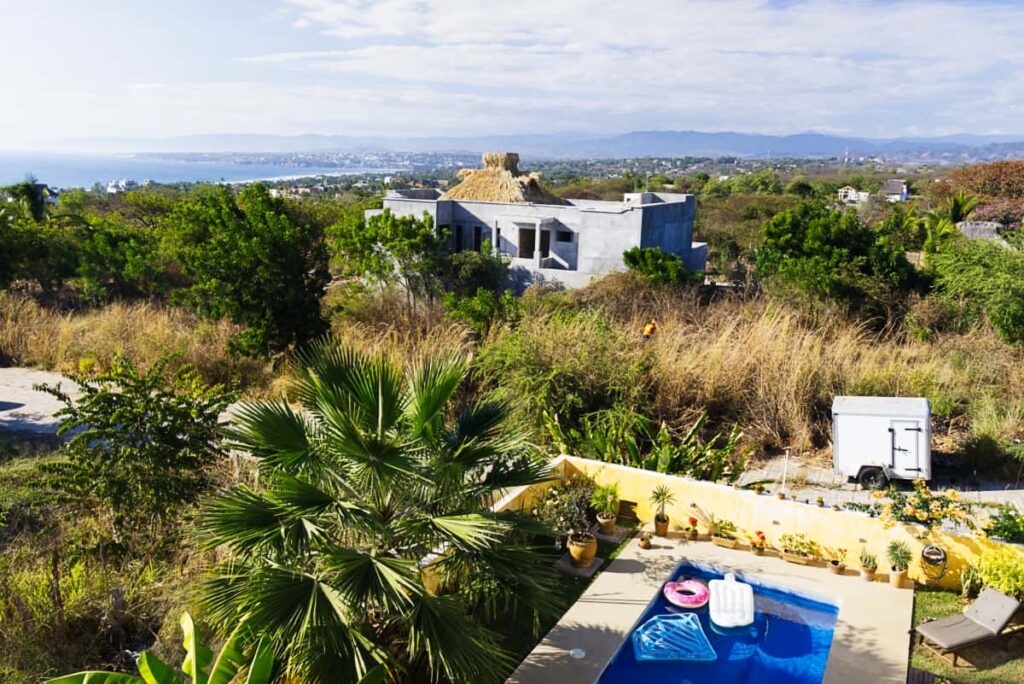 Villa Bonobo feels like an upscale beach house you would rent with your friends. The gorgeous kitchen is spacious and well-stocked. The pool comes with large floats. And best of all, the rooftop palapa features sweeping ocean views.
When you book a room at Villa Bonobo you'll be invited to a handful of weekly events such as the rooftop BBQ night.
The rooftop also doubles as a place to work as well as the large table and an L-shaped couch downstairs, both of which are comfortable for working.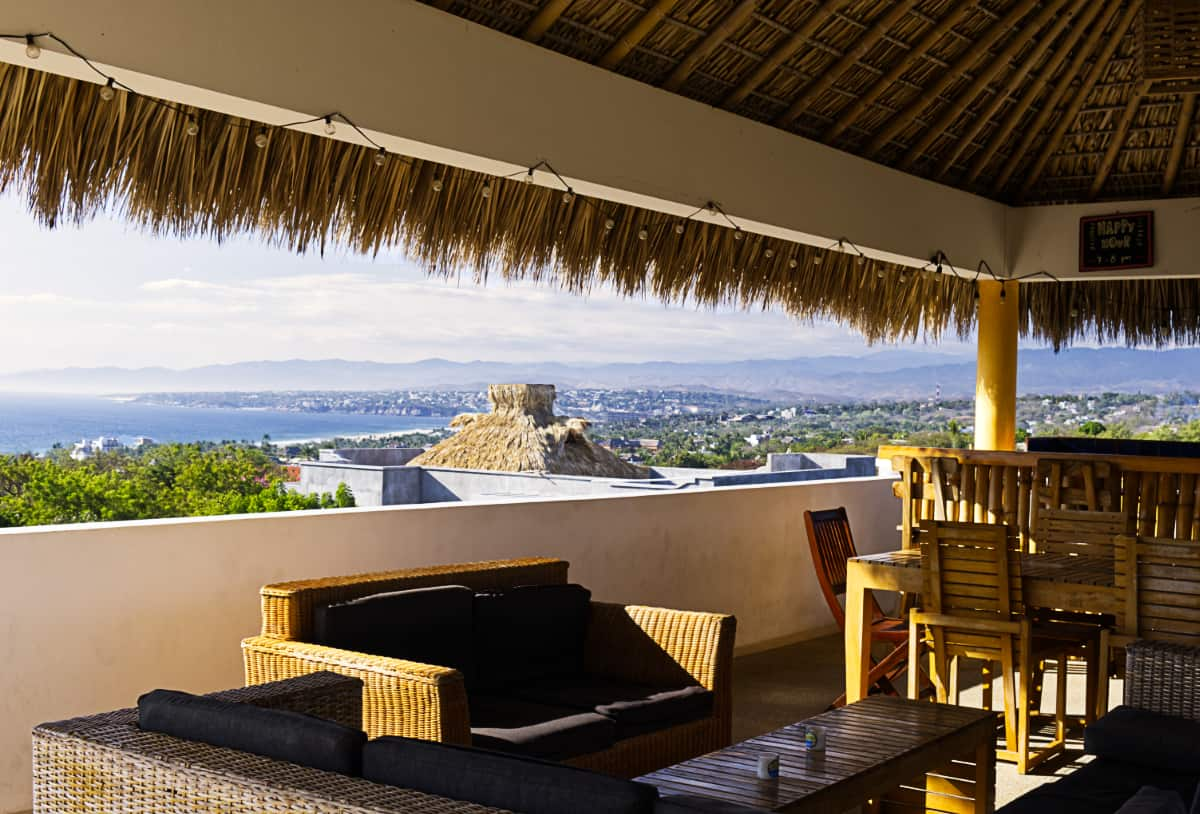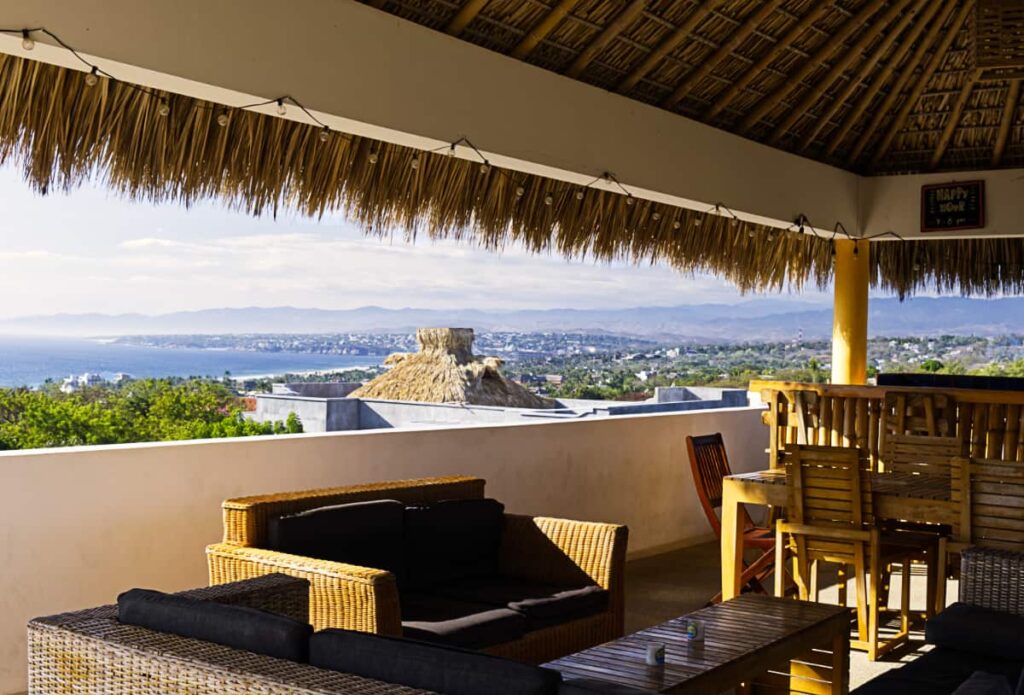 Villa Bonobo is a great hostel for more mature travelers that prefer not to be in the center of the action. In fact, the house and community lean towards the feeling of a coliving community in Puerto Escondido.
It's a 20-minute walk from the center of La Punta, a 10-minute walk to a secluded beach, and less than 5 minutes to the highway to catch the colectivos to a different area of Puerto Escondido.
4. Selina Hostel Puerto Escondido
Zicatela | $$$
Located across from Zicatela beach, Selina Hostel feels like a tropical hideaway. It's built up three stories tall and each day I discovered a new corner.
Between the two pools, rooftop palapa bar, and the downstairs restaurant and bar area, there's a lot going on at Selina. But there are plenty of chill areas to relax.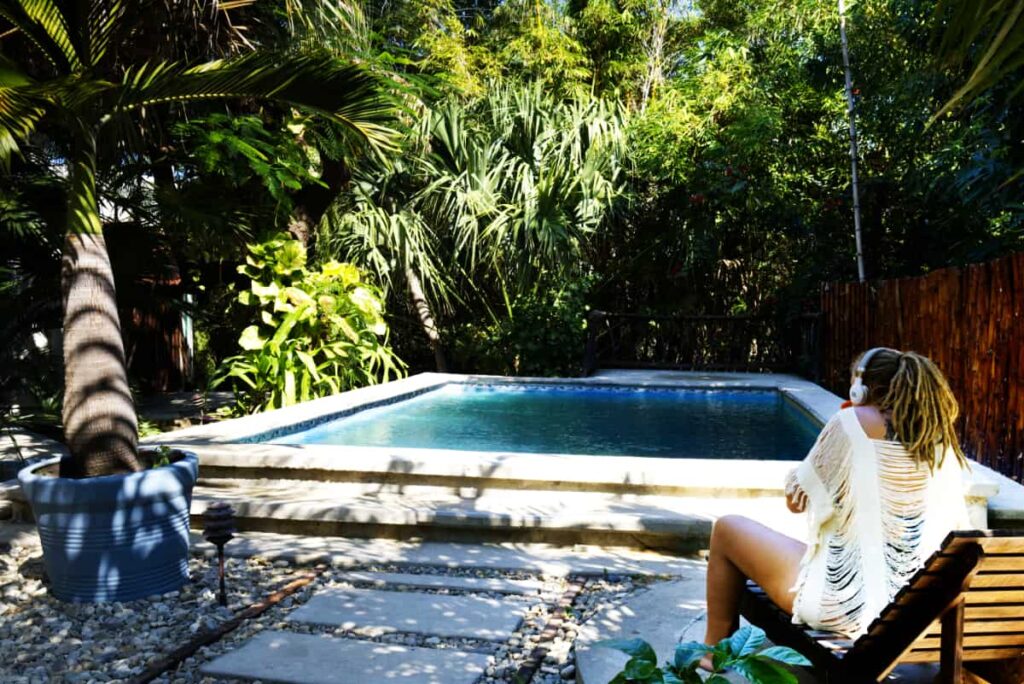 If you are working, there's no doubt about it, Selina Puerto Escondido is regularly rated as having the best internet. Like most Selina Hostels, the co-working space is not included in your stay. But I found many other free places to work that were quite comfortable.
The cost for the co-working space is an extra 250 pesos per day whether you're staying there or not. Granted, it's an air-conditioned space with a proper work surface and office chairs.
Daily yoga classes under the palapa are also included in your stay which adds incredible value to the higher price of Selina Hostel. As far as other events, there are other exercise classes for an extra fee and often live music in the bar at night.
There is a spacious kitchen on site which seemed to be the only area that fostered social interaction. In general, I would say there are better hostels in Puerto Escondido to meet people if that's important to you.
5. Costa Rentals – Best Value for a Private Room
La Punta | $$
If you're looking for an affordable private room in Puerto Escondido, this is the place. While it's not a typical hostel, there are some similarities. When you book a private room at Costa Rentals, you'll have access to the shared kitchen and garden area.
Furthermore, each room has its own hammock and sitting area on a covered breezeway just outside of the door. The rooms are basic but sufficient and nicely decorated. They each have two beds, a private bathroom, fans, and a wardrobe.
Plus other than being directly on the beach, you couldn't ask for a better location for a hostel in La Punta. It's quiet yet just a few blocks from the beach and the center of the action.
6. Casona Puerto Dreams – A Peaceful Hostel
Near Centro | $$
The large wrap-around balconies with hammocks, lounge chairs, and ceiling fans give Casona Puerto Dreams Hostel a dreamy feel. There are also small tables and chairs if you need to do any work. And they have one of the best internet connections I experienced at a Puerto Escondido hostel.
Overall this is a very peaceful hostel. You won't find much of a party vibe, but the atmosphere is conducive to socializing. In addition, the comfortable beds have an individual fan and the showers have fantastic water pressure.
The area has several restaurants and small stores nearby, though it's a 10-minute walk to the heart of Centro and 15 minutes to Rinconada. There are bikes you can rent for free, with only a small deposit required.
I would highly recommend staying at Casona Puerto Dreams if you are looking for a relaxing stay that is walkable to some of the best beaches in Puerto Escondido.
Best Party Hostels in Puerto Escondido
It seems as though there is always a party in Puerto Escondido. However, these party hostels make it a focus. Other than the social bar, there are regularly scheduled events so that you can always be part of the fun!
7. Bonita Escondida
La Punta | $$$
This is definitely the best party hostel in Puerto Escondido. The beauty of Bonita Escondida Hostel is that everyone is invited to the party, even if you don't have a friend staying at the hostel.
Every Monday they have a live band in front of the bar from 10 pm-midnight. And on Tuesdays, they are known for hosting a trivia night that turns into a wild party. There's even someone on-site offering tattoos and piercings. Friday nights are reserved for karaoke and on Saturday there is a pool party.
On the flip side, there is a rooftop palapa with slight ocean views and free yoga classes every morning, Monday – Friday. And on Monday, Wednesday, and Friday mornings, the day starts with a more intense "Shred" workout at 10 am.
The hostel has a strict rule to quiet down at midnight which I found was enforced. However, there's always music playing or something going on at Bonita Hostel. So if you're not into partying, you may want to stay in one of the other hostels in La Punta. But I was surprised to discover that the sliding doors in the dorms cut down on the noise considerably.
8. Tower Bridge Hostel
Near Centro | $
One of the quotes at Tower Bridge Hostel reads, "Come as strangers, leave as friends." And I'd say that accurately reflects the community vibe at this Puerto Escondido hostel. The reception is full of useful information and there is a written guide with general tips, tours, and information about the beaches in Puerto Escondido.
The social spaces center around a pool, lively bar, and outdoor grill. At night, the bar has affordable drinks and organized drinking games. The hostel is pretty strict about music off at 11:30 and generally, everything quiets down by midnight. If you're sensitive to noise, the eight-bed dorm rooms are more shielded from the sounds of the bar area.
This is definitely a budget hostel in Puerto Escondido. While I found the bed and pillow to be acceptable, the bunk beds are a thin metal that moves every time your bunkmate moves. The beds lack a shelf but each has a personal fan which is genius. There's also no hot water, although in this climate it's not necessary.
In addition, there is no charge for a towel, and games and snorkel gear are available to rent for a very reasonable price. Friends are allowed to visit from 8 am-midnight with a 50 peso fee for friends to use the pool.
I know Puerto Escondido isn't known for having the best internet connection, but the internet at Tower Bridge Hostel was practically useless. But hey, that's probably not why you're here anyway!
9. Puerto Dreams Hostel
Centro | $$$
"Welcome to the Dream," an automated WhatsApp message greets me when it's time to check in to Puerto Dreams Hostel in Puerto Escondido. The hostel is built up three floors, and similar to Selina, there are lots of little nooks that are waiting to be discovered.
It's also attached to its sister hostel, La Escondida Puerto Dreams, and guests are allowed to go between the two. It's a nice feature of these hostels which instantly expands the work and social spaces.
The location is in the heart of downtown which makes it convenient to walk to some of Puerto Escondido's best restaurants. The best beaches are a little further but still walkable.
Puerto Dreams Hostel has more of a party vibe than La Escondida, so consider that when booking. However, I rarely found it to be too loud. The other two party hostels mentioned above seem to be more consistent with their events.
During the later part of the week and on the weekends, Puerto Dreams schedules group events such as going to watch the sunset and the Sunday BBQ in La Punta.
There are a lot of great spaces to work here, assuming you don't need super reliable internet. While it was usable, it was constantly going in and out. Downstairs even has a small co-working space that is free to use or can be rented for private use.
The shared rooms are comfortable, with a private bath and air conditioner. The kitchen is also very large and usable.
Budget Hostels, Puerto Escondido
Considering the high prices of a shared room, finding a budget hostel in Puerto Escondido can be difficult, especially during the high season. Both of these budget hostels are some of the lowest prices you'll find. And the fact that they have an air conditioner and a swimming pool make them a fantastic value.
10. Paziflora Hostel
Sector Hidalgo | $
The social scene at Paziflora Hostal starts under the mango tree. Below the low-hanging leaves is a raw wood table. It's surrounded by teal Acapulco style chairs which most travelers settle into with their laptop or a beer.
The open kitchen and seating area also foster a social atmosphere. This is a great hostel to meet people, but it isn't a party hostel. Quiet hours start at 10 pm. And for those that still wish to party, the location is close to both downtown and Rinconada.
This is a modern hostel for an incredible value, especially considering there is a pool and air conditioner. There were a lot of travelers here that were staying for a while or extended their stay which further created a community vibe.
The location is between Rinconada and Centro, quite close to Playa Manzanillo which is a great beach for swimming.
11. Nopalero Hostel
Near Centro | $
This is another Puerto Escondido hostel with a pool and air-conditioned rooms for under 300 pesos per night. Once you consider the included breakfast, it's right on par with Paziflora Hostel.
At Nopalero Hostel, there is an open garden area to relax in a hammock or work at one of the shaded tables. And the large swimming pool and nearby bar are great for socializing.
The staff organizes daily events like salsa dancing, BBQs, or gathering to watch the sunset. The location is fabulous, just a few blocks from the Rinconada strip and Playa Carrizalillo, my favorite beach in Puerto Escondido.
Best Hostels in La Punta Zicatela
If you're looking for a good mix of parties with beaches and mild surf, you should consider staying in La Punta. The sandy streets, variety of restaurants, and multiple beach bars have attracted lots of tourists lately.
And to be honest, it's getting a slight Tulum vibe, though I'd say it's still much more chill. Both of these hostels in La Punta are located near the main strip but are quiet enough to relax.
Traveling to this beach town? You will want to read all about Puerto Escondido safety.
12. Hostal Akumal
La Punta | $$
After the sun sets, colorful string lights illuminate the third-floor palapa rooftop at Hostal Akumal. It's a chill vibe. Quiet hours begin at 10 pm, which is quite early for a hostel in La Punta.
The location creates the perfect balance of being in the middle of the action while having a peaceful space to retreat.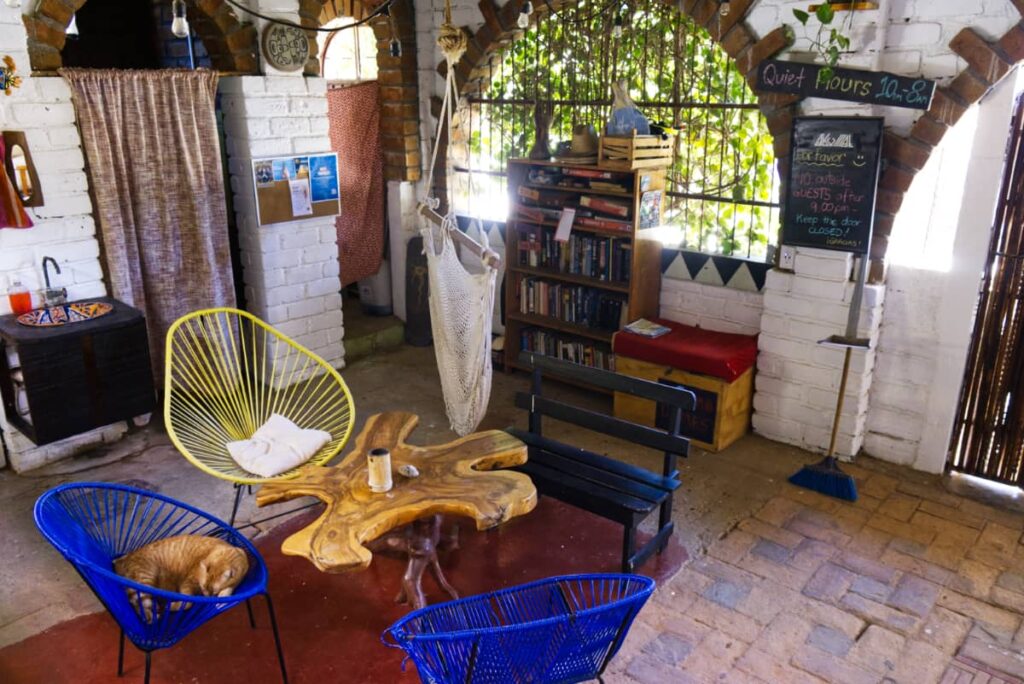 Downstairs is a small lounge area and a large table with bench seating near the kitchen. It's a great space to work – fresh and bright while still being heavily shaded. However, the internet was only somewhat reliable.
The attached cafe and hair studio create a lively atmosphere during the day without being disruptive to the hostel itself. Another great balance to this somewhat quiet hostel.
13. Casa Punta
La Punta | $$
Casa Punta has a cozy feel that makes it easy to meet fellow travelers. Lounge in the hammocks in the central courtyard during the day and enjoy the open rooftop with views of the stars at night.
The location (across from Hostal Akumal) is perfectly located near the main strip in La Punta Zicatela. The beach is just two blocks away. It's close to fruit and vegetable markets and just a few blocks from the center of the action.
The friendly staff and weekly community dinners turn this Puerto Escondido hostel into your home away from home.
Best Hostels in Zicatela, Puerto Escondido
Zicatela is a long stretch of oceanfront located between downtown and La Punta. It's famous for its world-renowned surf break that is affectionately called the Mexican Pipeline.
While the beach isn't swimmable, it has incredible sunset views and tons of fun beach bars. Plus, most of the hostels in Zicatela have a pool so that you can cool down regardless.
14. La SurfHouse H
Zicatela | $
La SurfHouse H is a Zicatela hostel featuring incredible ocean views from the rooftop terrace. It's a great space for yoga in the mornings and hanging out in the evenings.
It also features a swimming pool, outdoor kitchen, and spacious shared rooms each of which has a private bathroom.
Created by the owners of Puerto Dreams, they have experience creating some of the best hostels in Puerto Escondido. They regularly schedule events and have a WhatsApp group to keep guests connected.
La SurfHouse Hostel is located between Zicatela and La Punta in an area called Tamarindos. It's a short walk to Playa Zicatela, just a few blocks from the market, and a close to the highway where you can catch the colectivo to different areas.
15. Huitzilin Hostal
Zicatela | $
This is a laid-back hostel in Zicatela that has a community vibe without the party atmosphere. The common areas include a spacious kitchen and dining area with a raised platform under the palapa that becomes a gathering point for guests.
Although the real gem is the swimming pool surrounded by gardens. They've done an incredible job creating shaded pathways along the pool that make the space feel like a tropical oasis.
Further more, the shared rooms at Huitzilin Hostal are incredible comfortable featuring orthopedic mattresses, fans, and air conditioning. If you're looking for a comfortable hostel in Zicatela, this is it.