7 Best Puerto Escondido Coliving Spaces (2023)
Are you looking for Puerto Escondido coliving communities?
During my last visit to the coast, I met with, interviewed, and toured various coliving spaces in Puerto Escondido. While the focus of these coliving communities varies from surfing to living sustainability, the philosophy of building an inspiring community is a common theme.
In this article, I've pulled together all of the important details so that you can choose which Puerto Escondido coliving space is best for you.
This article may contain affiliate links. This means if you click a link on our blog and make a purchase, we earn a commission at no additional cost to you. For full information, please see our disclosure.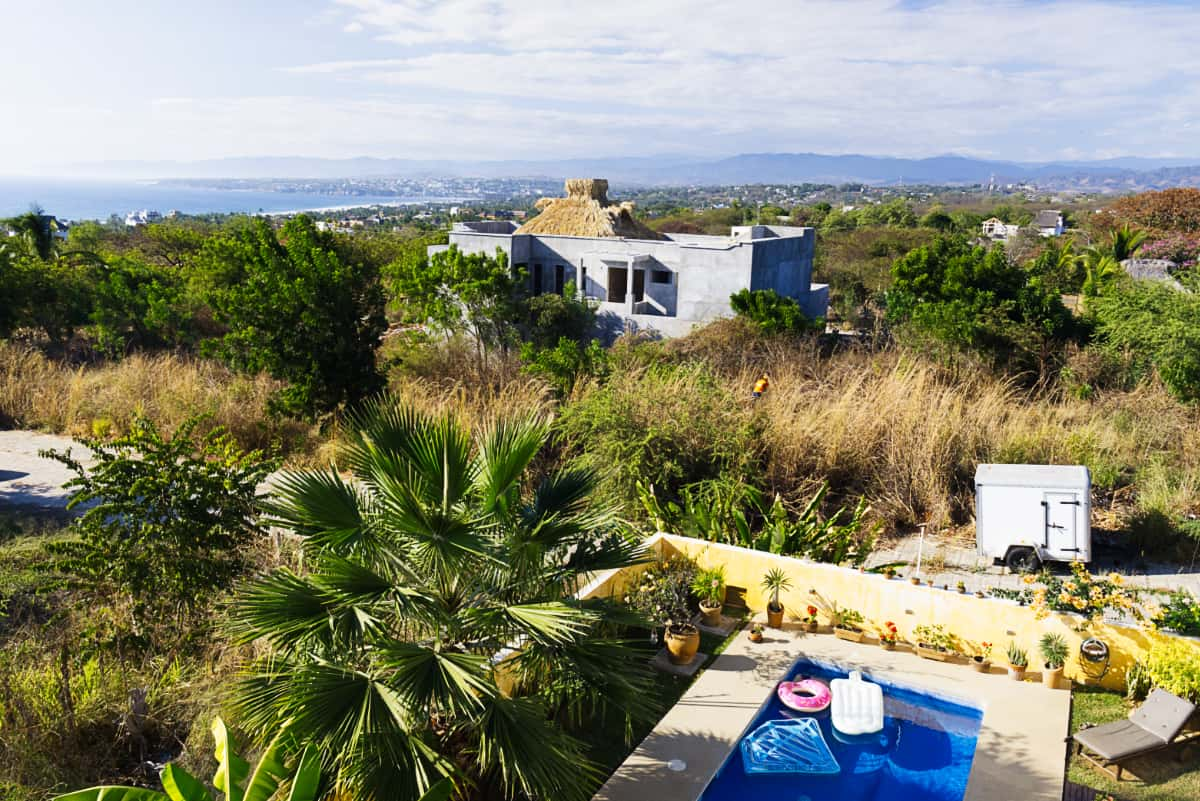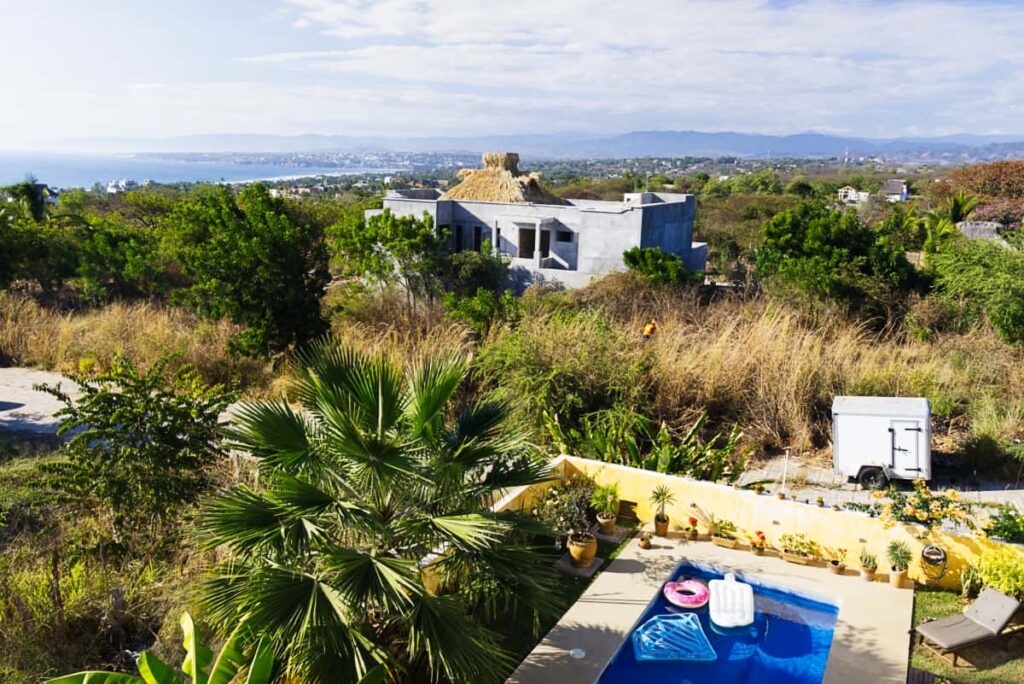 1. El Mundito Coliving
El Mundito, or The Little World, perfectly describes what Hanna has created in this corner of Puerto Escondido, tucked between La Punta and Zicatela.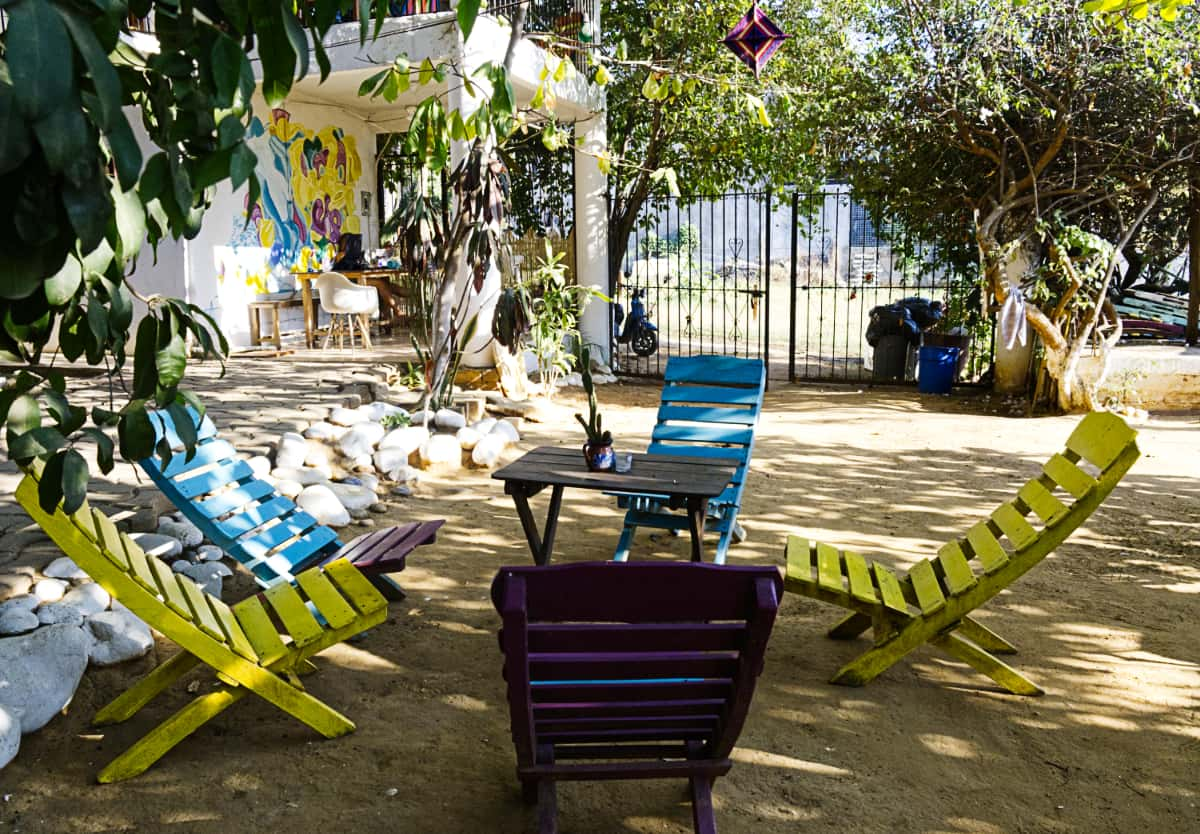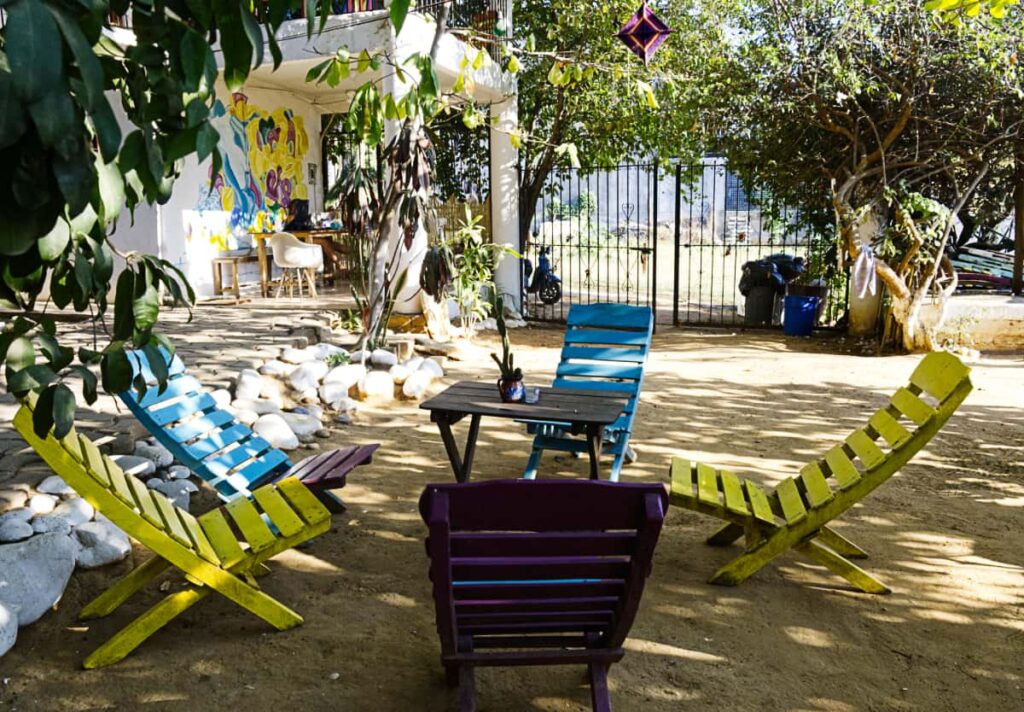 After traveling for five years, Hanna desired to form deeper connections during her travels. She created El Mundito Coliving with the intention of creating a space for long-term travelers to live together and form long-lasting relationships.
El Mundito is about community more than a business she explained to me. She wants guests to feel at home during their stay.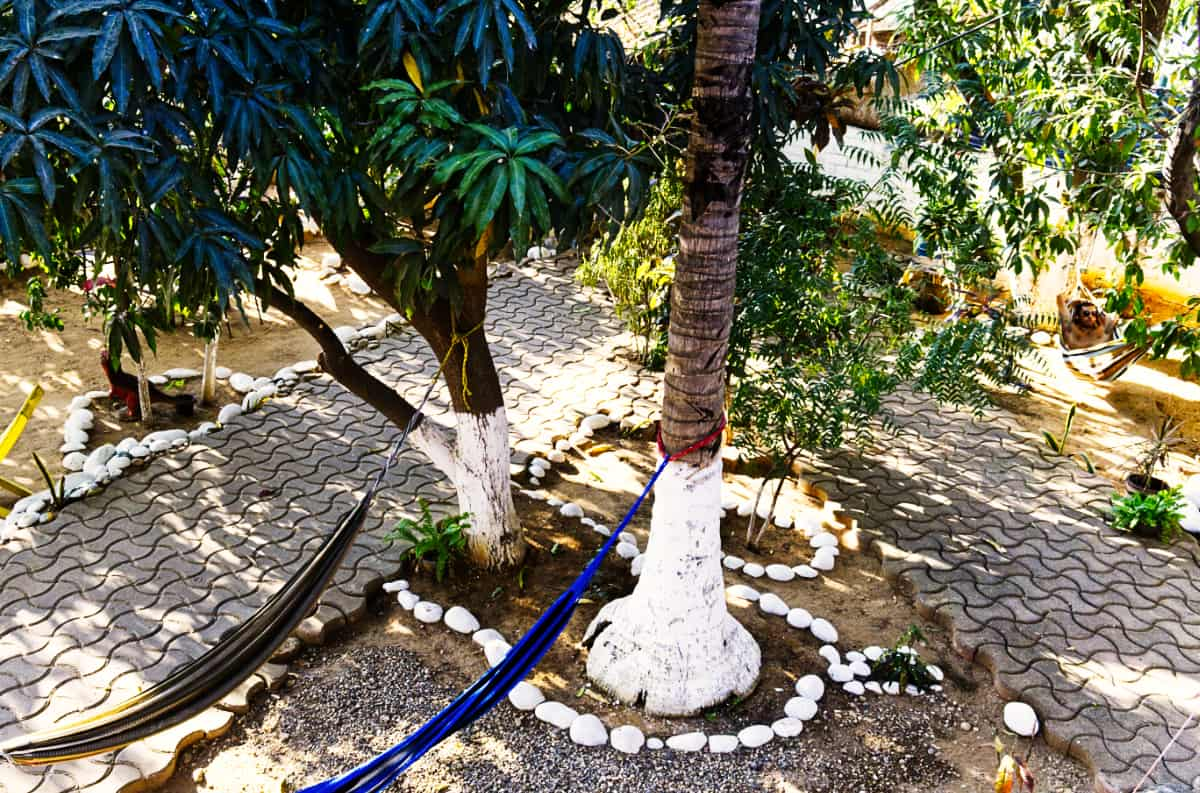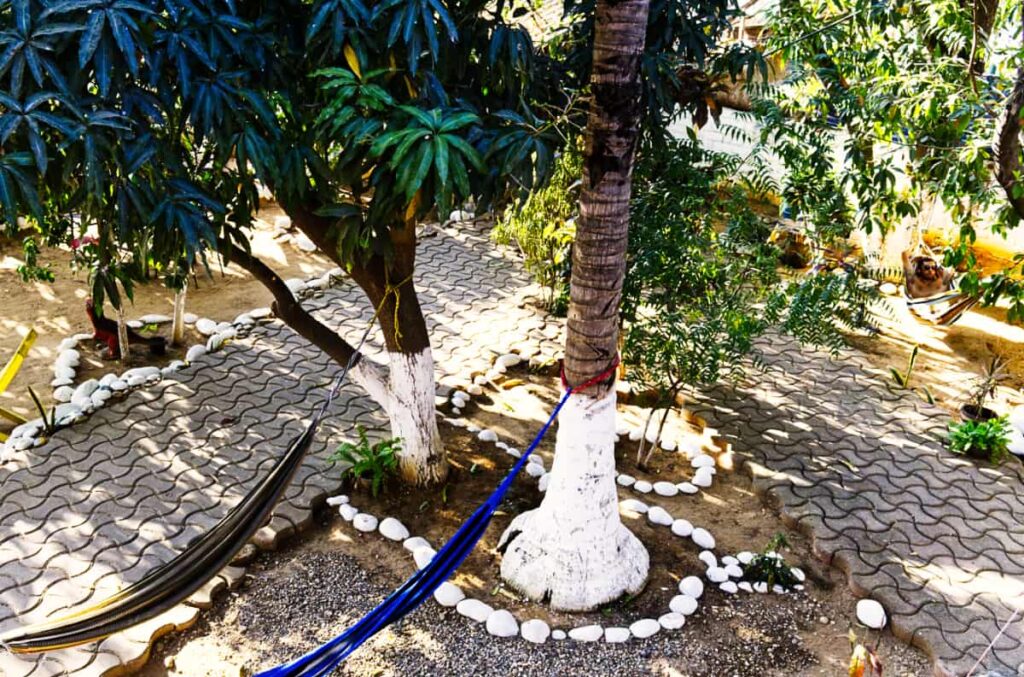 For Hanna, the one-month minimum commitment is an essential part of her Puerto Escondido coliving community. Hanna handpicks the residents based on their passions and work industry to form a balanced coliving community.
"It's a little magic I do," she says, "I make friends already in my head."
And magic she does create. From this coliving community has evolved lifelong friendships, travel partners, and even one romantic relationship that blossomed more than three years ago.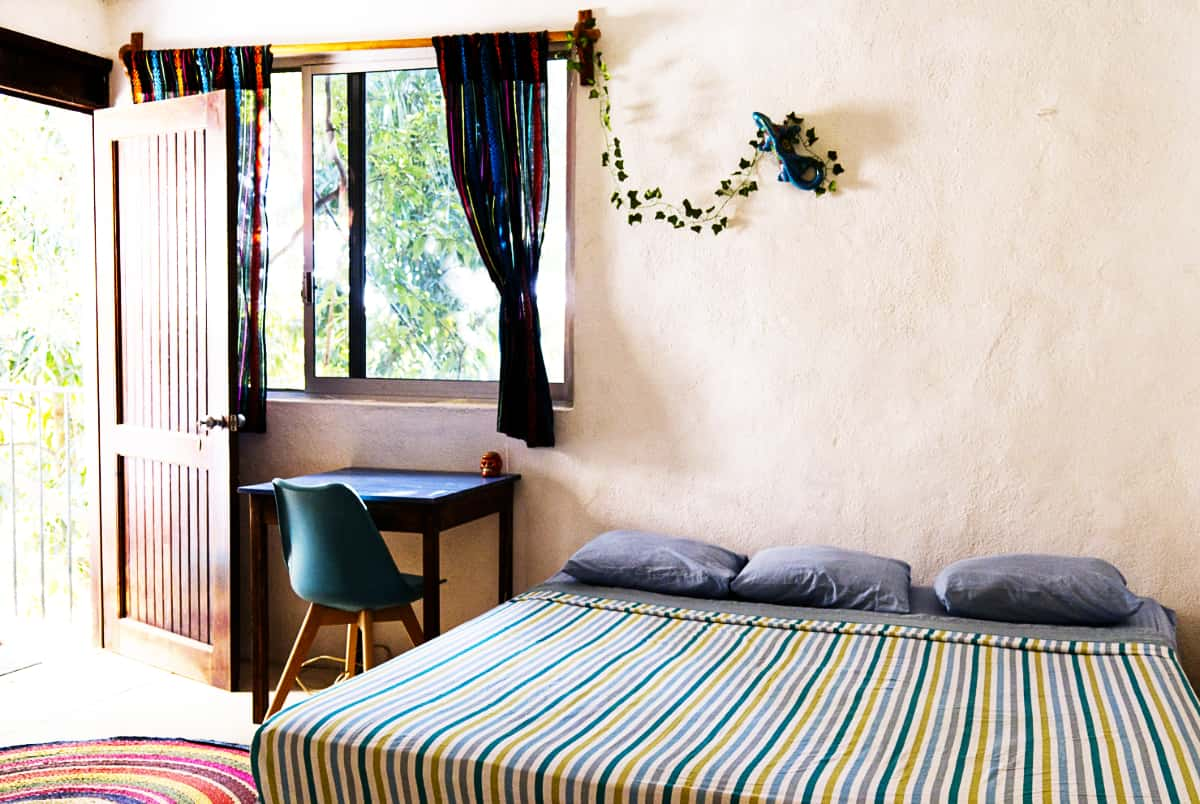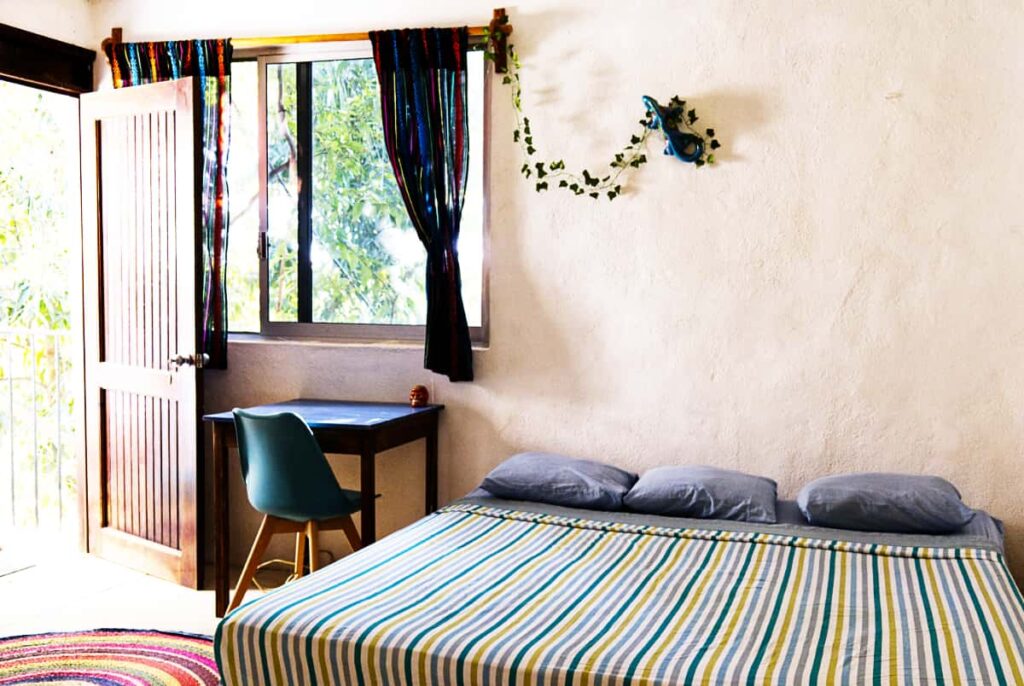 "El Mundito has brought so many people together in the last three years. And that makes me very happy," says Hanna.
While the average stay is 2-3 months, guests can only book the first month initially. Within the week, there is an option to extend the stay if it is a good fit for both you and the coliving community.
El Mundito Coliving Location
El Mundito is located in Tamarindos, an area tucked nearly equal distance between La Punta and Zicatela. It's walking distance to the beach, a cute cafe that doubles as a Puerto Escondido coworking space, and the colectivos that will take you to other areas of town for 10 pesos.
It's an organic space with a shaded garden that perfectly fits among the dirt roads of Tamarindos. The house has 7 private bedrooms, each of which features a desk and chair.
The communal spaces include several tables for working, a fully stocked outdoor kitchen, and several hammocks under the shade of the garden area.
2. Casa Flow Coliving and Surf House
Work. Chill. Surf. That's the mantra at Casa Flow Surf House, a casual Puerto Escondido coliving community.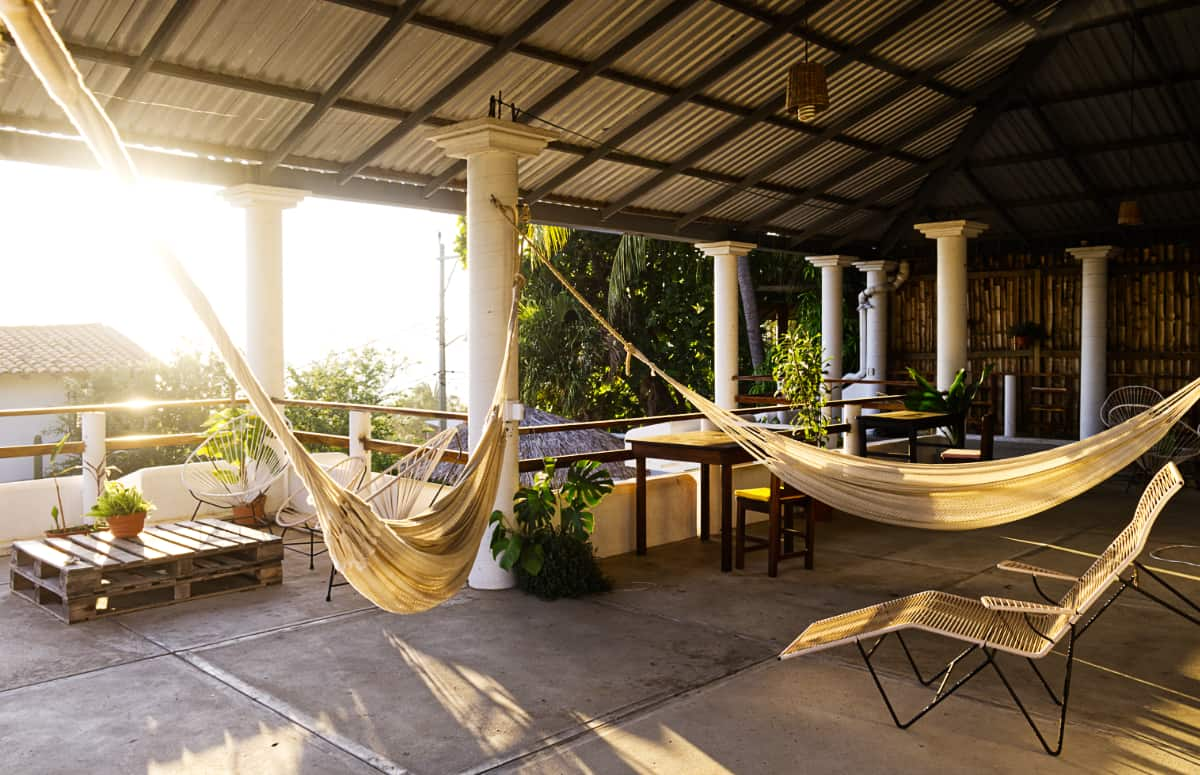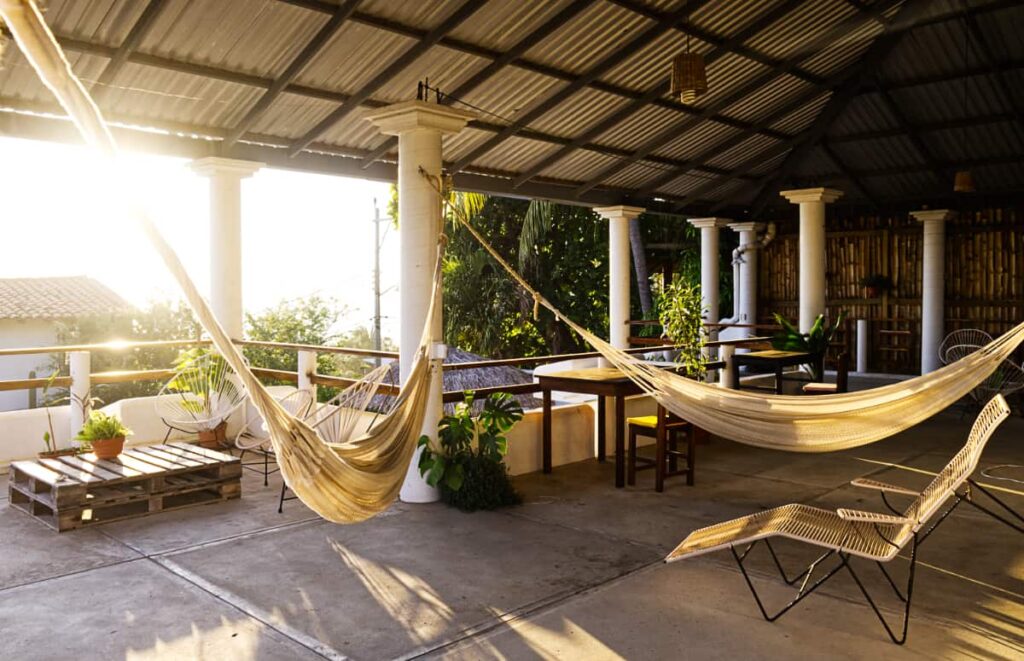 Diego, a surfer himself, started Casa Flow with the intention to create a community of like minded individuals that want to live in Puerto Escondido to work and surf.
The house includes 10 private rooms, two shared kitchens, and a large rooftop. The rooftop becomes a gathering point for coworking in the mornings and chilling in the evenings.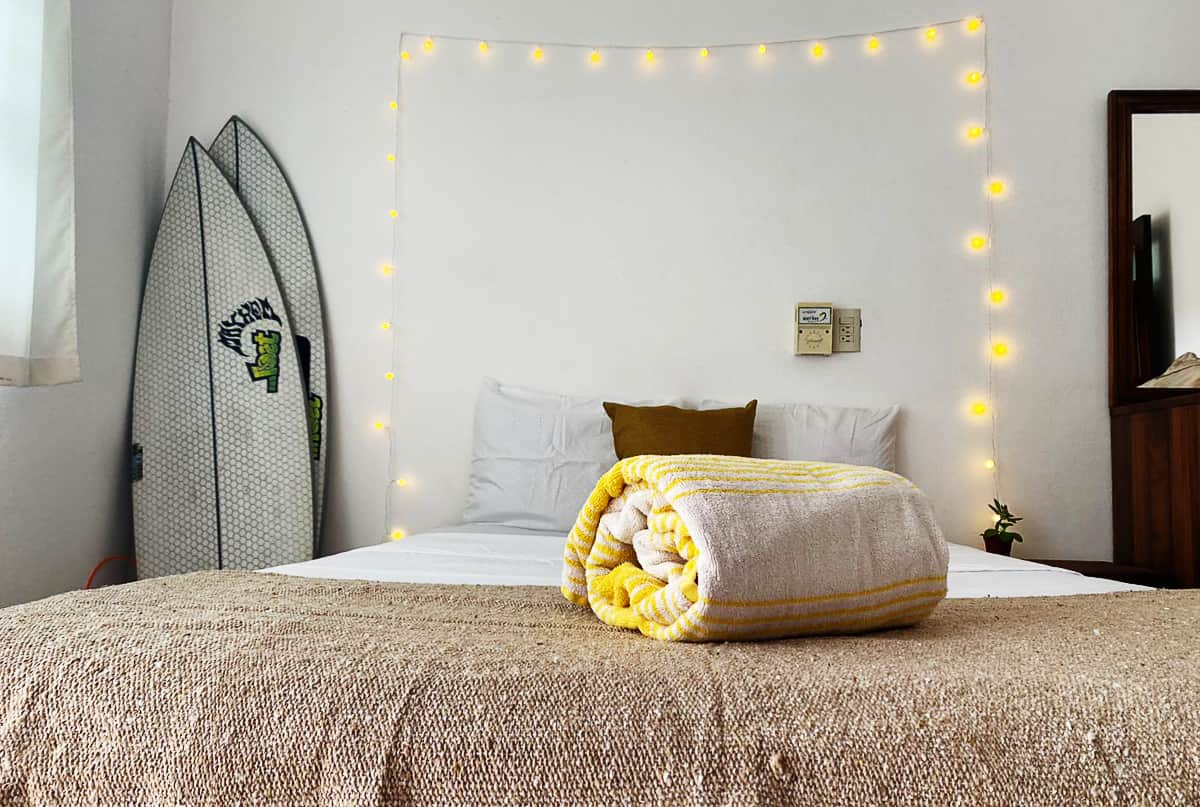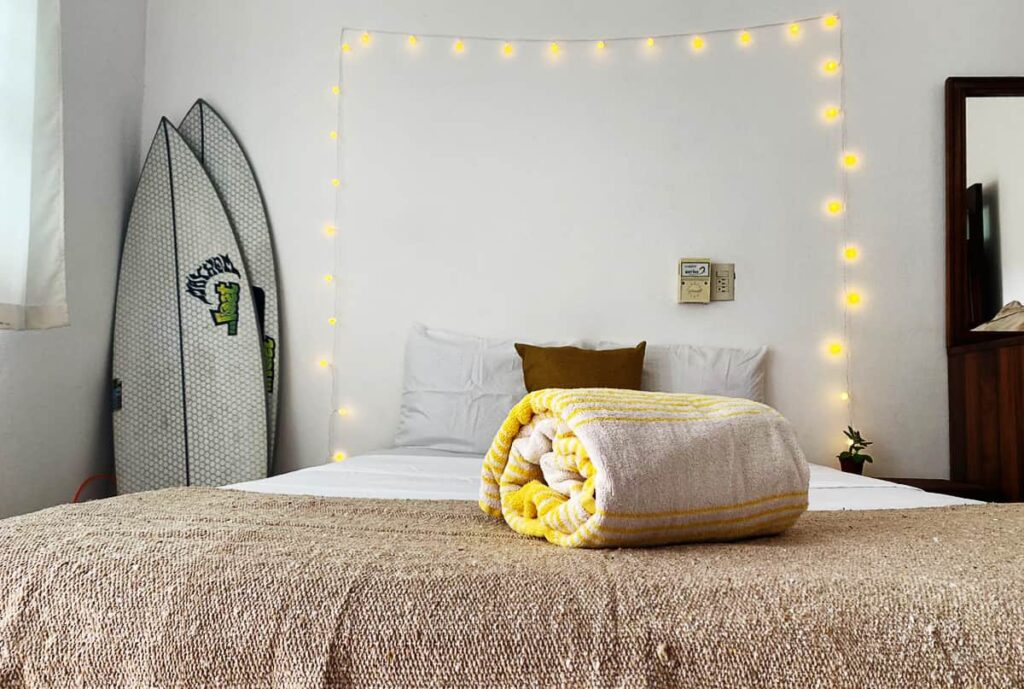 While the minimum required stay is only five days, the average stay of one month is conducive to creating a coliving community.
Diego prefers that the community at Casa Flow forms naturally. His goal is to create a space that feels so comfortable, guests intuitively create their own gatherings with each other.
While he is often present at the house and joins in on the community gatherings, Diego wants his guests to discover Puerto Escondido organically, without influencing their experience too much.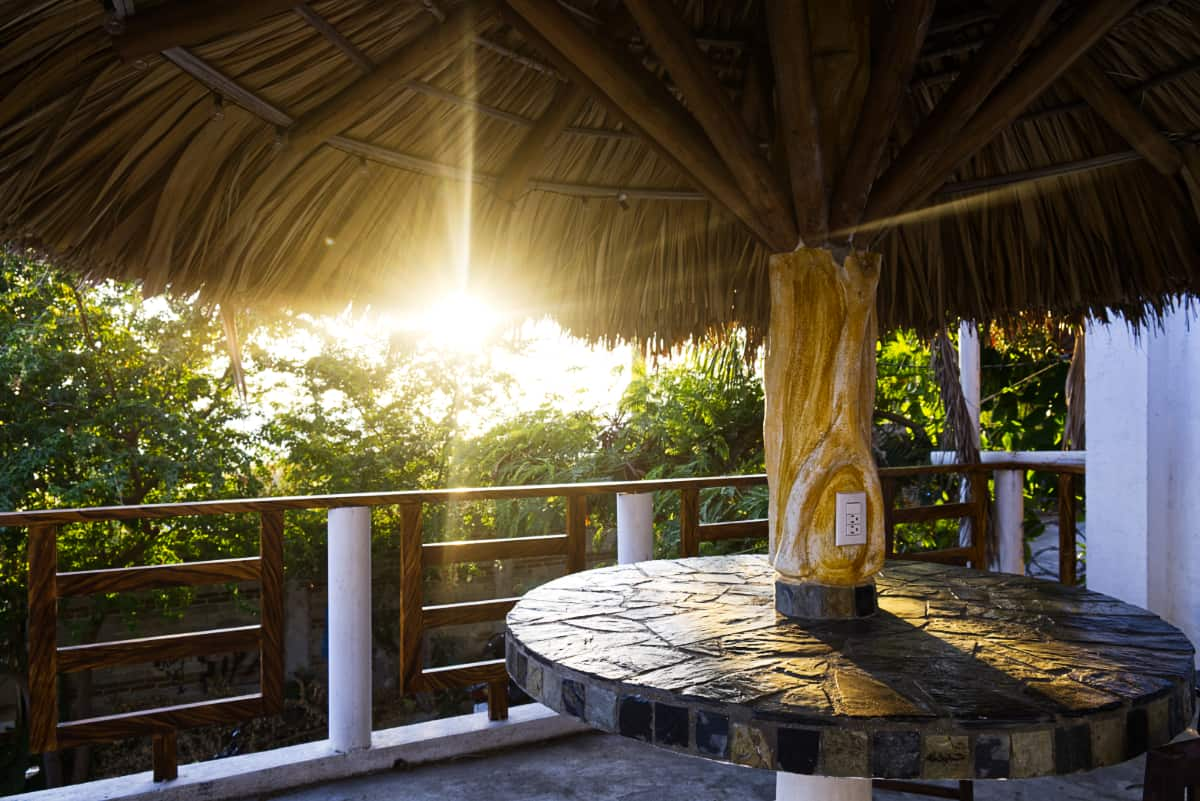 Casa Flow Coliving and Surf House Location
Casa Flow Surf House is conveniently located two blocks from Playa Zicatela in Santa María, a quiet residential area of Zicatela, Puerto Escondido.
It's a short walk to the colectivo and a 5-minute walk to the Zicatela Market where you can find a variety of restaurants as well as produce and other kitchen staples.
It's the perfect place for Puerto Escondido digital nomads that want to be part of a coliving community that is close to the best surfing.
3. Bambú Corner – Casa Consciente & Surf House
Bambú Corner is an eco-friendly Puerto Escondido coliving community located on the northern edge of La Punta Zicatela.
As a surfer, Marie fell in love with the paradise that is Puerto Escondido when she arrived 5 years ago. But she quickly realized there were ecological issues that needed to be addressed as this beach community continued to grow.
Marie wanted to make an impact, even if on a small scale. So she desired to build a tourist accommodation in Puerto Escondido with a small environmental footprint, as an example of what is possible.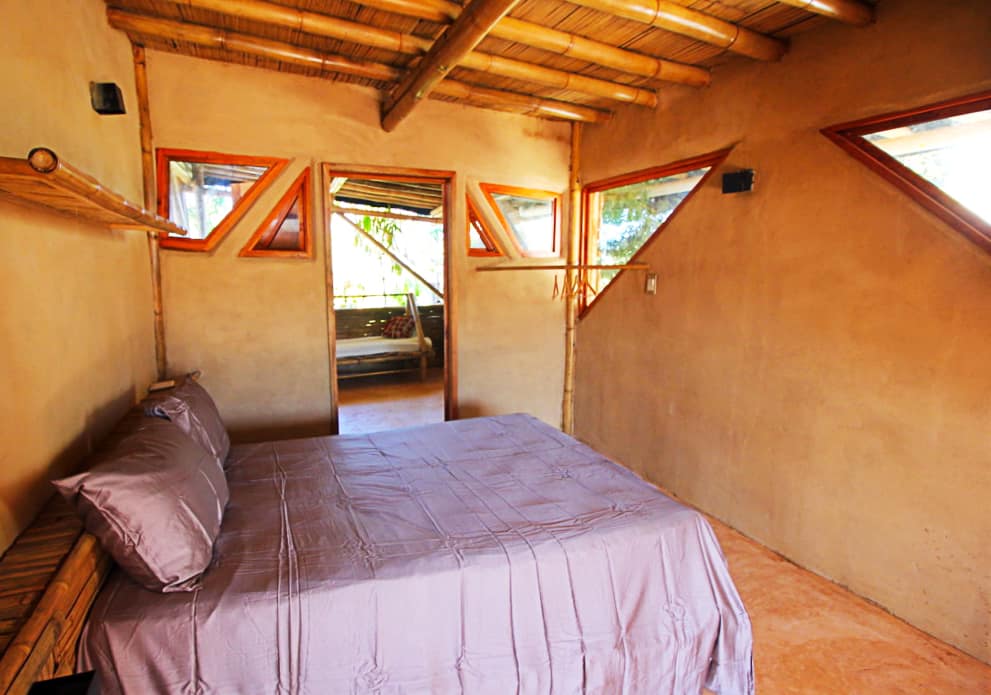 She started by designing an eco-conscious structure made of concrete and bamboo, finishing the walls in fresh mud. The underground cistern holds the water they need for the property while the roof collects rainwater and filters it for human use. And rather than rely on a septic tank which has its own issues with disposing of the wastewater, she built dry ecological toilets with an offsite compost that treats the waste and eliminates smell at the coliving community.
Marie describes Bambú Corner as a quiet, healthy, and sustainable coliving in Puerto Escondido. She desires to attract people that care about their impact on the environment while creating a close-knit community of people living in Puerto Escondido.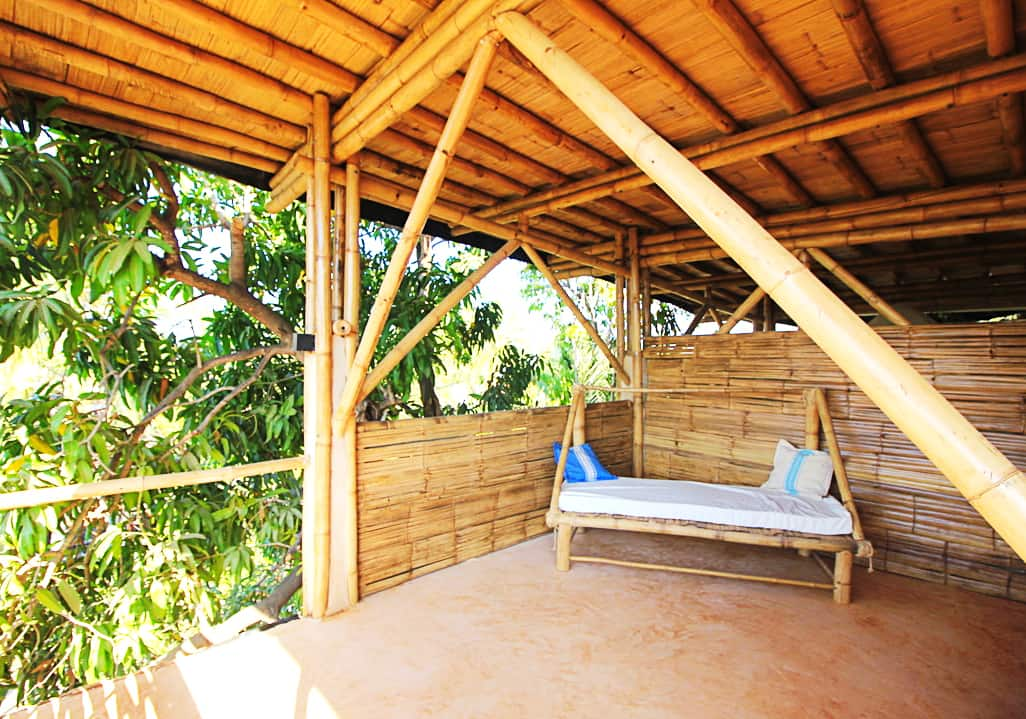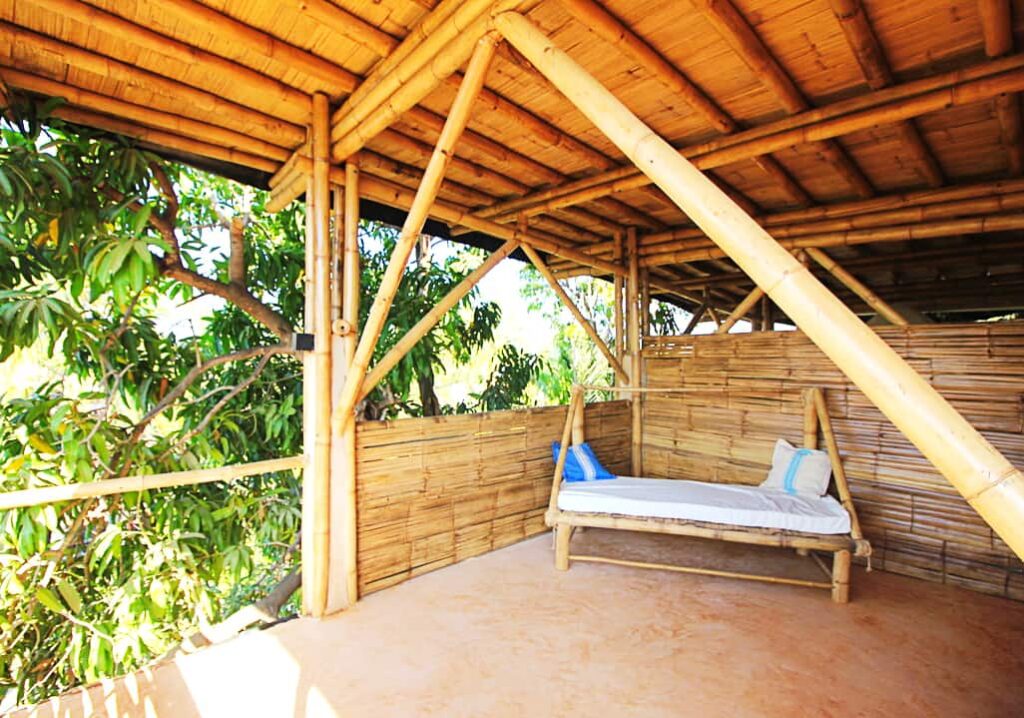 While she also wants to attract a surfing community that shares morning surf sessions, Marie explained that it's more important for people to know that Bambú Corner is perfect for open-minded travelers.
"It doesn't matter if you've never surfed or if you speak Spanish. The intention is to create a family willing to learn, share, and experience while centered around the idea of living in a responsible, alternative way that we feel good about and that Mother Nature would thank us for."
All of the rooms at Bambú Corner include a bed, sofa, and table all of which are constructed of bamboo. Each room has a private bathroom and outdoor shower, some with an ocean view. And two of the rooms have a private terrace surrounded by mango trees.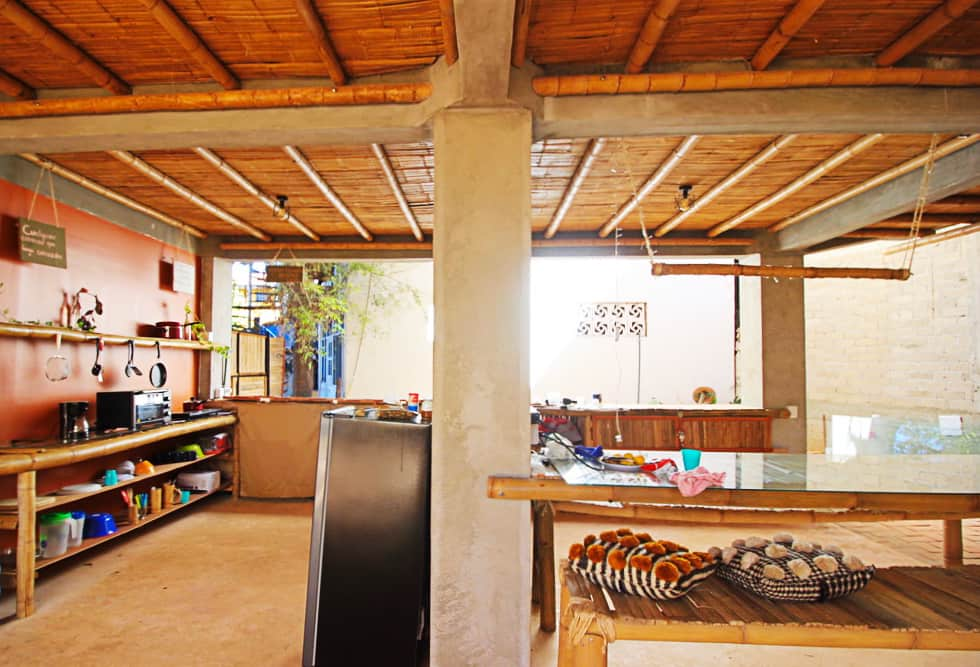 For remote workers, you can choose to work from your room or the common areas which feature a small terrace and two large tables next to the shared kitchen.
As a coliving community, Marie enjoys it when the residents do spontaneous activities together such as surfing, movies on the beach, waterfall adventures, and eating at the market. Although she stresses that at the same time, people have their own life and independence.
Bambú Corner Location
Bambú Corner is located in a quiet, local neighborhood of La Punta. The location is two blocks from the beach and within walking distance of other areas of La Punta and Tamarindos.
It's also a short walk to the highway where you can take a colectivo to other parts of Puerto Escondido.
4. Villa Bonobo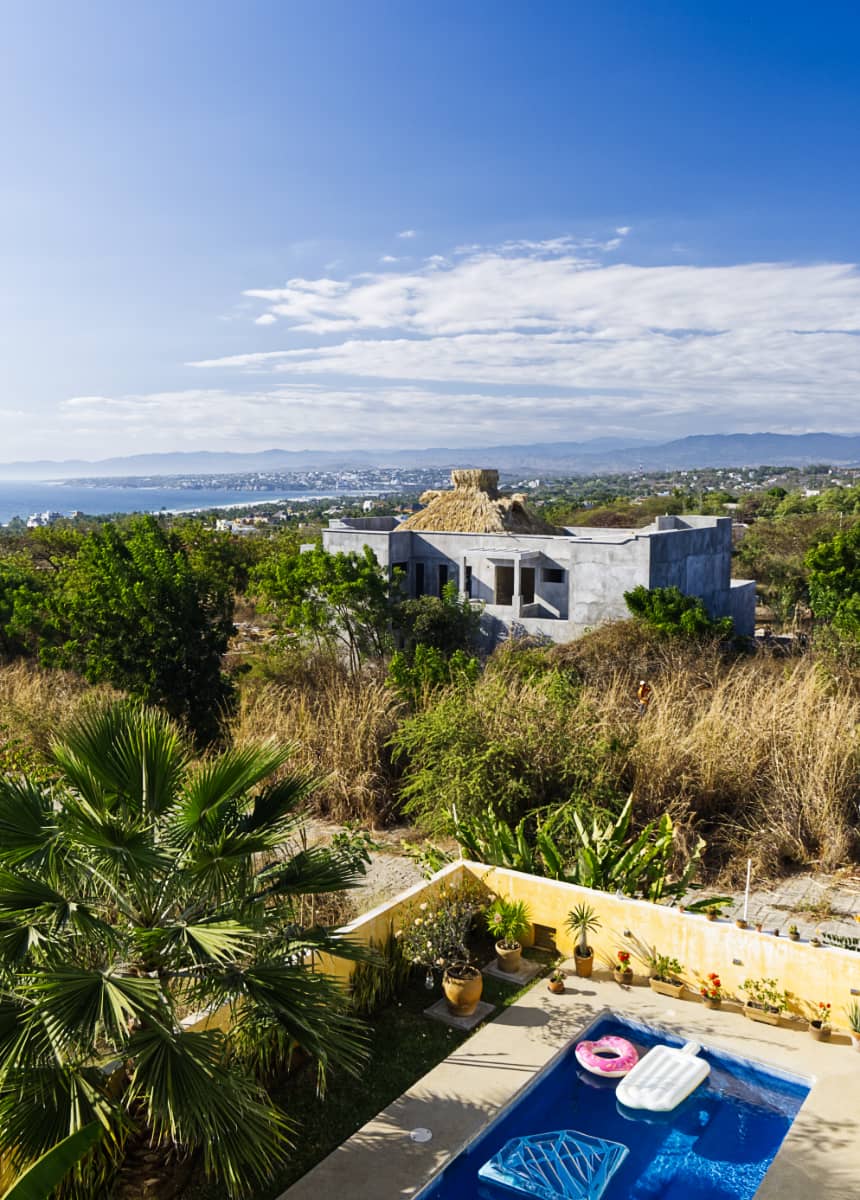 Villa Bonobo feels like a large beach house that you would rent with a group of your closest friends. The lower level features a gourmet kitchen, a living area with a large table and L-shaped couch, and a swimming pool complete with pool floats.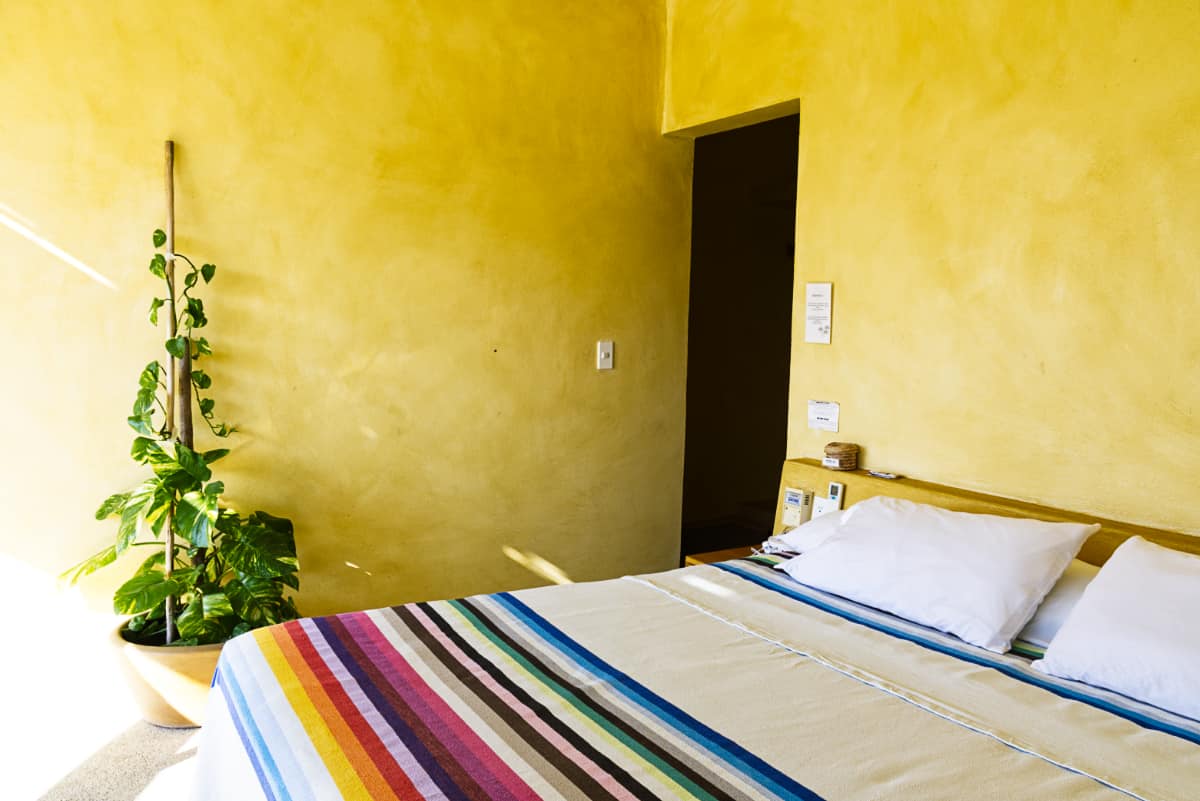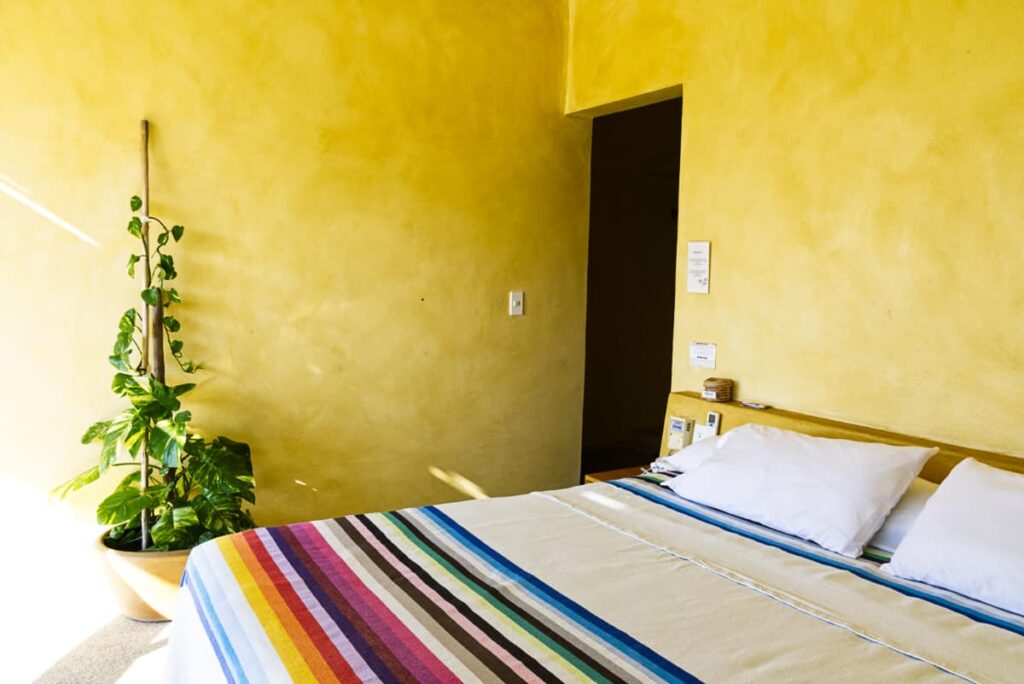 The house includes five individual suites with private bathrooms, some of which have a private terrace. There is also a small shared room for up to four guests.
Everyone has access to the rooftop terrace with sweeping views of the ocean and Puerto Escondido. Daily breakfast is included in your stay and unlimited coffee and tea are available throughout the day.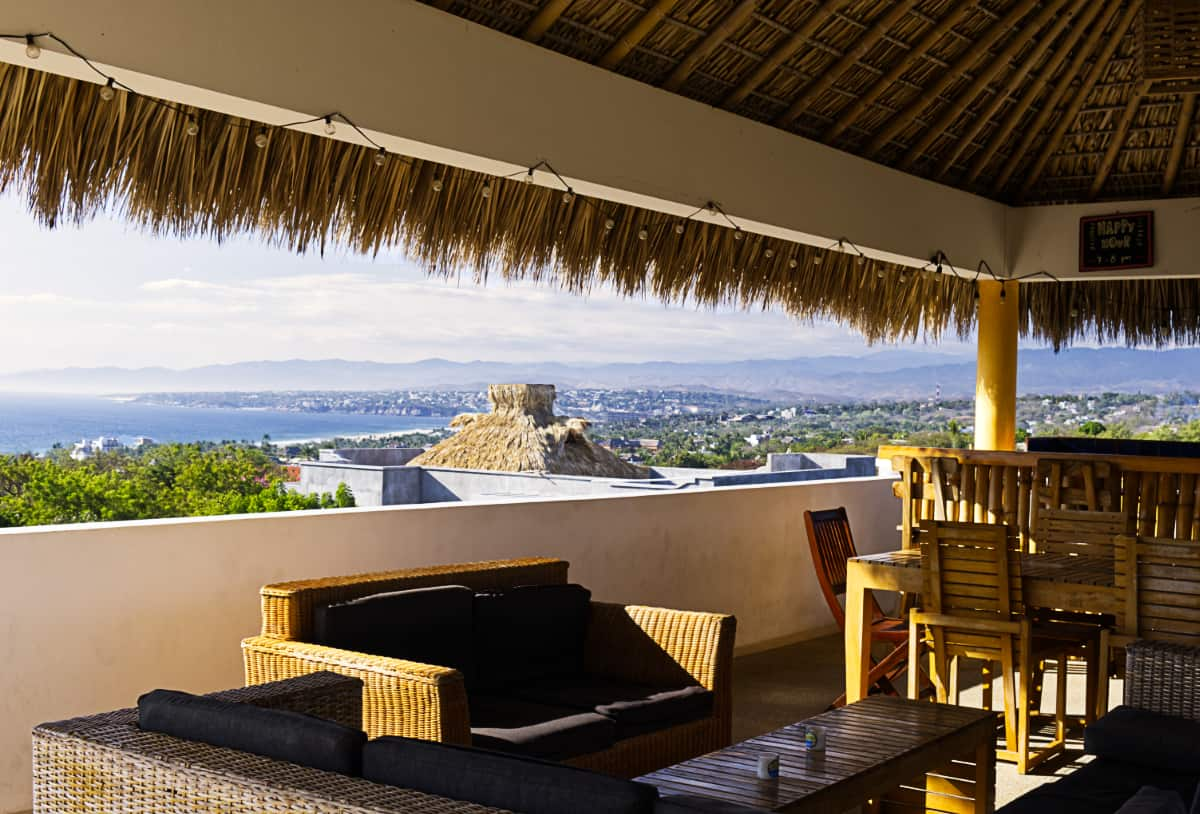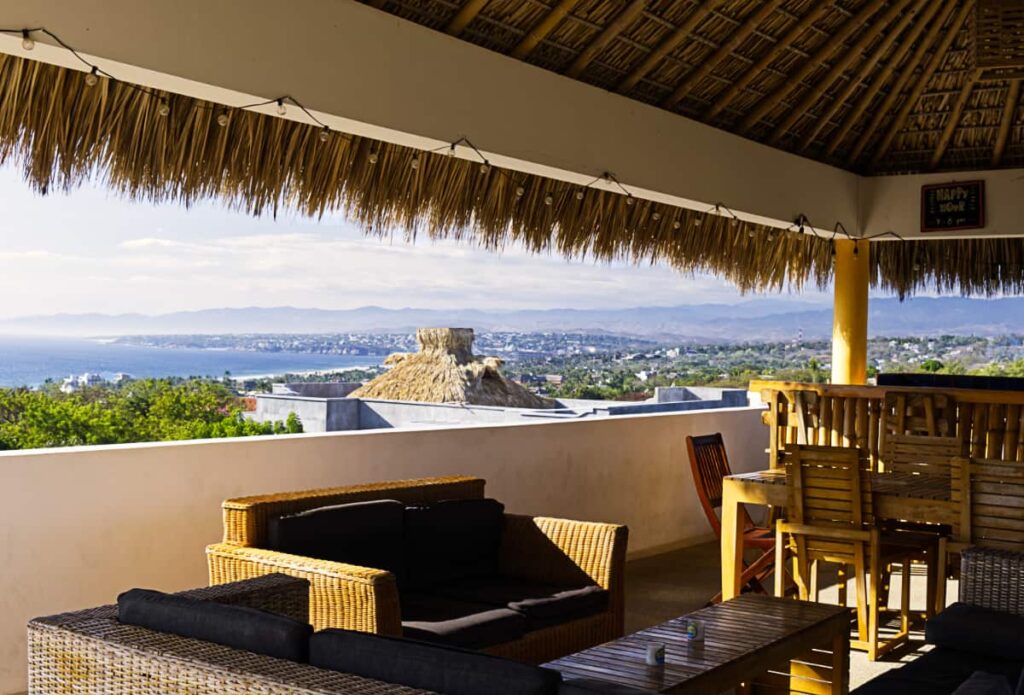 While the average stay at Villas Bonobo is only four days, the owners find other ways to foster a community. Every Wednesday, they host a rooftop BBQ at a set fee for all you can eat.
And throughout the week they organize group outings to other events, such as open mic night in La Punta and a Monday suadero taco night at one of the best restaurants in Puerto Escondido.
They do accept dogs with pre-approval.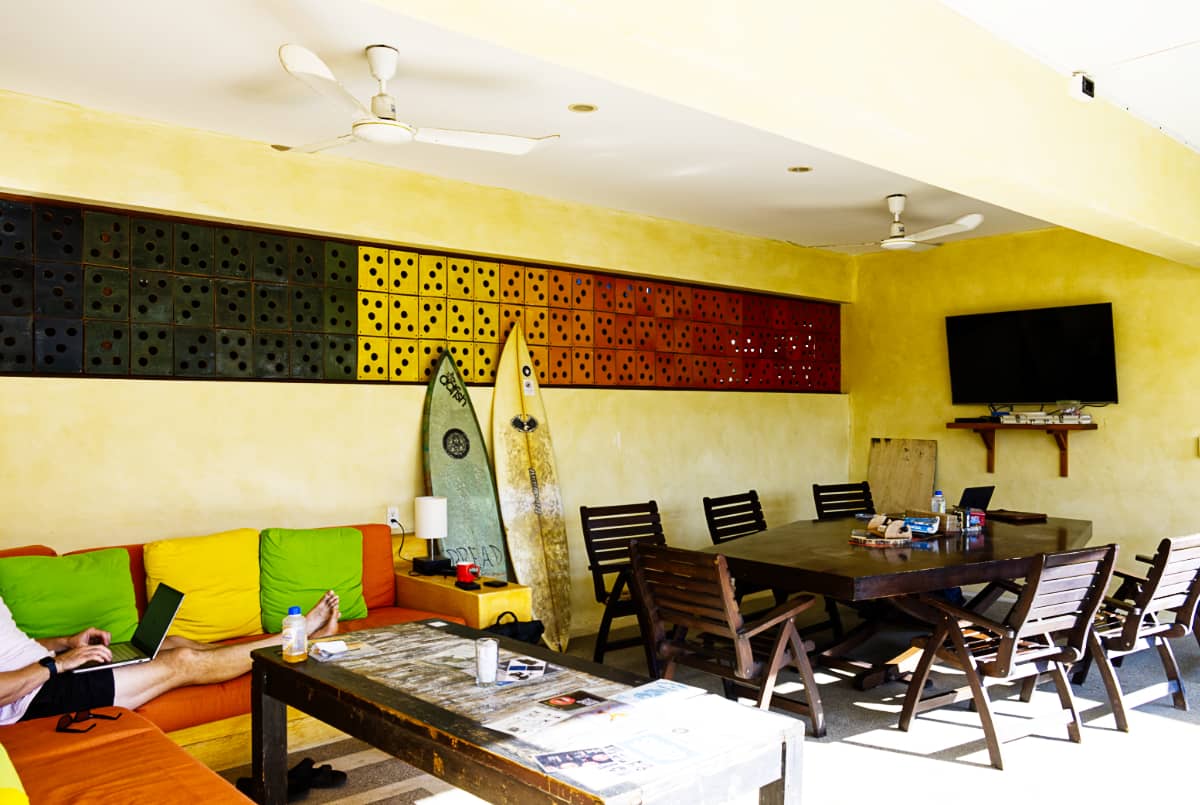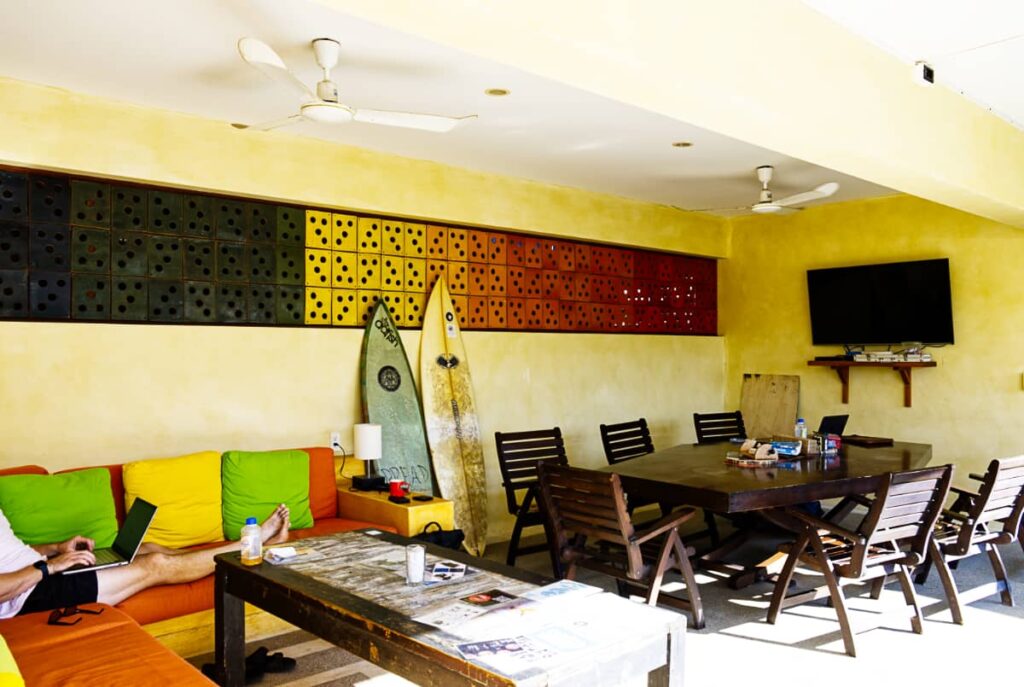 Villa Bonobo Location
Villa Bonobo is located in La Barra, a slightly remote area of Puerto Escondido, and about a 20-minute walk to La Punta. It's also within walking distance of a non-swimming beach that is best for sunrise and sunset walks to the large rock formations at this secluded beach near La Punta.
You can also walk five minutes to catch the colectivo pickup trucks that bring you into centro for 10 pesos. Keep in mind, the colectivos stop around sunset and a taxi to the center will cost about 120 pesos. While it's generally safe to walk from La Punta in the evenings, you do need to be wary of stray dogs along the route.
5. Casa Losodeli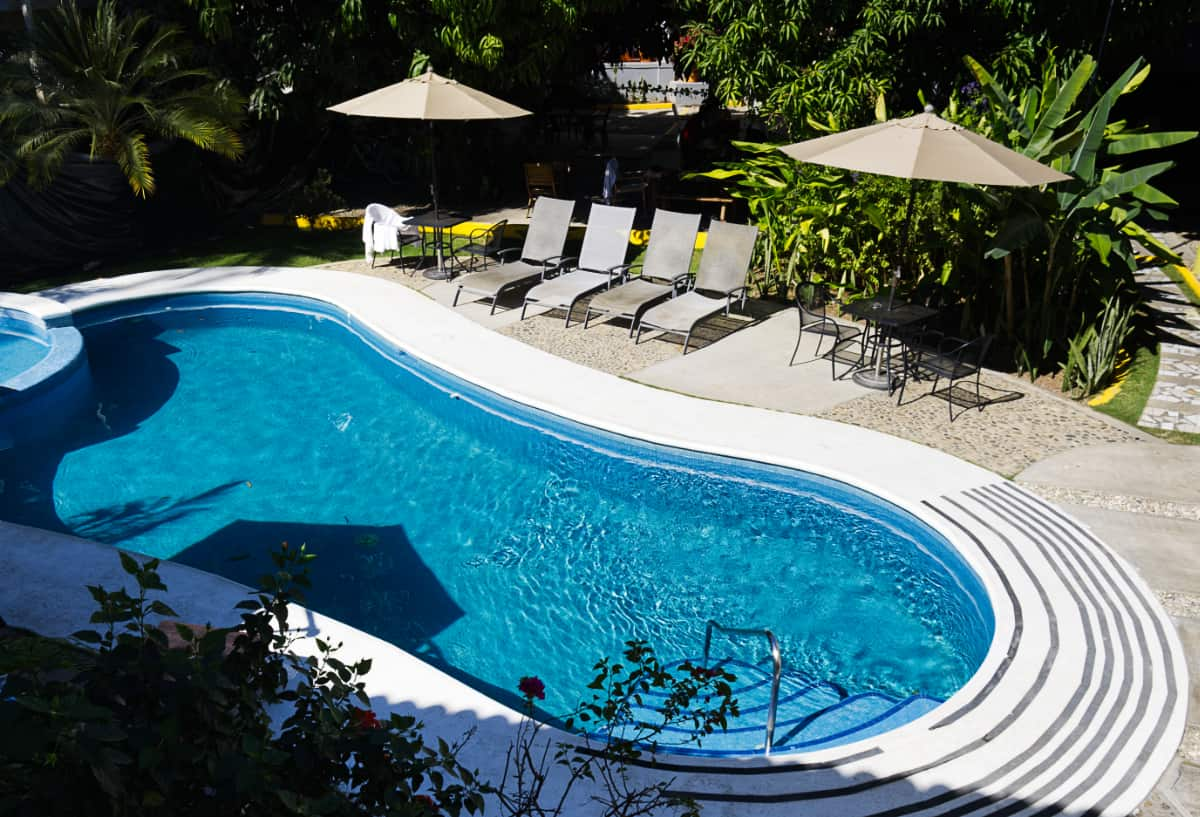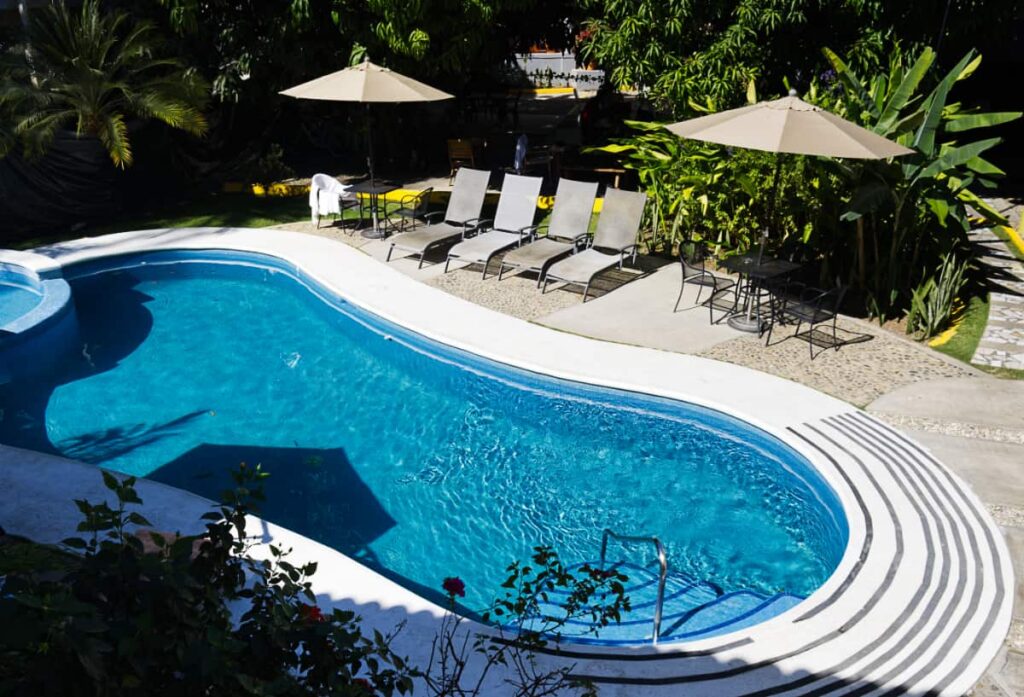 While some may not classify Casa Losodeli as a coliving space, I'm including it here because it's a great place to stay if you're new to Puerto Escondido.
Casa Losodeli draws a community of digital nomads that are more focused and mature than travelers that tend to stay at the many Puerto Escondido hostels.
When you book a room at Casa Losodeli, the formal coworking space is included in your stay. Plus, the places to work expand to the shaded garden area as well as the rooftop with ocean views.
When I stayed at Casa Losodeli, I was surprised at the number of people that were living there for a month or more. It was nice to connect with other remote workers in the evenings around the pool and bar and in the mornings, see familiar faces even if it was behind their laptops.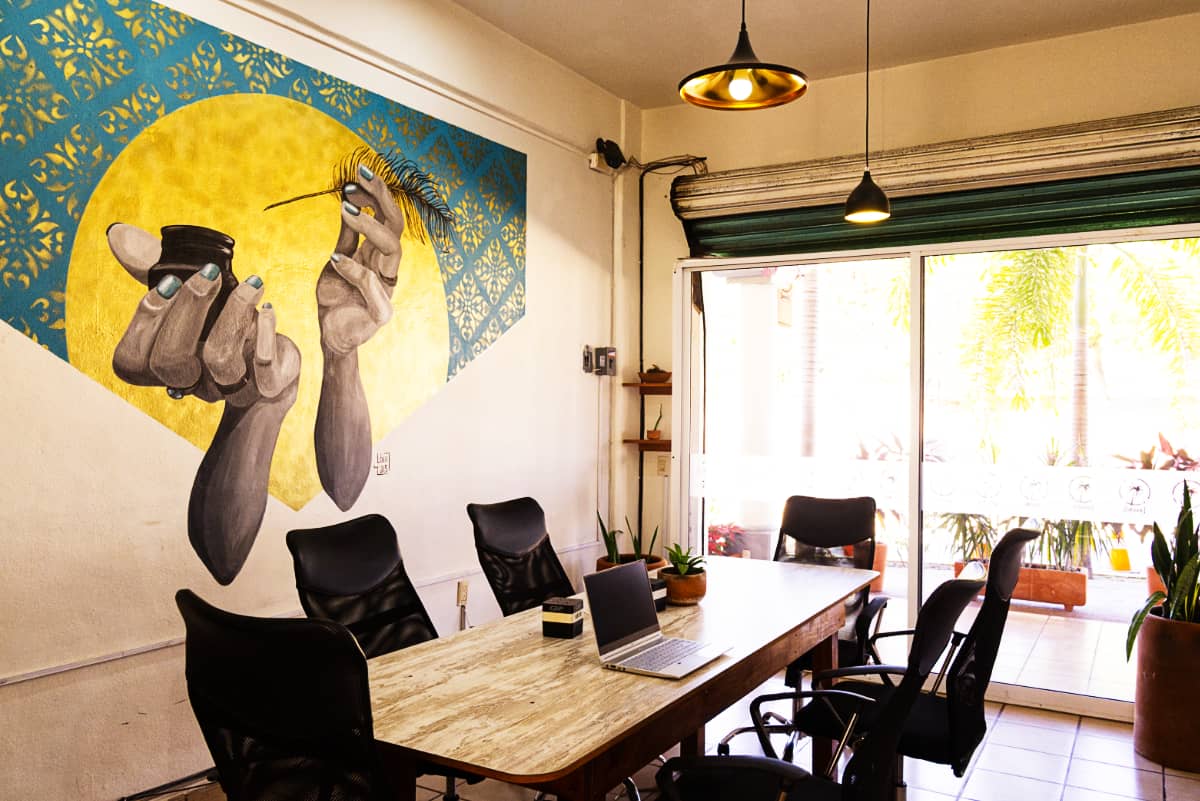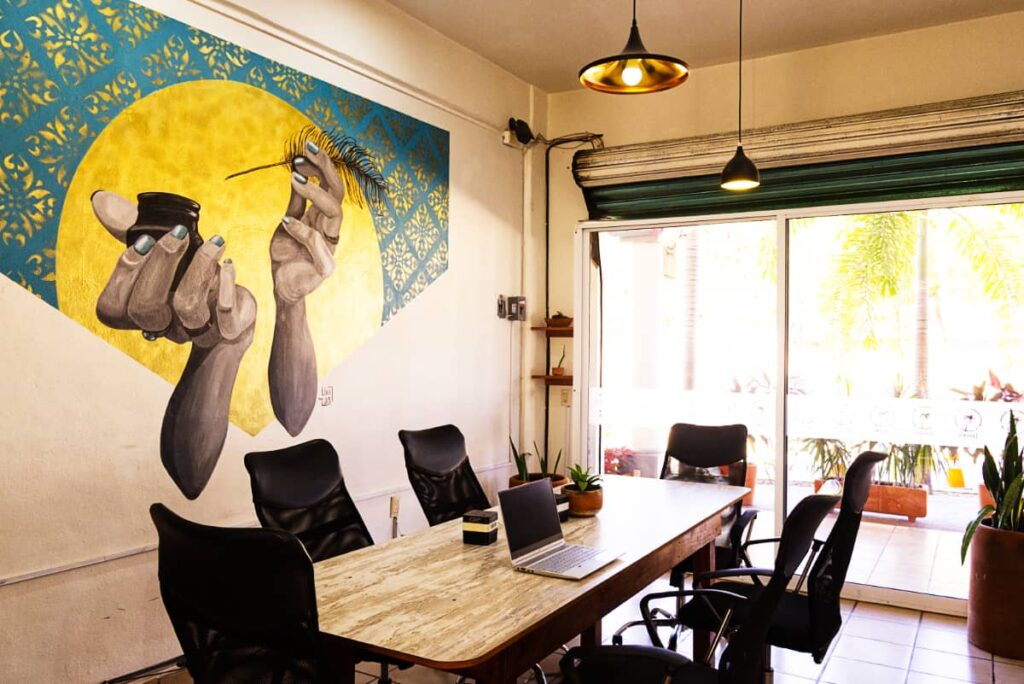 Casa Losodeli Location
One reason I think Casa Losodeli is a great place to stay in Puerto Escondido is the location. It's conveniently located a short walk to centro and on the edge of Rinconada. In my opinion, this area has the best beaches in Puerto Escondido for swimming, plus it's close to lots of restaurants.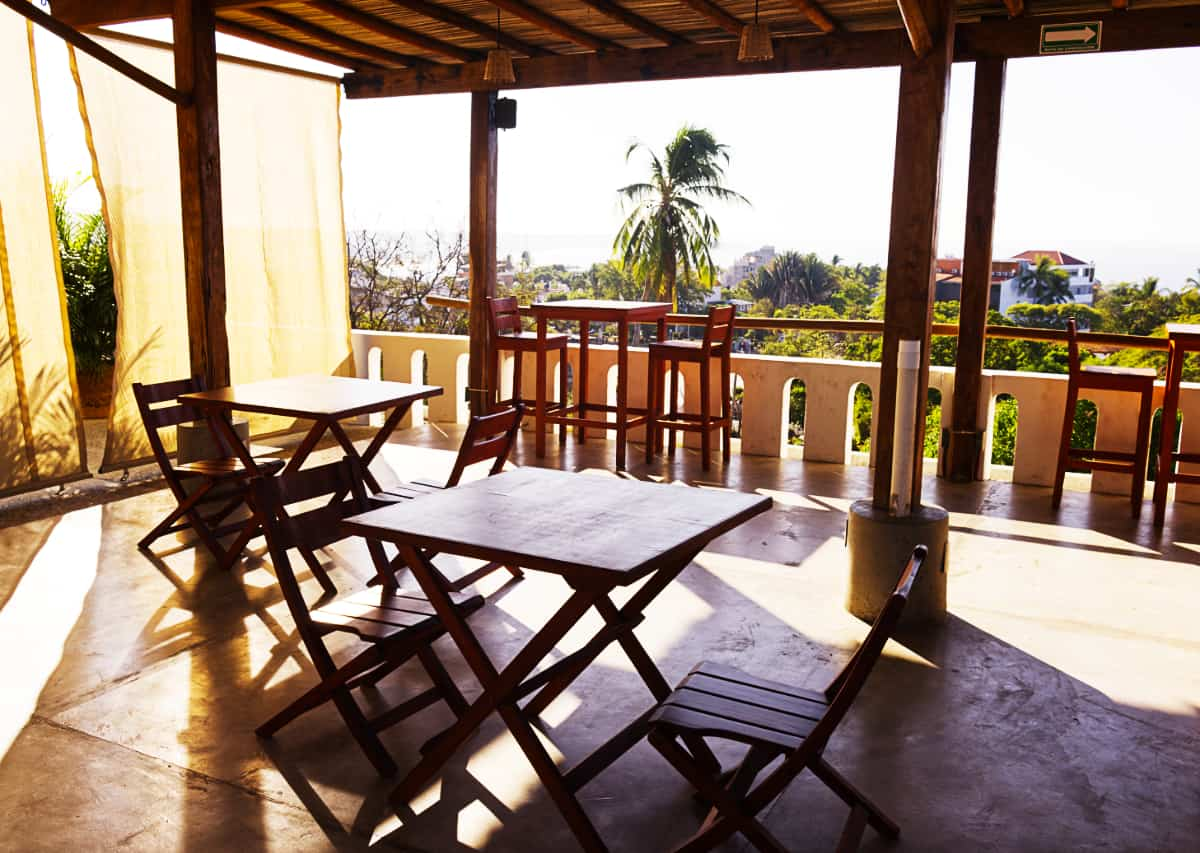 Casa Losodeli has both private and small dorms available. The grounds include a large swimming pool surrounded by gardens, a well-stocked shared kitchen, and a third-floor rooftop where they host yoga and other classes.
6. SobreLuna Coliving in La Punta (Coming 2024)
The founders of SobreLuna desire to create a paradise in which the global community harmoniously connects to each other between moments of rest, work, and play.
The name, which is derived from the words "on the moon" in Spanish, was born from contemplating what is the ideal way for humans to live. While decades ago, we may have thought humans would be living on the moon, the founders of SobreLuna believe people today are moving towards living in a beautiful place with an inspiring community.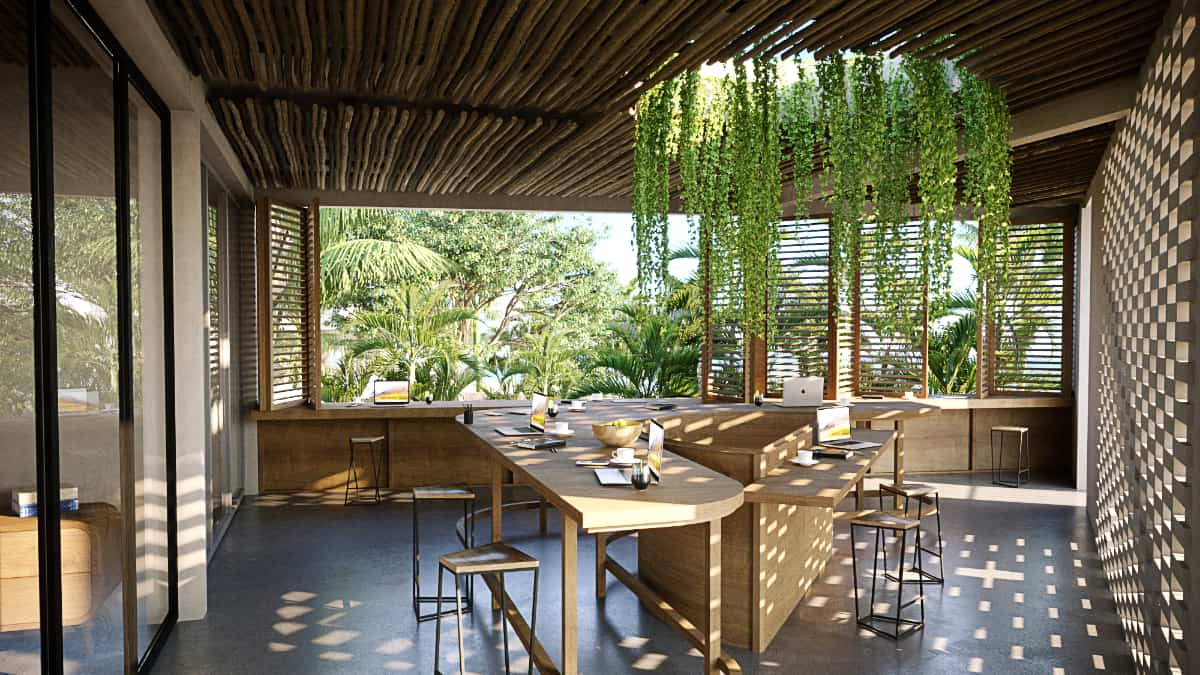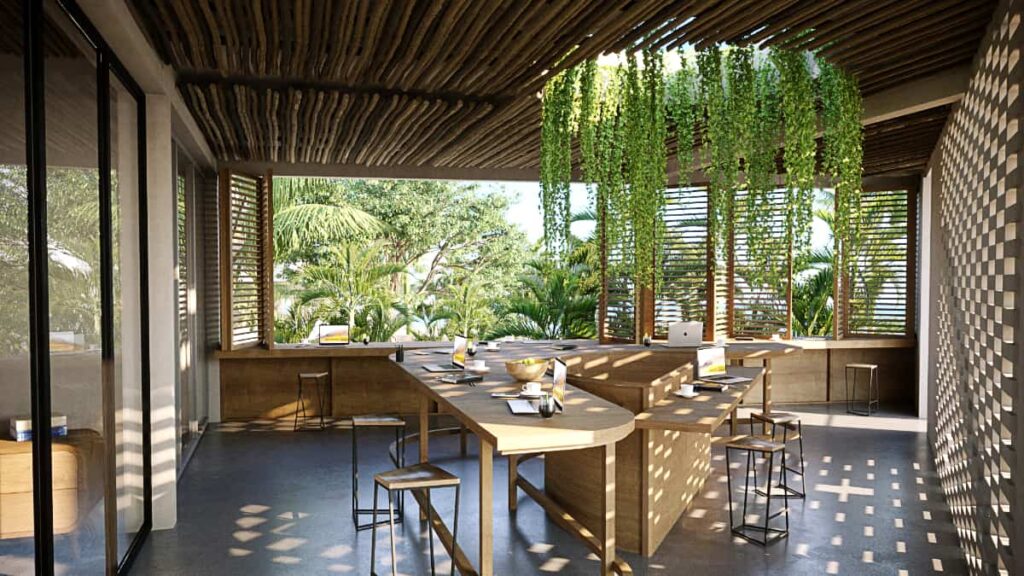 And as the former Director of Community for Remote Year, SobreLuna cofounder Travis King has experience bringing people together to build community.
"I think it's important when you're trying to build a community to make sure everybody feels very invited to not only receive but to participate and give," Travis said.
At SobreLuna, he envisions a large chalkboard to announce weekly events in three categories – personal development, wellness, and social.
He explains, "If you have an expertise, you can sign up to give a talk on that subject… Or if you're an acro yoga teacher, you can sign up to create a wellness event so that while you're at SobreLuna you can share your gifts, not just receive."
The blueprint of SobreLuna was designed with the intention of giving what's been taken from nature right back to the land while keeping every aspect of the land, trees, and aesthetics in mind. The idea is to seamlessly connect the space to both the natural environment and the neighborhood of La Punta in which SobreLuna is located.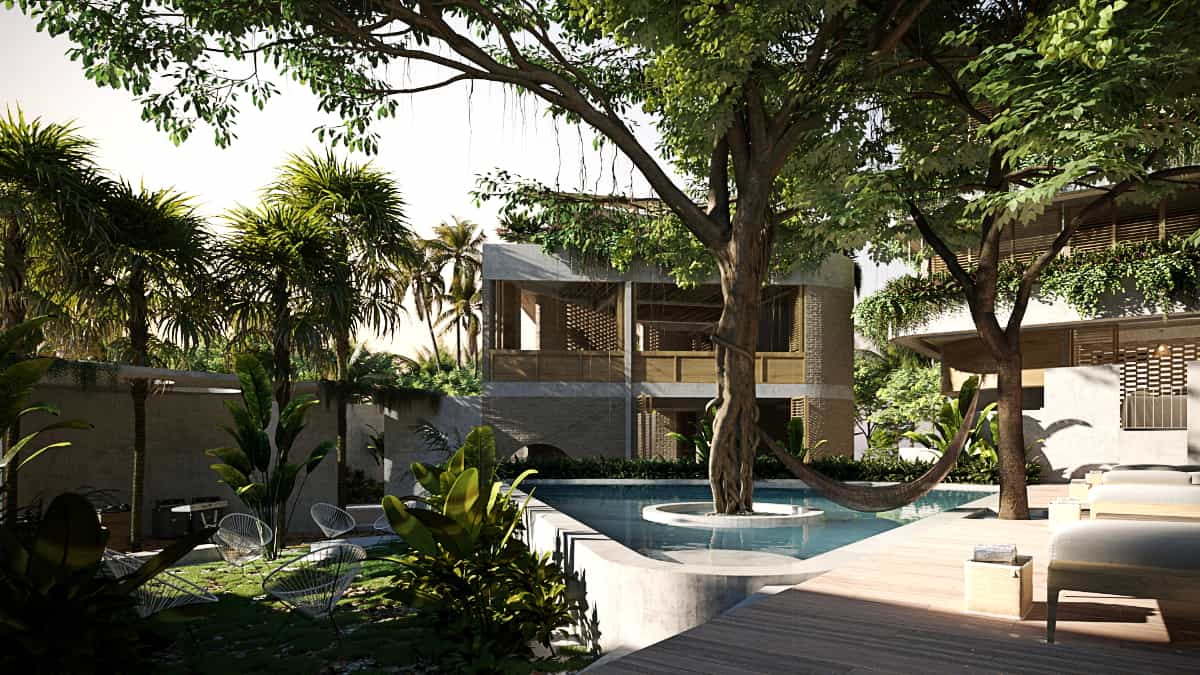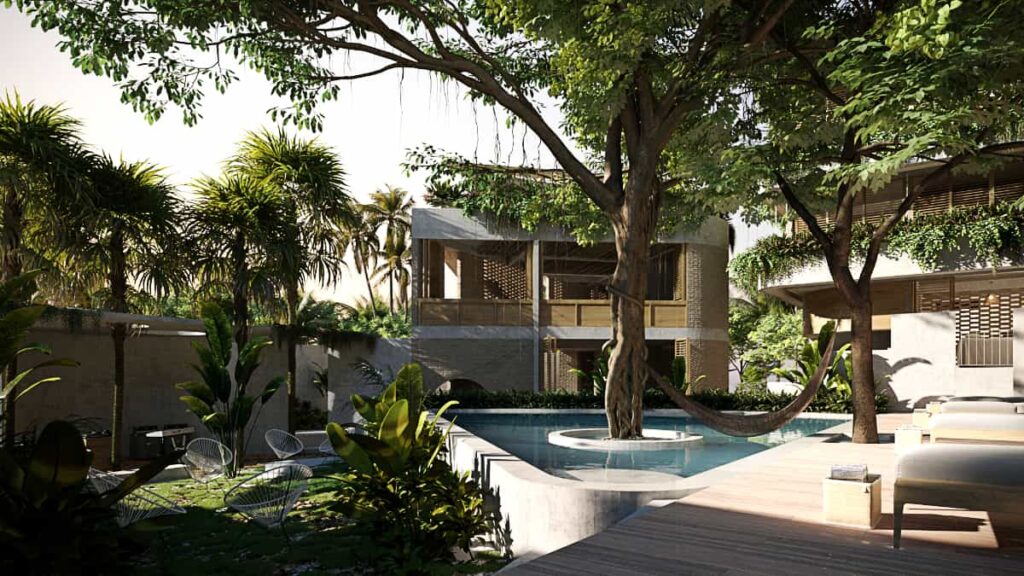 The architecture takes into account the optimal orientation of the buildings and the topography of the land while incorporating gardens as a way to capture and reuse every natural resource available.
For example, the designer Diego planned the health deck to face the ocean to create an idyllic space for yoga and other wellness activities. He also designed the swimming pool to be built into a natural dip in the land.
The finished development at SobreLuna will include separate coworking and coliving spaces that co-exist with the surrounding gardens, pool, and bar area. In addition, there will be a multi-use pavilion, a peaceful hammock area, a workout room, and a bicycle and surfboard storage area.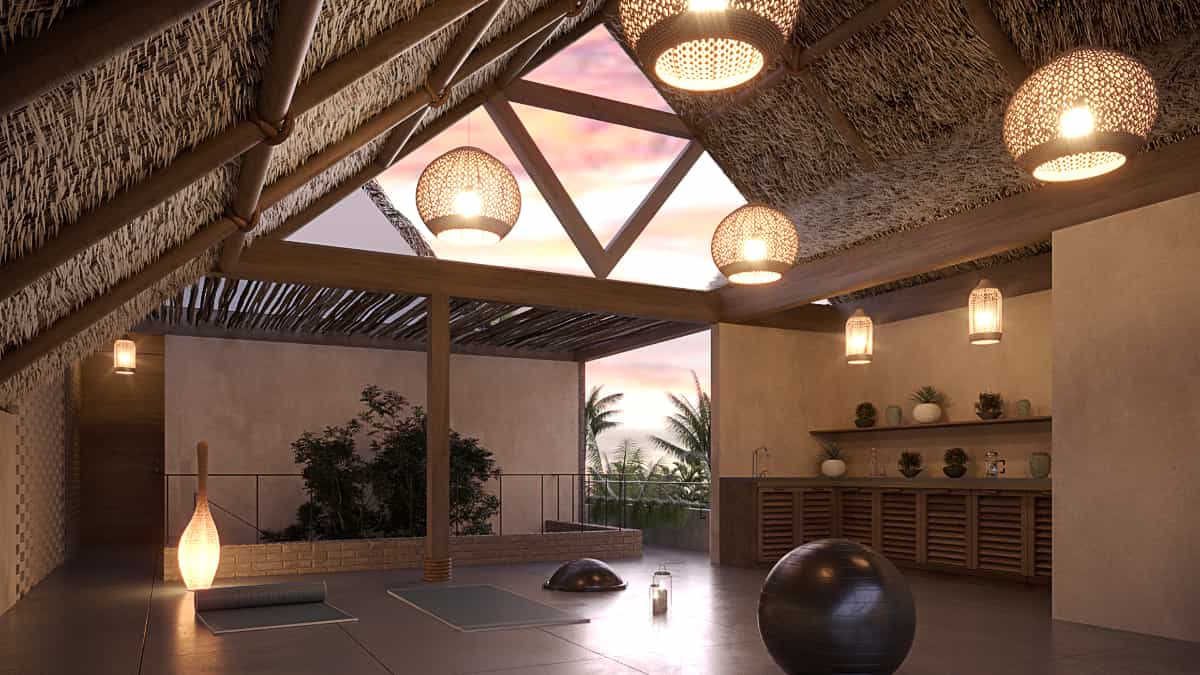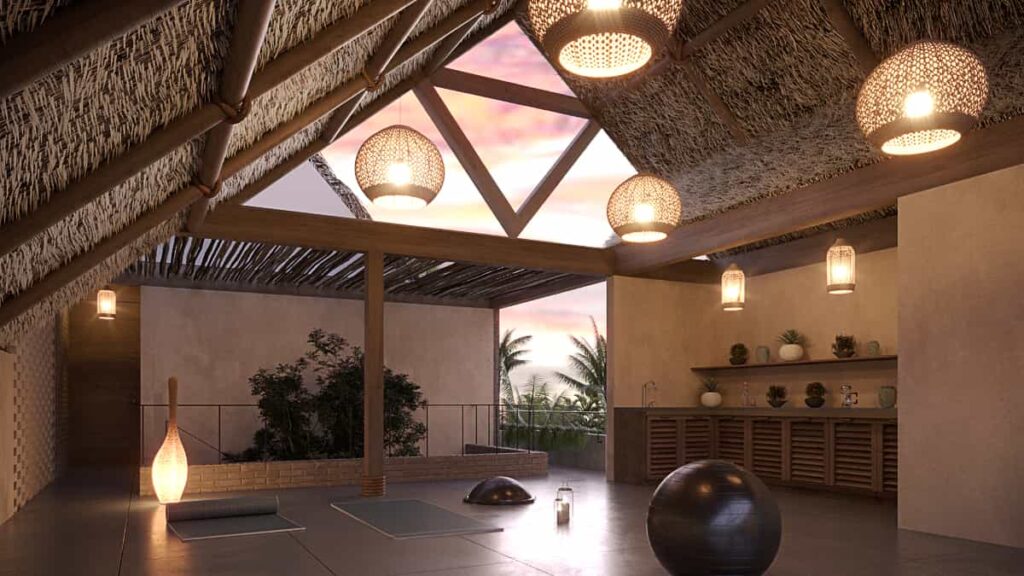 Similar to other Puerto Escondido coliving spaces, SobreLuna is a sustainable development. In addition to building on only a portion of the land, they have incorporated biodigesters, solar panels, and a large cistern into the construction.
SobreLuna Location
SobreLuna is conveniently located in the heart of La Punta, Puerto Escondido. It's a vibrant area close to the beach and some of the best restaurants in Puerto Escondido.
7. Ñuu Sustainable Coliving Community (Coming 2024)
Located about 30 minutes outside of Puerto Escondido in the remote town of Puertecito, ñuu was created with a vision for a new way of living, working, and connecting with nature.
The philosophy behind ñuu, which translates to community in the local Mixteco language, is to create a coliving community in a peaceful environment with breathtaking ocean scenery to inspire guests' creativity. And to do so in a way that minimizes the impact on the environment.
As one of the first developments in the area, the founders of ñuu want to set the standard for sustainable development with regard to the coastal ecosystem and respect for the environment.
"What we are building here is a beautiful and sustainable development," the founder, Caitlin Padget, explains. "It supports the community and reforestation and replanting initiatives. And it provides a sustainable prototype for development in the region because of the sustainable technology we'll be using here at ñuu."
The project includes 8 self-contained bungalows, a two-level coliving space, and a separate coworking space with a cafe and yoga deck that features a beautiful sunrise over the ocean.
To reduce the environmental impact, they have designed a system that recycles 100% of the water used throughout the property. It will be reused to water the gardens that surround the working and living spaces. In addition, they have installed a system of biodigesters in place of a septic system so that the wastewater is properly treated.
ñuu is a Puerto Escondido coliving community that is ideal for those that want to live lightly while being inspired by their surroundings and others in the community.
El Puertecito Coliving Location
ñuu Coliving Community is located in El Puertecito, Oaxaca which is a small fishing village of 300 residents.
Located about 30 minutes from Puerto Escondido, El Puertecito, is located along a long stretch of beachfront characterized by large rocks that form small pools along the beach.
That concludes this list of Puerto Escondido coliving spaces, including two of the largest developments which are scheduled to be completed in early 2024. I hope these help inspire you to find the right community in Puerto Escondido for you.