Where to Stay in Puerto Escondido By Neighborhood
Are you wondering where to stay in Puerto Escondido?
You've come to the right place as I have stayed in all of the main neighborhoods.
So what is the best area to stay in Puerto Escondido? Well, the answer depends on what you're looking for.
This article will shine a light on the best places to stay in Puerto Escondido so that you can decide which is the best for you.
I personally love that there are distinctly different areas of Puerto Escondido. If you want to be close to the best beaches for swimming, plan to stay in Rinconada.
Families and others looking for a centrally located neighborhood will prefer Bahia Principal. Budget conscious travelers that crave the most authentic Mexican atmosphere will enjoy centro.
Young travelers will gravitate towards the bohemian hipster vibes of La Punta. Experienced surfers will want to plant themselves in Zicatela. And if you truly want to get away from it all, the best area to stay is La Barra.
Keep reading to discover the best place to stay in Puerto Escondido for you!
This article may contain affiliate links. This means if you click a link on our blog and make a purchase, we earn a commission at no additional cost to you. For full information, please see our disclosure.
Where to Stay in Puerto Escondido – Neighborhoods
There are six main areas to stay in Puerto Escondido. The atmosphere ranges from a party scene to low-key family vibes.
While all of these Puerto Escondido neighborhoods are within the city, they stretch along the coastline.
Some areas are small enough to walk from one to another while others will require taking a taxi or colectivo.
You'll likely want to visit multiple areas but will spend most of your time in one or two which is why I think it's important to first determine which area of Puerto Escondido fits your needs.
Keep in mind, I've included a hostel in the quick view for each area when appropriate. But if that's what you're looking for, make sure you read my post about the best hostels in Puerto Escondido.
Rinconada – Where to Stay in Puerto Escondido for the Best Beaches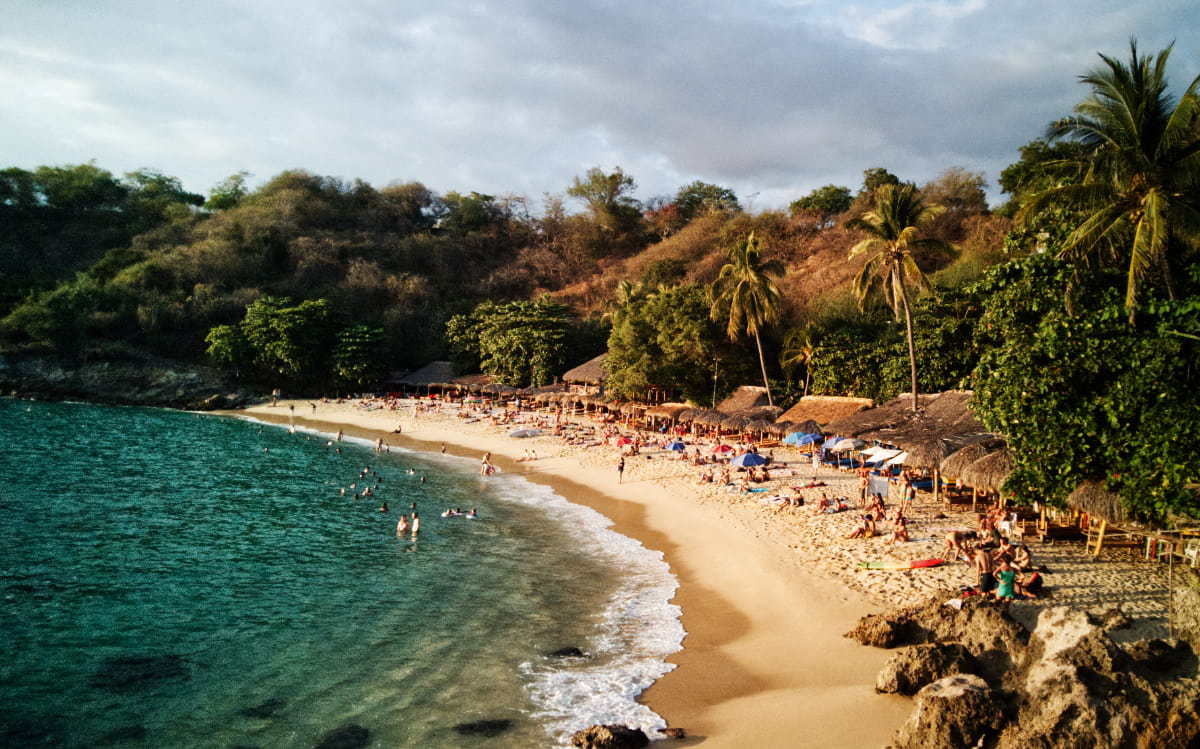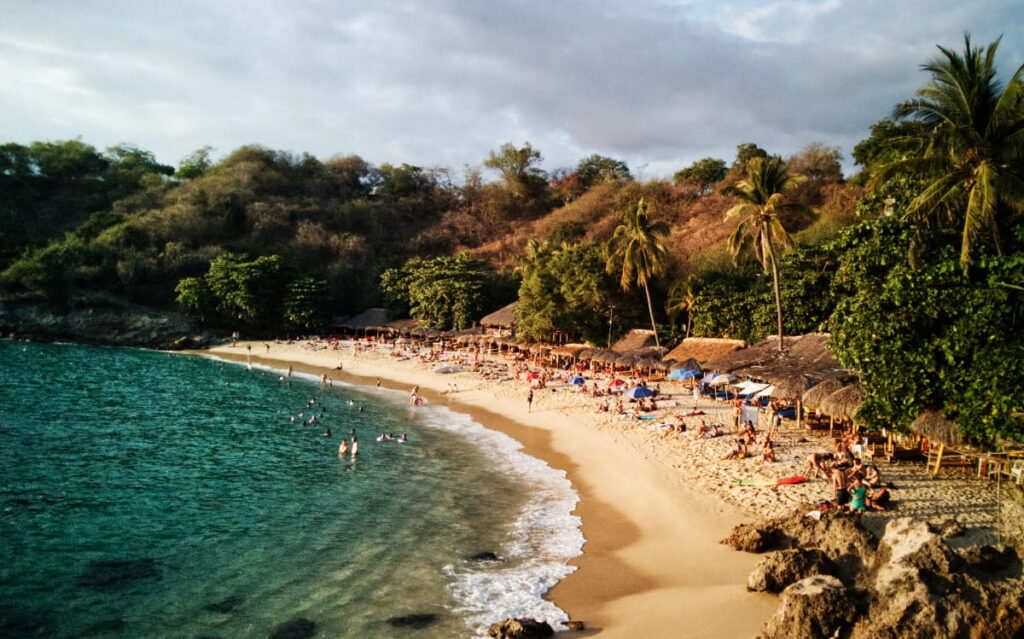 This Puerto Escondido neighborhood is close to the best beaches in Puerto Escondido for swimming. It's also a good blend of restaurants and homes – quiet enough but with a lively dining scene.
And when you want a more local feel, it is within walking distance to Centro. Or check out the next Puerto Escondido neighborhood which is located between the two.
Villas Carrizalillo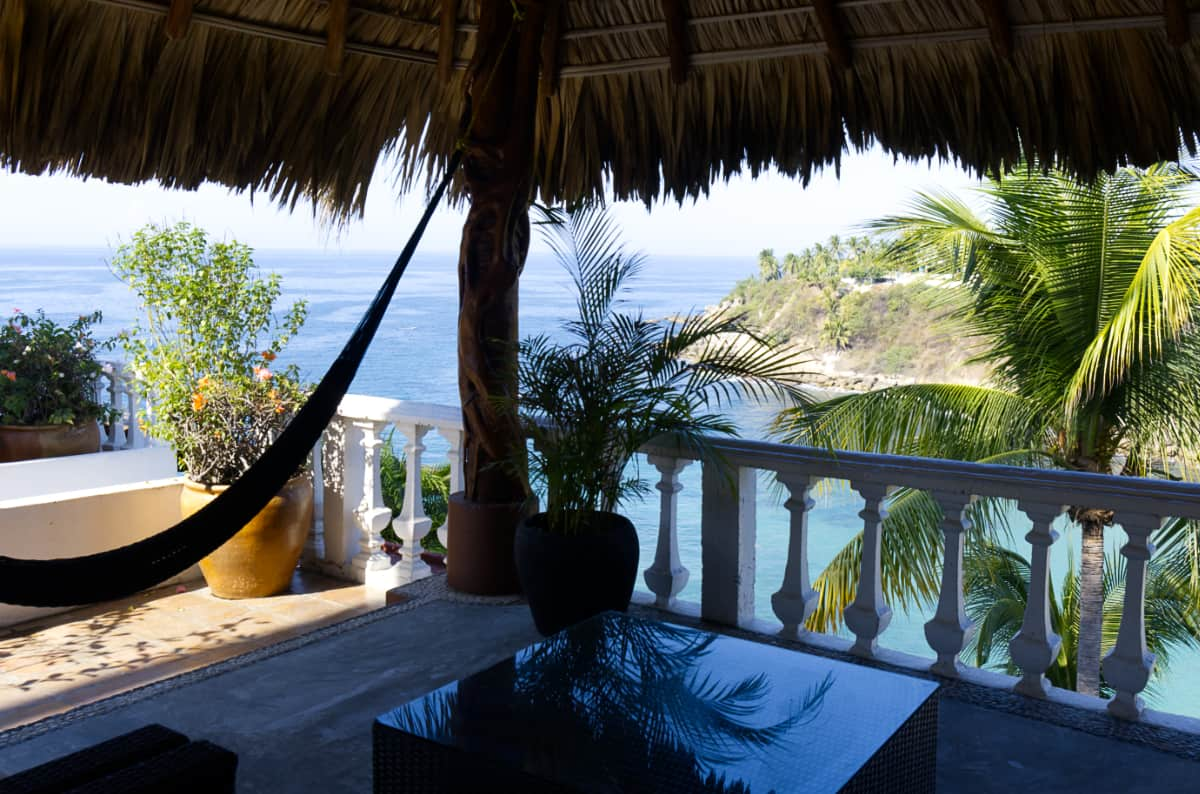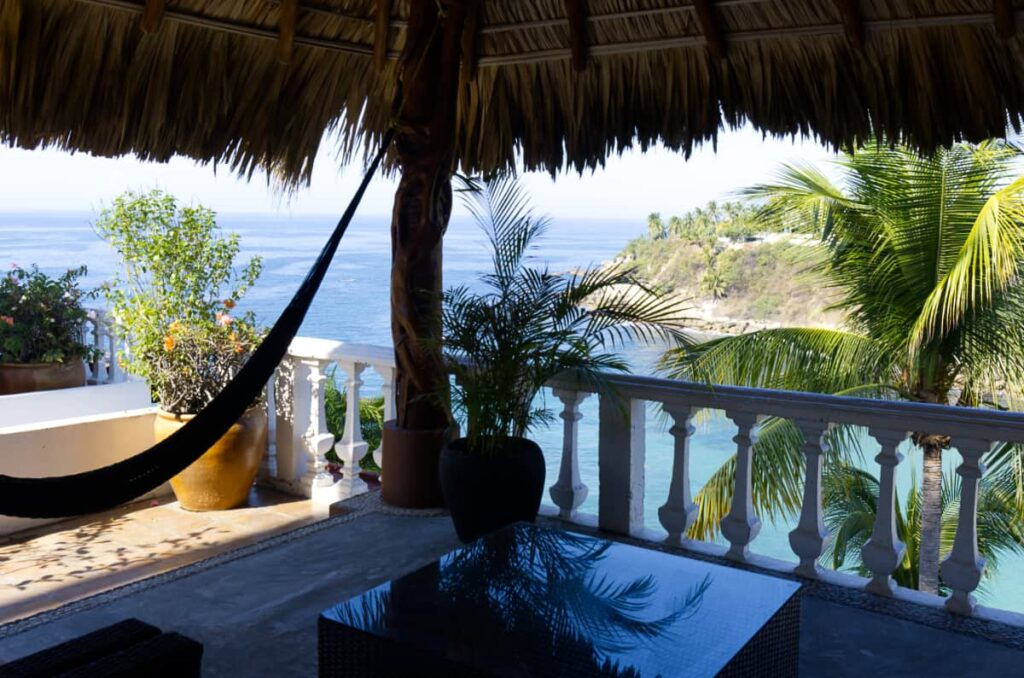 Incredible ocean views surround Villas Carrizalillo, which is located perched above the beach by the same name. The details of this hotel are tastefully designed withot feeling like a resort.
As you enter this boutique resort hotel, follow the pathways that wind through gardens. Just past the pool and cocktail lounge are mesmerizing views of Playa Carrizalillo and the open ocean.
You should book a Suite with Sea View and a private balcony to enjoy the views with coffee or a cocktail. Other options include a suite with garden views and a two-bedroom villa for families.
The on-site restaurant is also a great place to spot whales during breakfast. While the restaurant is open to non-guests, Villas Carrizalillo does an excellent job of maintaining the privacy of the hotel.
Casa Conicarit
Casa Conicarit features the best parts of a hostel blended into a boutique hotel.
Guests love the common areas which include board games, air hockey, a pool table, a movie room, and a fully equipped kitchen.
The adults-only property includes a beautiful pool surrounded by ample loungers and umbrellas.
And the upstairs terrace features a space for yoga as well as a secluded palapa massage room.
When you book a stay at Casa Conicarit, you'll also love the fabulous location between two of my favorite beaches and just one block from the restaurant strip in Rinconada.
Suites La Hacienda
The grounds of this boutique hotel in Puerto Escondido feel like a tropical oasis.
Past the gated entrance are manicured walkways that lead to a gorgeous traditional home.
The central courtyard features a refreshing pool surrounded by tropical plants and plenty of shady spots to relax.
Tucked into a quiet corner of Rinconada, Suites La Hacienda is in a great location just a few blocks from restaurants and the beach.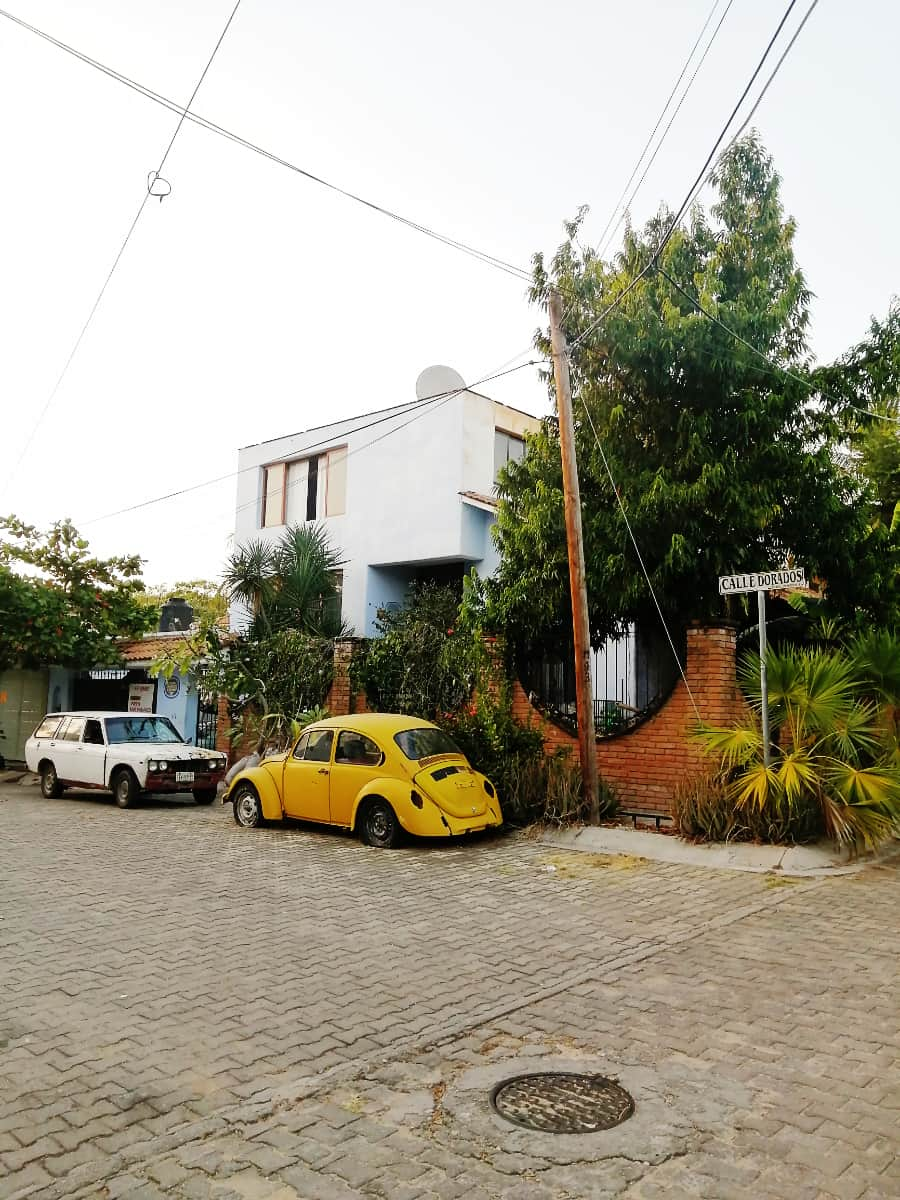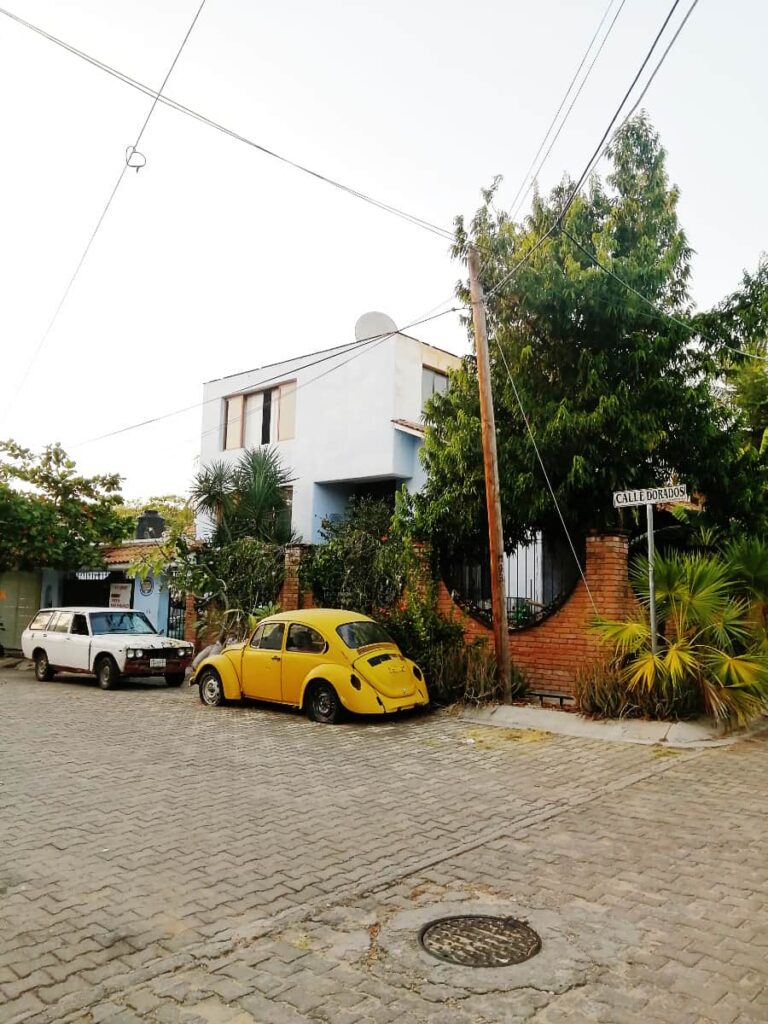 Quinta Carrizalillo
These 1-2 bedroom villas have lots of space for sleeping which makes this one of the best places to stay in Puerto Escondido for families and small groups.
Each of the apartments at Quinta Carrizalillo have a full kitchen and access to the covered pool.
Guests also love watching the sunset from the rooftop terrace. While the apartments are slightly dated looking, they are an incredible value in a great location of Rinconada.
Bahia Principal – Where to Stay in Puerto Escondido for Families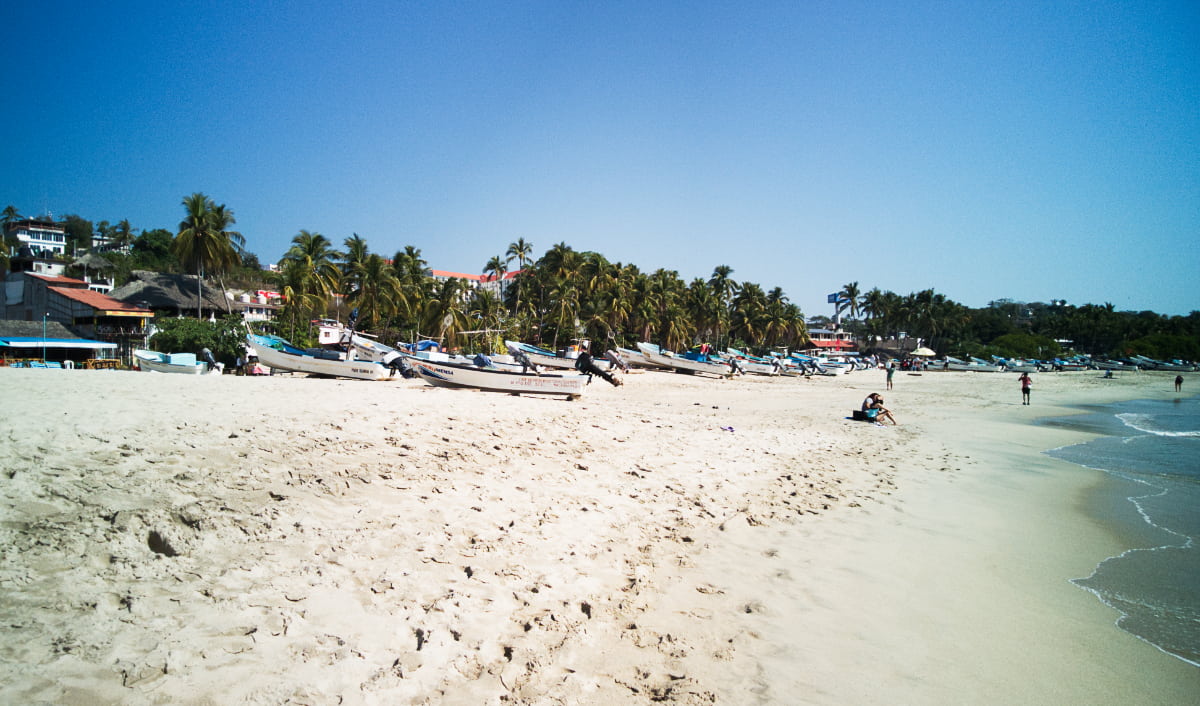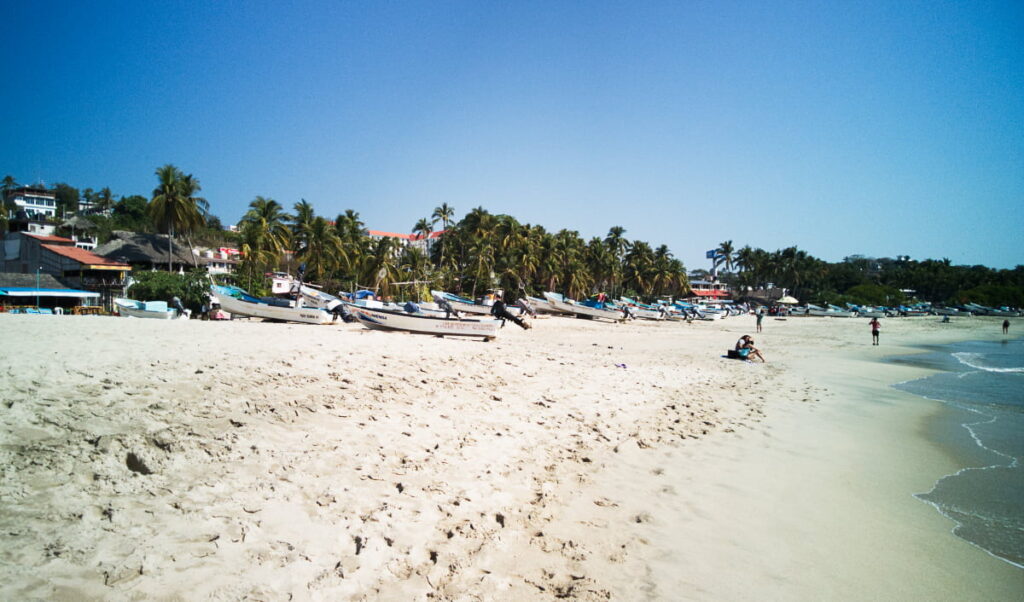 What makes this Puerto Escondido neighborhood the best place to stay for families?
It's centrally located near calm beaches, restaurants, centro, and a major grocery store. Bahia Principal is also a mostly residential neighborhood with a small tourist strip of hotels near the beach.
For the purpose of this article about where to stay in Puerto Escondido, I've extended this neighborhood to include the area just west, called Sector Hidalgo.
In fact, you may not even realize it's a separate area located just before Rinconada. And you may seek this part out if you want to be closest to the best beach for families – Playa Manzanillo.
Hotel Paraiso Escondido
This is a family oriented hotel with traditional details that give it a distinctly Mexican feel. Guests love the convenient location and refreshing pool.
All of the rooms at Hotel Paraiso Escondido have air conditioning and a balcony (some with sea views).
And many of the rooms have multiple beds, which makes this a great place to stay for families.
Madre Tierra Apartments
These modern apartments are decorated with natural elements, hence the name which translates to Mother Earth.
Madre Tierra Apartments are located in a central location between downtown and the beaches.
Perhaps the biggest unexpected bonus is the coworking space with a proper workspace and high speed internet.
While this Puerto Escondido accommodation is called an apartment, only some of the options include a full kitchen. And several include a private plunge pool.
Hotel Barlovento
Located on a cliff near the ocean, this affordable hotel looks like a large villa. The property features a large outdoor pool with service from the hotel restaurant.
Due to the design of the building, many of the rooms at Hotel Barlovento have a lovely ocean view. Guests also love the location and attention from the professional staff.
The property is also quite large with a big grassy area and many palm trees. If you're looking for where to stay in Puerto Escondido, I highly recommend checking out this hotel.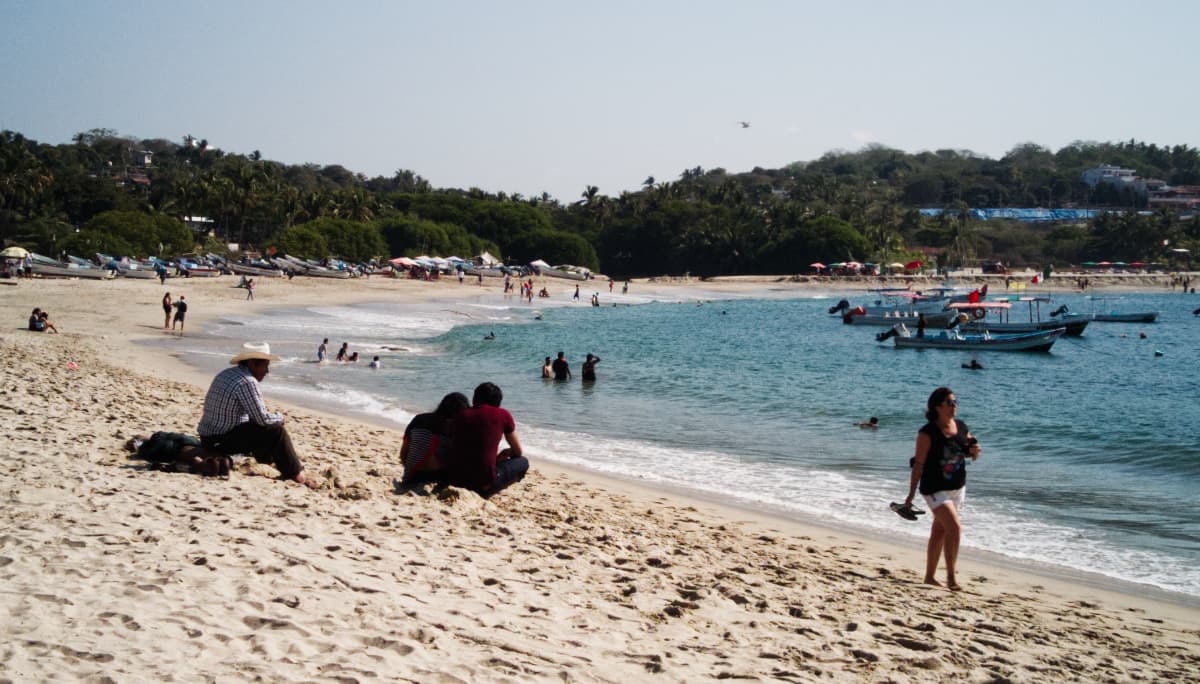 Hotel Careyes Puerto Escondido
Hotel Careyes is an affordable hotel in Puerto Escondido whose design resembles art deco meets the beach.
It's conveniently located between centro and several beaches that are good for swimming.
The comfortable rooms at Hotel Careyes have multiple beds. Some also have a kitchen and private balcony.
Playa Zicatela – Best Area for Professional Surfing and Nightlife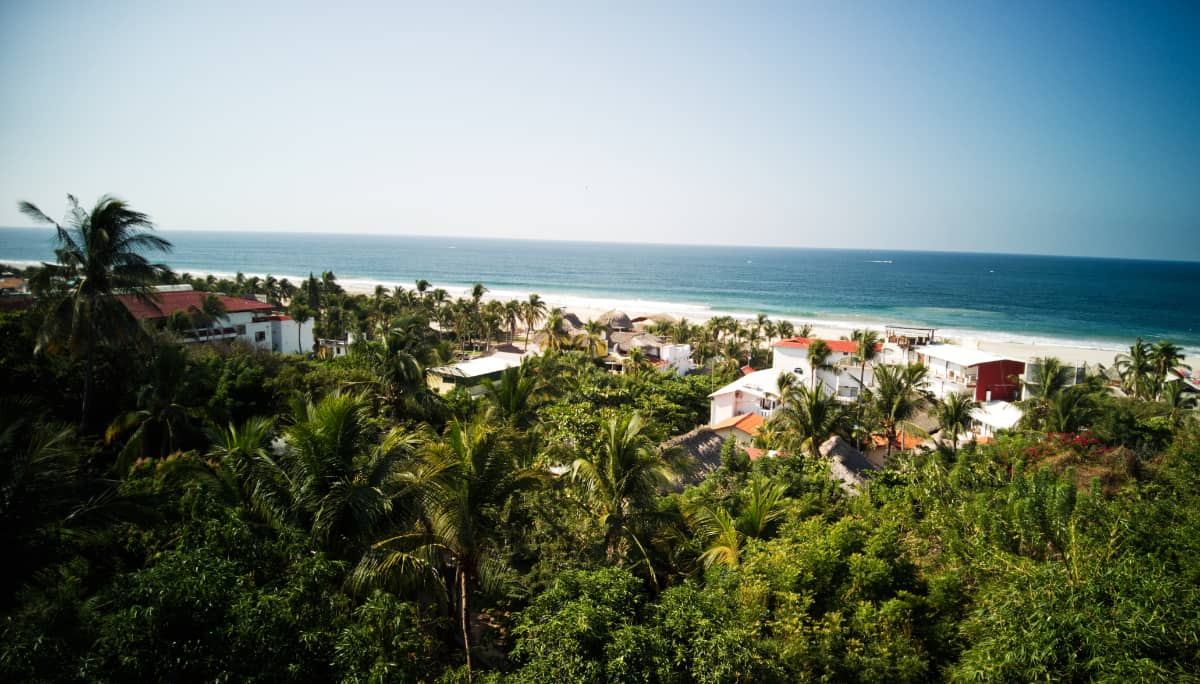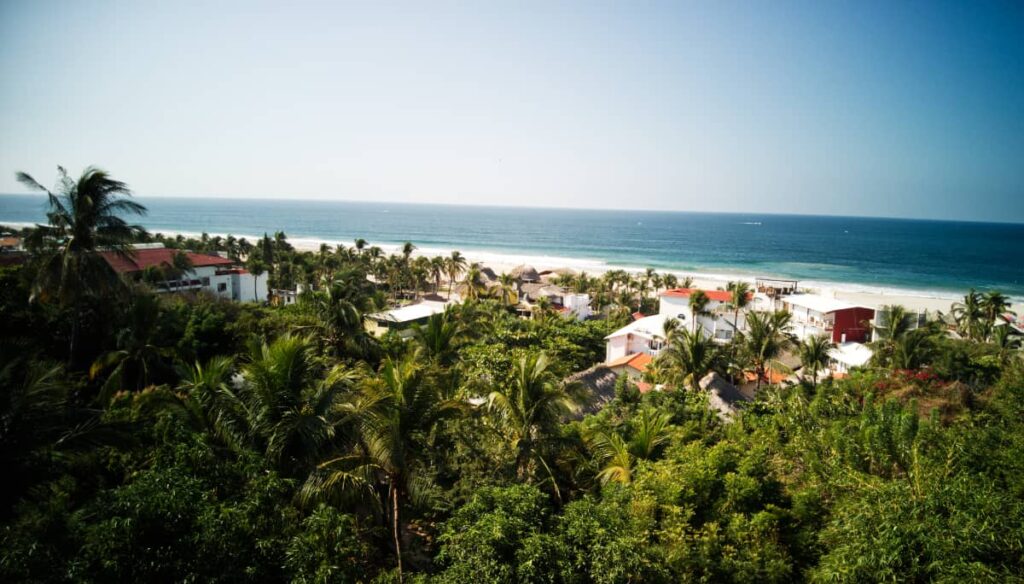 Playa Zicatela is one of the most popular areas to stay in Puerto Escondido.
It's famous for world-class surfing along The Mexican Pipeline (although surfing this beach should be left to the experts).
Professional surfers flock to Playa Zicatela for surf competitions in the summer and fall.
This means it's not a swimming beach. However, there are plenty of beach bars to patronize while you watch the surfers or soak up some sun.
Playa Zicatela is also known for nightlife. It's the place to go after dinner and drinks in La Punta which is convenient since one is essentially an extension of the other.
Casa Joseph Zicatela (Adults Only)
Casa Joseph is a luxury beachfront hotel in Playa Zicatela. They organize yoga on the beach in the mornings and host live music for sunset.
Each soundproof suite is beautifully decorated and features ocean views from the private balcony.
Located in front of the rooms at Casa Joseph is a pool and serviced beach area with shaded lounge chairs.
If you are a small group, there is a private bungalow available for up to 5 guests. It features a private pool and rooftop terrace with incredible ocean views.
Hotel Blater
This is a modern beachfront hotel in Zicatela with a rooftop pool overlooking the ocean.
The hotel includes an on site restaurant where you will enjoy beautiful sea views during breakfast.
When you book a stay at Hotel Blater, you can choose from a double or king room with ocean views or an apartment with a private kitchen.
The location is great, within walking distance but just outside the center of Zicatela for tranquility.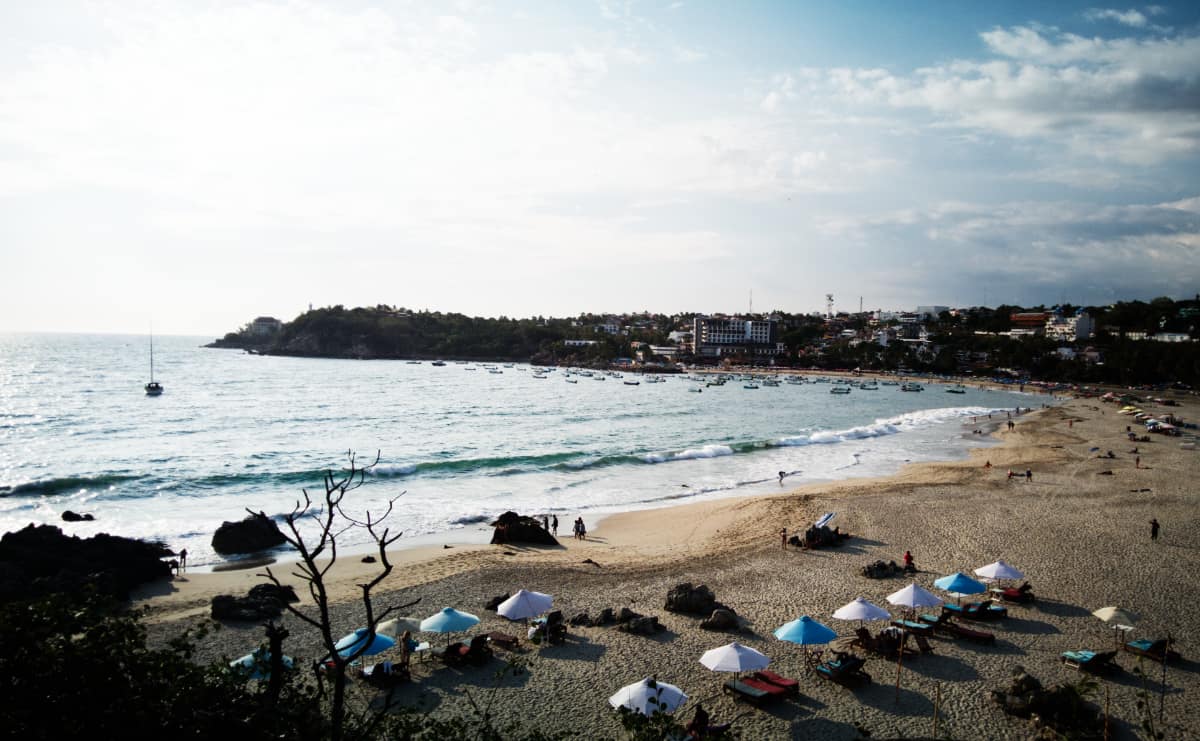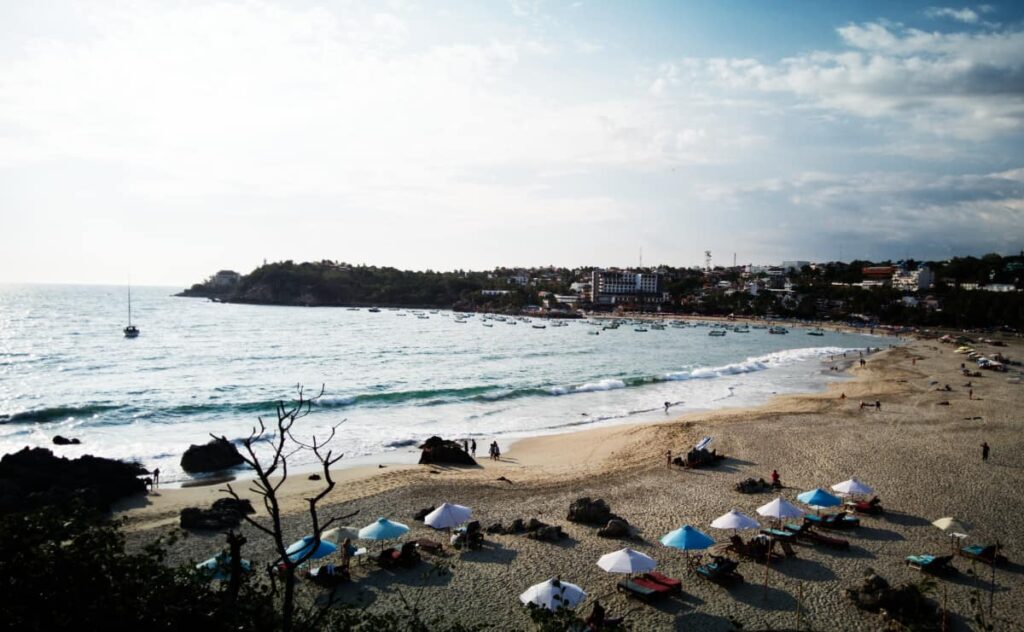 Bungalows Santa Cruz
A classic Mexican villa with a swimming pool surrounded by lush tropical gardens.
These bungalows are essentially an apartment, each with a lounge area and full kitchen.
Guests at Bungalows Santa Cruz shares facilities with the hotel next door, Hotel Santa Fe.
With multiple pools and a highly rated restaurant, it instantly expands your surroundings while maintaining the tranquil vibe at the bungalows.
This Playa Zicatela location is fabulous since it's within walking distance to other, more swimmable beaches.
Read Next – Best Things to Do in Puerto Escondido
La Playita Beach House
This beach house in Zicatela features a large pool, lounge areas, and tropical plants that create a relaxing, bohemian vibe.
La Playita Beach House feels like an upscale hostel with private rooms and a large open kitchen. Keep mind there is no air conditioner, though each room has a ceiling fan.
The location is steps away from the beach, although you'll need to walk or taxi to get to the heart of Playa Zicatela or La Punta. Both of these slight drawbacks are reflected in the low price.
La Punta – Best Area to Stay in Puerto Escondido for Bohemian Beach Vibes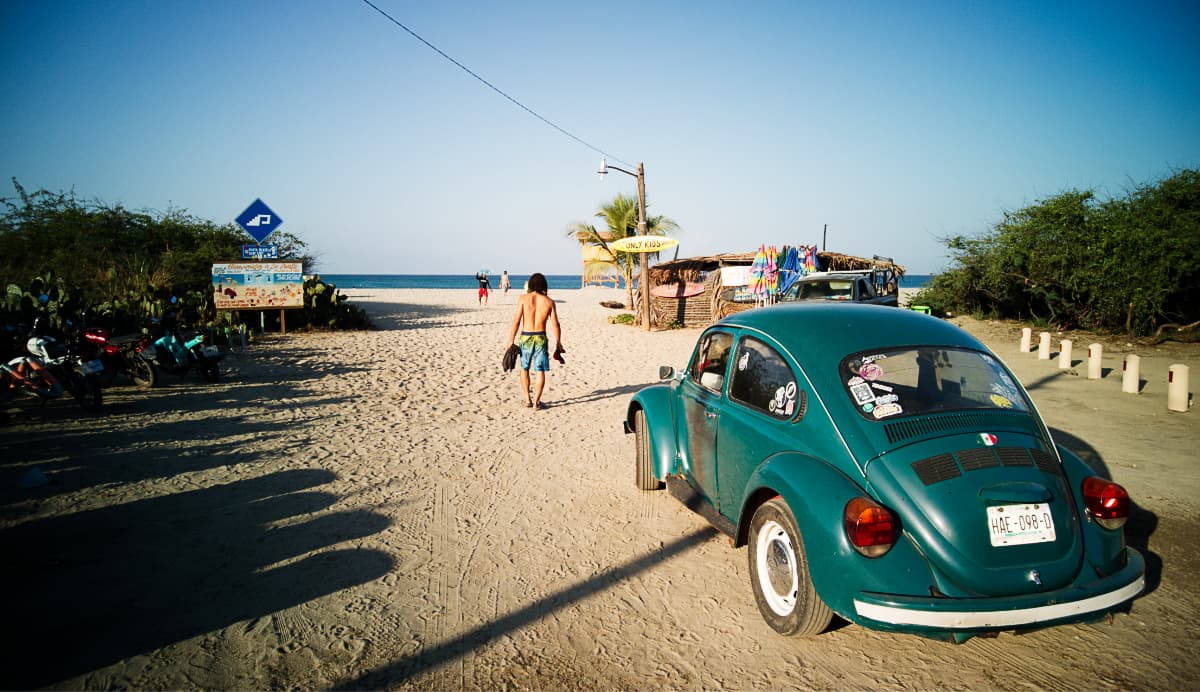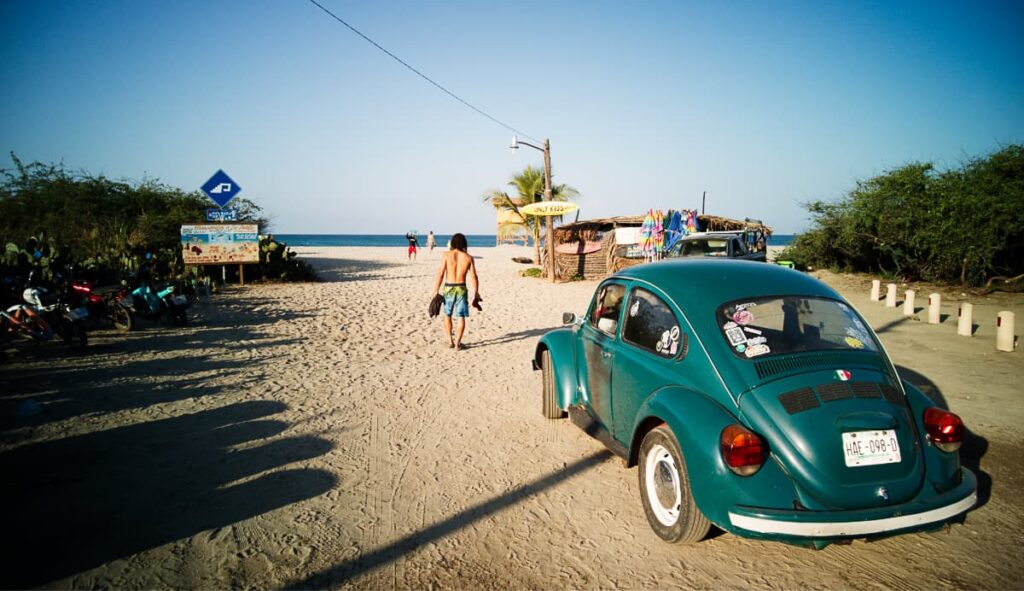 La Punta has become the place to stay in Puerto Escondido.
It's developed a bohemian hipster vibe that rivals Tulum. Although, thankfully the atmosphere retains some of its Mexican roots, at least for now.
During the day you can relax at one of the many beach bars that line the sand.
In the afternoon, join a game of volleyball or surf at its beginner to intermediate surf break.
And in the evening, watch a mesmerizing sunset over the ocean.
La Punta is also the best place to expand your dining options beyond Mexican food. The international restaurants are plentiful, ranging from Peruvian to Thai, the best of which are featured in this list of my favorite restaurants in Puerto Escondido.
Casa Kuaa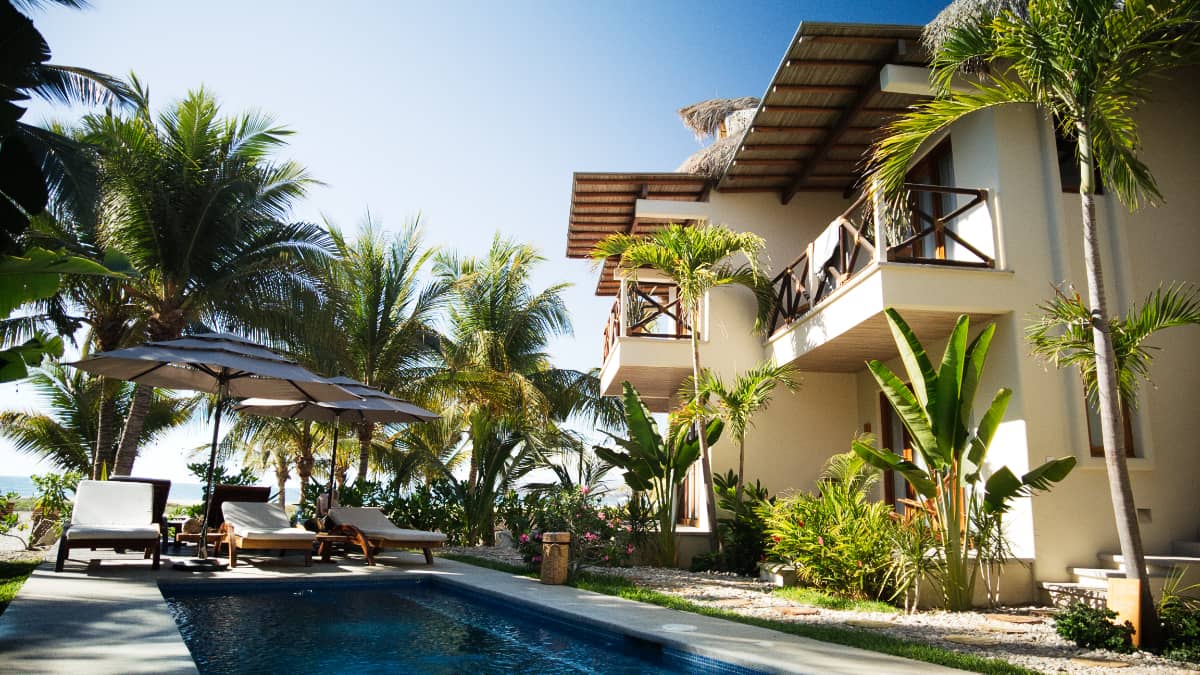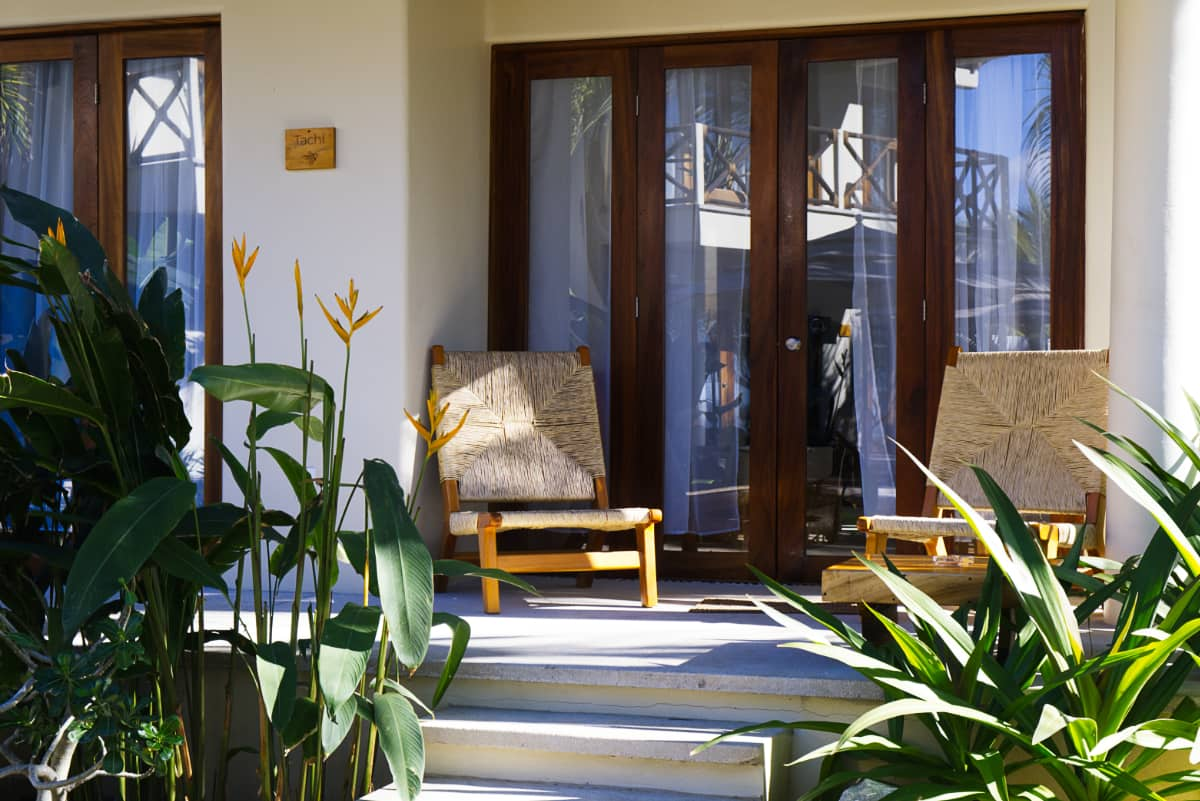 An oceanfront boutique hotel in La Punta with shaded hammocks under the palms and sun loungers surrounding the pool.
Choose to book an ocean view suite or room with a garden view, all of which include a private balcony or terrace.
Casa Kuaa is an oasis on the beach. The rooms are fresh and modern with bathrobes provided for each guest.
The location is fabulous – in the center of La Punta but secluded enough to be lulled to sleep by the ocean waves.
Punta Zicatela Hotel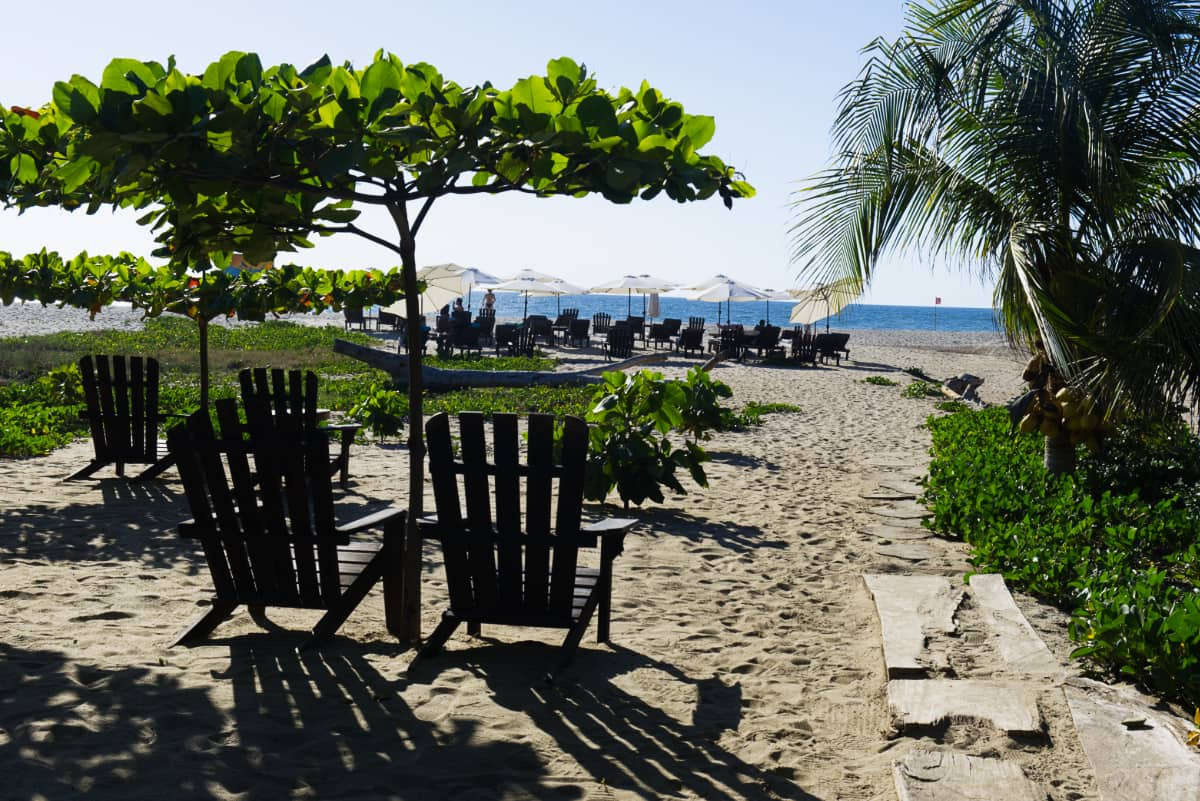 This modern beachfront hotel in La Punta features incredible sunsets. The location is also fabulous, in the heart of La Punta yet directly on the beach with a private beach club.
All of the rooms at Punta Zicatela Hotel include a private balcony, some with incredible ocean views.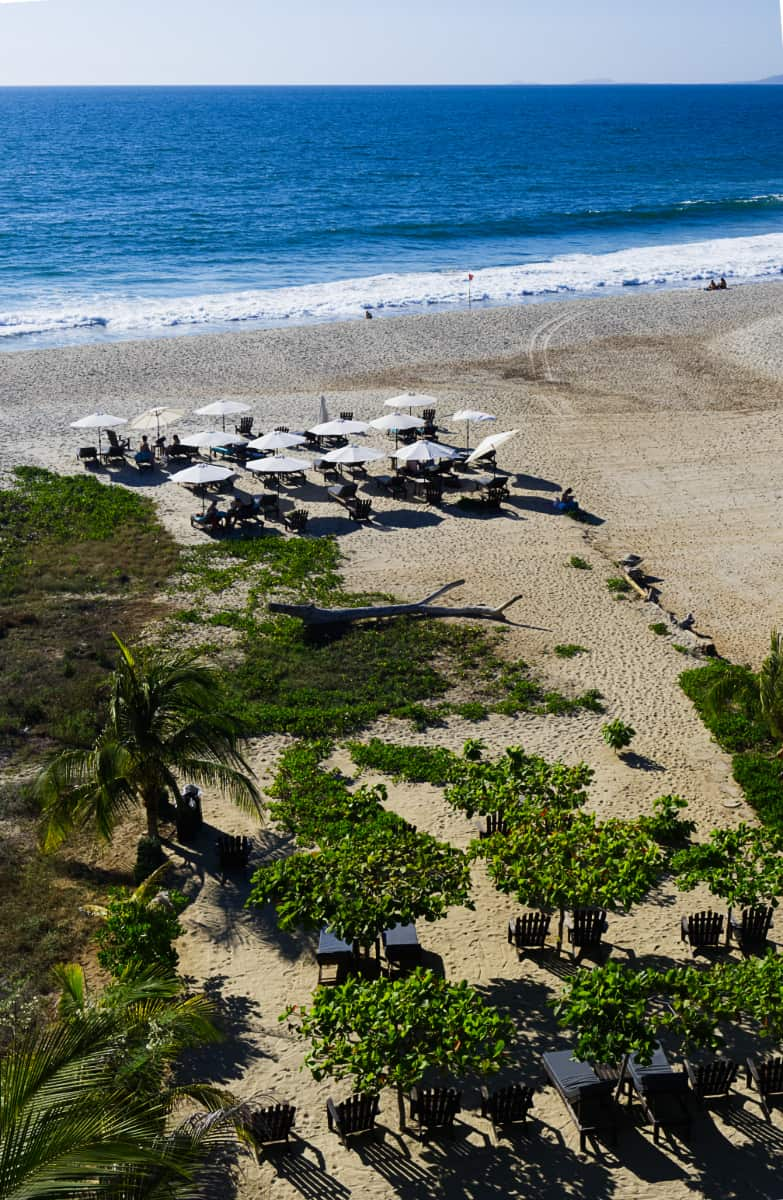 And if you choose not to upgrade your room, the sunsets are just as stunning from the rooftop bar and lounge.
The center courtyard has a pool with a built-in shallow area for kids, making this a great place to stay in Puerto Escondido for families.
Casa de Olas Boutique Hotel
Casa de Olas is a boutique hotel in La Punta with a focus on wellness. There is a small gym, tennis court, surfboards, and bicycles available to use.
Reviews rave about the yoga class under the palapa. And solo travelers will love the organized events such as a salsa dancing class.
The design details embody beach bohemian vibes. The terrace features a semi private hammock library nook.
And the rooftop has panoramic views of the ocean as well as a pool and bar area in the central courtyard.
Casa de Olas Boutique Hotel has double rooms as well as larger suites with a full kitchen that feel like an apartment.
To top it off, a breakfast bar is included in your stay with the option to order a more substantial breakfast from the hotel restaurant.
Hotel Gallo de Mar
The rich decor, palapa roofs, and towering palms give Hotel Gallo de Mar a tropical feel.
The rooms feel fresh and spacious while featuring a modern design. The wooden accents create a warm atmosphere you won't want to leave.
And the beautiful pool is a place you'll want to relax all afternoon. This La Punta hotel is truly an oasis tucked into the center.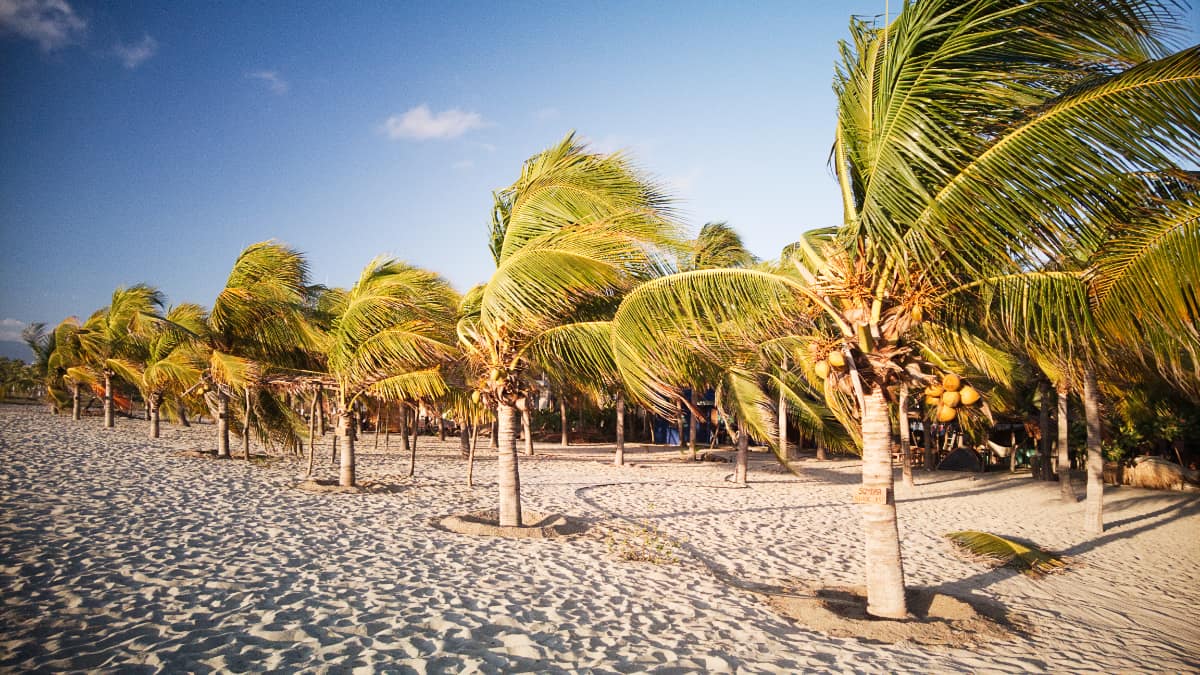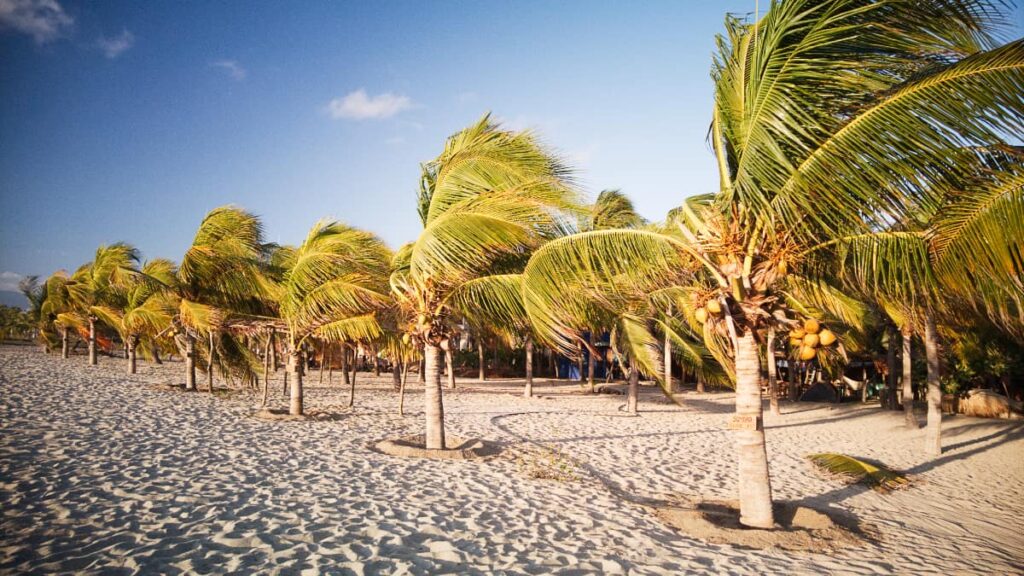 Bikini Beach House
Located just steps from the beach, this multilevel beach house feels like you're living in the palm trees.
The minimalist rooms feature a king bed with a mosquito net and a private balcony.
Bikini Beach House is an ideal place to stay for travelers that want to be in the center yet have the tranquility of the beach to retreat.
This beachfront hotel in La Punta is an incredible price for the location, even if it's a tradeoff for the lack of air conditioner.
La Barra – Place to Stay in Puerto Escondido to Get Away
Located along the southeastern edge of Puerto Escondido, La Barra is the best place to stay to get away from it all.
There aren't a lot of places to stay in La Barra, but they are some of the most luxurious places to stay in Puerto Escondido. And its remote location creates the perfect atmosphere for a honeymoon or a solo retreat to recharge.
Casona Sforza
This luxury accommodation was developed as more than just a place to stay in Puerto Escondido. Its roots began with a vision to help the community maintain their traditions.
After owner Ezequiel Ayarza Sforza became enchanted with the beauty and community of Puerto Escondido, he decided to work with a local architect to build Casona Sforza.
Together they created a beachfront property of eleven contemporary suites with vaulted arched ceilings that are anti-seismic and provide enhanced air flow through each room.
The bohemian aesthetic at Casona Sforza features neutral colors, wooden accents and natural textures to instill a sense of tranquility.
In addition, your stay will directly impact the local community. All of the proceeds go to Sforza's non-profit organization which helps indigenous communities in Oaxaca sustain their traditions.
Villa La Marquesa
With accommodation for up to 15 guests, this three bedroom home is the best place to stay in Puerto Escondido for groups.
In addition to the private pool, hot tub, and proximity to the beach, guests at Villa La Marquesa love the ample spaces to hang out together.
The house features a large living space and rooftop palapa with a second kitchen and dining area.
This is a true vacation house!
Cabane Container Hotel
This unique place to stay in Puerto Escondido utilizes the container shape to give nearly every room a sweeping ocean view.
All of the vibrantly designed rooms at Cabane Container Hotel include air conditioning, a private bathroom, and a balcony.
The shared spaces center around a pool with colorful murals that guests love. To top it off, breakfast is included in your stay.
Centro – Where to Stay in Puerto Escondido on a Budget
Centro is the best place to stay in Puerto Escondido on a budget. It's also the best area for a taste of local life.
This neighborhood is close to the mercado, many local restaurants, and transportation. It's also walkable (20-30 minutes) to two swimmable beaches – Playa Carrizalillo and Manzanillo.
Casa Losodeli & Coworking
This hotel and coworking space is the best place to stay in Puerto Escondido for digital nomads.
The central pool and work area are tranquil yet social for meeting fellow travelers.
Most of the private rooms at Casa Losodeli include a private kitchen. Other rooms and the dorm have access to the shared kitchen.
In addition, there's a highly rated cafe that serves breakfast as well as a variety of sandwiches, salads, and other items during the day.
This place to stay is also perfectly located on the edge of centro and a short walk from the best beaches for swimming.
Read Next – How to Get From Oaxaca to Puerto Escondido
Casa Santaella
At Casa Santaella, the lush shady gardens create a peaceful environment for lounging in the hammocks.
It's located in the heart of Centro, between the mercado and a large grocery store which is convenient if you want to cook in the large shared kitchen.
While Casa Santaella does not have a pool, many of the rooms do have air conditioning which is rare at this price point.
Pargos Hotel & Cowork
Pargos Hotel and Cowork is one of the most affordable places to stay in Puerto Escondido for digital nomads.
It features a pool, shared kitchen, and spaces to work. Some of the rooms at Pargos Hotel and Cowork include air conditioning as well as a distant ocean view.
It's conveniently located near the main supermarket and beaches. While the decor is slightly dated, the price is hard to beat.