Oaxacan Food: 50 Foods in Oaxaca Mexico You Need to Eat
Ready to go on a gastronomic adventure through Oaxacan cuisine?
When it comes to food Oaxaca is regarded as one of the top destinations in the country. I consider it a foodie capital of Mexico.
Oaxacan food is as diverse and vibrant as its culture. But knowing what to eat in Oaxaca can feel overwhelming.
After living in the city for two years, I've curated this list to include Oaxaca traditional food and drinks that are either specific to Oaxaca or unique in their preparation.
This Oaxaca food guide will walk you through all of the classic Oaxacan dishes and ingredients, including a few unusual items that are fun to discover.
Exploring Oaxaca food culture is one of the ultimate culinary adventures in Mexico. So prepare your taste buds to go on a tantalizing journey through the food of Oaxaca.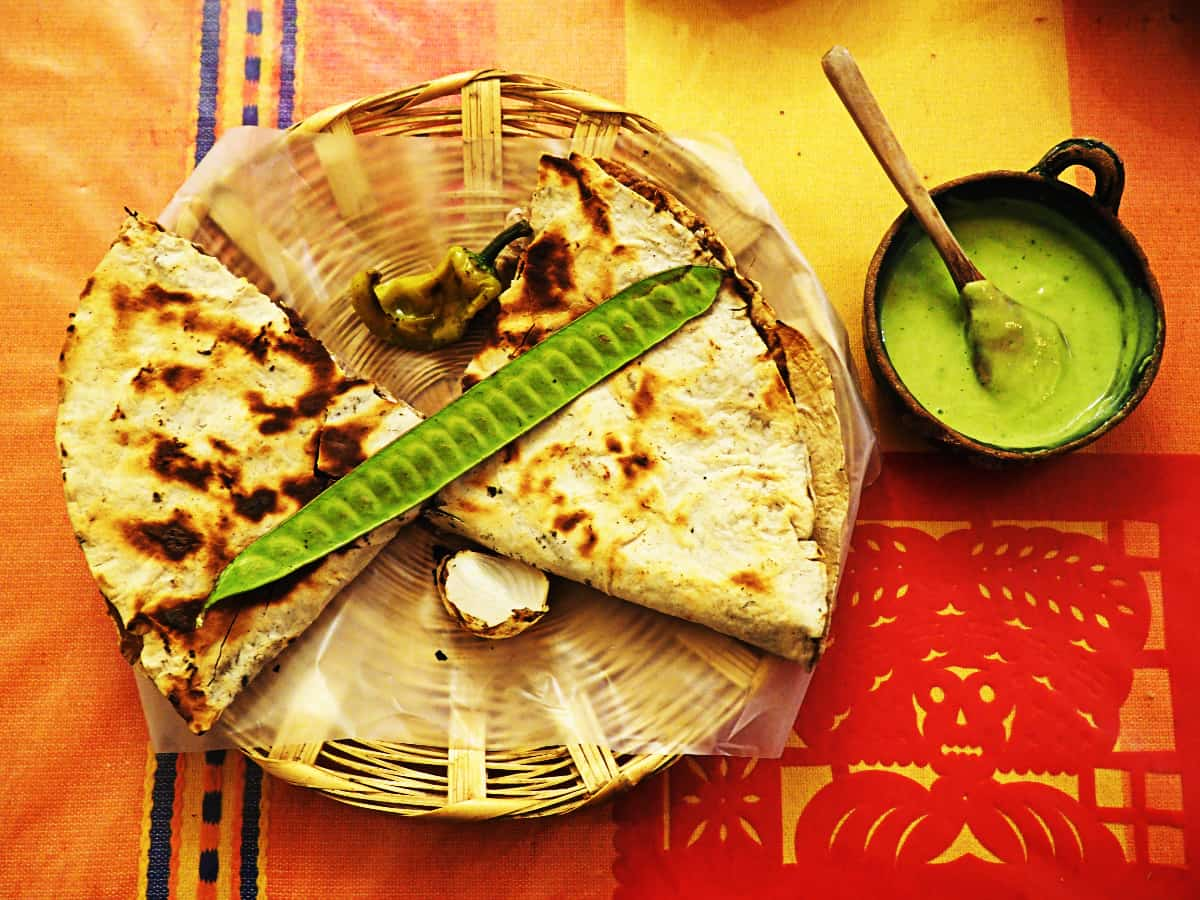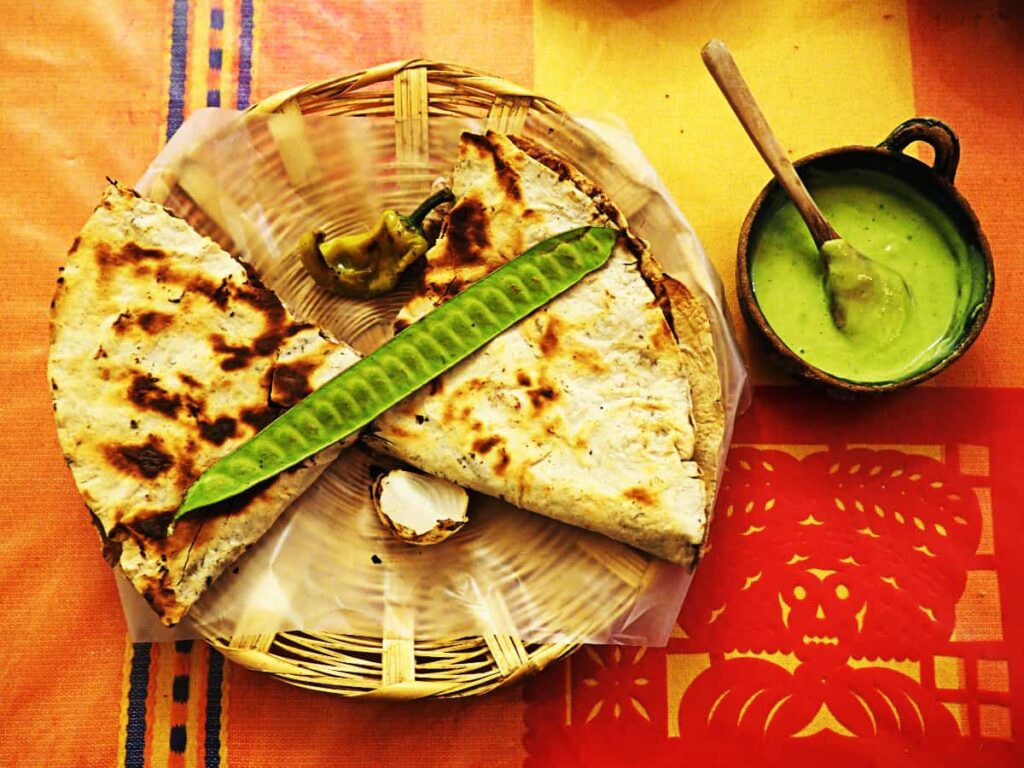 This article may contain affiliate links. This means if you click a link on our blog and make a purchase, we earn a commission at no additional cost to you. For full information, please see our disclosure.
What is Oaxacan Food?
Oaxacan food highlights the diversity of the region. It is known for its complex flavors and variety of ingredients. Recipes vary by region of the state and from family to family.
Oaxacan cooking relies on ancient culinary techniques with some modern influences, most notably in its production of cheese. For that reason, some of the best food can be found in the simple, unpretentious street food in Oaxaca.
By exploring its delicious food, you'll simultaneously discover the vibrant history and culture of Oaxaca.
Oaxaca Food Tours
Going on a food and market tour is one way to discover what to eat in Oaxaca. These tours feel like you're being led by a friend to the best restaurants, street food stands, and local markets. I've detailed some of my favorite food tours in Oaxaca below.
If you want to explore the largest market in the city, I recommend you book this food tour of Abastos Market with my friend Daniel. He expertly guides you through this sprawling marketplace so that you can taste food from all of his favorite vendors while explaining their significance.
Alternatively, this small group food tour takes you on a culinary journey through the markets of Oaxaca to taste local flavors while learning about their history.
Traditional Oaxacan Dishes
These traditional Oaxacan dishes highlight the food found throughout the region including mole, tlayudas, memelas, and some unique dishes such as garnachas from the coast of Oaxaca and caldo de piedra from the northeast region.
1. Tlayudas
If you ask someone what comes to mind when they think of food from Oaxaca, tlayudas will likely top the list. 
Tlayudas are frequently called Mexican pizza. While I see the resemblance, the flavors and texture are quite different. Let's explore the components that make up a tlayuda.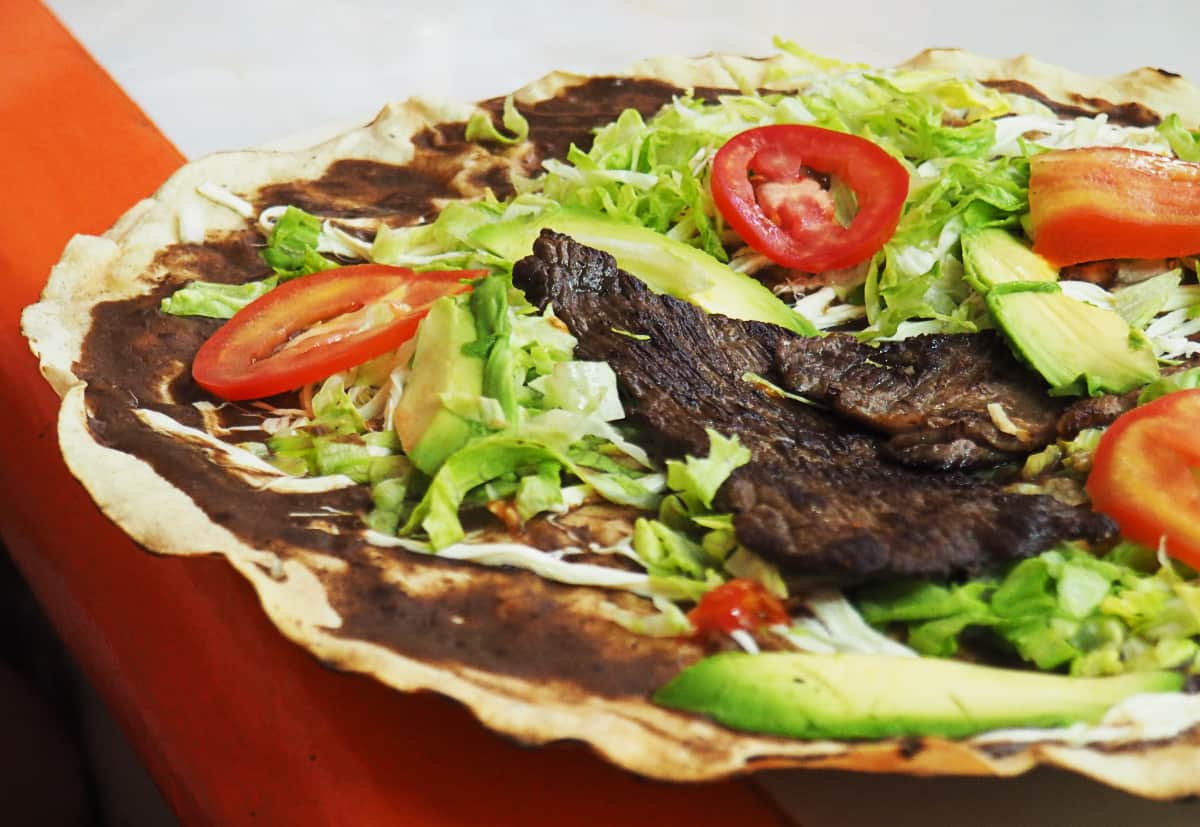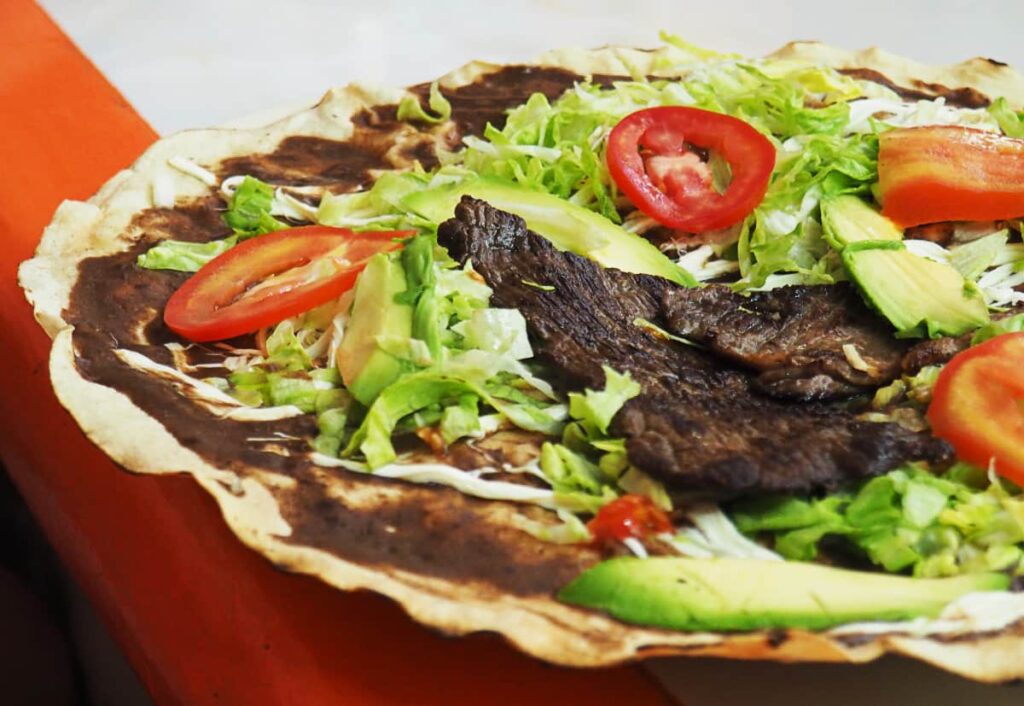 The preparation of a tlayuda begins with a very large corn tortilla that is warmed on a comal using asiento, or pork fat. This gives the base its distinctive crunchiness and flavor.
The crispy tortilla is layered with a black bean sauce and quesillo, a stringy cheese from Oaxaca. Okay, okay. It certainly sounds like we are creating a version of Mexican pizza. But hear me out.
The tlayuda is then topped with other various ingredients including avocado, tomato, and cabbage. If you stop there, it's called a tlayuda sencilla (simple tlayuda). Or you can add meat such as tasajo (thin cured beef), cecina (seasoned pork), costillas (ribs), or chorizo. Tlayudas are often served with chepiche, a pungent herb that I'll highlight later.
You simply can't visit Oaxaca without eating a tlayuda. Although they are considered street food, there are also a handful of restaurants in Oaxaca City that specialize in tlayudas.
2. Memelas
Another Oaxacan food staple is the memela. This oval-shaped corn disc is thicker than a tortilla, with a slight edge that helps to hold the sauce and toppings.
Memelas are heated on the comal and topped with your choice of salsa (or sometimes a light bean sauce) and cheese. I prefer the fresh cheese called queso, but I believe quesillo is more common.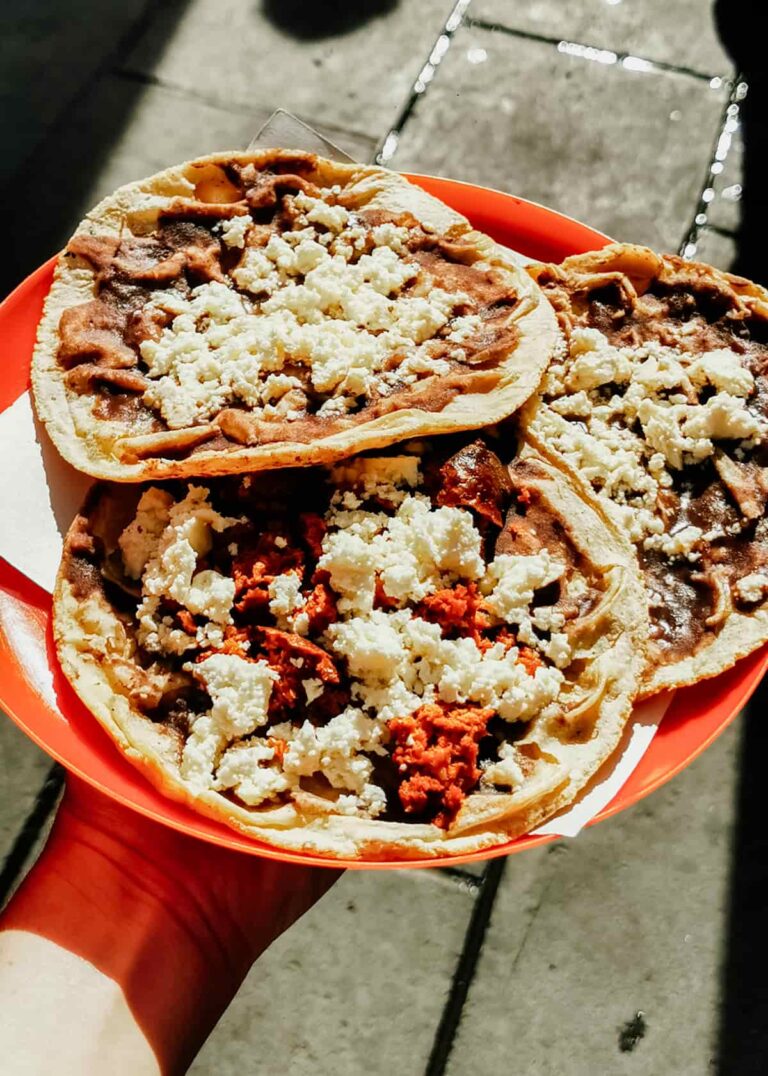 You can then eat memelas as is or top it with other ingredients such as tasajo, chorizo, or egg. But let's get back to the choice of salsa. The best memelas in Oaxaca will give you a choice of spicy tomato salsa or a rich morita sauce.
So where are the best memelas? I've listed a few of my top picks below. 
Memelas Doña Valle was featured on Netflix's street food. But before you write it off as touristy (as I almost did), her morita sauce is insanely delicious. Her stand is located in the middle of the sprawling Abastos Market. As one of my Oaxaca safety tips, it's important to not wear jewelry and be careful of your phone and other belongings in this market.
Memelas Doña Gloria cooks her memelas on a clay comal using firewood in a modest restaurant along the Panoramica. It's about a 20-minute walk along the from centro, but you will enjoy city views on the way.
Memelas San Agustin is known for their variety of toppings which you can choose to add to your memelas. They're located in Oaxaca centro.
3. Oaxacan Mole
Oaxaca is famous for its seven moles which vary from region to region and family to family. Their variety is a testament to the preservation of the region's vibrant culinary heritage.
The 7 moles of Oaxaca range from savory and slightly sweet mole negro to herbaceous mole verde. They also include mole coloradito and specialty moles such as mole chichilo.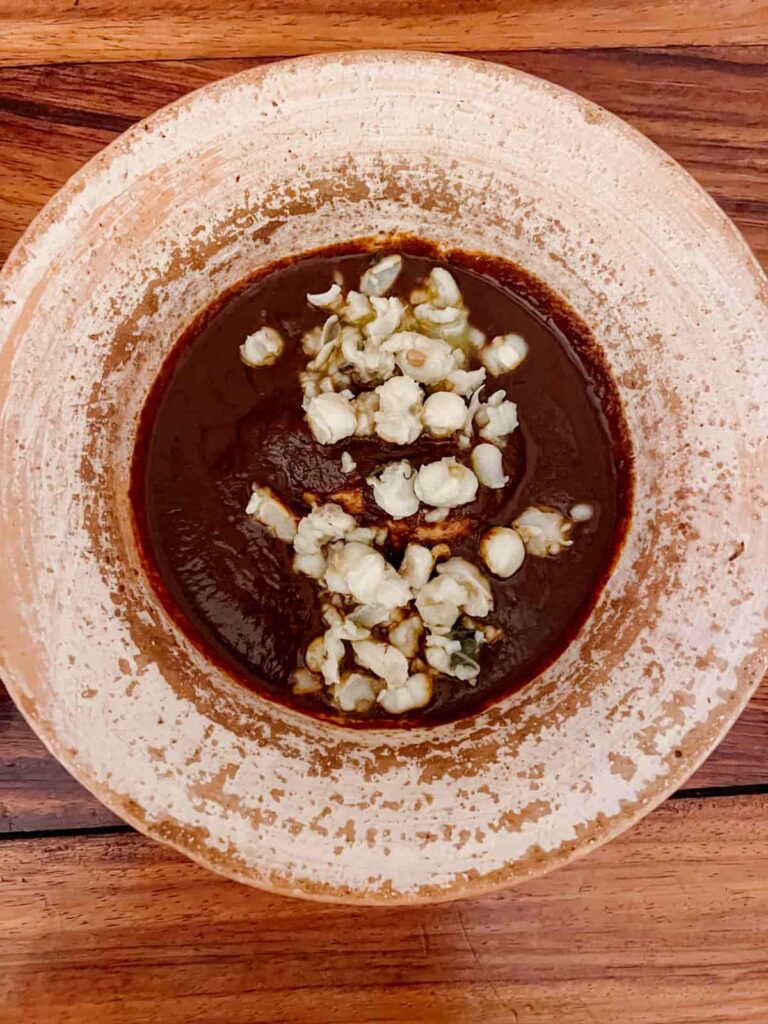 To make mole is a labor of love. This complex sauce requires grinding and blending anywhere from 10 to 30+ ingredients which often include chili peppers, chocolate, and spices. I highly recommend Oaxaca foodies order a mole tasting, which I consider to be one of the best things to do in Oaxaca. 
Also interested in mezcal? You should book this mole and mezcal tasting which combines two of the most popular food and drinks in Oaxaca.
4. Enmoladas
Mole lovers, get ready to meet your new obsession – enmoladas. Similar in style to enchiladas, this dish dials it up with an infusion of Oaxacan flavor.
The foundation for enmoladas is tortillas which are filled with cheese or shredded chicken. But the twist is that the tortillas are bathed in rich mole sauce and topped with red onion, fresh cheese, and crema.
While Puebla is believed to be the birthplace of enmoladas, in Oaxaca they bathe the tortillas in a different moles. You can find enmoladas on the menu at many of the best places for breakfast in Oaxaca.
5. Empanadas de Amarillo
I used to think there were two ways to make empanadas – fried or baked. Then I discovered empanadas de amarillo (yellow mole). This food from Oaxaca resembles a quesadilla on the outside. However, that's where the comparison ends.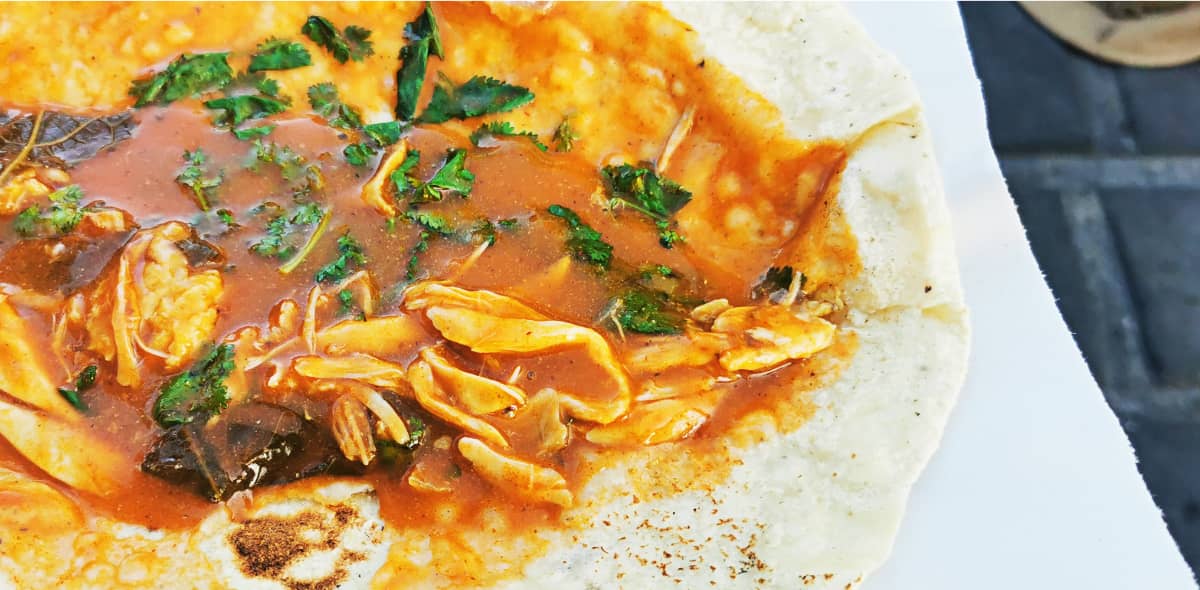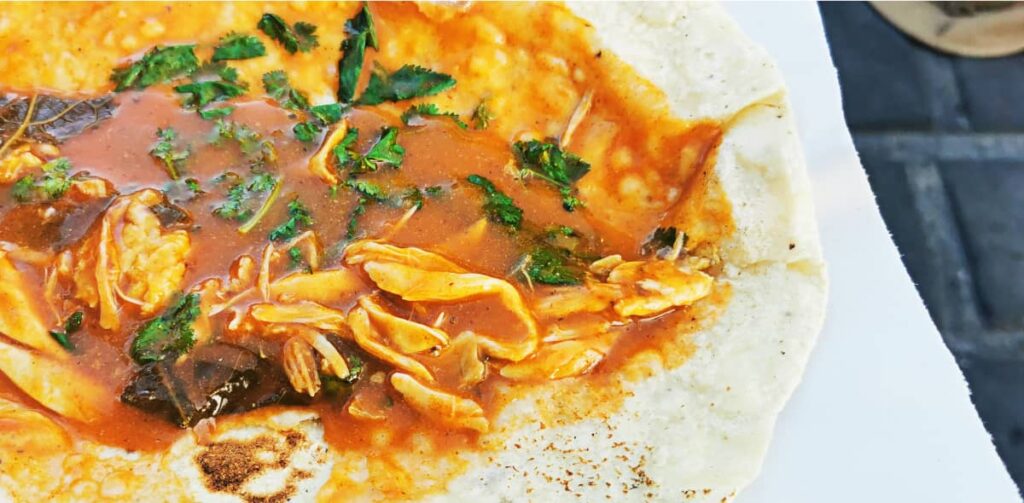 The large corn tortilla is heated on, you guessed it, a comal. It's then filled with chicken and mole amarillo, and a green herb called epazote.
My favorite place to find this Oaxacan street food is at two food stands located right next to each other. Tacos de Carmen Alto is open in the mornings and into the afternoon while Empanadas Carmen Alto is open in the evenings and into the night.
6. Tetelas
I think the tetela is the most underrated food from Oaxaca. Typically beans and cheese are stuffed into a light corn dough and cooked to create a warm pocket of yummy flavors.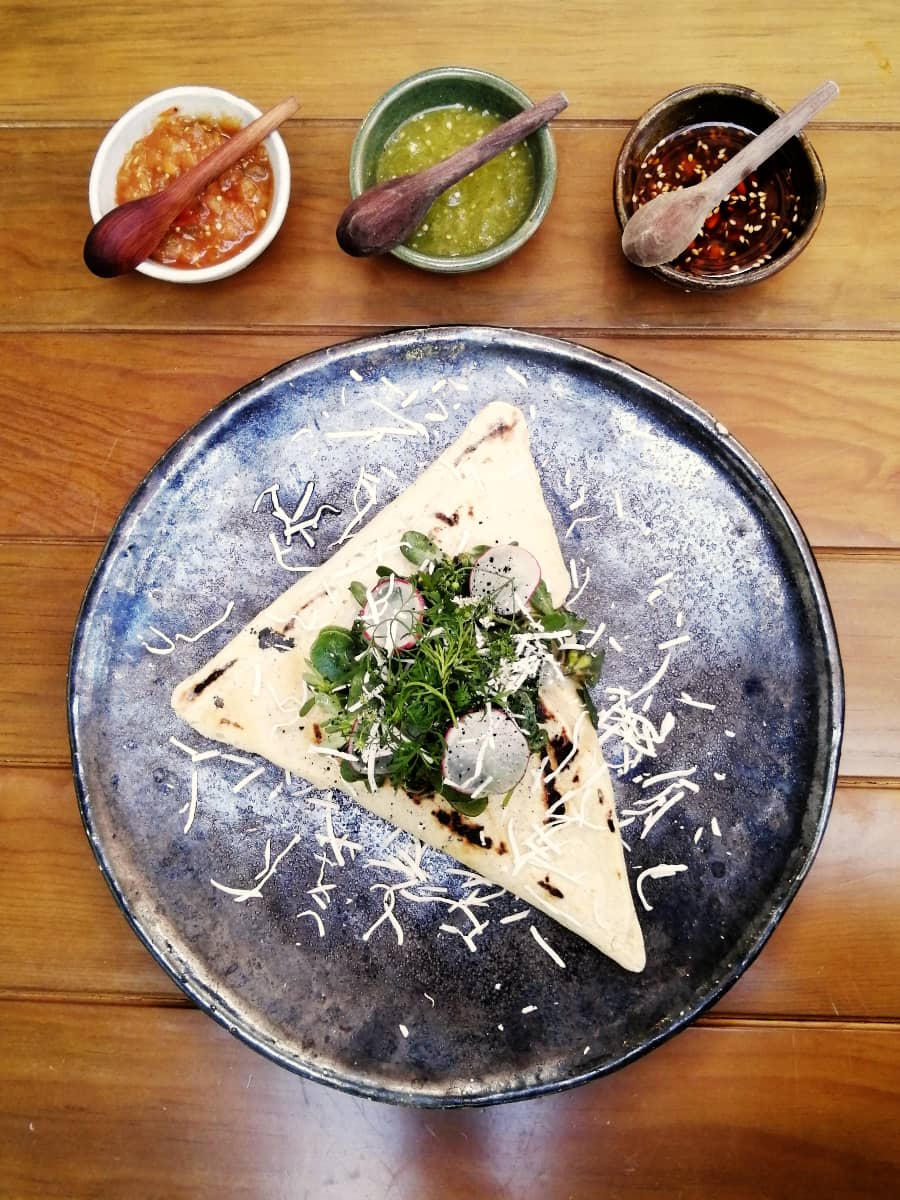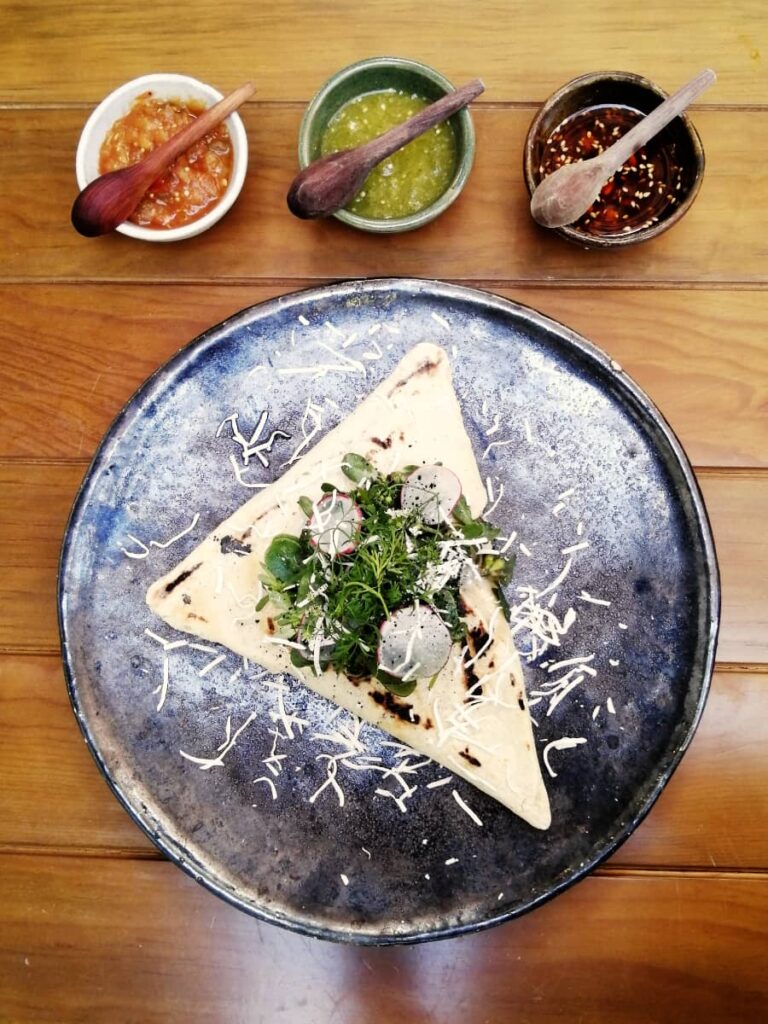 While some people compare these stuffed triangular corn pockets to an empanada or a quesadilla, the cooking method is different.
Unlike a quesadilla which is made using a cooked tortilla, tetelas use raw masa (nixtamalized corn dough).
To make tetelas, the masa is stuffed with beans and cheese, folded into a triangle, and cooked on a comal. Tetelas is a traditional Oaxacan food with origins in Mesoamerica, specifically among the Mixtec people in the northwestern part of the state.
7. Oaxacan Tamales
Perhaps you're already familiar with tamales since they are a common street food in other parts of Mexico and Latin America.
So what makes Oaxacan tamales different? The answer is banana leaves.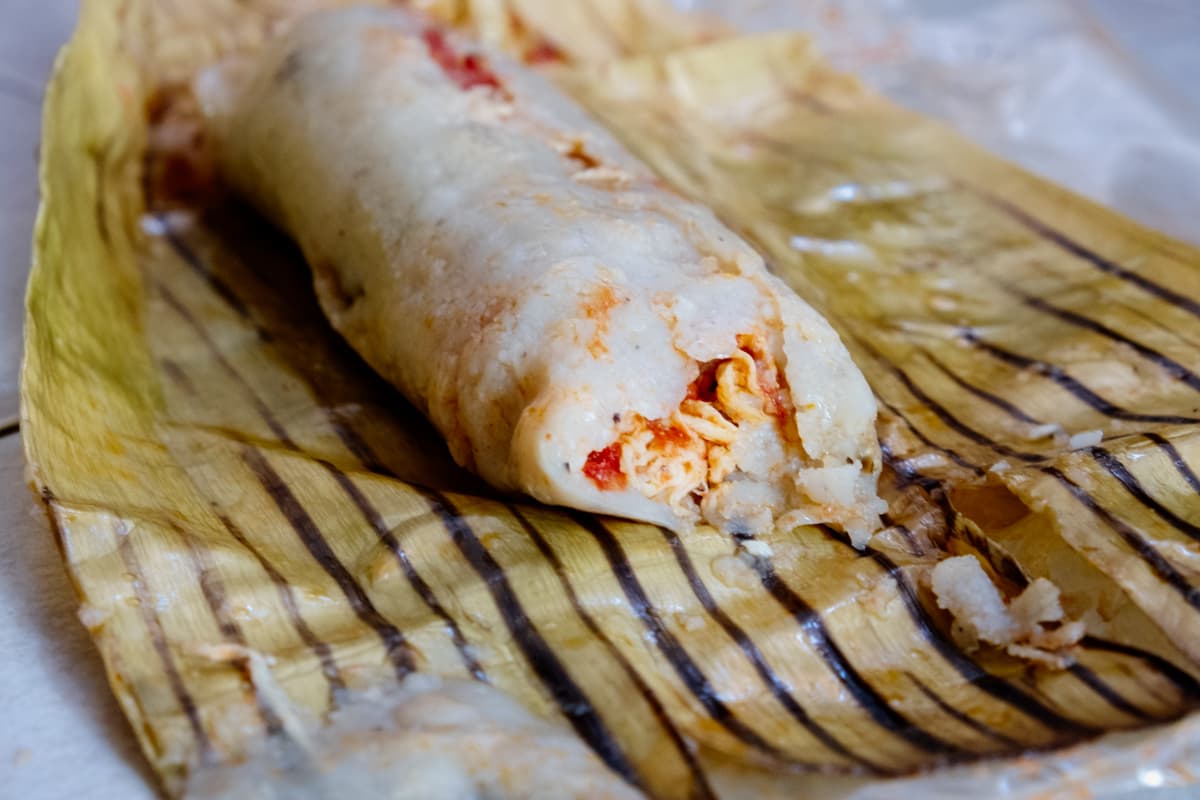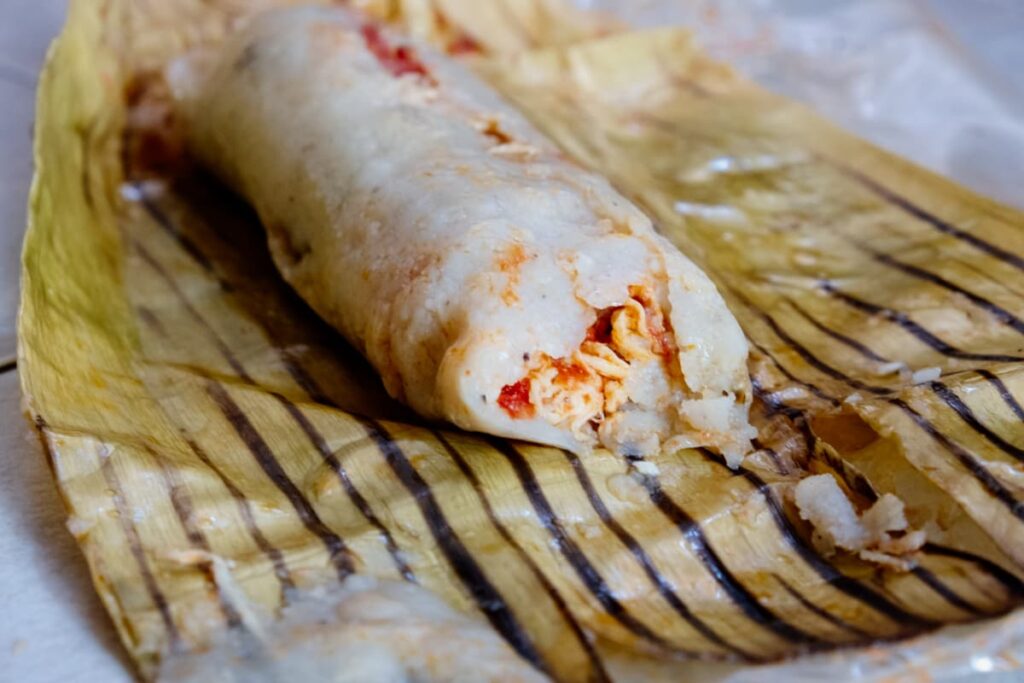 Oaxacan tamales are filled with a savory mole negro with chicken and wrapped in banana leaves instead of corn husks. Although you will find tamales wrapped in both.
Did you know? In Teotitlan de Valle, a pueblo outside of Oaxaca City, it's typical to wrap tamales in the leaves of the corn plant instead of corn husks or banana leaves. I enjoyed eating these maize bites after one of my favorite Oaxaca temazcal ceremonies.
You can find warm tamales for sale inside the many markets of Oaxaca and from food carts around the city.
You'll also find a variety of fillings. My favorite is tamales de rajas (poblano peppers) with stewed tomatoes and chicken. Mole amarillo, mole verde, and sweet tamales (tamales dulce) are also popular in Oaxaca.
Other tamales oaxaqueños to try:
Tamales de Tichinda: Along the coast of Oaxaca you can find tamales made with tichindas. These small mussels are enveloped in masa dough, shells and all. These greenish black shellfish are found in the lagoons of Chacahua and Manialtepec.
Tamales de Frijol: You can find bean tamales in the mountains south of Oaxaca City, which is famous for the mushroom town of San Jose del Pacifico. They are often served with a bowl of soup to help keep warm in the chilly climate.
Tamales de Iguana: During Lent, the Zapotecs of the Isthmus de Tehuantepec have a tradition of eating iguana tamales which are prepared with the meat and eggs of iguana. You may be relieved to know that the harvest is sustainably managed by the government of Oaxaca.
Tamales de Venado (Deer): La Costa region of Oaxaca makes venison tamales in which the meat is stewed and a little spicy. I can attest are quite delicious as I went back for seconds after I ate them at one of my favorite festivals in Oaxaca.
8. Squash Blossom Quesadillas
I wasn't sure I'd include quesadillas in this food guide. But there are two ingredients that make this version traditionally Oaxacan – flor de calabaza (squash blossoms) and quesillo (stringy cheese). I cover both of these in more detail below when talking about ingredients.
Squash blossom quesadillas are just what they sound like. Squash blossoms and cheese are placed into a tortilla and heated until the cheese melts. I find the quesillo can easily overwhelm the squash flowers. But if you get one that perfectly balances the two, this is a yummy street food!
9. Sopa de Guías con Chochoyotes
Sopa de guías celebrates the fertile lands of Oaxaca. This Oaxaca traditional food has been prepared since Mesoamerica. It's typically available during the rainy season when the ingredients are at their peak.
This brothy soup utilizes nearly every part of the squash plant, from the tender shoots and leaves to the squash fruit and blossoms. Other ingredients include garlic, onions, rounds of corn on the cob, and a wild herb called chepil. 
Often corn dumplings called chochoyotes are also added to the soup. In some variations, ground corn is added to thicken the broth.
10. Barbacoa de Borrego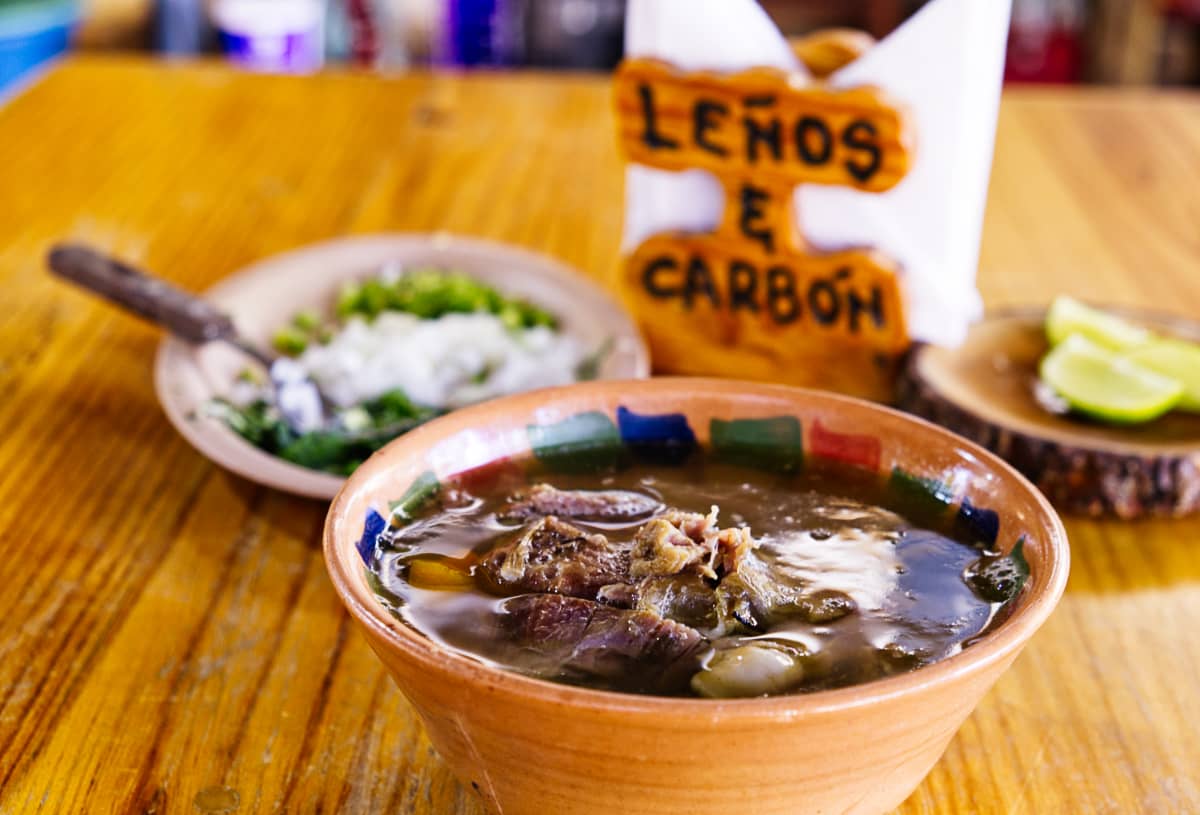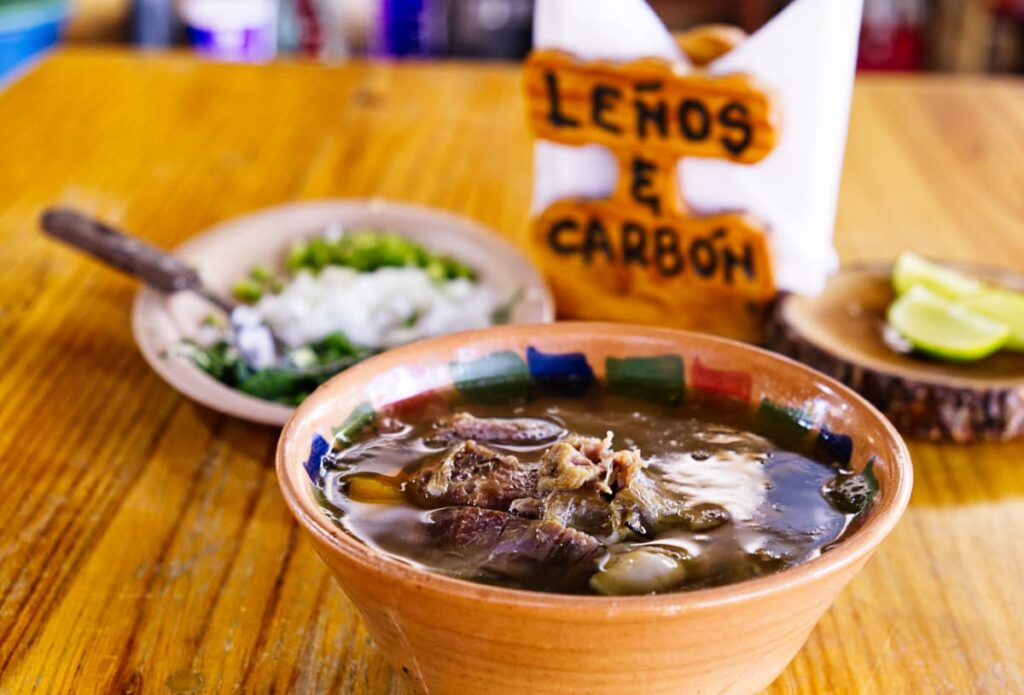 If you're an aspiring Oaxaca foodie, one food that you can't miss is barbacoa de borrego (lamb barbecue). While the state of Hidalgo claims its origins, Oaxaca has a long history of barbacoa, the style of which varies from region to region.
Barbacoa de borrego is lamb that is slow-cooked in an underground pit for hours overnight until it's tender and flavorful. A large pot with water, vegetables, and sometimes chickpeas is placed underneath. It catches the drippings from the meat and turns into an incredibly rich consome.
Is your mouth watering yet?
I prefer to order a bowl of broth (consome) with meat and a taco or two if I'm particularly hungry. You can ask for puro carne (only meat) if you don't care for the other parts of the animal.
You will also see barbacoa de chivo (goat) which has a stronger, gamey flavor than lamb. And during the week you can find tacos carts in Oaxaca selling barbacoa de res (beef) tacos.
Barbacoa de borrego or chivo is a Sunday (and sometimes Saturday) family affair. Most famously you can eat barbacoa at the Sunday Tlacolula Market located about 45 minutes outside of the city.
But as one diner said to me while eating barbacoa at the Sanchez Pascuas Market in Oaxaca, "You don't have to go to Tlacolula for barbacoa." And it's true. You can also find barbacoa de borrego from Tlacolula and Ocotlan every day in the Abastos Market as well. 
11. Chileajo
This is another food that varies based on the region in which it's cooked. The basis is a stew of vegetables with garlic, chiles, and spices. It can be cooked with chicken or pork.
You can find chileajo on some menus throughout Oaxaca. In the Central Valleys, it is typically served at parties, called posadas, which are held in December in Oaxaca.
12. Piedrazo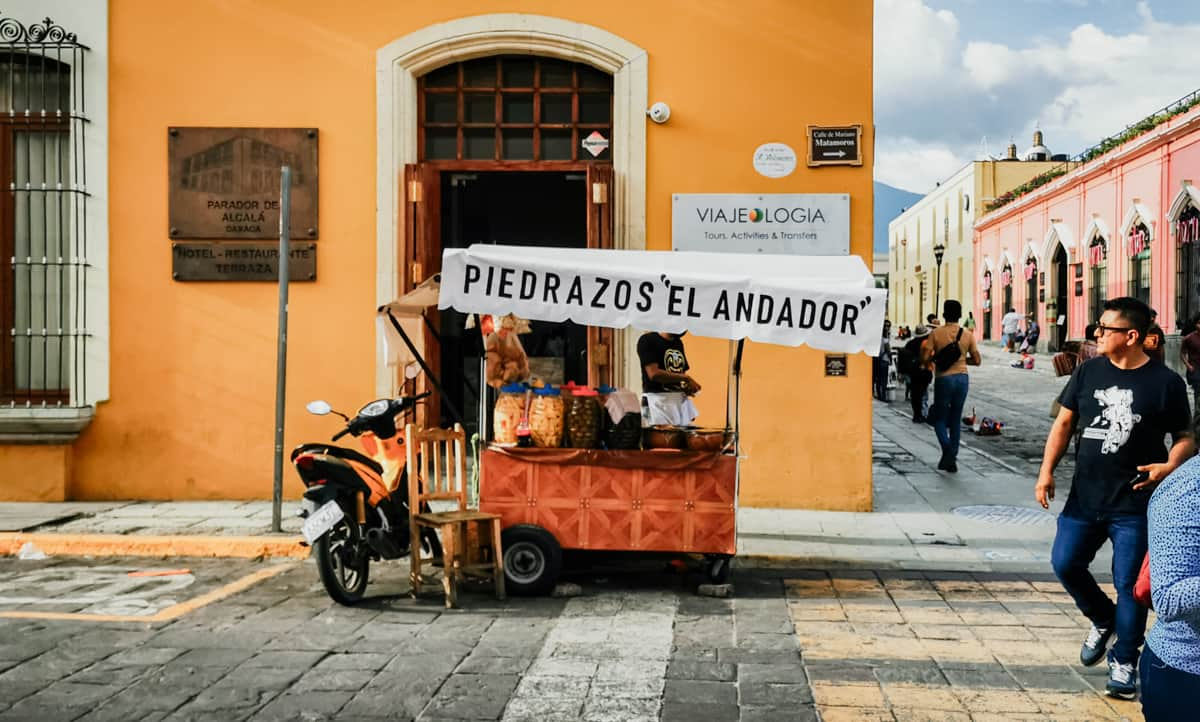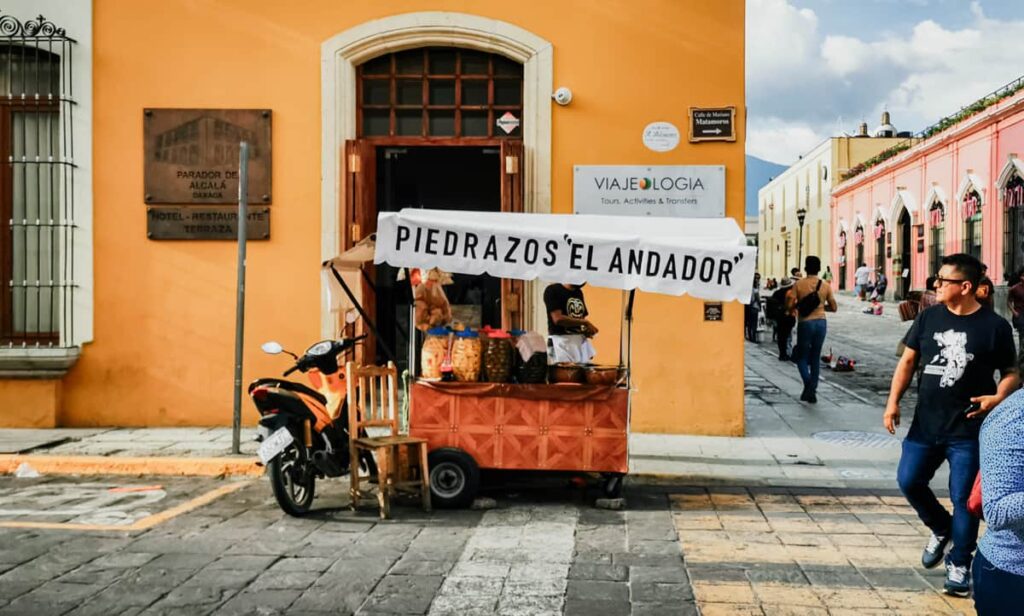 From the word for stone, this Oaxacan snack uses crispy bread that's as hard as, well a rock. It's then submerged in a fermented fruit vinegar and served in a bowl with pickled carrots, onions, and potatoes.
The key to a good piedrazo is crispy bread and a well-balanced vinegar.
I recommend going to El Posito to try this food in Oaxaca City. For over 50 years, they've been serving this nostalgic snack with their woodfire oven twice-baked bread and homemade vinegar.
13. Caldo de Piedra
From the town of San Felipe Usila, Tuxtepec comes this ancient dish whose history is as unique as its preparation. Caldo de Piedra, which translates to stone soup, is prepared exclusively by men as a way to honor and thank the women in their community.
With its origins in Mesoamerica, the men of the Chinantec indigenous group prepared this food along the riverbanks as a group effort. A few men hunt for the fish while some prepare the ingredients and others gather, wash, and heat the stones over a fire.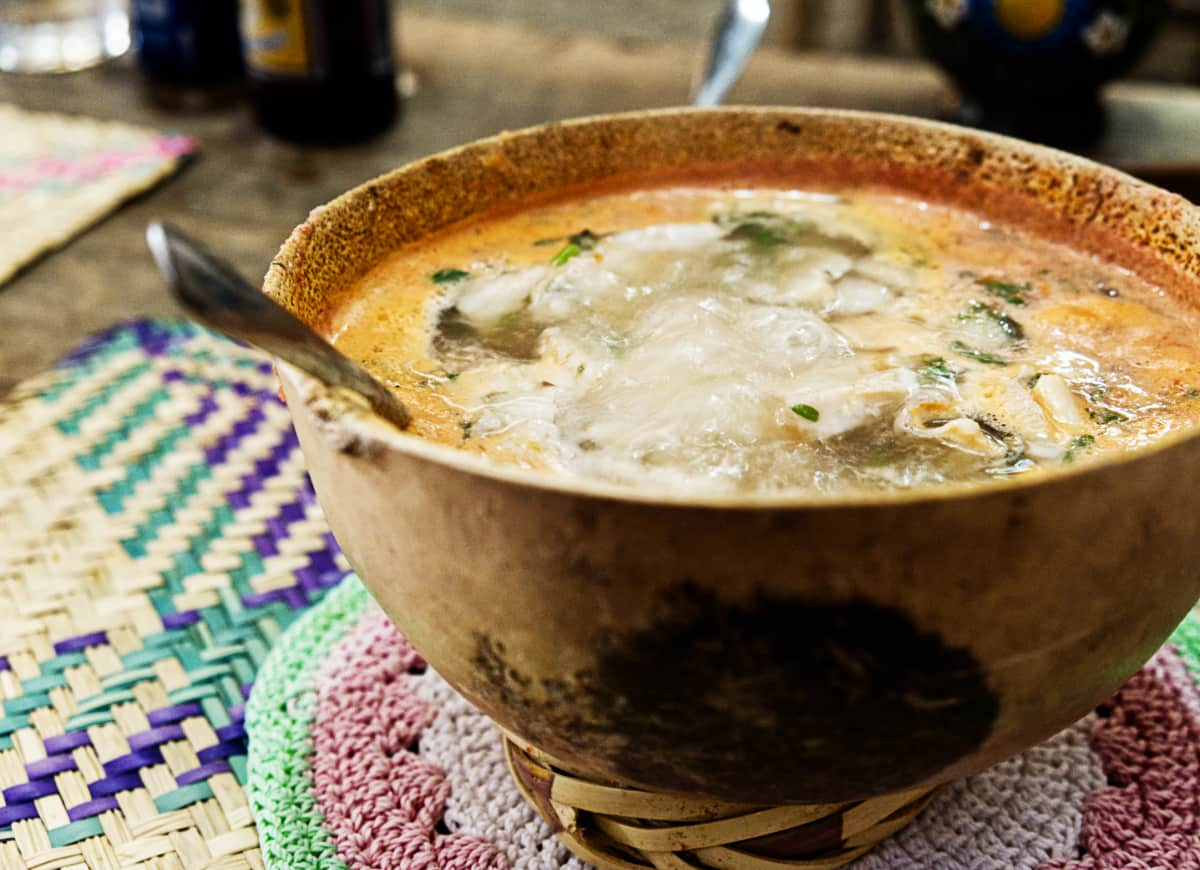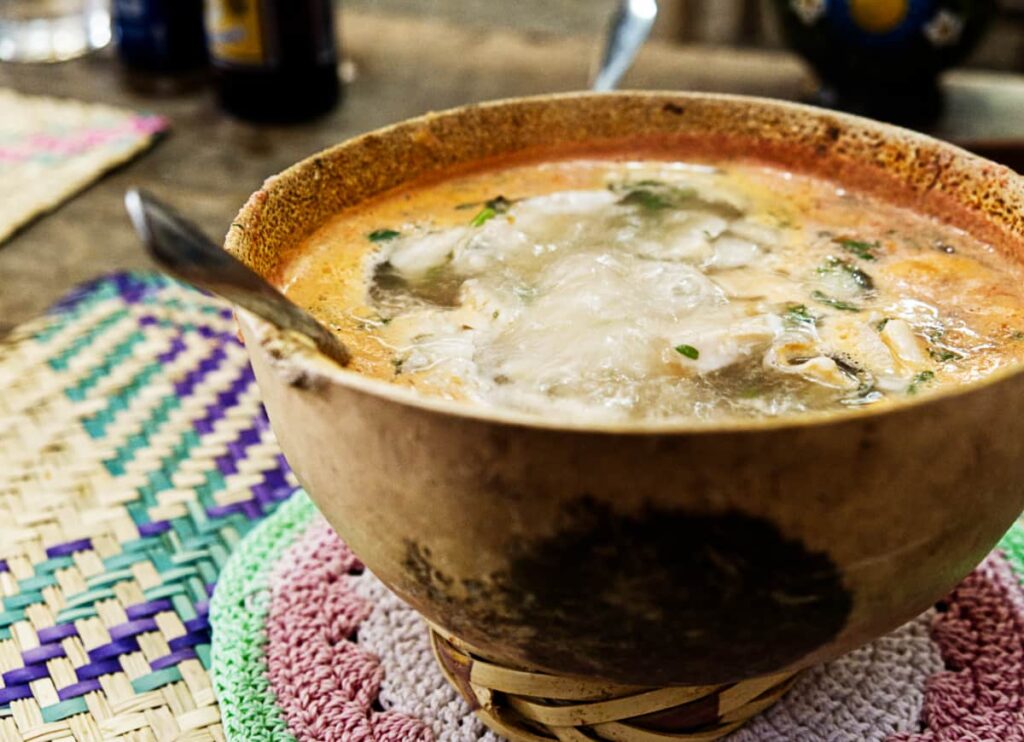 To prepare the soup, they combine the fish with onion, chili, tomato, cilantro, epazote, and water in a carved out rock located next to the river. Then they add the red hot stones from the fire which cook the soup and keep it warm. The men then scoop the soup into a dried gourd bowl and serve it to the women.
Today the rocks are dropped directly into the gourd bowl of soup which arrives at your table literally boiling. It's worth seeking out this Oaxaca traditional food which has been deemed an Intangible Cultural Heritage by the state.
You can find caldo de piedra at a restaurant by the same name located about a 20-minute drive outside of the city. It's close to El Tule Tree and the perfect dinner stop after exploring one of the many day trips from Oaxaca.
14. Garnachas: Food From Oaxaca Istmo
These next few flavorful bites hail from the Isthmus of Tehuantepec, Oaxaca. Let's start with one of the most popular – garnachas.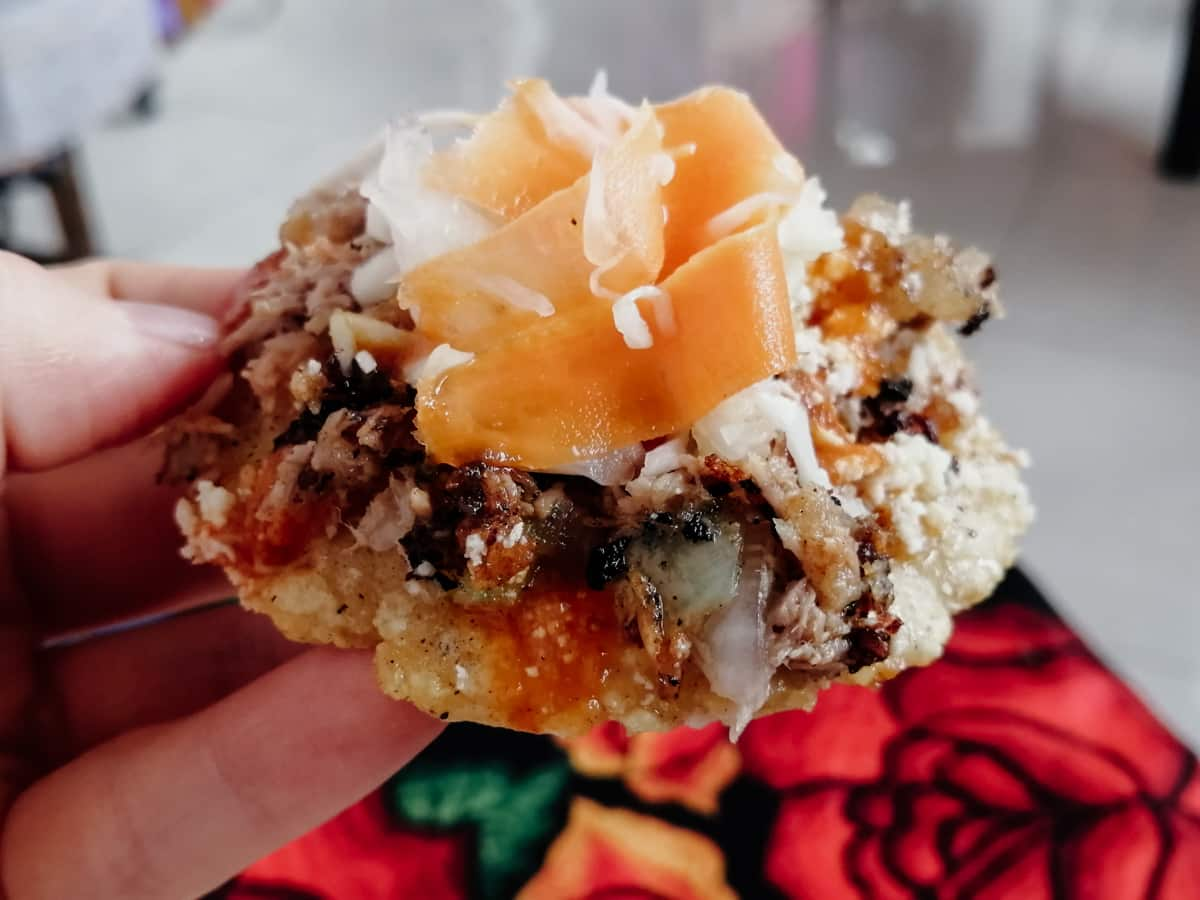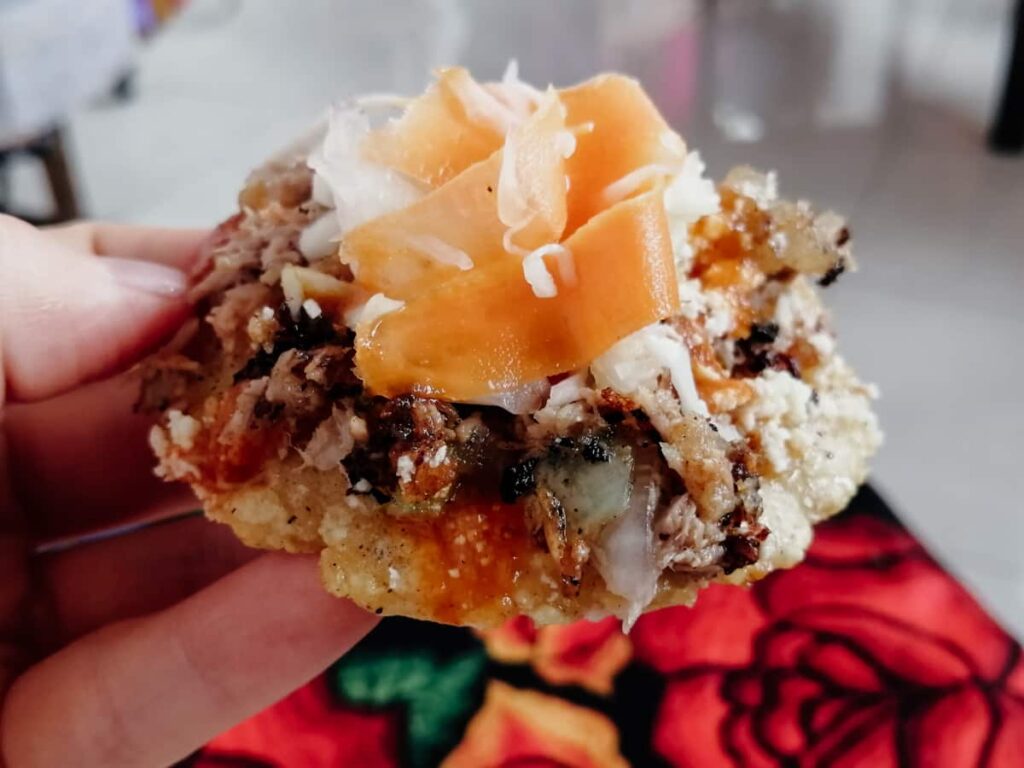 These small corn discs are topped with seasoned beef, chipotle salsa, and salty aged cheese. They are served with a side of pickled cabbage which perfectly balances the strong flavors.
Different variations of garnachas can also be found in Veracruz, Chiapas, and Guatemala, reflecting a rich culinary tradition from Mesoamerica.
In some parts of Mexico, the term 'garnacha' is used to refer to various street foods. But in the Istmo region, garnachas are a traditional food of Oaxaca.
To find garnachas in the city, look for a Oaxaca restaurant that specializes in food from the Istmo region.
15. Molotes de Platano
Molotes are a cigar-shaped snack of stuffed masa that is most commonly found in Puebla. However, molotes de platano are a creation that originated in the Istmo.
Instead of using corn dough, ripe plantains are mashed and stuffed with panela cheese before being cooked. They are then covered with lechera (condensed milk) for a sweet and savory bite.
While they originate from the Istmo, you can find molotes de platano in other towns along the beaches of Oaxaca.
16. Totopos Istmeños
When a bowl of crispy tortillas with holes in them arrived at our table at one of the restaurants in Huatulco, my initial thought was that it was a high-end culinary experiment. But then I was surprised when our server called them totopos.
You probably know totopos as the bag of tortilla chips that you can find throughout Mexico. But these are different.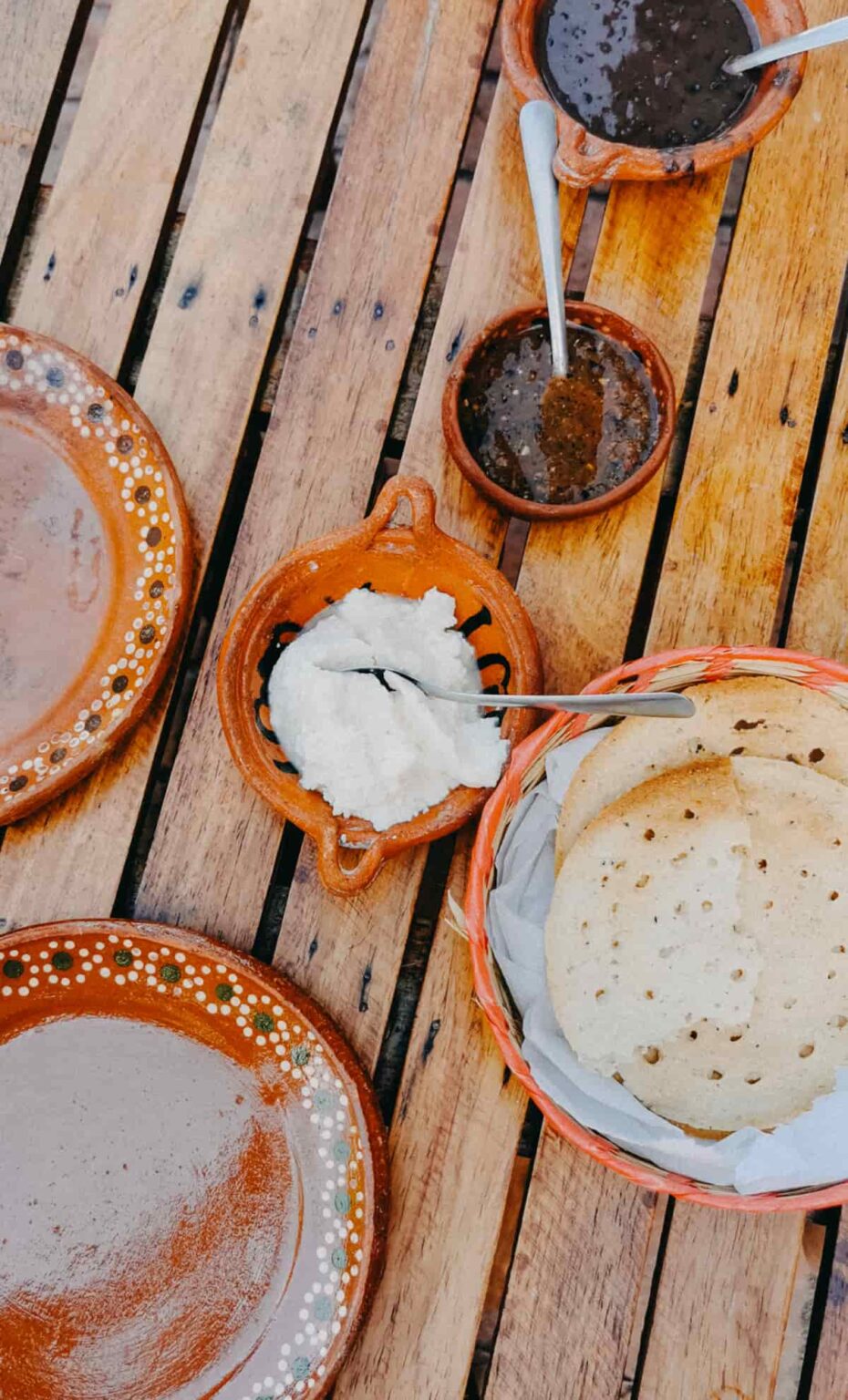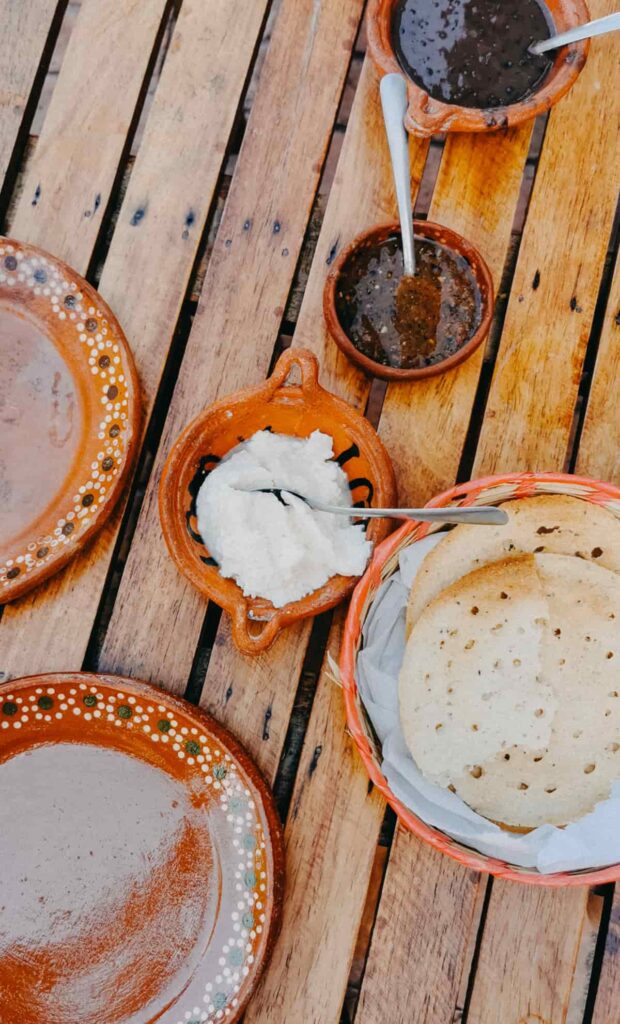 In my opinion, totopos istmeños are something to celebrate. Never mind the fact that these were served complimentary with the freshest queso I've ever tasted.
In the region of Istmo de Tehuantepec, totopos are baked on the side of a round clay oven called a comixcal. It's a way of sort of dehydrating the nixtamalized corn which then allows them to keep without using preservatives.
The result is a savory, cracker-like tortilla chip that I could eat all day. The only place I have found totopos istmeños outside of the coast is at the Abastos Market in Oaxaca City.
Carne Asada
17. Tasajo
You can't talk about food from Oaxaca without tasajo. It's on most menus, perhaps as a main entree served with rice, but more often as a topping for tlayudas, memelas, and tacos. Yum!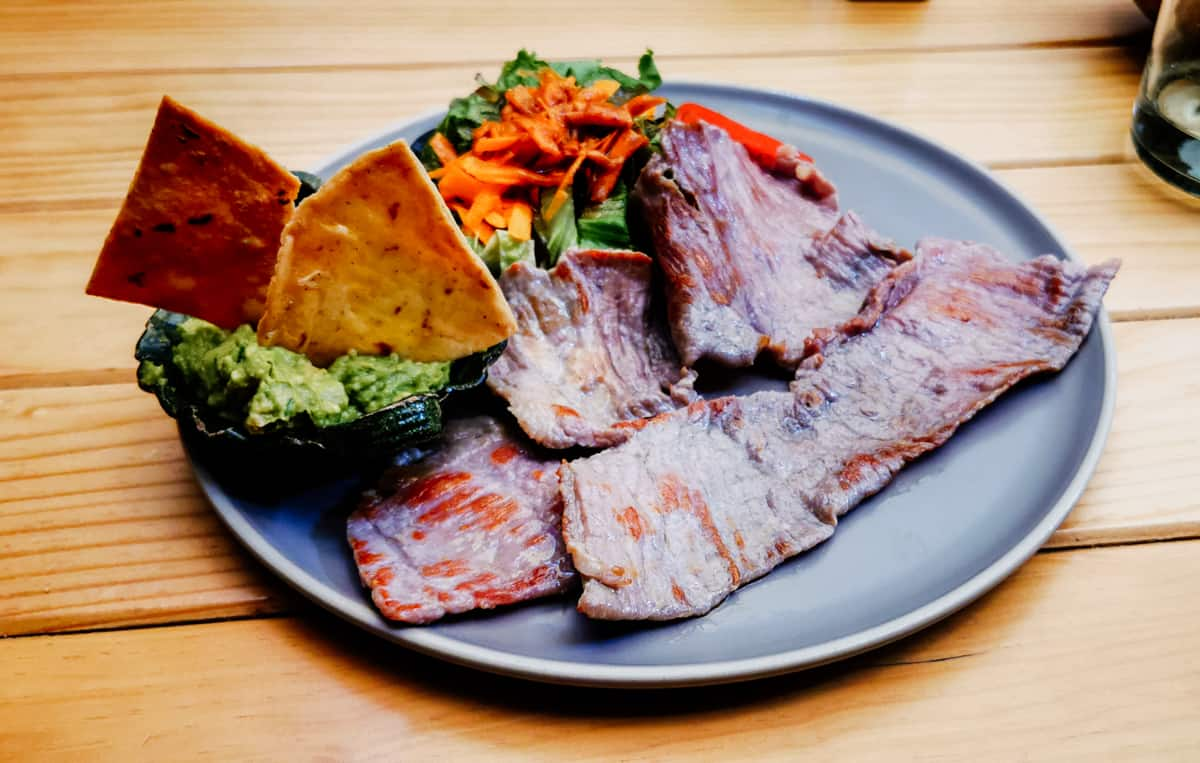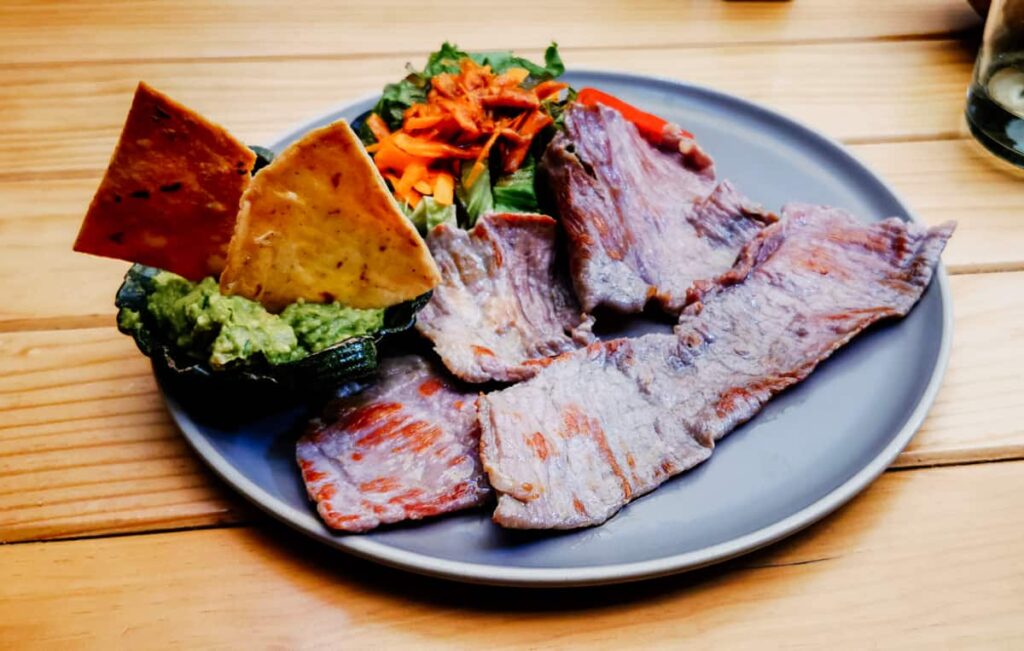 Tasajo is thinly sliced beef that is salted and lightly cured, similar to jerky. But not all tasajo is tough. In fact, what turned me into a tasajo lover is the tender tasajo at Memelas Dona Valle located in Abastos Market.
18. Oaxacan Chorizo
The flavor and color of chorizo varies from region to region in Mexico. In Oaxaca, chorizo is heavily spiced.
It is made with ground guajillo chiles, herbs, salt, pepper, cloves, garlic, cinnamon, and fruit vinegar. This last ingredient is essential to preserve the spicy sausage.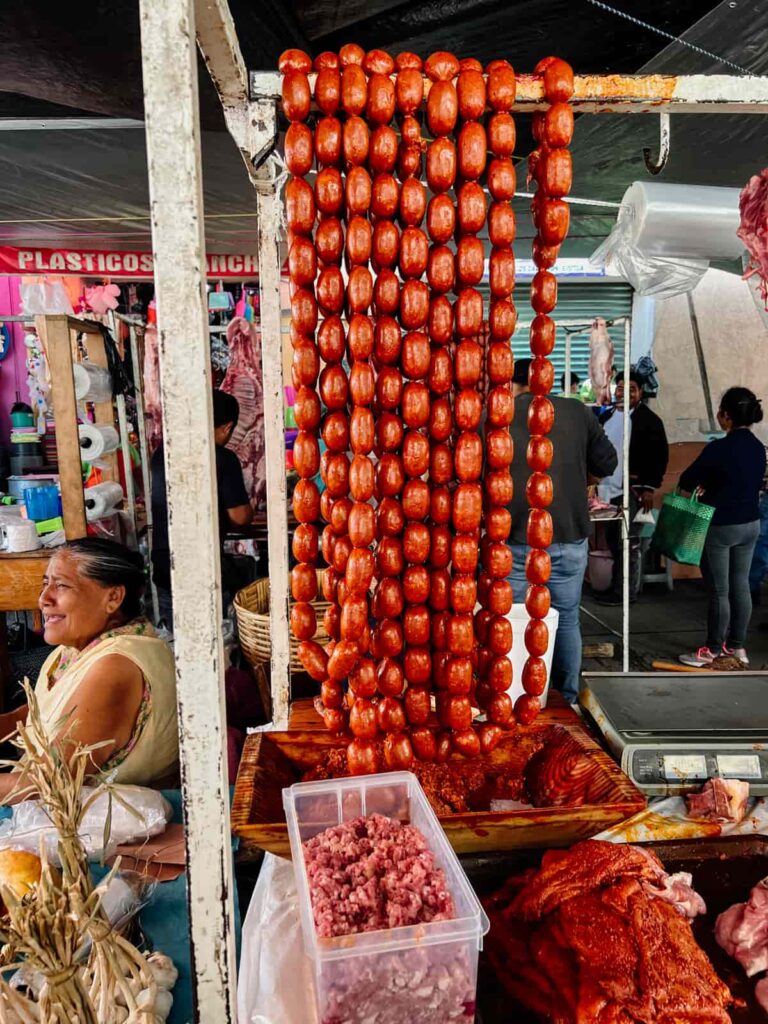 19. Salchicha Ejuteca: Oaxacan Sausage
While considered Oaxacan sausage, the technique was likely introduced to the area by French immigrants who settled in the outskirts of Ejutla de Crespo, a small town just over an hour south of Oaxaca City.
Salchicha Ejuteca is prepared using spiced ground beef that is smoked and then mixed with pineapple vinegar. The result is a European-style sausage enhanced by spicy chili and fruity pineapple.
The real deal Salchicha Ejuteca can be hard to find in the city. But there are some Ejutla residents that sell it at the weekly tianguis, or Tuesday market in the Reforma neighborhood. 
At their market stand, you can order salchicha ejuteca as a toastada, baguette, or sandwich. Each option is dressed with black bean paste, tomato, lettuce, pickled carrots and jalapeños, guacamole, and salsa.
Note – Another carne asada commonly found is cecina – thinly sliced pork that is marinated in chile paste with garlic and cumin. While you'll often find cecina as a tlayuda topping, I'm not including it here because it is more representative of the food in Morelos, Mexico.
Other Key Ingredients of Food From Oaxaca
I think it's important to highlight the ingredients so that you can really understand Oaxacan food and what makes it so special.
While this is a fairly extensive list, it's missing corn (maize) and masa (corn dough). It's a pretty big omission considering the first evidence of domesticated corn was found in Oaxaca.
But there's not really much more to say other than it's no wonder maize and its nixtamalized version, masa, is a big staple in Oaxacan and Mexican food.
Did you know? To create masa, corn is ground and soaked in an alkaline solution using lime. The process, called nixtamalization, increases the nutritional value of the corn and improves the flavor.
20. Flor de Calabaza – Squash Blossoms
Large bundles of these vibrant yellow flowers can be found throughout the markets in Oaxaca. And of course, they inevitably make their way into the food served at restaurants and street carts.
The most common is squash blossom quesadillas (see above). However, I prefer to eat squash blossoms in a soup or sauteed with other ingredients as I find the quesillo cheese can easily overpower the delicate blooms.
21. Huitlacoche – Corn Smut
The earthy flavor of Huitlacoche, or corn smut, has deemed some Oaxaca foodies to call it Mexican truffle.
Huitlacoche is a fungus that infects the corn plant, resulting in stunted growth and low crop yields. The fungus grows on corn kernels and balloons into large greyish-black growths that look like a tumor.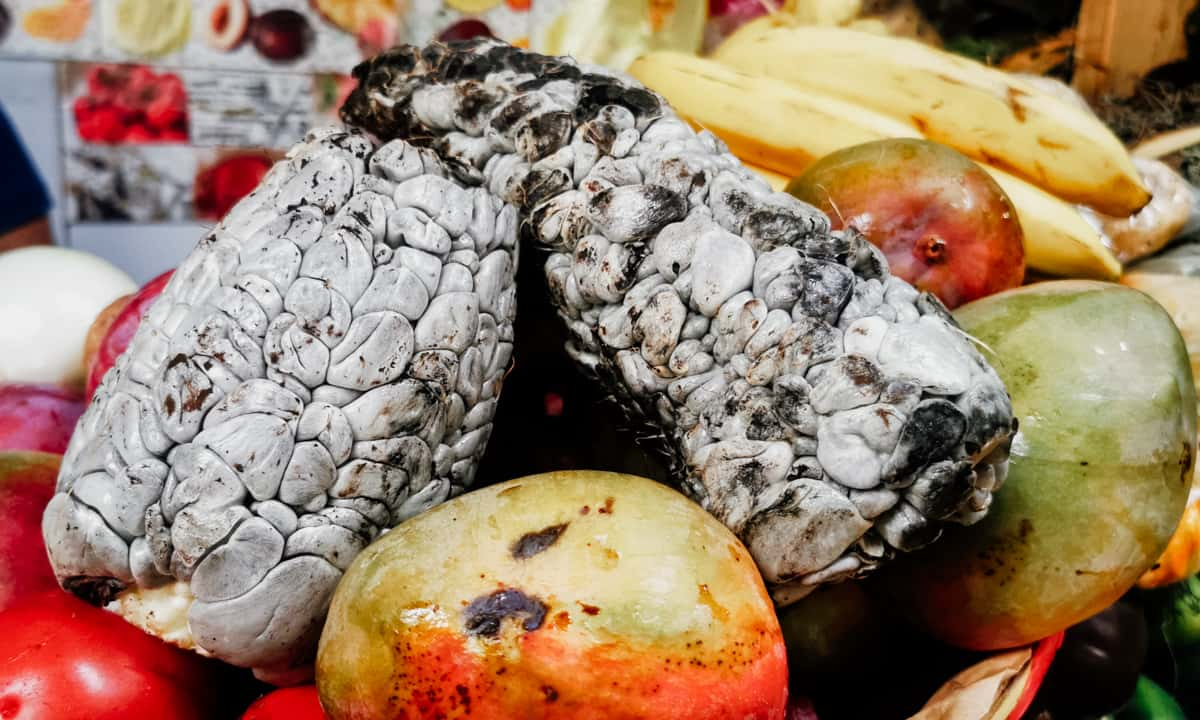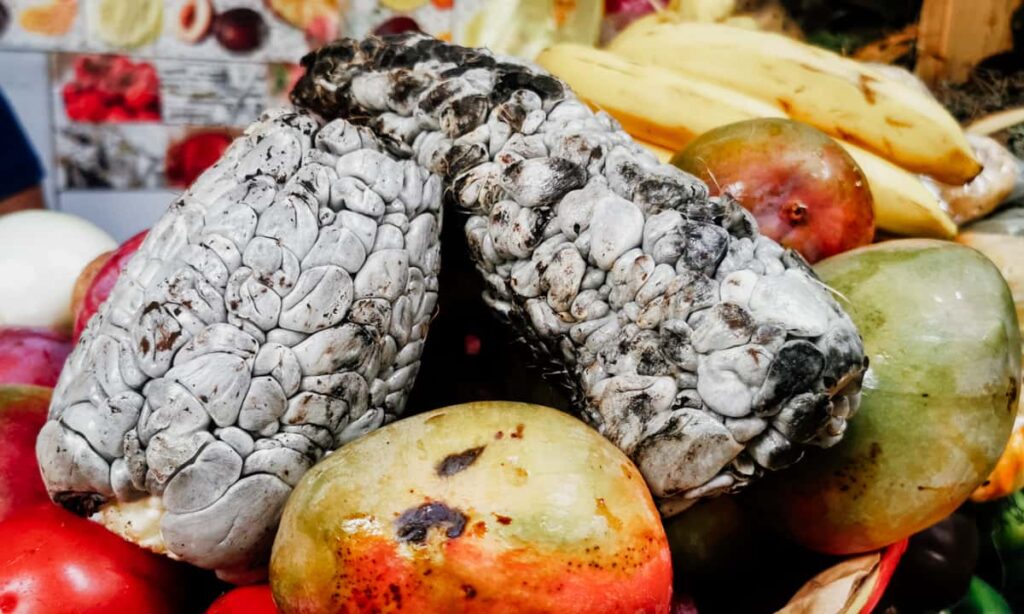 This fungus affects corn around the world and farmers often see it as a detriment that ruins their entire corn crop. But in Mexico, huitlacoche is considered a delicacy.
You'll see huitlacoche on menus and markets throughout Oaxaca, especially during the rainy season. I prefer to eat huitlacoche that is sauteed or stewed with other ingredients to balance the strong flavor.
22. Quesillo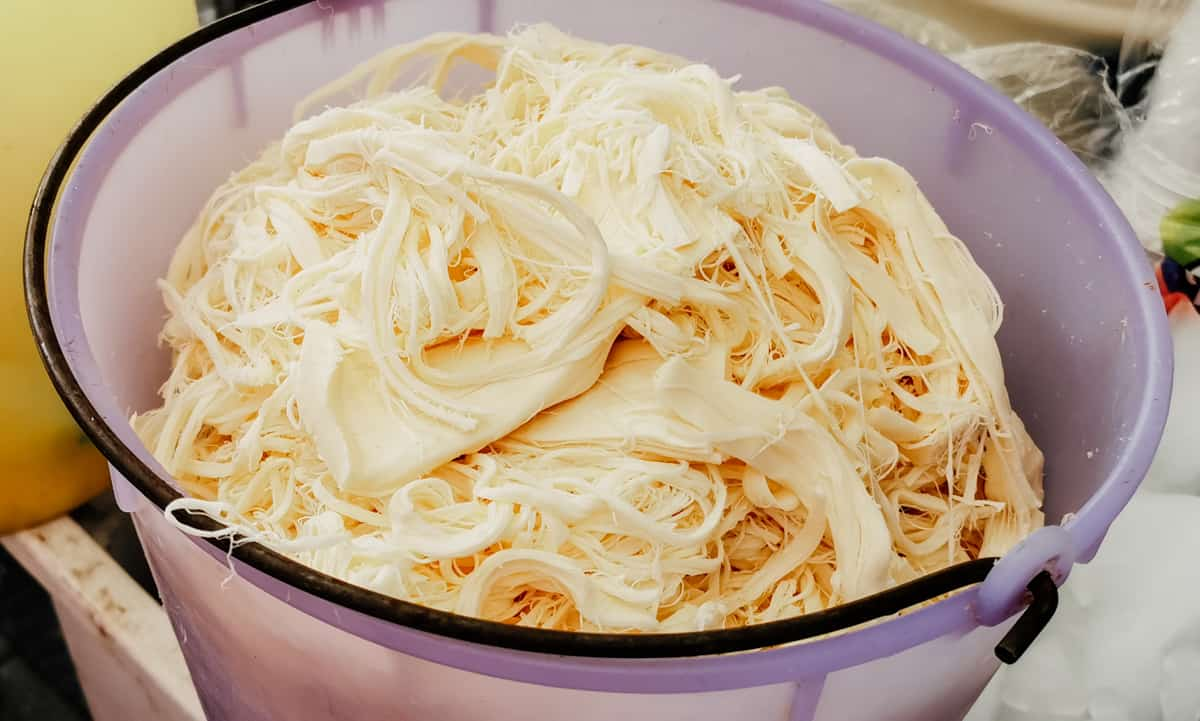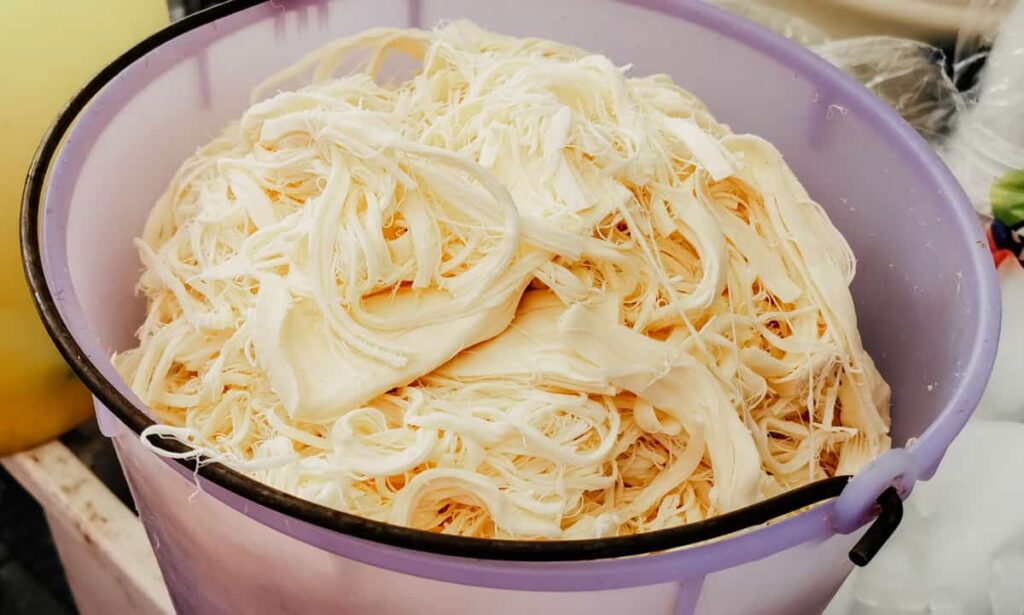 Compared to many of the other items in this Oaxaca food guide, quesillo is a relatively new addition. The origins of quesillo are still contested. While some believe it was a technique brought from Europe, one well-loved story tells of a mistake, albeit a happy one.
As the story goes, a young girl was helping her family make cheese when she got distracted and the milk became too solid. When she realized her mistake, she poured hot water over the milk and created a gummy dairy product. It was a hit with their customers and quesillo was born in the small village of Reyes Etla where cheese production continues today.
Pro Tip – While other parts of Mexico called it "queso Oaxaca" (Oaxaca cheese) there's no faster way to make a Oaxaqueño cringe. The correct name is quesillo.
Quesillo is often compared to both mozzarella and string cheese. It's made into ribbons that are then wound into a ball and sold by the kilo throughout the Oaxaca markets.
23. Chile de Agua
Ranging from green to bright red in color, chile de agua is native to Oaxaca, specifically the Central Valleys.
This chile pepper has smooth, waxy skin and typically reaches 9-12 cm in length. The flavor is mildly smoky with a medium spice.
In Oaxaca, chile de agua can be stuffed like a poblano pepper to make chile rellenos. It is also used to make salsas.
24. Huaje or Guaje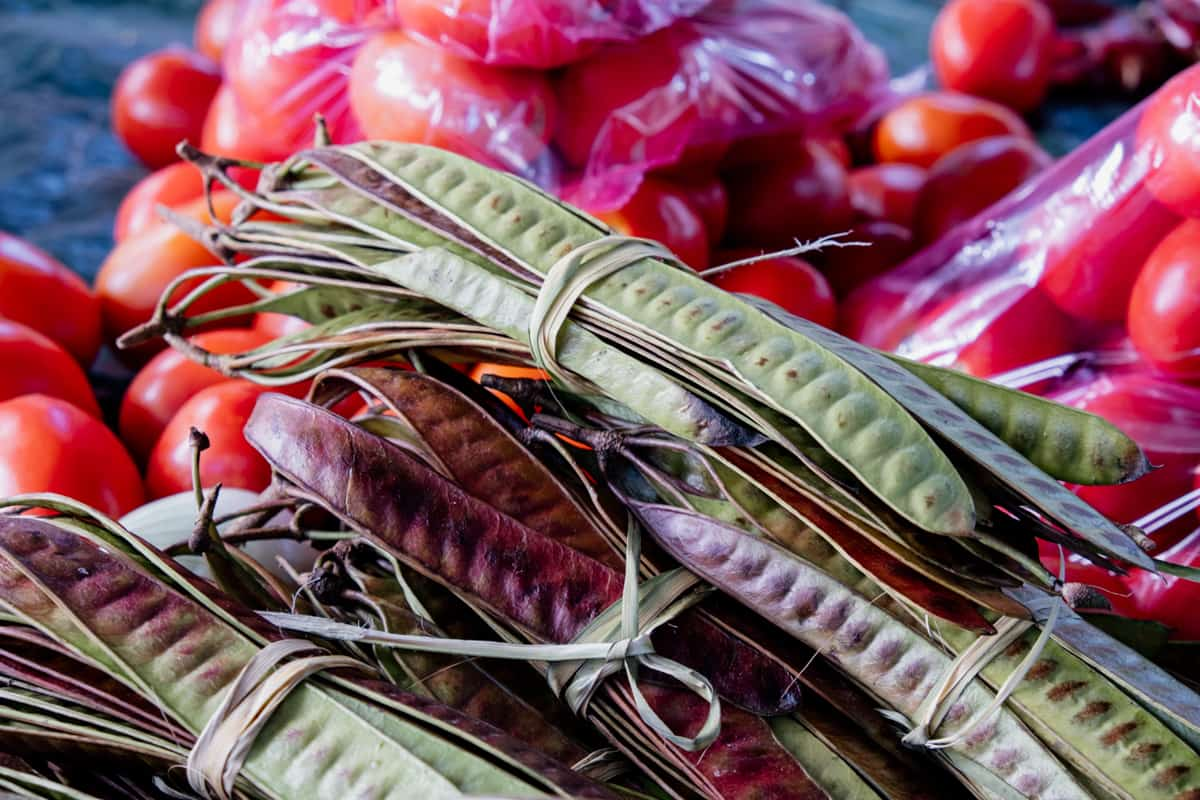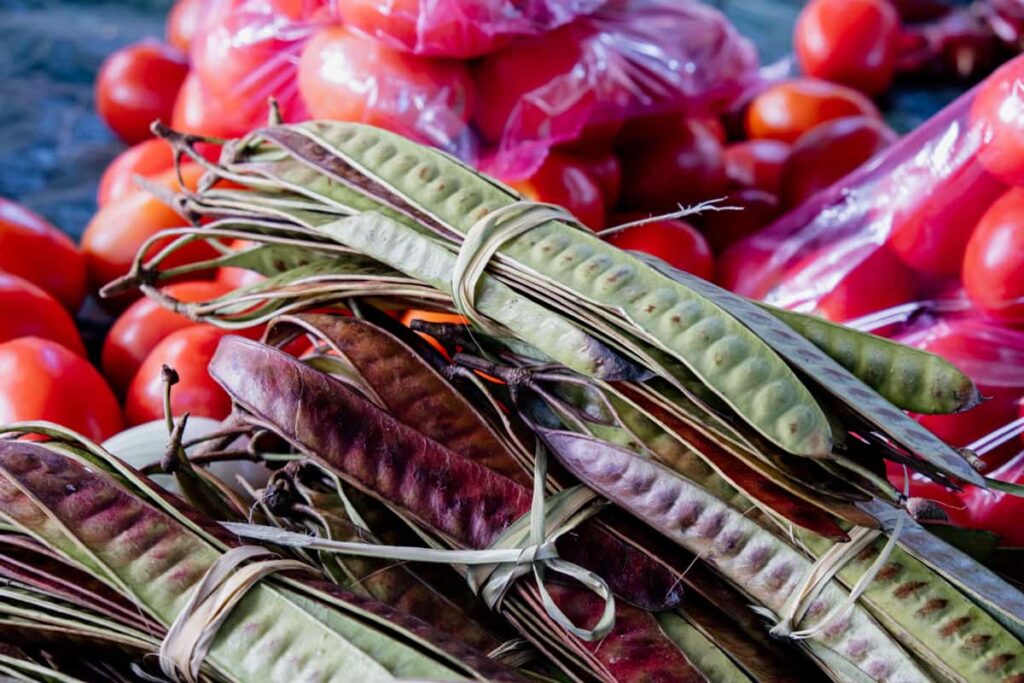 Huaje, also called guaje, is a tree with an edible seed pod to which Oaxaca owes its name. In Nahuatl, Oaxaca was named huaxyacac, which translates to "in the nose of huaje," due to the large number of Huaje trees that were found in the area.
The tree produces white flowers and pods full of seeds which are rich in protein, fiber, and antioxidants. You'll often see these as a snack accompanying a tlayuda. In Oaxacan food, huajes are also ground to be used in salsas and moles.
25. Cacao Beans
Oh, the beloved cacao bean. In Mesoamerica, cacao was considered sacred – a drink of the gods. In some indigenous groups, it was reserved for the priests and special ceremonies. And cacao beans were even used as currency in Mexico and Central America.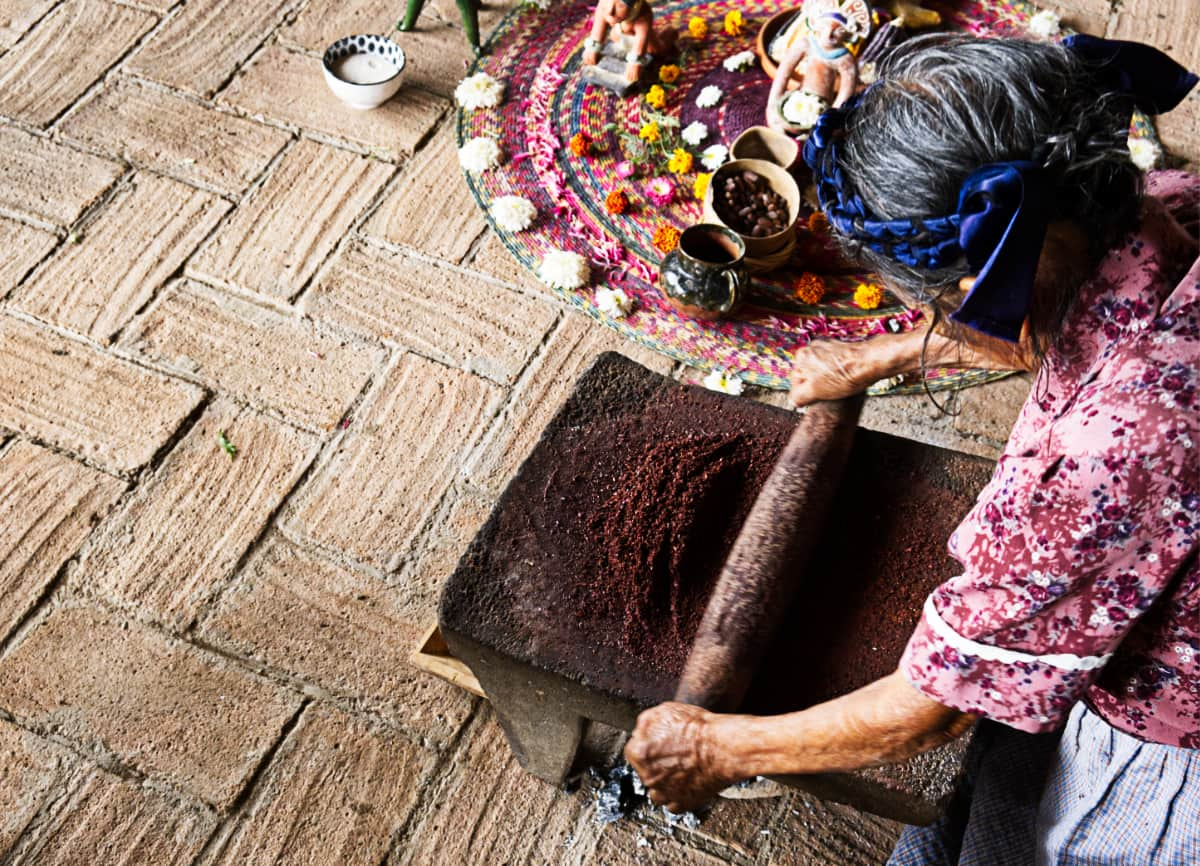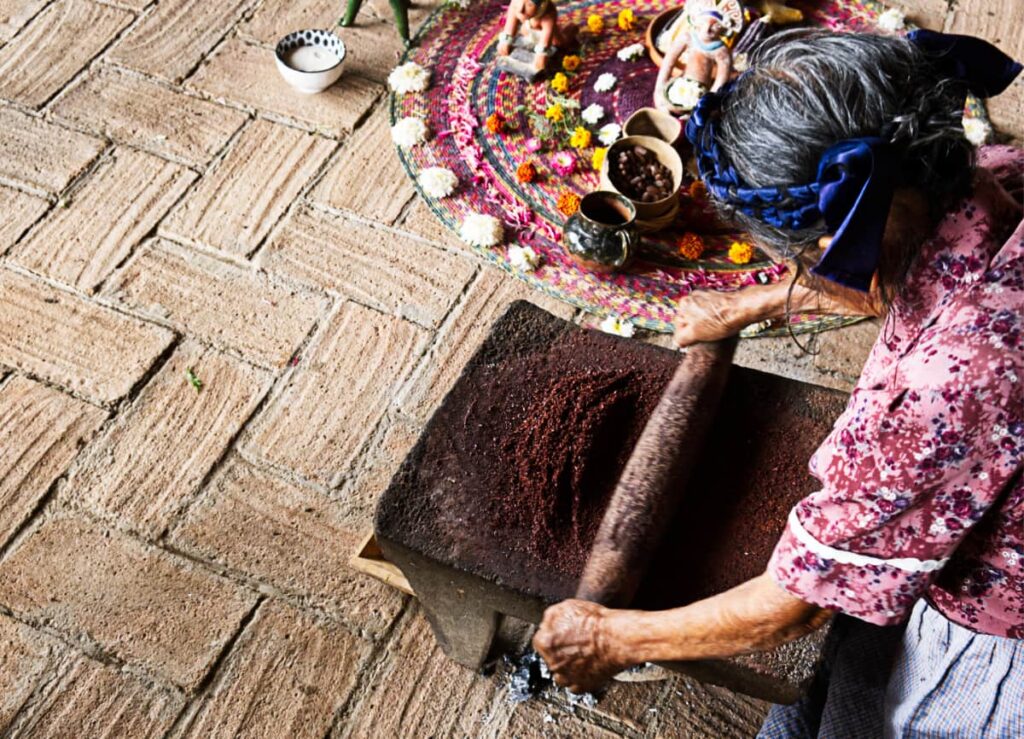 In Oaxacan cuisine, cacao finds itself in diverse roles. One of the most popular forms is chocolate in which the cacao beans are ground on a metate and blended with sugar, cinnamon, and other spices or nuts.
To create one of my favorite drinks in Oaxaca, drinking chocolate, a molinillo is used blend the cacao paste with water until frothy. And as you've already learned cacao is also added to mole to create a rich sauce.
I personally love nibbling on caramelized cacao nibs which you can purchase at Elephant Garden, a top place for vegan food in Puerto Escondido.
26. Wild Mushrooms
Hongos silvestre, or wild mushrooms grow throughout Mexico and have a history of consumption among indigenous communities. It's estimated that they consumed over 200 varieties.
Several areas host a mushroom festival in Oaxaca, including Cuajimoloyas in the Sierra Norte, San Mateo Rio Hondo, and Tlaxiaco.
In August and September, you'll start to see wild mushrooms on more menus since they are harvested during the rainy season – one of my favorite times to go to Oaxaca.
27. Hibiscus Flowers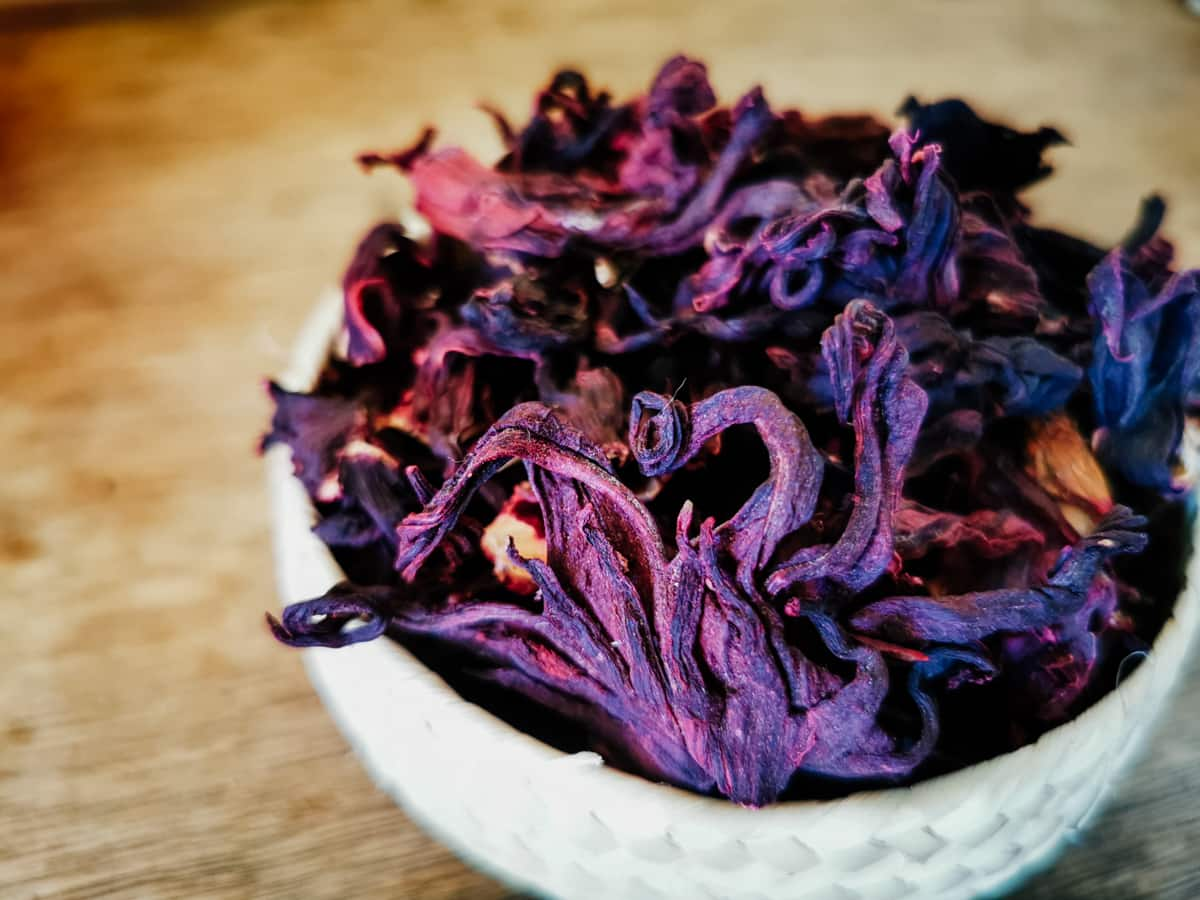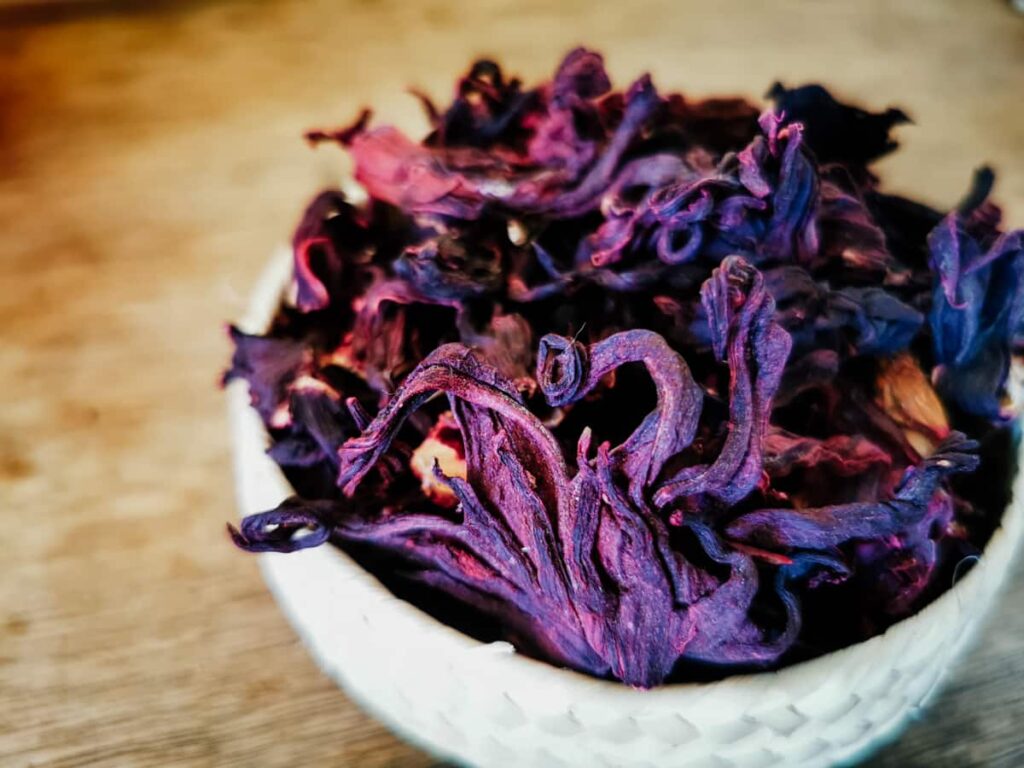 Most travelers to Mexico are familiar with Jamaica, a cold tea of steeped hibiscus flowers that is often offered as an agua del día.
On my first trip to Oaxaca, I was surprised by the use of hibiscus flowers. While I'm not sure if there is a lot of tradition in eating hibiscus flowers, it has started to show up on menus as the vegan food in Oaxaca has blossomed.
You'll often find them stewed with guajillo chile and rolled inside tacos dorados. They are rich in antioxidants such as vitamin C and beta-carotene and help support the heart and liver.
28. Aguacate Criollo
In the late spring and early summer, keep your eye out for these small avocados while strolling the markets in Oaxaca. They are similar in color but darker than Hass avocados and tend to be about a third of the size.
Like most avocados, they are creamy and delicious inside. But what makes these different is that you can eat thin skin.
Quelites Used in Oaxacan Food
While they are almost never used as the main ingredient, quelites play an important role in Oaxaca gastronomy. They are used to add depth of flavor to moles, soups, beans, salsas, tamales, and other dishes.
So what are quelites? Essentially they are wild plants and herbs. The word quelite comes from the Nahuatl word "quilitl," which means a tender edible vegetable or plant.
Hundreds of species of quelites are consumed in Mexico, so I've focused this food guide on those most commonly used in Oaxaca.
29. Epazote: A Distinctive Herb in Oaxacan Cuisine
This pungent herb is native to Central America, South America, and Southern Mexico. It has been used since ancient times for both its medicinal properties and unique flavor. 
In Oaxacan food, it is most commonly found in empanadas de amarillo. It is also frequently used when cooking a pot of beans for both its distinct flavor and ability to reduce flatulence in the beans. The flavor of epazote can be described as a strong blend of citrus and mint.
Keep in mind, epazote can be toxic if consumed in very high amounts.
30. Avocado Leaves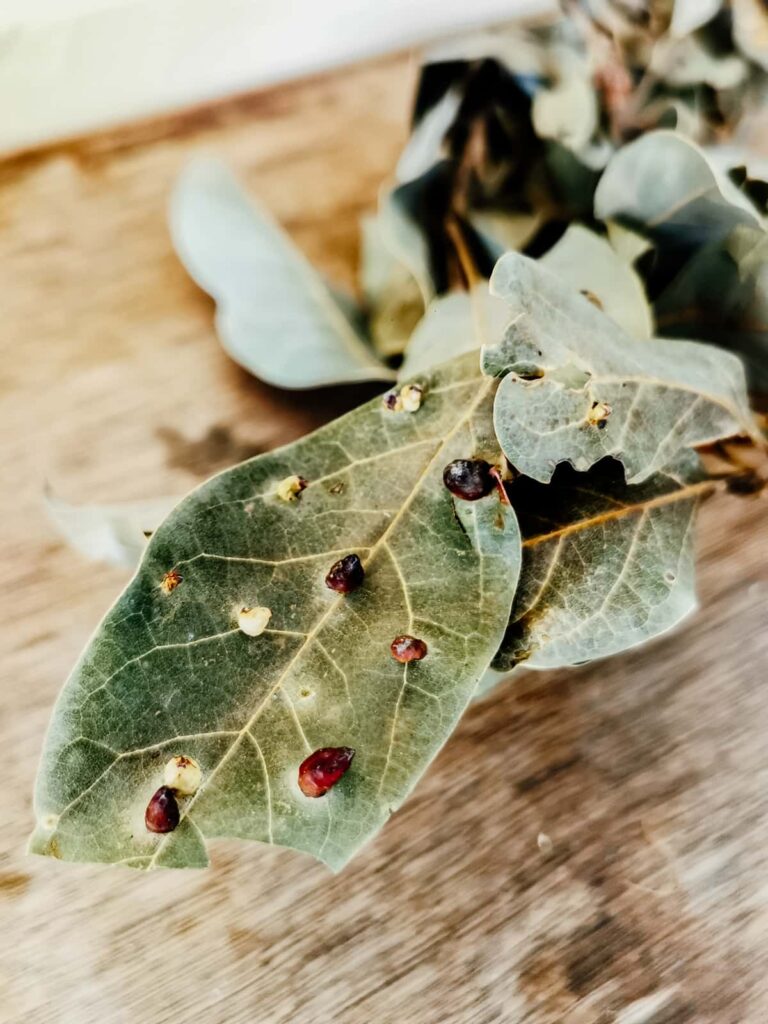 This simple ingredient is used to add flavor to a pot of black beans and moles. Used both fresh and dried, avocado leaves impart a subtle anise and a slightly nutty flavor.
I swear my beans are more creamy since I started incorporating dried avocado leaves. I slightly toast them and add whole leaves in the middle of cooking. Once the pot of beans is cooked, I remove them like a bay leaf.
31. Chepiche
Chepiche is a native herb of Mexico that can be found throughout the Central Valleys of Oaxaca. You're most likely to encounter this green herb when you order a tlayuda (although not always).
I find chepiche to be incredibly pungent so I recommend starting by adding a little to your tlayuda to determine if you like the flavor. This wild herb is also used to flavor stews, soups, beans, and tamales.
32. Hoja Santa
Also called hierba santa or Mexican pepperleaf, the large green leaves of this plant can grow as long as 12 inches (30 cm) or more. Many describe hierba santa as having a licorice flavor, although I find the anise flavor to be light with other herbaceous and peppery notes.
Hoja Santa is used throughout central and southern Mexico. In Oaxaca, they are added to foods such as tamales and soups to add a unique aroma and flavor.
I've even eaten eggs wrapped in hoja santa at one of my favorite places for breakfast in Oaxaca. This preparation is common in the Papaloapan region of the state of Oaxaca.
33. Verdolagas
Considered a weed in many parts of the world, verdolagas or purslane is a hearty green that is eaten throughout central Mexico.
In Mexican food, verdolagas are frequently cooked with pork in a tangy green sauce to create a hearty meal with a bright, sour punch. This is one of my favorite ways to eat purslane, specifically at La Cocina de Frida inside the Ocotlan Market.
I've also been served a healthy serving of purslane on top of a tetela which added the perfect green balance to the hearty corn dough stuffed with beans and cheese.
34. Hierba de Conejo
This wild herb can mostly be found during the rainy season. It's used to add flavor to tamales, stews, broths, salsas, and moles. Similar to avocado leaves and other herbs used in Oaxacan food, it has a slight anise flavor.
Hierba de conejo, also called sangre de cristo, looks like tall grass and can be easily dried for later use.
35. Chepil
Chepil, known as chipilín in other parts of Mexico, is used in soups and more commonly, tamales. It's rich in iron, magnesium, calcium, and beta-carotene.
36. Hoja de Rabano
Radishes are quite common in Oaxaca, whether used to garnish a tlayuda or sculpted into art during the annual Night of the Radishes Festival.
And in some parts of Oaxaca, the leaf of the radish is quite popular, cooked in a similar way to other leafy greens.
Food of Oaxaca: Insects
If you're an adventurous foodie, Oaxaca might just please your palate. This southern Mexico region boasts a rich culinary history of eating insects, dating back to the Mesoamerica period.
Before domesticated animals were brought over by the Spanish, these nutrient-dense insects were a main source of protein. And fortunately, these foods of Oaxaca continue to be enjoyed today.
37. Chapulines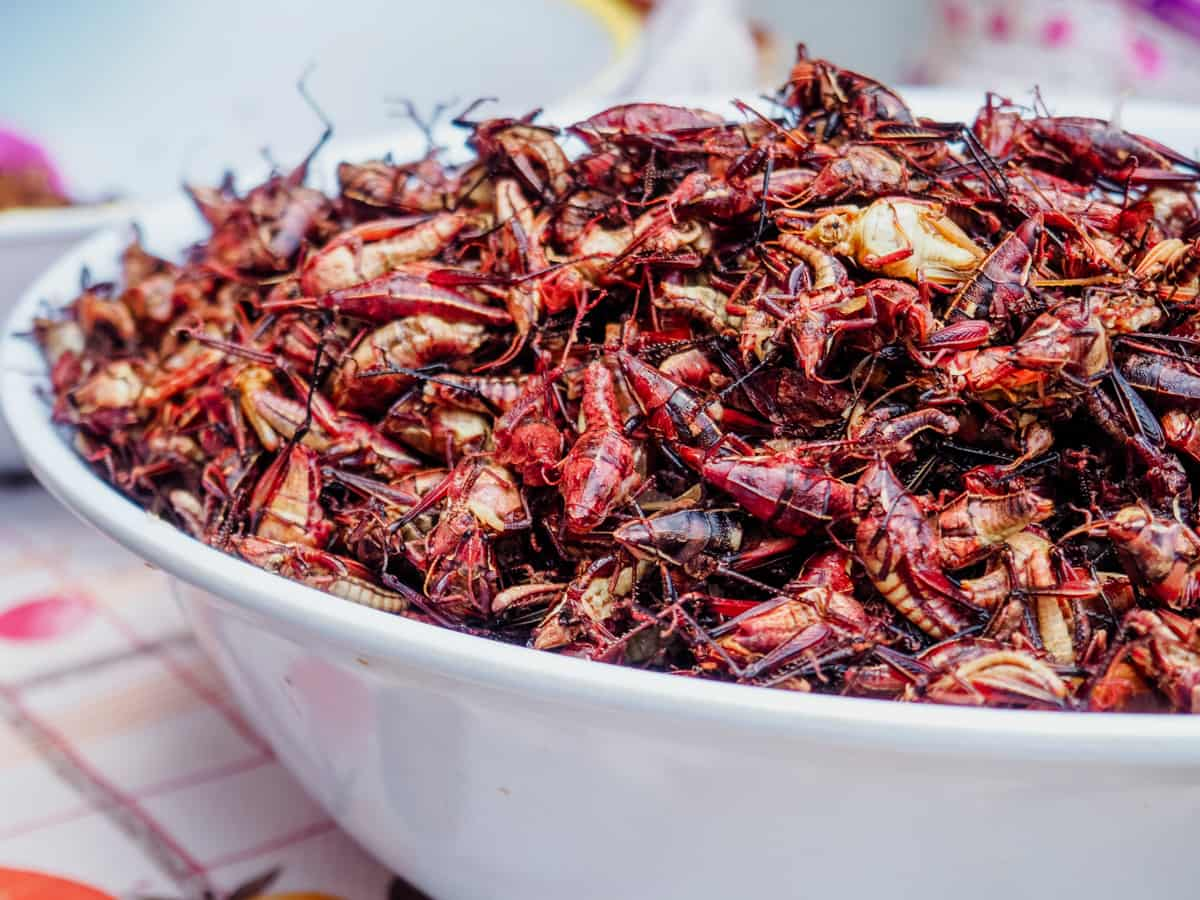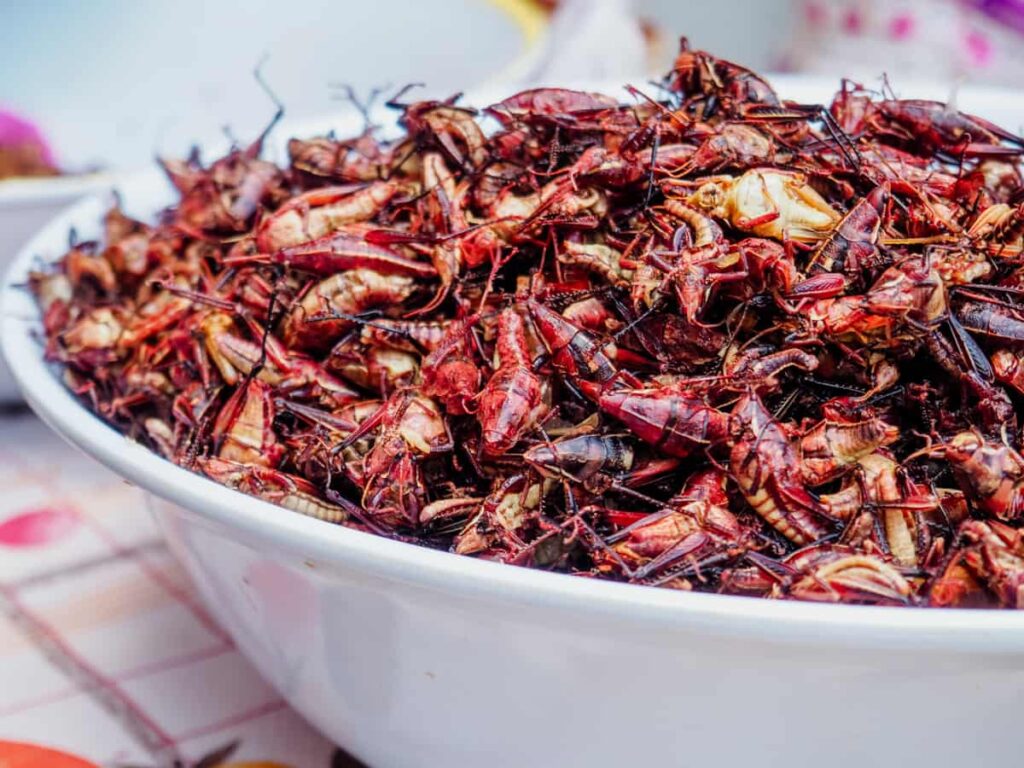 The most popular insects to eat are chapulines or grasshoppers. You'll find them heaped in baskets throughout the mercados, topped on guacamole in restaurants, and served alongside a cold beer or shot of mezcal.
Chapulines are prepared with lime and chili, giving them a tangy spicy flavor that perfectly pairs with said cold beer.
You can find chapulines throughout the year, although the harvest season is from summer to early fall. If you're unsure of eating bugs, look for the small chapulines that go down smooth with a cold beer or sips of mezcal.
38. Chicatanas
The tradition of harvesting chicatanas also dates back to Mesoamerica and continues today across the Central Valleys of Oaxaca.
After the first substantial rains of June, queens of leaf-cutter ant colonies emerge from their nests and rain down from the sky (they are attracted to the lights). The next morning residents collect them to eat.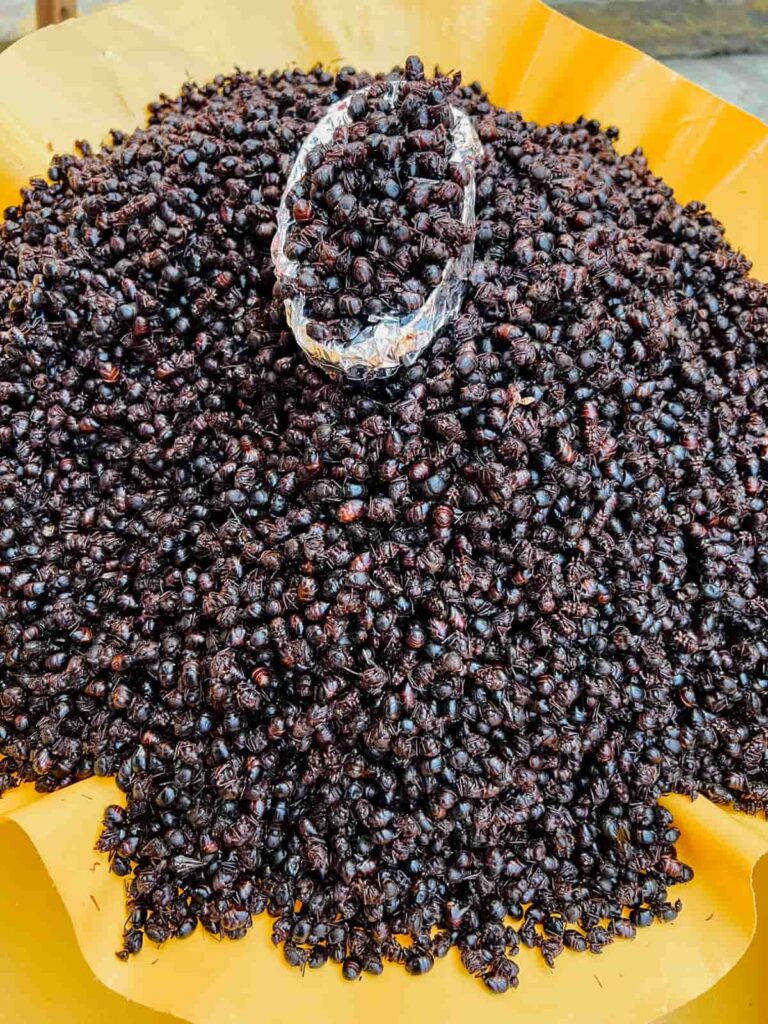 Once caught, the ants are soaked in water to remove their wings. They are then roasted on a comal before being ground and made into salsa or as toppings for various Oaxacan dishes.
Due to their seasonality, scarcity, and popularity, the price of chicatanas has risen quite high. I was recently quoted 2000 pesos per kilo (more than $100 US) at the Abastos Market.
If you're in Oaxaca during the first rains of June and July, I recommend finding a place that serves salsa de chicatanas, such as a stall I discovered in La Cosecha, an organic market in Oaxaca.
39. Gusano de Maguey
Harvested from the maguey plant, these worms are sometimes added to a bottle of mezcal. Although you can also find them in the markets or served alongside other food.
Similar to other insects, gusanos de maguey are roasted until crispy and receive a seasoning of lime and salt. These are one of my favorite edible insects in Oaxaca.
40. Chicharras
To be honest, if I ask my Oaxacan friends about eating chicharras or cicadas, they'd probably look at me funny.
While you don't commonly find these on menus, I watched a video of a man in the Sierra Norte using tree sap to catch these insects high in the branches. And after hearing their humming sound while living in Oaxaca, I'm not surprised that they became a food source.
Food in Oaxaca: Desserts
These dulces típicos are common in the region. Some you'll find easily while others are seasonal.
41. Nicuatole
Upon first look, you could easily mistake this dessert for flan decorated with a bright red crust. However, a closer look reveals its gelatinous consistency.
The main ingredient in nicuatole is masa (corn dough), which as you have learned is a staple in Oaxaca gastronomy. The masa is blended with milk or water, sugar, cinnamon, and vanilla before being skillfully transformed into a smooth, velvety consistency.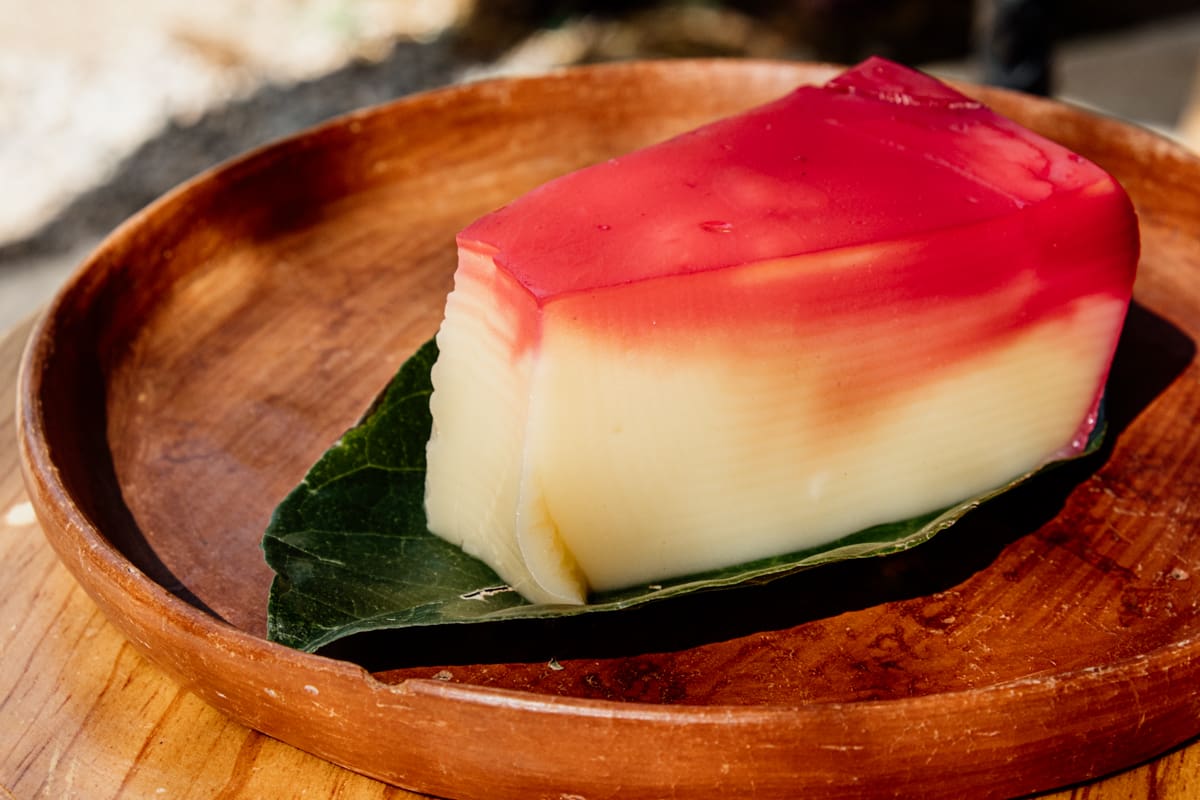 Seriously, I've heard it can take up to 40 minutes of constant stirring to get the desired texture. The result is a dessert that is simultaneously firm but soft enough that a spoon can cut it.
After the nicuatole is formed, a thin layer of hot pink sugar is spread over the top. The color traditionally comes from cochineal, a tiny insect that infects cacti and is also used by the rug weavers of Teotitlan. Today, pink food coloring is used by some producers.
You can find several variations of this Oaxacan dessert whose origins date to the Zapotecs. Sometimes it's made with blue corn while other modifications include adding pineapple or shredded coconut.
Although nicuatole is originally from the small town of San Agustín Yatareni, you can find nicuatole throughout Oaxaca.
42. Nieve Oaxaqueña – Oaxacan Ice Cream
Homemade ice cream can be found in other places in Mexico, but they are a specialty in Oaxaca.
Nieve literally translates to 'snow' so expect a consistency more like icy than a creamy ice cream. Although there are a handful of flavors made with milk that are more creamy.
The traditional nieve oaxaqueña flavor combination is leche quemada con tuna (burnt milk with red tuna fruit). The creamy leche quemada imparts a slightly smoky flavor that is balanced with sweetness from the sugar. It's a nice contrast to the ruby red tuna nieve made from prickly pear cactus.
You can find nieves throughout the city and markets, although I recommend walking to Plaza de la Danza where nieve stands are located in the plaza in front of the church. You'll have your pick of ice cream vendors and flavors to choose from.
43. Nenguanitos
While not as common as nicuatole or nieves, nenguanitos are another traditional dulce oaxaqueño you should try. This sweet is essentially small shortbread cookies that are stacked in a group of four.
Nenguanitos are made using a wheat dough that is rolled into a long log, cut into rounds, flattened, and then baked until golden brown. After resting, they are stacked vertically and brushed with a mixture of sugar and water to hold the stack of sugary goodness together.
44. Empanadas de Corpus
This is another traditional Oaxacan dessert that sweet lovers will want to seek out. While these were traditionally eaten for a religious holiday, today you can find these sweet empanadas on various street corners, bakeries, and markets in Oaxaca.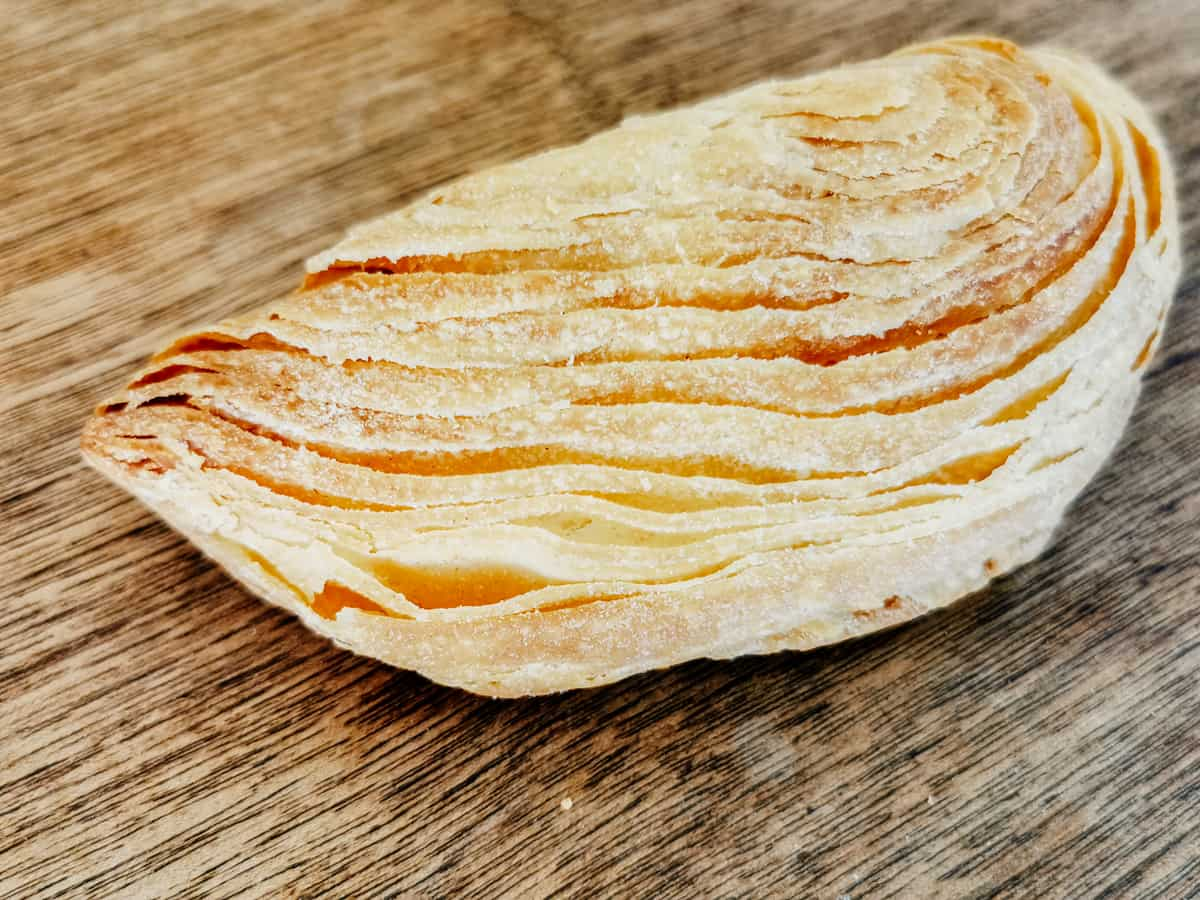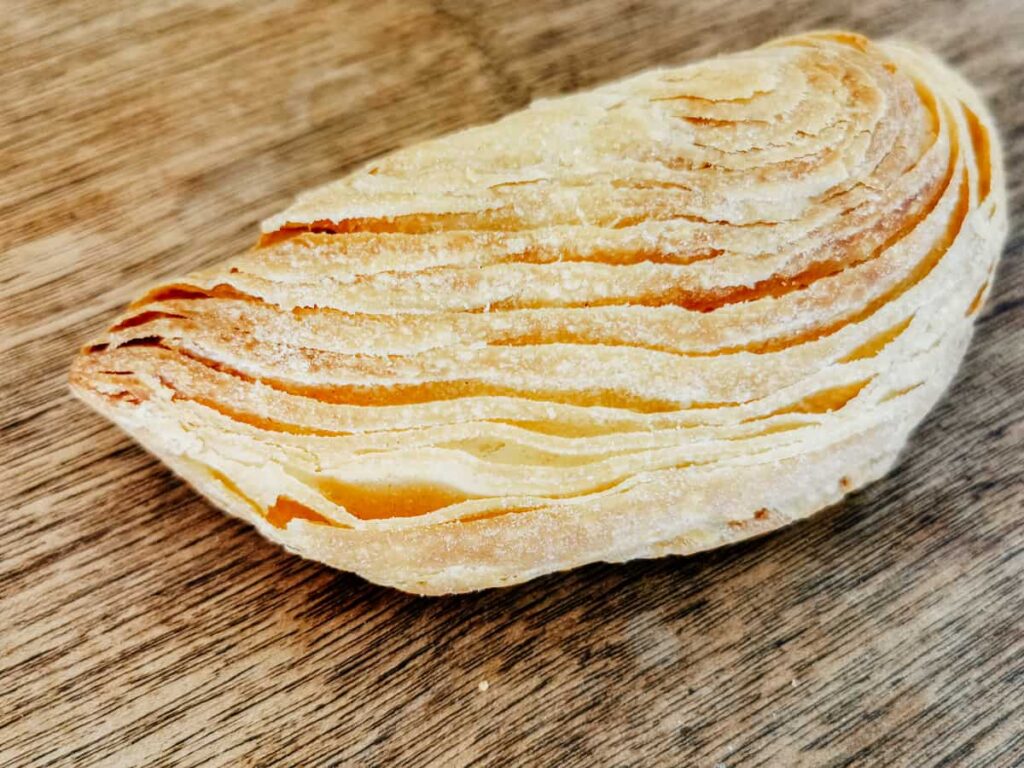 Empanadas de Corpus look like a baked empanada but with thin crispy layers of pastry dough that encapsulate the filling. It's flaky like a croissant but crispy like an empanada and filled with sweetness.
The traditional fillings are grated coconut, a Oaxacan custard called lechecilla, and pineapple. Although today, the fillings have expanded to include other fruits.
45. Maguey Cocido
If you're planning a visit, you're probably already looking for where to taste the best mezcal in Oaxaca. But you likely haven't heard of this sweet, fibrous treat.
While I've actually seen cooked maguey more often in other parts of Mexico, it has its place in Oaxaca, specifically the Mixteca region. For maguey to be well cooked, it has to be cooked in an underground oven for five days and five nights, so that it is buttery soft and sweet.
I've also been given a piece of cooked maguey while on a mezcal tour in Oaxaca.
46. Calabaza en Dulce
If you're visiting Oaxaca during Day of the Dead, look out for this sweet and healthy treat. Calabaza en dulce is just as it sounds – sweetened squash.
In this case, hard squash similar to pumpkin is boiled in a mixture of water, piloncillo (unrefined sugar), cinnamon, and other spices until soft. It's served drizzled with a sweet syrup that is the result of the thickened liquid.
47. Mezcalite POP!
Alright, we're veering away from Oaxaca traditional food a little, but this is an awesome sweet treat that blends fresh fruit with mezcal. And its roots are uniquely Oaxacan.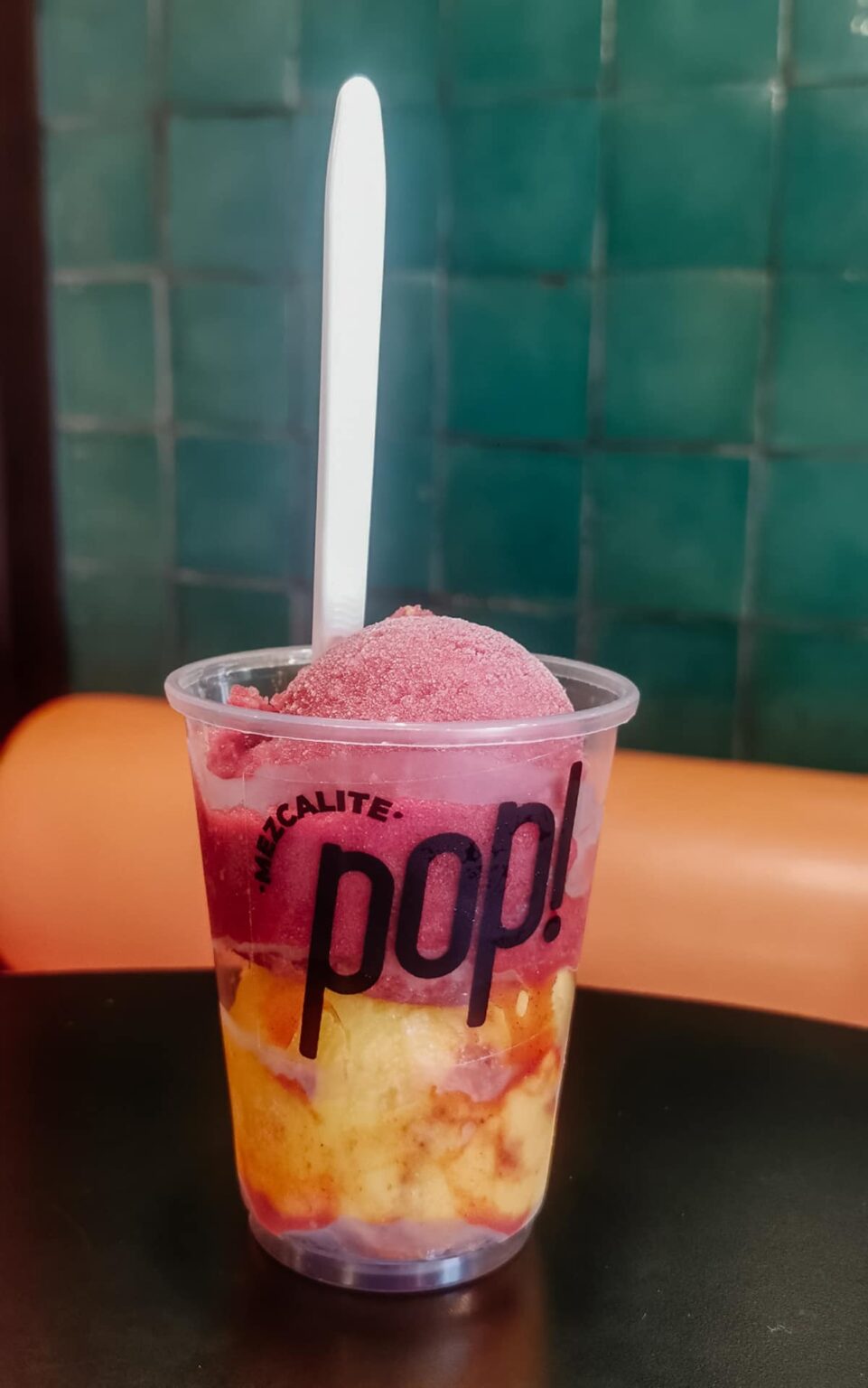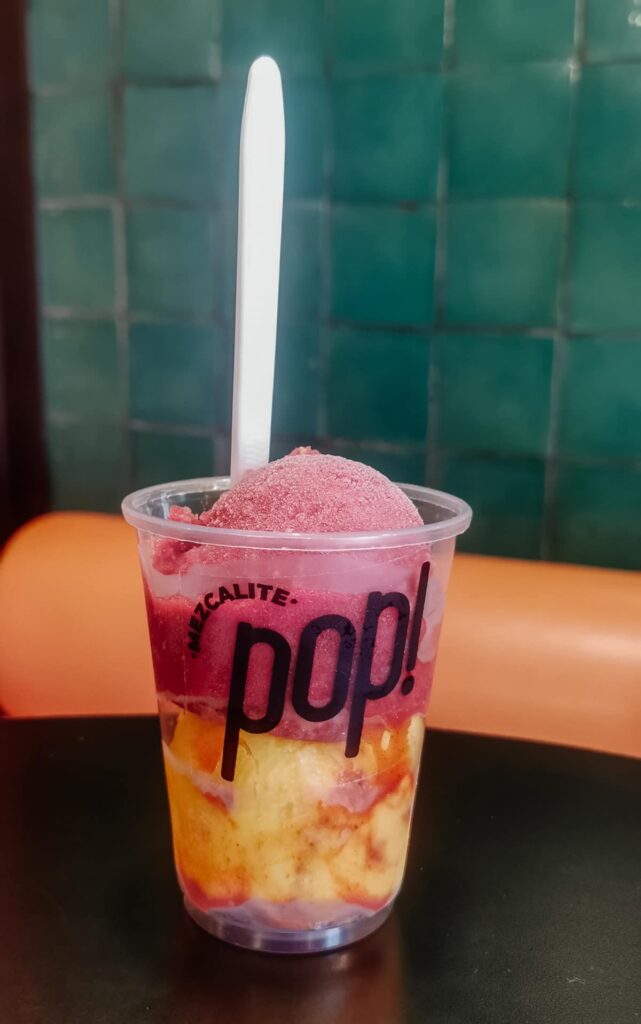 Started by Aracely and Gustavo, this local business is all about using local ingredients – from locally produced mezcal to fresh fruit. What started with the idea to sell fruit infused mezcals, a tradition of Gustavo's grandfather, turned into a business that creates mezcal popsicles and creamy gelato-style fruit nieves.
You can opt to top your fruity mezcal creation with chamoy (a sweet and sour syrup), chili salt, and spicy gummies. You can find these fruity mezcal pops at their main location (map).
Oaxaca Traditional Drinks
This short list doesn't even begin to scratch the surface of Oaxaca drinks. But I want to touch on a few that are integral to the cuisine and culture in Oaxaca.
48. Tejate
Often referred to as the "drink of the Gods," tejate is crafted from a blend of maize, cacao beans, mamey pits, and flowers of the rosita de cacao tree.
The ingredients are ground into a paste and later thinned with water before ice is added to the large serving bowl. Tejate is served cold in a dried gourd bowl with a frothy surface layer.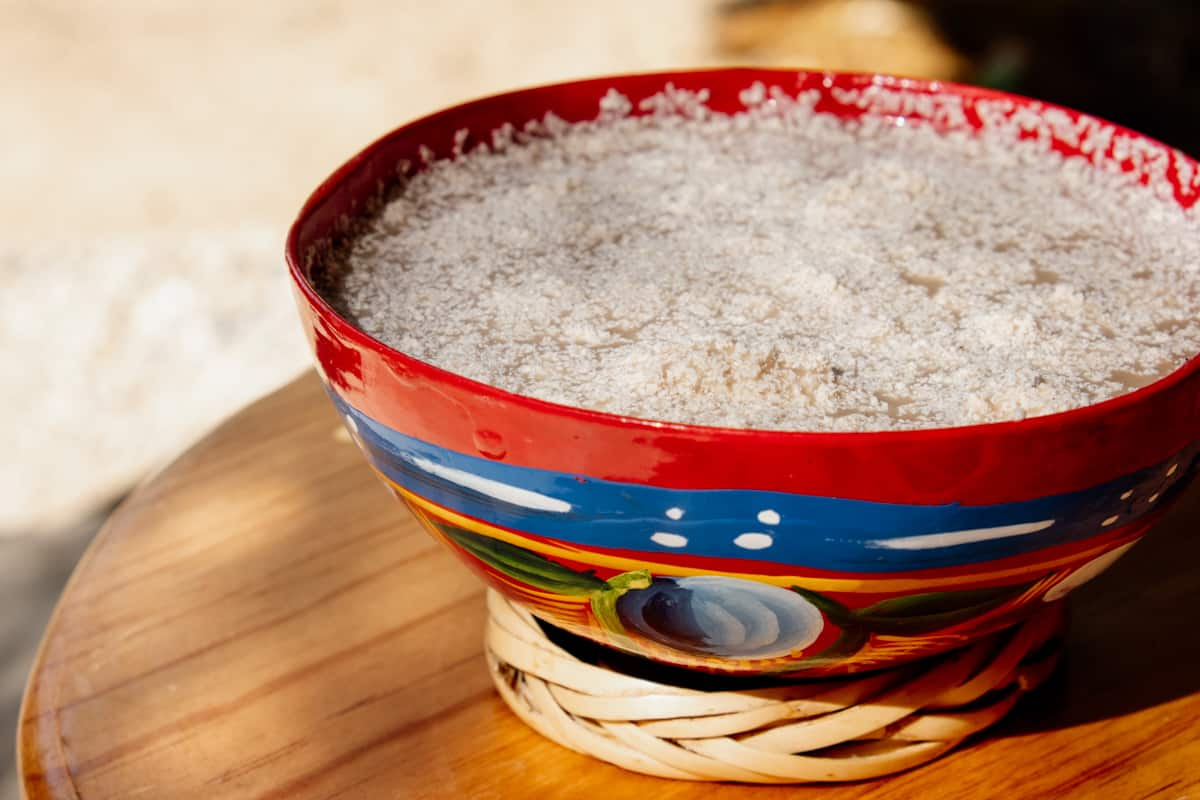 Although tejate is found throughout the state, it is most closely associated with San Andrés Huayapam, a small village located just north of the capital city, where residents have been preparing it for generations.
49. Chocolate
Drinking chocolate has a long history in Mesoamerica. To make chocolate, cacao beans are roasted, ground, and combined with spices and other ingredients including cinnamon, almonds, and sugar.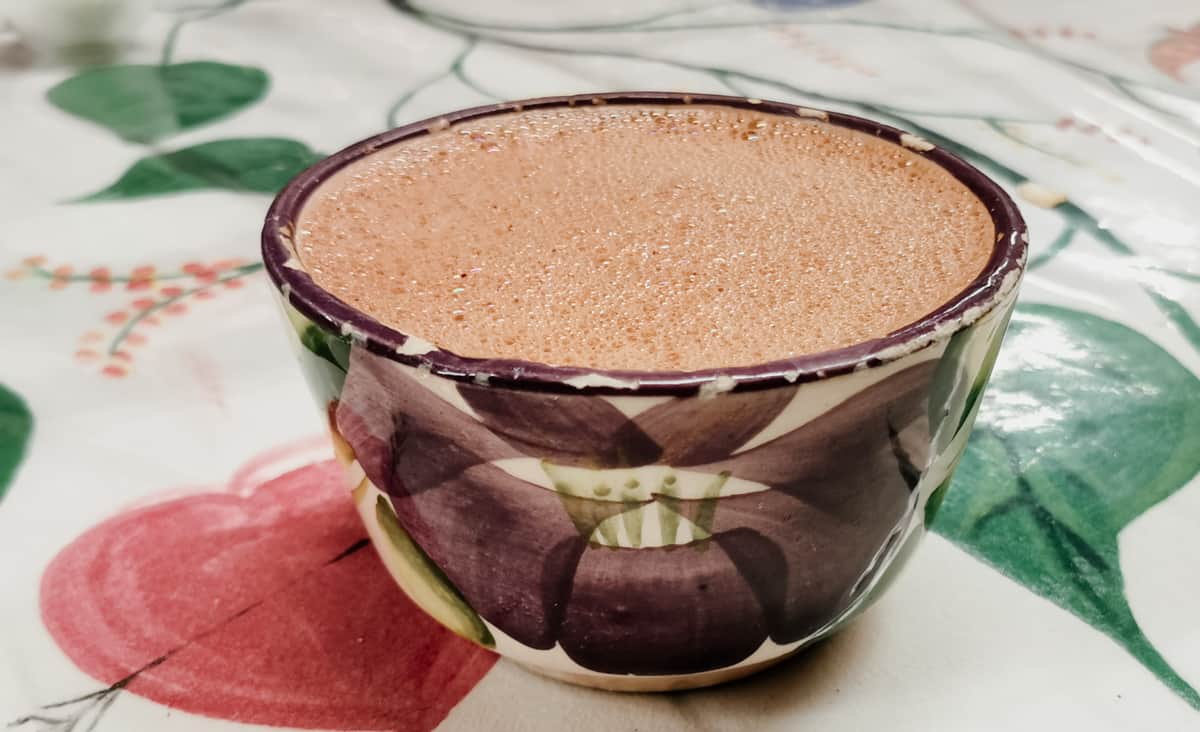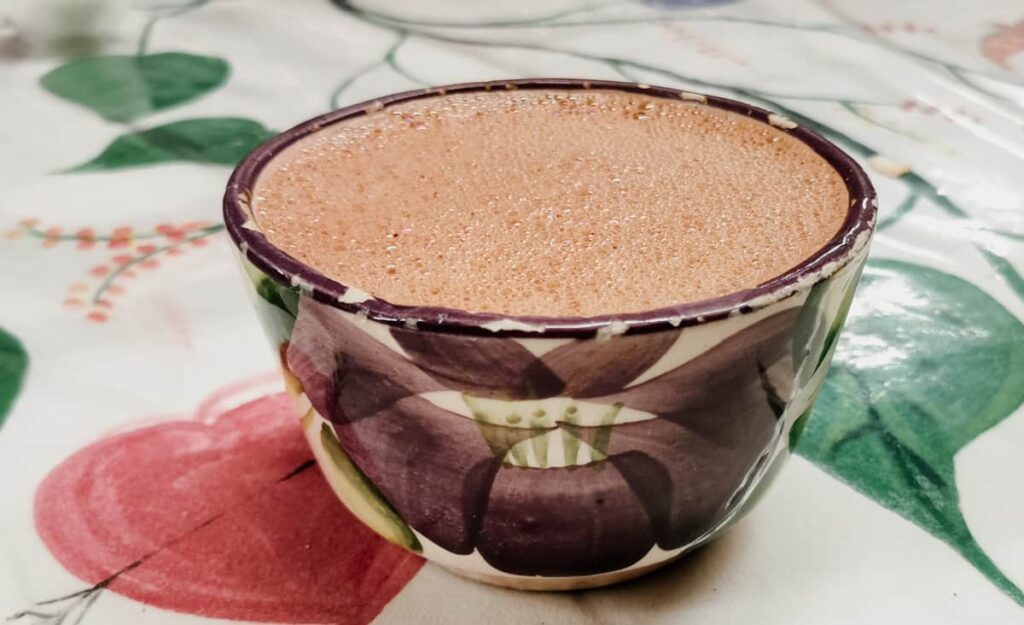 This concoction results in a rich, velvety chocolate paste that is then blended with water or milk using a molinillo until frothy. It's more traditional in Oaxaca to drink chocolate with water although most cafes in Oaxaca offer both options on the menu.
50. Mezcal
If you're a spirits lover, this drink may not need an introduction. Also made from the agave plant, mezcal is the sister spirit of tequila.
However, there are some reasons to choose mezcal over tequila. Mezcal is one of the cleanest spirits you can drink, rarely producing a hangover if you consume only mezcal. It also has a higher alcohol content which in theory means you don't need to drink as much to feel the effects.
Pro Tip – Mezcal is meant to be sipped, not shot like tequila.
I highly recommend taking a Oaxaca mezcal tour to learn about the entire process, from field to bottle.
Final Thoughts on Food From Oaxaca
Unearthing Oaxaca food is an incredible journey. The flavors, textures, and traditions embedded in each dish are truly remarkable.
Whether you visit Oaxaca for a few days, a week, or more I encourage you to seek out as many of these foods from Oaxaca as possible.