Vegan Puerto Escondido: 17 Best Places For Vegan Food (2023)
The Puerto Escondido vegan scene has blossomed into something lovely in recent years. And many restaurants get creative by going beyond simply using soy products.
The vegan food in Puerto Escondido includes flavorful vegan tacos, healthy hummus bowls, inventive vegan breakfasts, classic Mexican dishes with a vegan twist, and even vegan kimchi if you need to get your Korean fix.
While this article focuses on Puerto Escondido vegan food, I've expanded it to include vegetarian options as well. Let's dive into some of the best healthy food in Puerto Escondido.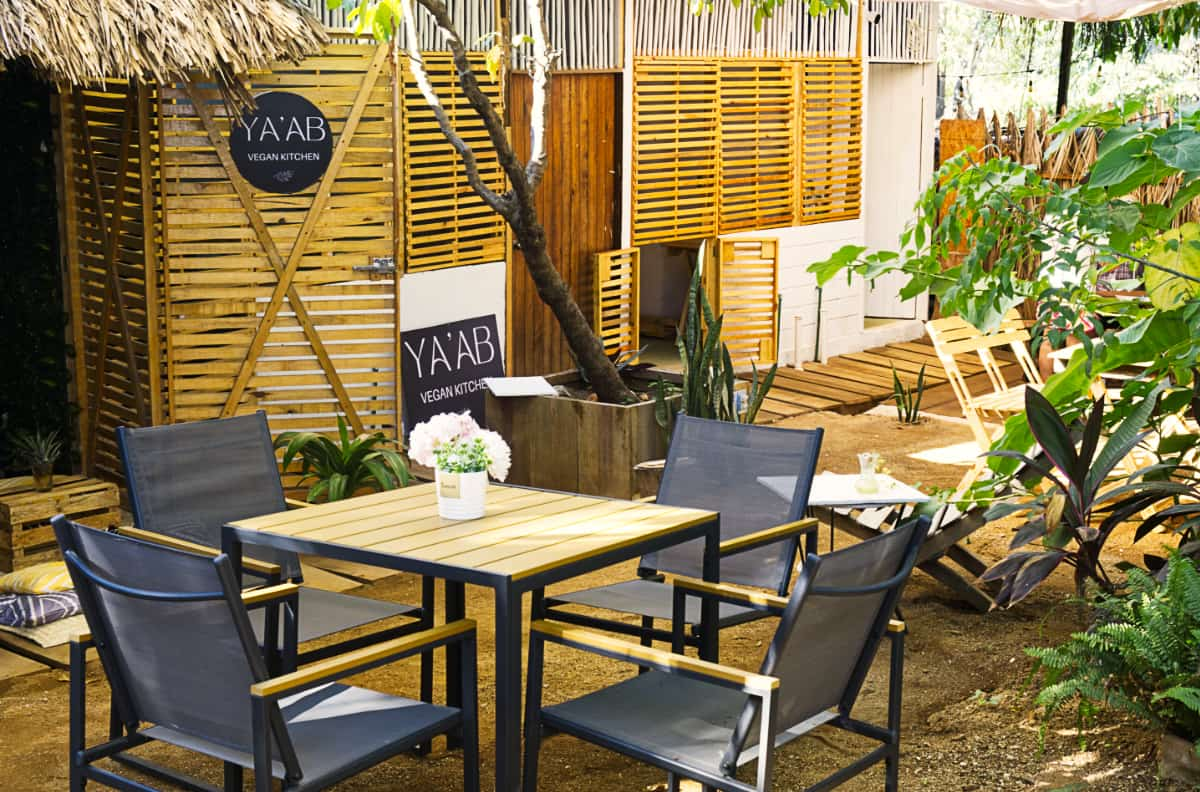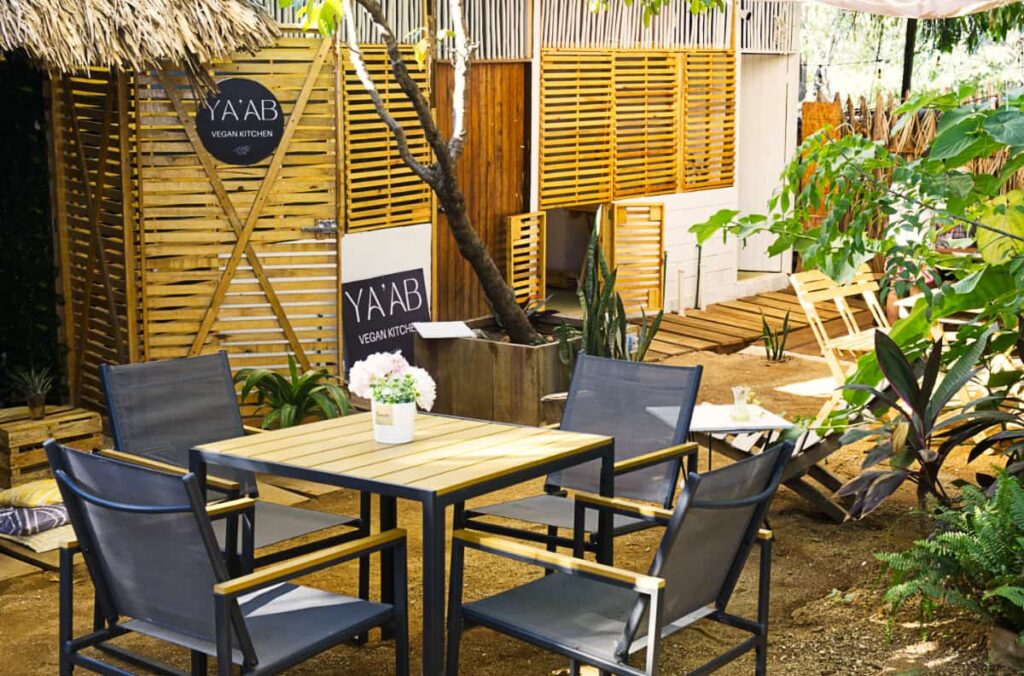 A quick note before we dive into the best Puerto Escondido vegan food. I've divided this list by location so that you can find vegan and vegetarian restaurants wherever you are.
However, there are some really incredible places that stand out from the rest which I've listed below with a link to the fuller description in this article.
Alma Mia Deli – Delicious Vegan Breakfast
Cocofam – Dishes loaded with Veggies from their Garden
VéGe Express – Incredible Vegan Tacos
Mictlan – Best Vegan Mexican Food
Ya'ab Vegan Kitchen – Smoothie and Hummus Bowls
Central Puerto Escondido Vegan Restaurants
Alma Mia Deli
$$ | View Location
The menu at this outdoor vegan restaurant in Puerto Escondido features an array of housemade sourdough bagels with various toppings and smoothie bowls sweetened with a touch of agave.
Although I personally think the star of the show is the oat crepe layered with hoja santa and garbanzo "egg" scramble. It's served with a fresh salad and slices of tomato and avocado.
While the menu is relatively small, they also offer a lunch special each day. In my opinion, this is some of the best vegan food in Puerto Escondido.
Cocofam
$ | View Location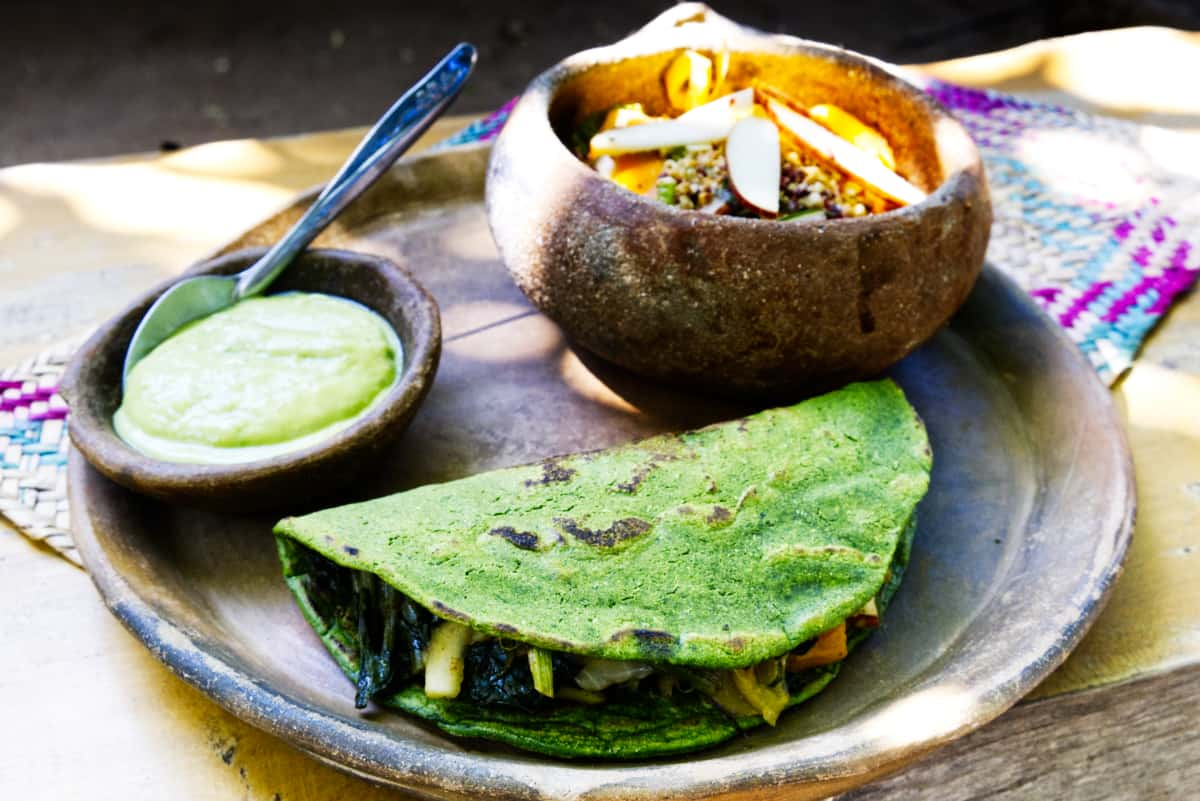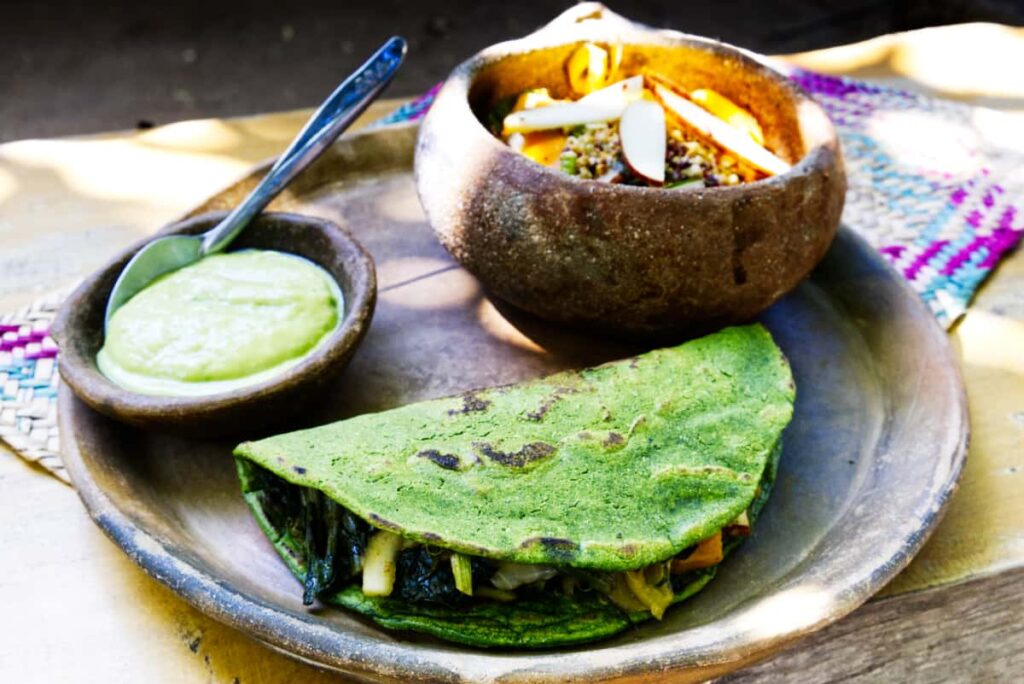 Cocofam is all about the veggies. The menu mostly focuses on tacos and tortas served with a nice side salad. The plates are loaded with veggies, many of which are supplied by the garden they've cultivated next to the restaurant. When I was there, I saw squash, papaya, lettuce, lemongrass, and more growing in the garden.
To drink, they offer traditional Mexican aguas, often with a healthy twist such as the oat water which adds amaranth and peanuts. And to round out your vegan meal, they also make a vegan tart for dessert. This is easily one of the best places for healthy food in Puerto Escondido centro.
Taqueria El Chilango
$ | View Location
This taco joint in Puerto Escondido is far from being strictly vegan or vegetarian. However, they do have a few options for vegan taco fillings and vegan cheeses. The alternative meat options include soy products as well as veggies such as mushrooms and nopal cactus, which is one of my favorite combinations.
While I wouldn't put Tacos Chilango at the top of my list for Puerto Escondido vegan food, it's a solid option if you're looking for something quick and relatively inexpensive in centro.
El Sultan
$$ | View Location
This middle eastern restaurant in Rinconada always seems busy. The menu includes classics like tabouli, hummus, falafel, shawarma, and kabobs. And soon after I ordered, the large bowls of salad that were brought to a nearby table made me question if I ordered the right thing.
But the falafel wrap was flavorful. I did think it was slightly on the small side, but the server informed me they have 2 for 1 falafel wraps every Wednesday. For about the same price the salads looked incredible, so I know what I'll be getting next time.
In addition, the menu to create your own juice blend looks quite interesting. To kick it up a notch, it includes a section of superfoods to customize your creation.
Papa Tots Snackeria
$ | View Location
I initially wrote off Papa Tots as a cheap fried potato place. And while it is just that, they also have a lot of vegetarian and vegan options.
The main concept is simple but unique – fried potato balls fused with international flavors in many different forms. So yeah, this isn't the healthiest vegan food in Puerto Escondido. But it's cheap and satisfying, as most fried items are.
The plates are small and priced to match, so you can try a few different flavors. For me, the various Papa Tots infusions and vegan samosas stand out among the large menu.
Zicatela Vegan Restaurants
VéGe Express
$ | View Location
Located in Mercado Zicatela, VéGe Express specializes in vegan tacos that emulate the flavors of Mexico. The menu includes the classics – carnitas, pastor, and suadero – all with a vegan twist.
It's evident that the mother-daughter team takes great care to create quality plant based food that is well-loved by vegans and non-vegans. In addition, their tacos plates are an incredible value.
HOLY MOLY
$$$ | View Location
This high-end vegan restaurant in Puerto Escondido offers a fixed menu that varies each day. It includes an appetizer, main course, and dessert. The chef changes each night, allowing you to taste dishes from a variety of local chefs that specialize in vegan food.
The outdoor garden setting is as magical as the food itself which you could describe as vegan art. While it's located across the highway from the main strip of Zicatela and requires a small uphill hike, Holy Moly is worth the effort to get there.
Elephant Garden
$$ | View Location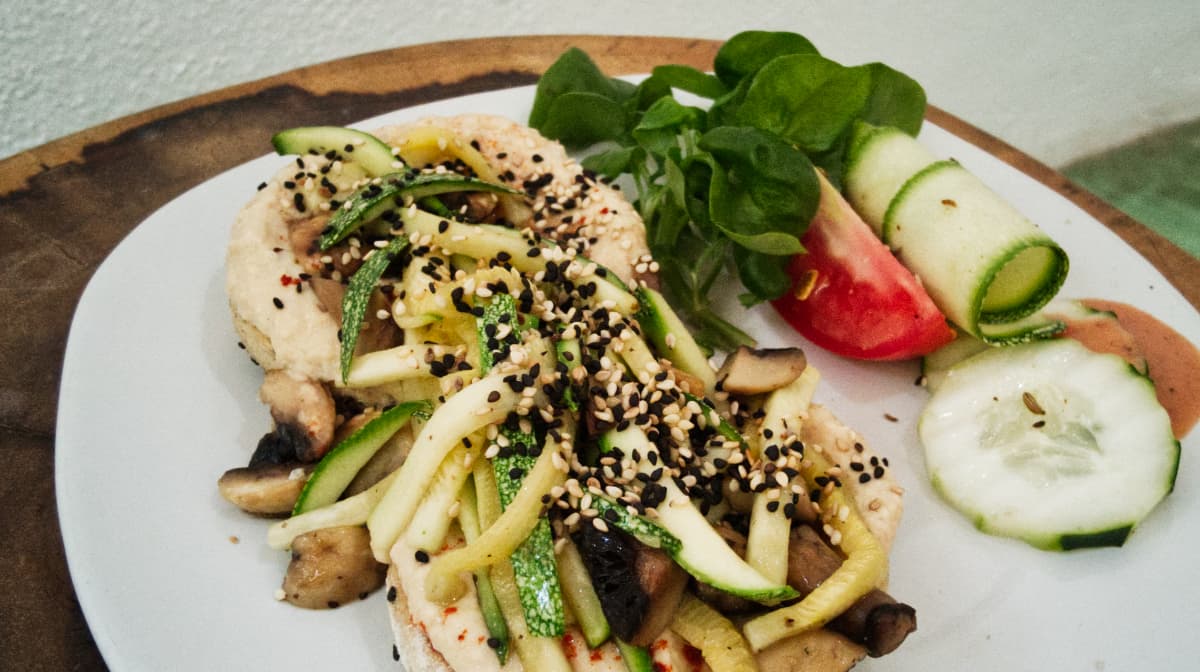 While this isn't a strictly vegan-vegetarian restaurant, Elephant Garden is a staple Zicatela restaurant with a few vegetarian and vegan food options clearly marked on the menu. They also take things a step further by making their own plant milk. And sweet lovers will enjoy their homemade vegan desserts.
The space at Elephant Garden consists of a small dining area that expands to the outdoor garden seating which often has live music on the weekends. This is one of the top places for breakfast in Puerto Escondido, so anticipate that there may be a wait for a table, especially at peak times.
Traveling to Oaxaca City next? You'll want to read my list of the best vegetarian and vegan food in Oaxaca City.
La Punta, Puerto Escondido Vegan Food
Mictlan Antojitos Veganos
$ | View Location
Mictlan creates some of the most interesting Mexican vegan food in Puerto Escondido. The menu focuses on guisados, or stews, one of my favorite taco fillings.
And rather than simply relying on soy products, they transform Mexican classics into vegan dishes such as carrot tinga and mushroom chicharrón.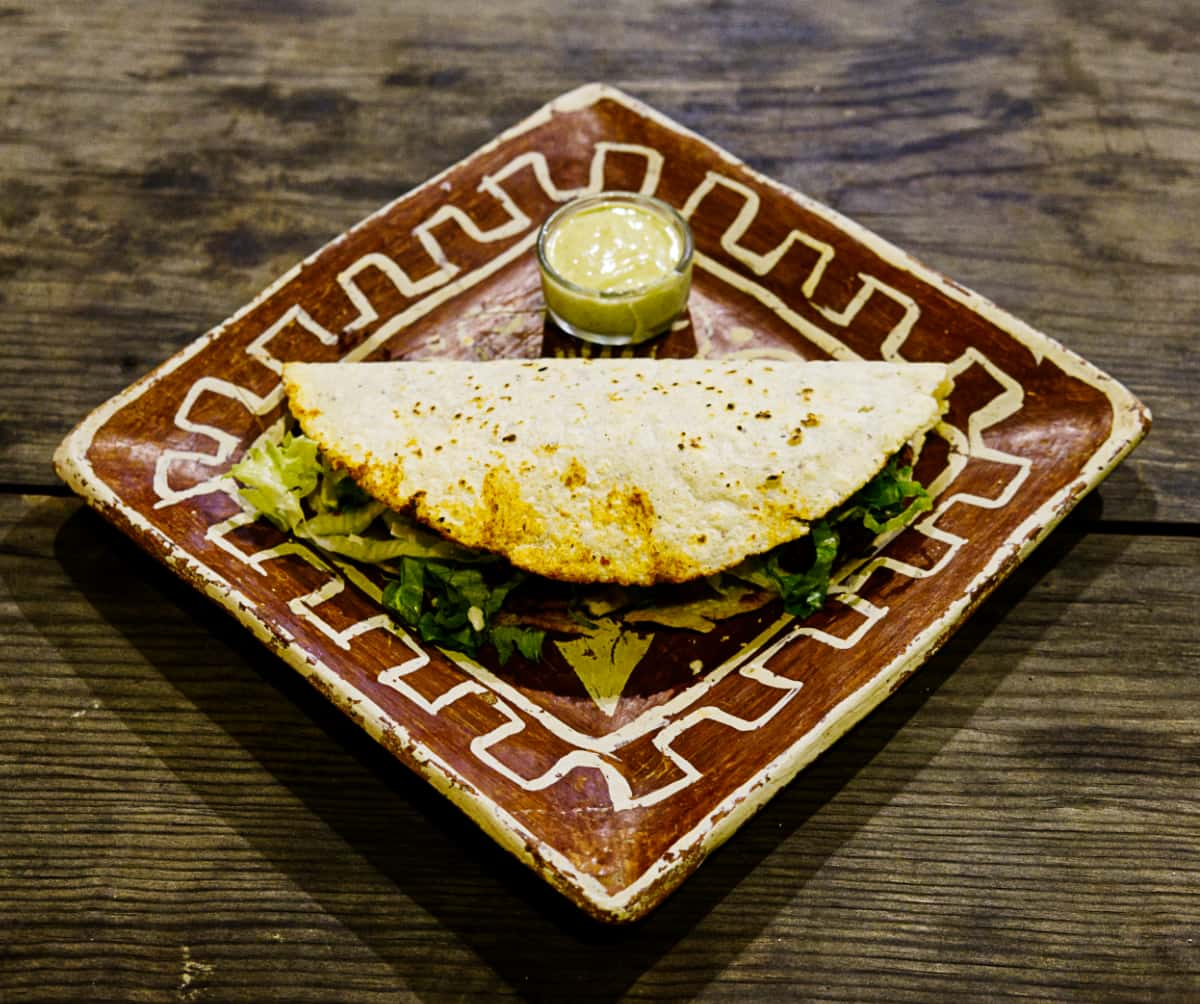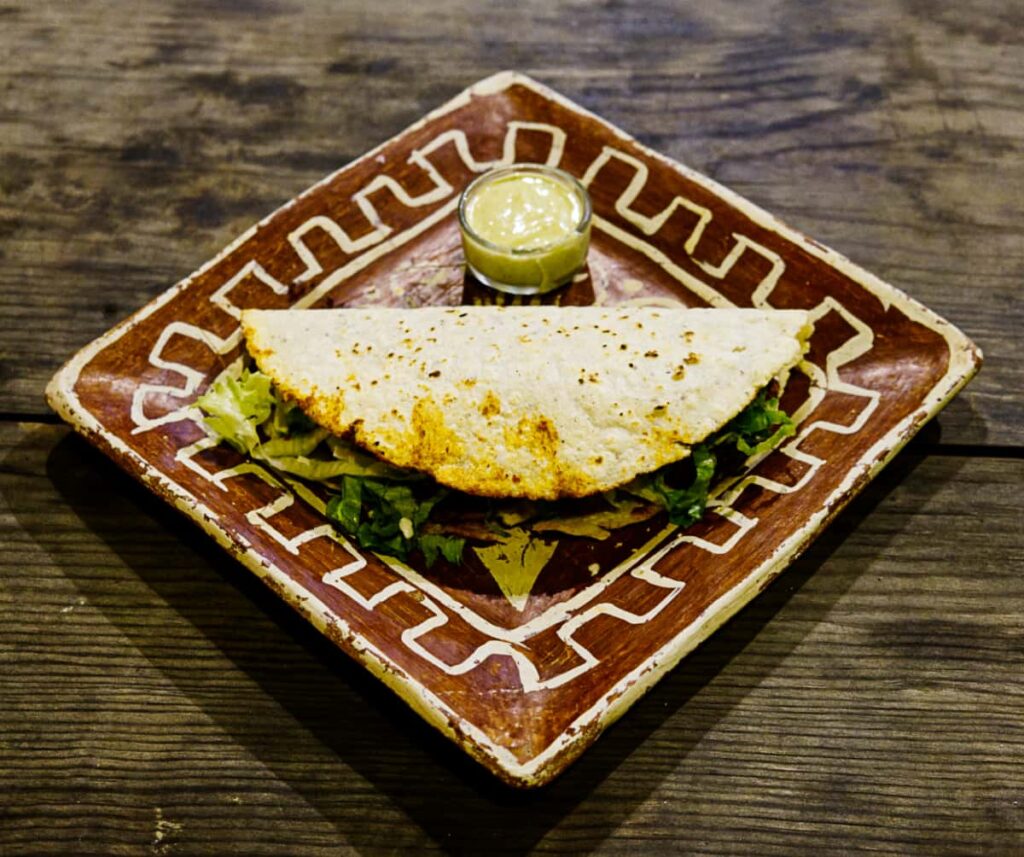 Throughout the menu, they incorporate their homemade tofu cream and vegan ricotta cheese, sometimes found in the style of cottage cheese.
With incredibly affordable prices and flavorful food, I also included Mictlan on my list of Puerto Escondido restaurants. This should be a staple restaurant for vegans and vegetarians in Puerto Escondido.
YA'AB Vegan Kitchen | Tojol Cafe
$$ | View Location
This vegan restaurant has teamed up with Tojol which offers juices, kombucha, coffee, and other hot drinks made with vegetable milk. The pleasant garden setting consists of a few tables under the shade of a mix of tropical greenery.
The food menu is simple although the dishes are substantially filling and healthy. The sweet side of the menu includes smoothies and smoothie bowls of vegetable milk, fruit, and other substantial ingredients such as chia, cacao, peanut butter, and granola.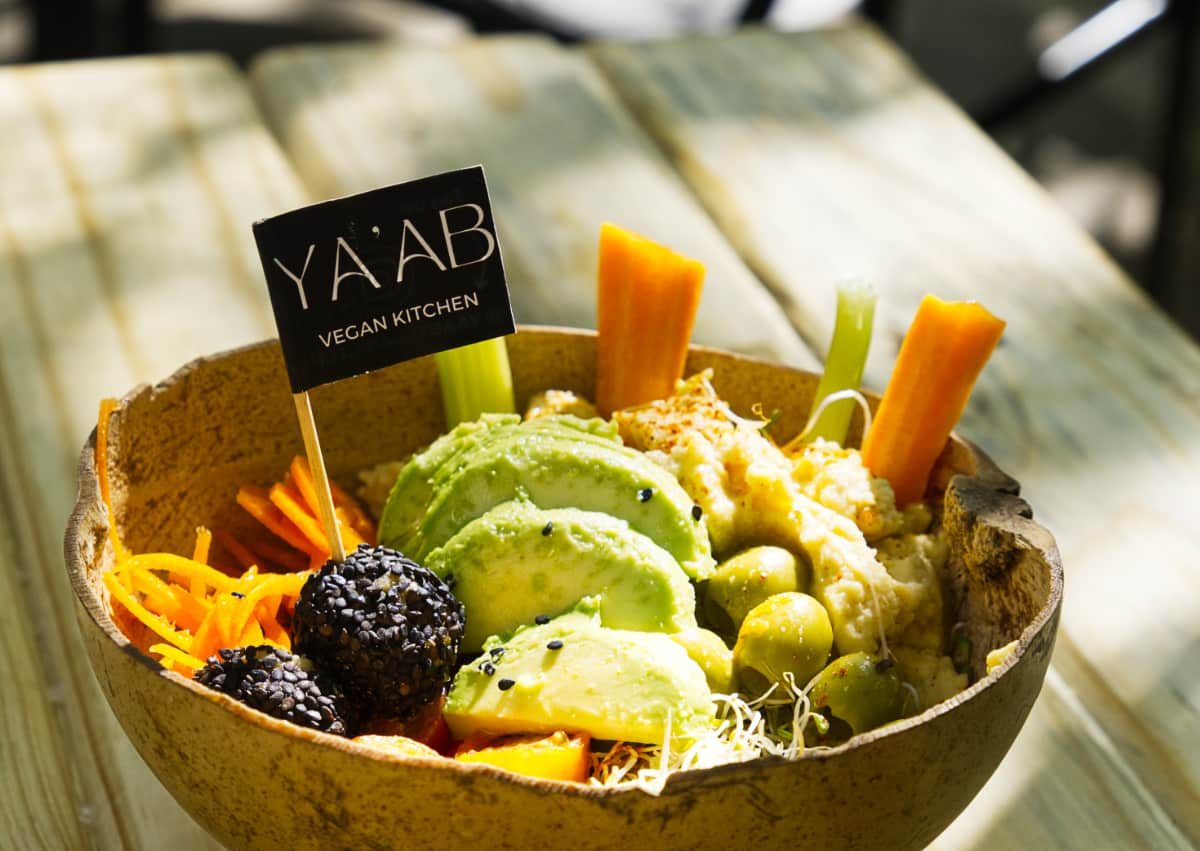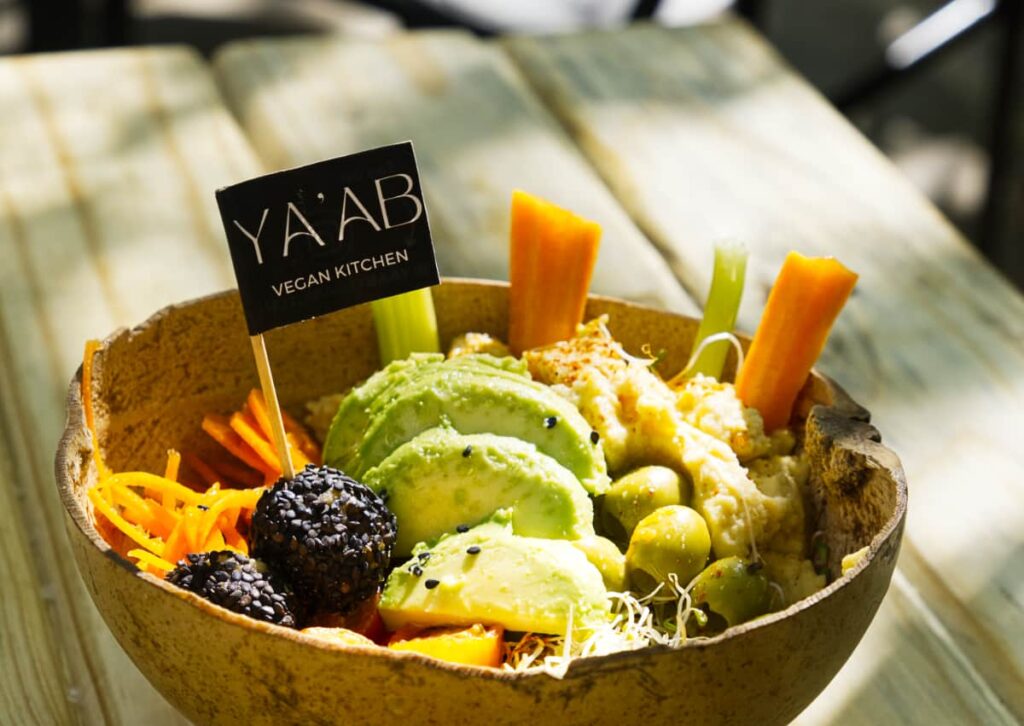 The savory side features various types of hummus (classic, beet, sweet potato, and avocado) which are combined with a mix of veggies to create hummus bowls and toast plates. The salad bowls replace the hummus with lentils or chickpeas, also combined with a mix of veggies.
YA'AB Vegan Kitchen also makes its own vegan cheese of almonds and cashews. The cheese makes an appearance on most dishes as a small ball rolled in black sesame seeds
They also promote themselves as a coworking space since they have Starlink internet. And while I included them on my list of Puerto Escondido coworking spaces, there are some caveats – mainly a lack of outlets and slowish internet towards the back of the garden area.
No Mames
$$ | View Location
True to its name, No Mames doesn't mess around. While there are only a few options, the food they serve is strictly vegan.
The chef and owner, Jade, has been creating vegan food for years through various ventures. Located in Espacio Cometa, her food stand is popular because it's delicious but also because of her radiant energy that shines through when she smiles.
The menu features large vegan tacos represented by their various countries of origin. They include buffalo cauliflower (US), lentil meatballs in marinara (Italy), smoked hibiscus flower (Mexico), and marinated soy with mint (Turkey).
The flavors are on point and have even been known to turn meat eaters onto vegan food. The menu also includes loaded vegan fries for when you're craving something a little less healthy.
Wang-taa Korean Food
$$ | View Location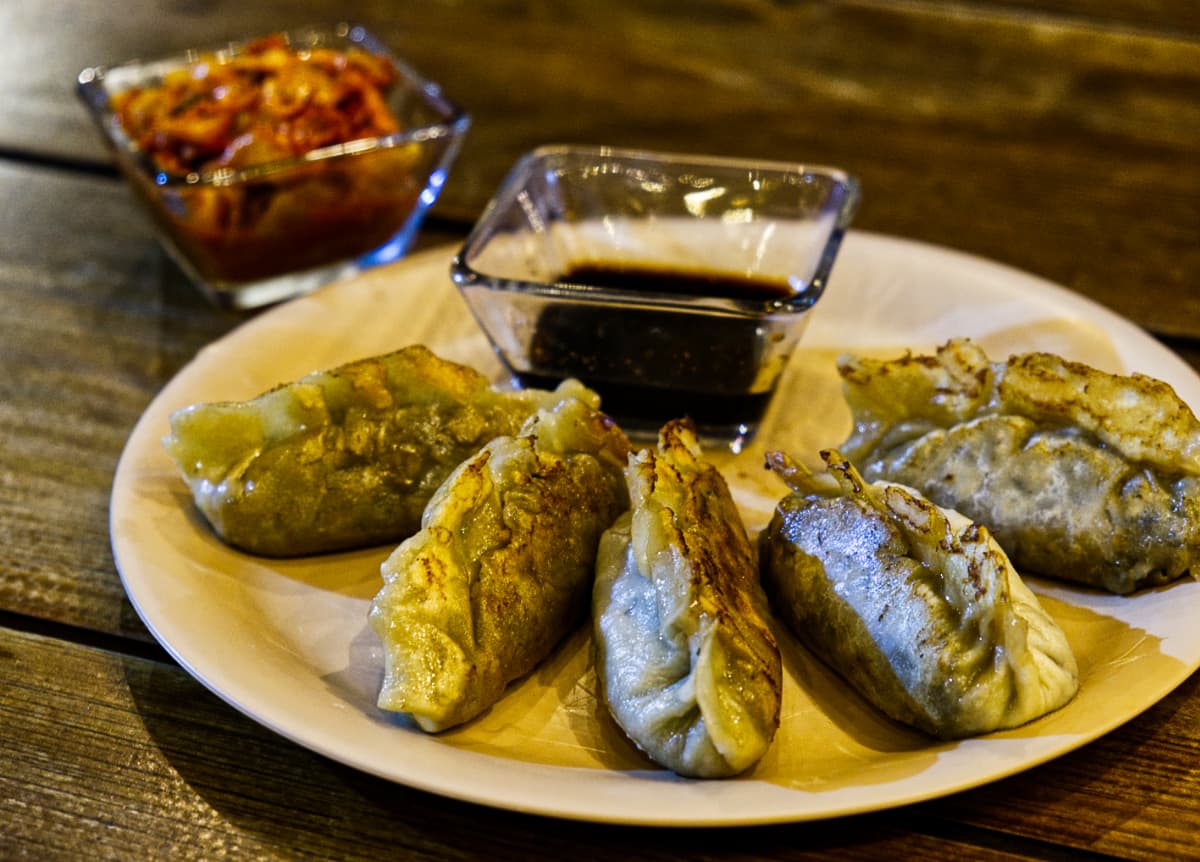 While Wang-taa isn't strictly for vegan and vegetarian food in Puerto Escondido, the fact the owner Sammy is willing to make a separate batch of vegan kimchi shows his dedication to bringing his Korean creations to a wider audience.
The vegan dumplings are filled with a mix of shitake, white button mushrooms, tofu, and other ingredients, providing a nice amount of protein to a vegan diet. The bowl of bibimbap is also available to order vegan, or vegetarian if you prefer to add an egg.
Shops for Vegan Food in Puerto Escondido
There are a number of small tiendas in Puerto Escondido where you can buy vegan food to eat at home. Most of these aren't purely vegan but they sell lots of vegan products, baked goods, and organic vegetables.
Señor Salud – An Organic Tienda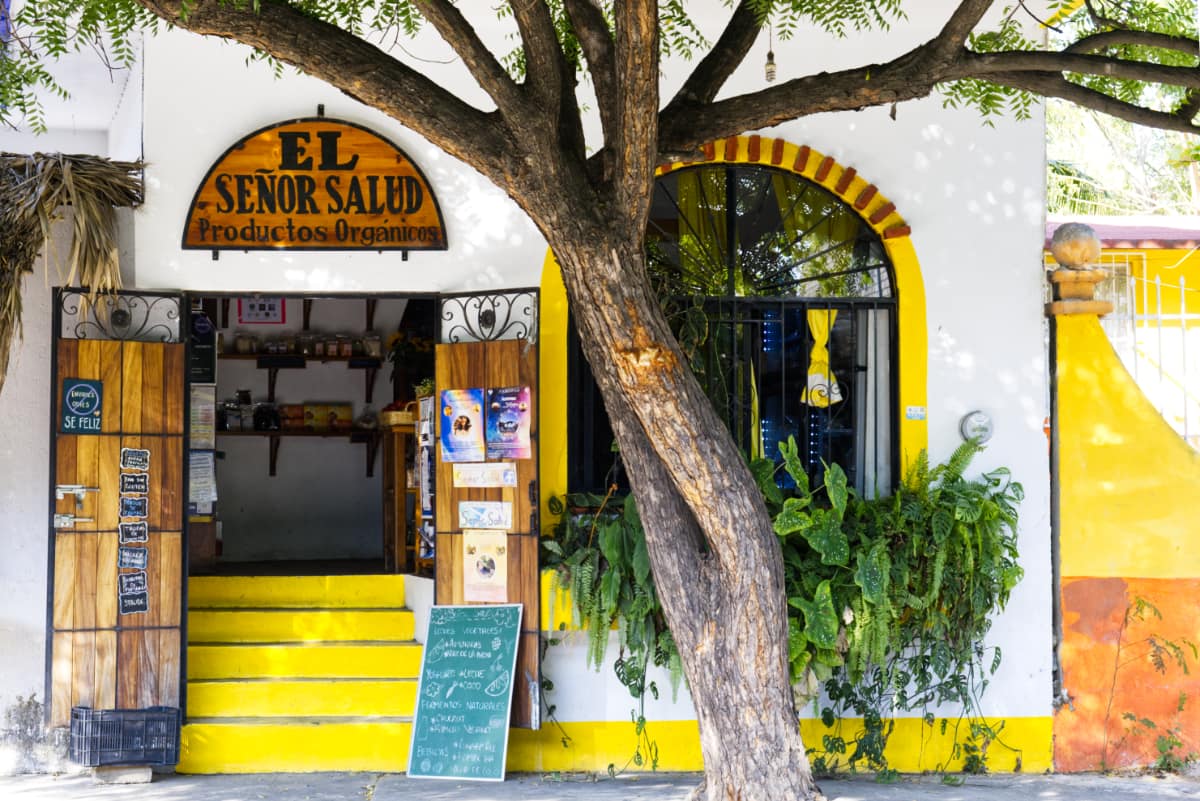 Owner Evelia has curated an organic tienda full of natural products and produce. With a background in the spa industry, I step inside a lot of these little health food stores to browse.
At Señor Salud I was immediately impressed with the unique selection of products. Evelia explained that she tries to source only local products, though she will make exceptions for specific requests.
In addition, the produce is fresh and the homemade kombucha is just right. For me, the most intriguing items are a collection of oils and tinctures by Tierra Sur, a plant-based specialist located in the mountains of Oaxaca.
I fell in love with this store as soon as I walked in but then I fell in love again, with copal oil. I was already familiar with copal from the energy cleansings I'd received before a temazcal ceremony in Oaxaca. But to have its intoxicating scent in oil form is really something special.
I highly recommend going out of your way to shop at this unique health store in Puerto.
Moringa Fresh and Wild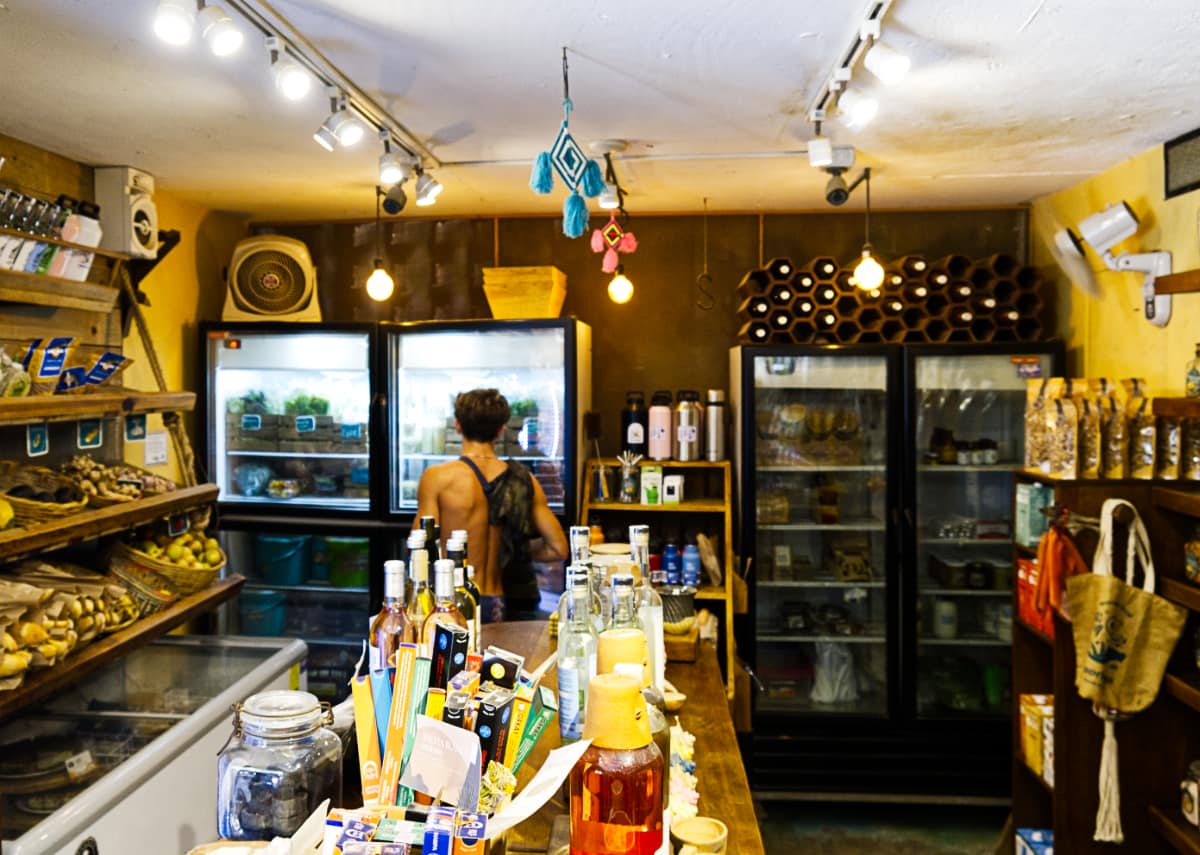 Moringa is one of the oldest health food stores in Puerto Escondido. And like the others, they also offer a range of interesting products with a large selection of face and body care.
In the refrigerated section, you'll also find kombucha and artisanal beer as well as some prepackaged snacks that are perfect to take to the beach such as an acai bowl, baba ganoush, and vegan sushi.
The frozen section has veggie patties and vegan desserts and there is a small selection of fresh veggies. Other items include Mama Pacha chocolate from Oaxaca City, granola, coffee, tea, a small bulk section, and of course, mezcal.
Verde Puerto Rinconada
In addition to a selection of organic vegetables and bulk items, this health store in Rinconada carries a lot of products made by other small businesses in Oaxaca. This means by shopping here you'll be supporting more than just Verde itself.
One of the most notable for vegans is the bean tempeh made by Oryza Om, a fermented food specialist whose range of products you can see on their Facebook page.
There are also some cacao energy snacks and other snacks you can pick up to go as well as things for the pantry such as tahini, a creamy pumpkin seed spread, and coffee from Binisa Cafe.
Canela Tienda Vegana y Organica
Zicatela Location | Rinconada Location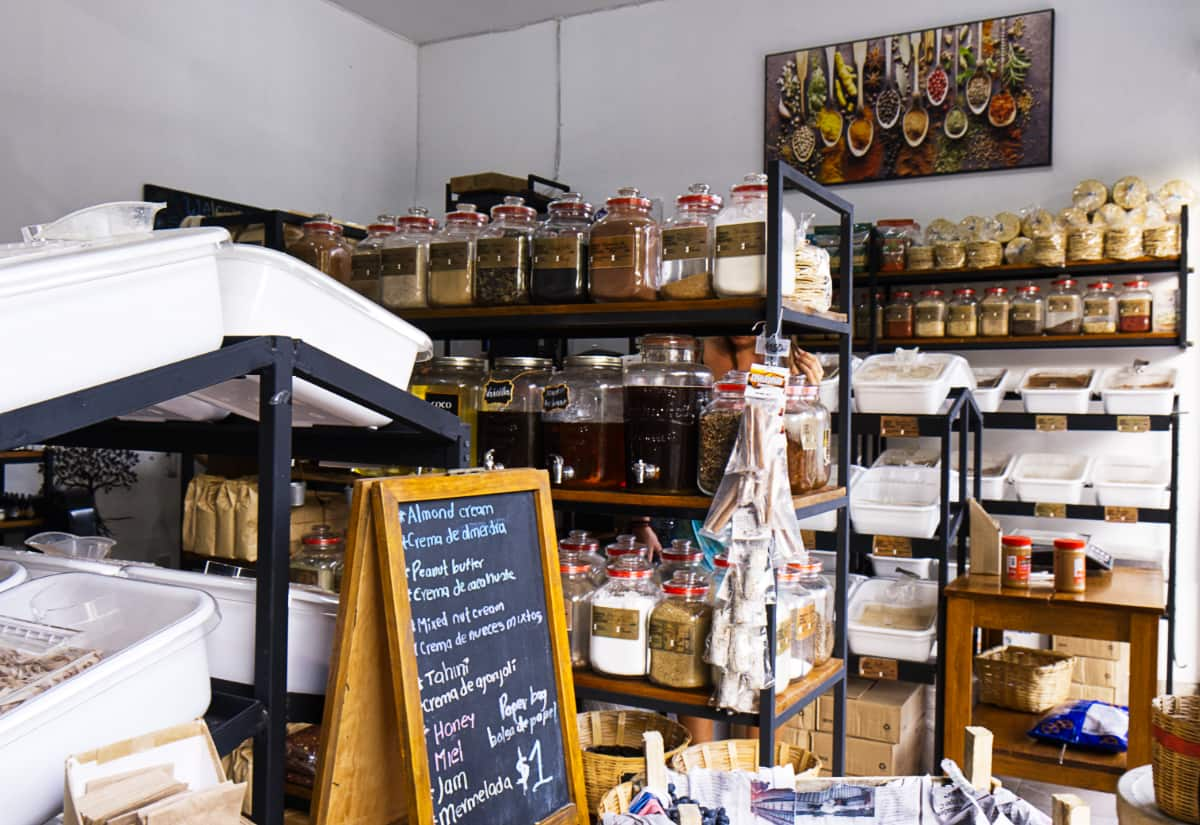 Canela organic and vegan store has several locations in Puerto Escondido as well as one in Mazunte. The location inside of Mercado Zicatela is the largest, with a wide selection of bulk items including cooking oils, shampoo, and soap.
There are also bulk spices, beans, and alternative flours for cooking. One of the most interesting is the basket of healthy tostadas made using unique ingredients, such as beets, sesame seeds, moringa, and nopal cactus.
Bonus: Puerto Herbs
This organic herb store in Rinconada sells bulk herbs, hand-blended teas, herbal smoking products, and a few face and body products.
The owner, Ana, dries the herbs and hand packages the teas and herbal blends herself. Her knowledge of natural plants helps her to create blends to relieve particular ailments.
Puerto Herbs is a simple but beautiful store with bundles of dried herbs hanging for decoration. While this isn't a place to eat vegan food, I think it will appeal to the same crowd, and I would love to see her business supported.