19 Places for the Best Breakfast in Puerto Escondido (2023)
Looking for the best breakfast in Puerto Escondido?
Whether you're looking for a quick, cheap breakfast or a leisurely brunch in Puerto Escondido, this list has you covered. It's organized by neighborhood so that you can find the best breakfast close to you.
I've also included a bonus for most areas that you can use to find some of the best cafes in Puerto Escondido. They don't necessarily serve food but they do serve some of the best coffee.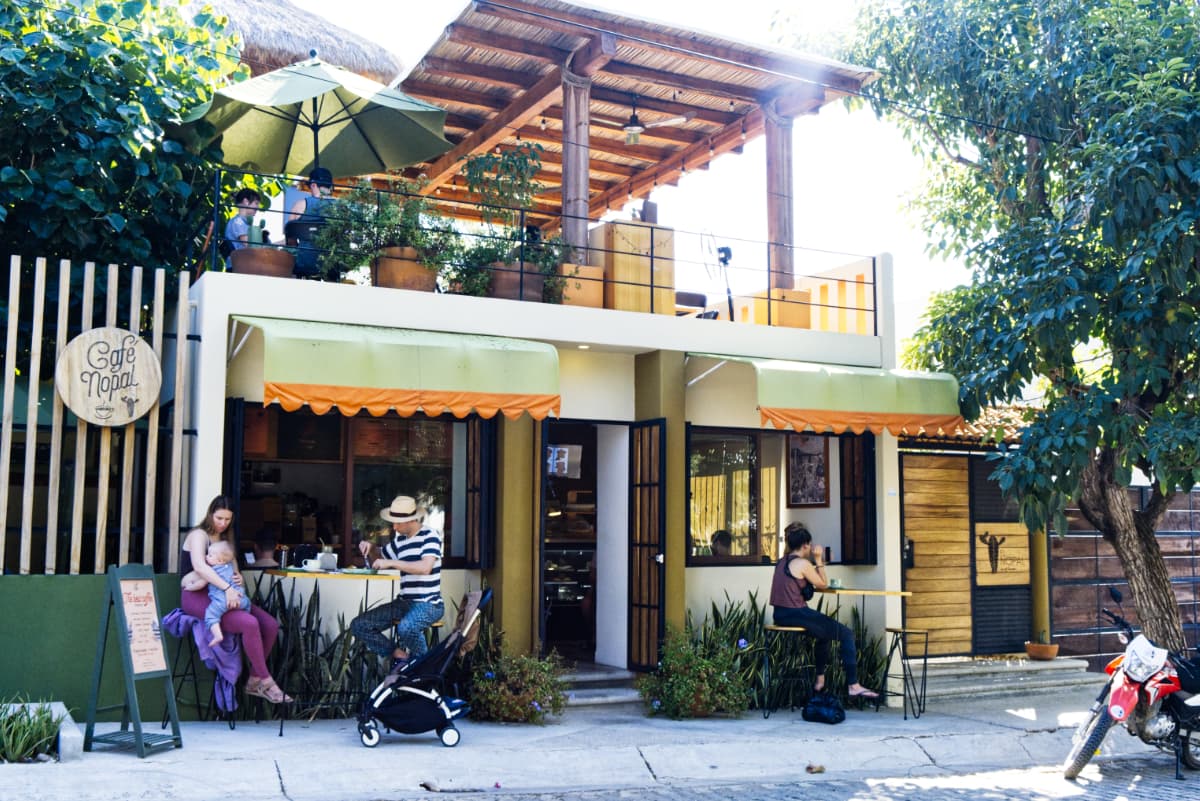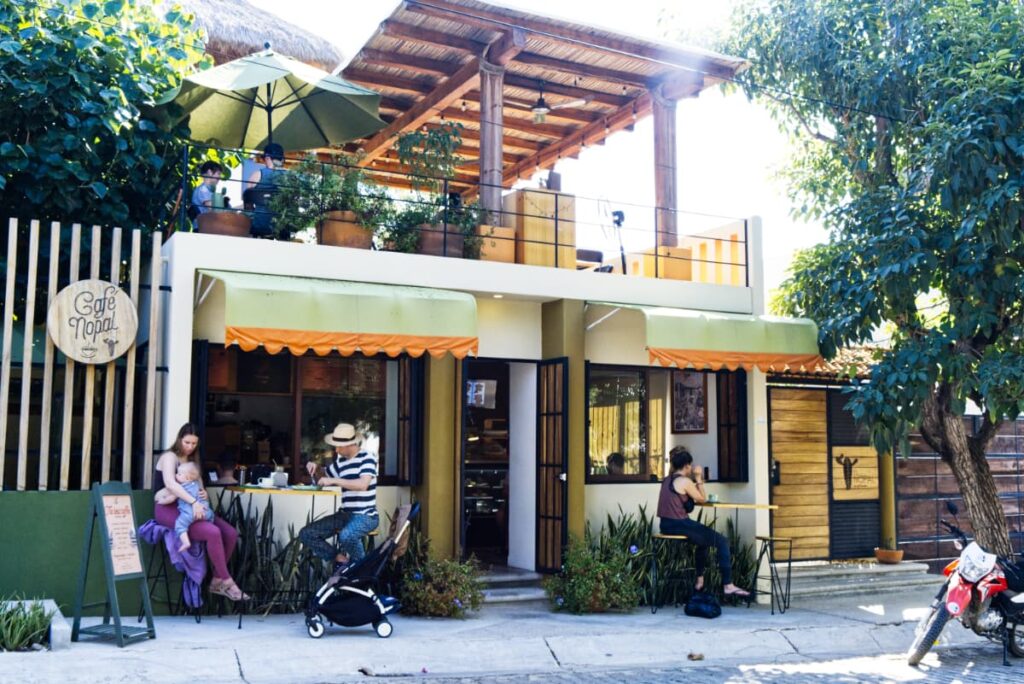 Best Breakfast in Rinconada
Rinconada is known for a long strip of restaurants and shops, including one location of the popular El Cafecito restaurant. Although I've decided to focus on the smaller, lesser known places for breakfast in Rinconada.
Cafe Nopal
$ | View Location
This modern cafe for lunch and breakfast in Rinconada serves healthy dishes and baked goods. Their motto, "Good coffee, full of life," fits perfectly as they made the best cappuccino I've had in recent memory.
And I really appreciate their well-appointed menu. Rather than trying to offer everything under the sun, they have something for everyone while keeping things short and sweet.
Their sweet and healthy offerings include an acai bowl, chia pudding, and tapioca. The after-surf combos include your typical breakfast plates which include coffee and the fruit water of the day for a reasonable price.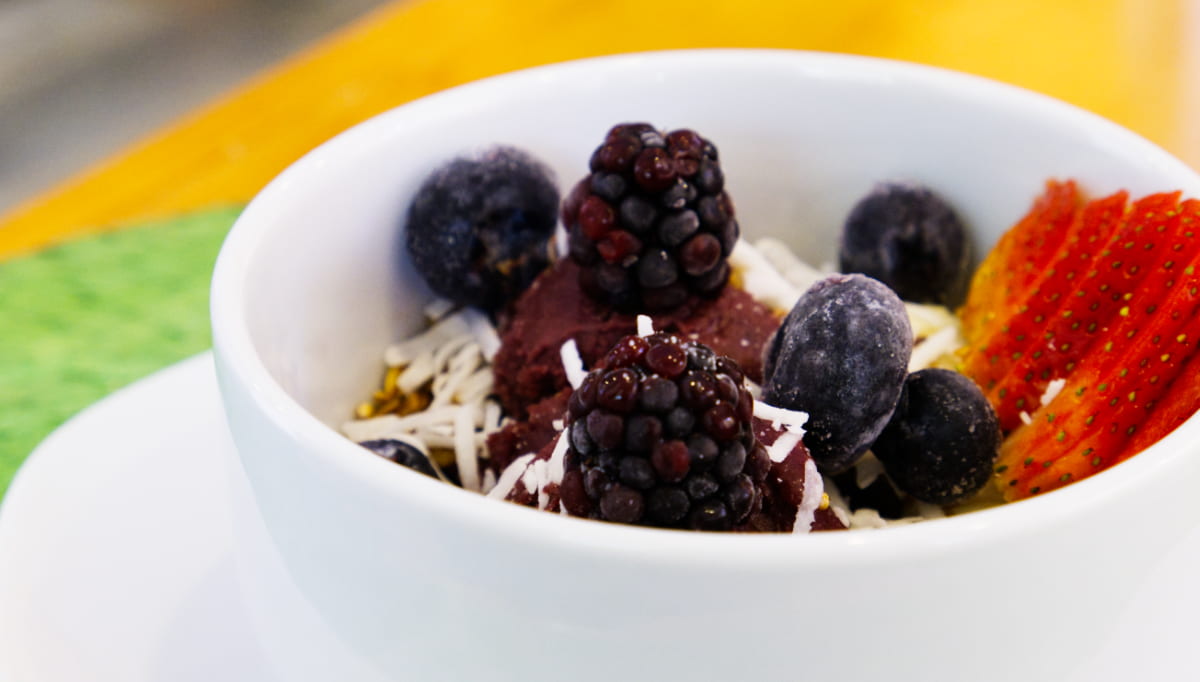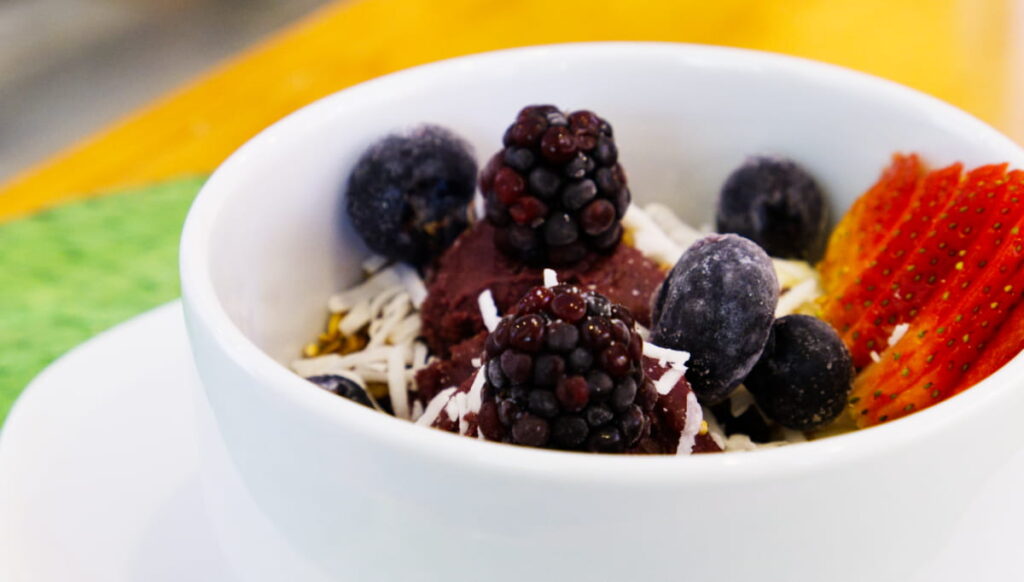 For lunch fare, there are salads and sandwiches, including a vegetarian one that is essentially a veggie grilled cheese with hummus on the side.
The seating downstairs is fresh and modern. And if you're lucky enough to snag a rooftop table under the palapa, you'll feel as though you are dining among the trees.
Disfruta Juice Bar
$ | View Location
This cute juice bar in Rinconada became a breakfast favorite of mine. At first glance, you'd think this is simply a healthy juice and smoothie place.
But, the first time I walked by, the smell of freshly cooked bacon was enough to stop me in my tracks. And not only that, it's crispy!
I enjoyed a burrito with egg, bacon, potatoes, and beans knowing full well that a burrito isn't exactly Mexican food. There's also a vegetarian burrito with spinach and french fries (I assume to balance out the healthy, jaja).
The rest of the menu includes an egg and bacon sandwich, huevos rancheros, a long list of tortas. Disfruta and its few outdoor dining tables should definitely be on your list.
Alma Mia Deli – Vegan Breakfast in Puerto
$$ | View Location
Alma Mia serves some of the best vegan food in Puerto Escondido. And even if you're not vegan but craving a homemade bagel for breakfast, you will enjoy this healthy breakfast spot.
The homemade bagels are available to order topped with various vegetables and other unique combinations. Perhaps most innovative are the hibiscus flowers stewed in the style of pastor and the carrot "lox" that brings out umami flavors.
Antojitos Fabi
$ | View Location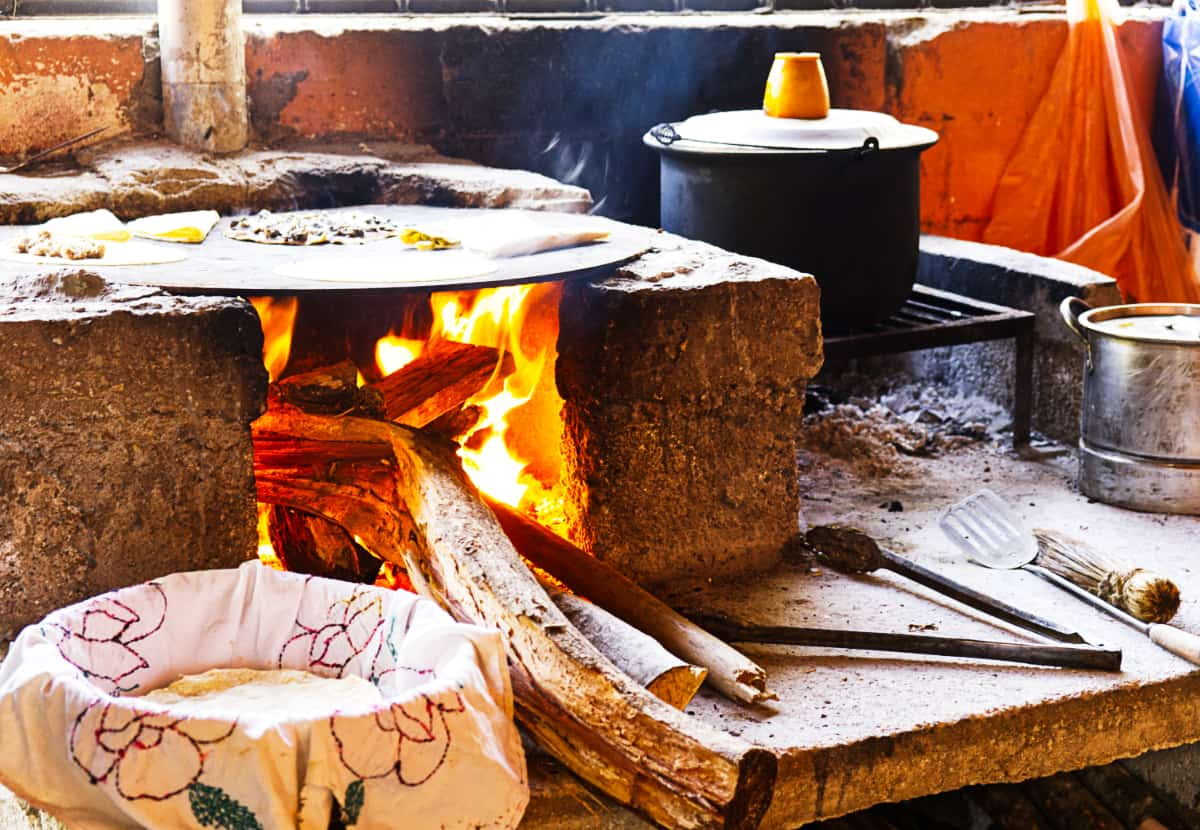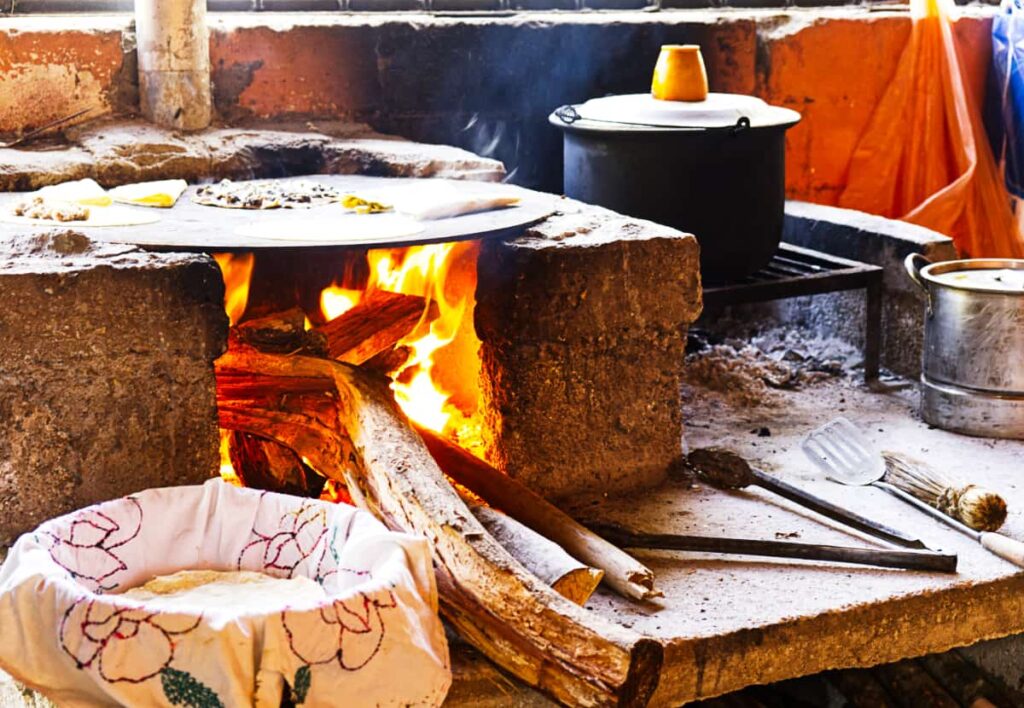 This simple, family-run restaurant is a great spot for a cheap snack, lunch, or breakfast in Puerto Escondido.
The menu consists of various stews that can be placed inside an empanada, on top of a sope, or as an embarrada. The stews include classics such as mole amarillo, bistec, picadillo, chicharrones (two ways), nopales, ejote con huevo, mushrooms, and more.
I opted for a rajas con crema sope and cecina embarrada. If you like tlayudas, you'll enjoy the embarradas which are served open-face on a large thin tortilla. I preferred the sope as the corn base is thicker and more savory.
Bonus: Prieta Linda Cafe
$$ | View Location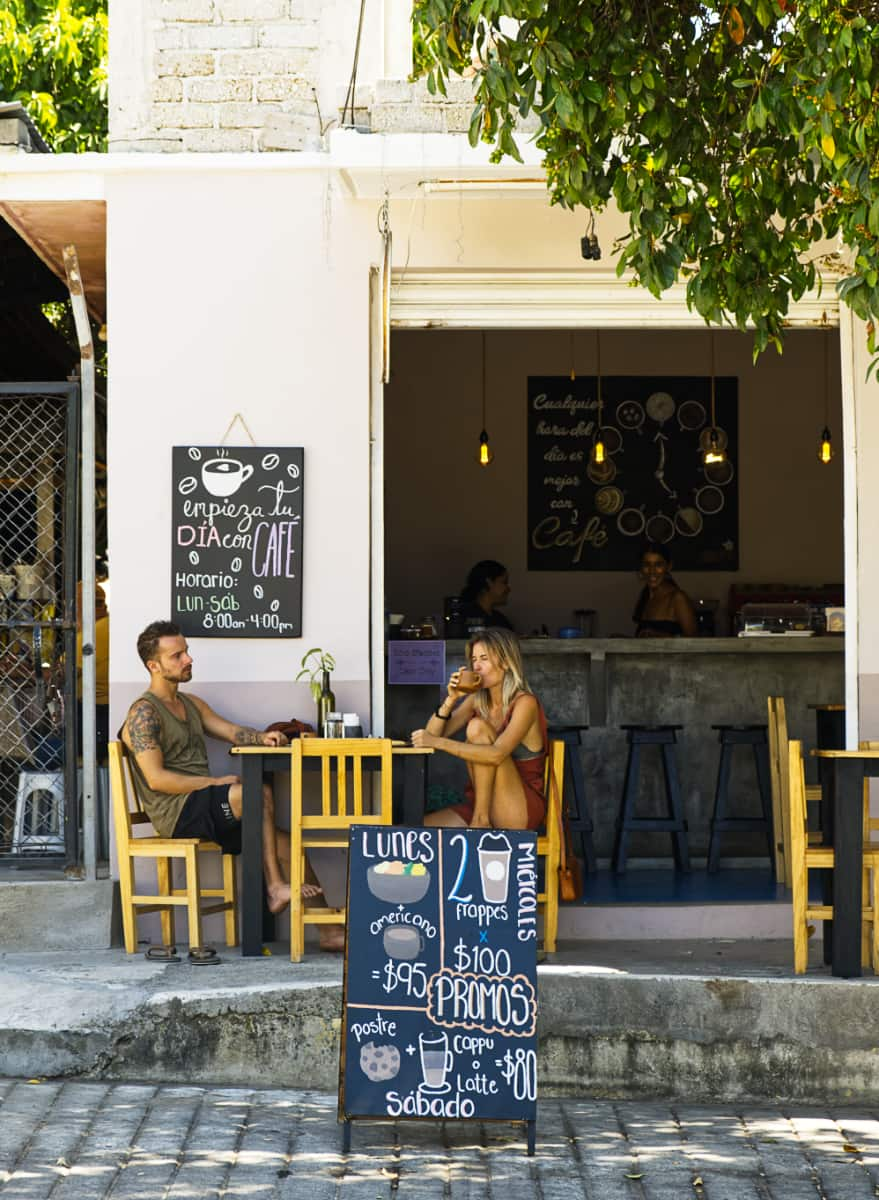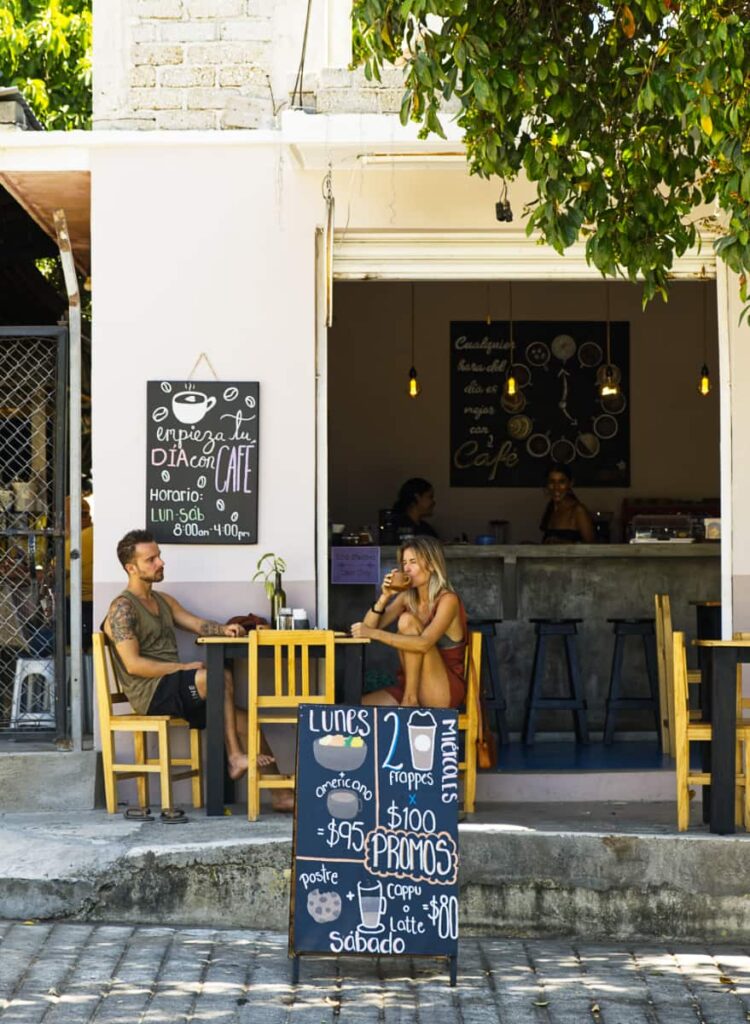 While Prieta Linda cafe doesn't serve breakfast, they do have large cookies and rich coffee. This small cafe consists of a couple of tables outside, a couple inside, and a small coffee bar.
It's a great stop in Rinconada if you simply want a cup of coffee and a sweet.
Best Breakfast in Zicatela Puerto Escondido
For me, Zicatela restaurants are overrun by beach bars with mediocre food. However, breakfast is one place where this area shines. From traditional Oaxacan food to a classic American breakfast, it seems to have it all.
Elephant Garden
$$ | View Location
If you're looking for a healthy breakfast restaurant in Zicatela, this is the place to be. Elephant Garden Restaurant features a shaded courtyard in the back and a small tienda in the front. The menu leans heavily vegetarian with a few vegan items as well.
There are several fruit and seed bowls, omelets, and shakshuka. There is also an entire page devoted to their housemade quinoa and chia seed bagels with a variety of toppings.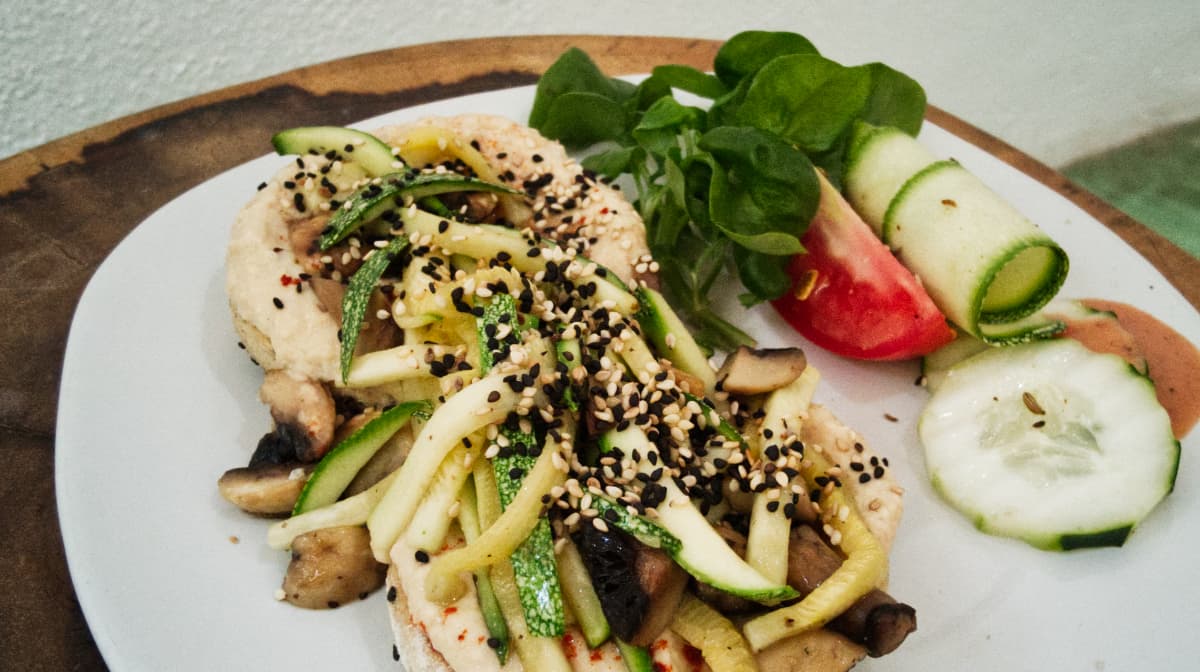 While I almost ordered the pork stew with guacamole on a bagel, I opted to go healthy with hummus, zucchini, and sauteed mushrooms. It was delicious and most importantly, the bagel was soft, not chewy as I had feared.
The beverage menu at Elephant Garden is just as exciting. It includes matcha, some fermented options such as kefir and kombucha as well as your typical coffees and fruit water. The various kinds of vegetable milk are made in-house daily.
Tistal
$ | View Location
If you're looking for Oaxacan food, Tistal is one of my favorite places to eat breakfast in Puerto Escondido. And major bonus is the beautiful ocean view from the restaurant.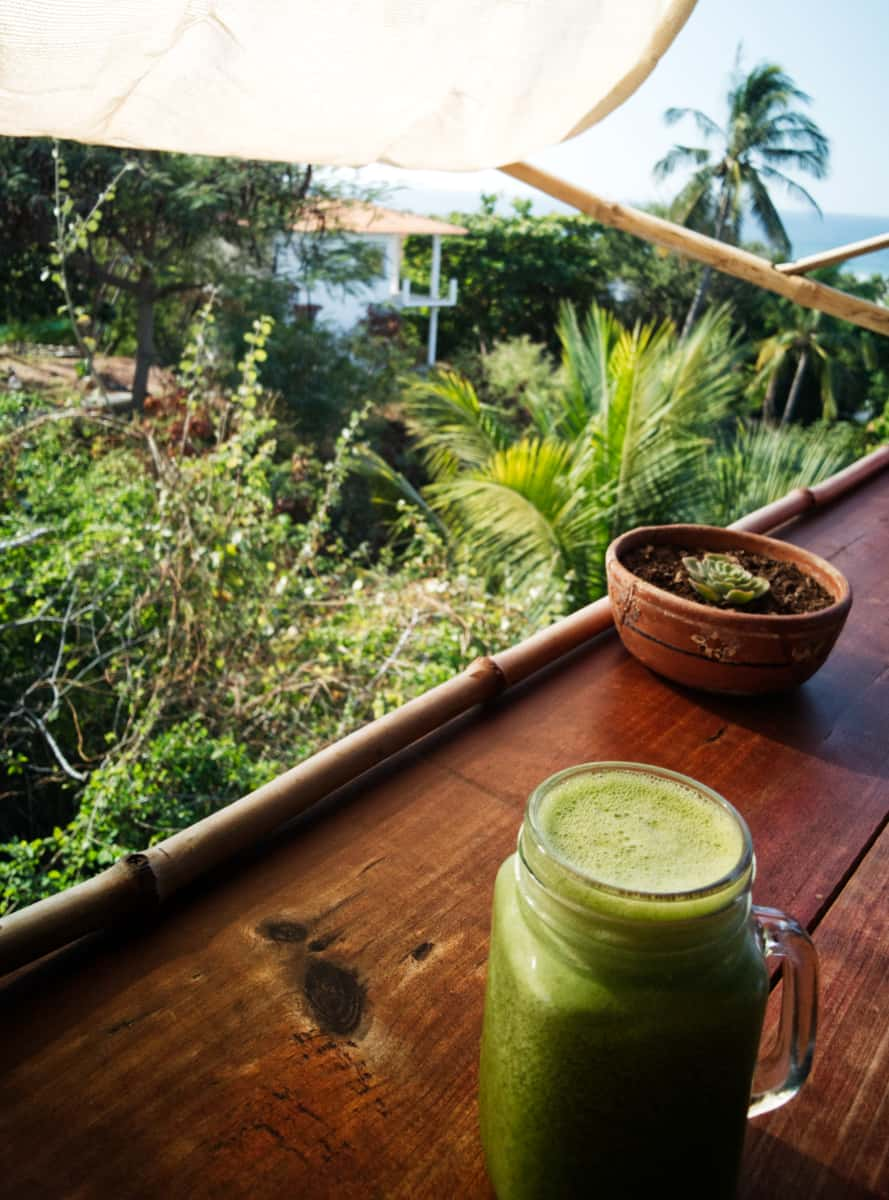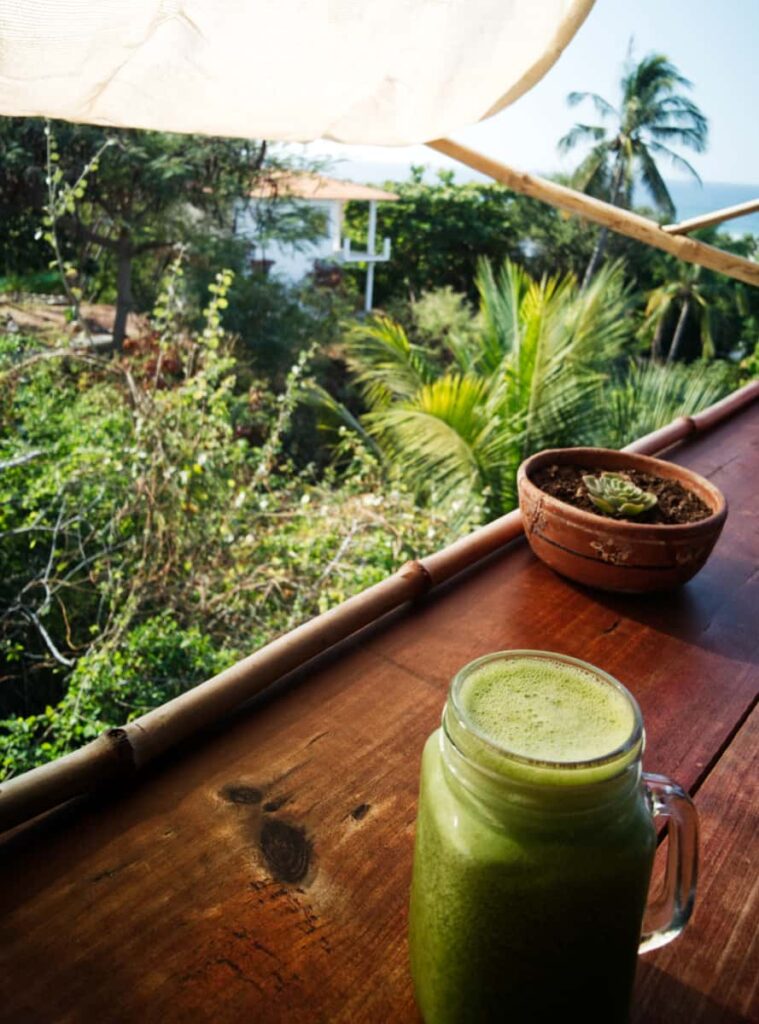 The food starts its preparation in front of the restaurant where tortillas, memelas, sopes, and other corn products are cooked on a wood-fired comal, a circular grill surface that's common in Oaxacan cooking.
You really can't go wrong with anything on the menu at Tistal which features flavorful Oaxaca dishes. They are open for lunch as well which allowed me to include Tistal as one of my favorite Puerto Escondido restaurants.
Jugos y Cocos Chester
$ | View Location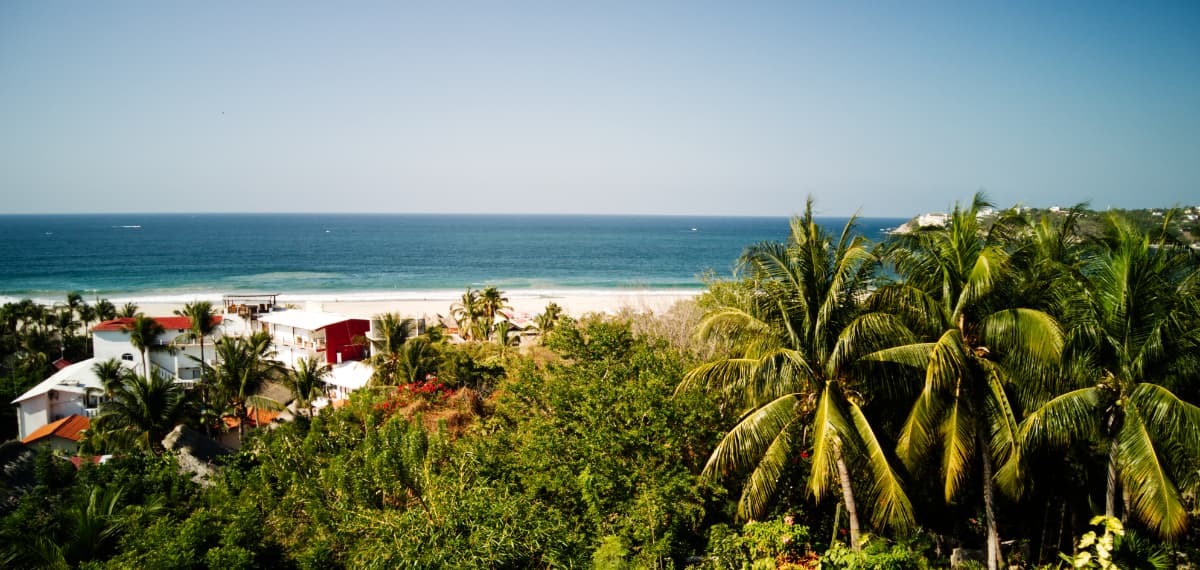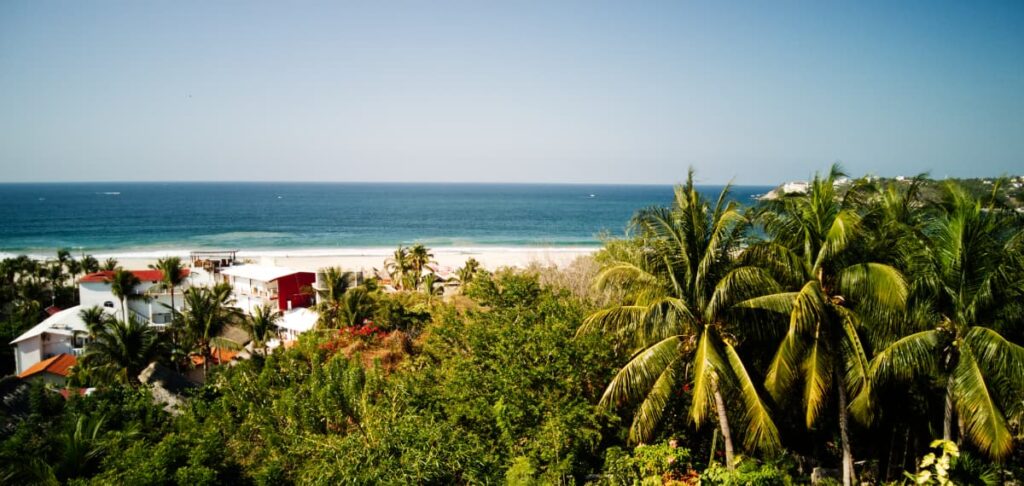 Next door to Tistal is Jugo y Cocos Chester, a small juice and food shop with arguably a better view from the rooftop palapa. To get there, go through the room where they sell fresh fruits and vegetables. In the back, you'll see the stairs that lead you up.
I really wanted to love the food at this place, but I think I ordered the wrong item.
The beet juice I ordered to enjoy the view was delicious. I also chose the vegetarian sandwich to-go but it ended up being so salty I couldn't eat it. On the other hand, the local surfer sitting on my right ordered the triple-decker club sandwich. It looked amaaazing!
For guaranteed good food, eat at Tistal first and head upstairs to Chester's for juice after. Or don't be like me and order one of their specialties instead of trying to go healthy.
Café Mar y Cielo
$ | View Location
Café Mar y Cielo is a gem for breakfast in Puerto Escondido. Chef Marcelo is passionate about making quality food which comes across in his simple yet flavorful breakfast dishes.
Whether you decide to order a plate of his signature fluffy pancakes, a traditional egg dish, molletes, or one of the stuffed croissants you'll likely come away satisfied.
The menu also includes a few breakfast packages that include one or two drinks – hot coffee or cold brew, limonada, hot tea, and a few more options for a great price.
Dan's Café Deluxe
$ | View Location
If you're craving a classic American breakfast, Dan's Café in Zicatela is the place.
This breakfast restaurant has become a staple for its breakfast of eggs, crispy bacon, potatoes, and (could be better) American style coffee. While this likely won't be the best breakfast you've ever had, the prices are low and sometimes you just have a craving.
The menu also expands to classic Mexican breakfast items, such as chilaquiles, enchiladas, enfrijoladas, and more. In addition, they have lunch items including various sandwiches, hamburgers, and tortas.
Sandala Cafe
$$ | View Location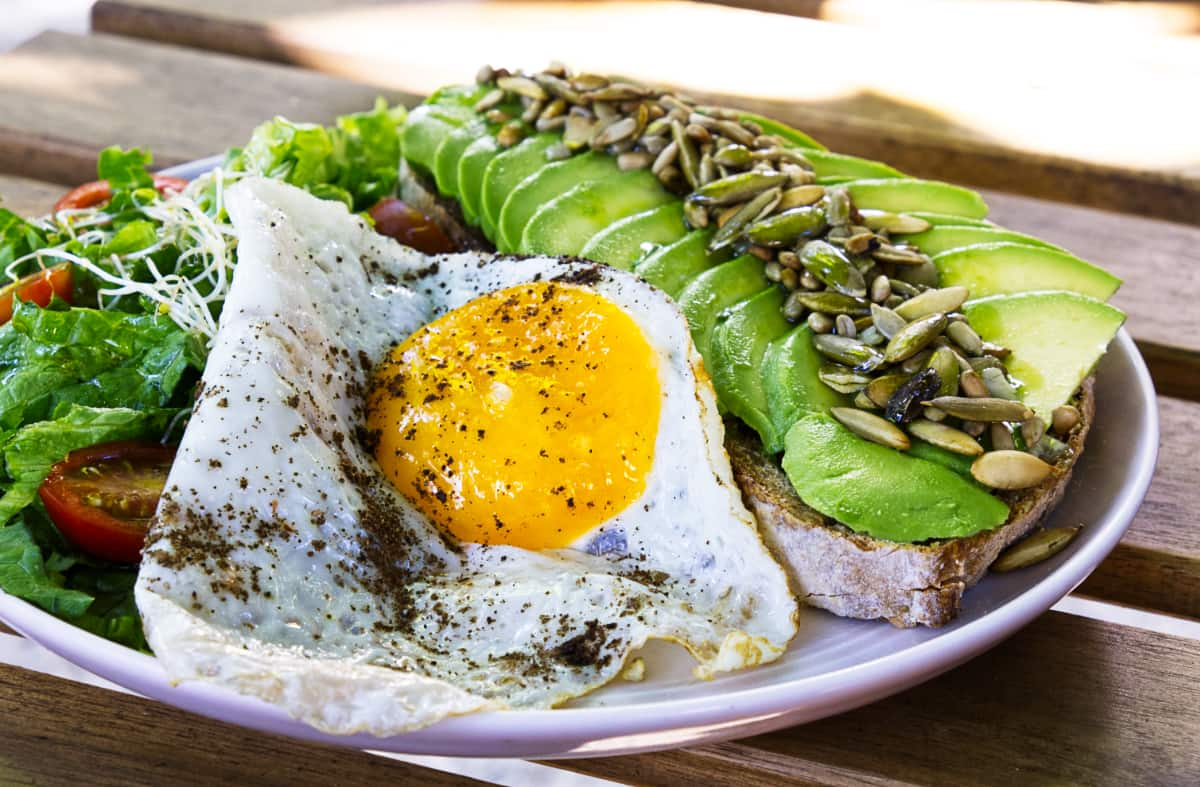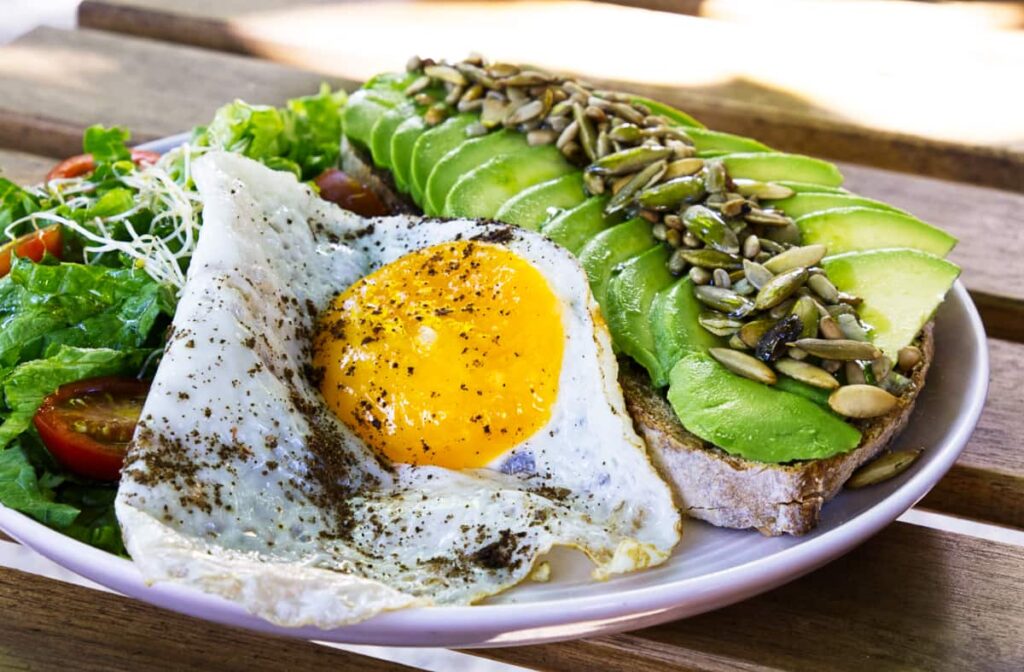 This quiet cafe feels like a hidden gem, tucked between Zicatela and La Punta in an area called Tamarindos. It's a 15 min walk along mostly dirt roads from La Punta and just slightly longer from the heart of Zicatela.
The breakfast menu has a range of options from a bowl of oatmeal with fruit to the popular tomato egg dish Shakshuka served with a slice of herbed bread.
For a comfort food breakfast dish, they also offer grilled cheese with bacon. And the avocado toast comes loaded with sliced avocado and topped with pumpkin and sesame seeds.
There are a variety of coffees, infused teas, juice, and kombucha to drink. Prices are slightly elevated, though pretty typical for breakfast in La Punta.
And it's worth noting that Sandala Cafe also has Starlink internet which makes it a viable Puerto Escondido coworking space.
Brunch and Breakfast in La Punta Puerto Escondido
La Punta Puerto Escondido has the highest concentration of international restaurants. That variety branches over to the breakfast menus as well, with mostly healthy options at a higher price point.
Malagua Brunch and Coffee Bar
$$ | View Location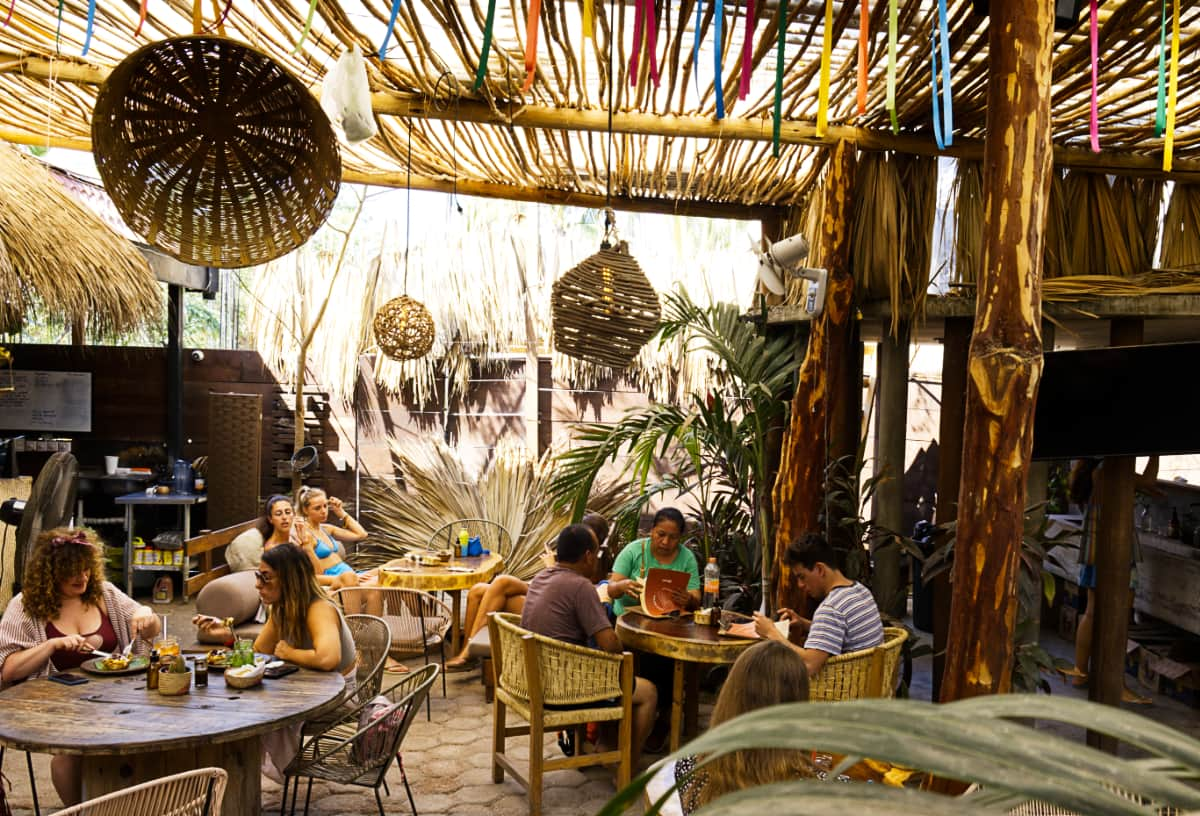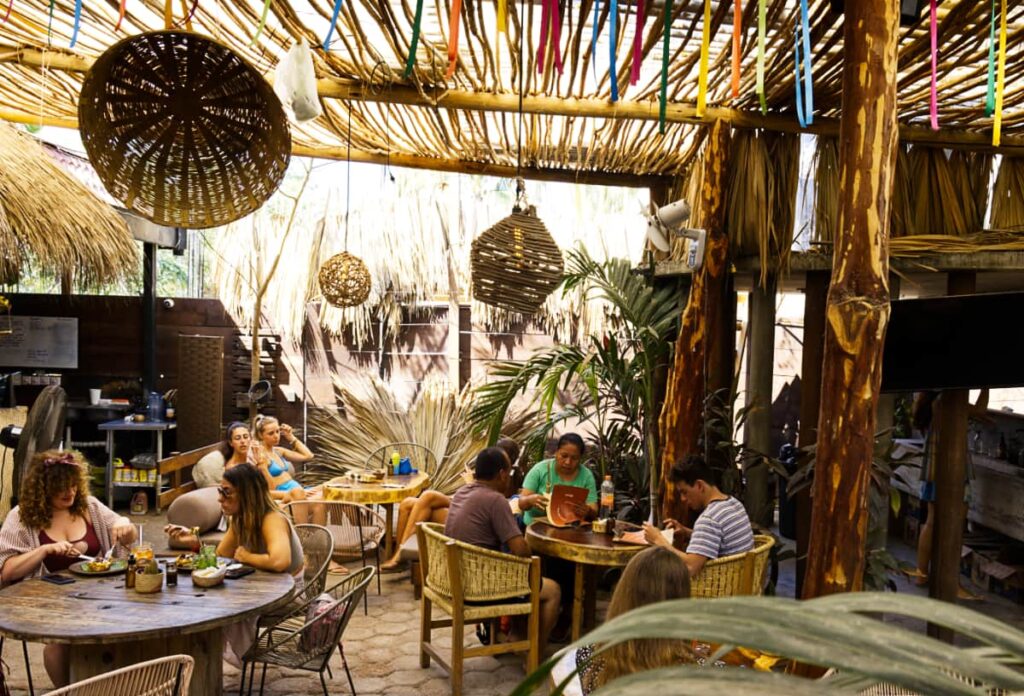 This is a fresh and healthy spot for breakfast in La Punta. Malagua Brunch and Coffee Bar works with local producers and other small businesses in the area to supply their ingredients.
The menu leans heavily vegetarian with a few vegan options as well, though the menu is definitely in the higher price range (this is La Punta after all!)
The gourmet toasts feature a locally made sourdough bread loaded with ingredients. And unique, healthy ingredients can be found throughout such as a seed mix, mini greens, activated carbon, and spirulina which is incorporated into the pancakes.
The menu also includes a variety of juices and healthy smoothies with some of the same interesting ingredients making an appearance. And their locally sourced coffee was one of the best I've had in the area.
Upstairs in one of several coworking spaces in Puerto Escondido, though it feels quite separate from the restaurant itself and requires an extra fee to use.
Morris Cafe – King of Brunch in La Punta
$$ | View Location
Between homemade ice cream, a morning happy hour, and a hot fried chicken sandwich, I'd say Morris Cafe knows how to brunch. Let me break them all down below, starting with the ice cream.
Morris Cafe makes homemade gelato in a variety of flavors that you can order in a cup or cone. But they've also created specialty combos.
Want a scoop of ice cream in your coffee? They can do that. Waffles with ice cream? Check. Carijillo with ice cream? Double check. Plus, from 10 – 11 am, all cocktails are on special when you order two, a necessity for any brunch restaurant.
And third, they have a (Nashville) hot chicken sandwich, which honestly is one of my favorite things to eat when I go out for brunch. And if that's not your jam, not to worry. The menu also has classic breakfast items and other sandwiches.
Barrio Cafe La Punta
$$ | View Location
This sweet cafe is attached to Hostal Akumal, one of the best Puerto Escondido hostels. The vegetarian menu is simple, while offering a lot of options. Smoothie bowls and sweet dishes featuring tropical fruits, peanut butter, and cacao round out the top.
And the lower portion is filled with a variety of savory breakfast plates. They include egg dishes, toasts and bagels featuring avocado, hummus, and pesto, as well as a few sandwiches. Nearly all of the breads can be substituted for a gluten-free option which is a really nice addition to the menu.
Café Punta Mar
$$ | View Location
This cafe proudly features Oaxacan coffee and drinking chocolate, including one with 95% cacao.
The chocolate offerings also extend to the intriguing list of frappes. The cacahuate frappe blends peanut butter with a hint of coffee, yum!
There is a simply Oaxacan chocolate frappe. Or you can opt to combine all three – peanut butter, chocolate, and espresso. Super yum!
The small food menu is also intriguing. The avocado toast, while a bit pricey, includes sauteed mushrooms and a fried egg. There's also an egg and bacon sandwich with chipotle dressing, a smoothie bowl, and more.
Karma Bowls and Cantina
$ | View Location
This small juice and smoothie bar is located down one of the small alleyways that lead toward the beach in La Punta. I really wanted to try one of their amazing smoothie bowls but I didn't have time.
So I ordered a green juice, something that has become a favorite of mine along the coast. It was refreshing and flavorful, served in a jar with fresh flowers on top.
The ladies behind the wooden bar under the palapa worked fast and in unison. But as I suspected, the jugo verde took a long time to arrive.
If you have a leisurely morning (which you should by the beach!) then I would recommend stopping at Karma Smoothie Bar to fill up on fruits and vegetables for breakfast.
Café Ole Creperie
$$ | View Location
When looking for where to eat breakfast, I glossed over this cafe and restaurant in La Punta multiple times. But when I was looking for something quick before the sunset, there it was. And it was quick.
I believe when a restaurant includes its specialty in the name, it's best to order it. And after seeing the sandwiches at a table nearby, I believe that is sold advice for Café Ole.
The savory crepe was thin and tasty, full of the ingredients listed on the menu. It actually turned out to be a more hearty meal than I expected.
While the menu includes breakfast items that are served all day, they are open into the night. The menu is organized into sections – crepes, eggs and omelets, bread, salads, paninis, and waffles. A few sections are further divided into salty vs sweet.
And interestingly, everything is the same price. Speaking of, I found the price a bit elevated for what it is.
Centro Puerto Escondido Breakfast
Centro is where you'll find the most affordable breakfast in Puerto Escondido. It's also where you tend to find the most traditional food, whether you eat at the local market or a small restaurant.
Antojitos Coty
$ | View Location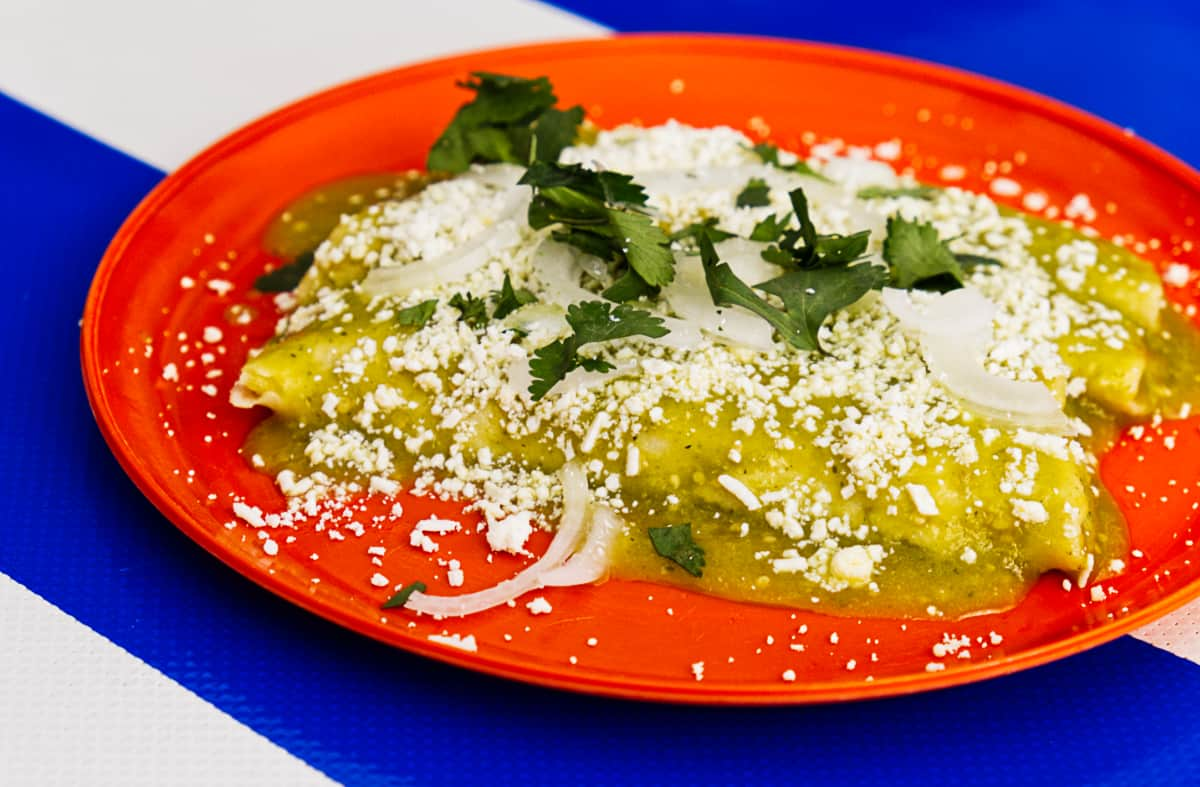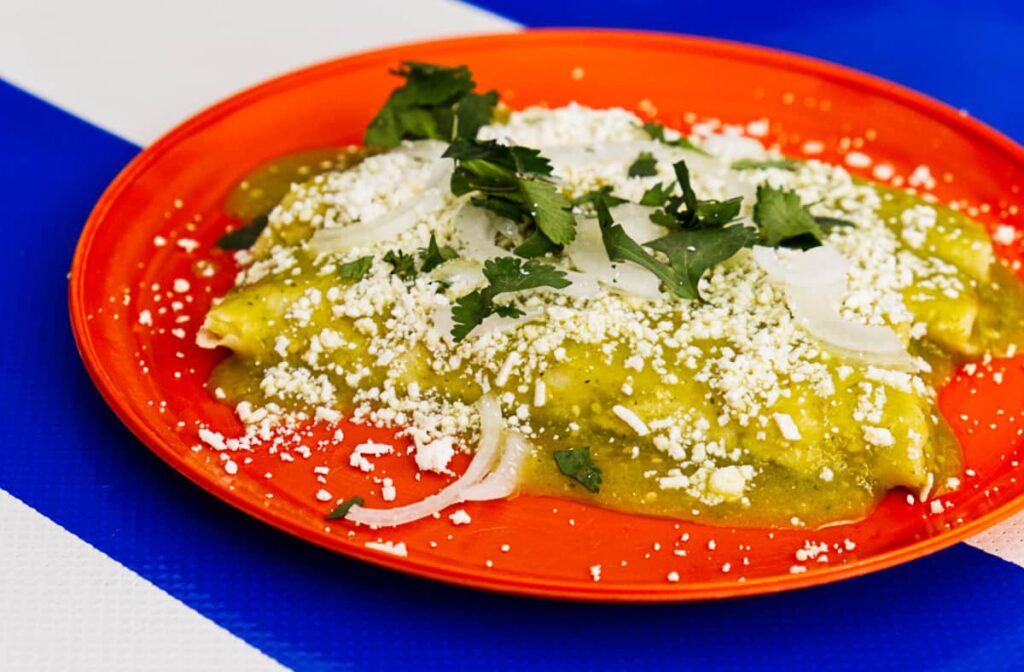 This small restaurant serves just a few items – enchiladas verde y rojo, tacos dorados, and fried potato quesadillas.
Their enchiladas are award-winning and I can confirm they are a tasty cheap breakfast or snack. An order comes as a plate of tightly rolled tortillas stuffed with shredded chicken and topped with a slightly spicy salsa verde. There's a spicy green salsa on the table for those who like more heat. And I was told the enchiladas rojo are slightly sweet.
After reading reviews, I asked about the potato quesadilla which arrived as a thin fried tortilla folded in half like a crunchy taco and stuffed with potato, lettuce, and queso fresco. While not particularly filling or healthy it was a nice addition to this inexpensive breakfast in Puerto Escondido.
Mercado Benito Juarez
$ | View Location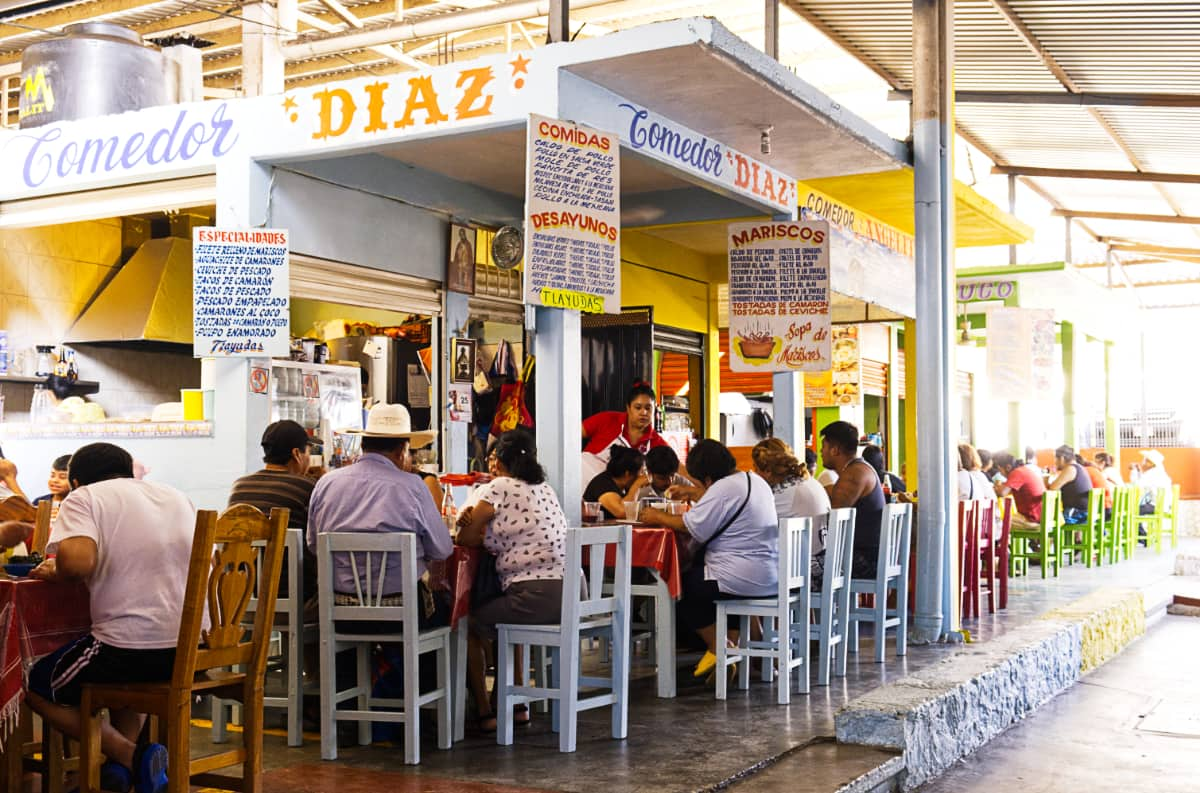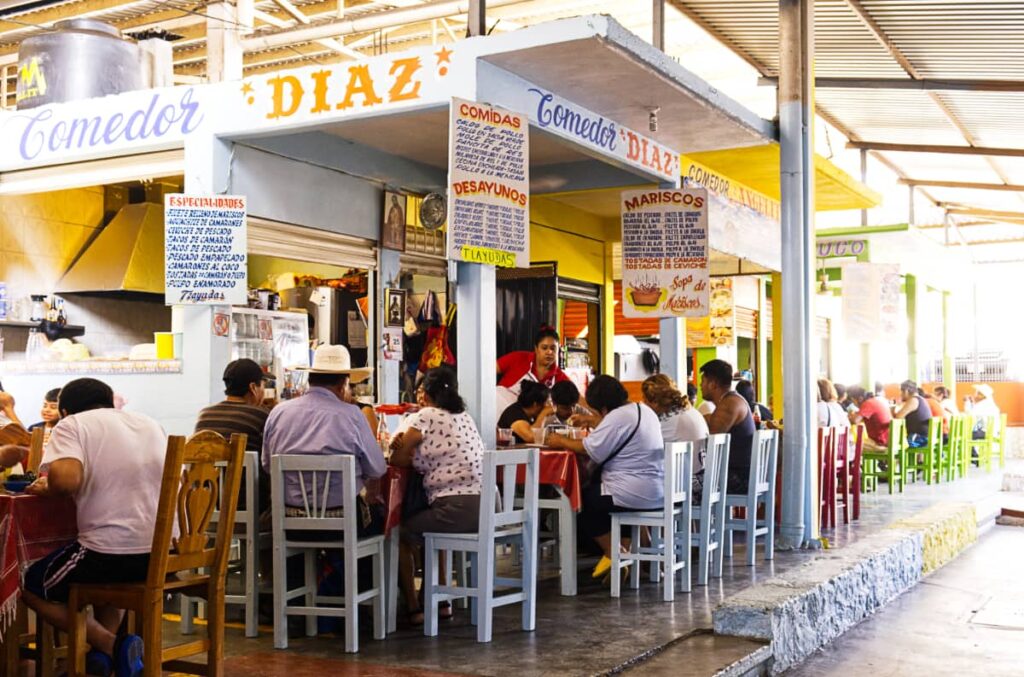 Throughout Mexico, the local markets are a great place to find a cheap breakfast. And the mercado in Puerto Escondido is no different.
Of course, deciding which comedor to patronize can be a difficult decision as you pass by and each solicits for your business.
I recommend walking to the middle of Mercado Hidalgo, past the meat section, and towards the produce. Three places that stood out to me are Comedor Diaz, Comedor Reyna, and Tres Girasoles Comedor.
Even if you don't choose to eat breakfast at the mercado, you should definitely make sure you visit. It's one of the best things to do in Puerto Escondido since it is a great place to buy produce, fresh meat, and fish as well as experience a small taste of local life.
Antojitos Regionales Las Juquileñas
$ | View Location
This is another classic Oaxacan restaurant that is a great place to eat an inexpensive breakfast in centro. Although, they are open until the late afternoon so if you miss breakfast, make sure to stop here for lunch.
My preference is to order a variety of items – sopes, empanadas, embarradas, and huaraches which are available with different toppings for an incredible price of 25 pesos each. If you prefer to eat one full meal, they also serve tlayudas.
Bonus: Café Binisa
$ | View Location
The founders of Café Binisa have a passion for quality coffee and organic products which is clear from the quality of their hot coffee drinks and other items. It's also evident from the variety of homemade plant milk that is available.
While this is another cafe that doesn't have a traditional breakfast menu, they do sell baked goods and sandwiches. In addition, the front of the cafe is a small store that sells homemade nut butter, jam, kimchi, and of course coffee beans that can be roasted and ground to your liking.