15 Best Puerto Escondido Coworking Spaces in 2023
Looking for a coworking space in Puerto Escondido?
Until a couple of years ago, Puerto Escondido internet made it nearly impossible for remote workers to live and work in this beach town.
Reports of power outages and unstable internet were frequent. Even the local cell service, Telcel, was often unusable as a backup hotspot.
And at that time, finding an adequate coworking space in Puerto Escondido was limited to just a few options. For a long time, the two main players were Selina Hostel and Casa Losodeli.
While they still rank among the best coworking spaces in Puerto Escondido, they are no longer the only options.
Keep reading to see what's changed with the internet in Puerto Escondido and find your favorite coworking space.
This article may contain affiliate links. This means if you click a link on our blog and make a purchase, we earn a commission at no additional cost to you. For full information, please see our disclosure.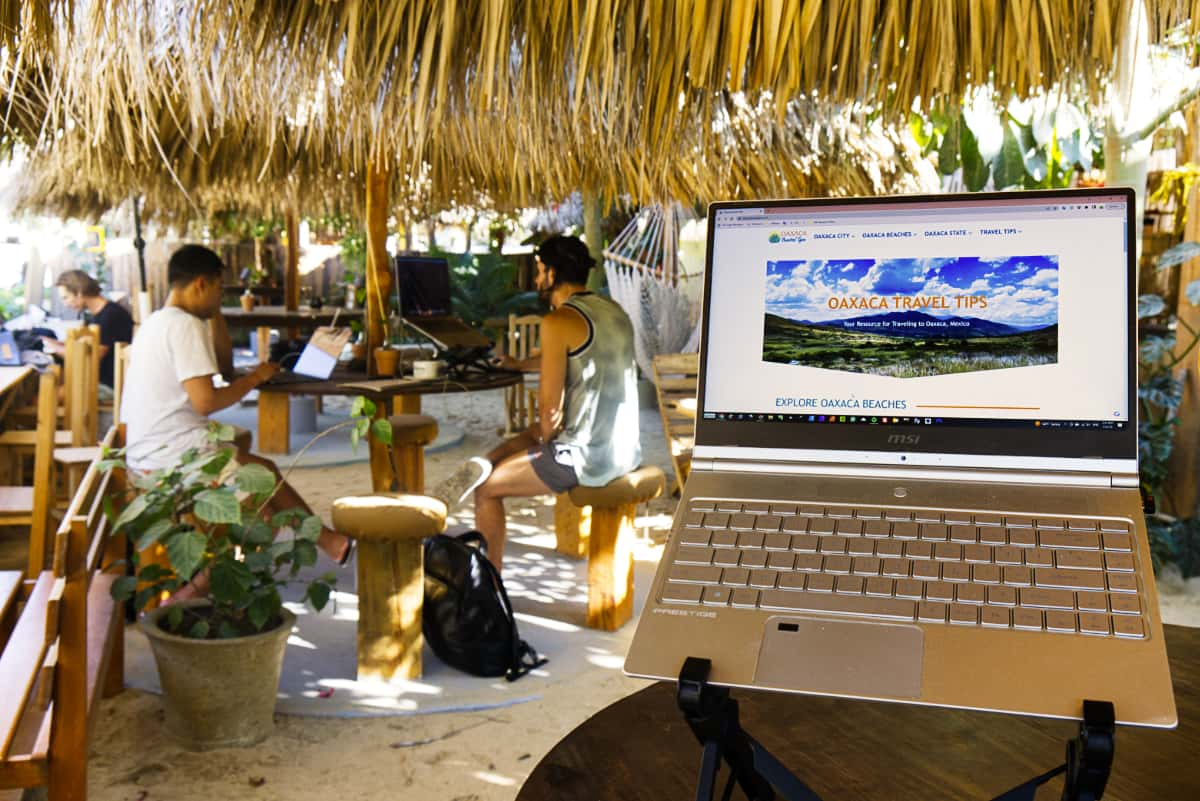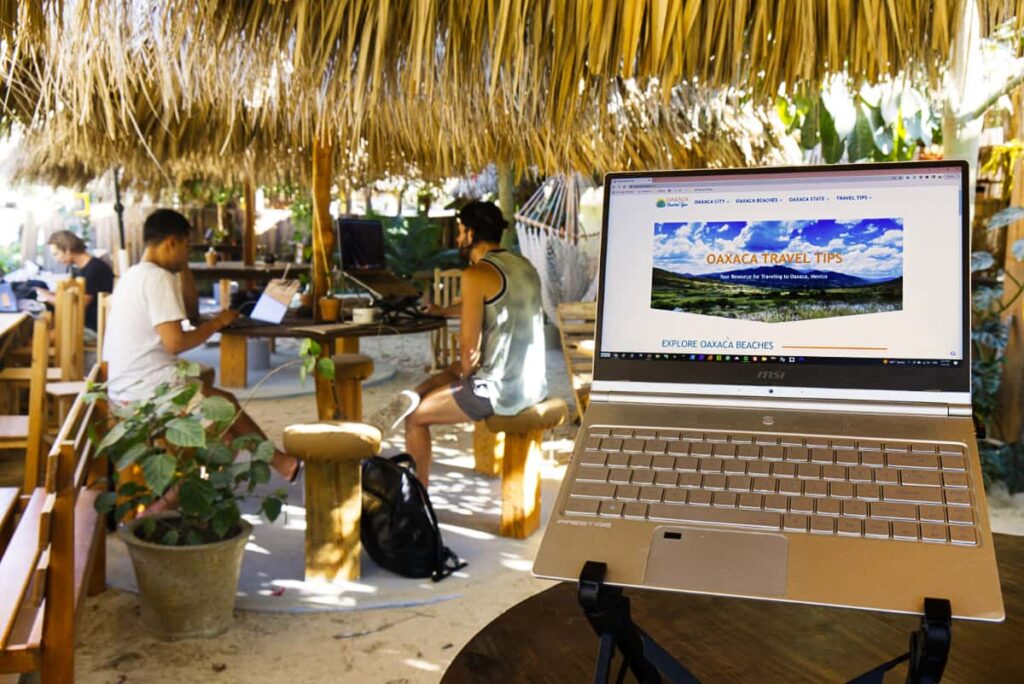 My Top Picks for Puerto Escondido Coworking
This provides a quick look at my favorite coworking spaces in Puerto Escondido with a link to a further description of the space, prices, etc.
Most of these are centrally located in Rinconada and surrounding areas since that is where most of the formal coworking spaces are at this time.
Best Time to Visit Puerto Escondido for Digital Nomads
There are a couple of reasons to consider the weather when you're thinking about the best time to visit Puerto Escondido.
The most obvious are the heat and humidity. While the coast of Oaxaca is generally hot and humid throughout the year, it's especially so during the rainy season (roughly June through September).
The other reason to consider the weather is that the internet in Puerto Escondido can be unreliable during the rainy season. And in addition, the rain increases the likelihood of power outages.
While I believe these factors will only improve as the infrastructure develops, it remains an issue for now.
Puerto Escondido Internet
The two main options for high-speed internet in Puerto Escondido are fiber optic and satellite. The introduction of Starlink internet and the expansion of the Fiber optic network have opened up a greater opportunity for digital nomads in Puerto Escondido.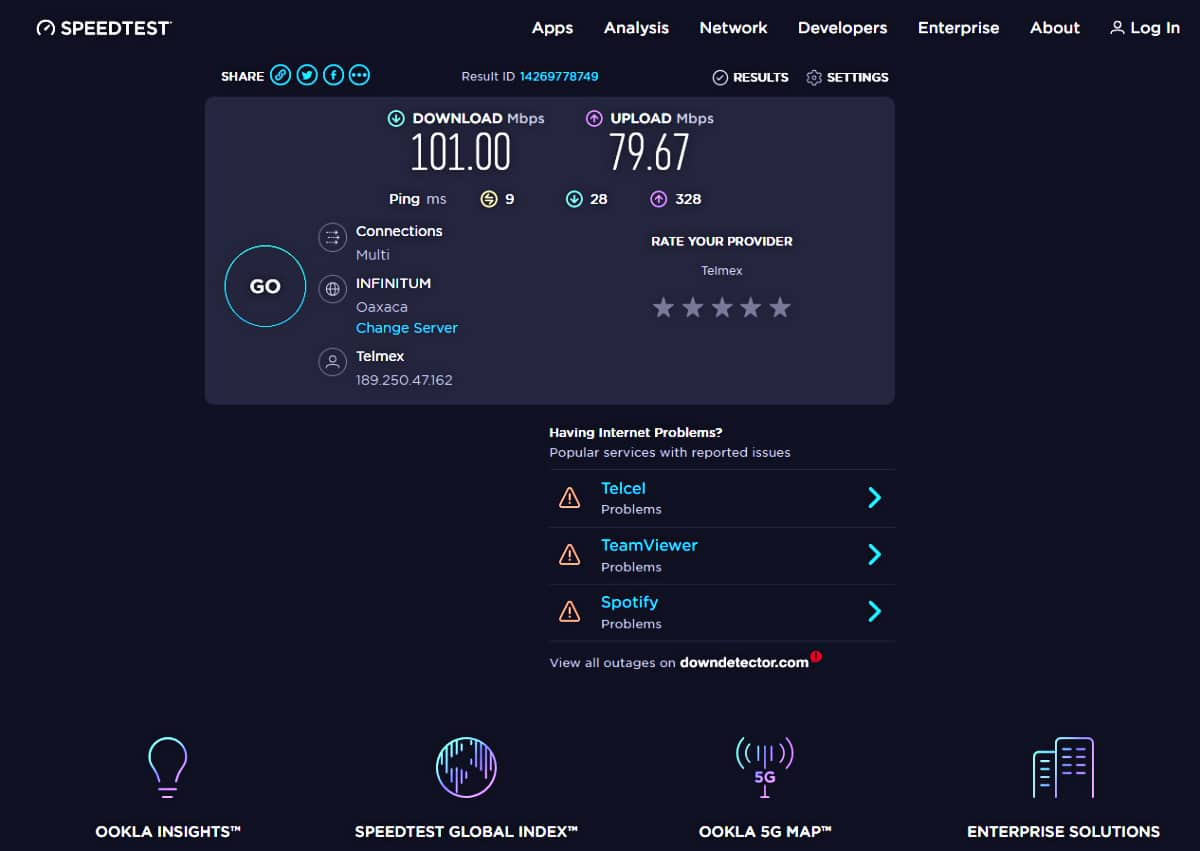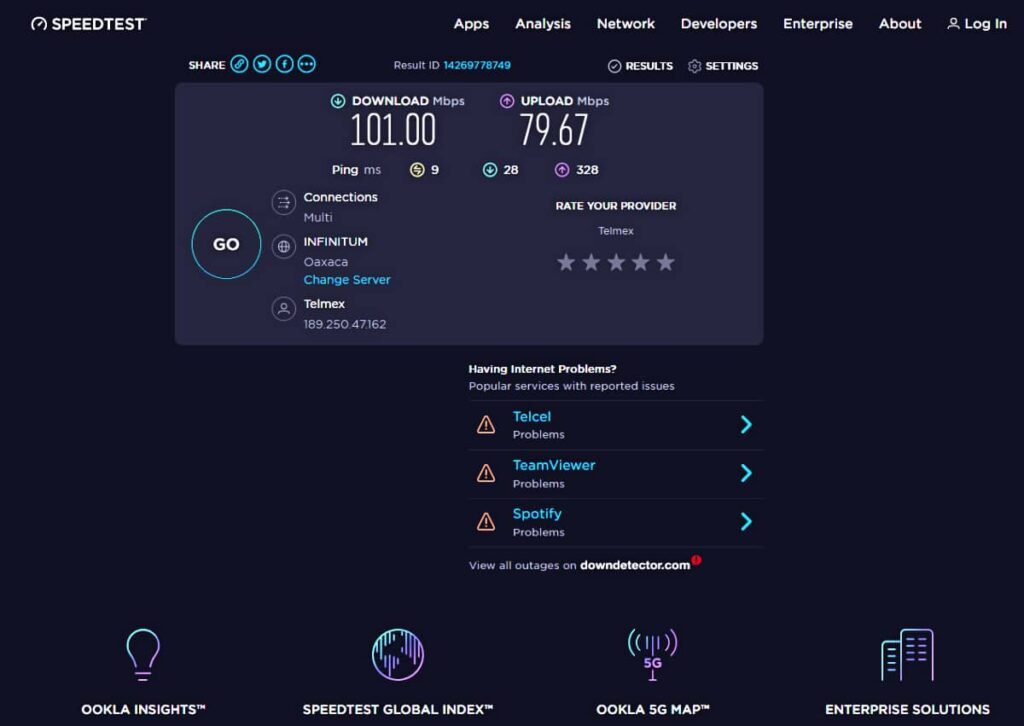 Fiber optic internet is offered through the Mexican communication company, TelMex. Fiber internet has a faster average speed as well as less latency than Starlink but it's not readily available in all areas of Puerto Escondido.
Starlink utilizes advanced satellites to deliver high-speed internet to users throughout the world. Its arrival to Mexico was highly anticipated and helped to change the environment of Puerto Escondido coworking.
The best coworking spaces in Puerto Escondido utilize a mix of internet services when available and have a system in place that automatically switches from one to the other if there is an outage.
Best Areas for Coworking in Puerto Escondido
There are several areas where the majority of travelers and digital nomads choose to stay – Rinconada, Centro, Zicatela, and La Punta. I've organized this list by area since the best coworking space will likely be the one closest to your accommodation.
Included is a quick summary of each area in relation to coworking although you can read more details in my guide about where to stay in Puerto Escondido.
Central Coworking Spaces in Puerto Escondido
The area of Rinconada, stretching into Playa Bacocho, Sector Hidalgo, and even Centro has the best coworking spaces in Puerto Escondido.
As a bonus, this area also includes some of the best beaches in Puerto Escondido, especially for swimming.
1. Ñuu Rinconada Cowork Community
Ñuu has created a Puerto Escondido coworking space with the intention of creating a private space with a sense of community. One way they do that is by encouraging monthly members.
When you commit to Ñuu for a month at a time, you are given a key with the ability to access the coworking space 24 hours per day, which is incredibly helpful for those who keep odd hours or work in a different timezone.
The air-conditioned coworking space consists of two long desks with office chairs on either side and a set of personal shelves attached to each workspace. While a fixed desk is not standard, it can be arranged if you use an external monitor.
Ñuu feels like a formal coworking space, although outside the office doors is a more relaxed area. The balcony features a few tables to work, a hammock, and a beautiful ocean view.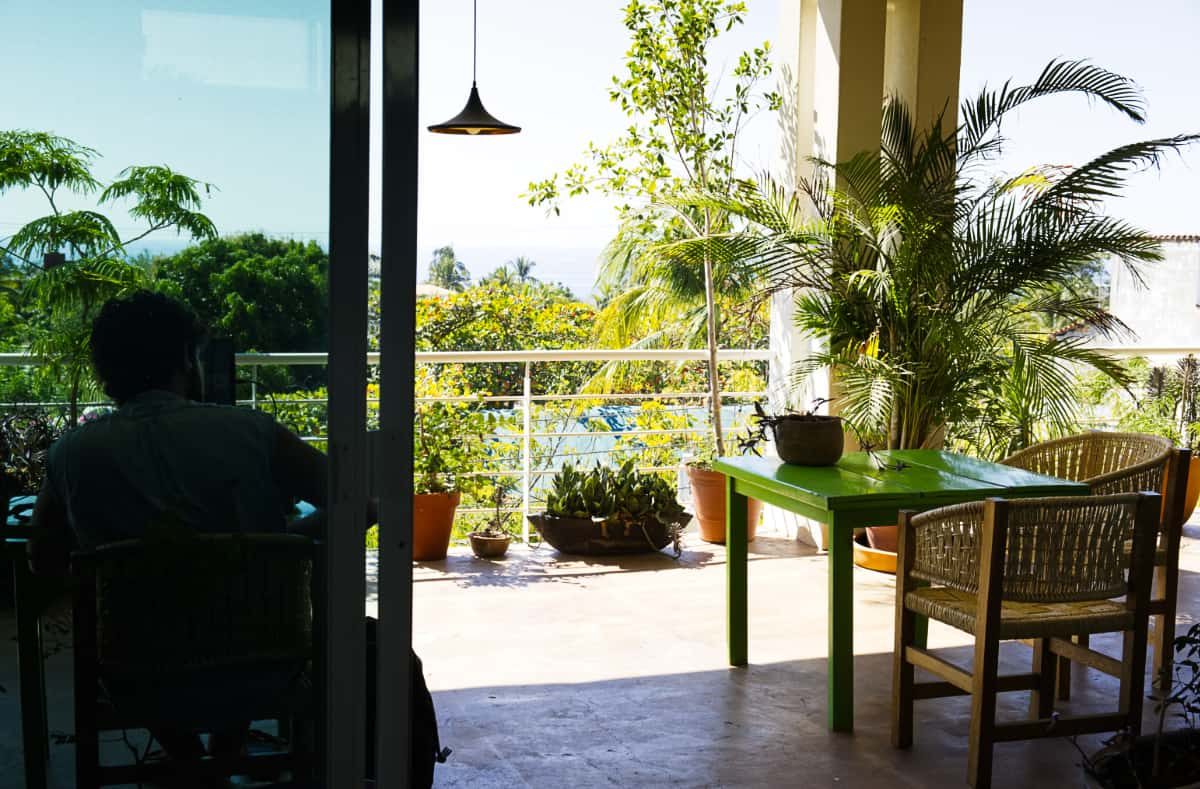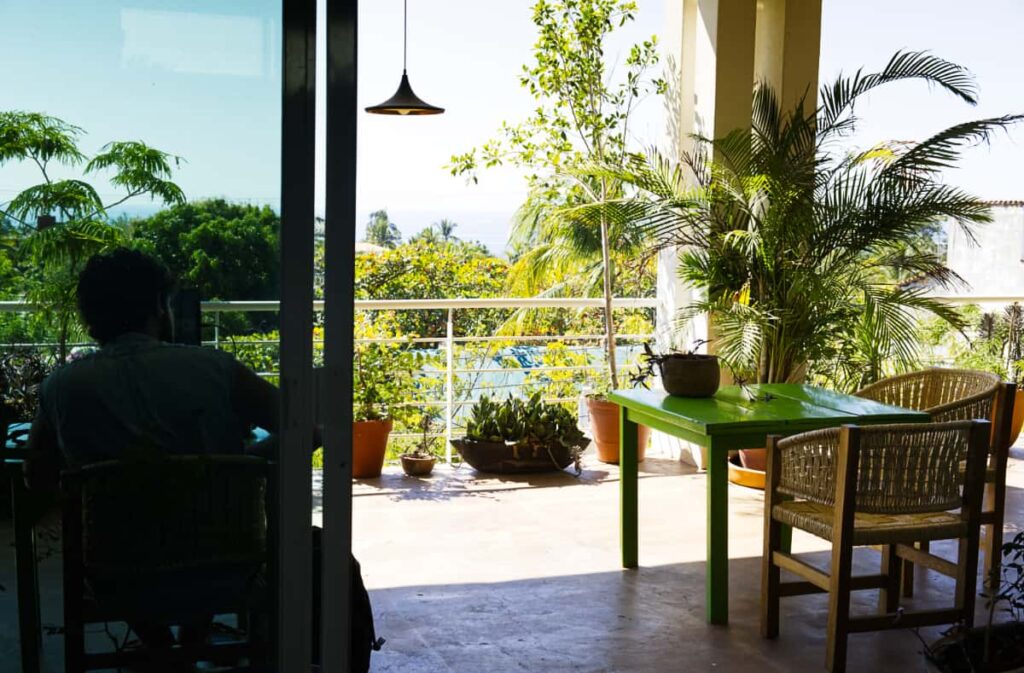 The communal kitchen includes unlimited coffee, tea, and snacks as well as a toaster and stovetop for heating up food.
Ñuu coworking space also includes several soundproof meeting rooms with AC that are available to reserve, the cost of which is included in the monthly rate.
2. Casa Losodeli & Coworking
The formal coworking space at Casa Losodeli consists of six office chairs surrounding one long table with power banks in the center. The room has AC, a water dispenser, and a private booth for phone calls that can be reserved for up to 4 hours per day.
Casa Losodeli is a hotel and hostel that draws a community of remote workers. And the best perk – when you book a room at Casa Losodeli, use of the coworking space is included at no extra fee.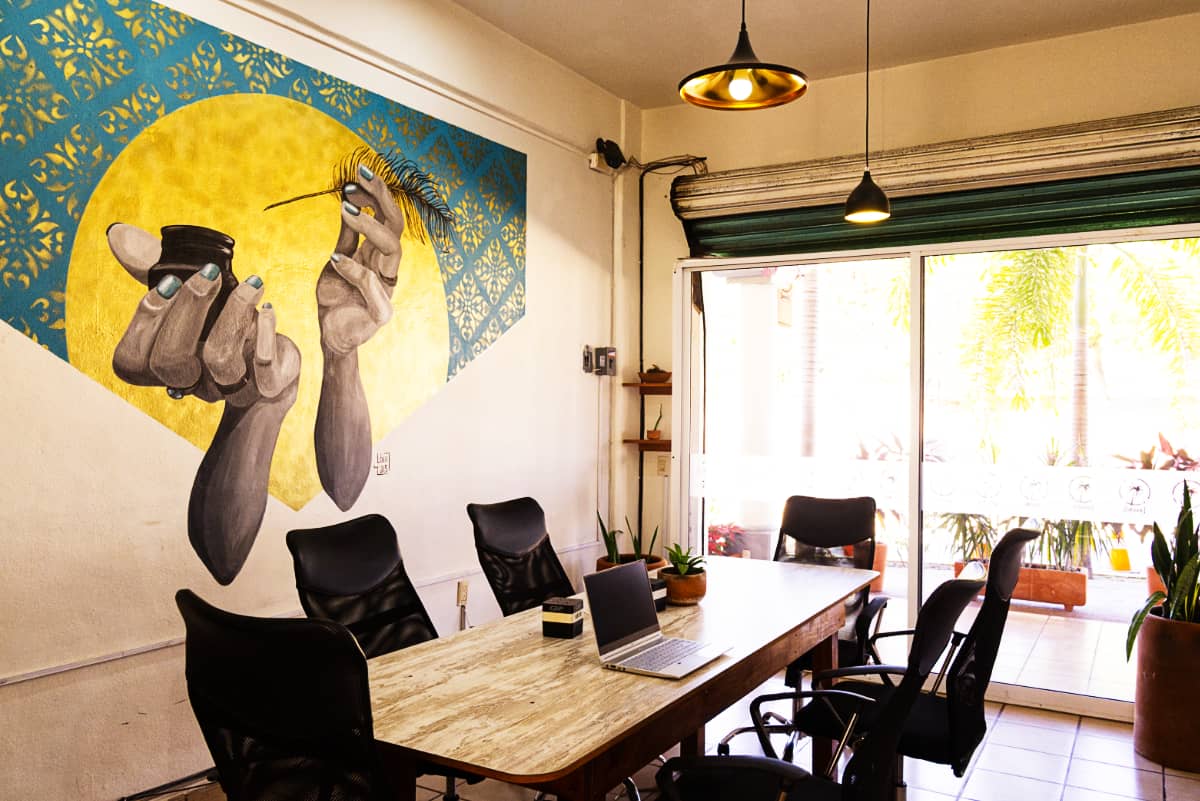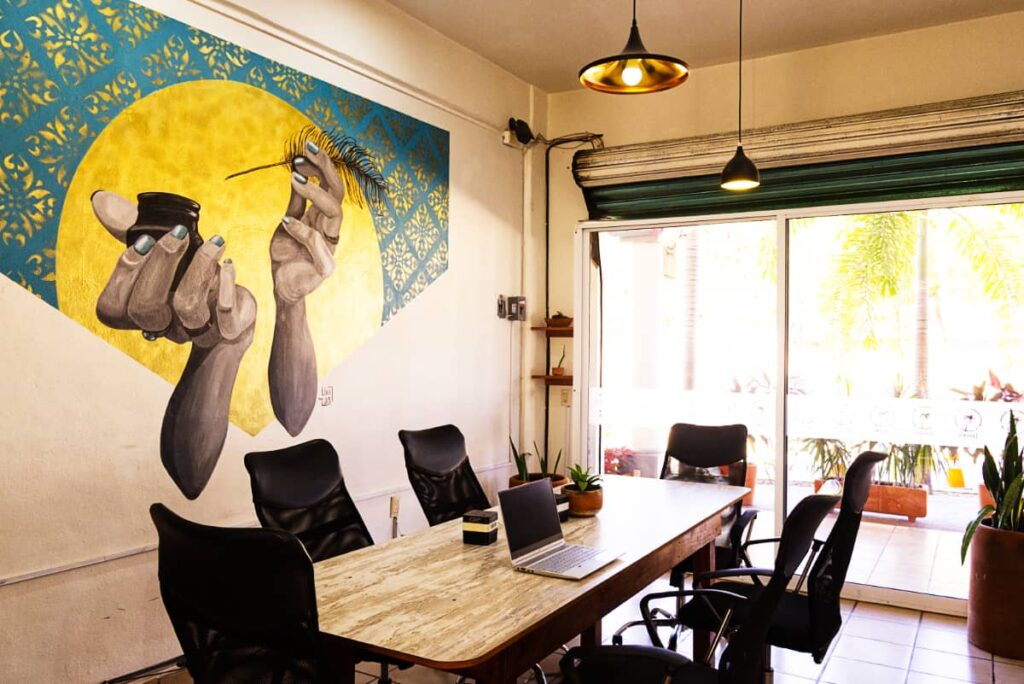 What sets this coworking space apart is that the areas to work expand to the palapa, garden area, and rooftop with ocean views.
The garden is conveniently located between the kitchen (for guests only) and the swimming pool. It's full of green tropical plants and includes shaded tables and a large space to work under the palapa.
The high-speed internet even reaches the breezy rooftop which has sweeping views of the beach from La Punta towards Playa Carrizalillo. The coworking fee also includes access to the pool and showers located in the garden area.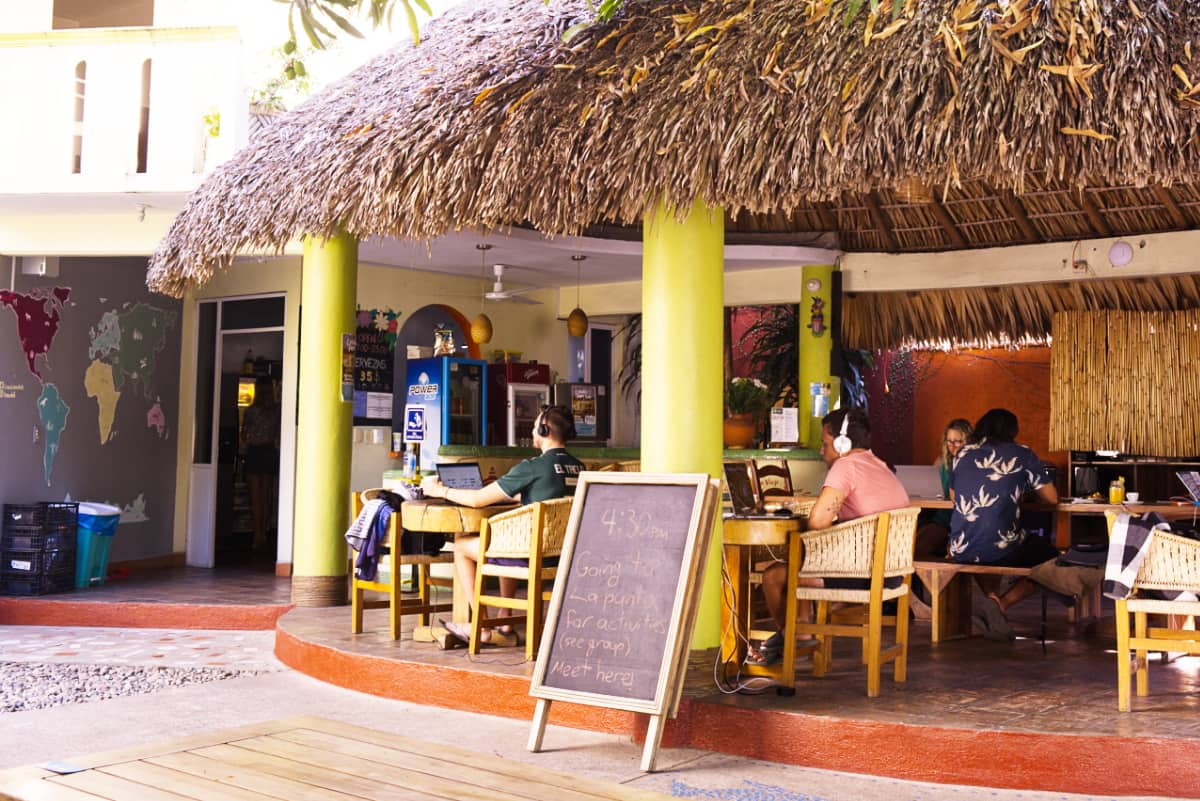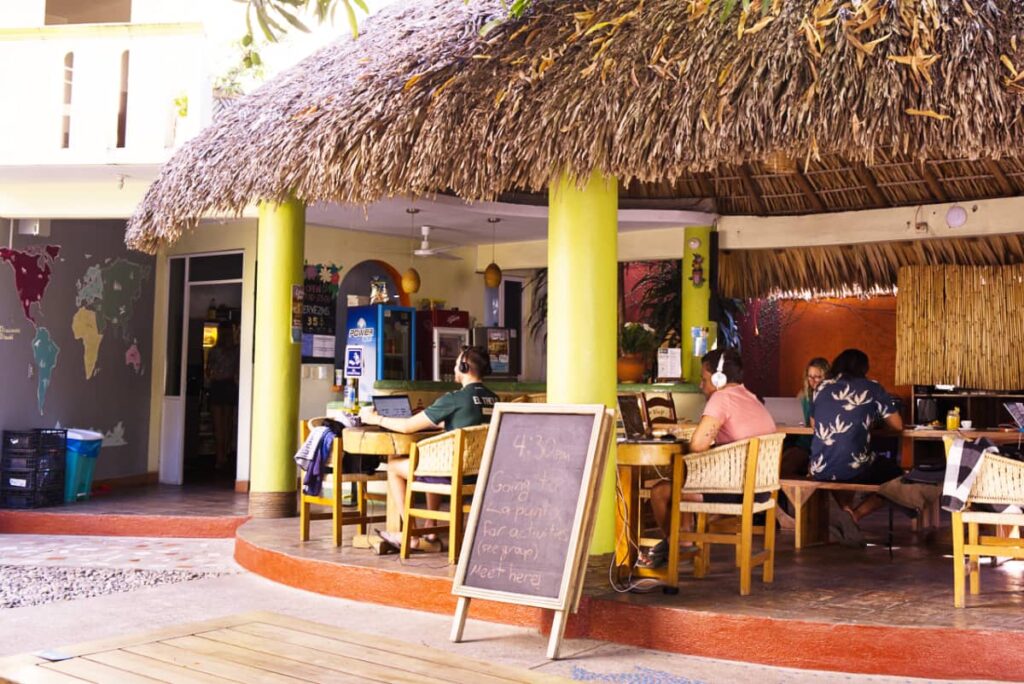 The front desk and coworking space are available 24 hours per day, 7 days per week. However, it's important to keep in mind that the day pass is only valid for up to 12 hours at a time.
While you can also work from the cafe, the internet is much slower. The tables inside have a time limit of one hour for remote workers. There is also a covered space outside that can be used for a longer time period.
For travelers staying for a few weeks or a month, Casa Losodeli & Coworking is a great coworking option located in a great location.
3. Pauline Creative Hub
Pauline Creative Hub lives true to its name. It truly feels like a space for remote workers in Puerto Escondido to create.
The founders are a group of creatives themselves. Their vision is to build relationships with various artists and business developers to bring unique events to Pauline while building a community for creatives.
Their creativity is immediately evident when you walk into the former bowling alley that they've transformed into the most unique coworking space in Puerto Escondido.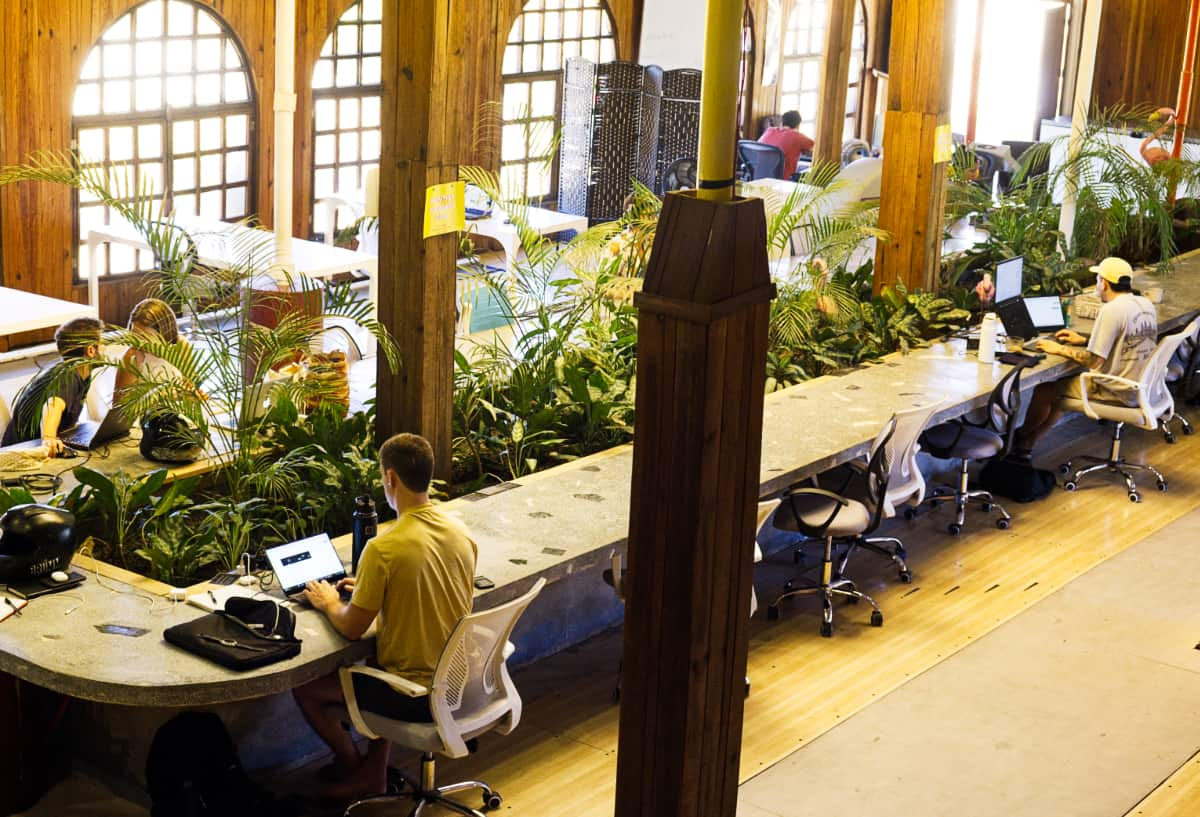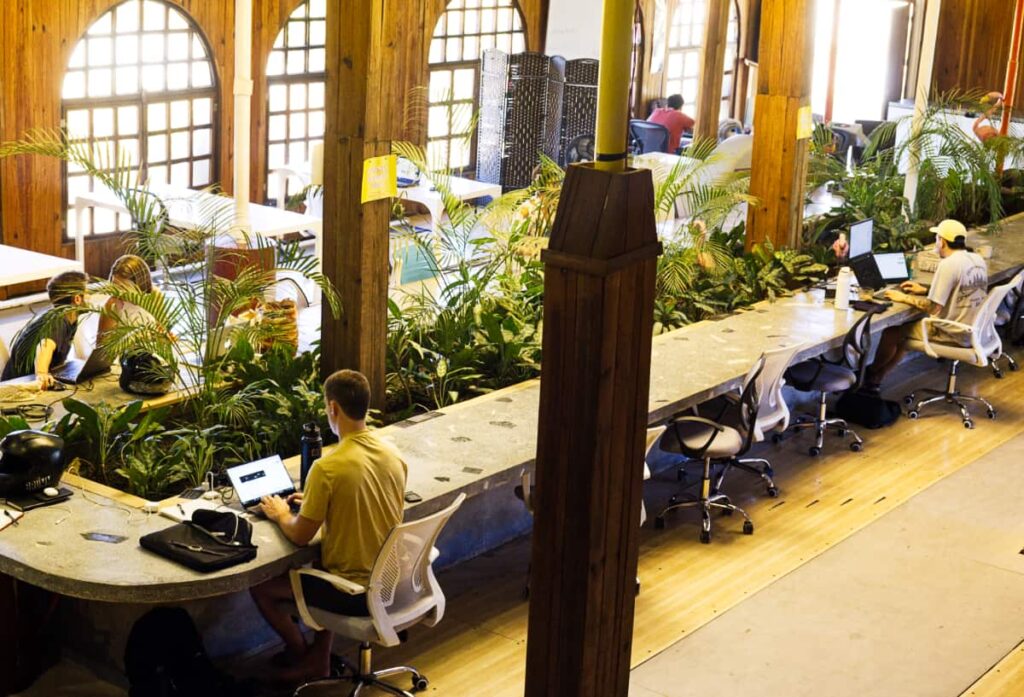 The main room, called the bowling hall is an airy space with a long central working hub located where the bowling lanes once were.
This area also includes a row of individual tables available to use on a first come, first serve basis. Every workspace in this area is outfitted with a proper office chair. And the tropical plants in the center of the main working space give the space a fresh vibe with a touch of privacy.
Blended into the floor are the original wooden lanes while the ball retrievers remain, still with bowling balls. There are also a few pool tables that receive a bit of action on Friday afternoons.
These original aspects are a gentle nod to the building's history, as is the name Pauline which was a hurricane whose impact halted the planned development of the area in the late 90s.
The coworking spaces continue to the air conditioned rooms in the back of the building. There are small spaces to work, including a few "phone booths" that provide more privacy.
If you need a quiet space, you'll want to work from the Drawing Room which is a silent coworking space where phone calls are prohibited. And there are two meeting rooms that are available to rent hourly.
Events at Pauline Coworking Space
Besides the beautiful coworking space, the founders of Pauline have the vision to create an international community that draws artisans to create.
I personally think the events at Pauline Creative Hub are one of the biggest draws to this coworking space. In addition to the weekly movie night and other social events, they've teamed up with Coco's In Paradise to host business-focused sessions on Tuesday afternoons.
You can find their various scheduled events on their Instagram.
4. 401 Coworking at Pargos Hotel
Pargos is a family-run hotel and coworking space in Centro, near the Chedraui grocery store. Essentially, they saw an opportunity for this family hotel to create a coworking community for digital nomads in Puerto Escondido.
They transitioned the large top-floor room with ocean views into a communal coworking space. It consists of two long work desks with comfortable chairs. The private office toward the balcony has the best ocean view which stretches from Bahia Principal to Playa Zicatela.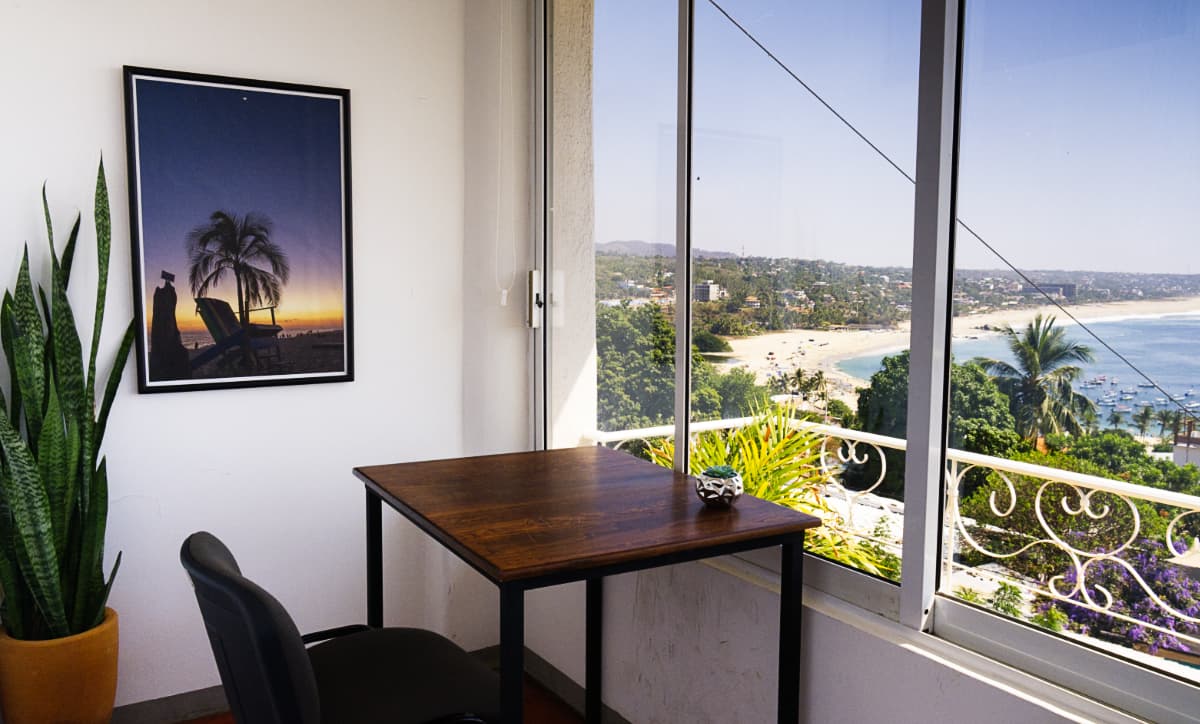 Use of the coworking space for up to four hours per day is included when you book a room at Pargos Hotel. And the high-speed internet can be accessed throughout other areas of the hotel during your stay.
They are currently building a cafe and workspace as well as two shaded platforms overlooking the pool area that will also become coworking spaces.
And that brings me to another perk of this coworking space in Puerto Escondido. Use of the swimming pool and shower are included in the daily, weekly, and monthly rates.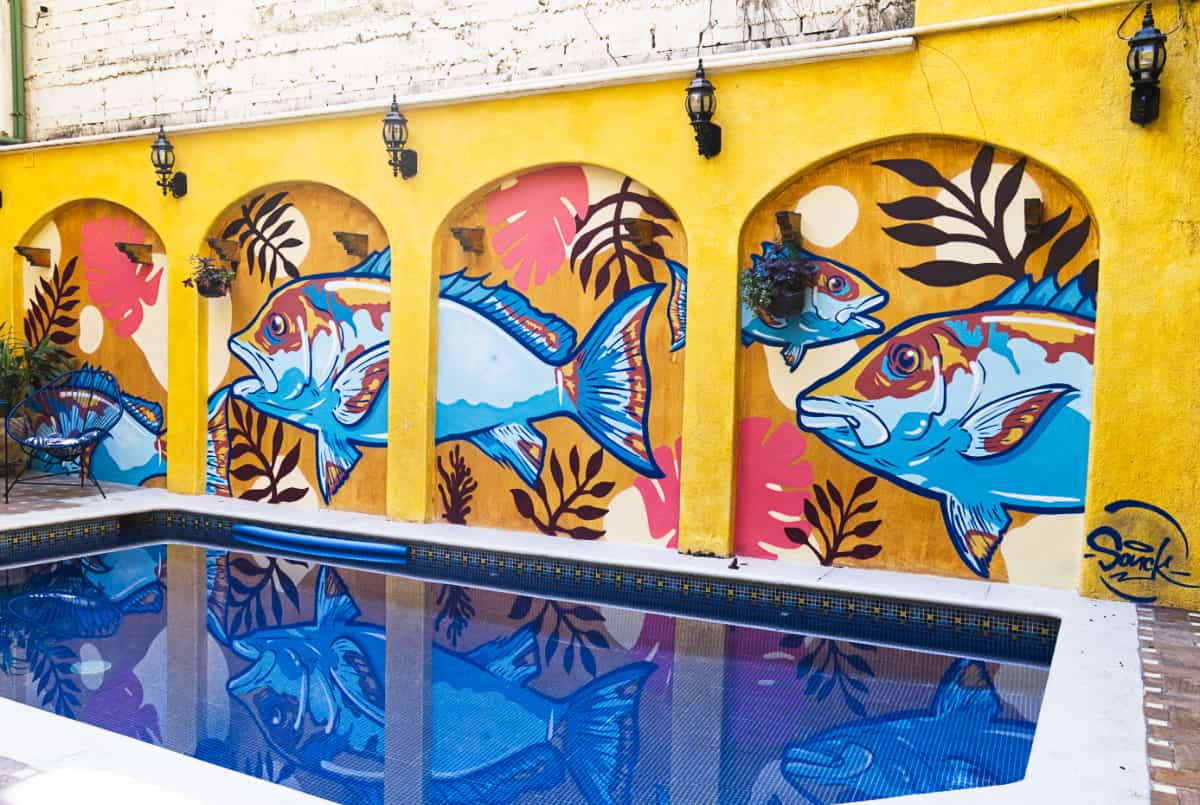 While Pargos still operates as a hotel, guests that are not planning to work are given a different internet code that allows them to surf the web and stream entertainment without dragging down the bandwidth for the remote workers.
401 Coworking is one of the most affordable coworking spaces in Puerto Escondido, especially when you consider that a half-day pass is available if you only need to work for a few hours.
5. Café Lili – Coffee and Coworking in Puerto Escondido
Café Lili is a great cafe in Centro if you need to get work done that doesn't require fast internet. The space is fresh and wide open. The bar workspace and the tables along the wall each have a dedicated outlet with a USB port.
In addition, the coffee is flavorful, the tables are comfortable, and the owner's cute chihuahua, Cookie, runs around as if she owns the place.
The only caveats are the occasional street noise and the slow internet. When I ran speed tests, the download speed registered under 10 Mbps, even when I was the only one working in the cafe.
La Punta Coworking, Puerto Escondido
While there is currently no dedicated coworking space in La Punta, there are several cafes and restaurants that have transformed their business to attract Puerto Escondido digital nomads.
Some have created a separate space for coworking while others have simply upgraded their internet and added plugs to their already existing space.
Keep in mind, the internet in La Punta is the most unreliable in all of Puerto Escondido, although it continues to improve.
While most places have Starlink internet, I noticed that the speed varies dramatically from day to day and I didn't find any coworking space in La Punta with backup internet in case of an outage.
6. Amarisa Cafe
Amarisa is a breezy cafe and coworking space whose bright space with turquoise accents perfectly match the bohemian beach vibe in La Punta. As one of the most popular cafes in La Punta, the space gets busy although when I was there, the wifi remained relatively fast.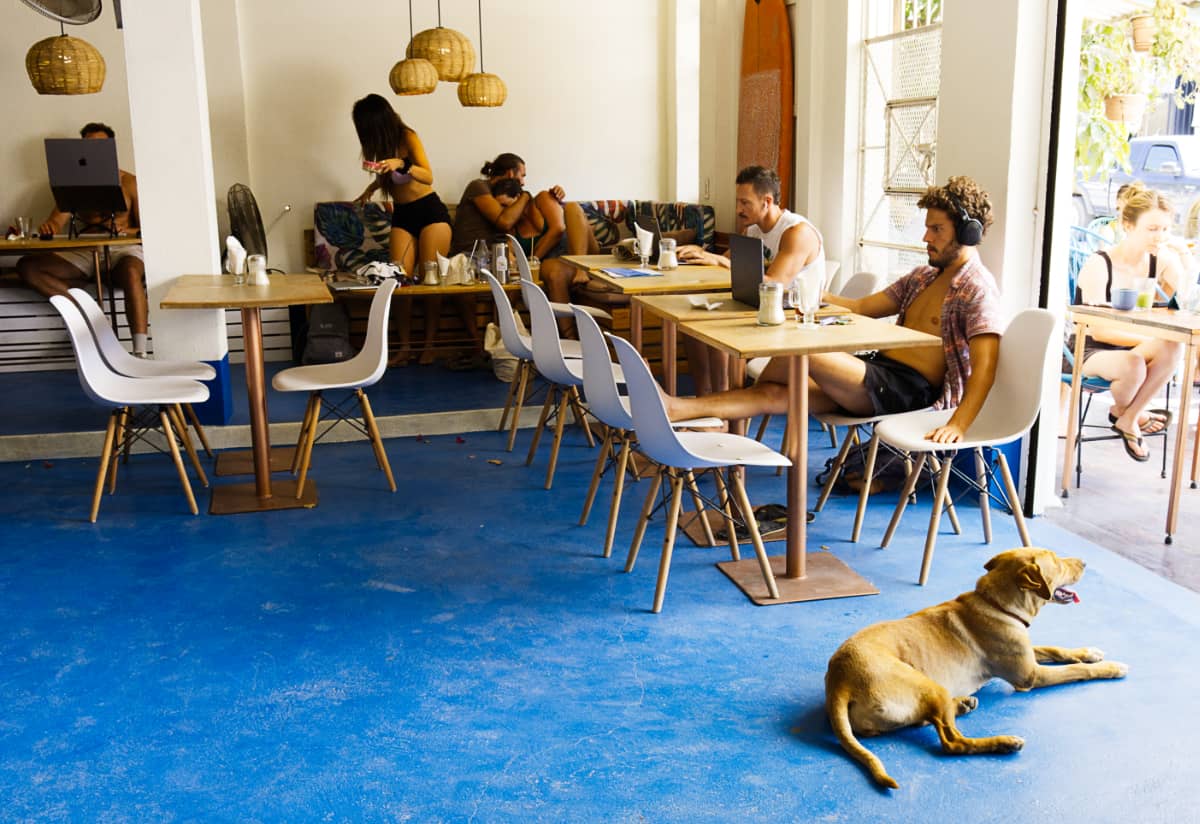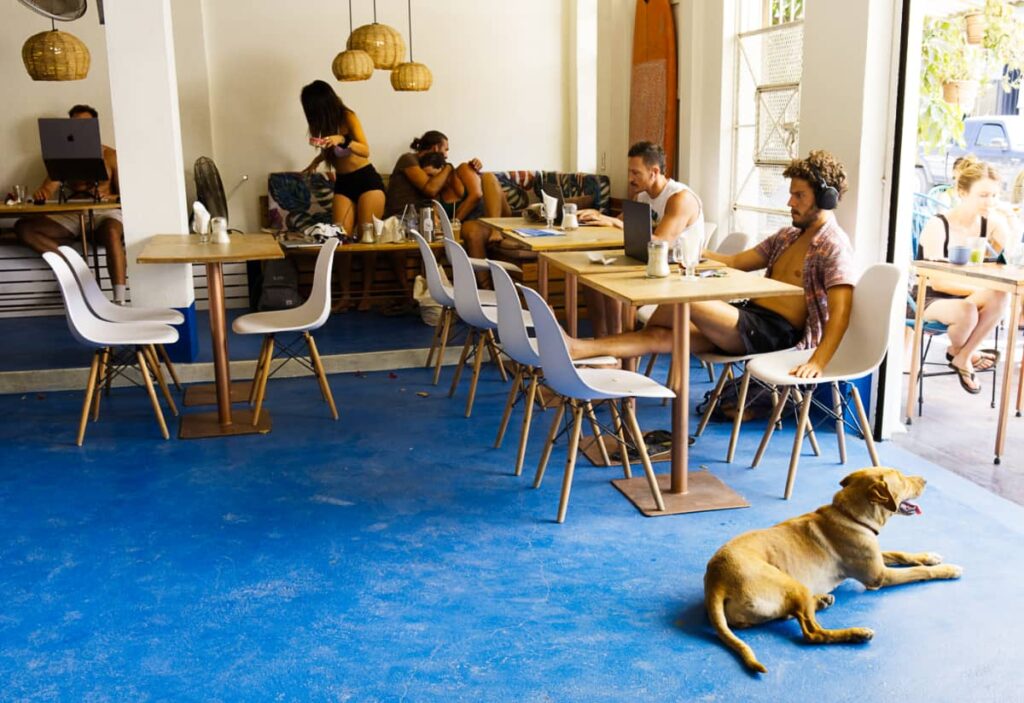 The areas to work consist of several tables and chairs as well as bench seating with higher tables along the wall on the left which I found to be more comfortable. If you don't mind working outside, there are also a few tables that line the front patio.
The cafe is known for its pastries and homemade bread, which are seen throughout the menu. The menu is also quite customizable with options to create your own bowls, omelets, and sandwiches.
7. Sabina Restaurant
Featuring palapas, sand floors, and hammocks, this outdoor coworking space feels as though you've never left the beach. Though most importantly, the workspaces are comfortable and the Starlink internet is solid throughout.
Sabina is a restaurant that turned into a coworking space with the arrival of high-speed internet in Puerto Escondido. In my opinion, this is an instance where the transition works really well.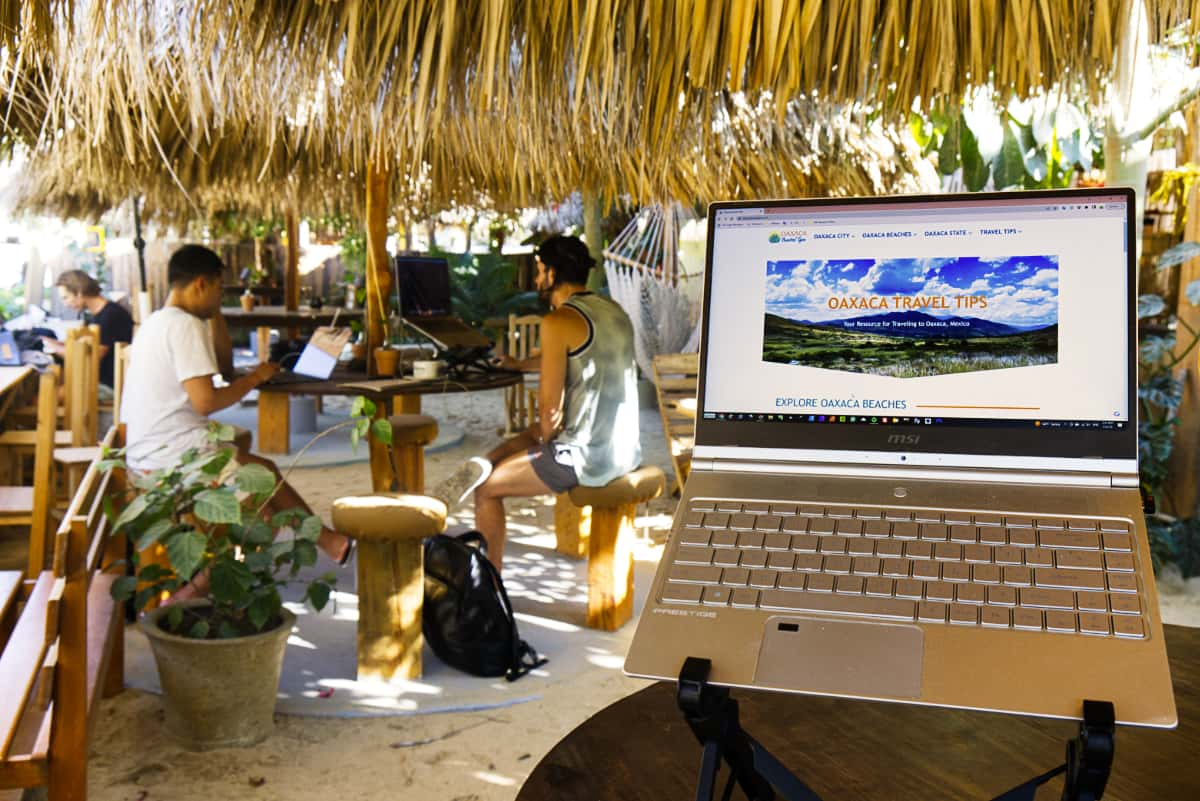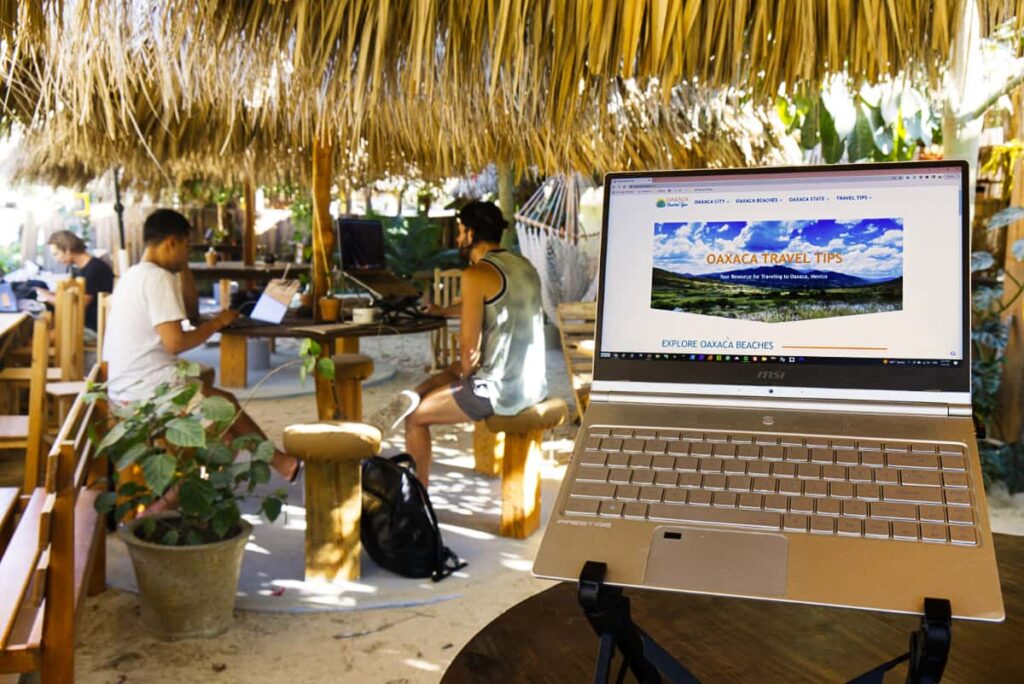 In fact, Sabina quickly became my favorite coworking space in La Punta. There are a variety of workspaces – from standard wooden tables and chairs to a long workspace that faces the street.
My preference is the circular tables with a palapa roof that can be turned into a standing desk with the use of a laptop stand. And the hammock chairs are particularly comfortable towards the end of the day.
There's no cost to work at Sabina. Instead, they require a 150 minimum spend which isn't hard to reach when you order a meal and drink or one of the seafood dishes.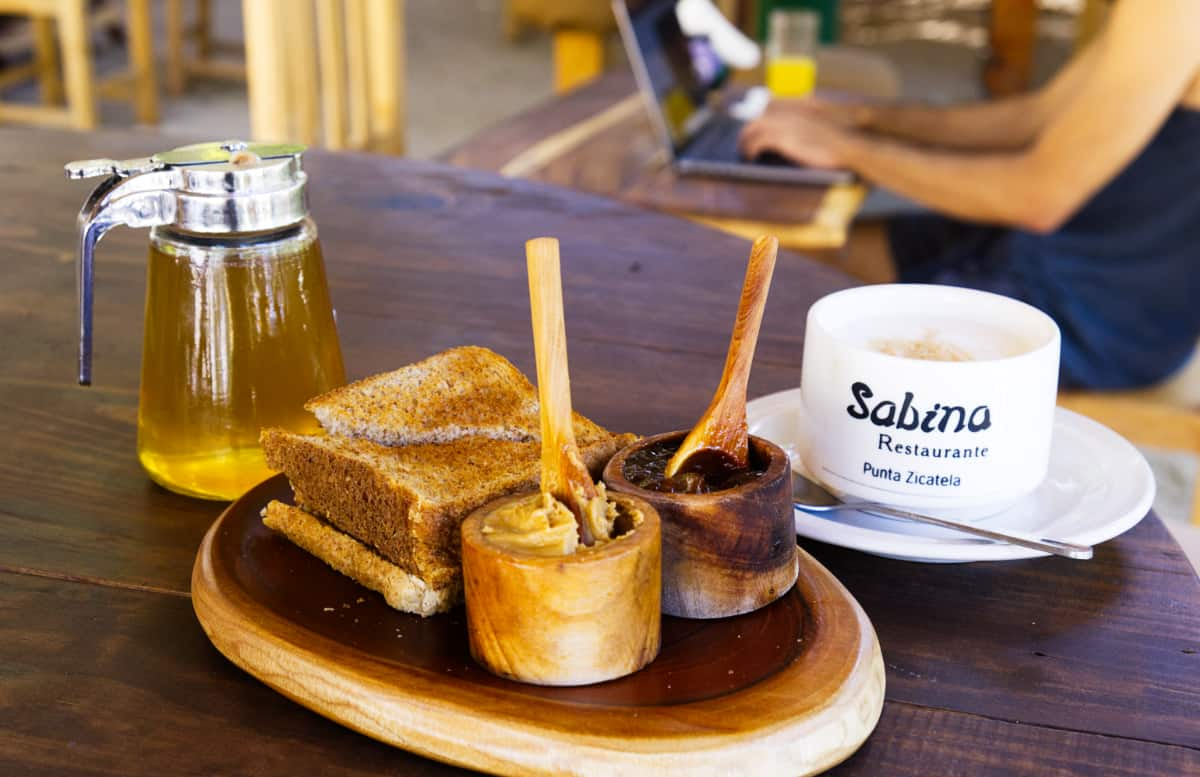 Breakfast is served until 2 pm with classic Mexican options such as chilaquiles, enchiladas, enfrijoladas, and entomatadas as well as eggs. The house coffee includes free refills until 4 pm and they also serve large mason jars of juices, smoothies, and milkshakes.
The lunch into evening menu starts by noon, though one person told me it's available to order throughout the morning as well. It includes a variety of seafood dishes, tacos burgers, burritos, and pasta as well as a make your own healthy bowl.
8. Malagua Café, Brunch, and Coworking
Malagua Café has transformed its rooftop palapa into a dedicated coworking space in La Punta. It consists of about half a dozen wooden tables and a long workspace overlooking the downstairs restaurant.
While you can enjoy the food and drink from the cafe in the coworking space, the spaces feel quite separate. In the coworking space, there are two ceiling fans, a self-serve water station, outlets throughout, and Starlink internet.
The cost of coworking is not included when you consume food, so this is also a good place to work if you just need fast internet and don't want to abide by a minimum spend amount.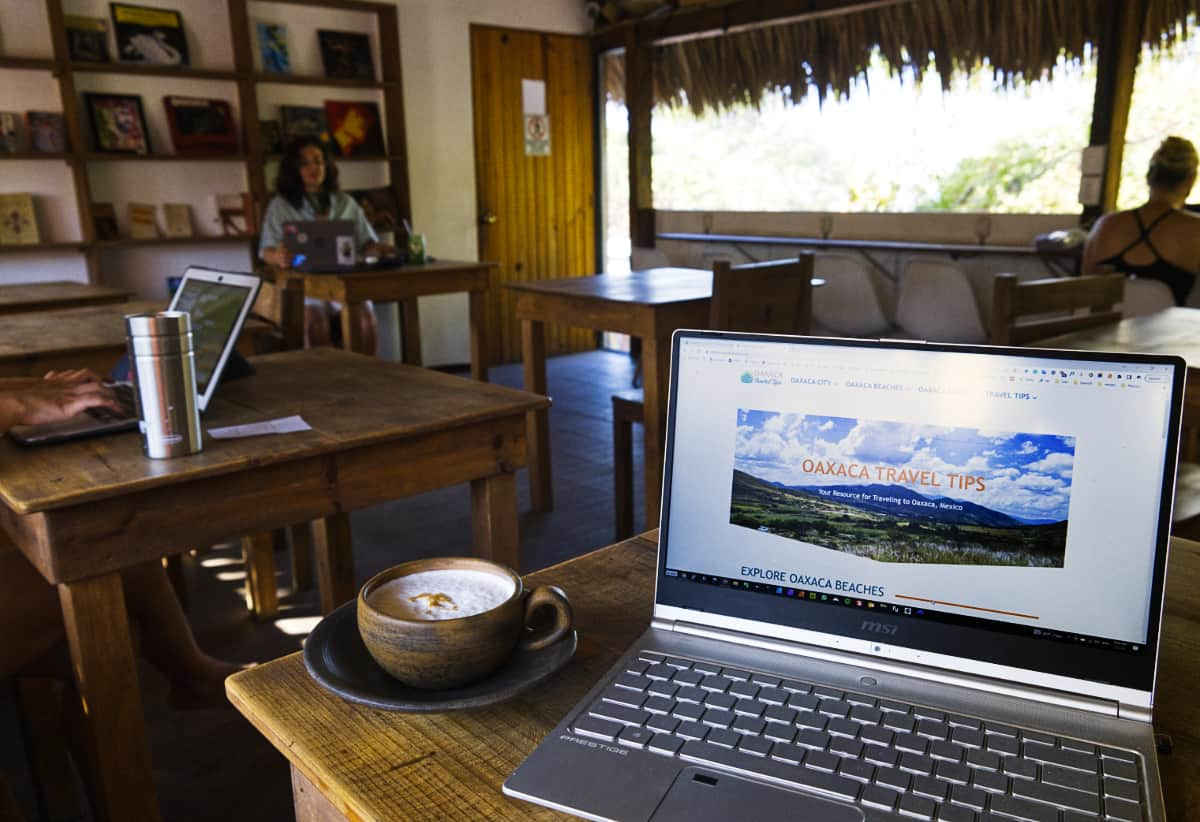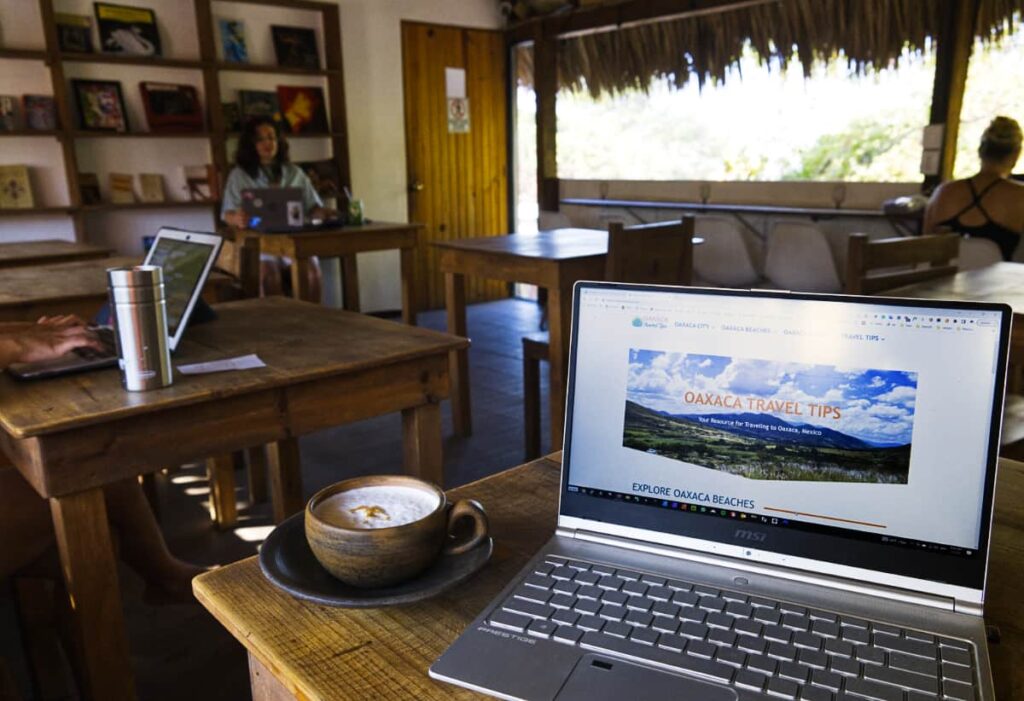 The stated mission at Malagua Cafe is to create a community of people from different backgrounds who have come to enjoy life by the beach.
The restaurant and cafe, which also made my list of the best places to eat breakfast in Puerto Escondido, works with local producers and other small businesses to supply the ingredients.
It is worth noting that the coworking space closes at 3 pm, so it is not ideal if you need to work later than those hours. In addition, small dogs are allowed.
9. Raíz Boutique Hotel
When I first heard that Raíz Boutique Hotel had a coworking space, I was skeptical. I wasn't sure it would have the necessities needed or be something that they could continue to offer.
But when I visited, I became enamored with the rooftop palapa. It features a long table and chairs under the shade of a palapa and a fresh breeze.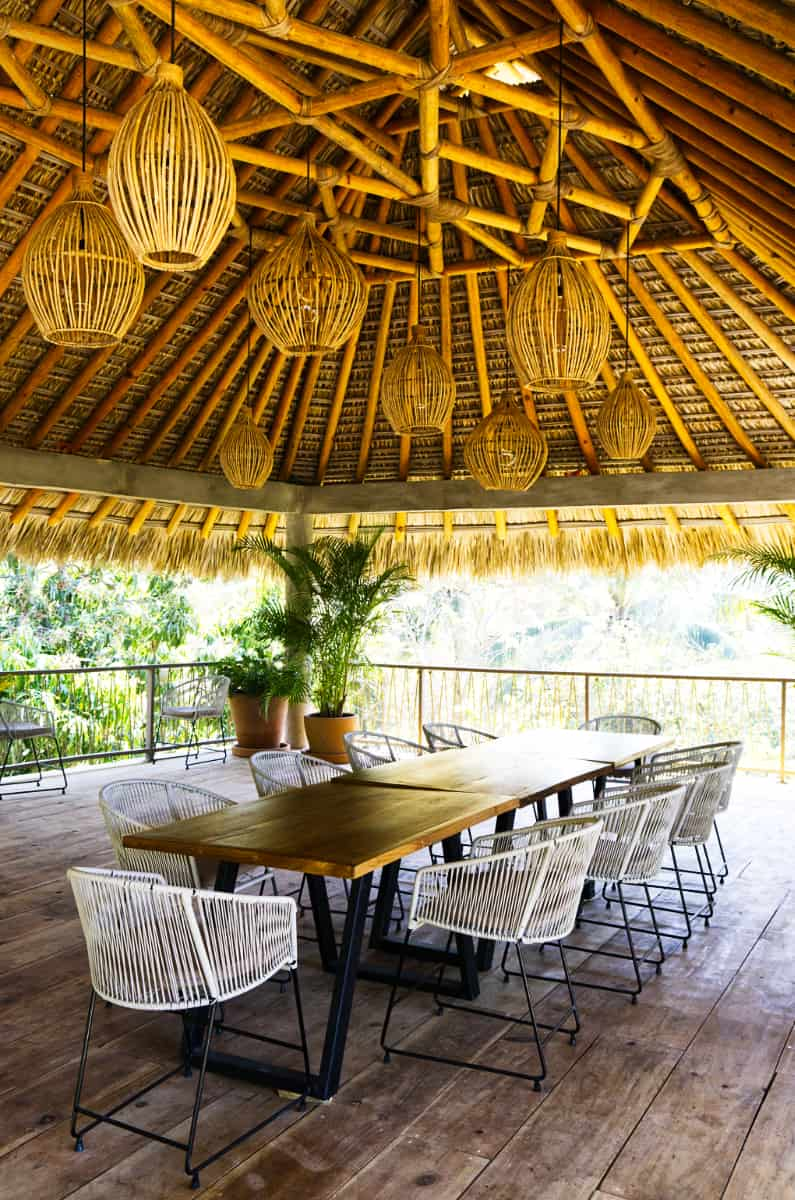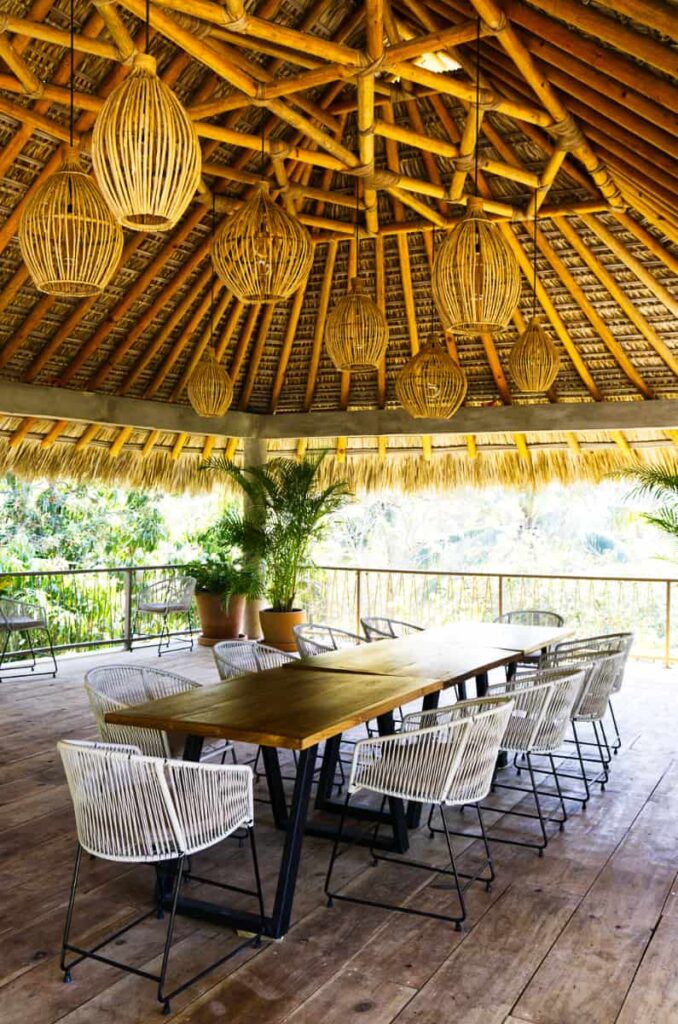 With a minimum spend of 300 pesos at the onsite restaurant, it's a little more expensive than other coworking spaces in La Punta. But if you're planning to work all day you may find you typically spend that anyhow.
The minimum spend amount also includes the use of the swimming pool and several other tables to work downstairs, based on availability.
I was mostly concerned I would feel like I was encroaching on the hotel guests but the peaceful upstairs space feels far removed from the hotel.
10. Ceviches Claudio
Ceviches Claudio has two places to work in La Punta. Downstairs near the kitchen is an air-conditioned room with large white tables and comfortable chairs.
Upstairs is a breezy patio with the same white chairs and a turquoise tiled floor. Throughout the rooftop space, there are plenty of fans to keep things cool and outlets to keep your laptop charged.
While the various types of ceviche are the menu's focus, it also includes tacos, snacks, hot dishes, and breakfast in the mornings. If you're unsure which style of ceviche you want to order, try the sampler platter of ceviche tostadas.
The Starlink internet draws a small crowd of digital nomads to this coworking space without feeling crowded. And as a bonus, after the work day, you can ditch the office to enjoy a michelada or cocktail on the rooftop.
11. Savanna – Café & Mezcal
The biggest draw to working at this restaurant in La Punta is the upper level area with ocean views. It parallels the ocean to create the perfect spot to watch surfers throughout the day and the sunset in the evening. Plus the proximity to the ocean typically equates to fresh breezes.
There is also a lower level garden area with a sunken couch seating area, ceiling fans, and plenty of outlets.
However, the main caveat of working at Savanna restaurant is the unreliable internet as described to me by the bar manager. On the plus side, it also means there are fewer people working beside you.
Wednesdays through Saturdays, they typically host a DJ or live band for a sunset session, featuring 2 for 1 house cocktails. Sunset, music, and cocktails sound like the perfect way to end the work day.
12. Ya'ab Vegan and Tojol Cafe
This is a good space for remote workers that don't need super fast internet and are craving a healthy food option.
While Ya'ab Vegan made my list of the best vegan food in Puerto Escondido, I wasn't sure I would include it as a coworking space, despite the fact that they promote Starlink internet.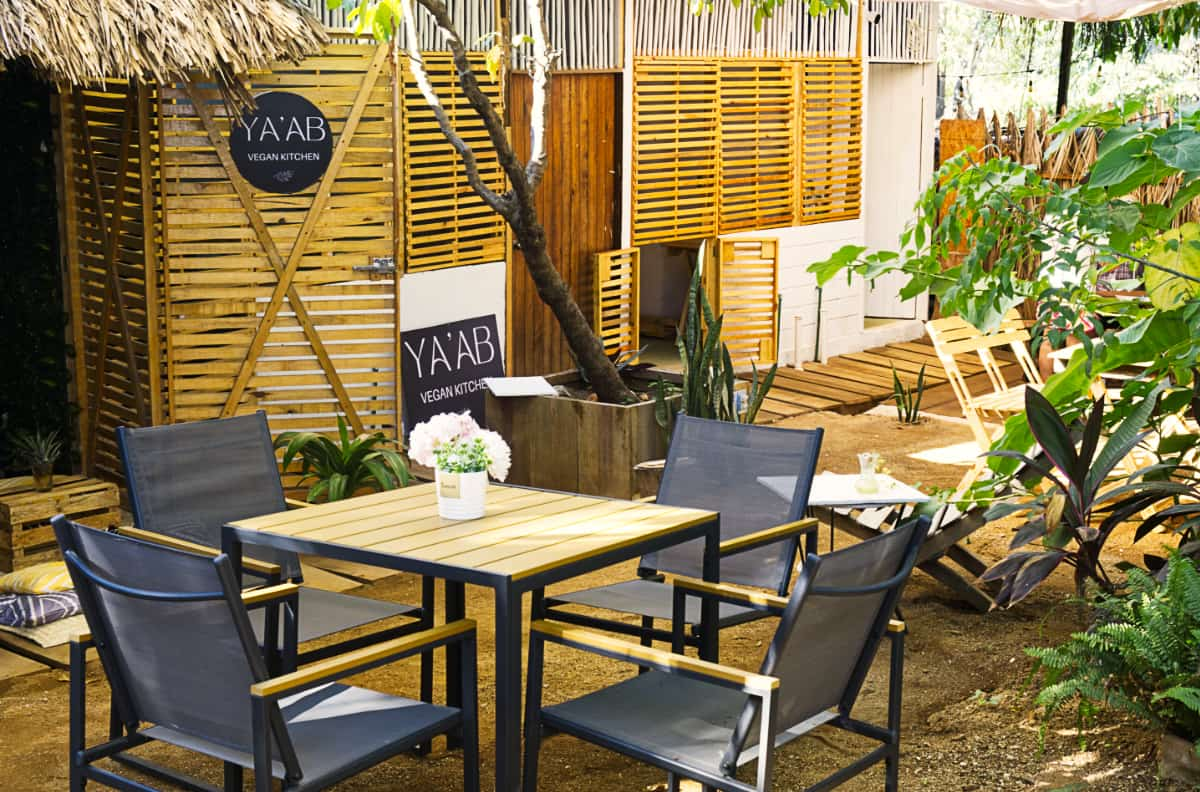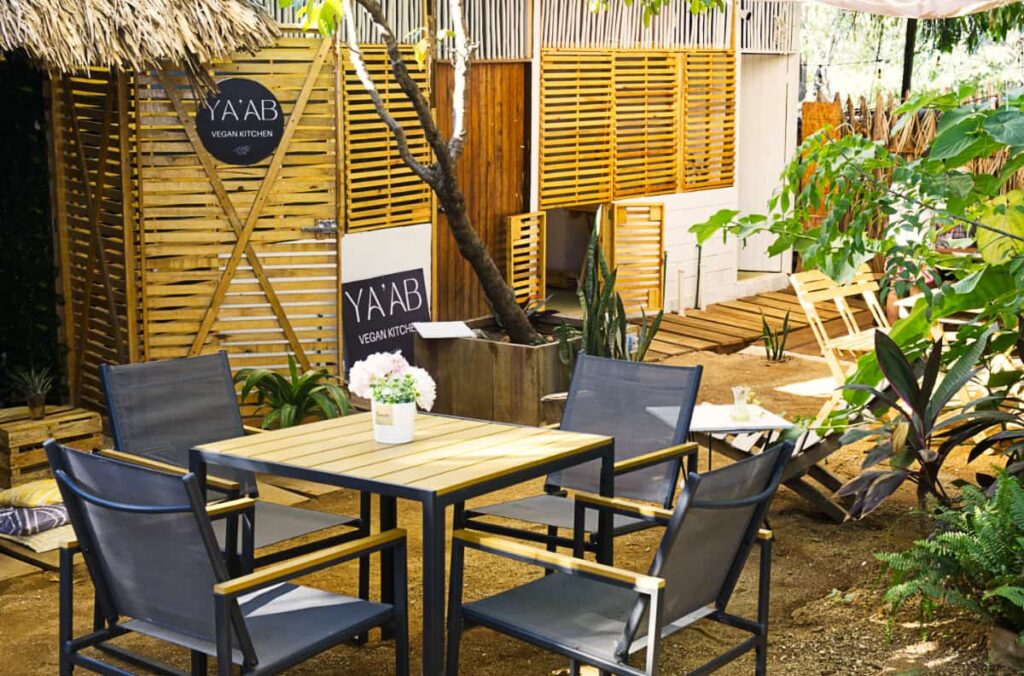 The outdoor space is nice for working but it's lacking plugs for remote workers to make this a regular spot. And there are only a few tables that receive internet speeds over 20 Mbps.
But I also recognize that it offers remote workers a vegan food option that may be hard to find in other Puerto Escondido coworking spaces.
Ya'ab Vegan and Tojol Cafe are also quite new, so perhaps they will develop their coworking space in the future.
Coworking in Zicatela, Puerto Escondido
There seems to be a lack of cafes and coworking spaces in Zicatela. Perhaps that's because Playa Zicatela is an area that focuses on surf first and foremost.
Interestingly, the areas from Zicatela to La Punta do have several places for coliving in Puerto Escondido, although they don't offer a dedicated working space for nonguests.
I've included the options to cowork below, including a beautiful cafe located in Tamarindo, between Zicatela and La Punta.
13. Sandala Cafe
Sandala Cafe has a beautiful garden atmosphere with wooden accents. It's another cafe with Starlink internet that has started to draw remote workers.
There is one long table and one circular table that are comfortable for coworking, shaded from the sun, and have access to outlets. Although you may need to arrive early to get a spot.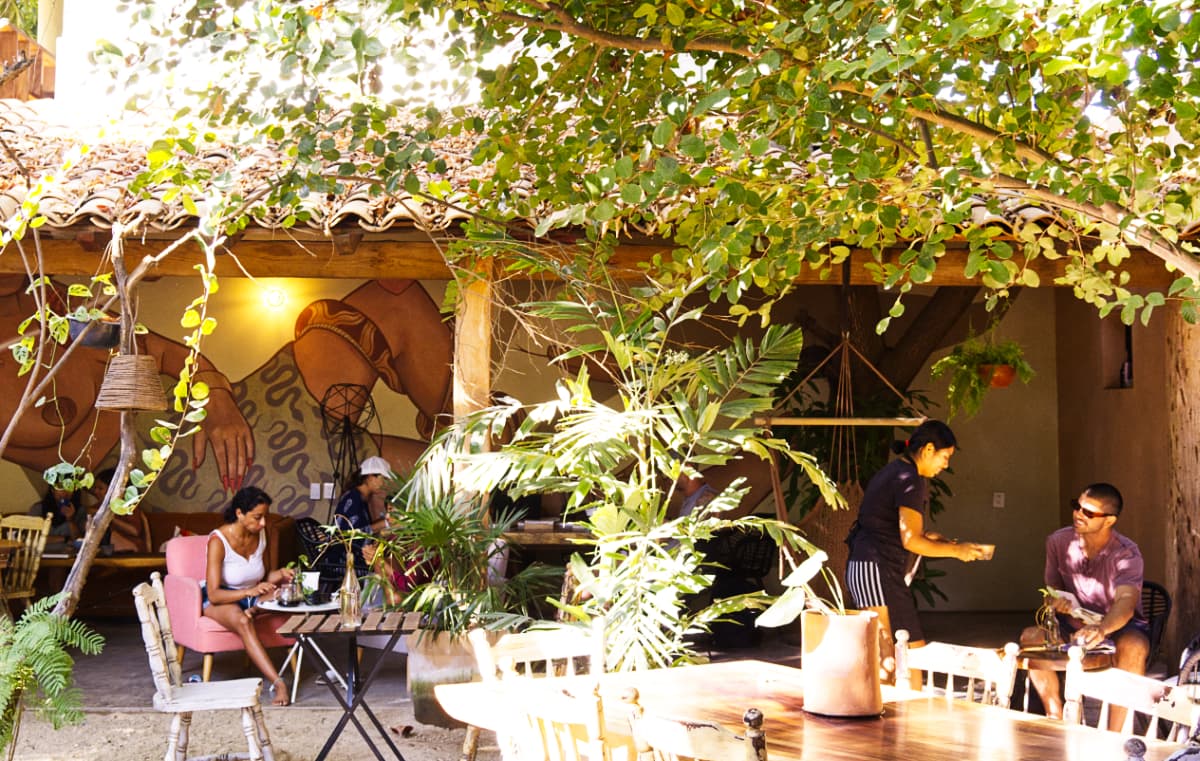 If you plan to only work a short time, most of the garden area is shaded and receives good internet. But the smaller tables aren't very conducive for working and have limited access to electricity.
The breakfast into lunch menu has a variety of items including a hearty bowl of oatmeal, a loaded avocado toast, shakshuka, and tuna tirado. Beverages include a variety of specialty coffees, infused teas, and kombucha.
Technically Sandala Cafe is in an area between La Punta and Zicatela called Tamarindos. It's a 15-minute walk from the center of La Punta and also located very close to the highway if you prefer to take a colectivo.
14. Selina Puerto Escondido Coworking
While Selina Hostel has a dedicated coworking space, you can also work from their restaurant with a minimum spend of 250 pesos. I'll detail both below.
The coworking space at Selina features a long work desk with office chairs and air conditioner. There are also small private offices that you can reserve for up to two hours per day at no extra cost.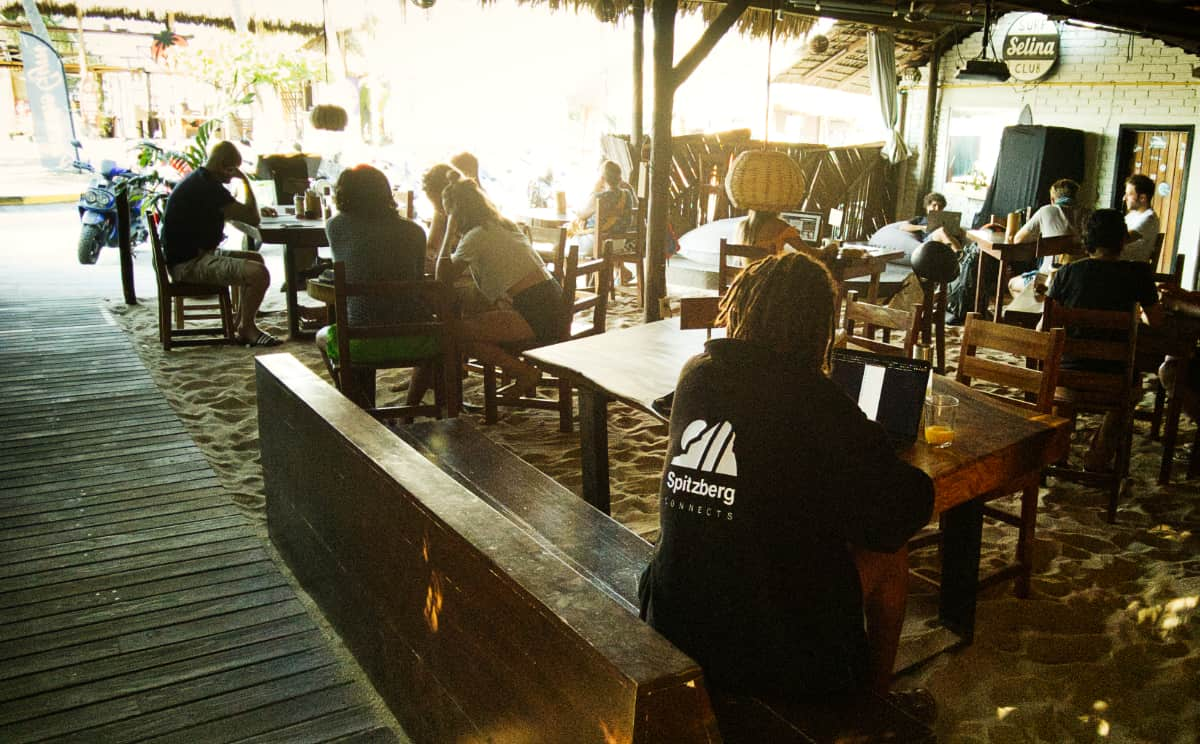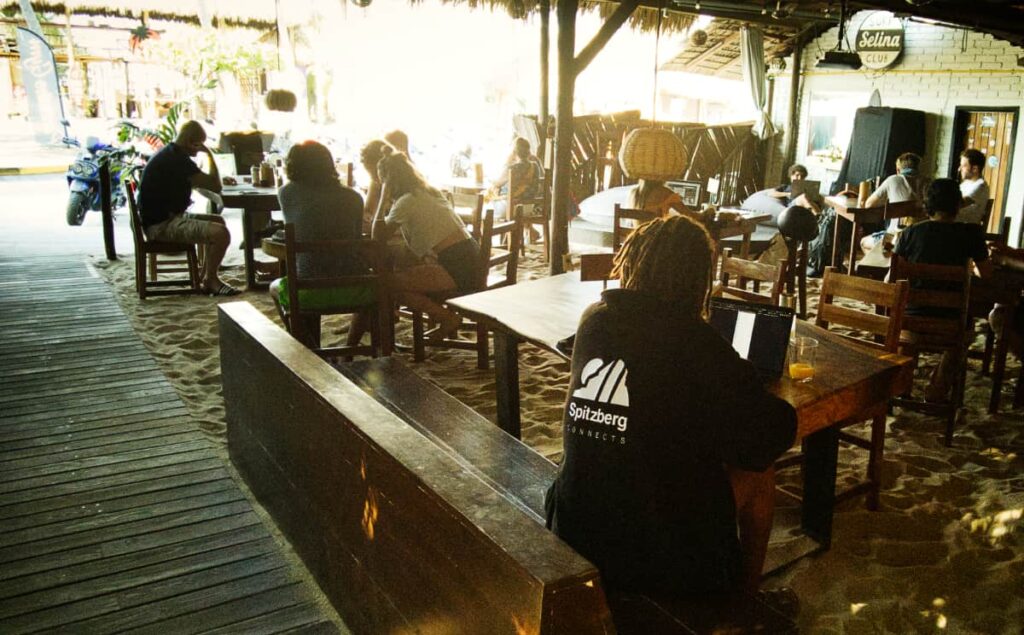 The restaurant at Selina is also a decent place to work. While the internet doesn't reach the speeds of the coworking space, it should be sufficient for basic tasks. Keep in mind, the restaurant hours are 7 am to 8 pm and they often host events in the evenings.
15. Coworking Oficina del Puerto
This second level coworking space in Zicatela features ocean views from the outdoor balcony. Inside are several tables and chairs as well as a private booth to work. My only complaint is that for a dedicated coworking space, they should have office chairs.
Otherwise, the internet is stable and the coffee is unlimited, making this a solid coworking space in Zicatela. While the day rate is in line with others, their weekly and monthly rates are definitely a bit higher.