21 Best Beaches in Oaxaca – Discover the Coast of Oaxaca, Mexico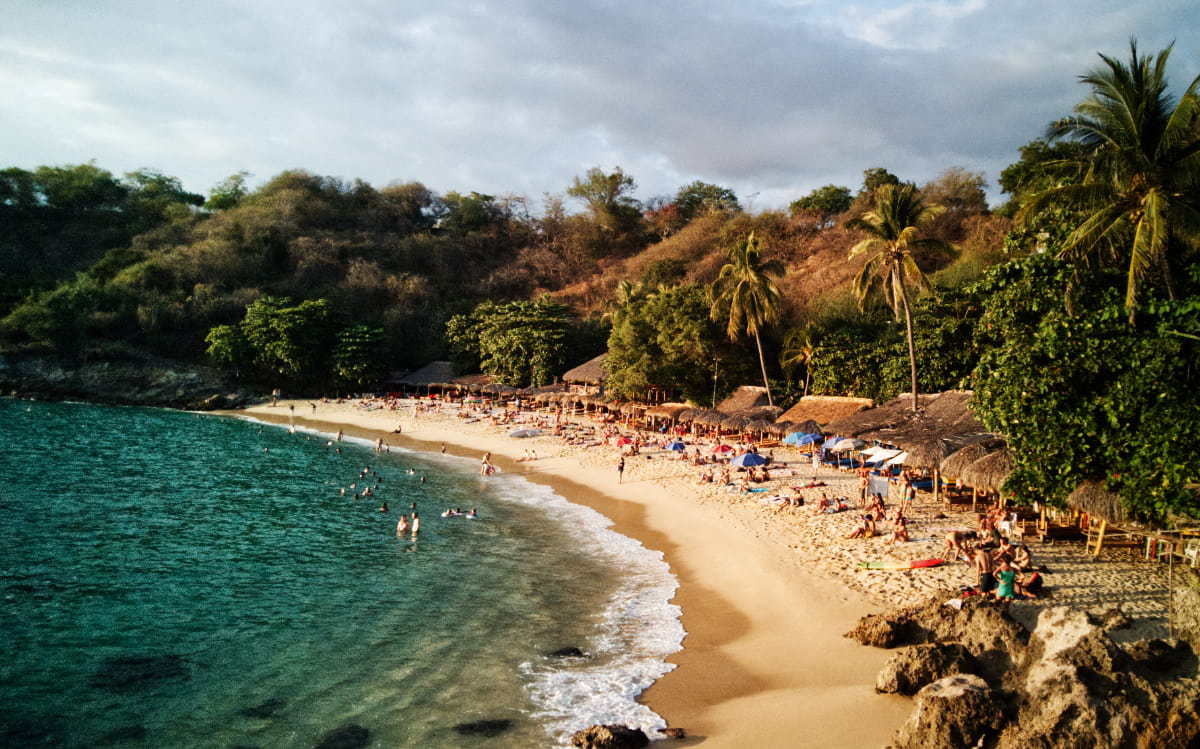 Did you know Oaxaca beaches are some of the best beaches in Mexico? The Oaxaca coast spans 370 miles along the Pacific Ocean in the southern part of the country. It weaves through picturesque bays of turquoise water with golden sand and towering palm trees.
The coast of Oaxaca has remained largely undiscovered from mass tourism. The result is a series of mostly small to medium-sized beach communities nestled between the rugged mountains and the sea.
You'll find some of the best beaches in Oaxaca are the most popular, though still enjoyable. While others still feel like an undiscovered paradise.
This guide starts with two of the largest Oaxaca beach towns – Huatulco and Puerto Escondido because I think these areas have some of the most beautiful beaches in Oaxaca.
While they are the most visited, you can still find a few unspoiled beaches in both. But make sure you keep reading to discover some quieter destinations along the coast of Oaxaca as well.
Let's dive in and explore the Oaxaca coast, one beach at a time.
This article may contain affiliate links. This means if you click a link on our blog and make a purchase, we earn a commission at no additional cost to you. For full information, please see our disclosure.
Bays of Huatulco | Best Beaches in Oaxaca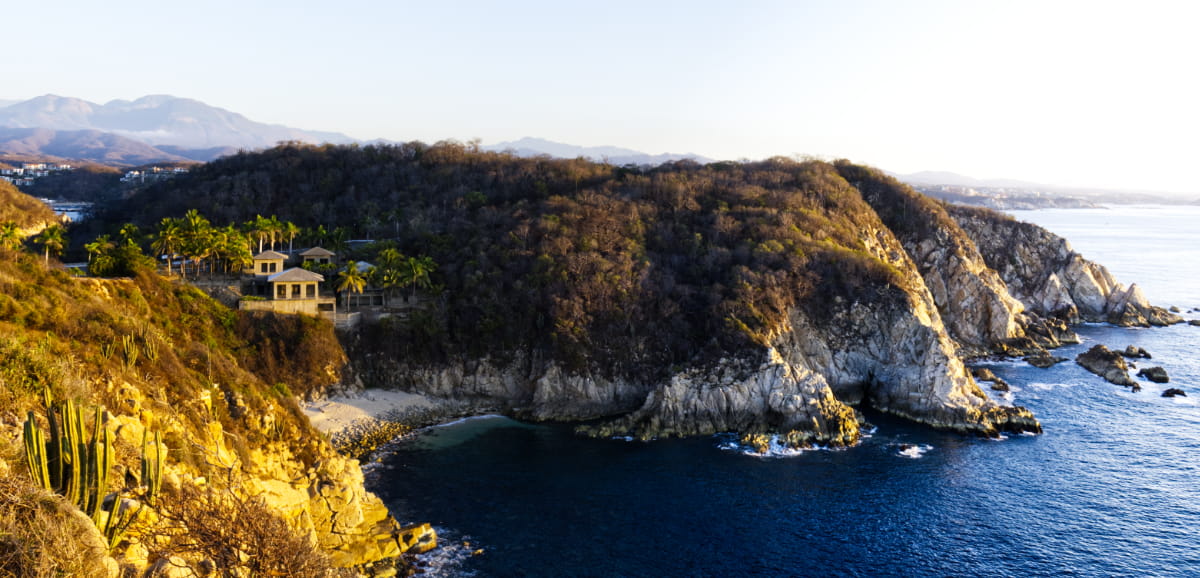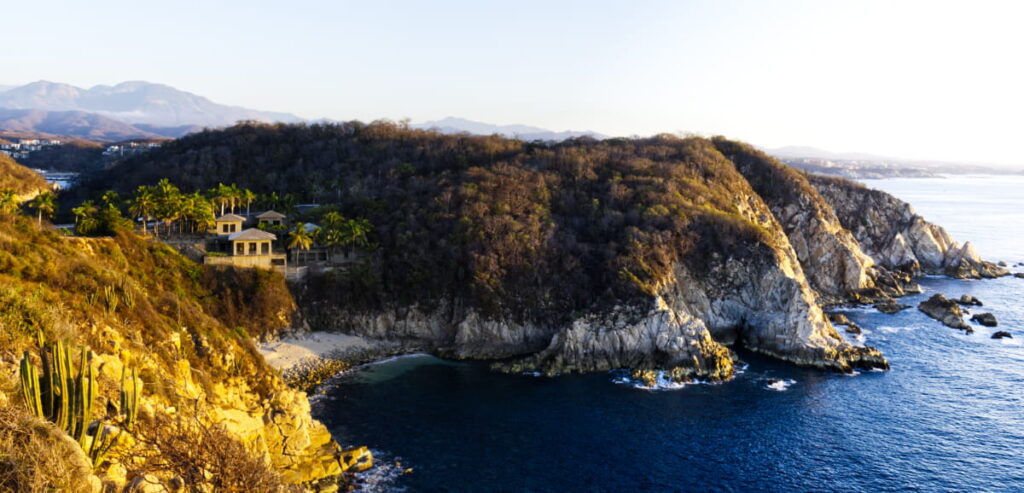 The nine bays of Huatulco encompass many of the best beaches in Oaxaca. A few are only accessible by boat and almost all require transportation whether you decide to rent a car or take taxis.
I recommend you book this boat tour of the bays on one of your first days in Huatulco. The affordable price includes visiting several bays and a few stops for snorkeling and lunch (not included). The exact beaches will depend on the weather conditions that day.
Then during your next days in Huatulco, you can explore any beaches you want to revisit or those you didn't get to see. During the high season, the captain will also keep an eye out for whale sightings!
Let's discover a few of my favorite beaches in Huatulco.
1. Bahia del Organo
Located within the Huatulco National Park, this Oaxaca beach is named after the tall, skinny cactus that resembles a pipe organ. And if you're willing to put in a little more effort, it's one of the top beaches in Oaxaca to spend the day.
With crystal blue water and golden sand, this crescent bay feels almost untouched. There are no restaurants or vendors. Just a beautiful beach.
How To Get To Bahia del Organo | Oaxaca Beaches
You'll need to first get to the shaded dirt path that leads you 20 minutes to the beach. It's best to take a taxi, especially in the heat of the day but it's also possible to walk since there is a sidewalk the whole way. Just keep in mind that there is zero shade along the sidewalk.
Read Next – 5 Best Transportation Options From Oaxaca to Huatulco
2. Cacaluta Beach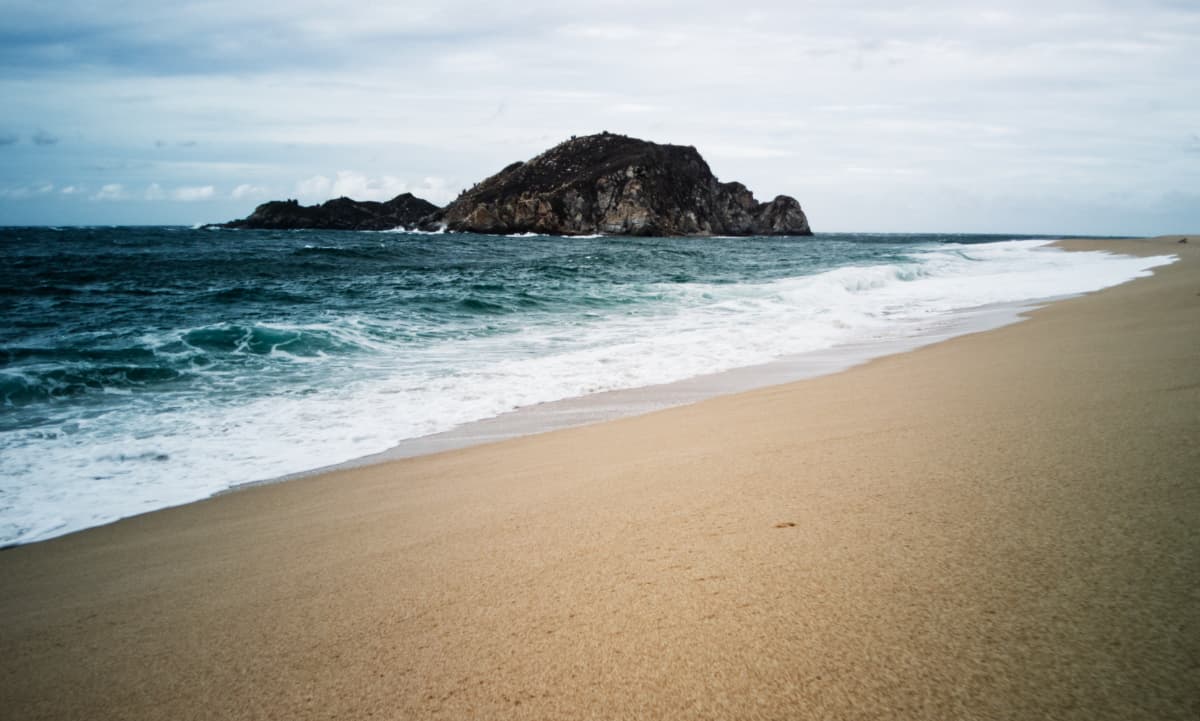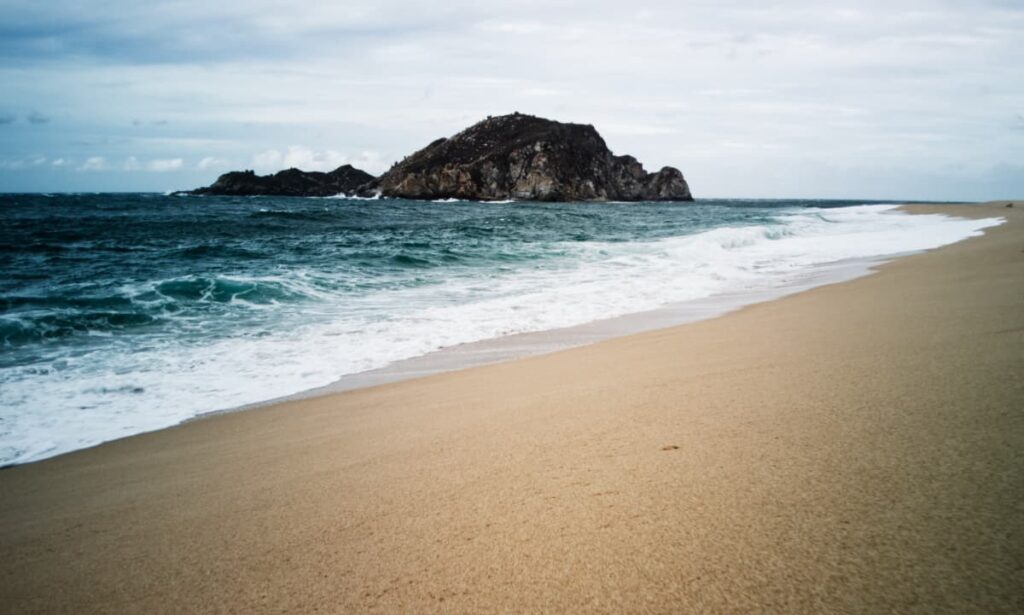 Cacaluta is one of the most secluded beaches in Oaxaca. It's not easy to get to but it's definitely worth it on a calm day. And because it's relatively remote, you may very likely have this beach to yourself.
It is important to be cautious here as this wild beach has small waves but often a strong undercurrent. Some days it's not possible to swim here at all, so do check the conditions prior to jumping in.
Fun Fact – You might recognize Cacaluta Beach as the backdrop for the movie Y Tu Mamá También. The movie is about two teenagers and a beautiful older woman who take a road trip from Mexico City to Oaxaca in search of a secluded beach. Along the way, they learn about friendship, life, and sex.
How To Get To Cacaluta Beach
I recommend you book this tour to Cacaluta Beach which includes a guided walk through the Huatulco National Park to Bahia de Cacaluta. It also includes snorkeling afterward (the exact beach will depend on the conditions that day).
If you've rented a car, it's possible to drive there and then hike the 30 or so minutes through the park. However, the entrance point isn't well marked (I forgot to mark it during my tour). You'll also want to keep an eye out for animals as a group of wild boar has been spotted in the area.
3. Bahia San Agustin
On the western edge of the Huatulco National Park is San Agustin, one of the best beaches for snorkeling from the shore. This large bay has become quite popular recently, so I recommend arriving early.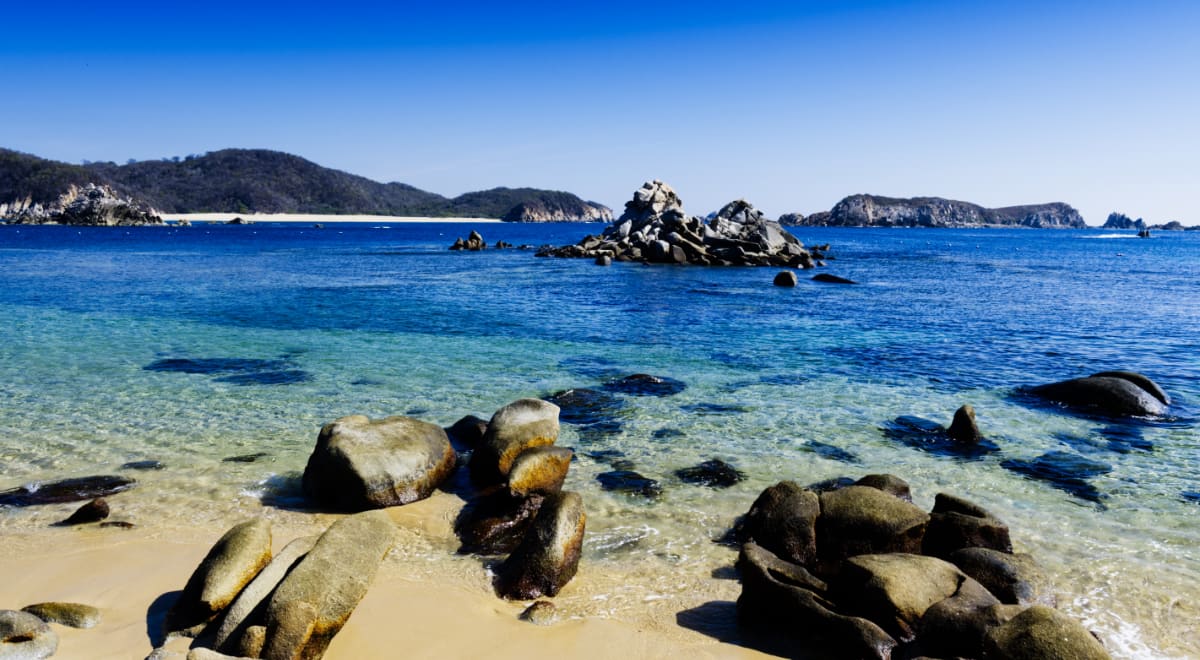 You can rent snorkel gear from one of the restaurants, though it's always a great idea to bring your own if you can. There's a pretty extensive reef that goes out from the center of the beach.
You will definitely need to rent a car to get here. It's about 45 minutes from La Crucecita, half of which is along a dirt road. It passes by several vendors selling fresh coconuts, fruit, and other beach items.
4. Playa La Entrega
This beach can get really busy. But Playa La Entrega is still one of my favorite beaches in Huatulco because it's an easy place to snorkel from the shore. And if you're an experienced swimmer, you can get out past the bulk of the other beachgoers.
It's also a favorite because Playa La Entrega is only about a 15-minute drive from La Crucecita. And when you're ready to leave, there are taxis at the stand near the entrance ready to take you back.
5. Playa El Violín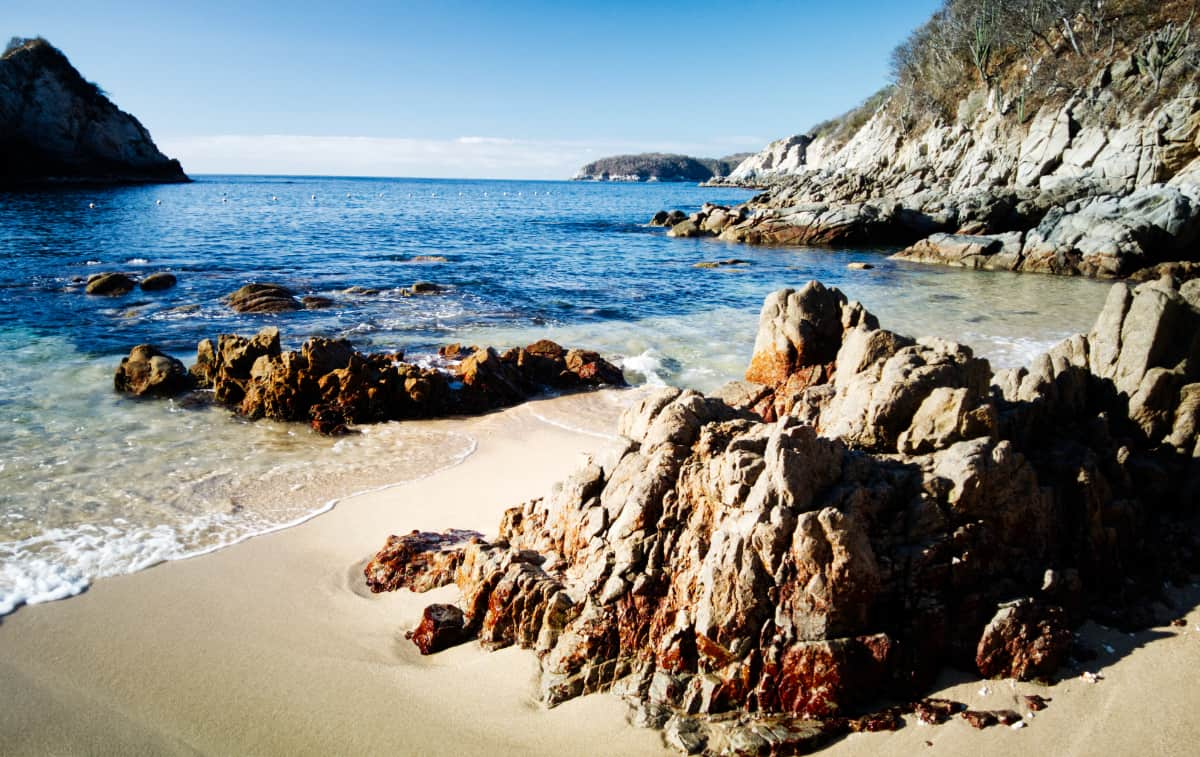 Playa el Violin, with its small waves of crystal clear water, is a nice beach for swimming and snorkeling.
The access to this small cove beach is located along the road to Playa La Entrega. It's a steep path down to the beach but if you can manage it, you'll very likely have this beach to yourself.
Note there are two locations marked on maps. This is the correct location.
Before you plan your trip, discover the best time to visit Oaxaca, both the coast and the city.
6. Playa La India
Located within Chachacual Bay, this Oaxaca beach is only accessible by boat. It's often a stop on a tour of the Bays of Huatulco because it's a great place to snorkel along the reef on the left.
There are chairs and umbrellas for rent as well as vendors selling refreshing drinks and micheladas.
This beach gets extremely crowded on the weekends when large boats of people arrive at the bay. So, it's best to plan a visit early in the week.
7. Playa Arrocito
If you go to Playa Arrocito on a weekday, this small beach can feel almost private. Playa Arrocito is located just a 10-minute drive from La Crucecita, in a small residential area.
The waves are usually gentle, though I always recommend assessing when you arrive. And the sand is coarse (hence the name which translates to little rice). For shade, you'll need to bring your own or patronize the overpriced restaurant on site.
Where To Stay in Huatulco
Puerto Escondido | Beaches of Oaxaca
Puerto Escondido is one of the top destinations on the coast of Oaxaca. At first, I wrote it off as a young backpacker destination infused with surfing culture.
I assumed the smaller beach towns of Mazunte and Zipolite would be more my style. But I soon discovered there is a piece of Puerto Escondido that will appeal to everyone.
The best part is that Puerto Escondido beaches are also some of the easiest to access along the Oaxaca coast without a car. Let's look closer at some of my favorites.
8. Playa Carrizalillo – One of the Most Beautiful Oaxaca Beaches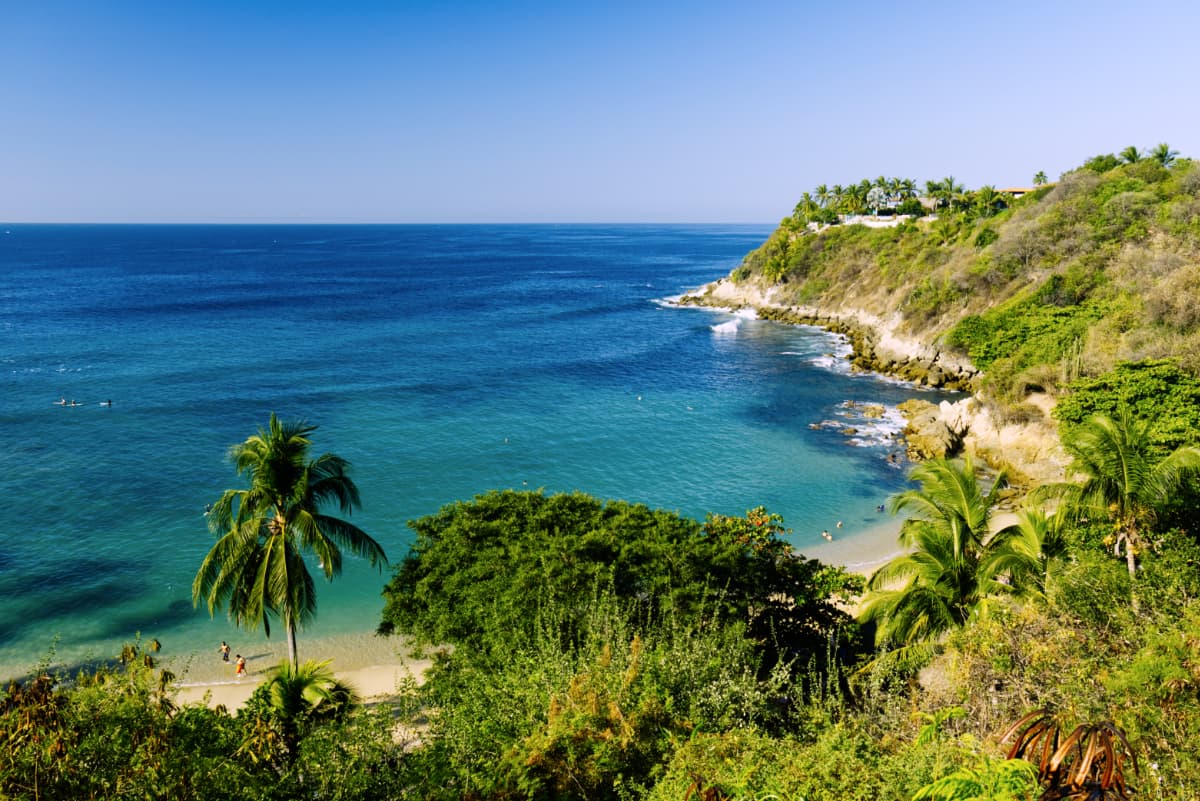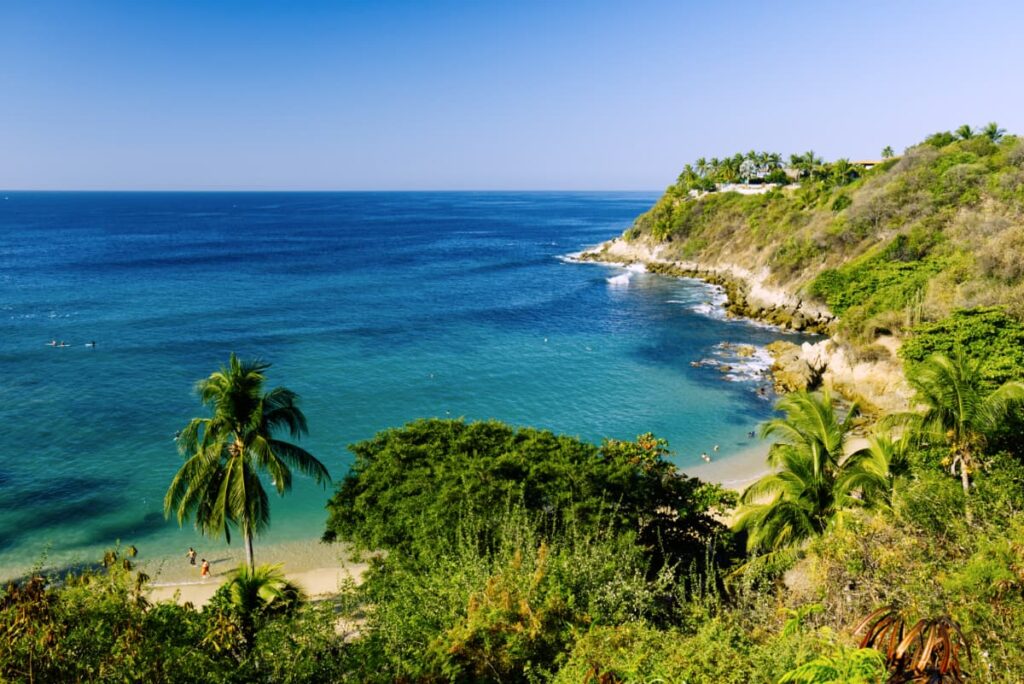 Playa Carrizalillo is simply breathtaking. As you descend the steps towards the beach, a gorgeous cove of turquoise waters, golden sand, and towering palms come into view.
And then, it will take your breath away again since you'll need to climb more than 150 stairs when you're ready to leave. But trust me, it's totally worth it!
Playa Carrizalillo, with its playful waves and a small surf break, quickly became my favorite beach in Puerto. It does however get busy, so try to visit on a weekday or in the morning.
9. Playa Manzanillo – A Great Beach for Families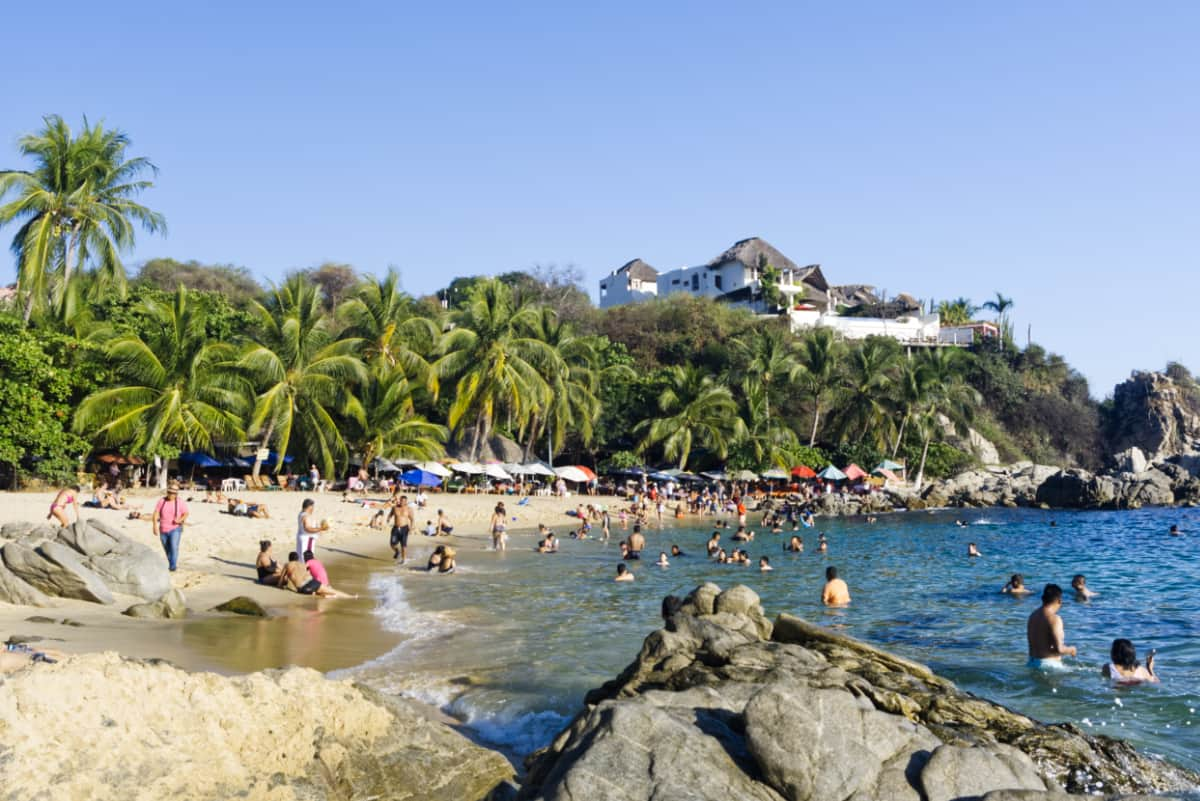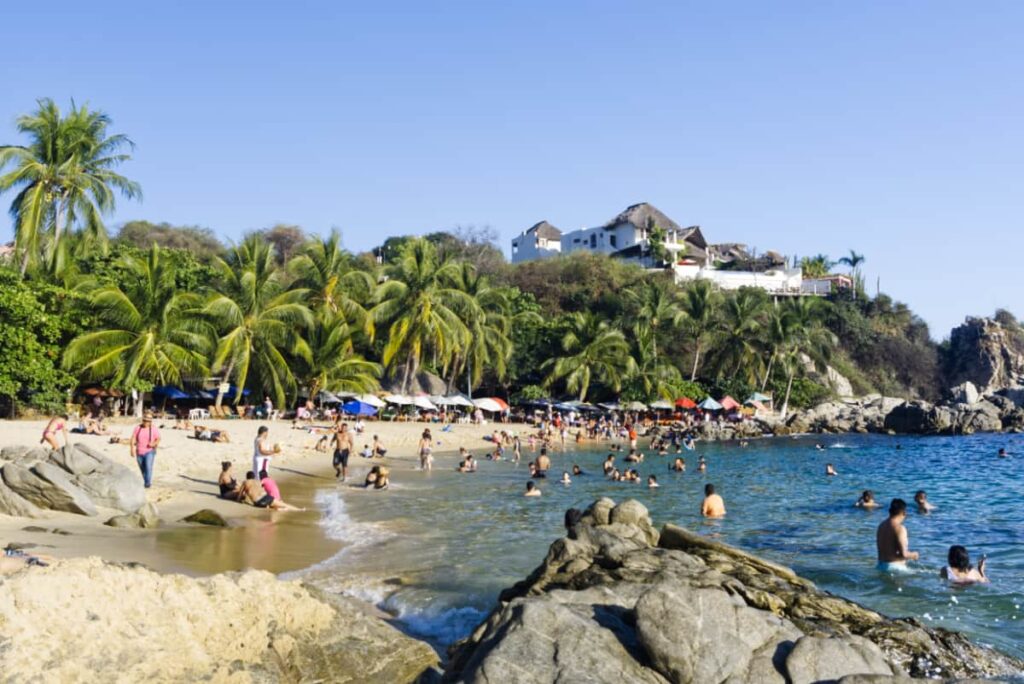 The calm cove of Playa Manzanillo is a popular beach for families. The small waves create one of the best swimming beaches in Oaxaca. And the rocks produce a nice area to snorkel.
I was surprised to find quite a few pockets of shade in the late afternoon. Plus there are several restaurants that will allow you to use their chairs and umbrellas if you consume food or drinks.
10. Playa Zicatela – Best Beach for Surfing and Nightlife
The large swells and powerful barrels of Playa Zicatela are endearingly named the Mexican Pipeline as this beach is known as a professional surf destination during the summer and fall.
While it may be one of the most famous beaches along the Oaxaca coast, Playa Zicatela is not a swimming beach. However, you can still enjoy it from one of the many beach bars that line the main stretch.
Or if you're visiting during the surfing season, it's the place to watch surfers catch waves. In addition, the area of Zicatela is the best for nightlife.
11. La Punta – A Great Beach to Chill and Watch the Sunset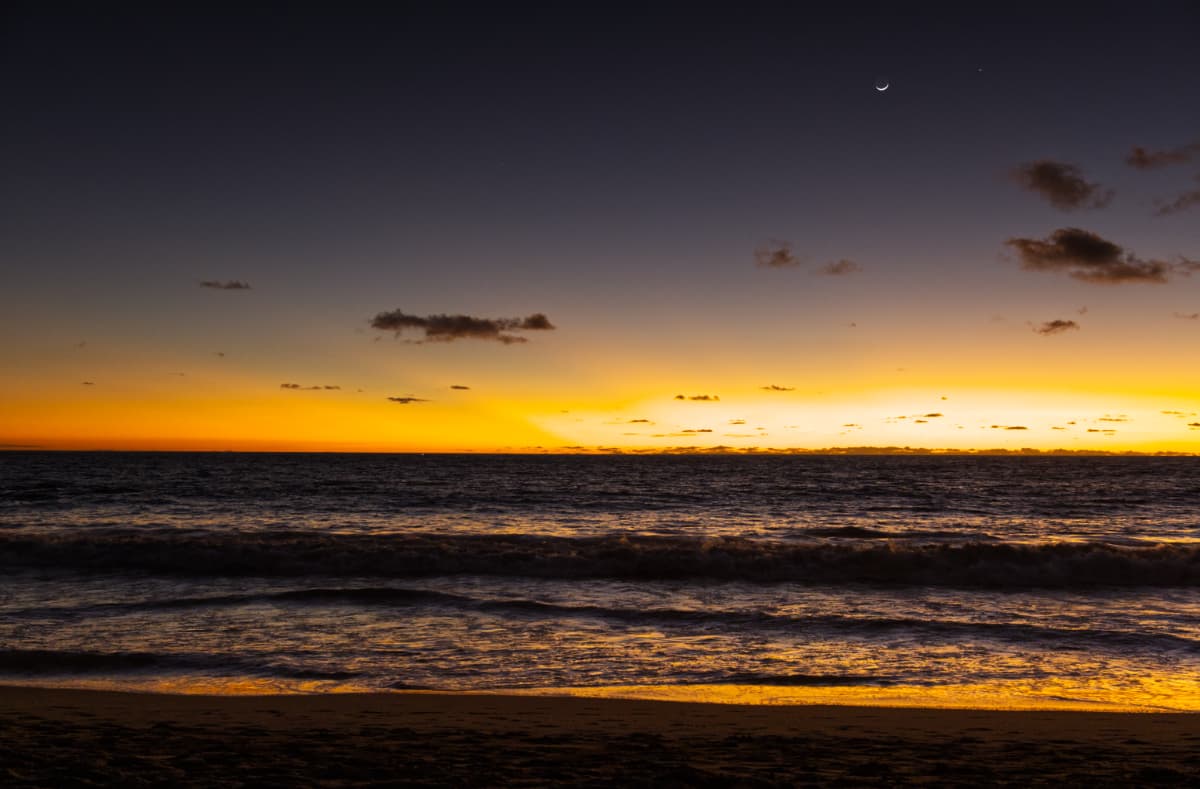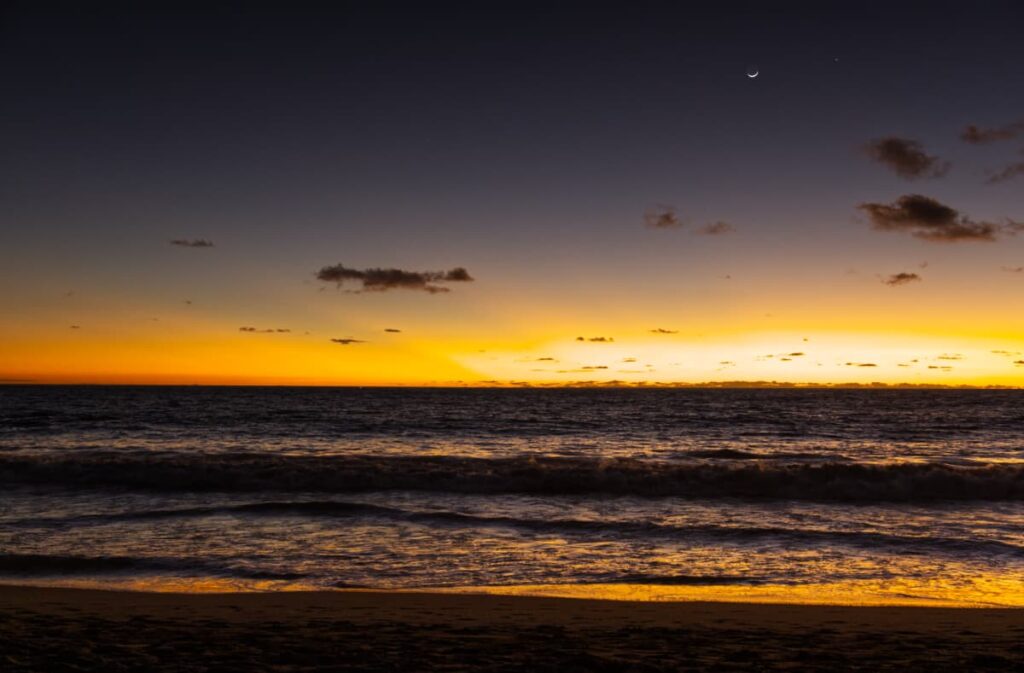 At the far end of Zicatela Beach is La Punta. While technically the same beach, the area of La Punta has a different vibe. The beach is lined with palm trees, various games of volleyball, and several beach bars to spend the day.
At the far end of La Punta is an intermediate surf break. This Oaxaca beach is also a great place to watch the sunset before going to dinner. The sandy streets behind the beach are filled with a variety of restaurants, cute cafes, and shops.
12. A Bonus (No Name) Oaxaca Beach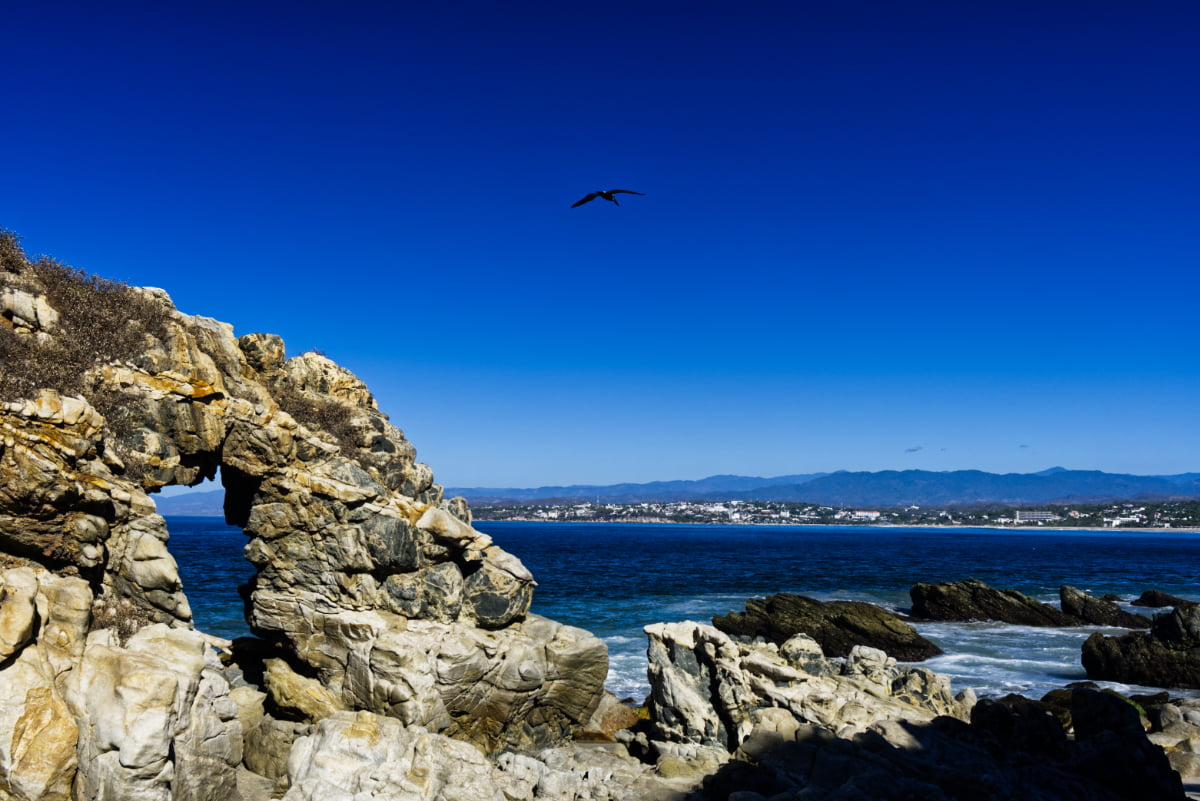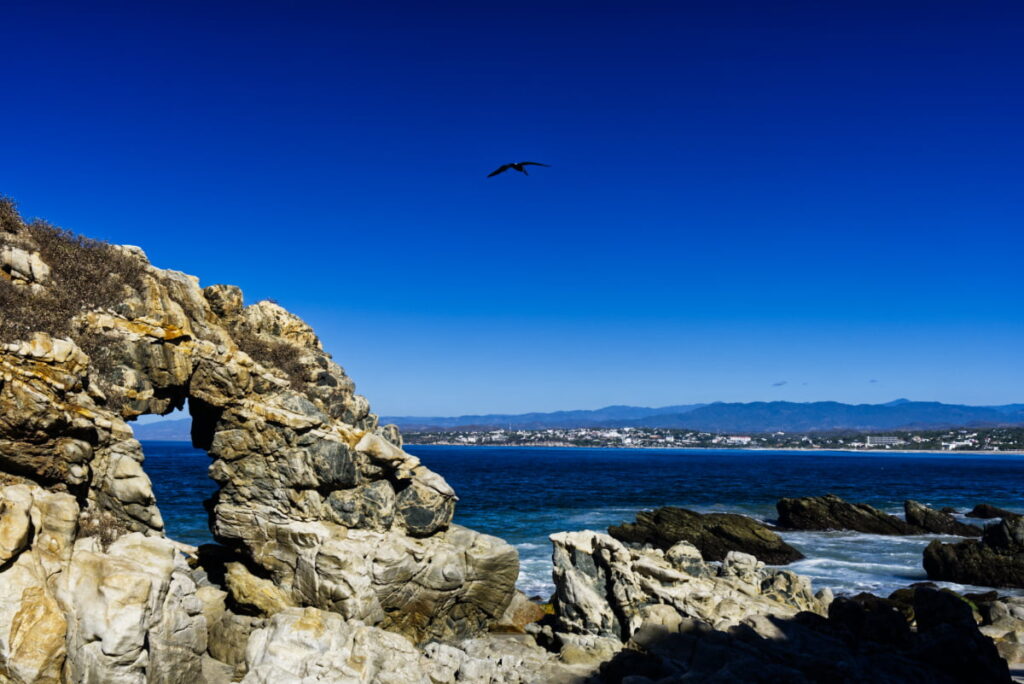 Just beyond the large rock cliff that gives La Punta its name, is another more secluded beach. It's a peaceful area to stroll in the mornings or in the evenings before sunset. There are impressive rock formations and an archway that perfectly frames the setting sun.
To get there, look for a trail along the cliff on the left. You'll go up just a short way before coming down on the other side and onto the beach. Alternatively, you can time the waves to wade through the water which I did on the way back. But do so at your own risk as it can be a bit tricky.
13. Playa Bacocho – Long Beach Walks and Sea Turtles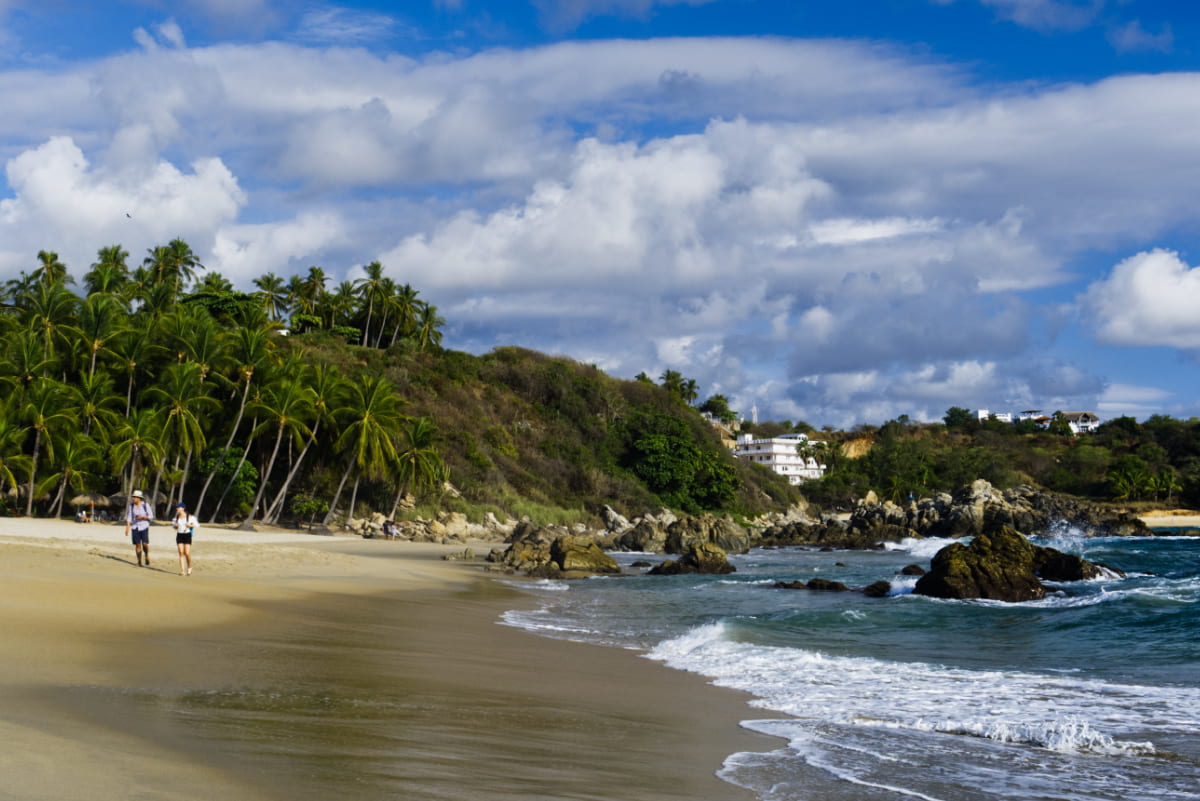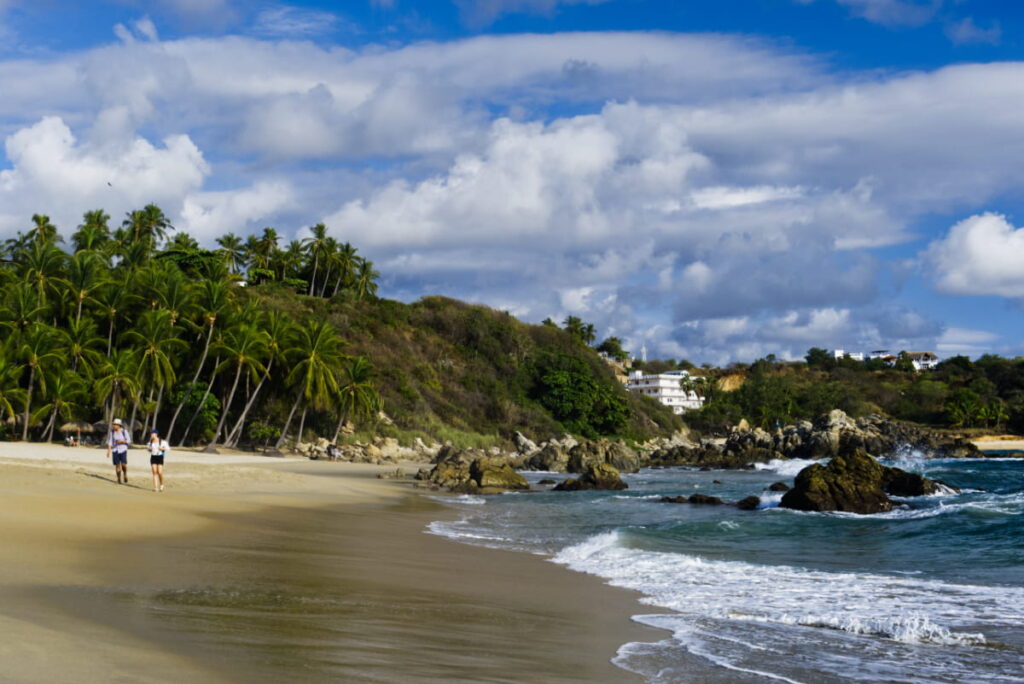 On Puerto Escondido's western edge is Playa Bacocho. This beach is best known for the baby sea turtle release each evening at Vive Mar.
There are also a couple of beach clubs with a high minimum spend amount if care to plant yourself in a resort atmosphere for the day.
Otherwise, this long stretch of beach only has a small area for swimming that can be a little rough and rocky. It is however more secluded and great for long walks.
14. Playa Coral – A Hidden Cove Beach in Oaxaca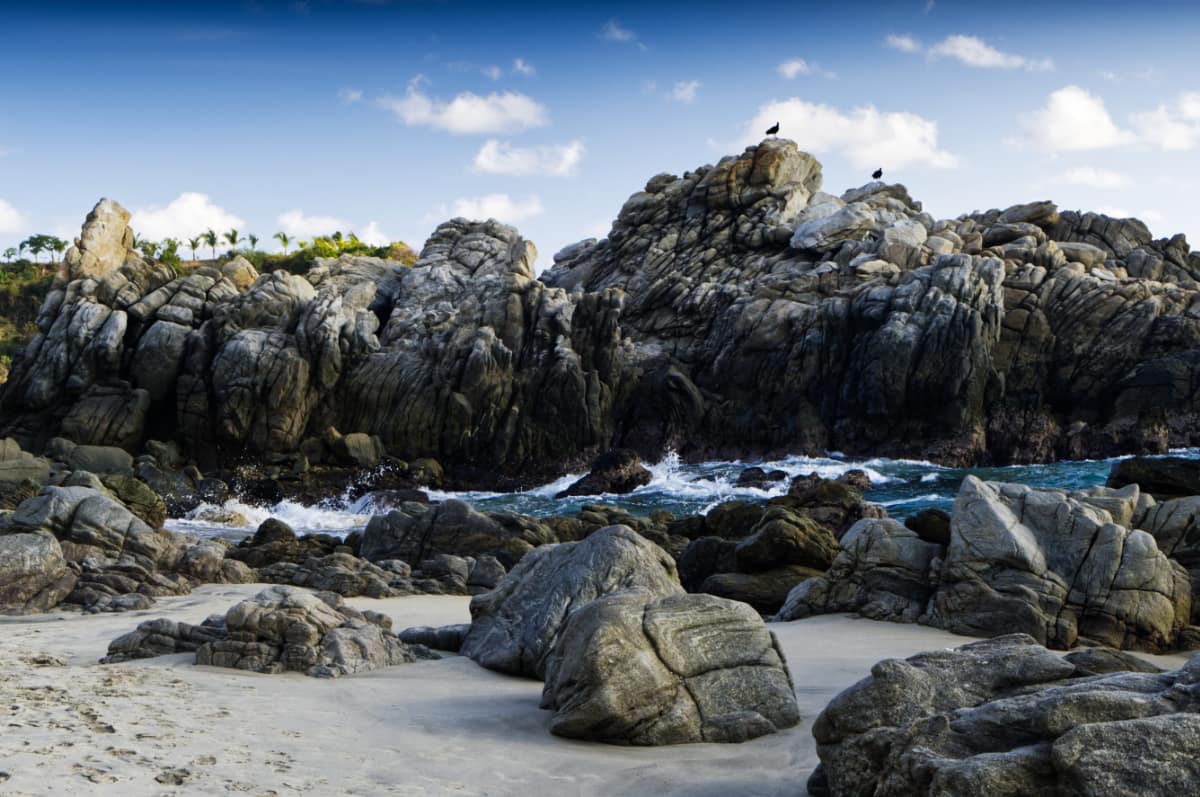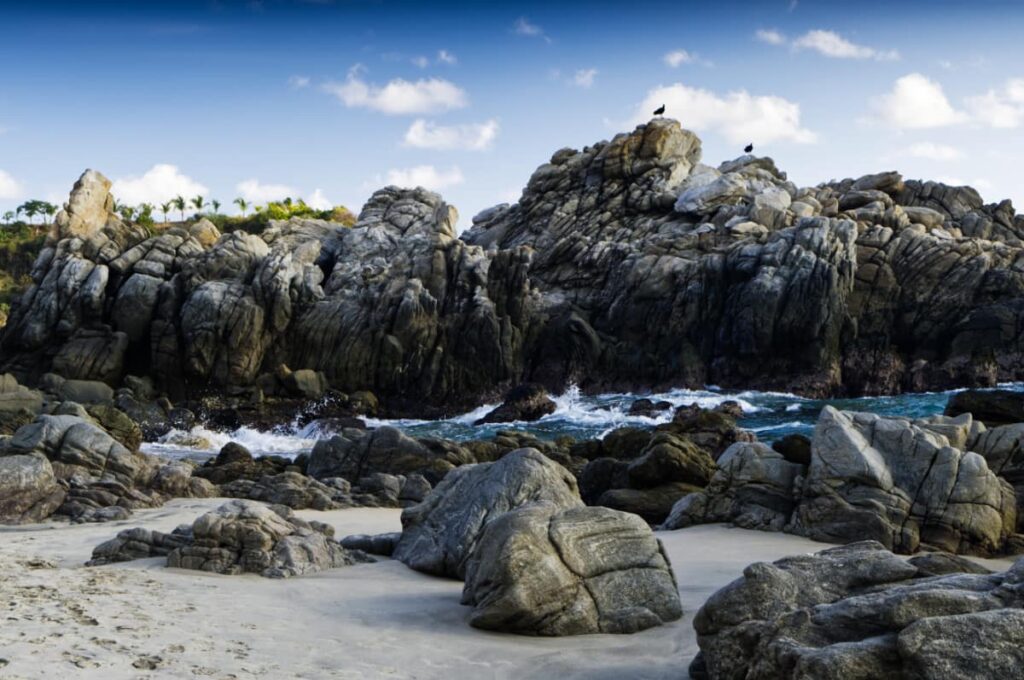 Next to Playa Bacocho is Playa Coral, a secret cove that ranks as one of the most secluded beaches in Oaxaca. I found the best way to get there is to walk from Playa Bacocho. You'll pass over a few rocks as you walk along the shoreline, though nothing too strenuous.
Playa Coral is the type of beach where you'll want to bring everything you need for the day. There are no beach bars, nor a lot of shade. And swimming is good, though you need to be aware that there is sometimes a strong current at Playa Coral.
Where To Stay in Puerto Escondido
15. Mazunte – A Peaceful Beach Town in Oaxaca
This small coastal town of Mazunte, Oaxaca is a peaceful backdrop for yoga and other wellness activities which are abundant in this area. But also has some beautiful beaches.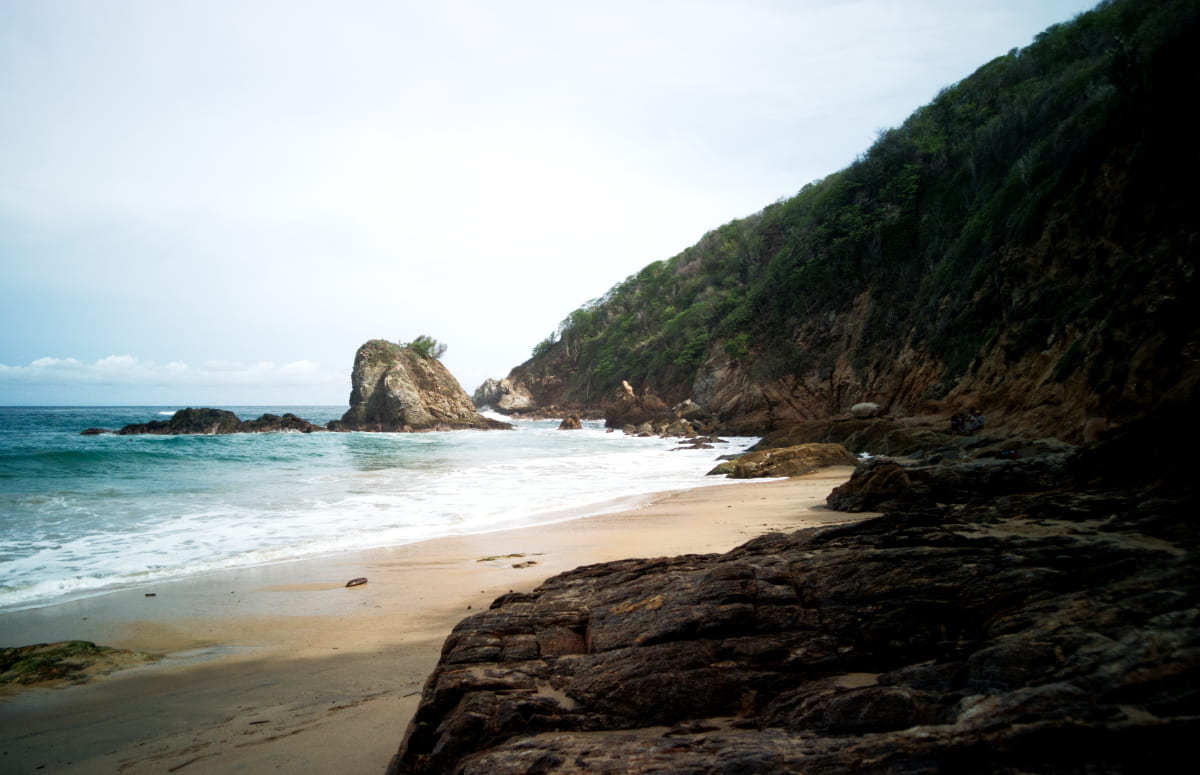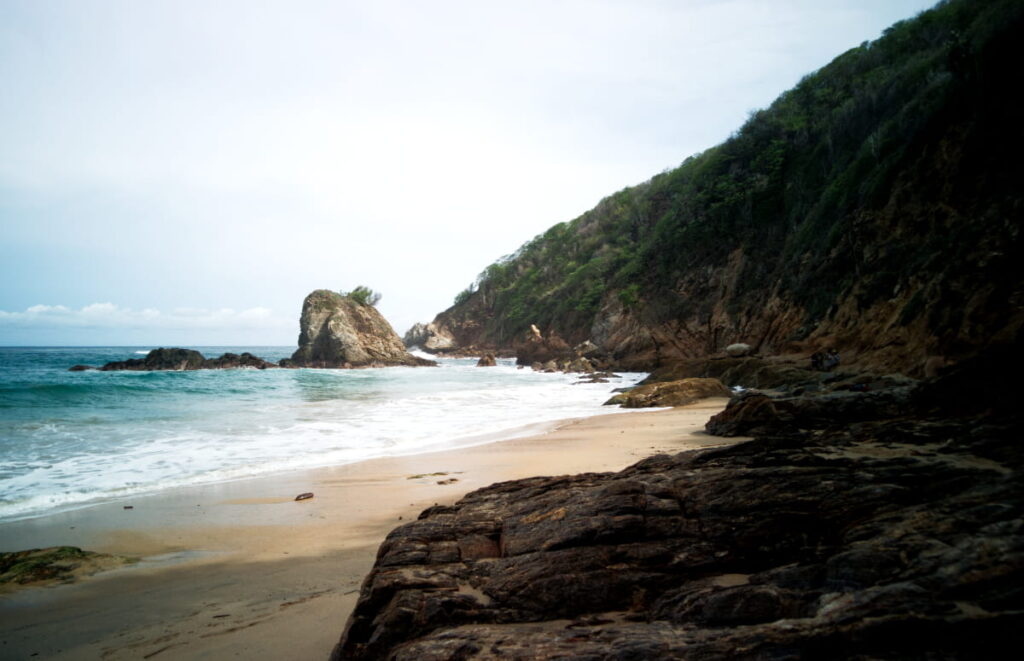 There are technically three beaches in Mazunte – the main beach which then curves around to Rinconcito and Playa Mermejita. The first two are best for swimming, though Mermejita Beach has its own beautiful qualities. And it's home to one of my favorite restaurants in Mazunte for dinner, drinks, and sunset.
In the late afternoon, it becomes a meeting point as the sun shines across the long stretch of beach, its sand dusted with black volcanic rock. I found it most majestic looking from above while watching the sunset from Punta Cometa.
While there's not a ton to do in Mazunte, there's a community feel among the several unpaved streets, all of which lead to the ocean. And you can easily take the colectivo to visit the other nearby beaches of San Agustinillo and Zipolite (see next).
16. San Agustinillo – A Sleepy Oaxaca Beach Town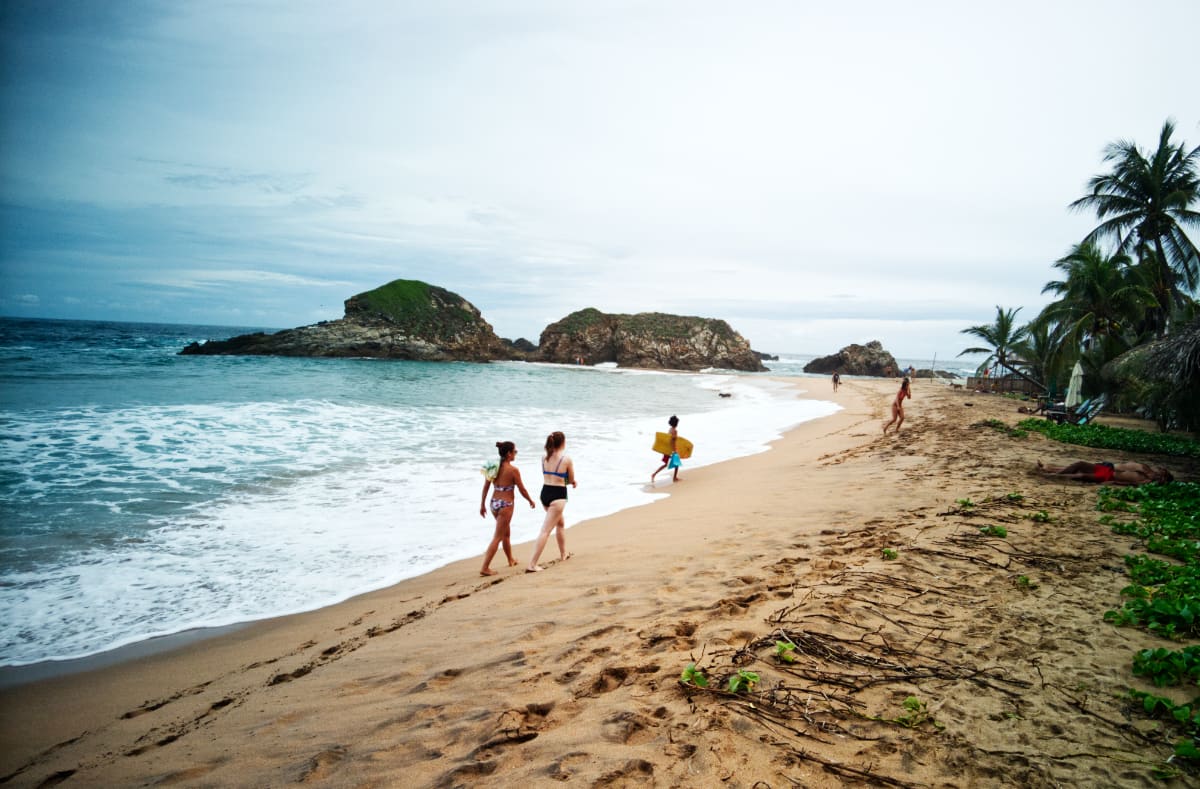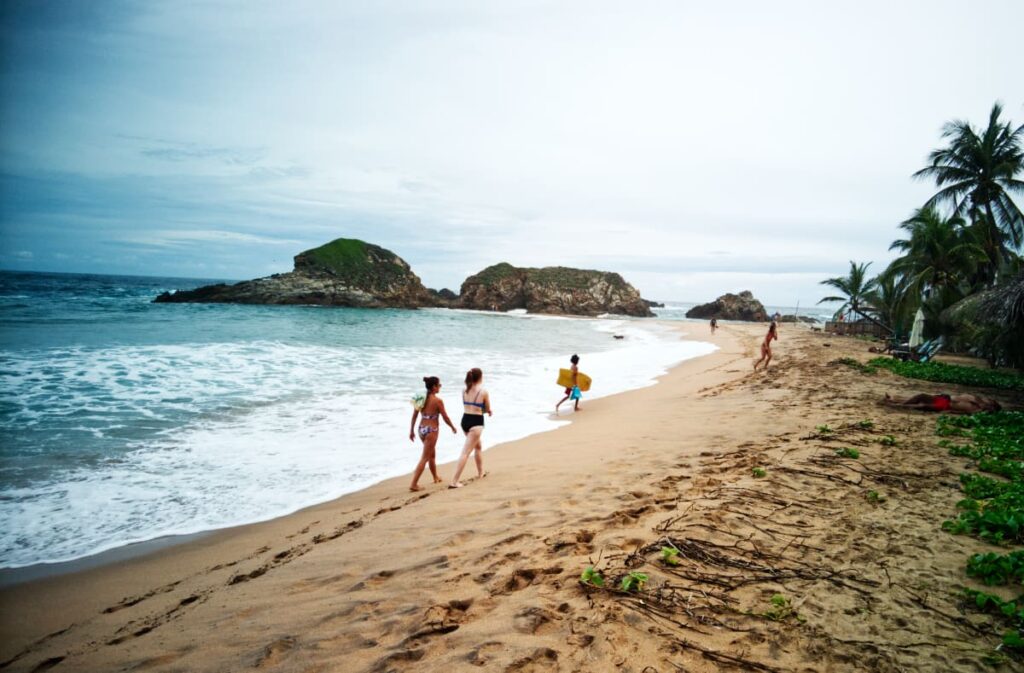 San Agustinillo is one of the most sleepy beach towns in Oaxaca – perfect for those that want a truly relaxing vacation on the beach.
The waves are generally calmer than Mazunte, though you should be aware of the rocks in the water. In fact, residents will often warn with a whistle if you're getting too close.
The town itself is situated on a short stretch along the road between Mazunte and Zipolite. There are a few restaurants, beachside hotels, and high-end artisan shops.
Other than lounging on the beach, there is not a lot to do in San Agustinillo. However, Mazunte is a short colectivo ride or about a 15-minute walk along the coastal road if you want to expand your surroundings.
Where To Stay in San Agustinillo
17. Zipolite – Nude Beach in Oaxaca
This clothing-optional beach stretches for just over a mile before curving around to more secluded areas. As the only nude beach in Mexico, Zipolite attracts a fun, inclusive crowd.
At the far end of Zipolite beach, you can climb the rocks to Playa del Amor – a nudist enclave within Zipolite. If you're into the nude beach, this is a welcoming and slightly more private area.
While you're there, I highly recommend the beautiful plates of food from the beachside restaurant, Xhuba Cocina Mexicana. And at night, venture over to Mezcaleria Gota Gorda for a mezcal tasting.
Where To Stay in Zipolite
18. Playa Estacahuite, Puerto Angel
Puerto Angel is a small Mexican fishing town that feels like real life on the coast of Oaxaca.
It lacks the resort feel of Huatulco. It's a world apart from the hippie community of Mazunte. And while calm, it's not quite the vacation vibe of San Agustinillo that begs you to lounge on the beach all day.
Puerto Angel is home to one of my favorite beaches in Oaxaca – Playa Estacahuite. In this hidden cove, the water is magnificent shades of blue and green, perfect for snorkeling from the shore.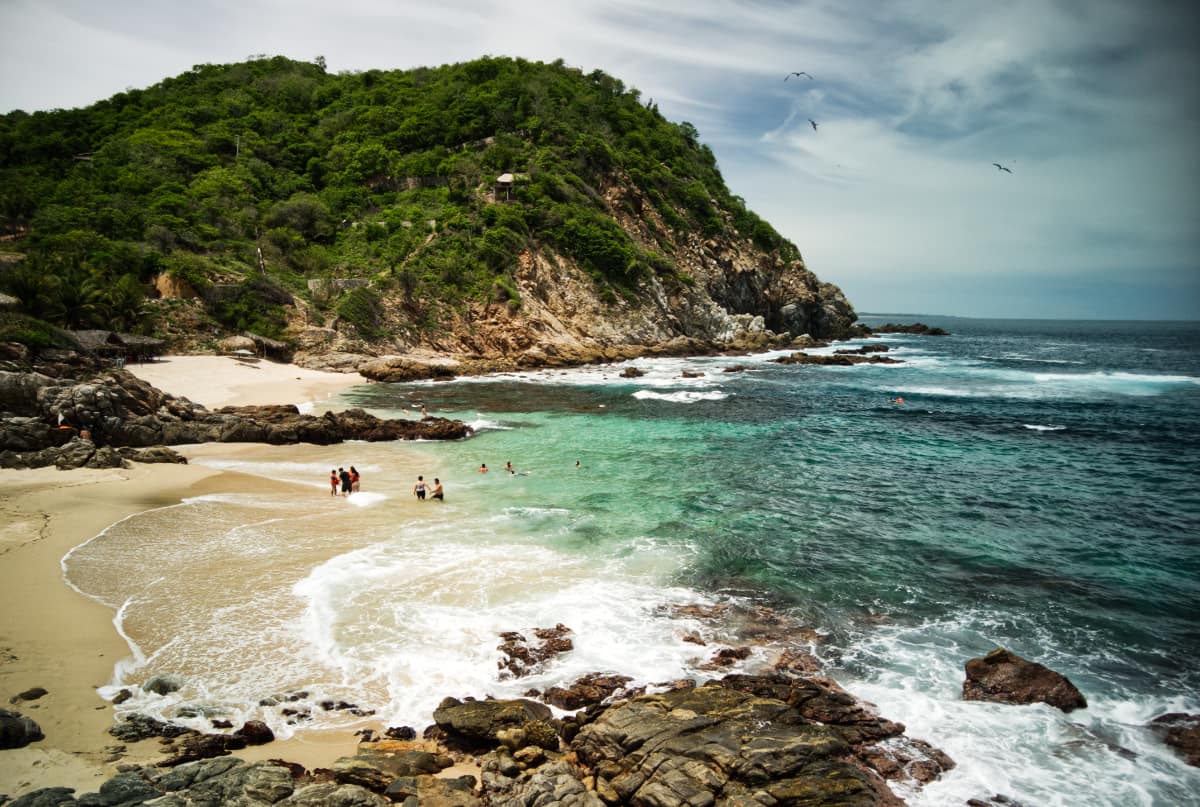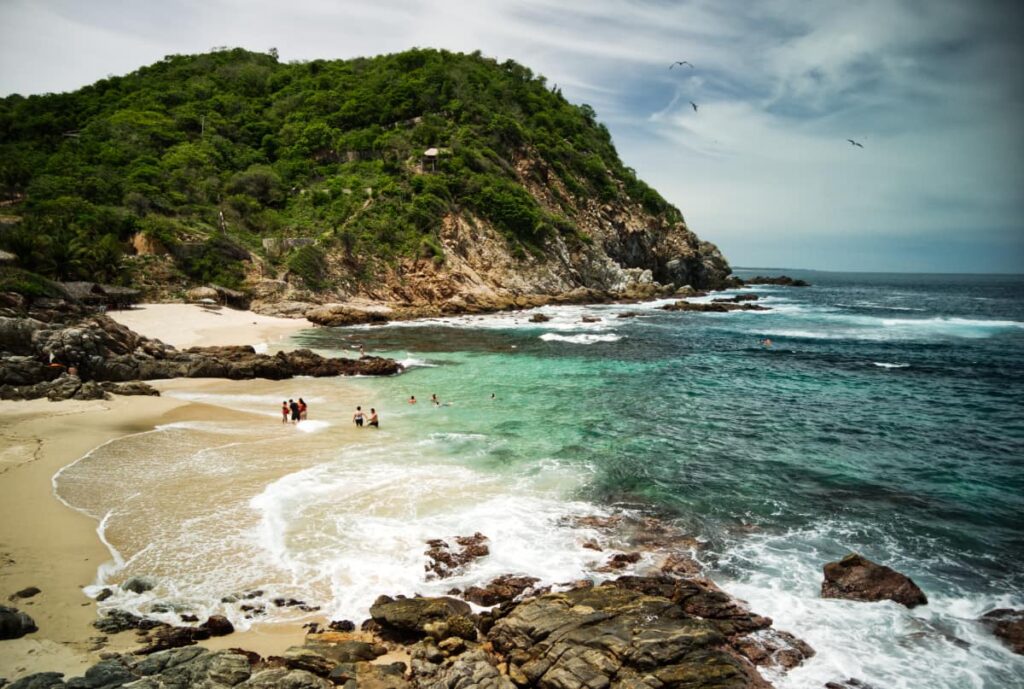 To get to Playa Estacahuite, it's best to hire a taxi. And it's a good idea to take the number of the taxi so that you can call them when you're ready to leave. Or better yet, book a stay at Casa Roni, one of a few hotels located directly at Playa Estacahuite.
Where To Stay in Puerto Angel
19. Barra de la Cruz – A Hidden Oaxaca Surf Town
Located about 40 minutes east of Huatulco, Playa Barra de la Cruz is a lesser-known Oaxaca surf town. It's relatively secluded though it does have nearby restaurants and some basic cabins to rent.
To get there, take the coastal highway towards Salina Cruz. Turn right at the road towards the small town of Barra de la Cruz. Access to the beach now costs 100 pesos per person to enter. It's quite a steep increase from the previous 30 pesos, though it does allow you to use the bathrooms and showers on site.
Where To Stay in Playa Barra de la Cruz
20. Chacahua – Off the Beaten Path Beach Town in Oaxaca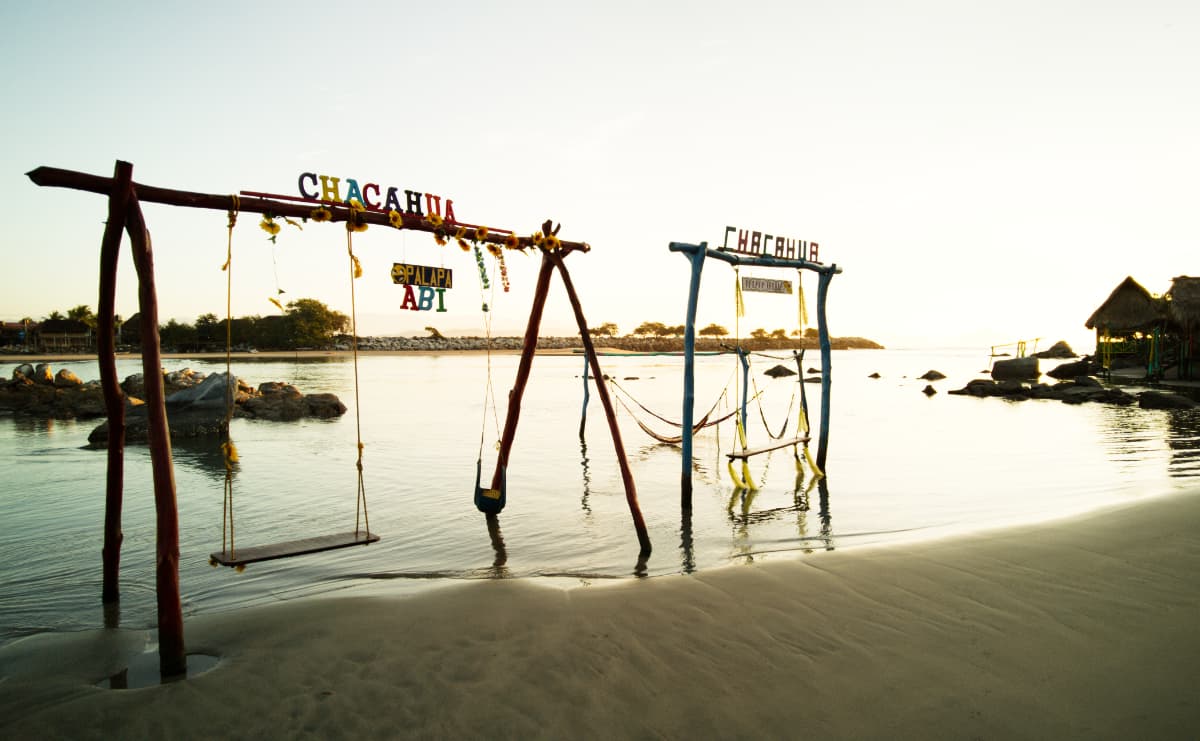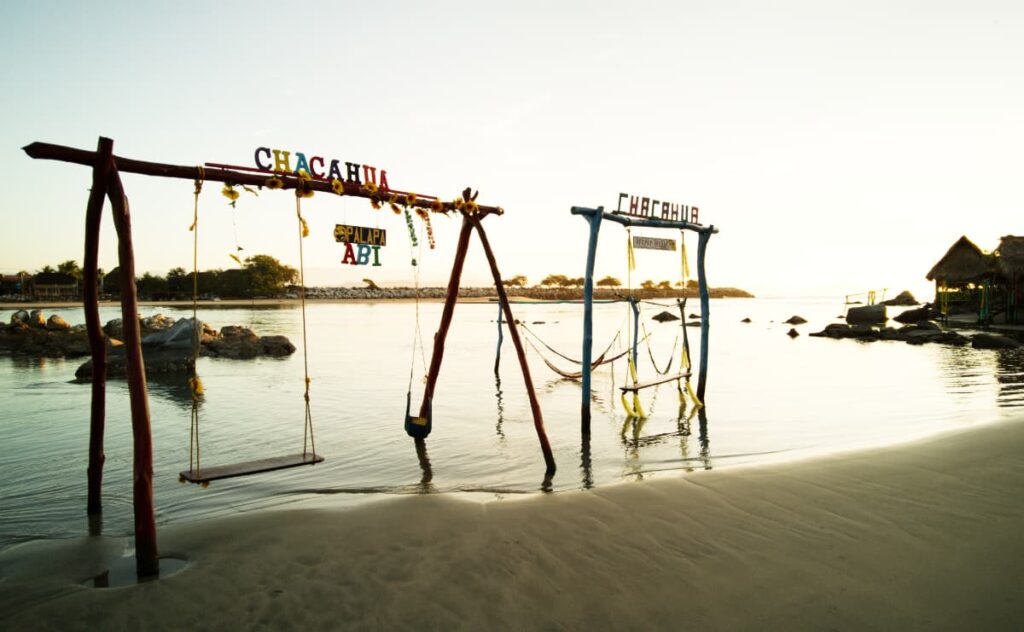 The small community of Chacahua, Oaxaca is located west of Puerto Escondido It has remained off the radar of travelers until recently. It first drew attention from travelers as a surf spot on the Oaxaca Coast.
You can opt to book a day trip to Chacahua and the mangrove lagoons which includes transportation.
Otherwise, it takes about 3 hours to get to Chacahua from Puerto Escondido. But that hasn't stopped it from becoming a popular destination for those looking for something a little different on the coast of Oaxaca.
And I can understand why. The town sits between the mangrove lagoons of Lagunas de Chacahua National Park and the open ocean.
Sunrises are something of magic as the sun rises above the ocean with views of the rugged mountains along the curved coastline. Sunsets are equally spectacular viewed from the lighthouse across the lagoon or from Arco de Piedra below.
Chacahua is a special place, although I fear the community has already been heavily influenced by travelers. This is a place to tread lightly, to enjoy the beauty while aiming to support yet impact the community as minimally as possible.
Where To Stay in Chacahua
Cabañas Alta Mar ($$$) | Traditional cabin with balc

ony and gorgeous ocean views from the bed

Cabañas La Isla ($$) | Rustic cabins in a central area between the ocean and the lagoon
Porã Chacahua ($) | Eco-friendly glamping in a remote location directly on the beach
21. Playa Chipehua
You'll find soft, powdery sand and a unique landscape on this long stretch of beach in Oaxaca. Beyond the mountain ridges that descend towards the ocean are dramatic white sand dunes.
There are a few restaurants on the road leading to the beach, though the beach itself feels a bit untouched.
Playa Chipehua is one of the most distant beaches on this list. Most travelers may not have the time to travel the two hours east from Huatulco. But if you're heading in that direction, it's definitely worth making a detour here.
Questions about Oaxaca Beaches
Does Oaxaca have good beaches?

The beaches in Oaxaca are some of the top beaches in Mexico. Along the coast of Oaxaca, the Sierra Madre del Sur mountains meet the Pacific Ocean to form a rugged coastline with picturesque bays.
How far is Oaxaca from beaches?

Oaxaca City is about 260 kilometers from the beaches of Oaxaca. The drive, which twists and turns through the mountains, takes about six hours by car or seven hours by public transport. A new highway which has been in construction for years will cut the time considerably.
Can you swim in Oaxaca?

Yes, you can swim in Oaxaca! Many of the beaches along the coast are within calm bays protected from the open ocean. However, conditions change daily. You should always watch the ocean before you jump in, follow what others are doing, and ask if you are unsure. There are a few beaches in Oaxaca that are not recommended to swim.
What is better Puerto Escondido vs Huatulco?
Puerto Escondido and Huatulco will appeal to travelers for different reasons. Puerto Escondido is a fishing village turned surf town with a young crowd. Although, there are nice areas for families to enjoy as well.
Huatulco was developed by Fontaur as a resort travel destination. However, they seemed to have learned from their previous mistakes. Huatulco was designed with lots of green space and building height restrictions. The vibe is a modern Mexican beach town.