25 Best Restaurants in Mazunte You Need to Try (2023)
Looking for the best restaurants in Mazunte? I've got you covered.
When I first visited this Oaxaca beach town, the idea that I could write an article about 25 Mazunte restaurants seemed unfathomable. Fast forward a few years and the dining scene in Mazunte is much more developed.
While the options for relatively affordable food in Mazunte are still limited, the diversity of restaurants is nothing short of amazing.
This list includes places to eat the best breakfast in Mazunte, as well as the best seafood. I've also included a section at the end for vegetarian and vegan food in Mazunte.
Although, I did pull out one of my favorites, Doba, to place it near the top since their menu is incredibly innovative that I didn't want you to miss it.
Let's take a look at all of my favorite restaurants in Mazunte, Oaxaca.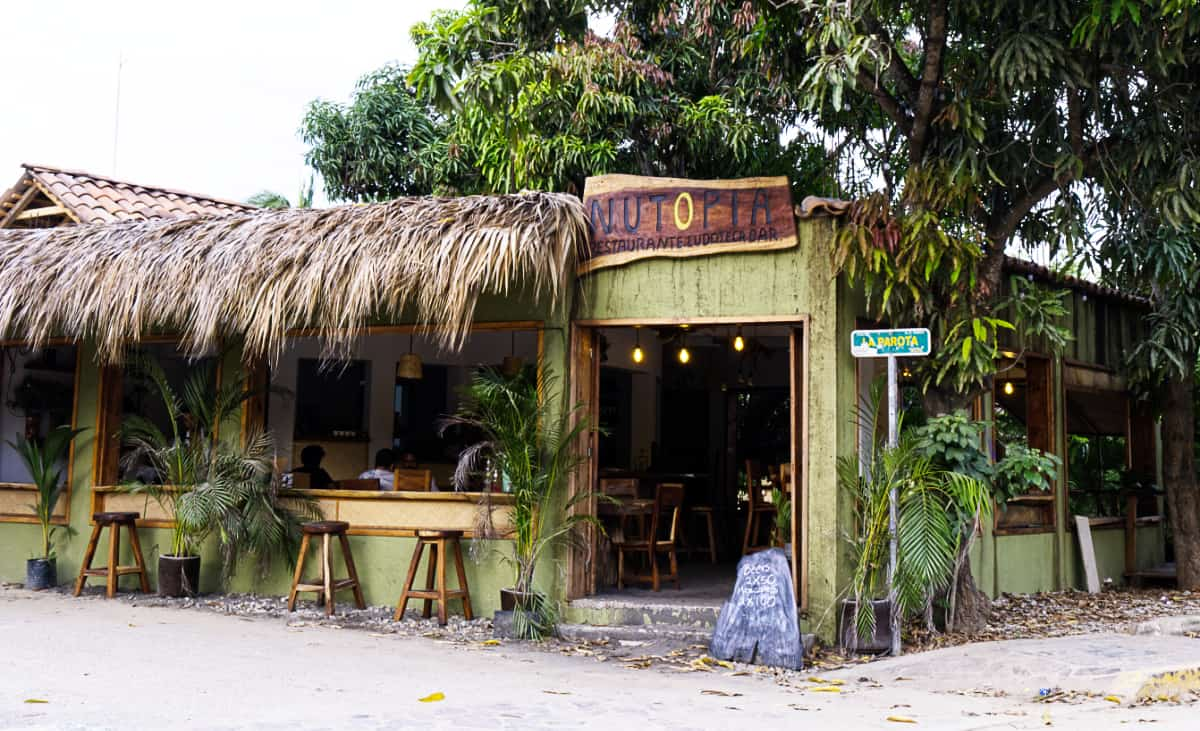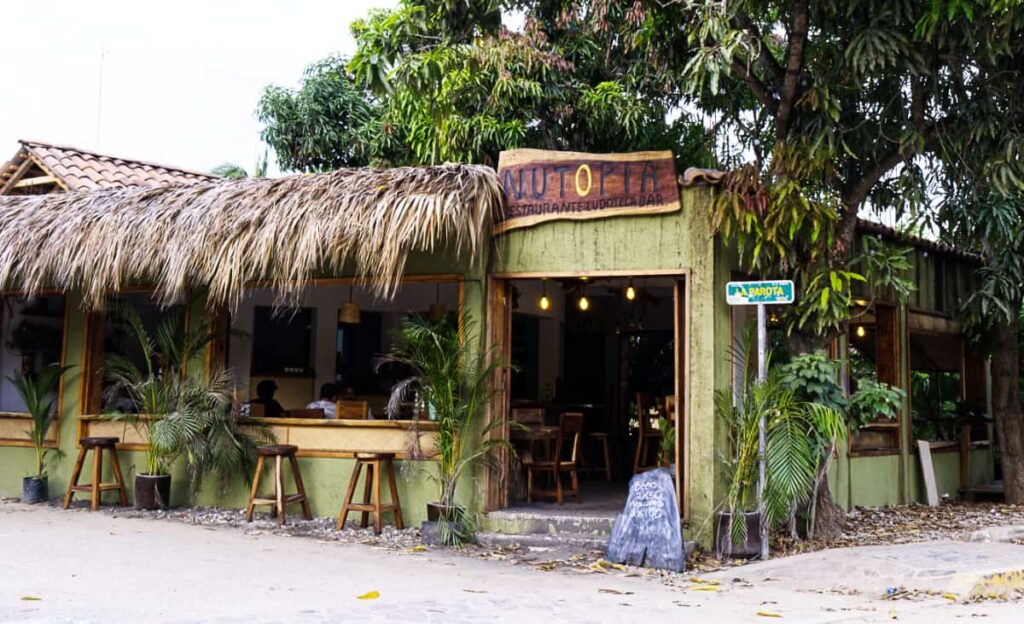 1. Doba – An Innovative Mazunte Restaurant
Doba has one of the most interesting menus of all the restaurants in Mazunte. Items are clearly marked gluten-free, vegan, and vegetarian. And the latter two account for at least half the menu.
The breakfast options include a mushroom and spinach curry saute stacked on a hashbrown. Yummy! And the same hashbrown stack doubles as a gluten-free option for their sandwiches as well.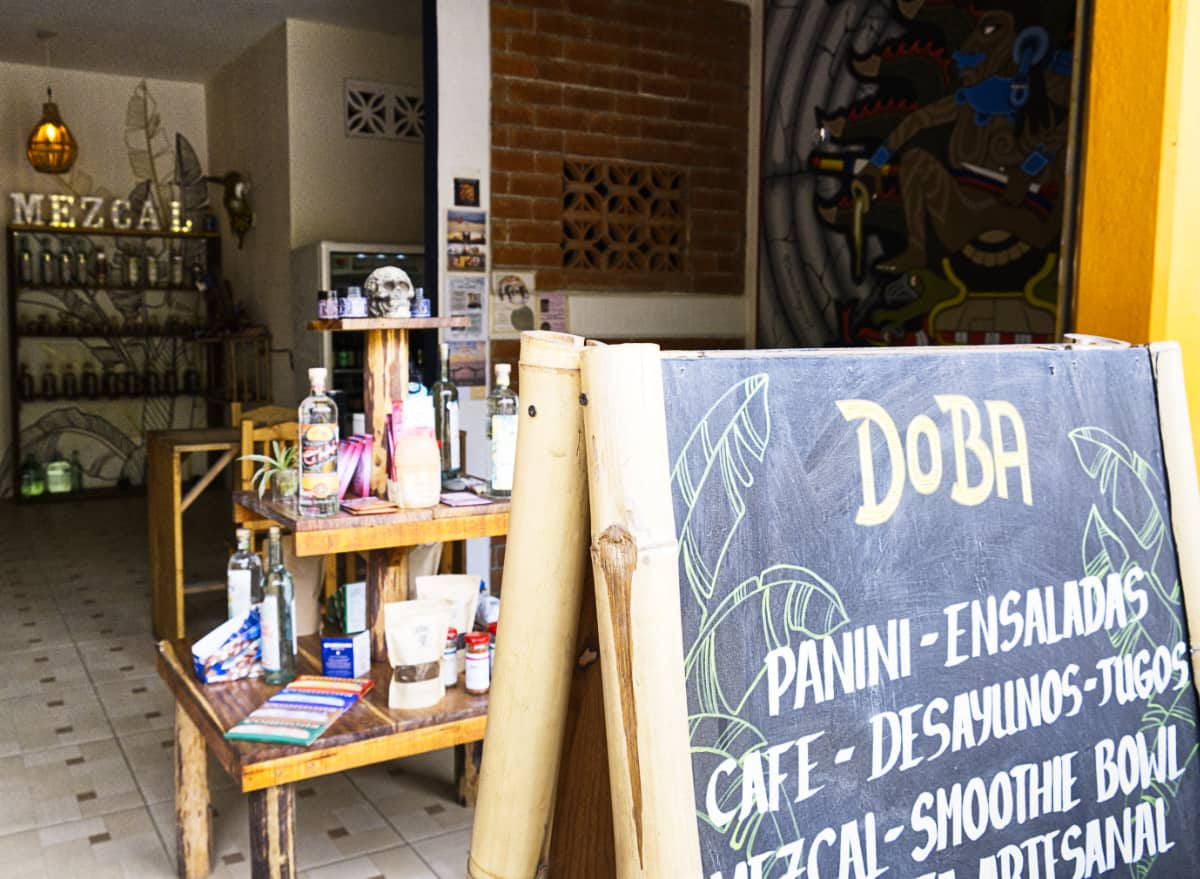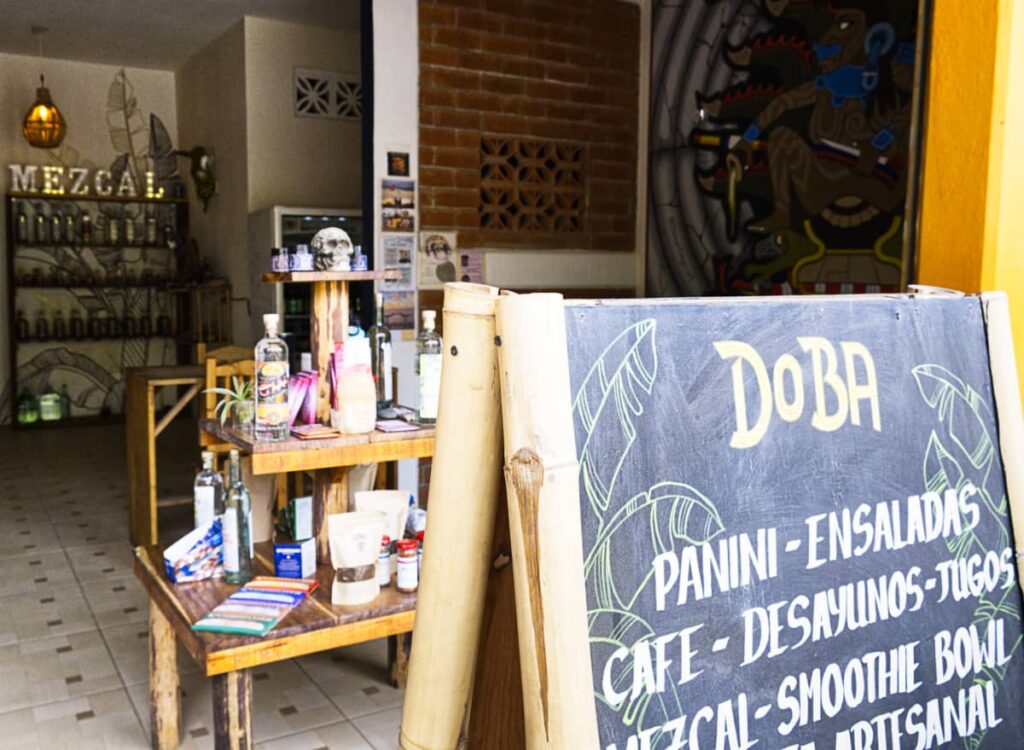 Regardless of if it's a meat, vegan, or vegetarian dish, the owners of Dobo have found a way to include a lot of vegetables in their menu. And use them in unique ways to create meat-like dishes, such as jackfruit in the style of cochinita pibil.
And their healthy options don't stop there. They've created interesting vegan smoothies, vegan desserts, and drinks that showcase their love of adaptogenic mushrooms, such as cordyceps and lion's mane.
I'm incredibly impressed with Doba and the focus on bringing healthy ingredients to the forefront in unique ways without sacrificing flavor. I was also thrilled to be able to purchase their Mexican produced adaptogenic mushroom products in their small store to take back to Oaxaca City where I live full time.
2. El Chiringuito – Sunset, Dinner, and Drinks on the Beach
Located on Mermejita Beach just below the sacred hills of Punta Cometa, this small beachside restaurant in Mazunte is a hidden gem. Tables and chairs are scattered in the sand, creating an organic atmosphere that perfectly fits with the laid-back beach style.
The small menu blends a bit of Spain with a bit of Mexico to create incredibly flavorful dishes, such as sesame-encrusted Mahi served with mashed potatoes and salad.
To top it off, they often have live music and other performances on the small stage. Whether you're looking for a romantic date night or a fun time with friends, El Chiringuito is the perfect spot to watch the sunset over the ocean with dinner and drinks.
Mazunte Restaurants for Local Food
If you're looking for affordable food in Mazunte, these local restaurants should top your list. Neither list hours, although they both open in the evening.
3. Antojitos – Street Food in Mazunte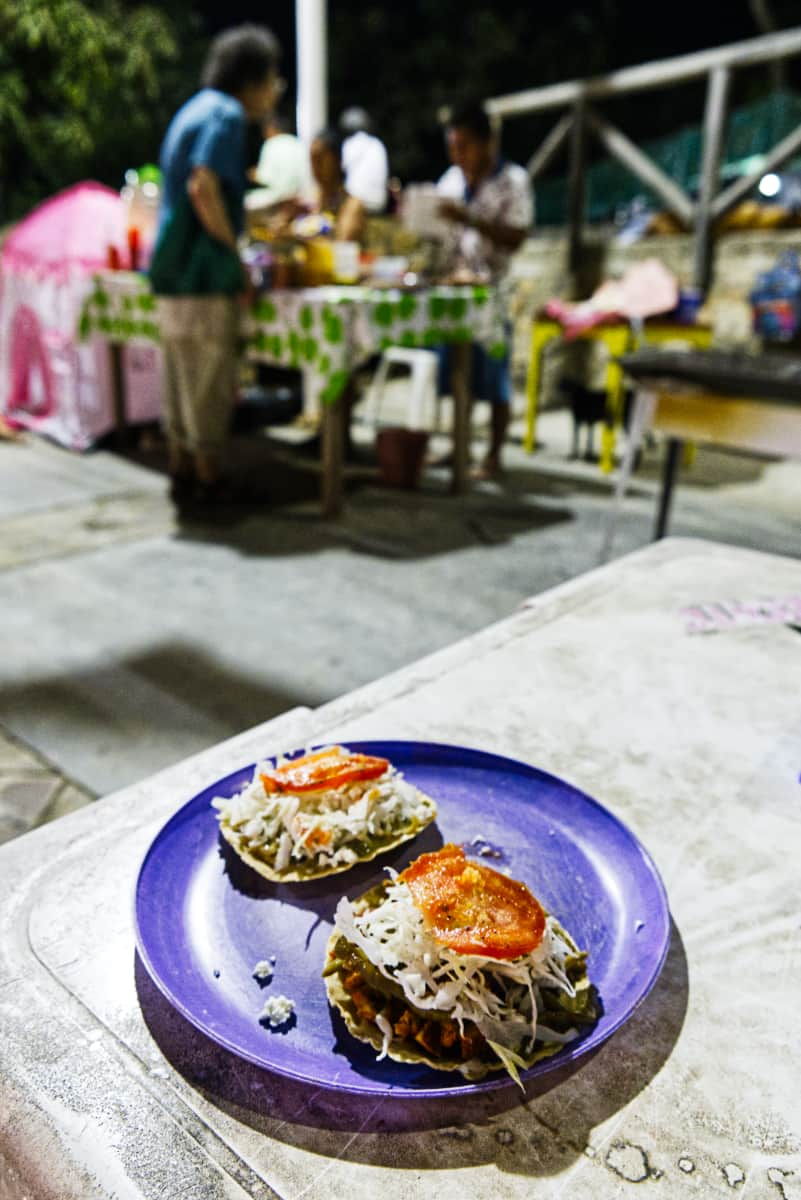 Antojitos is a small food stand that sets up in the park in the evenings. As with most street food in Mexico, this is a very affordable place to eat in Mazunte.
Typically there are several stews to choose from that can be added to a taco, tostada, or other corn product. There is also a small grill that they use to cook the ingredients for the evening and grill the tlayudas for which they're also known.
4. Los Poblanitos – Cheap Tacos in Mazunte
If you're looking for a local restaurant that serves cheap tacos in Mazunte, Los Poblanitos is your spot. They draw a large crowd each evening for good reason. Their tacos are tasty and inexpensive, the latter of which can be difficult to find when deciding where to eat in Mazunte.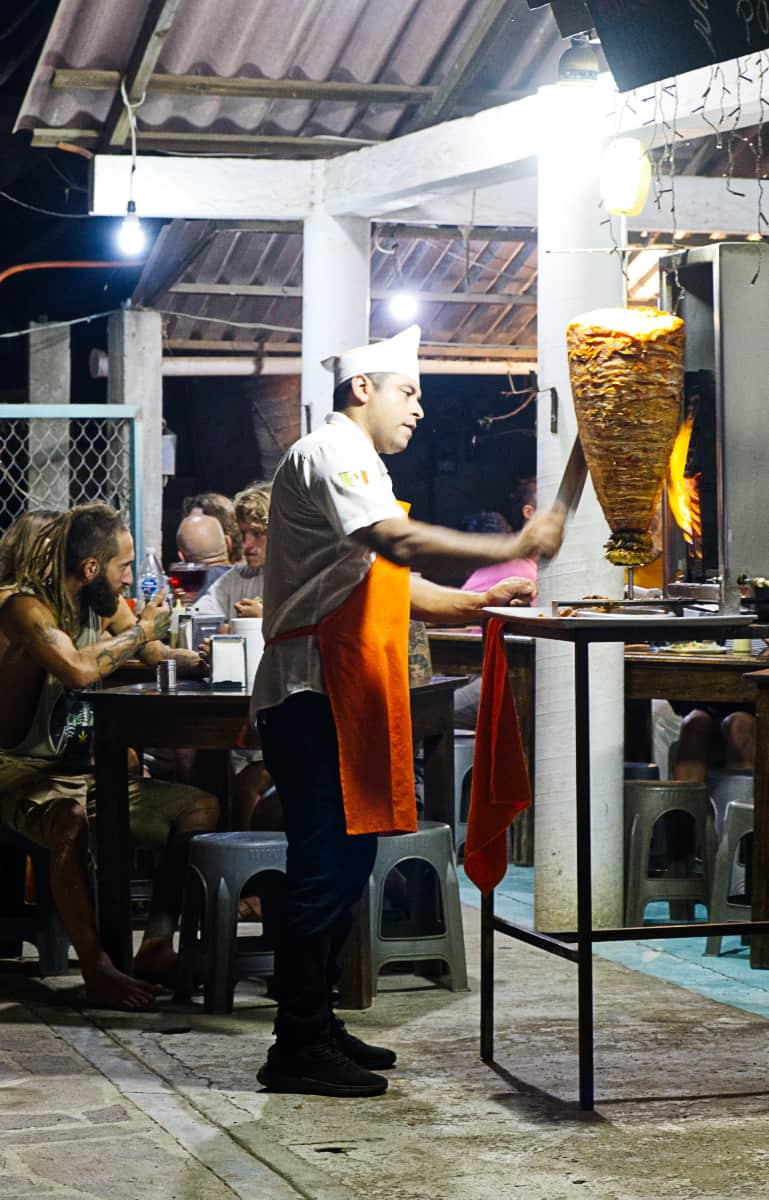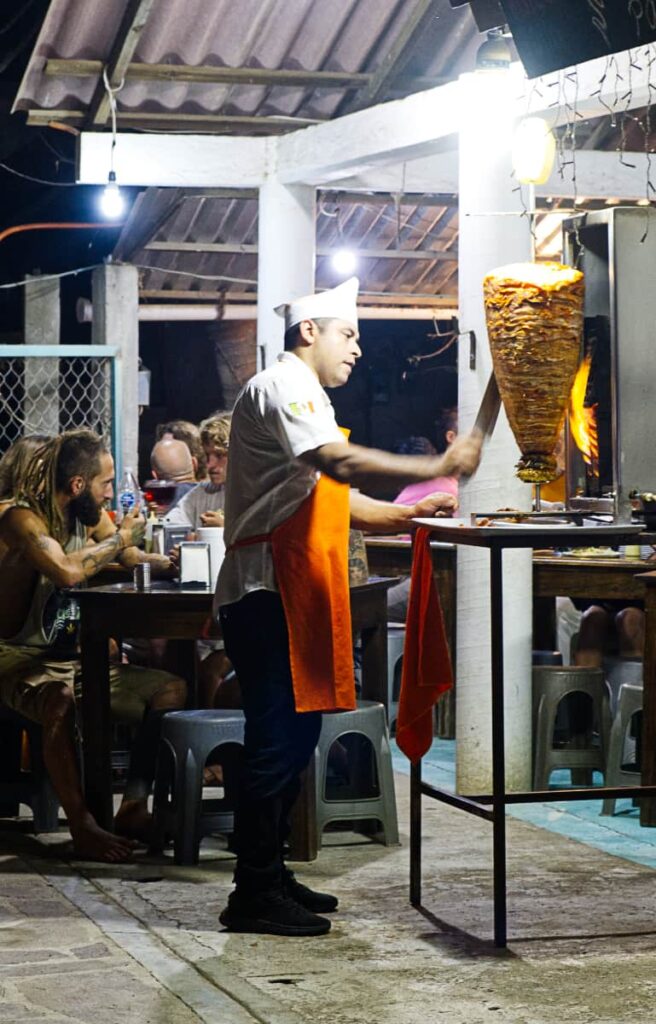 They specialize in tacos al pastor which is evident by the seasoned pork rotating in front of a flame at the entrance to the restaurant.
The menu also includes bistec, chorizo, ribs, and arrachera. All of these can also be ordered on top of a tlayuda, the most popular food of Oaxaca, or as a plate that combines several types of meat with onion, cheese, and other ingredients.
5. El Bajoncito – Best Homemade Food
This small Mazunte restaurant is tucked off the main street that runs through town towards Zipolite. There are just a few tables out front and a rotating menu crafted by the female owner.
It's labeled as a fusion restaurant which seems accurate based on the menu variety. Sometimes there are Mexican classics like enchiladas verde and pozole. And other days you can find sourdough pizza and shrimp gorditas.
Most importantly, the flavor is rich and the prices are affordable. I highly recommend supporting this female-owned restaurant in Mazunte.
6. Maralto Restaurant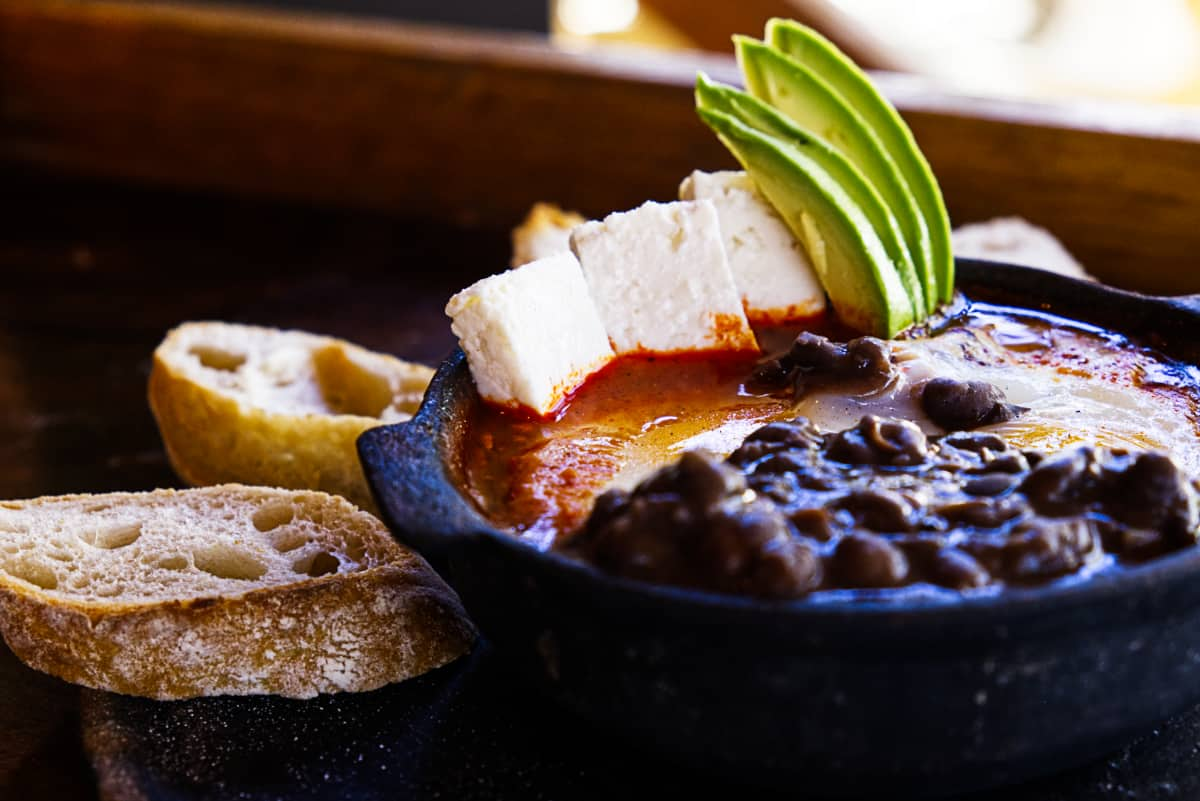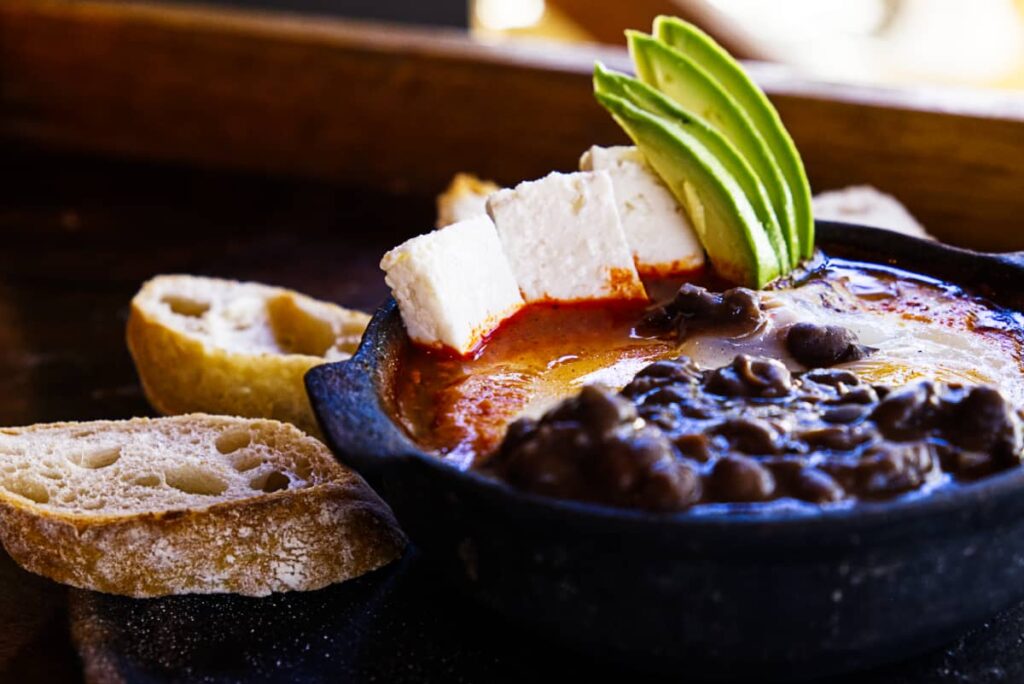 This Mazunte restaurant is known for homemade bread cooked in a wood-fired oven. The use of their bread best comes across in the menu through their variety of hamburgers, sandwiches, and pizzas.
Although the breakfast menu features their homemade breads as well through their eggs Benedict, breakfast pizza, and cazuela which is a Mexican version of shakshuka and served with a side of bread to soak up the delicious tomato sauce.
I also love the breezy atmosphere on the upstairs terrace which is open yet surrounded by trees to give some protection from the street. While Maralto is labeled as a pizza restaurant, the reality is there's a lot more to the food here.
7. Tribu Mazunte – Tacos and Mezcal
Tribu restaurant in Mazunte is a vibe. On my first night in Mazunte, the open-air friendly atmosphere drew me in for dinner and cocktails.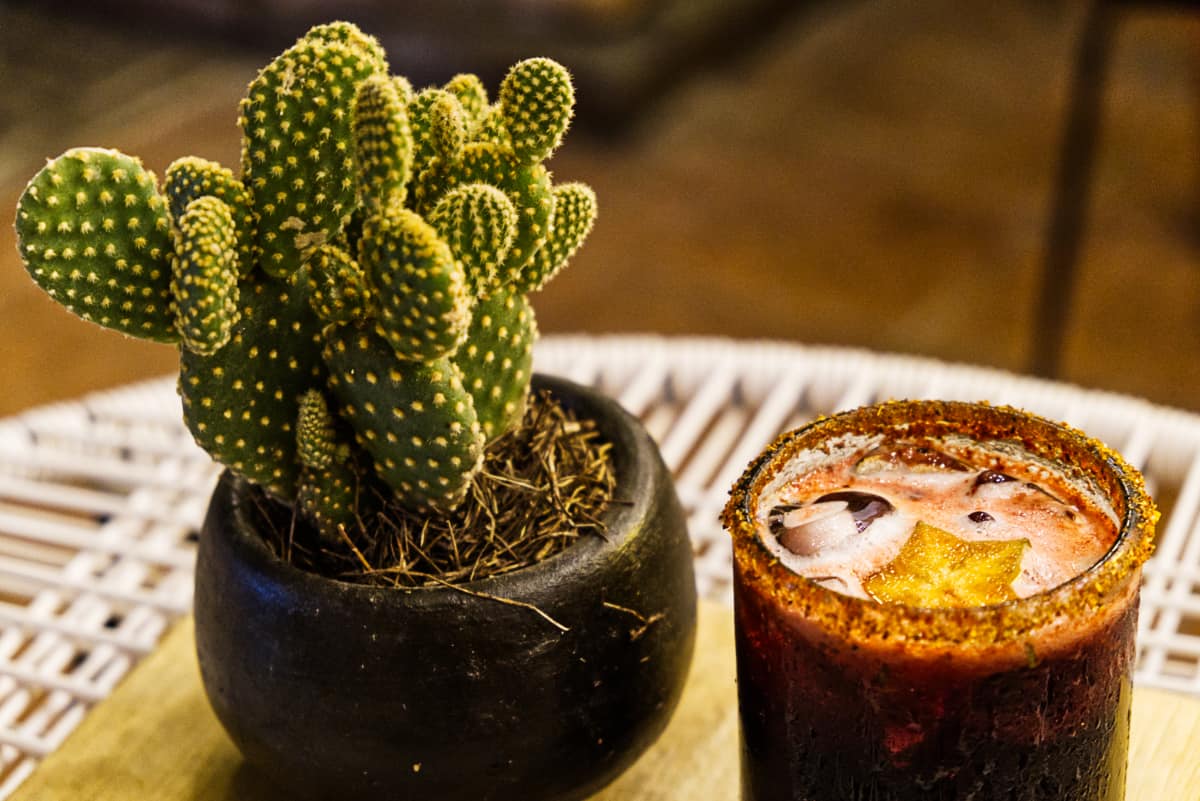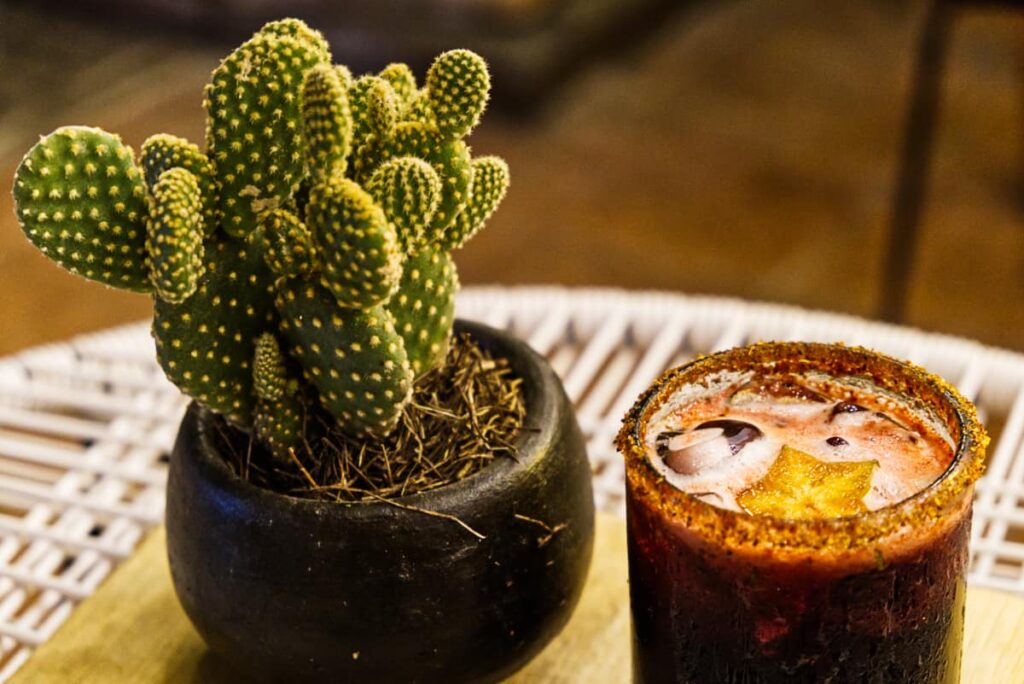 I expected the menu at Tribu to feature seafood tacos such as seared tuna. But to my surprise, it also includes several interesting vegan and vegetarian tacos. Rather than relying on soy products, they use vegetables to create classic taco fillings such as the sweet potato al pastor tacos.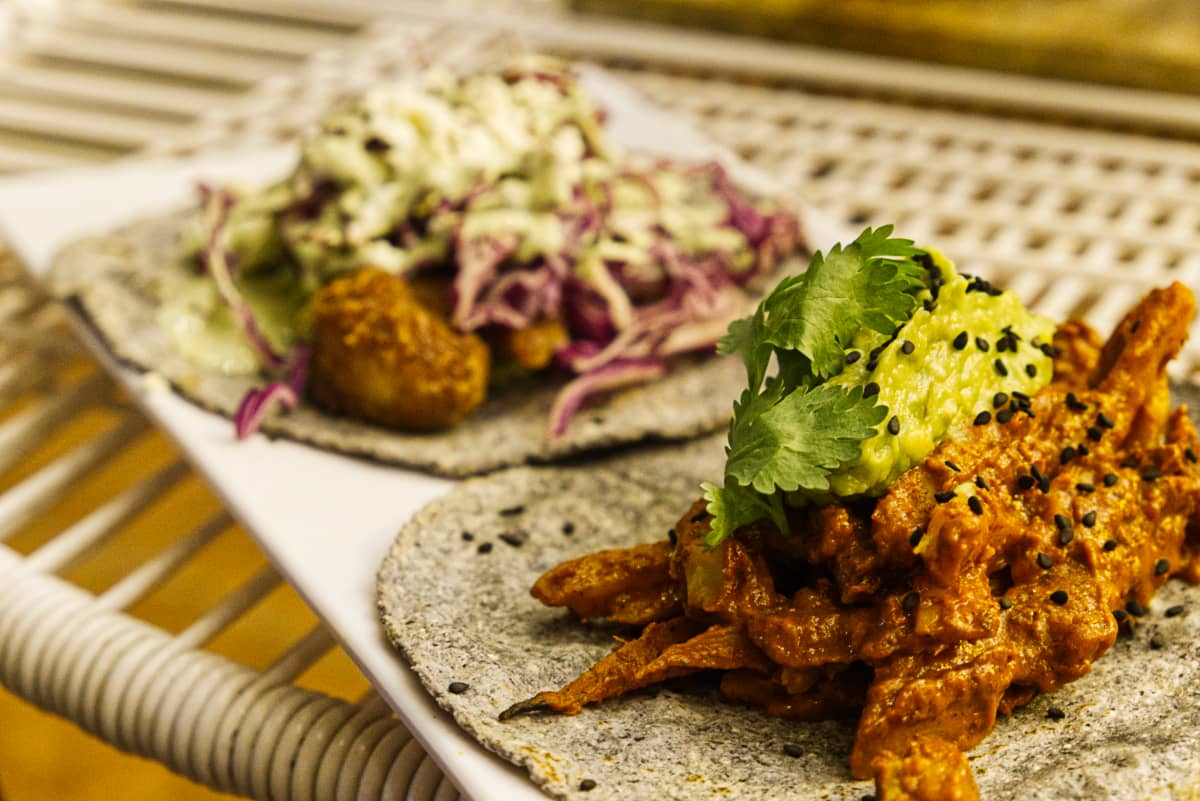 And while I think of Tribu restaurant for its tacos and mezcal, the menu also includes a variety of burgers, pasta dishes, coconut rice bowls, and other items. This is a great place for dinner in Mazunte that can accommodate a variety of dietary preferences.
8. L'Odyssée El Pescador Seafood
If you're looking for a high end seafood restaurant that beautifully combines the richness of French cuisine with the spicy citrus flavors of Mexico, L'Odyssée El Pescador is your place.
As the name implies, seafood is the focus at this Mazunte restaurant. And while the classic coconut shrimp grace the menu, I would argue that the best preparation is in a creamy coconut curry.
There are other French and Mexican classics such as aguachile, shrimp or fish al ajillo, and bouillabaisse (Fridays only). To top it off, they serve wine and highly rated cocktails.
9. La Pizzería – Best Pizza in Mazunte
La Pizzería is known for having the best pizza in Mazunte, and perhaps the entire coast of Oaxaca. The crust is incredible, the sauce is flavorful, and the toppings are just right. The Italian owner and chef also crafts a variety of calzones if that is your preference.
To top it off, the menu includes reasonably priced wine so that you can fully transport yourself to Italy for a night. I'd highly recommend La Pizzería if you're looking for authentic pizza in Mazunte.
10. Centzontle – Best Burgers in Mazunte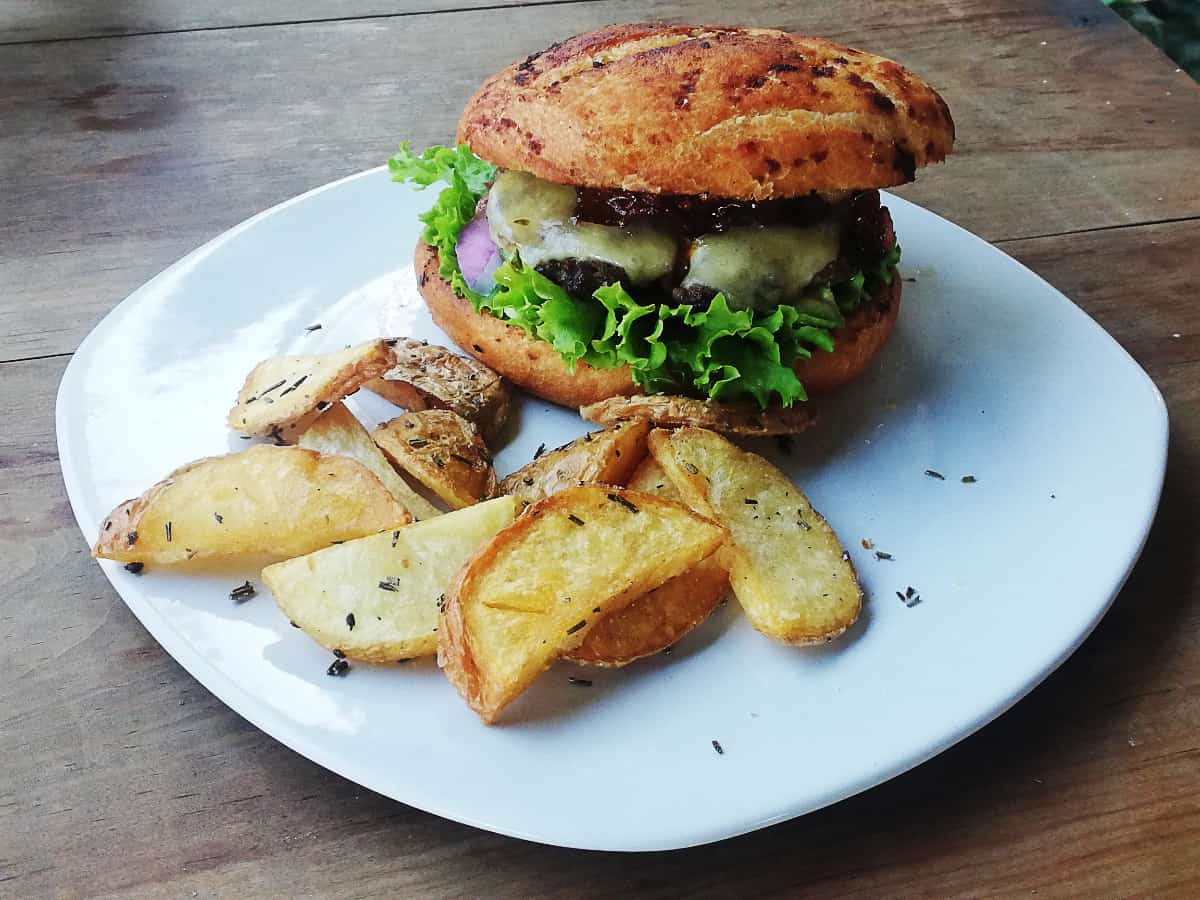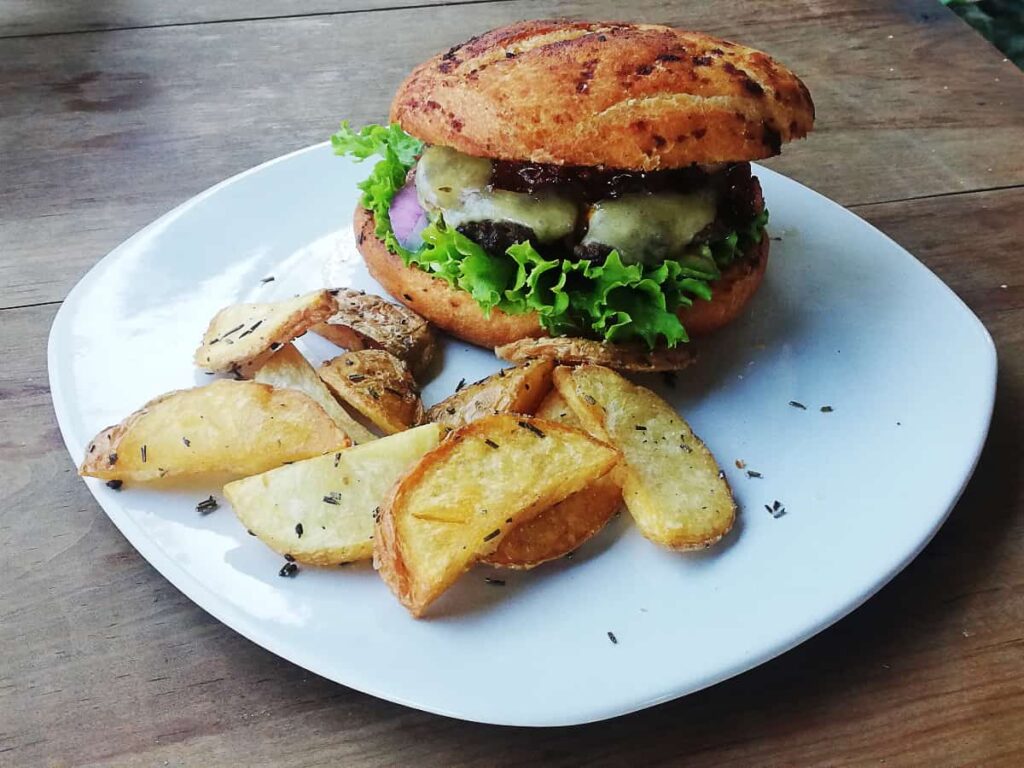 Centzontle has held the title of the best burger in Mazunte since I first visited some years ago. The burgers are really good – flavorful and with a variety of toppings to choose from the classic Hawaiana to La Sexy which blends blue cheese with caramelized onions and chipotle sauce.
Incredibly, nearly every burger is available to order as a beef patty, the fish of the day, or a vegetarian lentil-oat patty. And potato lovers will swoon over the perfectly seasoned rosemary fries that are served with every burger.
For the best dining experience, head upstairs to the rooftop palapa that overlooks the main street in Mazunte that leads to the beach.
Related Posts You Should Read
11. Reina Negra – Asian Food in Mazunte
If you find yourself craving Asian food in Mazunte, without a doubt Reina Negra is the spot. The menu varies from day to day but features various types of ramen (including vegan ramen) as a staple. Often they also have dumplings, beef bulgogi, pad thai, and other Asian specialties.
There is no printed menu, so come with an open mind about the dishes they will have that night. When I was there, ramen was the only option. The prices are also on the high side (even for Mazunte), so a printed menu would be a nice way to not take diners by surprise. They also serve local beer, mezcal, and some desserts.
Best Beach Restaurants in Mazunte
Some days you just want to lounge on the beach sipping margaritas and eating overly-priced seafood. Wait, scratch that last part.
Compared to a lot of other restaurants on the beaches of Oaxaca, these two beach restaurants in Mazunte serve quality seafood dishes.
12. La Tertulia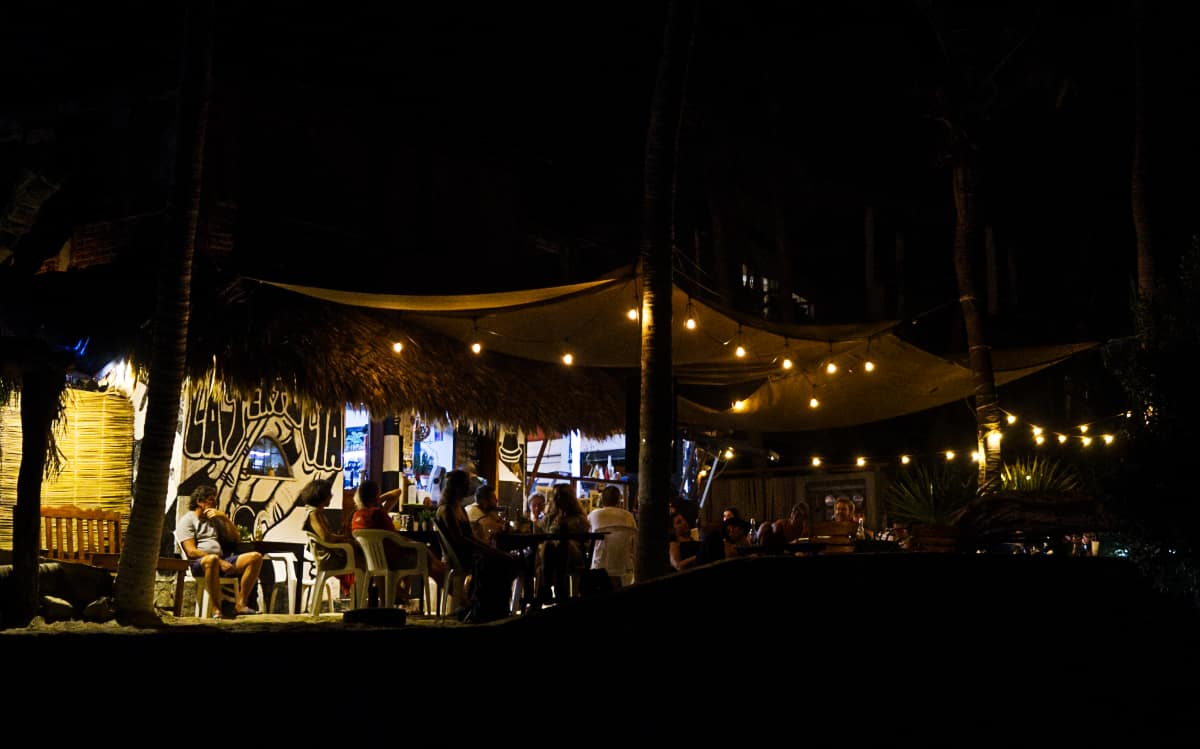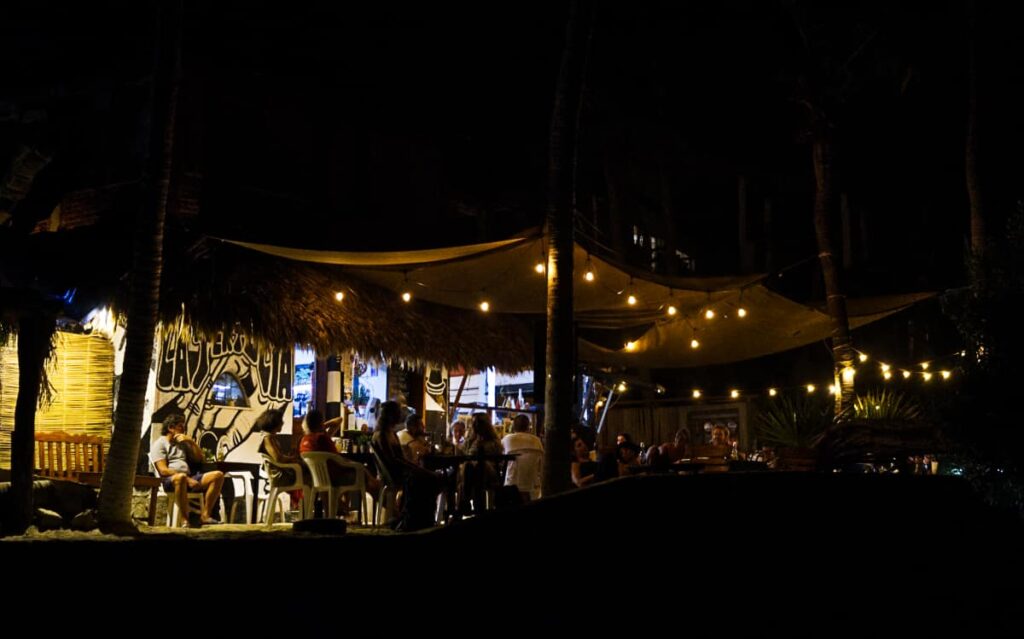 In a place where each beachside restaurant seems the same, this one stands out for its quality seafood, tasty cocktails, and prompt service. Located on the beach at Playa Rinconcito, La Tertulia is one of the best beach bar restaurants in Mazunte.
From fresh ceviche to fish tacos, the menu is small but incredibly fresh and made at the moment. This is easily one of my favorite places to relax and spend the day sipping on mezcal margaritas or a cold beer.
13. La Sombrita
Amazing food, craft cocktails, and an ocean view. What more could you ask for from a restaurant in Mazunte?
Located just off the beach at Playa Rinconcito, this Mazunte restaurant offers a menu of rich meat and seafood dishes. Highlights of the menu include smoked fish tacos, fresh sashimi, smoked ribs, and Argentinian steak with fries.
Although it's the knowledgeable, friendly staff and quality cocktails that bring this restaurant over the top.
Vegan and Vegetarian Restaurants in Mazunte
Vegetarian and vegan food in Mazunte is becoming easier to find. Below is a handful of strictly vegan or vegetarian restaurants in Mazunte.
I've extended the list with the next section, although you should note, there are several restaurants above that offer quite a few options as well.
14. Falafel el Loco
As the name suggests, Falafel el Loco makes the best falafel in Mazunte, and possibly all of Mexico. Plus the pita is soft, the salsas are flavorful, and the prices are incredibly affordable.
And to top it off, the friendly owners have created a perfect, chill vibe. There's a reason this is one of the most popular restaurants in Mazunte.
15. Luz del Sol Vegetarian Restaurant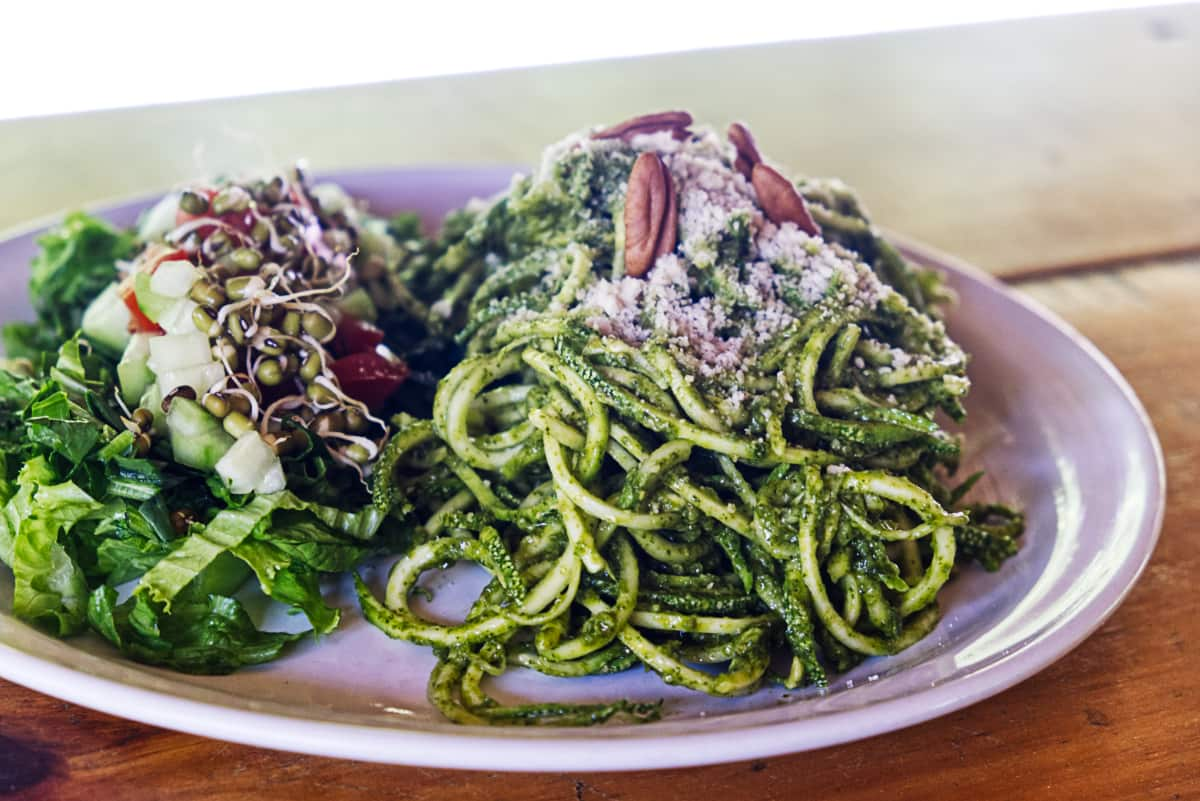 Luz del Sol is one of the original vegetarian restaurants in Mazunte. The menu features flavorful dishes often loaded with veggies and served with a side salad. And many of the dishes are available to order vegan with a slight upcharge for the use of vegan cheese and other 'dairy' products.
Breakfast is served until midday, at which time the menu switches to veggie bowls, salads, and more for lunch. My only complaint is that the service at Luz del Sol can be very slow, yet a gratuity is added to nearly every bill. While the menu states it is optional, it's a bit cheeky. I would prefer if they would improve their service instead.
Are you vegan or vegetarian? You'll want to read about the best places in Puerto Escondido for vegan food.
16. El Armadillo Mazunte
Tucked away on a quiet alley off the main strip, tea light candles light the path to El Armadillo Mazunte restaurant. It sets the tone for the intimate dining space surrounded by tropical plants. And while I love the romantic garden setting at El Armadillo, the vegan food is also worth raving about.
El Armadillo offers a delicious menu of Moroccan favorites such as falafel, vegetarian kefta, tabbouleh, and hummus. The menu also includes more unique items such as a cauliflower tajine and lib koosa, a tangy zucchini spread. The flavors are bold and flavorful, yet perfectly balanced.
17. La Colmena Vegan Restaurant
This family owned vegan restaurant in Mazunte is a great place for breakfast and lunch. The fully vegan and gluten-free menu includes a chickpea omelet, vegan chilaquiles with chickpea eggs, and a smoothie bowl. And the menu expands to more savory vegan items for lunch.
In my opinion, La Colmena serves some of the most innovative vegan food in Mazunte. This restaurant should be on your list if you're looking for a healthy breakfast or lunch.
Other Mazunte Restaurants with Vegetarian and Vegan Food
There are a few other restaurants in Mazunte that serve vegetarian and vegan food. And although it doesn't comprise their entire menu, I've included ones below that offer a lot of options. That being said, meat and seafood eaters should also pay attention to this part.
18. Arena Negra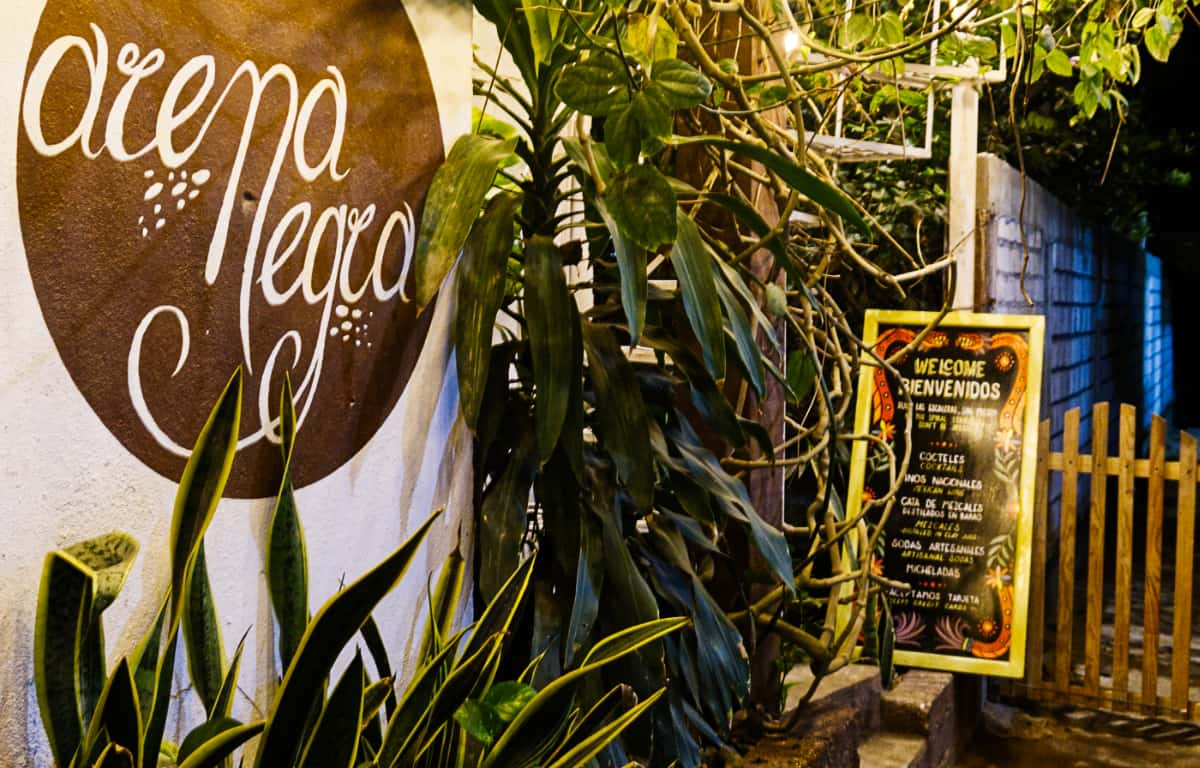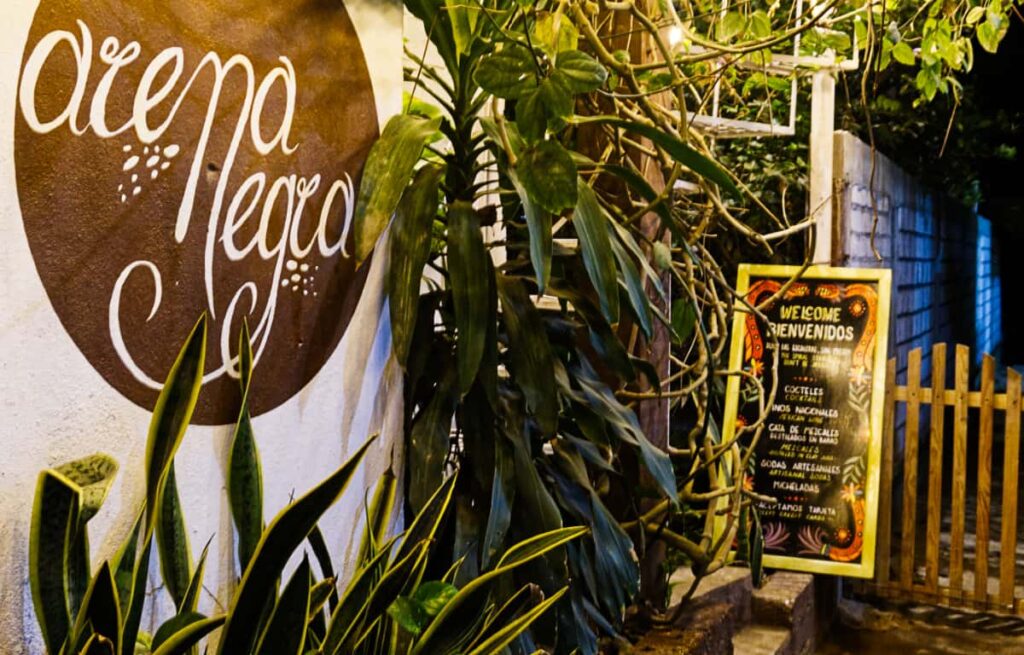 At first glance, this family-run restaurant in Mazunte seems to offer typical dishes of guacamole, hamburgers, and grilled chicken. But the second page reveals shrimp as you wish, several fish dishes, and a variety of vegetarian and vegan food.
The vegan and vegetarian dishes range in flavors including a black bean burger, curry tofu, roasted eggplant, and mushroom tacos. The variety of the menu makes Arena Negra a top Mazunte restaurant to please a variety of dietary preferences.
19. El Gecko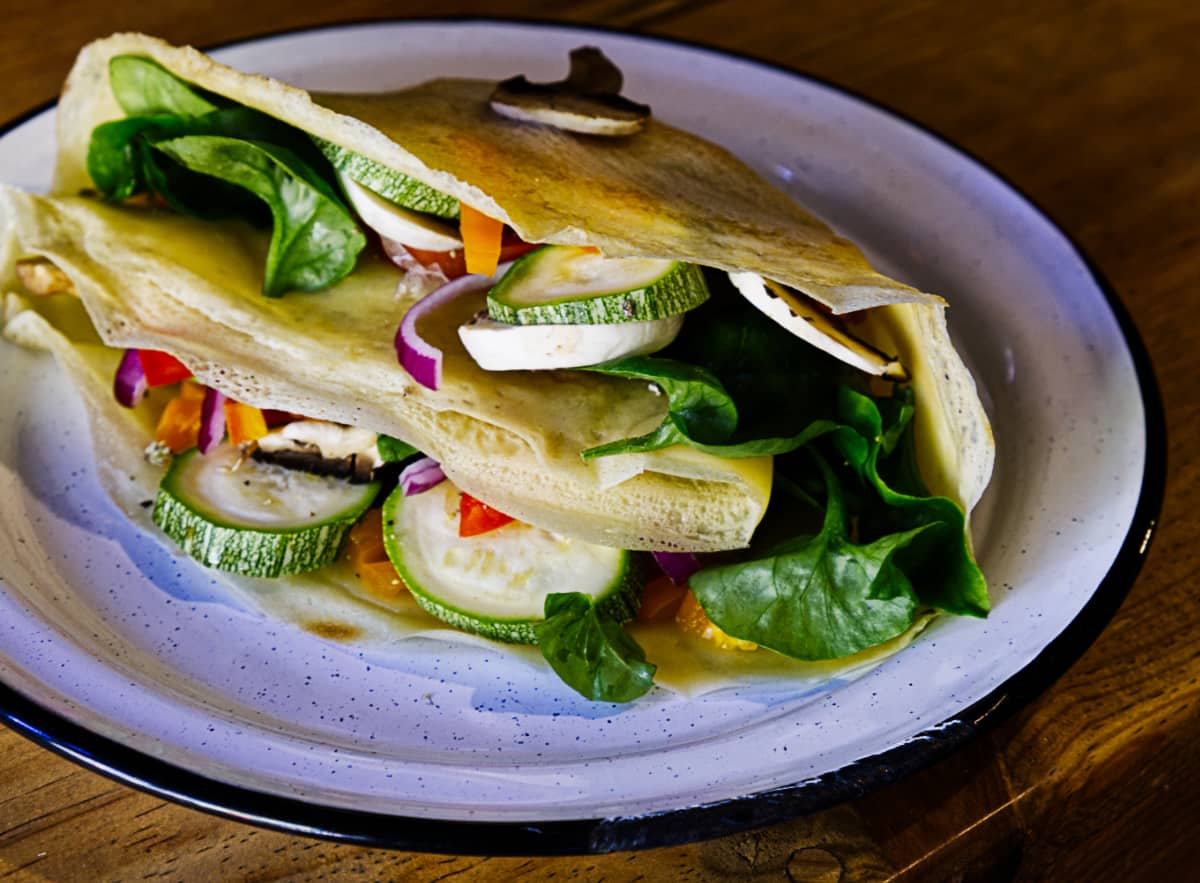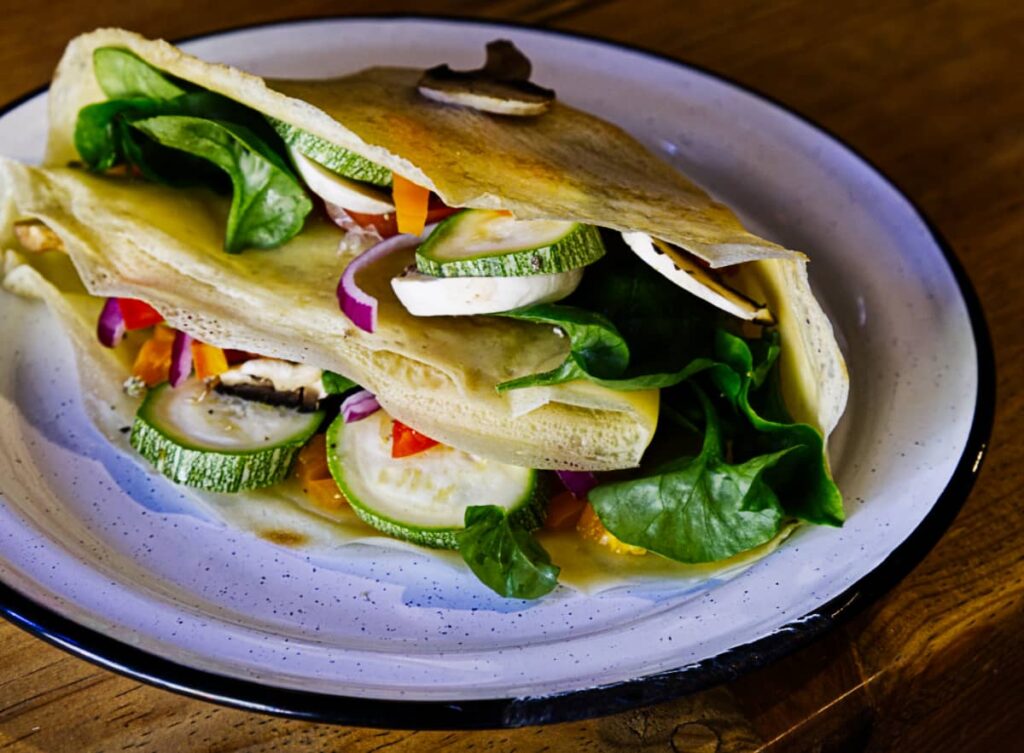 This breakfast and lunch spot has a simple yet interesting menu of omelets, crepes, sandwiches, and salads.
Their recipes mix mostly vegetables, sometimes meat, and sometimes cheese (manchego, goat cheese, and even blue cheese). Each is available to order as an omelet, crepe (vegan option available), salad, or as a sandwich on their homemade bread.
And the crepes expand to include a list of sweet crepes that are mostly filled with fruit and cacao. The juice bar is also quite customizable, making El Gecko a solid option for a healthy breakfast, even if they don't open until a bit late in the morning.
20. Nutopia
While this seafood and veggie focused restaurant in Mazunte is set a few blocks from the ocean, the sand floor and thick wooden details give the feeling as though you've never left the beach.
The menu includes ceviche (with a mushroom option for vegans), aguachile shrimp, salads, and tacos. Although my favorite part is the make your own poke bowls.
The base of the bowl starts with your choice of rice, quinoa, noodles, or lettuce and is topped with fruit and veggies of your choosing, salsa, and protein. Most of the protein options are seafood and while there's only one vegetarian option, I appreciate that it's mushrooms instead of a soy product.
To top it off, they often have live music on the weekends and I thoroughly enjoyed the mezcal margarita. It was well balanced without too much sugar.
Best Bakeries and Cafes in Mazunte for Breakfast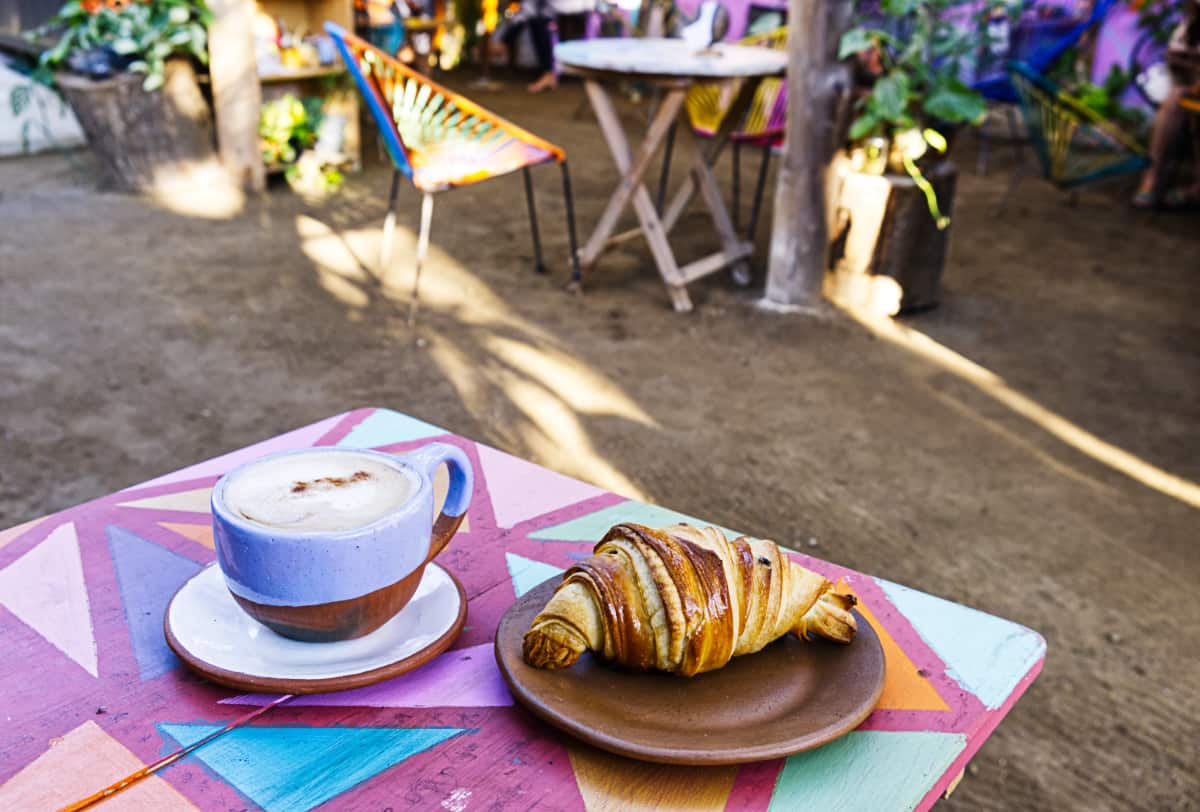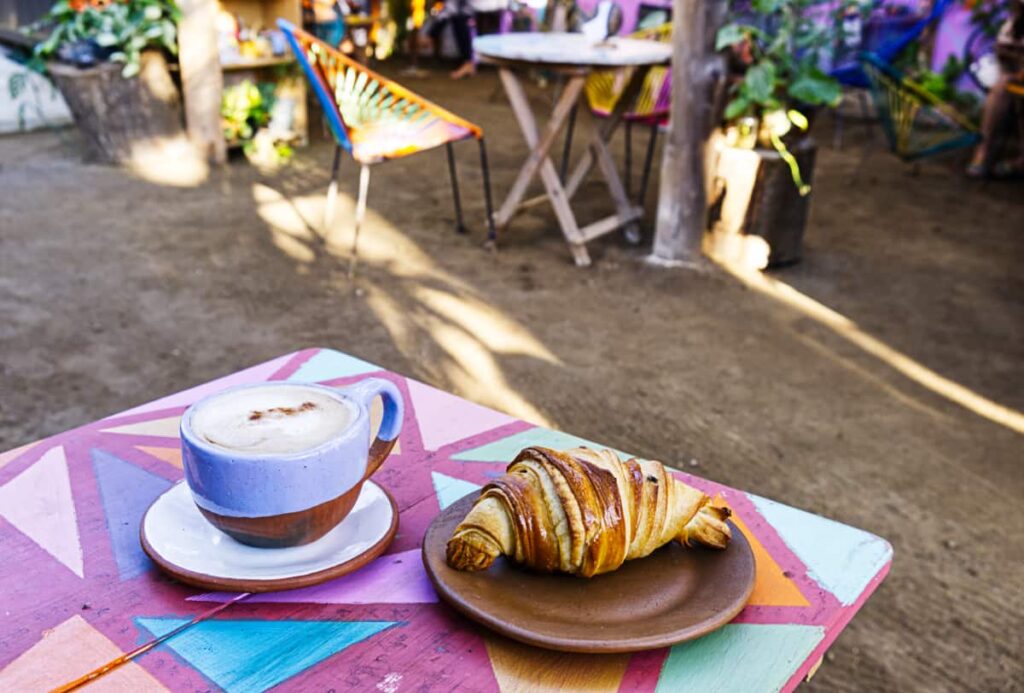 With sometimes limited options for food in Mazunte, I wanted to expand this list to the best bakeries and cafes in Mazunte. And while they don't have a full menu, they do offer snacks, vegan desserts, and other savory items for when you need something to eat.
21. Las Canastas
This cafe and bakery is named for the canastas (baskets) of baked goods inside. They include cinnamon rolls, focaccia, pizza, and curried veggie vegan empanadas that were oh-so delicious.
In addition to the baskets of baked goods, the back wall is lined with freshly baked bread and the fridge is filled with more vegan goodies, protein bars, and other items. They also serve coffee, fresh juice, and other beverages.
To sit, there's a small but busy patio in the front and a more tranquil garden area in the back. If you're roaming around Mazunte for breakfast, this is a solid option for a snack to hold you over before other restaurants open in the morning.
22. El Tiburon Juice Bar
More than just a juice bar, El Tiburon, serves as a meeting point for people living in Mazunte. It's also a great place to get something in the middle of the day when it's too hot to eat and a lot of Mazunte restaurants are closed anyhow.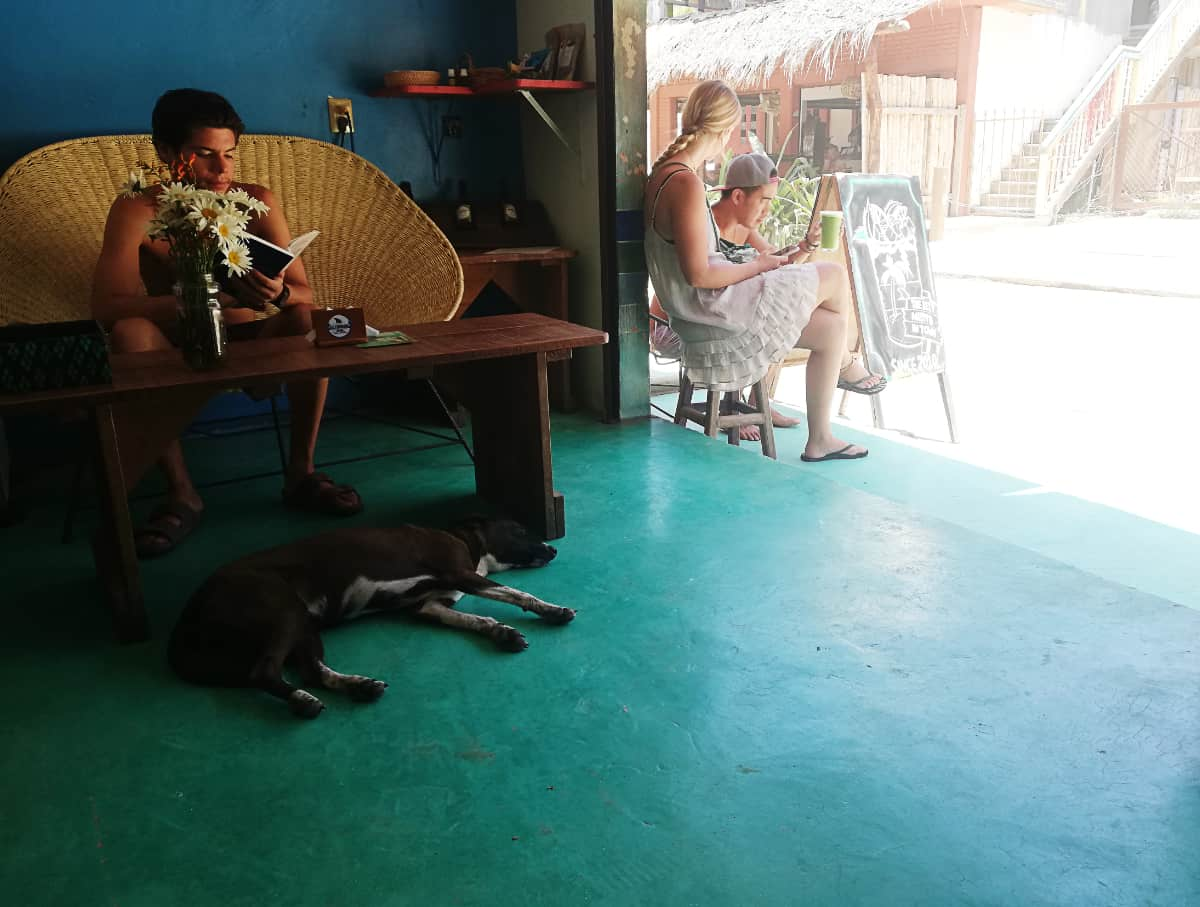 El Tiburon has a menu full of smoothie bowls and blended drinks. You can choose from their juice blends, create your own, or add a variety of superfoods such as spirulina, chia seeds, maca, moringa, and more.
They also serve cold brew coffee, kombucha, ginger beer, and mojitos. Plus it's located next door to El Baguette (see next) in case you desire something more filling to eat.
23. La Baguette
This small Mazunte bakery makes sweet and savory bread, quiche, cakes, and other baked goods. They also make ham and cheese rolls, tortas, and pizza which are great for taking to the beach.
La Baguette used to be the go-to bakery in Mazunte and while it's convenient, I highly recommend trying some of the others as well.
24. Café Panchatantra
I would argue Café Panchatantra has the best coffee in Mazunte and incredible cappuccino art if that's something that also lures you in. This cafe is a beautiful space, located just behind the basketball court in Mazunte.
In addition to amazing coffee, they also serve vegan desserts and a mango cardamom cake that is soooo good.
25. Ícaro Café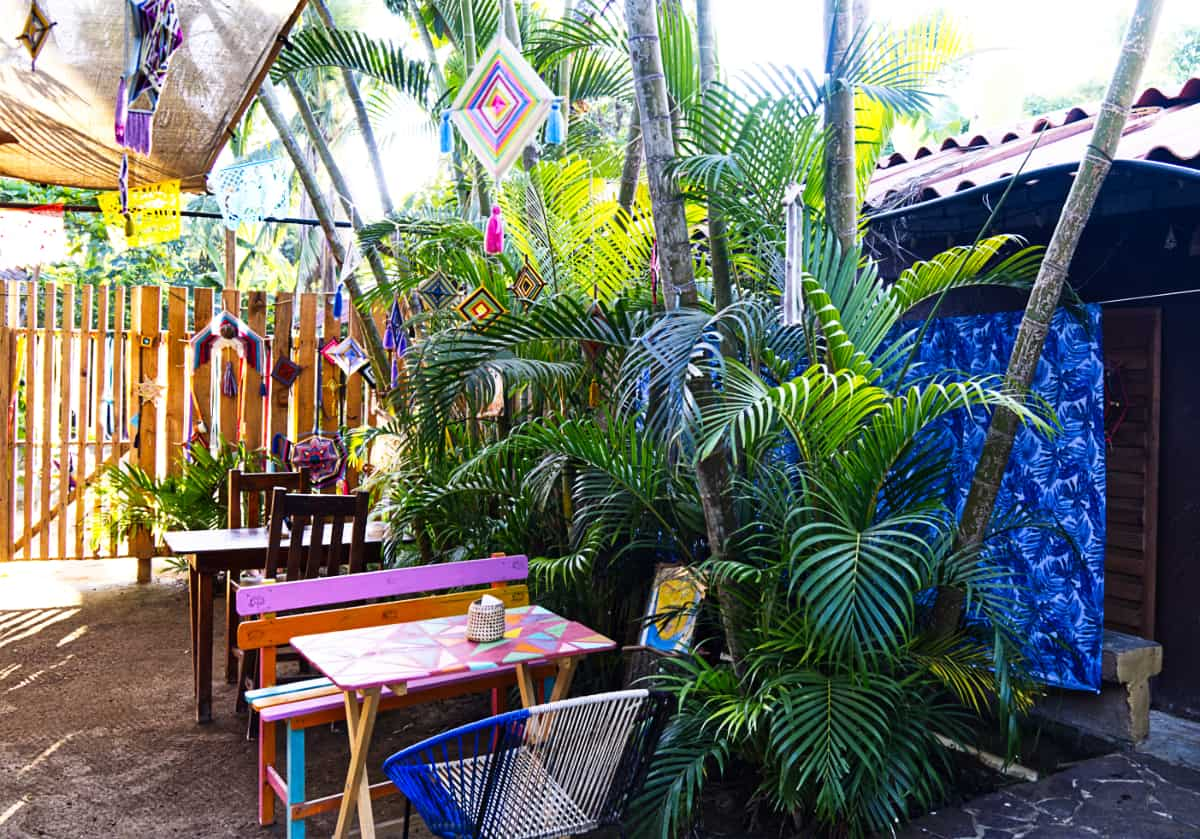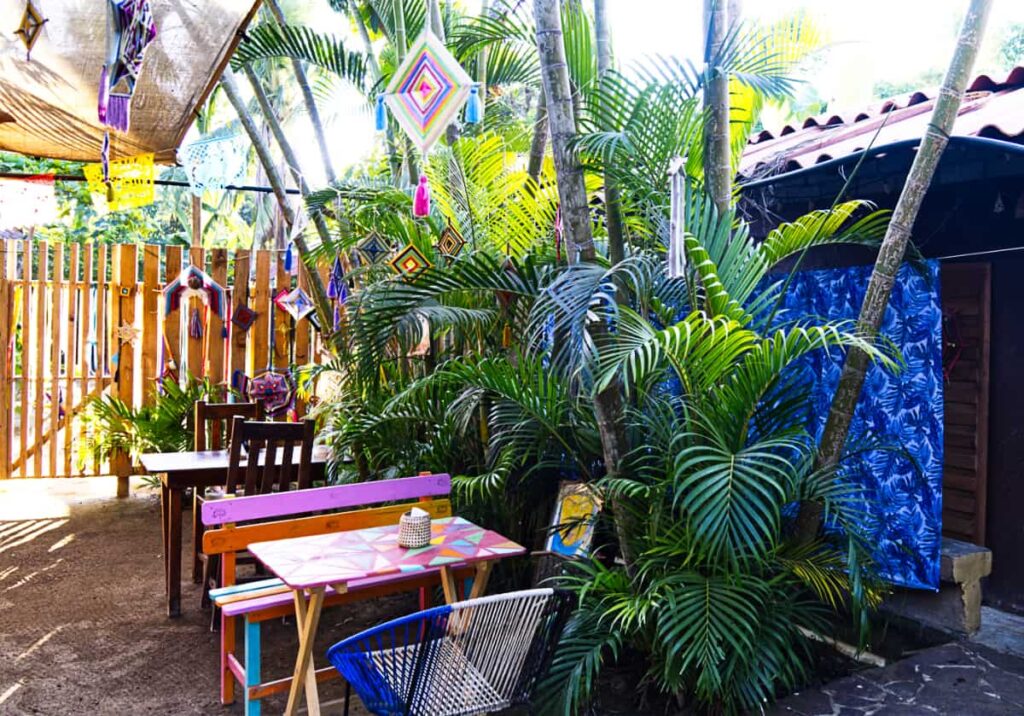 Located in an outdoor garden setting, Ícaro Café is a spot you can sit for a while, enjoying a cup of coffee and freshly baked pastry as the sun crests over the trees to light up the colorful walls of the cafe.
But keep in mind, while Ícaro Café is open until midday, the pastries often run out by 10 or 11 and on the weekends, sometimes even earlier. While I enjoyed the pastry, the coffee left a little to be desired. Next time I'd try the dirty horchata or one of their chocolate drinks.
As you can see, there's a lot of variety in the restaurants in Mazunte. From fresh seafood to cheap tacos and even lots of vegetarian and vegan food.