Mazunte, Oaxaca Mexico | A Tranquil Beach Town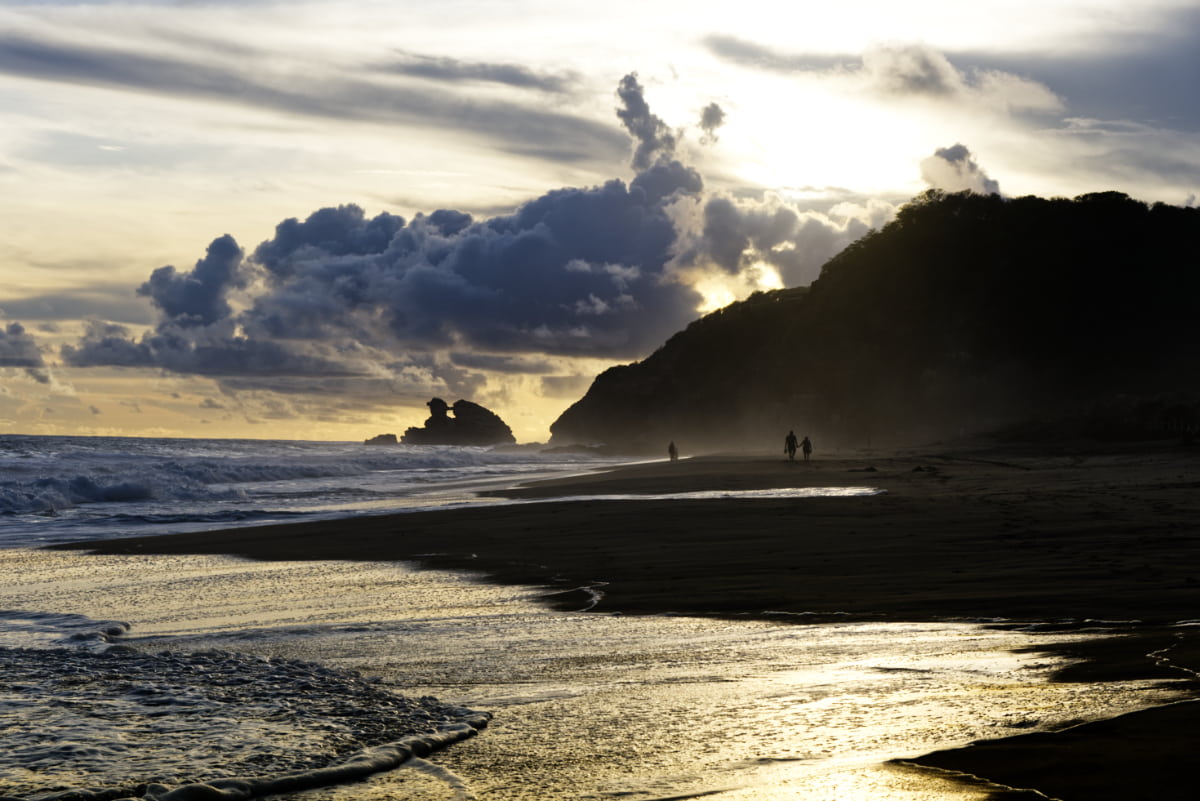 Located at the foot of the Sierra Madre mountains is the beachside community of Mazunte, Oaxaca. Despite being discovered by travelers in recent years, this pueblo magico remains a tranquil oceanside town with a population of fewer than 1,000 people.
Mazunte, Mexico has a sense of community that is hard to find these days. It's a place whose unpaved, ocean-bound roads encourage a relaxed mindset. It's a place safe enough that parents feel comfortable giving their children the freedom to roam. A place that fosters daily yoga practice and healthy, mindful eating.
Bound by mountains to the north and the Pacific Ocean to the south, Mazunte is a place whose geographic location will, I hope, prevent it from developing into the next Tulum. And there are a few indicators, notably the commitment to sustainability, that make me believe it won't.
Let's look at a brief history of the area before we jump into where to stay and things to do in Mazunte, Mexico.
This article may contain affiliate links. This means if you click a link on our blog and make a purchase, we earn a commission at no additional cost to you. For full information, please see our disclosure.
History of Mazunte, Pueblo Magico
Beliefs about the origins of the name of this pueblo magico are mixed. Some say Mazunte is derived from the word "mizontle," which refers to a species of crab that used to be abundant in the area. Others say it comes from a Nahuatl word, "maxotetia" which means "please deposit eggs here." Both explanations exemplify the importance of natural resources and the growth of a culture of sustainability that has developed in Mazunte.
It may surprise you to learn that up until the 20th century, only a few families lived along the rugged coastline. They subsisted on harvesting the land and sea. But by the 1970s, the population of Mazunte grew as it became a center for sea turtle harvesting. Once a slaughterhouse was built, it's estimated that up to 1,000 turtles were killed per day.
Thankfully the Mexican government banned the harvesting of sea turtles and their eggs in 1990 and built a sea turtle center in Mazunte a few years later. This became a turning point for the area which switched its focus to the sustainability of its natural resources and later tourism. I encourage you to support these efforts when you visit Mazunte, a few of which are detailed in this article.
Where to Stay in Mazunte, Oaxaca
Like most tourist destinations on the beach, places to stay in Mazunte tend towards the pricey side. There are not a lot of hostels in Mazunte and most are located in town without an ocean view or much of a breeze.
Several accommodations are also set in the mountains behind the town. The result is often amazing ocean views (from a distance) mixed with a potentially strenuous hike there and back. It all depends on what you're looking for.
Considering that you're at the beach, it's the perfect time to splurge if you can. I've included a variety of places to stay in Mazunte below.
Mazunte Accommodation – Quick View
Zoa Luxury Hotel
If you want to stay in complete luxury in Mazunte, book a stay Zoa Luxury Hotel. This small resort is tucked among the trees on a private oceanfront cove. The property includes a pool with lounge, an area to practice yoga, and an orchard that supplies the restaurant.
The stylish rooms feature a shower with ocean views, 400 thread count cotton sheets, organic cotton towels, and eco-friendly toiletries. The onsite restaurant, Amarte Mar serves dishes made with fresh ingredients from the orchard.
Casa Lu Hotel Boutique
This boutique hotel consists of amazing private bungalows with ocean views. Book one of the beautifully decorated rooms with a terrace overlooking the beach.
When you're there, choose to relax by the oceanfront pool under the tall palms or go for a swim in the ocean. The convenient bar and restaurant on-site means you may never want to leave!
Posada La Sabila
This hotel features dreamy bungalows with a sea view. When you book a room at Posada La Sabila, you can spend your days lounging in a hammock under the shade. Or take a short walk to the ocean for a swim.
Posada La Sabila's central location in Mazunte is an easy walk to nearby cafes and restaurants.
Cabanas Balamjuyuc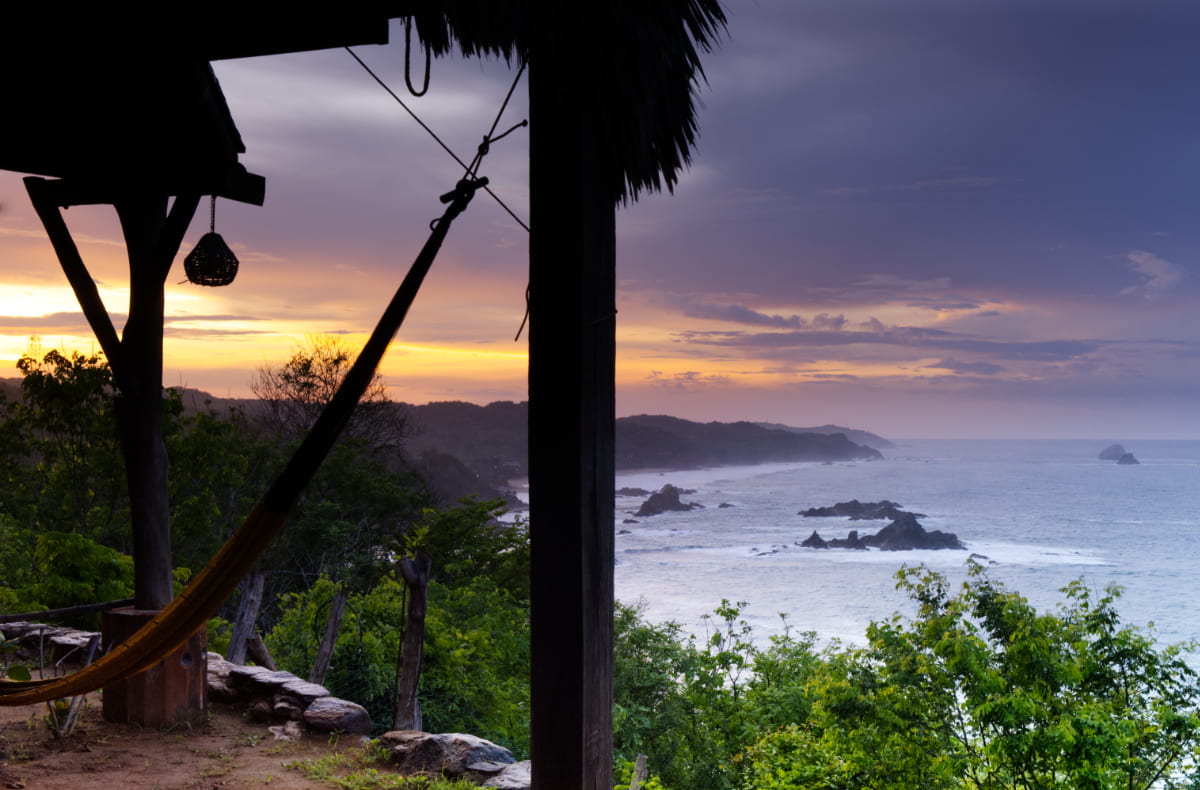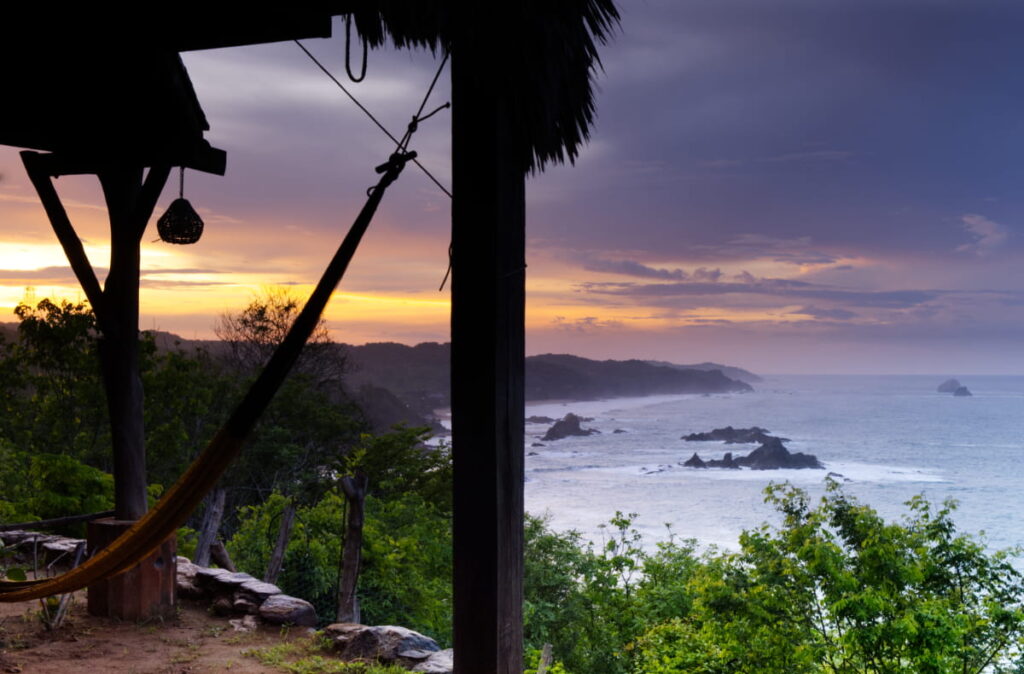 You won't find a better view for the price in Mazunte than a room at Cabanas Balamjuyuc.
The rustic cabins are perfectly positioned to take in the cliffside view of the ocean below. The whole scene is illuminated during sunrise. And for sunset, the location of this hostel is already halfway to Punta Cometa.
In addition, there's a path you can follow directly from Cabanas Balamjuyuc, down the mountain to Rinconcito Beach. There is a small restaurant on-site as well as a few covered tables and chairs.
8 Things to Do in Mazunte, Mexico
Mazunte is a peaceful pueblo magico with just a handful of unpaved streets, most of which lead from the mountainside down to the beaches. You can easily walk through the town in less than an hour, so detailing what to do in Mazunte may seem like overkill. However, there are definitely a few things you should not miss while you're there.
1. Mazunte Beaches
The most obvious thing to do in Mazunte is to enjoy time on the beach. There are essentially three beaches in Mazunte – the main beach, Playa Mazunte, which curves into Rinconcito (little corner), and Playa Mermejita. For lounging, my favorite of these three is Playa Rinconcito where on the far side, the rocky cliff side provides late afternoon shade.
There are a few palapa restaurants that line Playa Mazunte. You can lounge in one of the provided chairs under the shade of an umbrella when you order lunch or beers. It's also a great place to watch the seemingly constant flow of surfers playing in the waves on this side of the beach.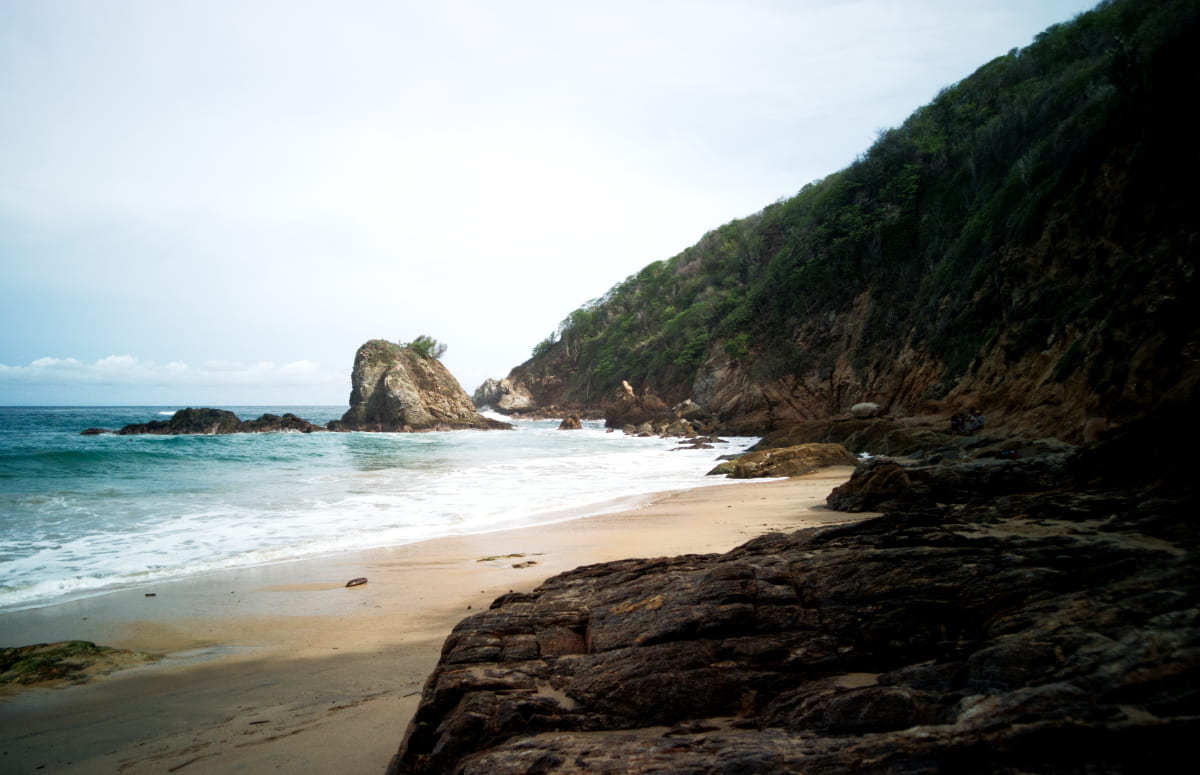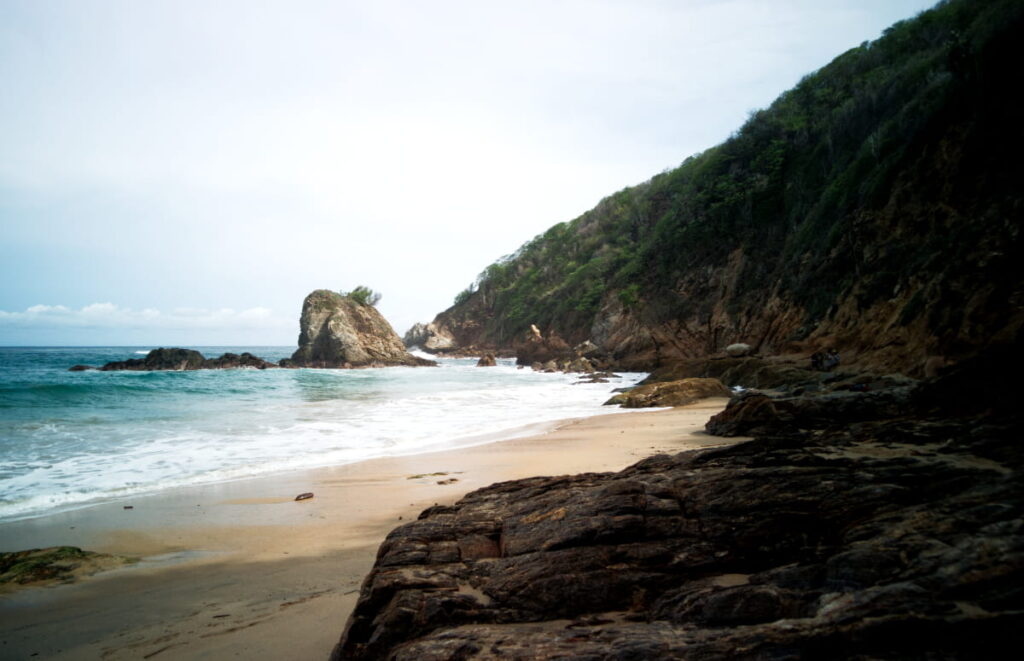 On the right, a large rock formation juts into the sea, separating this part of Playa Mazunte from Playa Rinconcito. To pass, you can carefully climb the rocks or even more carefully, time the waves which give you barely enough time to run across the sand in front of the rocks.
Speaking of waves, the Mazunte beaches generally have large waves and strong currents. It's always a good idea to watch the ocean for a while before you get in. Look to the breaking point to help identify what waves are coming next. And of course, always look for areas where other people are swimming. In June, I found the waves in Mazunte to be intimidating and difficult to judge. Please exercise caution.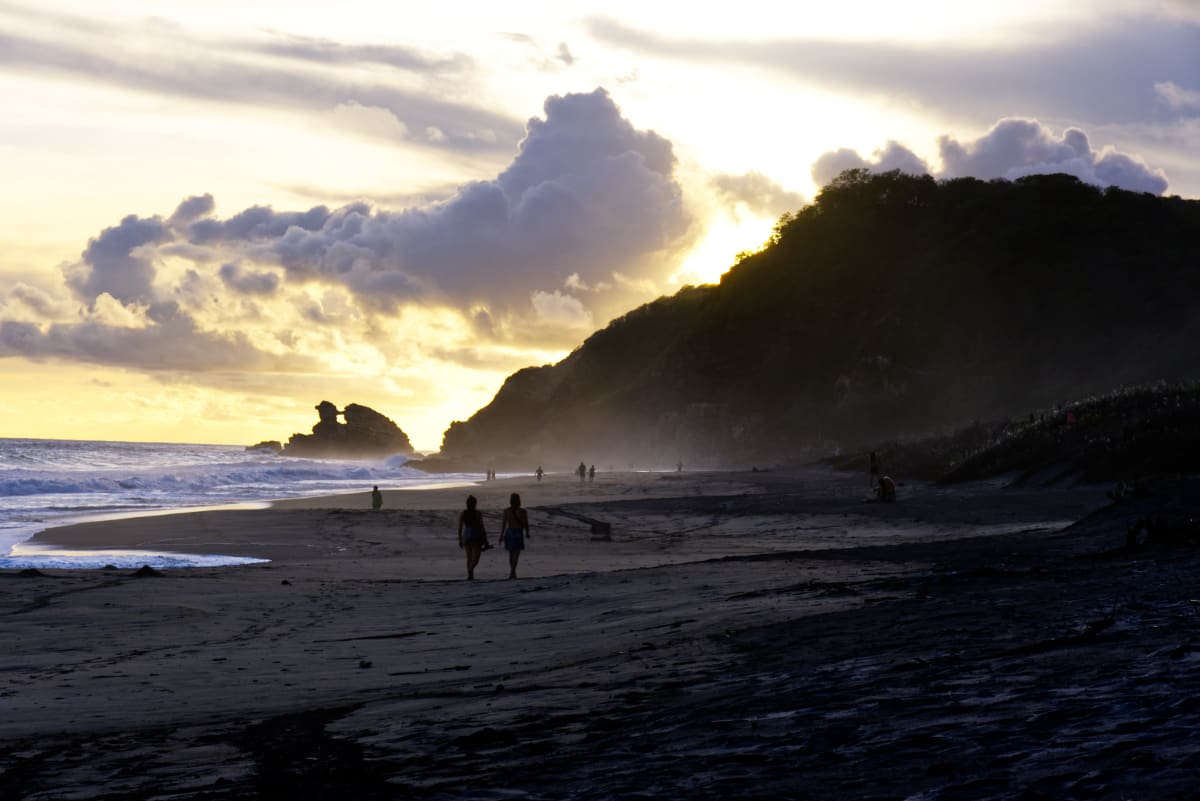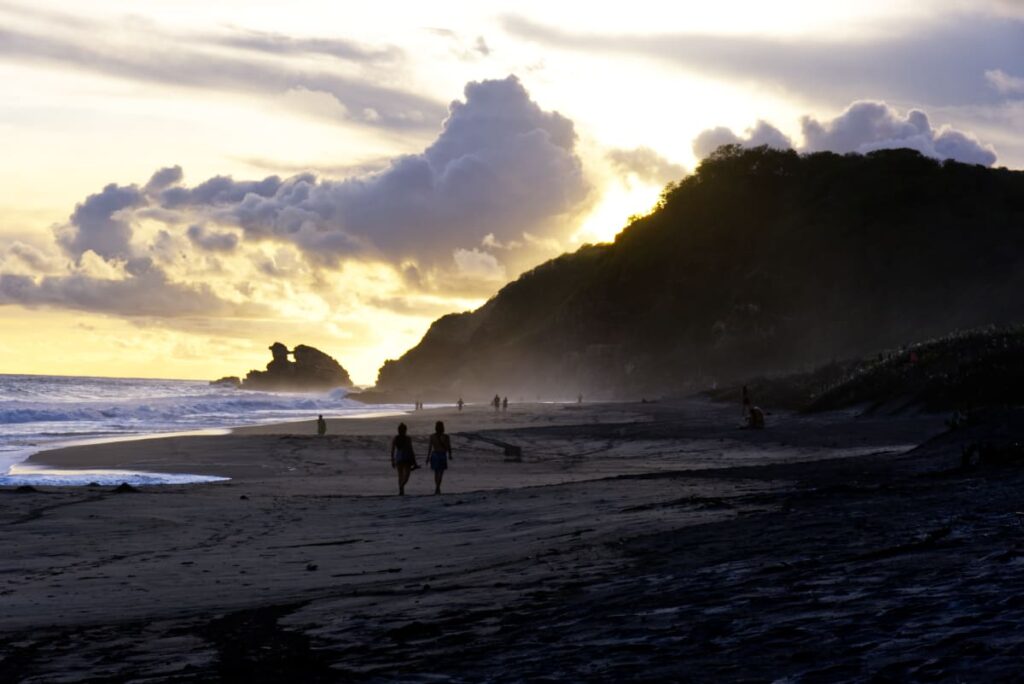 The third beach in Mazunte, Playa Mermejita, is located a short hike from the center. This is not a swimming beach, but it's a nice place to hang out. It's especially beautiful in the evenings as the setting sun streams across the black volcanic sand. There are a few bungalows in this area as well as restaurants on the cliff face with views of the sunset. But if you want the best sunset views, read about the next thing to do in Mazunte.
2. Punta Cometa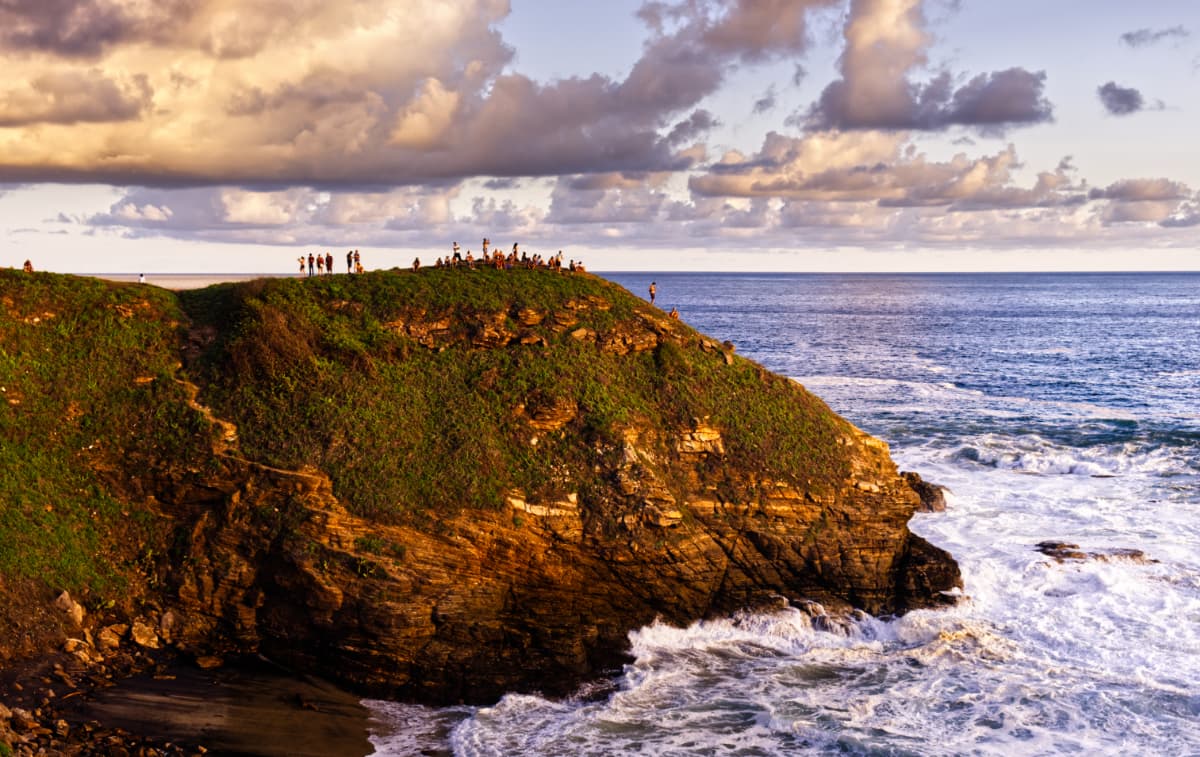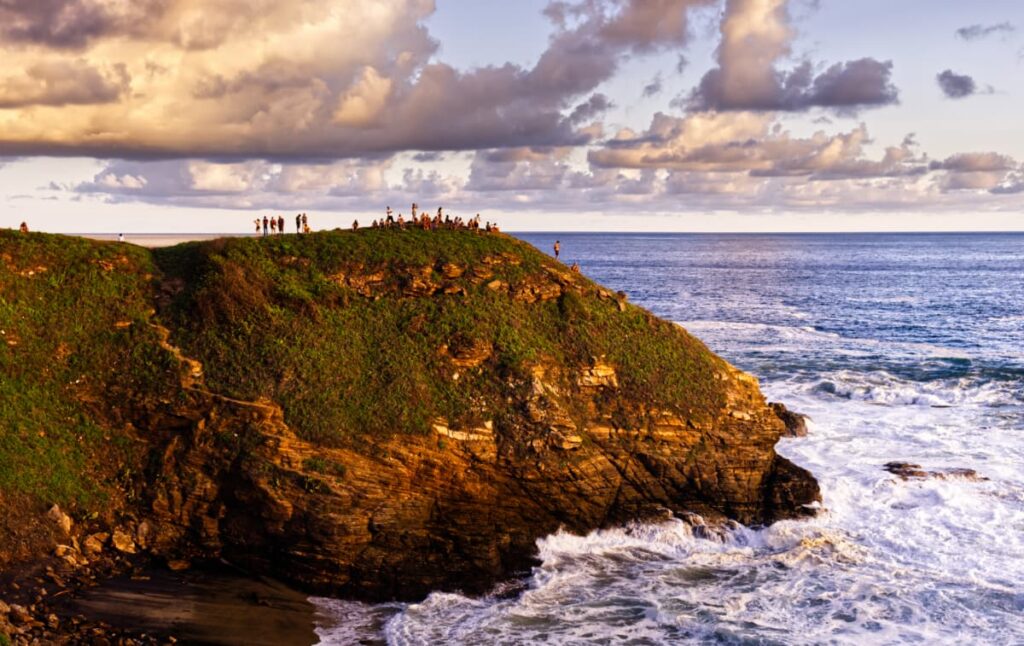 If there's one thing you do besides enjoying the beaches in Mazunte, make it a hike to Punta Cometa. As the southernmost point in Oaxaca, these cliffs have been used since pre-Hispanic times as a sacred space and protective viewpoint. They are also perfectly positioned to watch the setting sun.
To get there, walk Camino Mermejita uphill from the center of town until you reach the cemetery. Then take the road on your left. At the entrance, you'll find three different paths to the viewpoints. You can read my detailed account of sunset in Punta Cometa and the difference in the three paths, which ultimately all connect to one another.
Discover more of the best beaches in Oaxaca, often referred to as Mexico's last coast.
3. Practice Yoga in Mazunte
Mazunte has developed as a destination for yoga retreats. But if you don't have the time or desire for a retreat, there are plenty of scheduled drop-in classes as well. Hridaya Yoga is both a yoga and meditation center with options to participate in a retreat or join their classes for a suggested donation of 50 pesos. They provide yoga mats and meditation pillows.
Casa Om has a live-in yoga experience during the off-season which includes daily yoga classes and breakfast for a modest price. As a result, a close-knit community forms within Casa Om. Their two hour drop-in yoga classes are 100 pesos, for which you can find the schedule on their Facebook page. They also offer other unique experiences such as a cacao ceremony.
4. Experience a Water Massage
Allow the feeling of weightlessness to take over your body as Jojo does her magic to bring a sense of balance inside and out. This therapy is a unique combination of deep relaxation, stretching, and massage in an open pool.
It's a nurturing and healing journey meant to bring you in touch with your inner self and to a state of harmony and deep peace. She has over 10 years of experience and the community of Mazunte is lucky to have her.
5. Take a Boat Tour to See Migrating Whales and More
You can take this tour any time of year, but the only chance for seeing whales is roughly mid-November through the end of February. Otherwise, there's still an opportunity to swim and snorkel with wild dolphins and sea turtles. You can find a tour in Mazunte near the beach or go whale watching in Puerto Escondido.
Traveling to Oaxaca City next? Check out San Jose del Pacifico, a town known for magic mushrooms and mountains located between the coast and the city.
6. Go on an Eco-Tour at Playa La Ventanilla
Just past Mermejita Beach is Playa La Ventanilla, named for the rock formation between the two that looks like a little window. There is an extremely small village here that has developed a reserve to protect the fauna that lives in the nearby river and mangrove system. And naturally, they created an eco-tour as a way to support the project.
As you drive in, the main cooperative is located in the building on your left. The tour costs 100 pesos and lasts about an hour, more if you decide to have lunch as well. It starts with a short walk to the river where a boat takes you through the mangroves and to the reserve, located on a small island. Along the way, your guide will point out different birds, crocodiles, iguanas, and other animals. I recommend arriving early to beat the midday sun.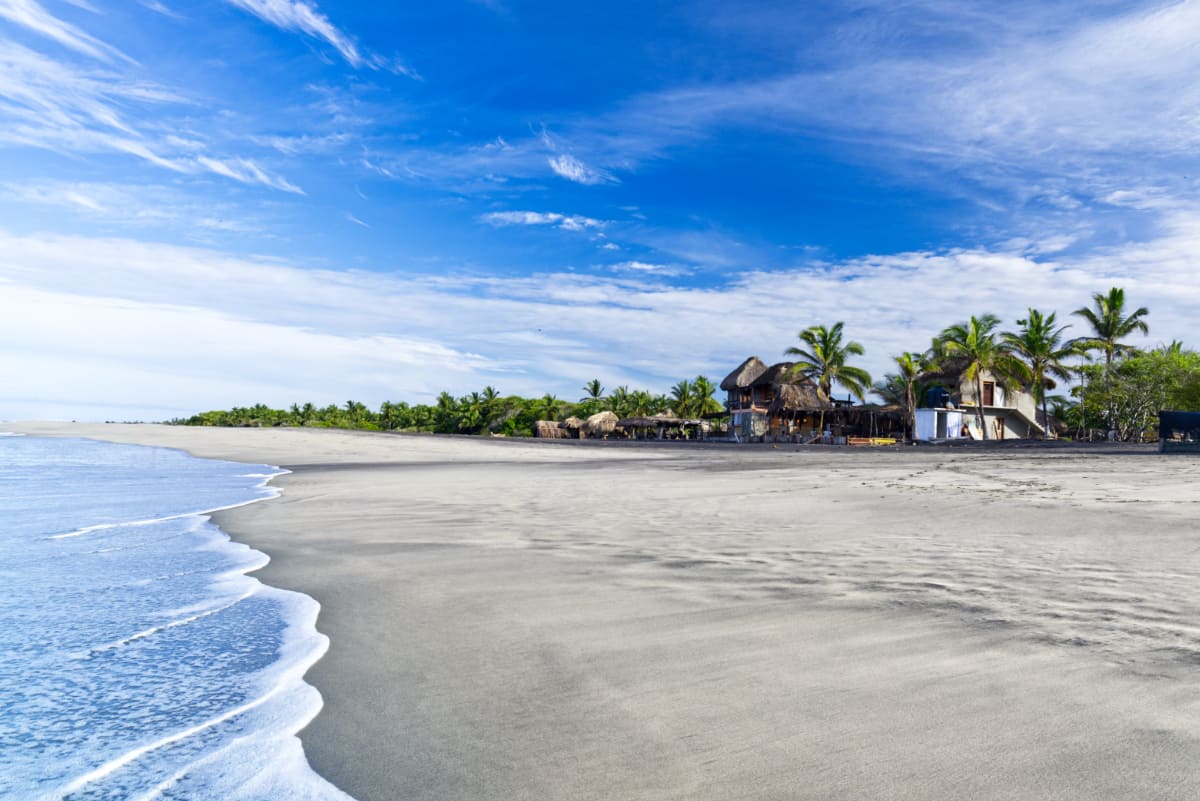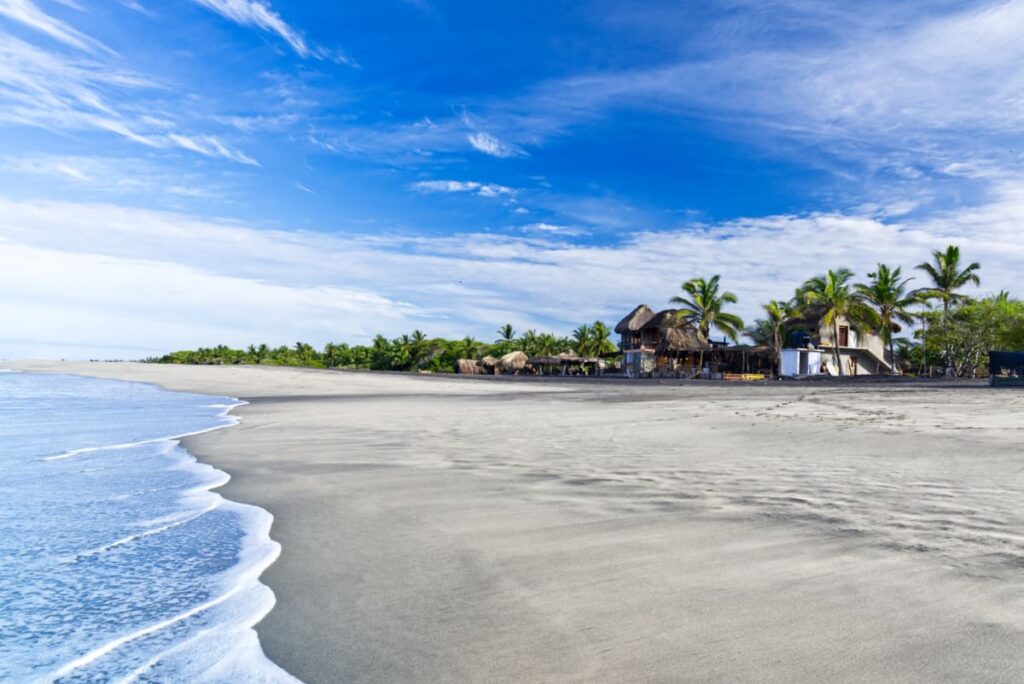 I really enjoyed speaking with the guide, whose parents started the mangrove restoration project. And I believe the organization's intentions are right. But something felt strange about seeing the animals in captivity.
After the tour, I walked down to the beach and passed a second cooperative that takes a different approach. If you generally feel as I do, you may consider taking a tour with this group instead.
I gathered from speaking with them that their tour is strictly a boat tour of the mangroves while seeing the animals in their natural habitat. Whatever tour you chose, I feel confident that you will be supporting the effort to restore the mangrove habitat.
Alternatively, you can book a private horseback riding tour on the deserted beaches of Ventanilla. The horseback ride ends where the estuary meets the ocean and from there take you on a short walk and boat ride through the mangroves.
7. Release Sea Turtles at Playa La Ventanilla
Residents in the small community of Playa La Ventanilla are also active in protecting the many sea turtles that lay their eggs on their pristine beach from June through December. In the evenings, you can help release baby sea turtles that are ready for their chance in the ocean. There is a small donation required, which supports their efforts to protect these fragile species.
Did you know it's estimated that only 1 in 1,000 sea turtles make it to adulthood?
8. Take a Day Trip to Another Nearby Beach Community
There are a few towns east of Mazunte that are worth exploring. Each has its own vibe. The closest to Mazunte is San Agustinillo – the smallest and most tranquil community along this stretch of beach. It's actually so close you could walk there in 15 minutes. Alternatively, you can take a colectivo pickup truck for 10 pesos.
If you're a family or couple looking for an even more relaxed beach stay, you may want to consider staying in San Agustinillo for a night or two. My top picks are the oceanfront rooms at Casa Corazon or the more upscale beachfront cabins at Un Sueño Cabañas del Pacífico.
The waves in San Agustinillo tend to be more gentle and with less current. However, I still recommend watching where others are swimming and being mindful of the rocks in the water.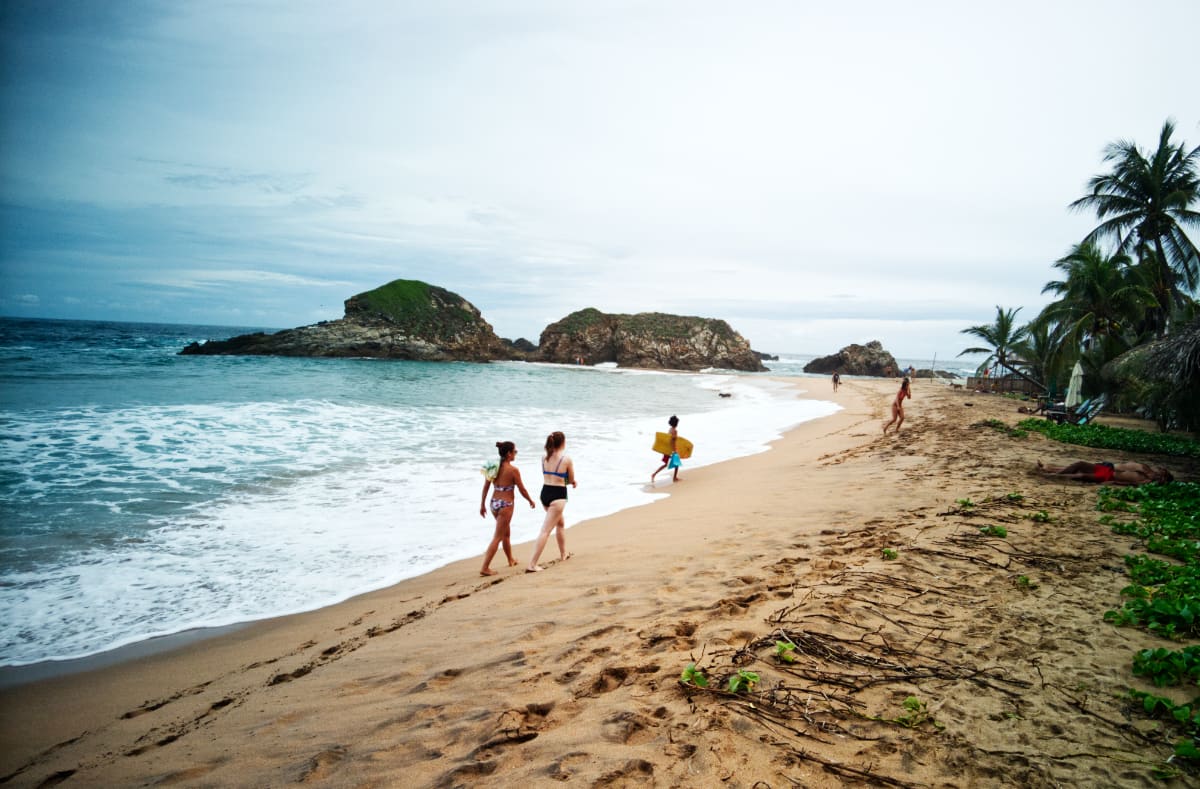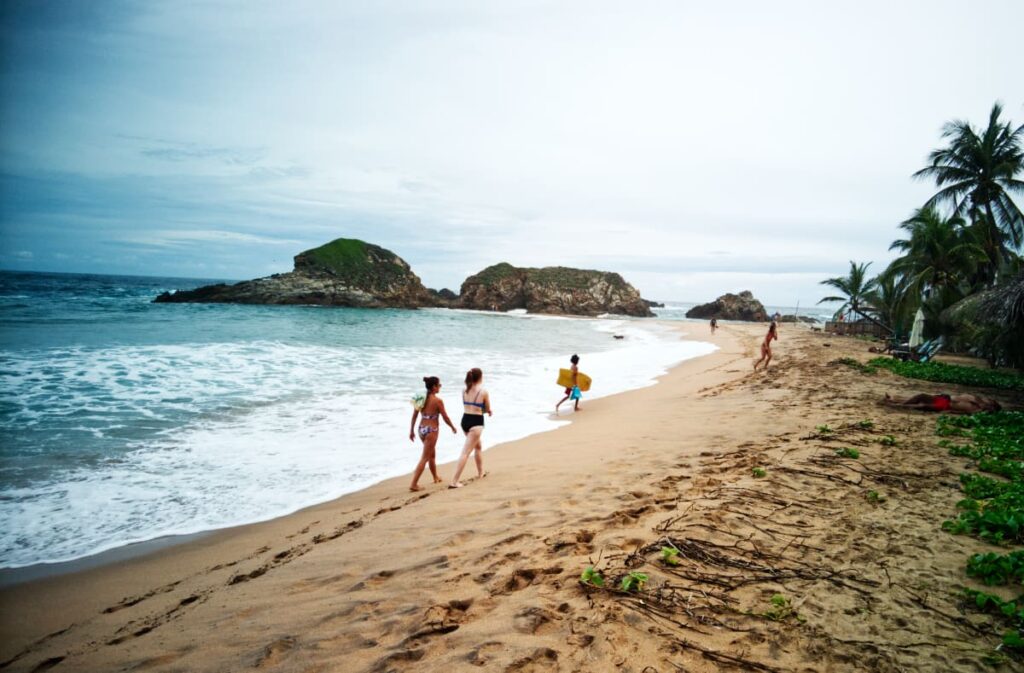 The next stop is Zipolite which is famous for its optional nude beach. While it's only slightly bigger than Mazunte, I found it to be a less relaxing scene. To get there, the same colectivo pickups go to the edge of Zipolite, dropping you off here. From there it's a 5-10 minute walk to the center. Alternatively, you can take a taxi.
Further east along the coast is the small fishing village of Puerto Angel. There's a large bay in the center of town with a small beach, but it's also where boats seem to dock. Instead, venture a bit further to Playa Estacahuite for side-by-side bays of tranquil blue water that are perfect for snorkeling and calm swimming. There are colectivo taxis that travel between Zipolite and Puerto Angel. Or if you're a group, a regular taxi will likely cost about the same.
Where to Eat in Mazunte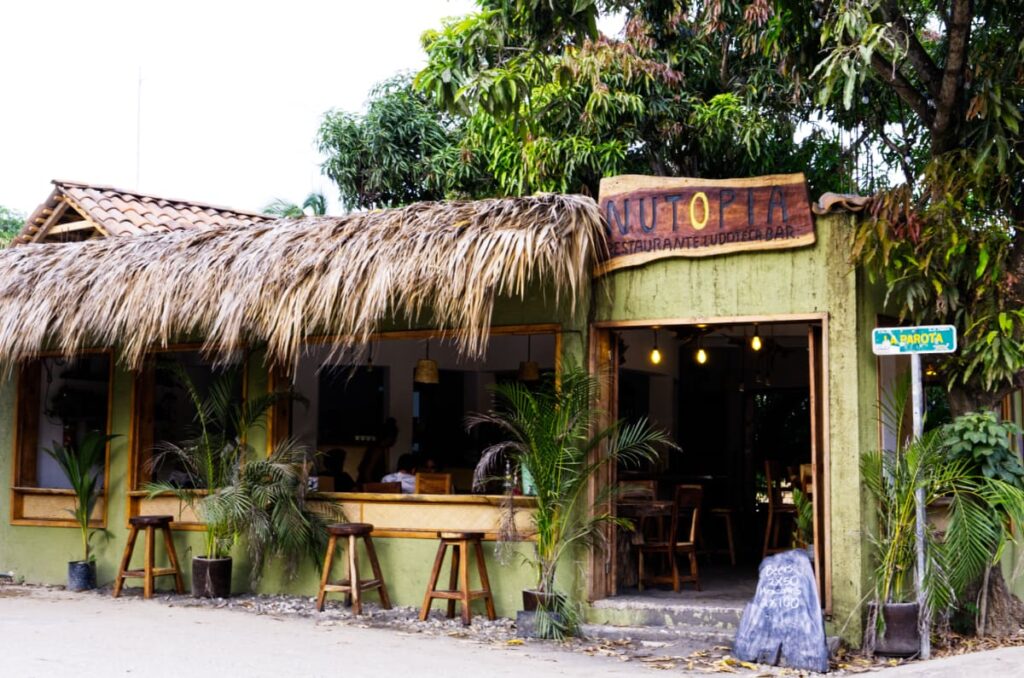 For the size of the town, I was pleasantly surprised by the variety of Mazunte restaurants. There are a lot of options for healthy food, vegetarian options, and of course seafood. However, as to be expected on the beach, prices weren't exactly inexpensive.
On the first night, I thoroughly enjoyed Tribu for its seafood and vegetarian tacos. The make your own poke bowls at Nutopia were also delightful. And Doba has one of the most innovative menus in Mazunte whether you're vegetarian, vegan, or simply health focused.
How to Get to Mazunte
Like most of Mexico, public transportation is relatively easy to navigate and very frequent. My preferred way to travel to Mazunte from Oaxaca is by bus via San Jose del Pacifico and later Pochutla. Alternatively, you can fly from Mexico City or Oaxaca City to the nearby towns of Huatulco or Puerto Escondido.
From Oaxaca to Mazunte – Bus
To get from Oaxaca to Mazunte by bus, there are regular passenger vans that run from Oaxaca City to Pochutla and takes about six hours. Keep in mind, the vans tend to take the hairpin turns faster than your stomach may like. I found the road near the coast to be curvier, but it wasn't as bad as I feared. And there are pretty waterfalls and views along the way. If you tend to get motion sickness, you may want to be aware.
From Potchulta you will want to take a pasajero (covered pickup truck colectivo) to Mazunte from the corner in front of Hotel Alebrijes (look for the bright yellow Elektra building nearby). The pasajero will take you directly to Mazunte after a short stop to pick up others at San Antonio. Mazunte is small but the pasajero will continue to San Agustinillo, so when you're ready to get off, ring the bell.
Flight From Oaxaca City to Mazunte
At first search, it seems that the only way to fly from Oaxaca City to Mazunte is to connect in Mexico City. However, there is a small airline, Aerotucán, that flys direct from Oaxaca City to Puerto Escondido and Huatulco. From there it will take about an hour and a half to get to Mazunte using public transport. See below for how to take public transport from either to Mazunte.
Puerto Escondido to Mazunte
At the ADO/OCC bus station in Puerto Escondido, take a bus going towards Pochutla. When you purchase the ticket, let them know you want a ticket to San Antonio. It's always a good idea to let the bus driver know where you are getting off as well, but especially this time. The 'bus stop' (map) is in front of an Oxxo located on the highway where it meets the road to go to Mazunte.
After you get off, you'll need to wait for a pasajero coming from Pochutla (the other direction) and catch it to Mazunte for 10 pesos. A pasajero is a covered pickup truck where you'll likely throw yourself and your luggage into the back and sit on one of the benches. When you're ready to get off, ring the bell. Keep in mind, the pasajeros from Potchutla to Mazunte have a blue roof.
Huatulco to Mazunte
To travel from Huatulco to Mazunte, via public transport, you'll first need to take a van to Pochutla. They leave regularly from this location in Huatulco. From there, walk towards the bright yellow Elektra building. The pasajeros from Pochutla to Mazunte will pass by the corner in front of Hotel Alebrijes. The cost of the pasajero is about 20 pesos.
The pasajero will make a short stop at San Antonio to pick up and drop others off. You don't need to change transport again. After the stop, they will turn left towards the coast. The pasajeros will continue past Mazunte to Zipolite, so when you're ready to get off in Mazunte, ring the bell.
Questions About Mazunte, Mexico
Is Mazunte, Mexico safe?
Mazunte, Mexico is generally very safe. The town only consists of a few streets that lead from the mountains to the ocean. Like anywhere you travel, you should exercise general caution and common sense.
Is Mazunte worth visiting?
Absolutely. Mazunte is especially worth visiting if you like the serenity of a small beach town with a vibrant community, wellness retreats, and healthy restaurants.
What is Mazunte, Oaxaca known for?
Mazunte is known for the variety of turtles that lay their eggs on the beaches. You can have the experience of releasing newly born turtles while supporting the conservation effort at the same time.
Can you swim in Mazunte?
Yes, but you should exercise caution. While you can swim in Mazunte, keep in mind the current and waves are often strong. Look for areas that other people are swimming and watch the ocean for a while before you swim.
Can you surf in Mazunte?
Yes. Many people surf in Mazunte and other nearby beaches. You should be an experienced surfer and follow the other local surfers for the best areas that are free of rocks.
How do you get to Mazunte, Mexico?
To get to Mazunte, Mexico you can take a passenger van from Oaxaca City to the town of Pochutla and then a pasajero to Mazunte. Or you can fly to Puerto Escondido or Huatulco from both Mexico City and Oaxaca City. From there you will need to take two short public transport vans to Mazunte.
How far is Mazunte from Oaxaca?
The drive to Mazunte from Oaxaca is about seven hours. Alternatively, there are short flights from Oaxaca City to Mazunte as well.