35 Best Restaurants in Oaxaca, Mexico (2023)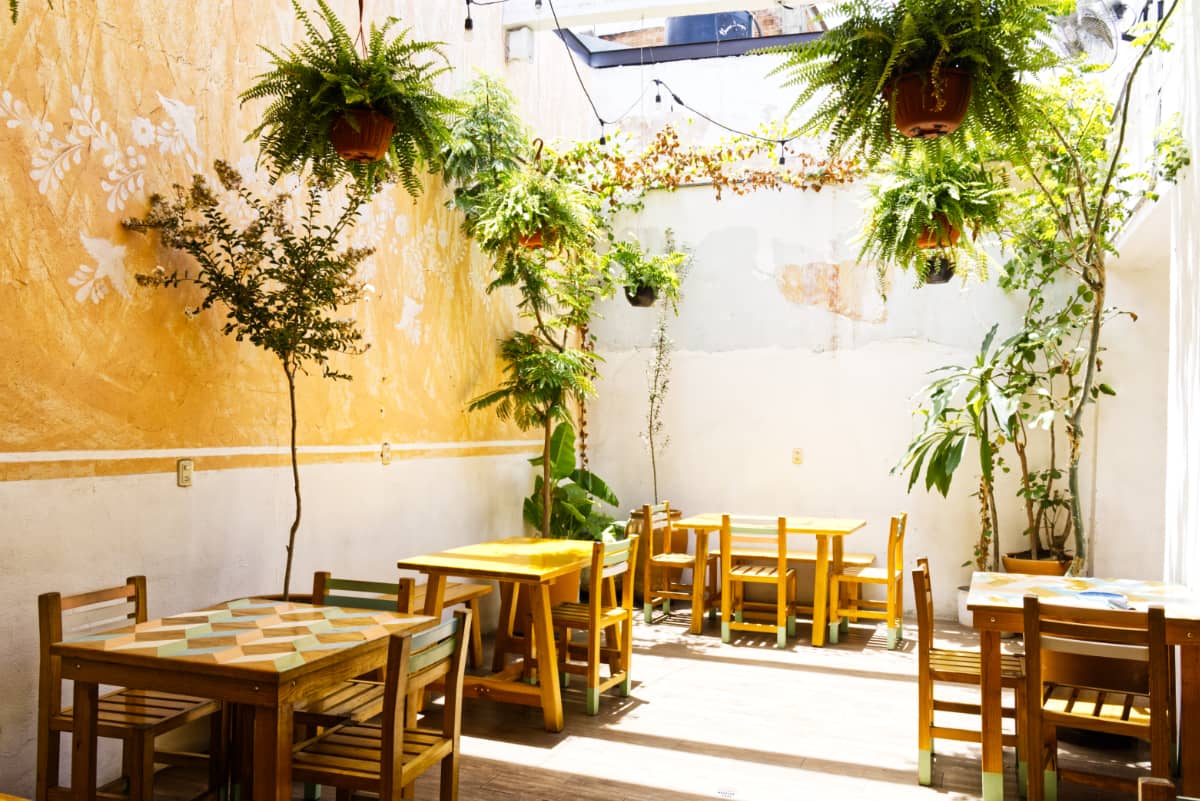 Oaxaca has long been celebrated for its rich culture. And one place that is best expressed is in its food. The best restaurants in Oaxaca have discovered a way to bring exquisite modernity to the traditional food of the region.
That's not to say this list is simply one of modern, high-end Oaxaca restaurants. Instead, this is a list that spans a range of the best places to eat in Oaxaca.
It's also not definitive, but rather a guide to where I found the best food in Oaxaca. In fact, I often skipped the most popular, touristic places that are recommended elsewhere.
I've divided this list of restaurants in Oaxaca into sections, but that's not to say they don't overlap. Many fine dining restaurants in Oaxaca serve traditional food, for instance.
And you'll find vegetarian options at nearly all of the restaurants, though I've highlighted when vegetarian options are prevalent. Let's look at where to eat in Oaxaca.
Traditional Oaxaca Restaurants
These Oaxaca restaurants serve some of the best traditional food, typically at affordable prices. The result is simple and rustic.
Tizne
This restaurant and cafe is part of a group of businesses located on the main walking street. The covered courtyard is full of greenery. Tables line the perimeter with half walls that serve a dual purpose as privacy and gallery space for a variety of graphic art pieces.
The art continues at the accompanying businesses. Most prominent is the gallery space of Jacobo y Ángela who are well-known for their alebrije workshop in San Martin Tilcajete. There is also jewelry and pottery in the other surrounding businesses.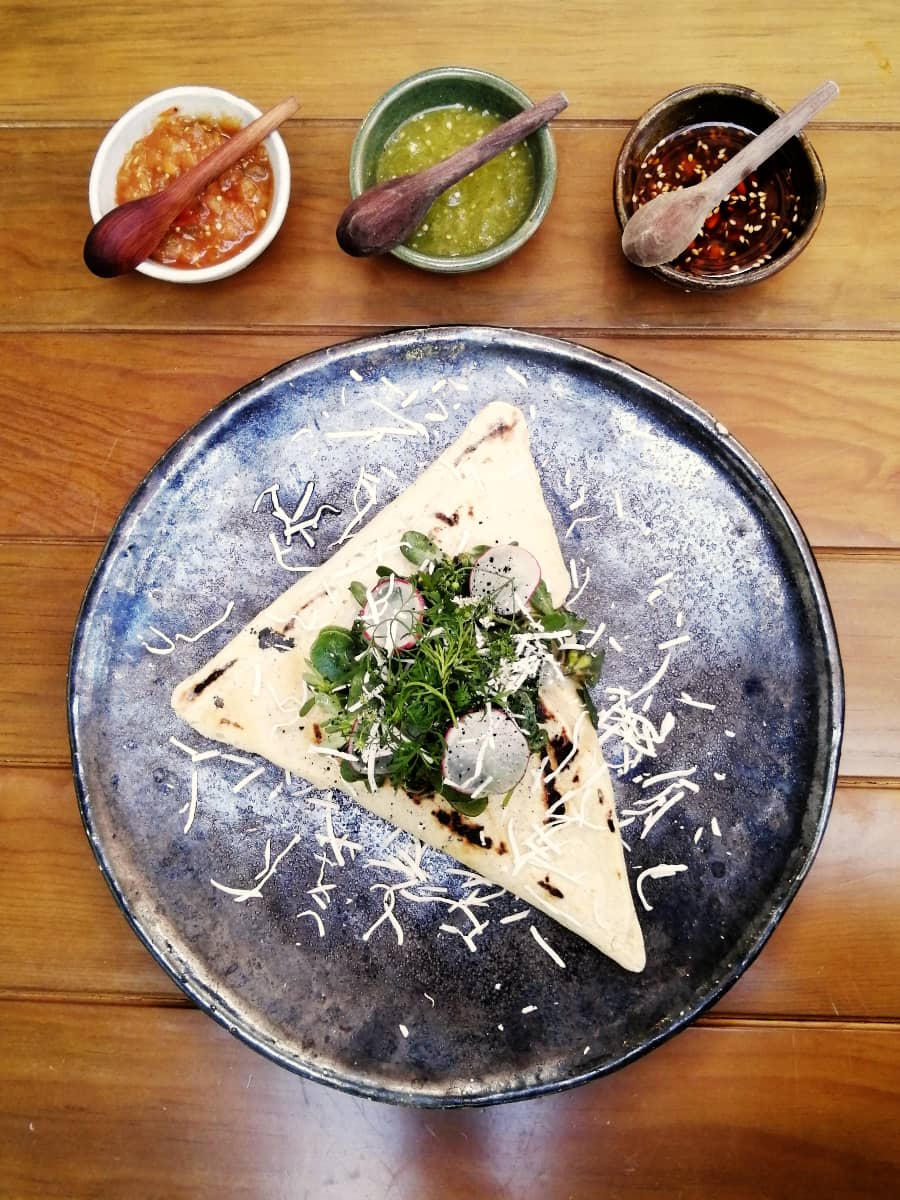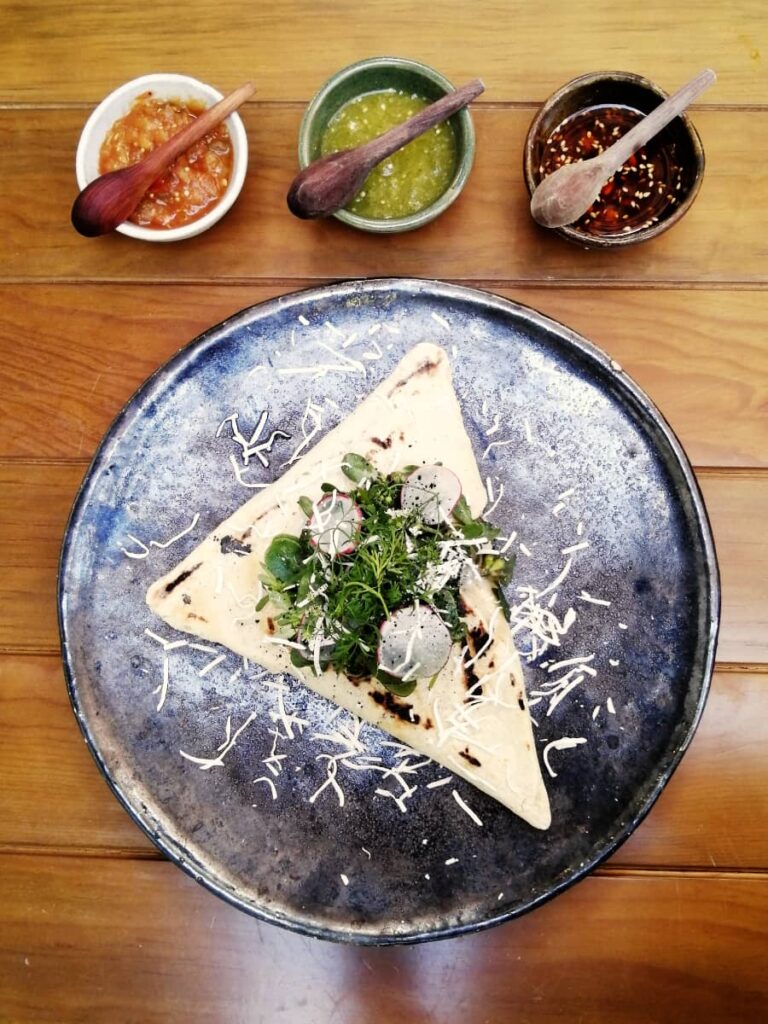 Instead of a menu del dia, they offer a "menu of the month" for 180 pesos. It is definitely in the higher price range but looks more interesting than is typical. It's also available to order for dinner. Other menu items include a few breakfast items such as savory French toast, classic Oaxacan snacks (think memelas, quesadillas, and tetelas), as well as dinner appetizers, entrees, and cocktails.
I ordered the tetela, which from my experience is a super soft corn dough in the shape of a triangle. This version was one large tetela layered inside with Hoja Santa leaves, cheese, and pureed black beans. It lived up to my previous experience of tetelas being soft, yet rustic. The pleasant surprise was the thick greens of purslane, delicate cilantro criollo, and thinly sliced radishes on top. The hearty texture of the purslane was an incredible pairing with the softness of the tetela.
Coquina Hua Xha
As I walked past the open doors, the aromas emanating from this small restaurant convinced me to eat here. Sarita and Antonio, the husband and wife team behind Coquina Hua Xha, are a delight to watch in the restaurant.
Antonio greets and serves the customers while Sarita works her magic in the open-style kitchen. She periodically selects herbs from a large clay plate to add to the various pots that are cooking on the stove.
After taking my order, Antonio walks into the kitchen and she holds up a spoonful of sauce that's been simmering long before I arrived. He tastes it and gives her an approving nod before they both go back to work.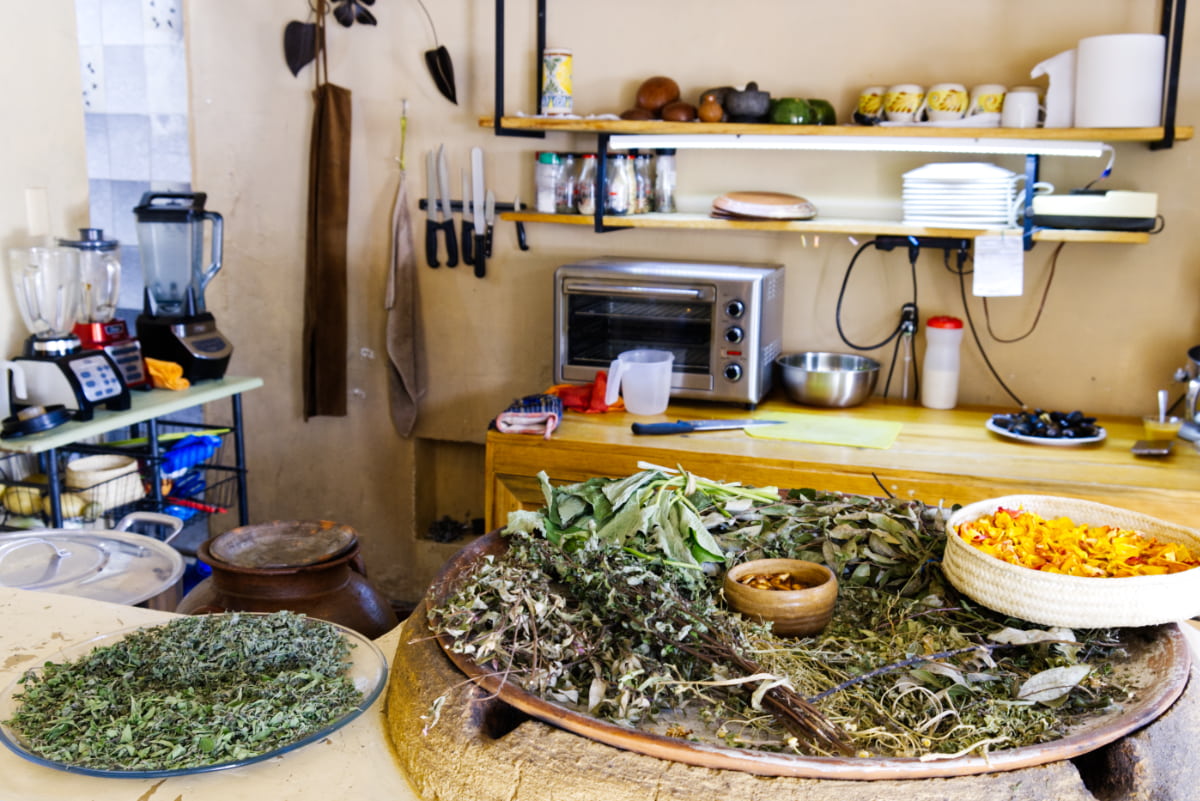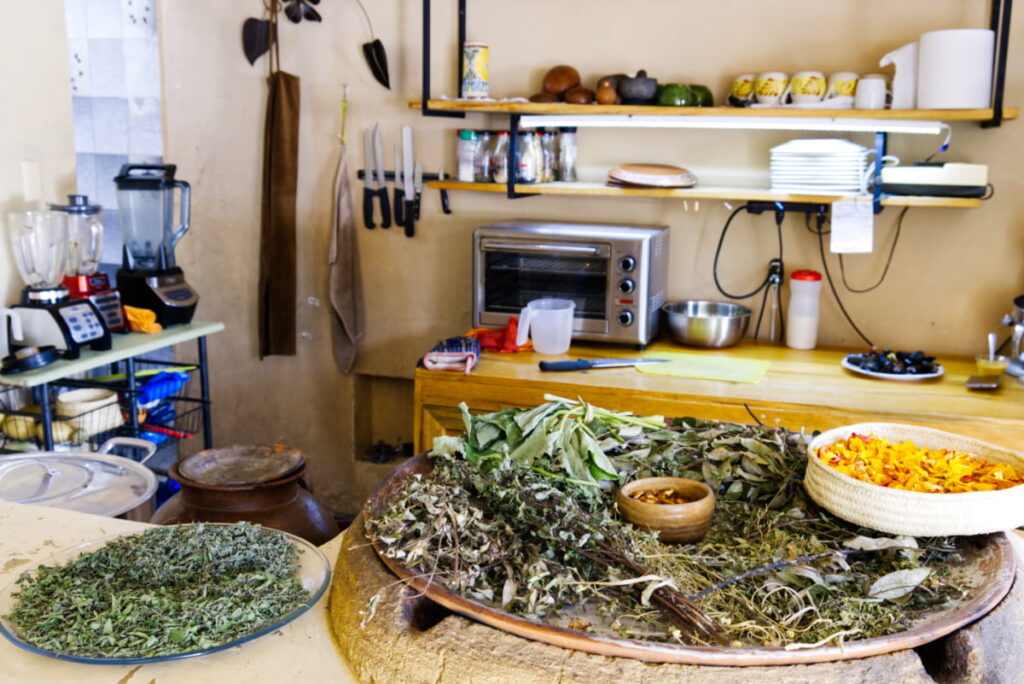 The cozy space feels like sitting at your friend's house for lunch or dinner. Even the way Sarita moves about the kitchen is similar to a home chef. And when she opens the stainless double door fridge, the well-organized shelves come into view. They are full of fresh ingredients and containers of what I can only imagine are incredibly flavorful sauces and stews.
The dish of mole amarillo that I ordered had an incredible depth of flavor. The mole was the consistency of soup, which proved to be a delightful combination with the fluffy, perfectly cooked rice. It was full of vegetables – potatoes, carrots, and squash and topped with a leg and thigh of chicken. I highly recommend checking out the homemade flavors coming out of this kitchen.
Comedor Istmeño Casa Juchitán
You'll know you've arrived at this local Oaxaca restaurant when you see the vibrant traditional clothes hanging at the entrance. It's one of several clues of the homemade cuisine created inside. Located on the enclosed front patio of a house in Centro, the open kitchen is run by two women who I assume are mother and daughter.
I wasn't offered a visual menu, but rather a verbal offering of a few items from the Istmo region of Oaxaca. I decided on ganaches which are crispy corn discs. They are topped with finely shredded beef, salty cheese, and served with shredded cabbage and carrots. On the table was a basic but tasty salsa roja.
I later noticed others with more complete meals which didn't seem to be on my verbal menu. So I'm not sure what happened there, but the ganaches are a traditional Oaxacan dish I have been wanting to try. You should definitely visit this Oaxacan restaurant for a taste of the Istmo.
Almú
As you walk into this space, your attention is immediately drawn to the open kitchen. Large heavy pots simmer over the fire while a woman cooks fresh tortillas on the large comal. In the dining area, thick wooden tables are surrounded by plants before transitioning to the small greenhouse area.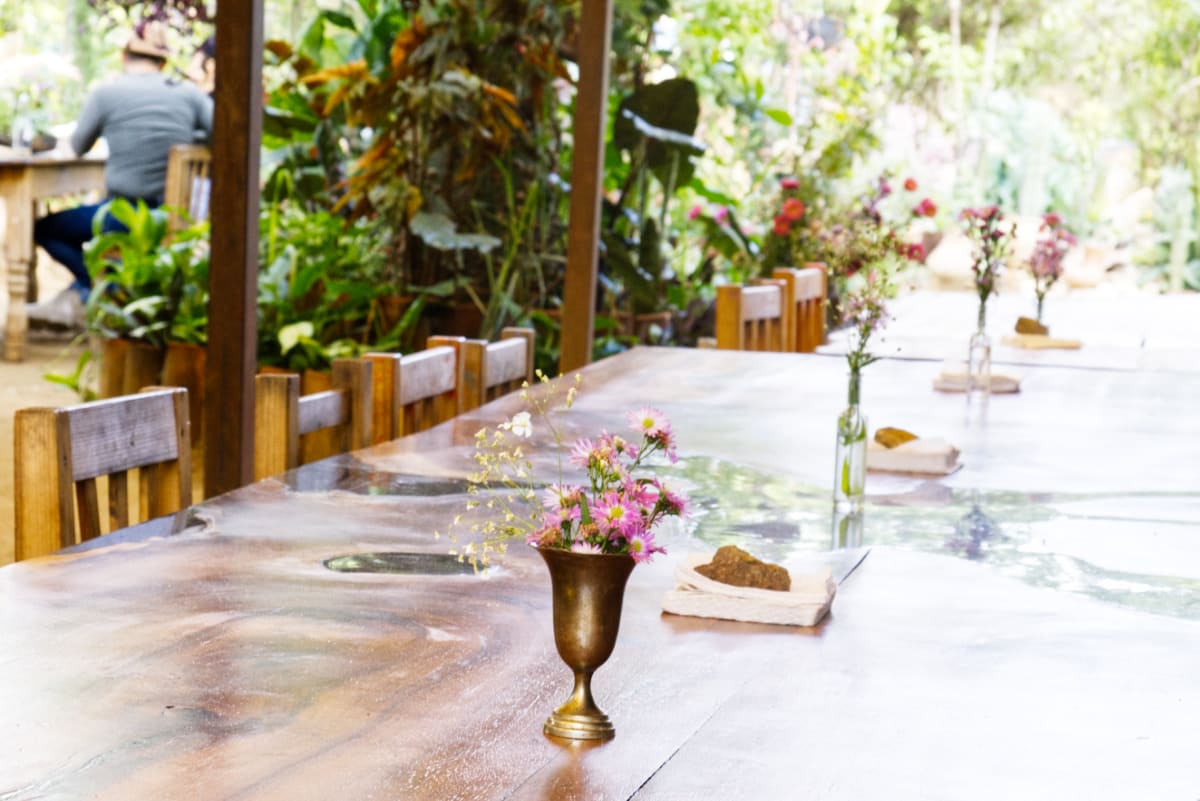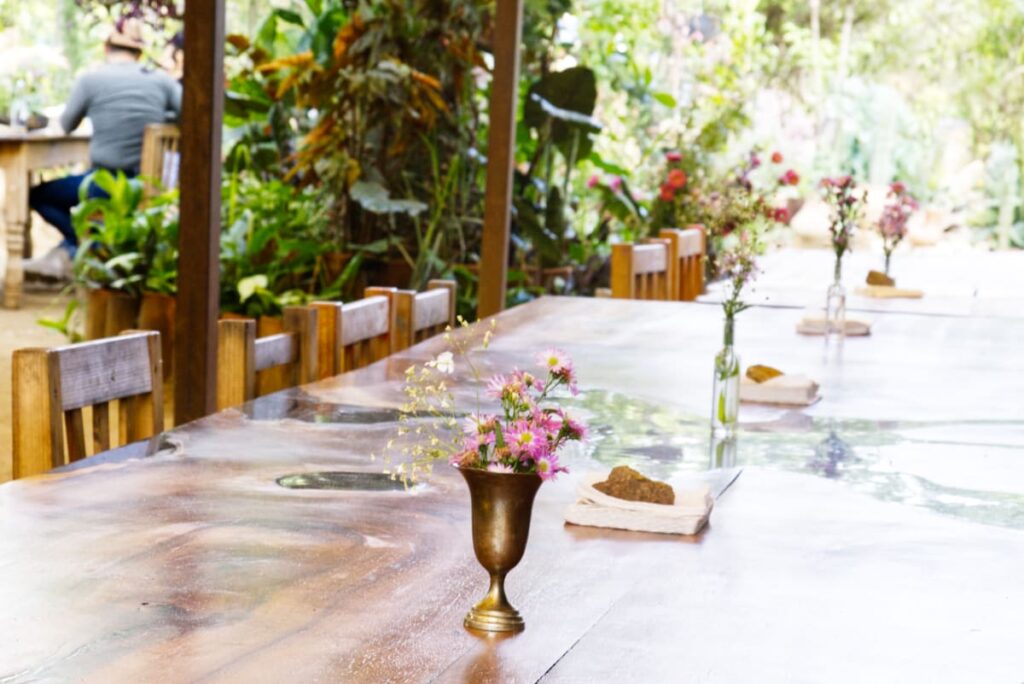 The menu is traditionally Oaxacan and reasonably priced for a dining experience that I would describe as elevated rustic. Afterward, make time to explore the surrounding grounds of the reforestation project. This impressive undertaking was started by Jacobo and Maria Angeles who operate one of the most well-known alebrije workshops in San Martin.
This is one of the few Oaxaca restaurants on this list located outside of centro. If you're visiting San Martin Tilcajete as one of my highlighted day trips from Oaxaca, I highly recommend stopping here for lunch or an early dinner.
Best Restaurants in Oaxaca | High End
I've broken this section off from the traditional restaurants in Oaxaca to separate those at a higher price point. The food is often traditional and creative. The result is some of my favorite places to eat in Oaxaca.
Ancestral Cocina Traditional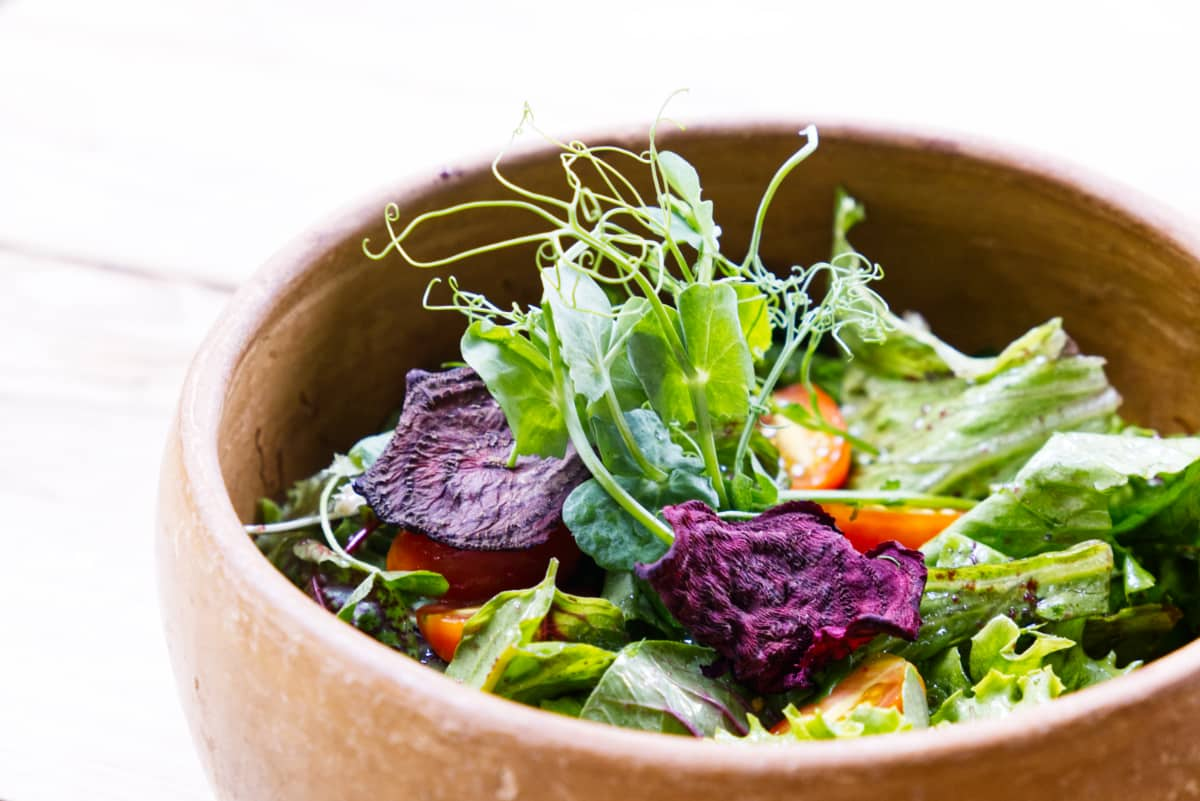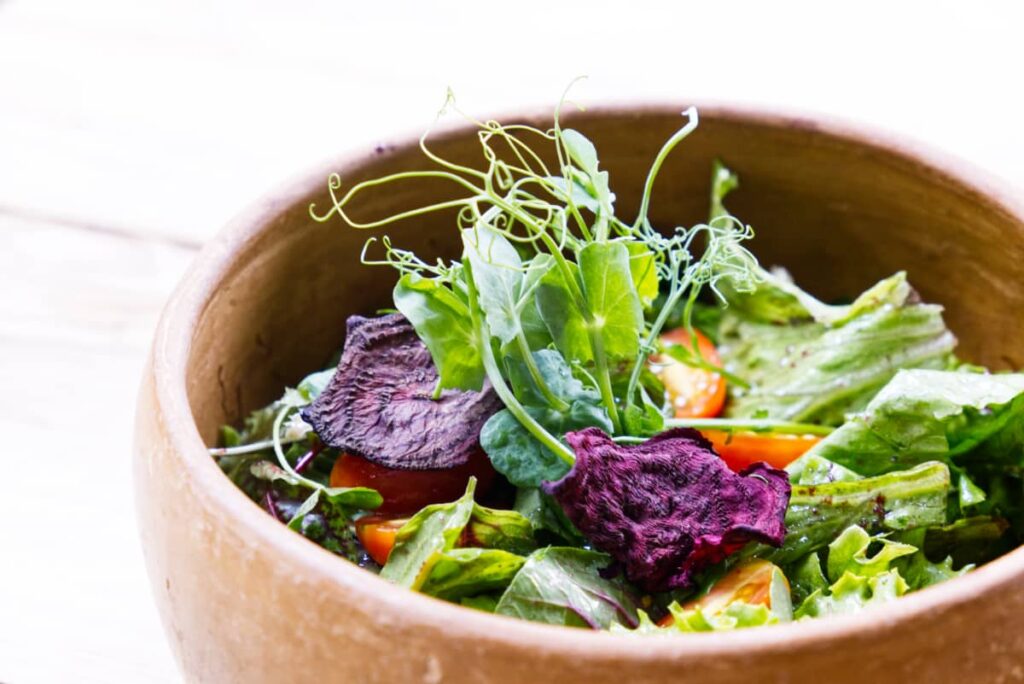 Built alongside the old aqueducts in the neighborhood of Xochimilco, this Oaxaca restaurant feels like walking into the patio of a Oaxacan country home. The floor is paved in bricks that frequently pause to make room for the various trees and tropical foliage planted throughout.
To start I was served an amuse-bouche of thin crispy tortillas alongside a firm cheese laced with jalapenos.
The menu at Ancestral is so inspiring that it's difficult to decide what to order. Since I wanted to try different things, I decided on several appetizers. The highlight was the aguachile de tasajo. The presentation in and of itself was over the top. And the herbaceous flavor did not disappoint.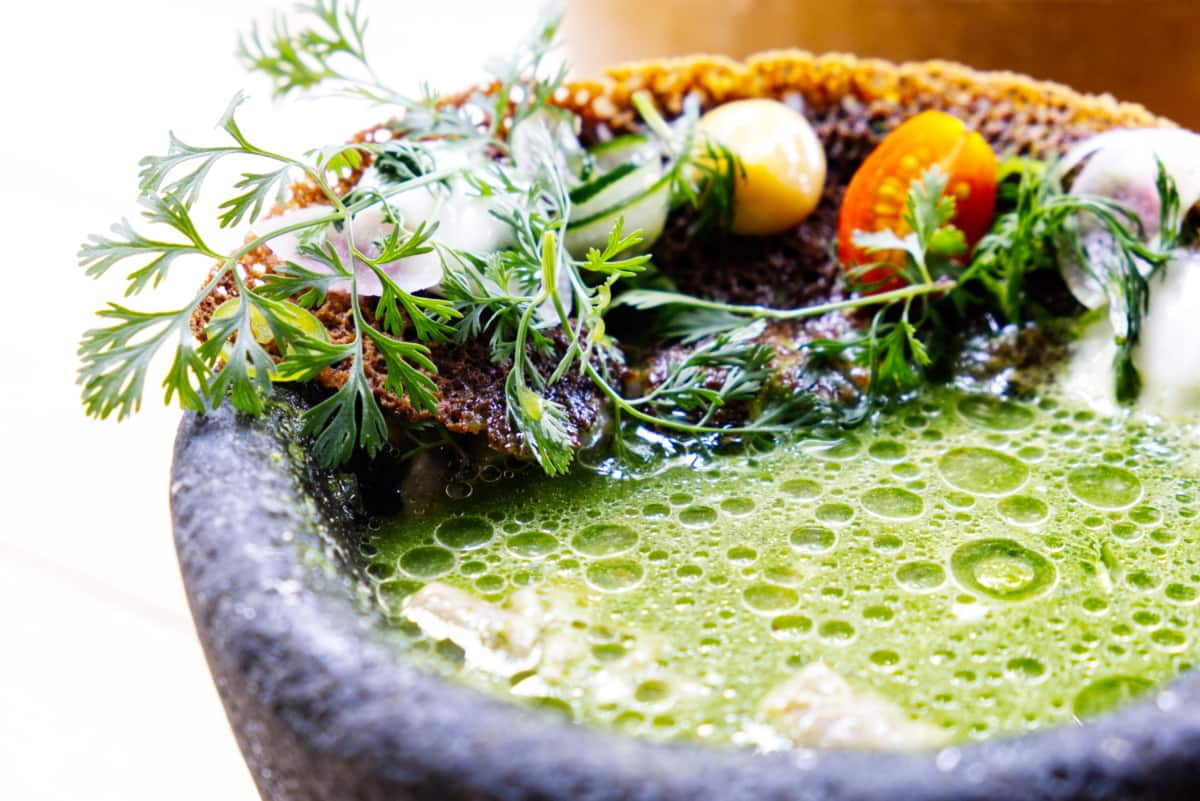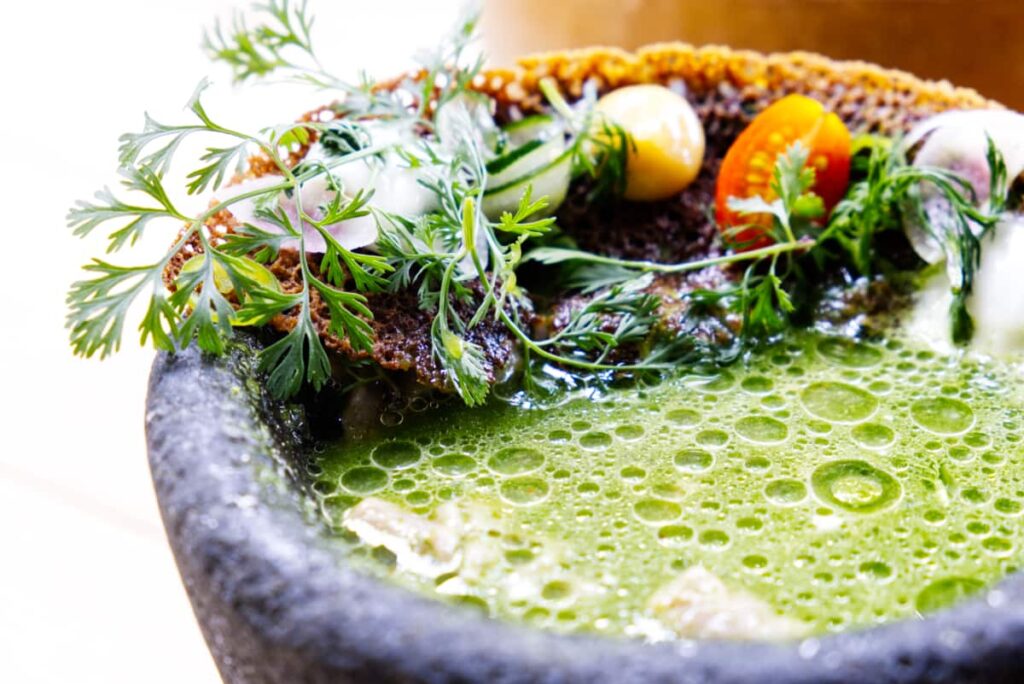 It's served in a molcajete topped with a very thin toasted maize top that slightly resembles a tortilla. The top is garnished with chipotle mayonnaise, tightly rolled cucumber slices, and long fronds of cilantro. The server recommended I use a utensil to break it open and reveal the thin slices of tasajo enveloped in a bright green citrusy liquid underneath.
At the neighboring table, I witnessed the table service of the fish of the day. The server used a spoon to scoop out the marrow of the large roasted bone served on the side. It made me wish I was dining with more people so that we could share more of the creative dishes at Ancestral.
Levadura de Olla
Levadura de Olla is a self-described Oaxacan project that showcases the ceremonial cuisine of the indigenous pueblos. The ingredients for their dishes come from the same towns in which the dishes originate.
This is another restaurant whose incredibly interesting menu beckons you to order an array of plates to share with your table.
The menu revives traditional dishes of Oaxaca, some of which might otherwise be forgotten. It is divided into sections, including ceremonial dishes, ancestral dishes, and creative dishes.
The charming patio at Levadura de Olla is one of my favorite places to eat in Oaxaca. The romantic atmosphere is perfect for a date night. For breakfast, there is indoor seating and an opportunity to sit in front of the open kitchen.
In a city with such amazing food, I struggle to name the best restaurant in Oaxaca, but this one is certainly at the top.
Los Danzantes
I initially avoided Los Danzantes, which is located in the heart of the city near Santo Domingo Church. I wrote it off as one of a handful of touristy Oaxaca restaurants and decided to seek out more rustic, local options.
But after about the fifth person raved to me about the food, I decided I needed to check it out myself.
The food is delicious, the cocktails are well balanced, and the atmosphere is soothing.
I arrived with a couple of girlfriends for a late lunch and cocktails. We didn't realize the menu on Mondays is mostly vegetarian with the only meat presented as a few seafood options.
The menu uses classic Oaxacan ingredients in a modern way. Every plate is beautifully presented. The servers are top-notch. And the lofty covered patio is incredibly inviting for an elevated meal in Oaxaca.
Crudo | Omakase in Oaxaca
The omakase tasting menu at Crudo shows off Oaxacan ingredients while seamlessly blending them with Japanese flavors and techniques. With seating for up to six guests at the bar, this is an intimate dining experience.
As I watch chef Ricardo Arellano slice pieces of fresh fish and toast sheets of seaweed in front of my eyes, my mind begins to wander and imagine the next course.
He hands my dining companion a taco of seabass wrapped in nori and topped with avocado and purslane. She takes a bite and exclaims, "That's what I want my mouth to taste like forever!" And that's pretty much how the entire night continued.
To dine at Crudo, you'll need to make reservations. It's best to send the chef a message on Instagram.
Creative Restaurants in Oaxaca
Boulenc
You'll almost certainly need to wait 15 minutes or more for a table at this popular restaurant and bakery. But it's so totally worth it! The courtyard setting is dreamy. Sunlight filters through and lands on the yellow plastered walls that are peeling just enough to expose the turquoise paint underneath.
The specialty at Boulenc is "masa madre," or sourdough, which is also used for their pizzas (available after 2 pm). And I was delighted to find a list of fermented beverages including kombucha, kefir, and beet kvass. The limonada with kvass was beautifully presented, as the deep red kvass was layered on top of the pale yellow limonada.
Let's get to the important part – the food that everyone raves about. I love a banh mi sandwich and their vegetarian version may just be the best I've ever had. I've come to realize a sandwich can only be as good as the bread in which it's layered between. That's not to say that the other ingredients don't matter. They do. They do very much.
As I bit into this beauty of a sandwich, the crispy outside of the baguette gave way to the crunchy house-pickled carrots, cucumbers, and sauteed mushrooms layered inside. Then my tongue was hit with the flavor of roasted serrano chilis, and later cooled by creamy avocado. To top it off, it's served with a side of fresh sauerkraut with arugula.
As far as the rest of the menu, it's large and varied. They serve breakfast until 1 pm which includes a spicy Shakshuka that I'm sure is amazing. There are also other sandwiches, tostadas, salads, and pizza. Be sure to step inside their bakery next door before you leave.
Casa Armadillo Negro
This is one of my favorite restaurants in Jalatlaco for dinner and a cocktail, both of which are delicious. I struggle to categorize Casa Armadillo Negro as the menu lacks a theme. But in some ways, I see that as an advantage.
There are a few vegetarian dishes. Tlyaudas are available with roasted vegetables or meat. The mushroom tacos are piled high with sauteed mushrooms and caramelized onions. And mushrooms are seen again in the hamburguesa (for which there is also a meat version).
From my experience, the dishes in general are loaded with veggies. And the menu options expand considerably for pescatarians to include ceviche, sopes de tinga pescado, and Baja style fish or shrimp tacos.
The shrimp pad thai was one of the better pad thai dishes I've had in Latin America. While not entirely traditional in both flavor and ingredients, the mushrooms, squash, and other veggies were a nice addition. In fact, it was hearty enough for vegetarians to consider ordering it with more vegetables to substitute the shrimp.
I also love the open courtyard and artsy, modern decor that has become synonymous with Jalatlaco.
Onno Loncheria
This intimate cafe feels spacious with touches of modern industrial design. In addition to typical coffee drinks, they also have a rich iced coffee with cacao. The menu consists of non-Mexican breakfast items, sandwiches, and salads.
I ordered the sauteed mushroom sandwich with goat cheese and arugula. The crispy baguette was the perfect vehicle for the thinly sliced, flavorful mushrooms. It comes with a side of crispy potato chips, or you can request a side salad for just a few pesos more.
The other dishes I saw coming out of the kitchen looked just as decadent. Additional sandwiches include a pulled pork sandwich served on brioche, a BLT with avocado, and chicken with tzatziki. The breakfast items range from french toast to fruit and yogurt. Before ordering, I was already making plans to return for one of their kale salads, one of which takes the form of a chicken caesar.
El Quinque
When you walk into El Quinque, their house specialty is on full display in the form of a giant monochromatic mural of a hamburger cooking over flames and surrounded by the hills of what I presume is Oaxaca. I've repeatedly heard this is the best burger in Oaxaca, but their burgers are not only of the meat variety.
I ordered a delicious portobello burger. It was piled high with grilled zucchini, sugar snap peas, roasted red peppers, and stewed tomatoes. On the side was the perfect amount of French fries, house-made pickles (yum!), lettuce, tomato onion, and avocado. I couldn't even attempt to pick up this monster of a burger.
The server proudly announced that all of their salsas are also made in-house. According to the reviews, the salsas are fabulous with their appetizer of fried cheese balls. The minimal decor is rounded out with more eclectic art on the walls of this funky restaurant in Oaxaca. And bonus, it's just a couple of blocks away from one of my favorite hostels in Oaxaca.
El Pochote Rayón Mercado Orgánico
This restaurant space consists of a shared patio with three different restaurants and tables tucked between. Between the three menus, there is a wide variety of options with some overlap. Most dishes lean towards healthy with options to include salad and vegetables.
The coconut shrimp were coated in large shreds of coconut, the sweetness of which paired beautifully with the spicy creamy avocado salsa on the table. I opted for sauteed veggies which were delicately julienned and served underneath. The side salad was impressive as well – a hearty mix of lettuces, carrots, mango, beet, and shaved jicama. I ate every bite!
La Rambla Antojeria
This seafood focused restaurant is part of a modern food hall with various cuisines. There are options for pizza, sushi, traditional food from the Istmo region, and more. As well, there are venues selling craft beer and mezcal.
I came here at the suggestion of a friend and it did not disappoint. While we waited for our food, I watched the chefs work in the kitchen and noticed acute attention to detail. For me, the star was the Tostada "La Brava."
It's a crispy tortilla piled high with shrimp that were lightly cooked, ceviche style, and accompanied by red onion, mango, cucumber, habanero, and topped with crunchy peanuts. My friend ordered the Baja-style shrimp tacos which were a solid choice. Large shrimp were breaded in beer tempura, fried, and served in flour tortillas with cabbage and salsa.
Best Vegan and Vegetarian Restaurants in Oaxaca
While Oaxacan food naturally lends itself to being vegetarian, the vegan and vegetarian restaurants in Oaxaca are beginning to blossom. You won't want to miss Restaurante Arugula (see menu del dia restaurants in Oaxaca) which also offers an array of vegetarian options.
Viridritas Cocina Vegana
This is the newest addition to Oaxaca's vegan scene. The menu at Viridritas Cocina Vegana has a definite but subtle Asian influence.
The menu del dia is incredibly affordable and includes a glass of chilled tea (or the typical agua fresca for a few pesos more). It's full of vegetables in various stewed forms and as usual, it starts with a bowl of soup.
But what's most intriguing about the menu is the vegan sushi. It can be ordered as a plate on its own or as a combo (with soup, dessert, and a cup of tea) similar to the menu del dia.
Viridritas is a welcome addition to Oaxaca restaurants.
Calabacitas Tiernas
At Calabacitas Tiernas, the menu leans heavily vegan and vegetarian with several Mexican-inspired dishes. I find their menu unique and varied (try the tacos dorados stuffed with hibiscus flowers stewed in guajillo chili).
In addition to the set menu, they prepare a menu del dia based on the available produce, most of which they source from local farms and gardens.
Vegetarians, vegans, and others will appreciate the creative use of vegetables without the heavy use of soy-based products.
The space includes an intriguing bookstore and a small health food store that also sells some bulk items.
READ NEXT – 25 Best Cafes in Oaxaca | Coffee and Wifi in the City
Best Menu del Dia in Oaxaca
Many countries in Latin America offer some version of a menu del dia. These three-course meals are typically only served for lunch, after 1 or 1:30. To start you'll have a choice of a first course (often soup or salad) and the main course. The final dessert course is often pre-determined.
It's a very economical way to eat, though not everyone appreciates the limited menu. But I find many Oaxaca restaurants offer a very varied menu del dia, sometimes with up to 10 options for the main dish.
Casa Taviche
If you're looking for a gourmet menu del dia, you should make plans for lunch at Casa Taviche. The three-course meal is on the higher end at 110 pesos, but its value is immediately evident in the flavor and beautiful platings. The inviting covered patio has a retractable roof and is dotted with green plants.
While you won't know the menu of the day ahead of time, they always seem to find a way to include a healthy amount of vegetables on each plate. During my visit, the first course of chileatole rojo – a soup of chile and corn masa – was topped with squash blossoms, radish, sprouts, and green onion tops.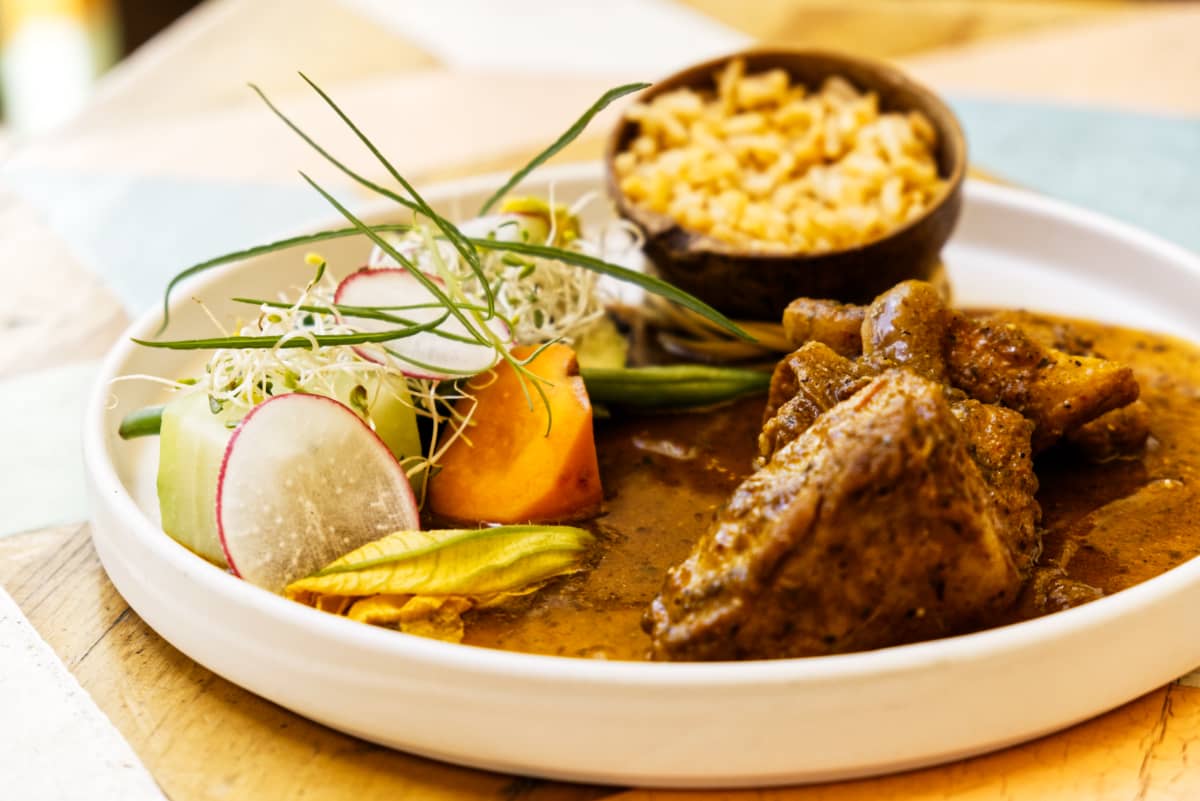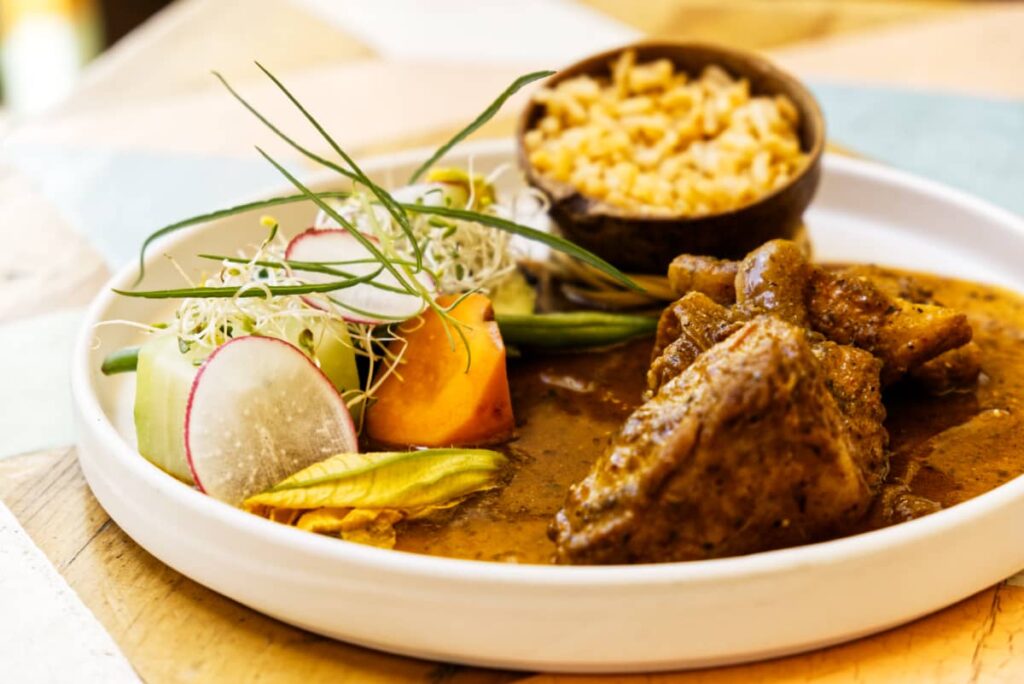 The second course of ribs was served with a side of perfectly cooked vegetables – thick cuts of carrot and chayote squash topped with sprouts and thin slices of radish. Dessert was heavenly for this non sweet lover – a light mango mousse sprinkled with caramelized sunflower, amaranth, and chia seeds. The perfect cap to a delicious meal.
The regular menu also changes by the day and typically mirrors the menu del día. It includes classics like tlayudas, tinga tostadas, and mole amarillo. And there's also the option to select more unusual ingredients such as portobello mushrooms on the tlayuda. The table next to me decided to share a few items from the regular menu and all I can say is wow, I was equally impressed. Casa Taviche is also open for dinner and the drink menu includes beer, mezcal, and wine.
Restaurante Arugula
Cousins Gabi and Diego, the chef and server respectively, are the perfect duo for this healthy restaurant in Oaxaca. Her kitchen creations are creative and nutritious. His service is friendly and attentive.
Like Santo Sabor, there are a lot of options on the menu del dia at Restaurante Arugula. And the options double when you include the five or six vegetarian plates.
The price depends on the entree you chose. Though they seem to be quite reasonable ranging from 80 to 110 pesos.
The first course is a choice of two soups. Diego is quick to point out that the creamy squash soup is lactose-free. It's served with a homemade crunchy breadstick that is full of seeds.
The other aspect I love about this menu del dia is the sides. Each entree comes with the three sides that are listed on the menu. From my experience, there is a salad, a carb, and a healthy vegetable. Diego will ask if you want all three. You can opt to only have (presumably more of) one or two of the sides instead.
I've been to this cocina traditional y orgánica twice and both times I noticed the same man enjoying lunch. I'd venture to say he's in there a few times per week, if not every day, because it's just that good.
Restaurante El Pipe
The motto at this restaurant is "cocina con gusto," which roughly translates to "kitchen with taste." And I would argue that is an accurate description.
In the mornings they serve fairly standard breakfast dishes. And beginning at 1 pm, they have a rotating menu del día that includes three main dish options – usually a choice of chicken, fish, and another meat. It's one of the more expensive menus, at 120 pesos, but the price is warranted by the flavors.
When I was told the first course was consomé de pollo, essentially chicken soup, I wasn't too excited. But as I lifted the first spoonful to my mouth, I saw it was full of vegetables. Their freshness was evident in the vibrant colors. And the broth was incredibly flavorful.
For the main dish, I chose Chiles en Nogada seeing as it was the last day of September – the month to eat this national dish, which I had yet to try in over three years of being in Mexico. Again the depth of flavors and the eloquent, creamy almond sauce blew me away. This is definitely an elevated menu del dia in Oaxaca, with a chef that clearly has a passion for good food.
Santo Sabor
Santo Sabor offers a breakfast buffet from 9 am to 1 pm for a very reasonable price of 70 pesos for adults and 50 pesos for children. Afterward, they switch over to a menu del dia which is posted on their Facebook page around the same time.
For 80 pesos, the menu offers a lot of options to choose from. The first course typically consists of your choice of soup, salad, or other small plates to start. The main course menu has five or six options, one of which is usually vegetarian. The menu also includes dessert and the flavored water of the day.
I chose the stuffed chile de agua which was full of flavor and shredded chicken. It was served on a small serving of pureed beans with rice and a small salad. The first course of pureed vegetable soup was quite satisfying. And even though I'm usually not big on dessert, the chocolate pudding was a perfect end to the meal.
La Casa de la Chef
This Oaxaca restaurant with a small outdoor courtyard is run by a husband and wife team. The menu del dia (1:30 pm and after) is one of the most affordable in the city. The options typically include one vegetarian option.
My lunch started with a really flavorful tomato soup. For the main course, I opted for the vegetarian hamburger which was a full portobello mushroom layered with grilled zucchini. It was served with a small salad with shredded carrots and beets, lightly dressed in creamy citrus.
Overall, I would say this is a solid affordable lunch in Oaxaca City. They have a devoted following for both breakfast and lunch. I look forward to trying this restaurant again.
Cheap Eats in Oaxaca
There are so many cheap eats in Oaxaca that this list only begins to dive into them. To keep it manageable, I limited this list to restaurants, preferring to save the best street food in Oaxaca for another post. Don't forget to include the awesome menu del dia option for an affordable meal as well.
Taquería Tacomer
At Taquería Tacomer, each evening starts with a fresh trompo (a vertical rotating spit) loaded with seasoned pork and topped with pineapple. Similar to prices you'd find at a street cart, this is one of the best values for tacos at a restaurant in Oaxaca (10-12 pesos). The menu also includes meat combination plates, quesadillas, and a hearty pozole.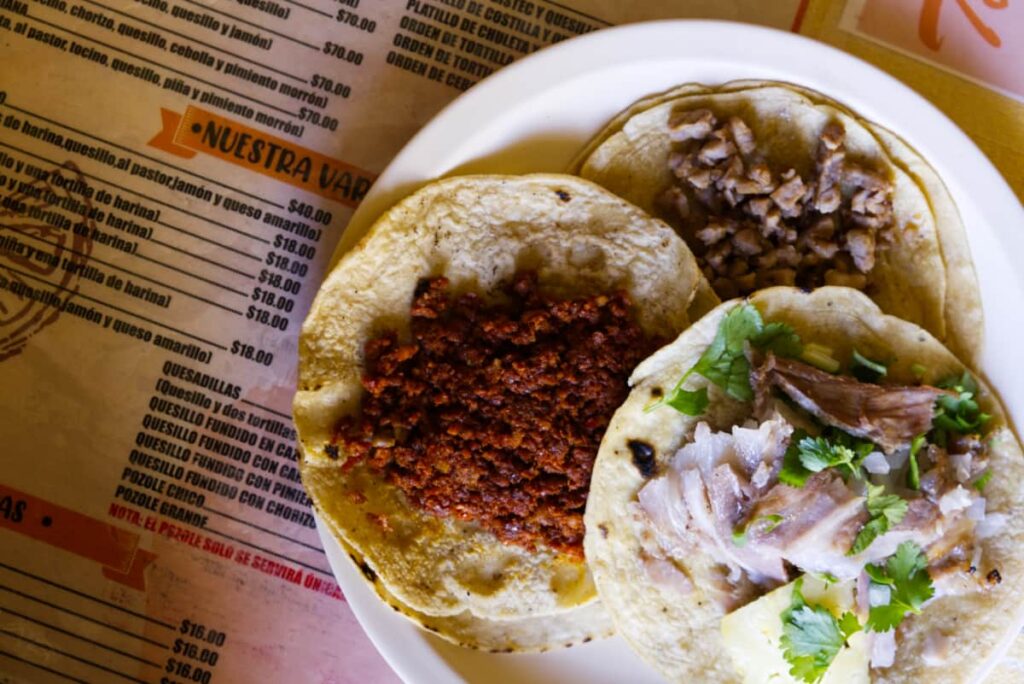 I ordered one taco each of chorizo, bistec, and pastor. By far the best was the pastor tacos which had beautifully marbled, flavorful pieces of pork inside. Their accompaniments are also delicious – three different salsas as well as a bowl of tomatoes, onions, and jalapenos, and another made of pickled onions with habanero.
This is one of my favorite places to eat tacos in Oaxaca.
El Apetito Buffet
There are a few breakfast and lunch buffets in Oaxaca. My first experience was the one located across from Iguana, one of my favorite hostels. Note, there are two in this location and I'm told the one on the left is better.
I appreciated the ability to get a plate of as many vegetables as I wanted, a little of the meat dish, and go back for seconds or thirds. All for 55 pesos.
But then, a fellow traveler told me about El Apetito. The first half of the self-serve buffet consists of about 20 traditional clay bowls filled with various stews, soups, and veggies. And the second half is a salad and veggie bar with a few desserts thrown in for good measure.
The soups and stews are flavorful and varied. I actually didn't find a lot of meat in the dishes, but for me, that was a bonus. However, I didn't think to ask if they were prepared vegetarian.
Along the salad bar were three different types of salads, raw vegetables, and beets.
Just like the others, this is an all you can eat buffet with agua del dia for 60 pesos. And an opportunity to get more veggies in your diet!
Don Juanito Tacos al Vapor
The specialty at Don Juanito is tacos al vapor which is essentially tacos that have been steamed. The result is a soft, slightly sticky rolled taco. I appreciate the suppleness that steaming imparts on the corn tortillas.
The fillings are traditional, including pastor, arrachera, and suiza. One of the highlights was the two salsas – one a creamy avocado base and the other a very flavorful, spicy green salsa.
They are also known for pozole, which the table next to me ordered and looked quite delicious.
The atmosphere is modest but fresh. Most of the tables in this traditional restaurant are located in the central courtyard of an old colonial building with golden harvest color walls and ceiling fans pushing fresh air throughout.
Tlayudas de Ánimas
After ordering a tlayuda and cerveza, an older gentleman dropped off a small container and was delighted to announce that it was "salsa chile de agua oaxaqueña con tomate." Intrigued, I showed my interest by asking him to repeat it and then quickly saved it in my phone so that I wouldn't forget.
You may have noticed that Oaxacans are proud of their regional specialties. And one ingredient prevalent on a few menus is chile de agua. It's a complex and aromatic chili pepper that has slightly less heat than a jalapeno. It is typical of the Central Valleys of Oaxaca and is often stuffed with meat and cheese.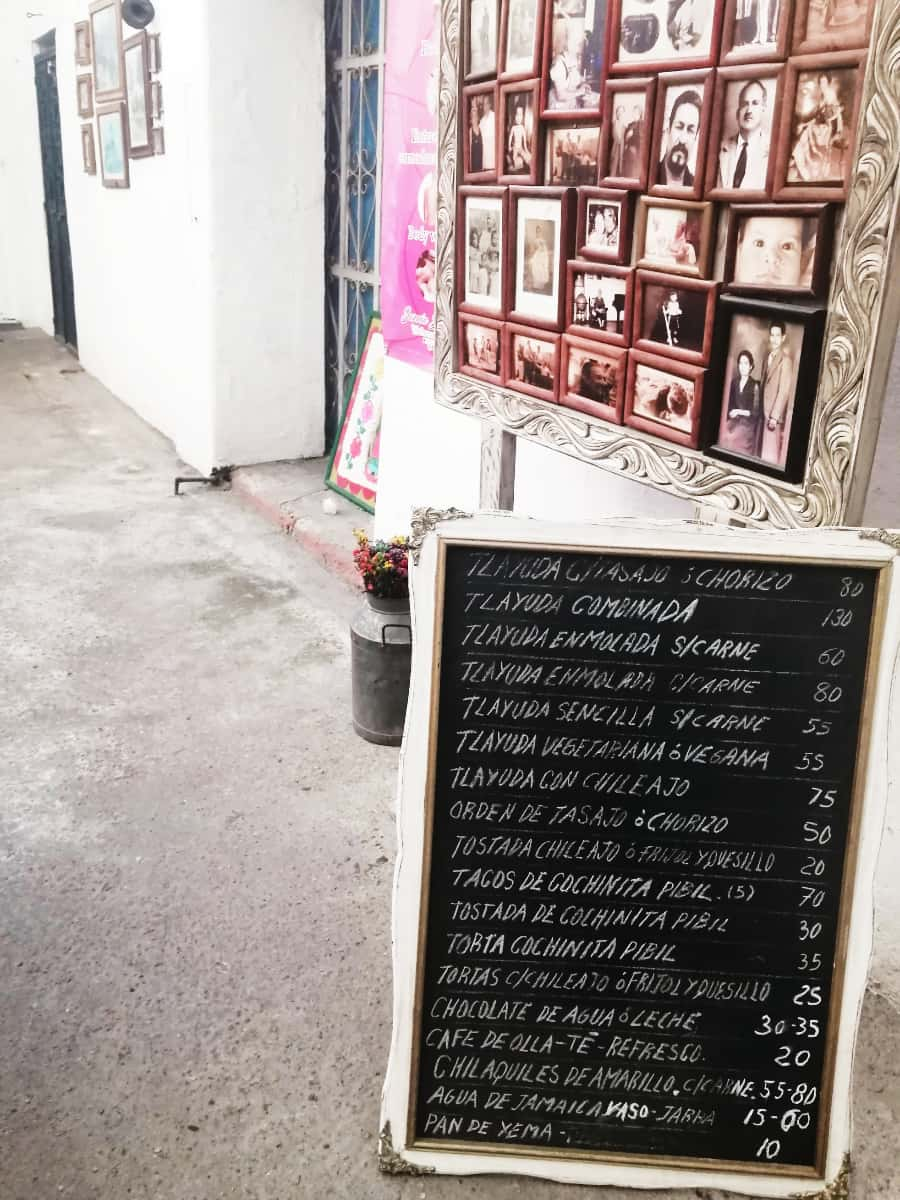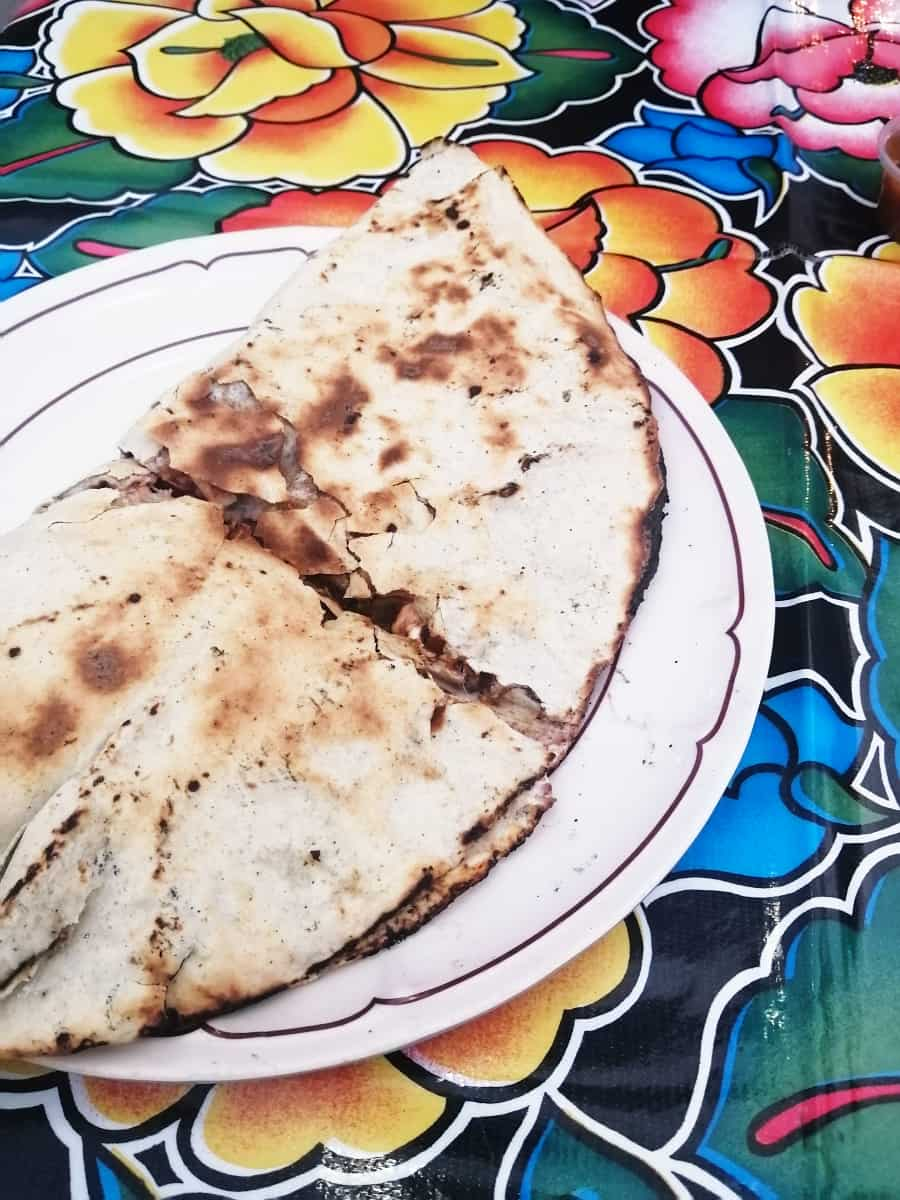 Okay, back to the tlayudas. The handwritten menu consists of a variety of tlayuda fillings including tasajo or chorizo, a combination of the two, enmolada (mole negro) with and without meat, vegetarian or vegan. I decided on a tlayuda chileajo which is a variety of vegetables in a spicy, garlicky red sauce. For non-tlayuda lovers, there are also tacos, tostadas, and tortas with various fillings including cochinita pibil and beans with cheese.
This family run operation has the feeling of a street cart stand placed inside a covered patio. With the addition of a handful of tables placed in front of a large altar. In fact, it's important to note that they are only open Thursday through Saturday evenings when the other businesses surrounding the patio are closed.
Tlayudas Doña Luchita
When I arrived, my nose was greeted by the rich and smoky aromas coming from the large grill. Similar to Tlayudas de Ánimas, this tlayuda restaurant also has the feeling of a street cart placed under a large metal roof – simple and efficient.
The menu includes the traditional Oaxaca tlayuda options like tasajo and chorizo as well as some specialties that look interesting. But it was the marinated chuleta de res that caught my attention. And it was delicious – thin, salty, and fatty beef, perfectly grilled to create crispy edges along the bone it was still attached to.
The tlayuda itself was pretty standard, perhaps a little heavy on cheese, but I think the best part is the use of the grill. It crisps the outside of the large tortilla, flavors the meats, and causes you to salivate while you wait for your meal to be prepared.
The tlayudas are served with pickled onion, radishes, lime, and the pungent chepiche herb. Amazingly they are available in two sizes which is not immediately apparent by looking at the menu (the smaller versions are on the right under "minis"). I happily ordered a mini tlayuda and was pleased with the size and price. You can also order tostadas or tortas if you're looking for a smaller dish.
Going to the coast of Oaxaca next? Check out my picks for the best Puerto Escondido restaurants.
La Popular
As the name suggests, this place gets really popular, so much so that they've opened a second location down the street. And it's a solid restaurant where you can sit down and order some cheap food to soak up your night of mezcal.
I recommend that you stick to the basics here. The cochinita pibil torta was incredible, especially with the addition of the bowl of pickled onions and herbaceous green salsa. I imagine the tacos, quesadillas, and tlayudas are equally as good.
There is a section of the menu with several mushroom dishes that honestly sound a lot better than they look. I would describe them as mushroom caps with a glob of melted cheese. Made infinitely better smothered in the same green salsa, but still boring nonetheless.
Their main dishes of meat served with rice and salad also didn't sound exciting to me, which was later confirmed when I saw a plate on another table. The location is fabulous, centrally located on a corner with both doors open to the street. Every time I pass by there is such lively energy emanating through those doors.
Non-Mexican Restaurants in Oaxaca
Even in Oaxaca, a city with some of the best traditional Mexican food, you just crave something different. There are several Asian and sushi restaurants in town, but I tried to vary this list a bit. You may be surprised to find several good Indian restaurants, a Moroccan spot, and even a cute little Korean cafe.
Red Indian Chili
If you're looking for authentic Indian food in Oaxaca, Red Indian Chili has you covered. The menu of Indian specialties is vast, including a large selection of vegetarian dishes.
Lovers of traditional Indian food will be delighted to see butter chicken, masala, and paneer prepared three different ways. The menu rounds out with several traditional Indian desserts and drinks.
I ordered the lamb masala. Pieces of bone on lamb were smothered in a rich sauce of spices. You'll definitely want to order a side of garlic butter naan to soak up its goodness, though I also had no problem eating it with a spoon.
My only complaint was the portion size to price ratio, especially since the naan bread is ordered separately. But it was also a very welcome change in cuisine. The location in centro, near the Zocalo, is also convenient.
There are actually a surprising number of good Indian restaurants in Oaxaca. You should also check out Sr. Naan in Xochimilco, just north of centro and Mónica Restaurant Hindú in San Felipe del Agua.
Dururu Korean Restaurant
This cute Korean cafe seems to be as popular for its desserts as its handful of Korean dishes.
The menu includes Korean classics such as kimchi pancake, bibimbap, and bulgogi which are all served with small sides of kimchi and other pickled vegetables. And I was surprised to find both soju and ginseng tea on the drink menu.
On my first visit, I ordered a vegetarian noodle dish in a black bean soy sauce. The noodles were authentically chewy, though for the price I expected more vegetables.
While it seems most people order ramen, I was later enticed to return and try the Korean BBQ. Of course, without the ubiquitous grills on the table to cook your own, it arrived as a yummy mix of sauteed pork and vegetables with lettuce to make your own wraps. This is a solid choice when you're craving something different.
Wasabi Sushi
If you're like me and prefer your sushi without cream cheese, you'll want to direct your attention past most of the menu and to the specialty rolls. Considering the size of these rolls, I find they are very reasonably priced.
Several of the specialty rolls include unique combinations. For instance, the Tokio Roll is a combination of escolar, tuna, salmon, spinach, and asparagus rolled in cucumber instead of seaweed and topped with habanero masago. All of the fish was fresh and I was equally impressed to see escolar being used in Mexico.
Even though I don't typically go for fried seafood in my sushi, the Wasabi Especial Roll also stands out. The rest of the menu includes soups, tempura, and a few hibachi-style dishes with a choice of chicken, beef, or shrimp.
As well, they serve Kushiagues which are a twist on kushiage, a Japanese snack of skewered, breaded, and fried meat. Sushi restaurants in Mexico often use plantains in place of meat, though Wasabi Sushi kicks it up a notch and offers versions with cheese and shrimp as well.
Ramen Ya
The central patio at Ramen Ya is simply stunning. The large white columns and spanning arches gave me the feeling of walking into a Roman courtyard. If you arrive to find it fully reserved, the small area inside also doesn't disappoint with its wild Asian-inspired murals and beautiful bar area.
As the name suggests, the menu consists of a few ramen dishes as well as sushi and other Japanese favorites. The ramen, which comes in both small and large versions, was fairly traditional. The broth was flavorful and I enjoyed the abundance of seaweed.
However, I preferred the beautifully presented sushi just as much if not more. While there were only a few options, it was the first sushi menu I've seen in Mexico without cream cheese. Technically, this space has two restaurants – Ramen Ya and Kintaro. I'm not sure about the relation, but you can order from both.
El Morocco
In the upstairs dining room, the warm colors and rich fabrics immediately transport you to the country of Morocco. The seating is also customary. Comfy couches surround low tea tables with an engraved brass top.
The large menu of Moroccan cuisine includes traditional dishes such as vegetarian and lamb couscous, pastilla, kefta, and more. I recommend ordering one of their specialties. On my visit, I was disappointed with the falafel pita. It was crumbly and dry. And so disappointing after having one of the best falafel sandwiches at a restaurant in San Cristobal de las Casas.
However, I've heard so many good things about El Morocco Cafe from others, that I didn't hesitate to put it on this list. And one day I wish to return for the lamb couscous or mousaka, which I was told is fabulous.
McCarthy's Irish Pub
View Centro Location (plus three other locations around the city)
This restaurant chain never even crossed my radar until a friend suggested I meet him for wings. The Monday wing special definitely draws a large crowd. There are 21 flavors to choose from and each wing is seven pesos (less than $.50 each).

The wings were a nice size and properly cooked, though the buffalo sauce was not traditional. Overall I'd say this is a solid choice if you're craving sports bar food and the atmosphere that comes with it. They generally play loud rock music and sports games on various TVs.
Oaxaca Barbacoa
I just can't complete this list of the best restaurants in Oaxaca without including barbacoa. My friend says some of the best barbacoa is in Zaachila. But if you're looking for something closer to the city, these are two solid options with very different styles. Bonus, the first restaurant won't make you wait until Sunday, the typical day for barbacoa.
Barbacoa de Horno, Escamoles, y Gusanos
When I read that this restaurant cooks barbacoa de borrego in the style of Hidalgo, I immediately put it on my list. I arrived to find gusanos de maguey (worms of the maguey plant) sizzling on the hot comal. The server confirmed they have barbacoa (traditionally only served on Sundays) every day, though only after 10 am during the week.
The tacos were rich in flavor and filled with so much barbacoa meat, I easily could have ordered just one taco to accompany the consome. The server offered me gusanos, which provided a salty crunch to the tacos. This restaurant also serves quesadillas de escamoles, or ant larvae, which is traditional in central Mexico.
The covered patio is full of colorful tablecloths and decor. It is located along the highway so it's not exactly quiet, but it was a pleasant atmosphere. To get there, take a red combi taxi from the baseball stadium in the direction of Tule for about 12 pesos. You'll need to watch the map to know when to ask to get off. Ask, "Puedo bajar aquí?" They will drop you off on the other side of the highway which has a large median to allow you to cross.
Comedor Familiar San Antonio
Eating at Comedor Familiar San Antonio is a family affair. When I arrived on a Sunday morning, the forty or so tables under the warehouse style roof were bustling with families, small and large. On the right, four women were pressing and cooking tortillas on the comal, each of which was heated by its own wood fire burning underneath.
This barbacoa is in the style of Nochixtlán, a small town in Oaxaca. It's served with masita. I think masita is best described as similar to polenta or grits, though the size of the corn is more similar to pozole.
My server, Vania, was a delight. As soon as I sat down, she brought six bowls – a salsa verde, salsa roja, guacamole, lime, chopped onion with cilantro, and a bowl of thinly sliced red onion and habaneros. I let her know I wanted to order a small bowl of consome with barbacoa tacos. She recommended a paquete and then asked if I wanted it with sangre (blood). I hesitantly agreed on trying a little.
The consome was full of garbanzos, green beans, and all the parts of the sheep that fell off while cooking – skin, fat, and other bits. And I love the combination of barbacoa with masita, though I could have left the sangre for others.
To get here, take a bus going in the direction of Santa Rosa. You can get off at the Bodega Aurrera located along the highway. From there it's a short walk. Alternatively, you can take a taxi.