35 Best Restaurants in Puerto Escondido, Mexico in 2023
While searching for the best restaurants in Puerto Escondido, I was consistently impressed by the variety of options. In addition to traditional Oaxacan food, cheap tacos, and fresh seafood, there are a lot of options for vegetarian and international food in Puerto Escondido.
And I tried only a handful of Puerto Escondido restaurants that didn't make the cut. While this is not a definitive list of the best places to eat in Puerto Escondido, it should get you started.
I've organized this list of the best restaurants by location so that you can easily find the best food no matter what part of the city you are in. I suggest you save or bookmark it for easy reference.
You'll first notice I started by highlighting some of the top restaurants for various categories such as fine dining, the best tacos, and the best seafood in Puerto Escondido.
This article may contain affiliate links. This means if you click a link on our blog and make a purchase, we earn a commission at no additional cost to you. For full information, please see our disclosure.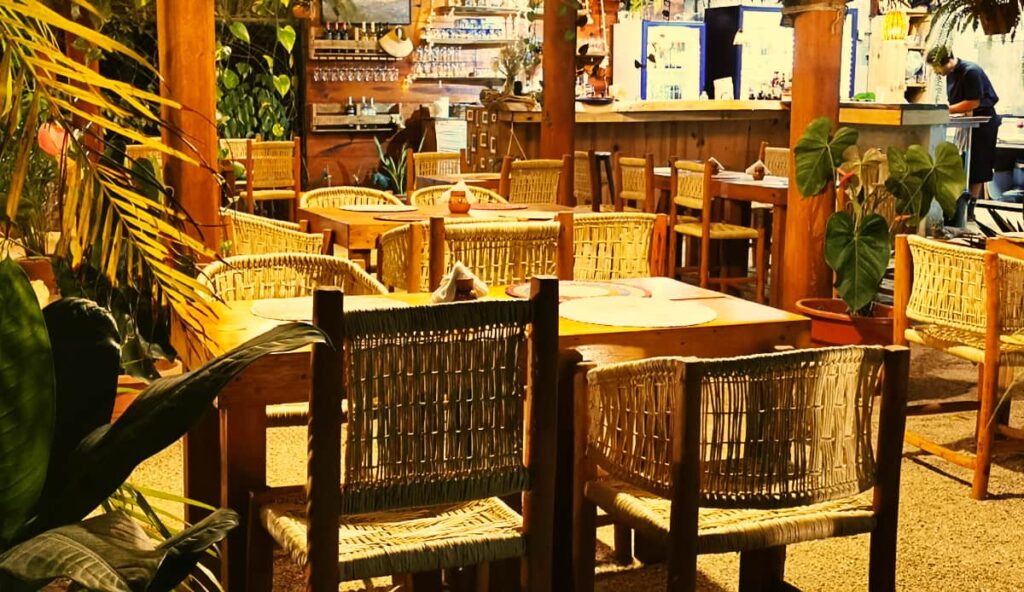 Quick Look at the Best Restaurants in Puerto Escondido
While I've organized this list by location, I know some readers are looking for things like the best seafood or the best tacos in Puerto Escondido.
So I've highlighted some of the best restaurants in Puerto Escondido for particular categories below. The links will jump the page to their more detailed spot further down the article.
Best Seafood in Puerto Escondido
Without a doubt, one of the restaurants to eat the best seafood in Puerto Escondido is La Salsa. It's rare that I go to a restaurant twice but everything we ate was incredible, including the fiery salsa on the table.
Runners-up for the best seafood in Puerto Escondido include the sashimi and tostadas at Mariinera in Zicatela, Peruvian ceviche at Chicama, and the fish sandwich at The Fish Shack in La Punta.
Best Sushi in Puerto Escondido
Considering the abundance of fresh seafood and Mexicans' love for sushi, there are serveral sushi restaurants in Puerto Escondido. Although you need to know where to go if you prefer traditional sushi that let's the flavors of the fish shine through.
My top pick for Japanese sushi in Puerto Escondido is Sommo, a restaurant in La Punta. Runners up for the best sushi include the sashimi plate at Almazul and the sushi creations at Sushido in Rinconada.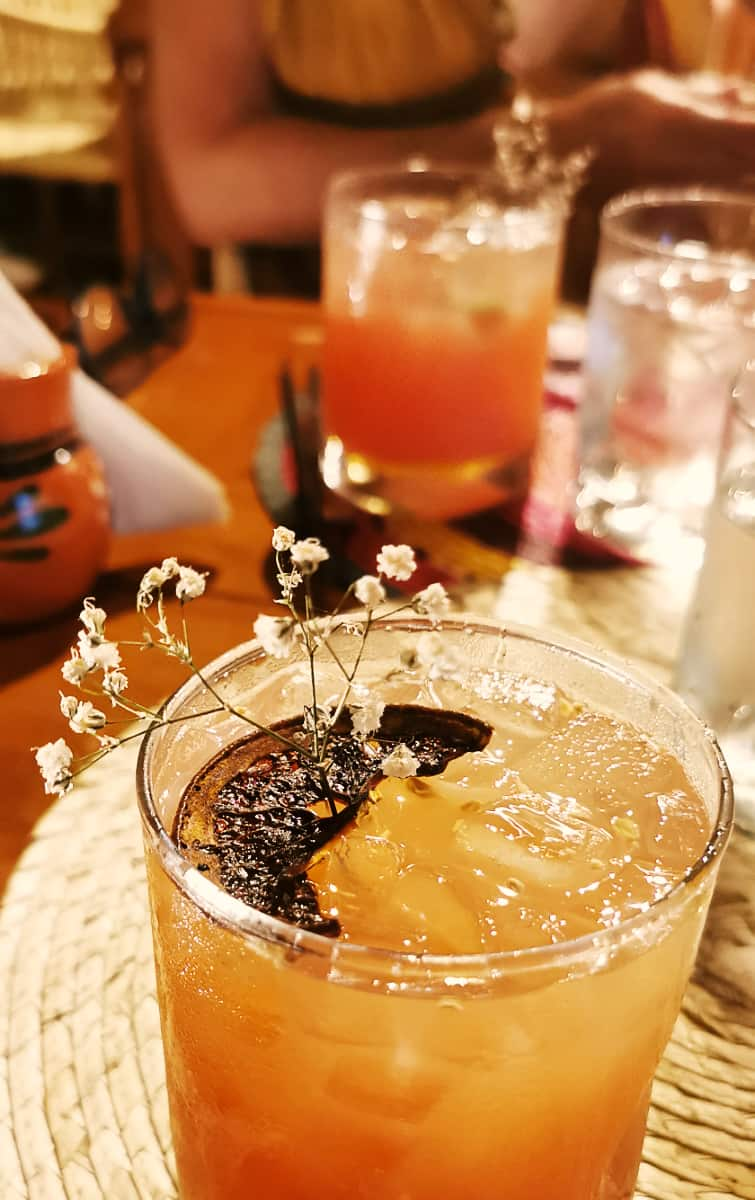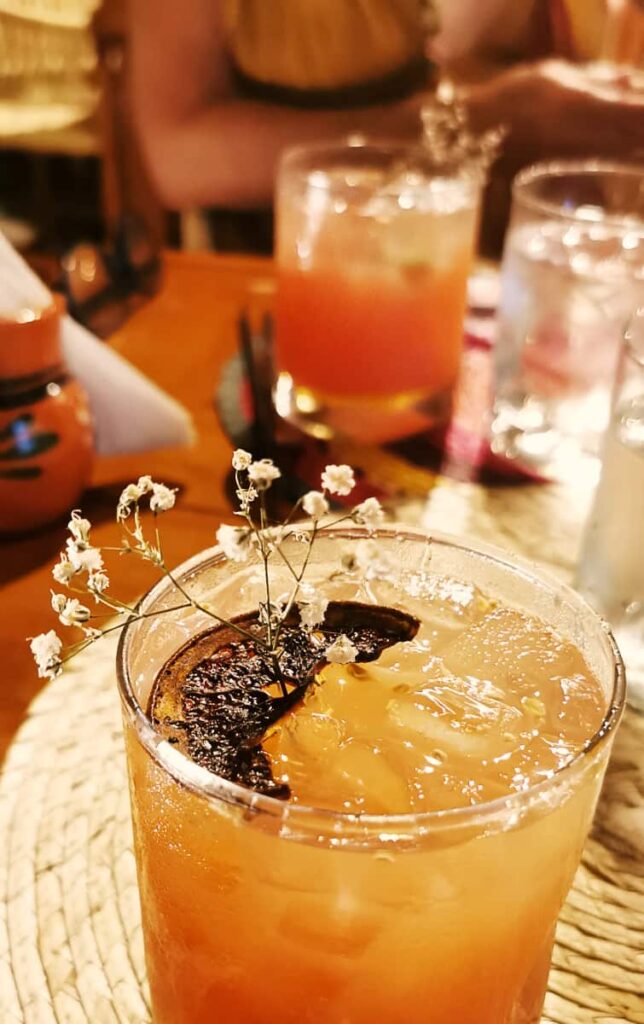 Best Tacos in Puerto Escondido
Chilango Taco in La Punta is one of the best places to eat cheap tacos in Puerto Escondido. It's also a welcome relief in an area filled with restaurants at a higher price point.
I would also highly recommend the large Hawaiian-style tacos at Pepe's Fish Tacos as much for the tacos themselves as for the experience.
And if you love tacos, make sure to read my list of the best tacos in Oaxaca City.
Street Food in Puerto Escondido
To be honest, I didn't find a lot of street food in Puerto Escondido other than sweets and a cart with esquites and elotes.
There is this street that lines up with taco carts in the evening. They are cheap and fast, though I ate better tacos at some of the restaurants.
And I would highly recommend stopping for a coconut ice cream if you happen upon that street vendor in Puerto. It is a sweet and refreshing treat in the hot sun.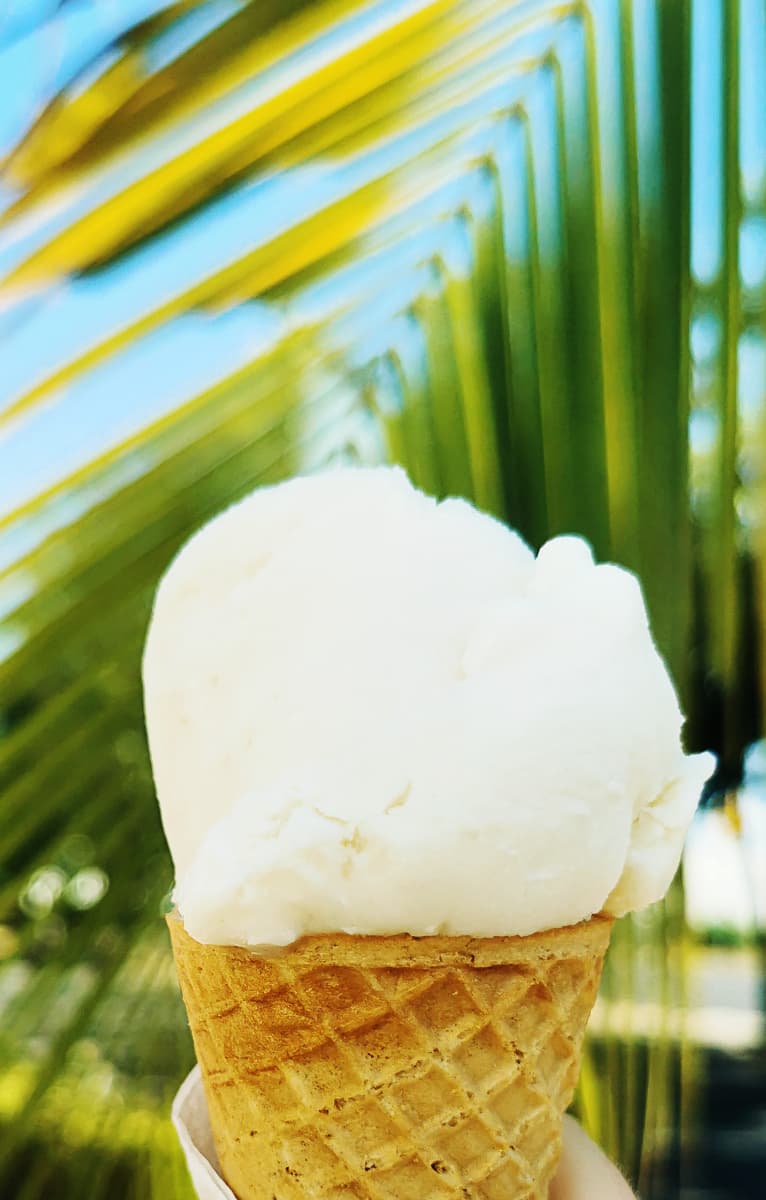 Fine Dining Puerto Escondido
The tasting menu at Xina is one of the best fine dining restaurants in Puerto Escondido. To eat here is an experience that takes you through the flavors of Oaxaca in a unique way.
Other fine dining restaurants I recommend include Almazul for incredibly fresh fish near Playa Carrizalillo and Metxcalli, also located in Rinconada.
Best Puerto Escondido Restaurants in Rinconada
The neighborhood of Rinconada is known for its long strip of restaurants located on Benito Juarez. It makes for a convenient central dining hub.
The area has some of the best restaurants in Puerto Escondido. However, it lacks traditional Oaxacan restaurants.
So just keep that in mind as you decide where to eat in Puerto Escondido. If you're staying here, you should also explore other areas for food.
1. La Salsa | Best Seafood in Puerto Escondido
$$ | View Location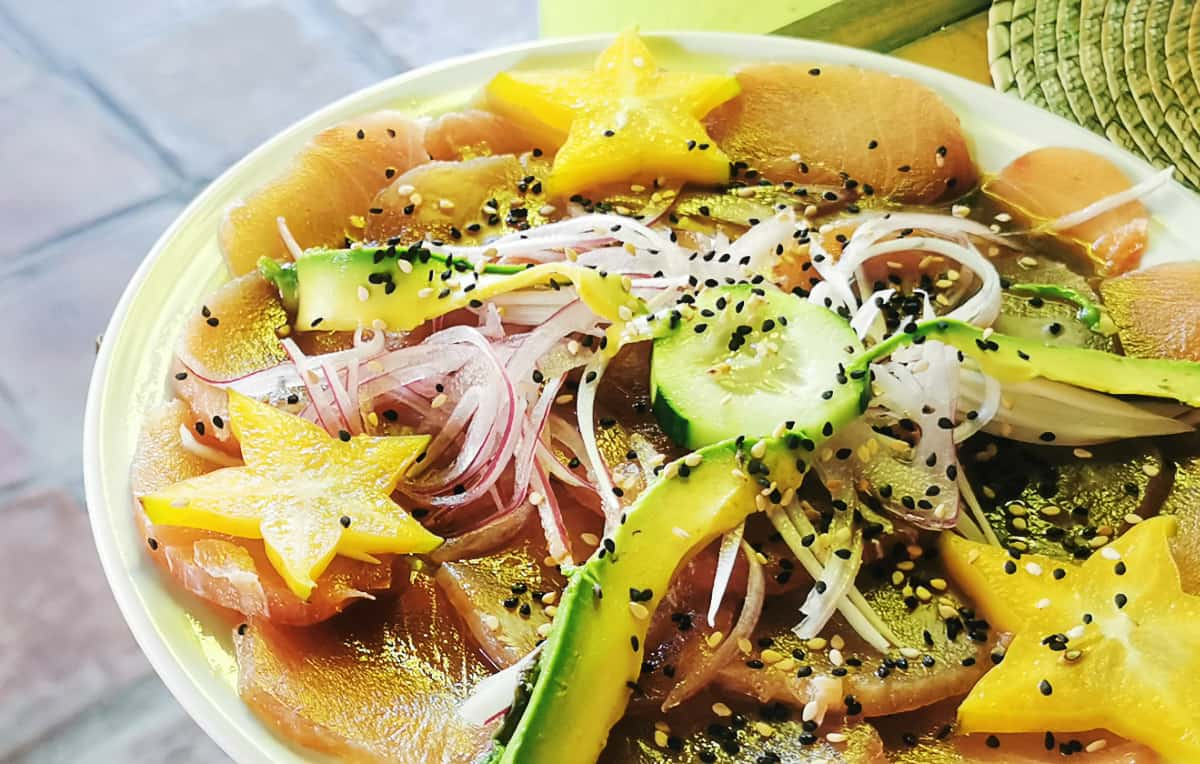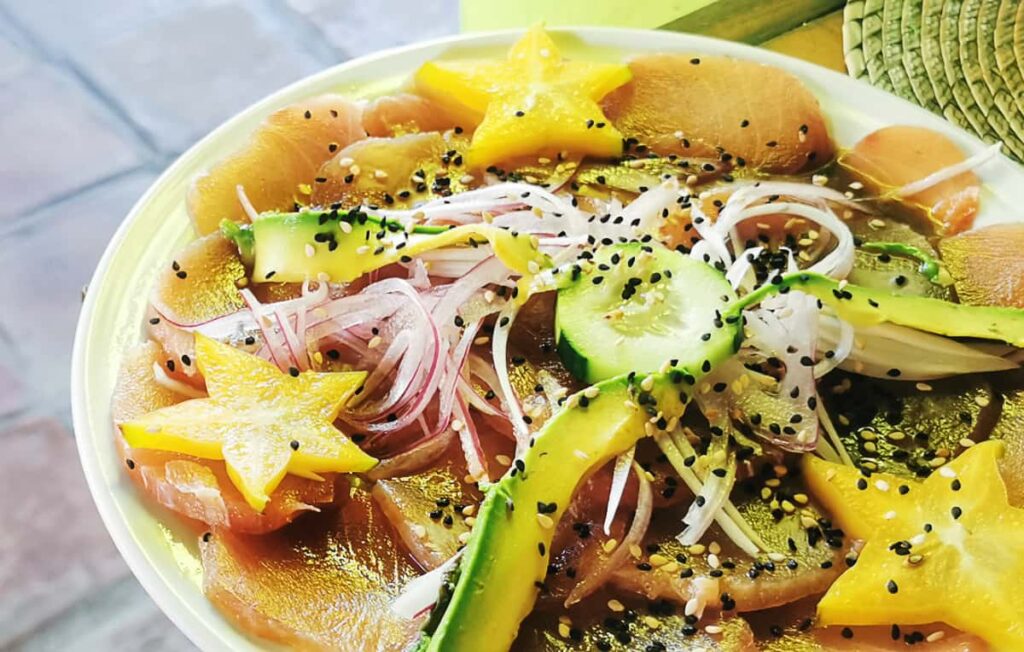 This open-air restaurant has a fun vibe even when there are only a few people dining, which is rare because the fresh seafood is that good.
Mexican music plays for ambiance, strong fans keep the space cool, and the sand floor with the colorful papel picado decoration reminds you you're at the beach in Mexico.
But the real reason to eat at La Salsa is their fresh seafood and tasty cocktails. The aguachile verde was the best I've ever had. And for those who typically can't handle this spicy dish, there's an option to choose your level of spice.
My friend and I enjoyed this place so much that we returned the next night for their 2 for 1 cocktail special on Tuesdays and Thursdays from 4-6 pm.
Everything we ate was so incredible that I wouldn't hesitate to name this one of the best seafood restaurants in Puerto Escondido.
2. Comedor Tere | Local Puerto Escondido Restaurant
$ | View Location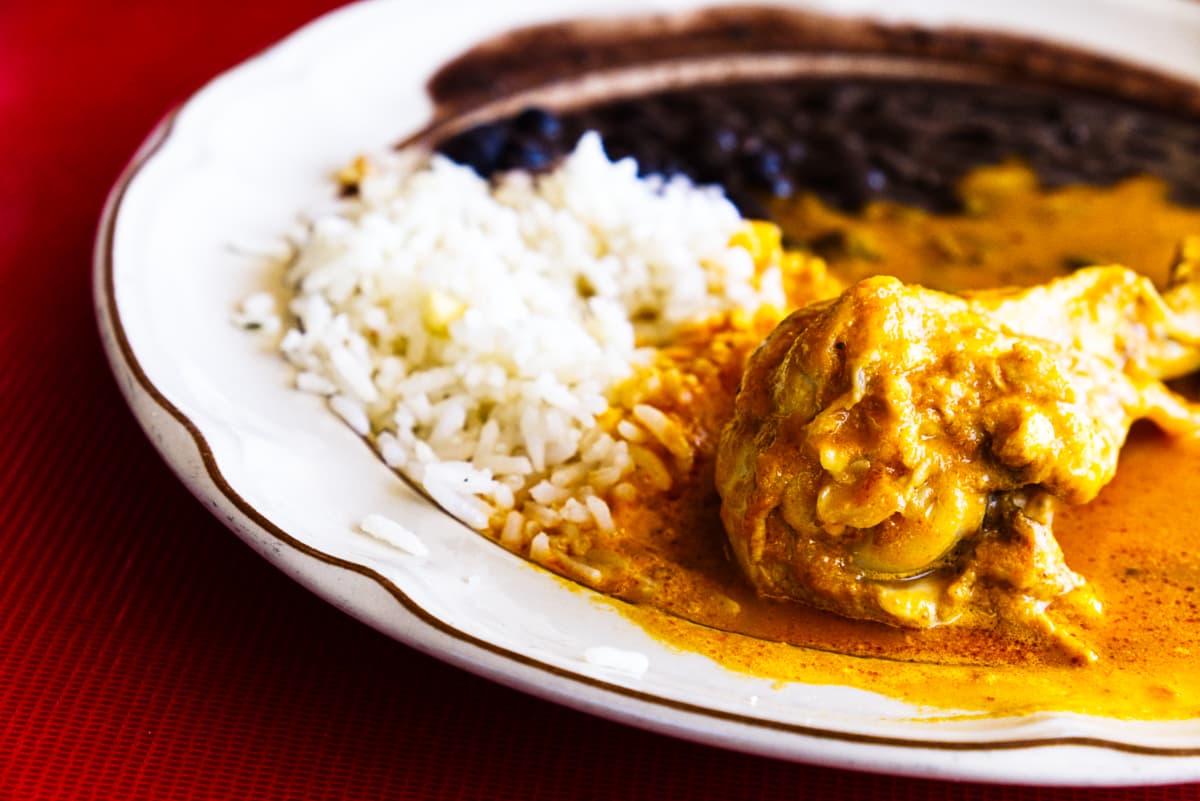 This local Puerto Escondido restaurant offers a menu del día that also includes a few classic breakfast items such as chilaquiles and enfrijoladas. The prices vary based on the dish, though all are affordable (under 100 pesos) and include the flavored water of the day.
This casual restaurant was always full of local residents eating when I passed by for breakfast and lunch. You'll want to arrive earlier in the day since the more popular dishes on the menu run out by mid-afternoon.
3. Xina | Puerto Escondido Fine Dining Experience
$$$ | View Location
Xina is a dining experience. The tasting menu is designed to bring transport you through Oaxaca via your tastebuds. The plates combine unique flavors paired with fermented beverages such as pulque, tepache, kombucha, and mead.
Keep in mind, this fine dining restaurant is only open during the week unless they host a special event. You can make reservations via their Instagram page and let them know if you have any dietary restrictions or prefer a vegan tasting menu.
This speakeasy project was created by the innovative entrepreneurs of Pauline Creative Hub, a coworking space in Puerto Escondido that also showcases their visionary talents.
4. Arrachela Grill | Antojos y Carnitas Asada
$$ | View Location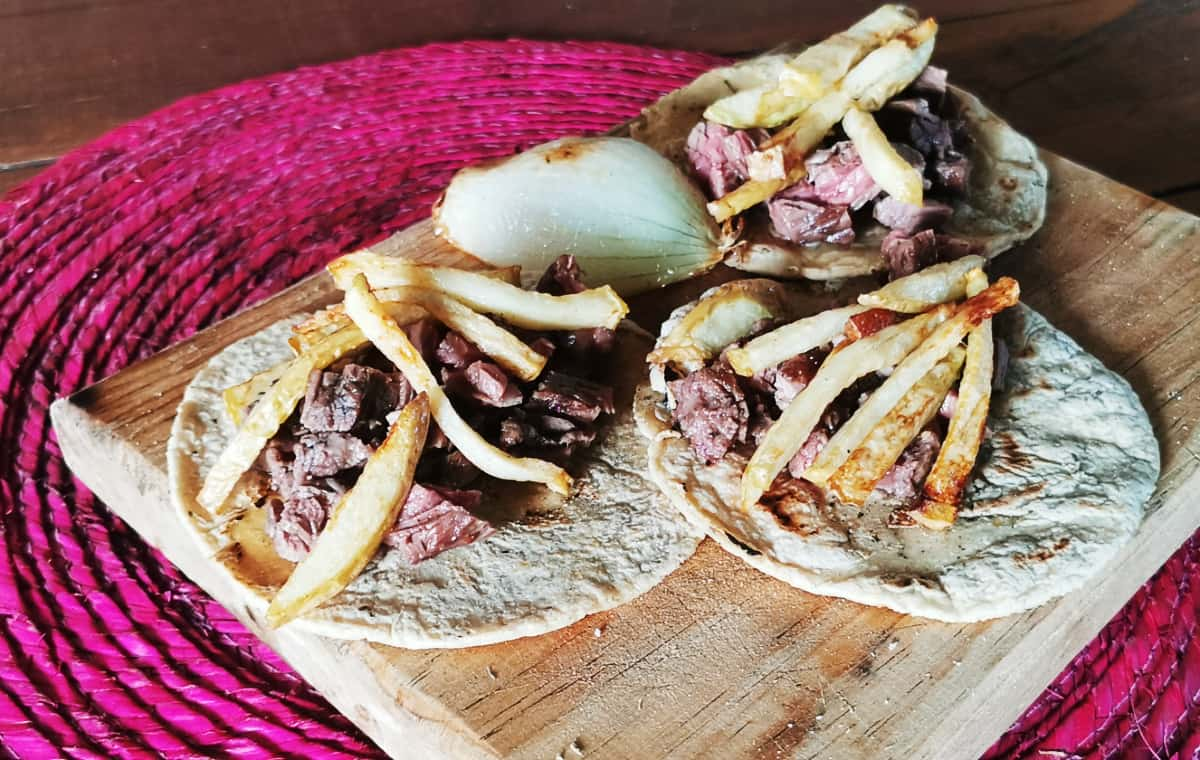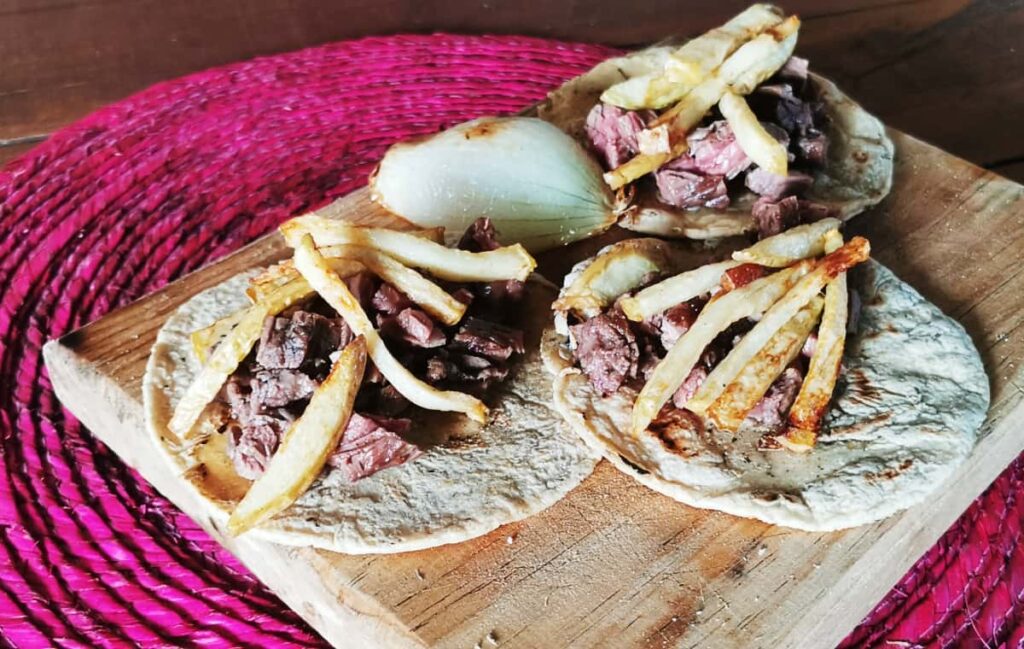 I was instantly drawn to the name of this Puerto Escondido restaurant which combines the words arrachera (grilled steak) and chelas (a bottle of beer). The only possibly better combination would be a glass of red wine but at the beach, it's cold cerveza.
As soon as I sat down and read the menu, I immediately wished I was sharing the meal with more people so that we could share the grilled plate. It includes arrachera, Argentinian chorizo, Spanish chorizo, potatoes, cheese wrapped in hoja santa leaf and grilled as well as a mix of my favorite grilled vegetables – pineapple, nopal cactus, and spring onions.
Even the 200 gr of arrachera plate looked a bit much for me. So I decided on the arrachera tacos which are topped with french fries and grilled onions. I quickly wondered if I made the right decision since the meat would likely be chopped up.
But the arrachera steak here is incredible. Even the taco meat was incredibly tender. If you're looking for something to eat in Puerto Escondido that isn't seafood, you should definitely eat at Arrachela Grill.
5. Restaurant Rey Shaman
$$ | View Location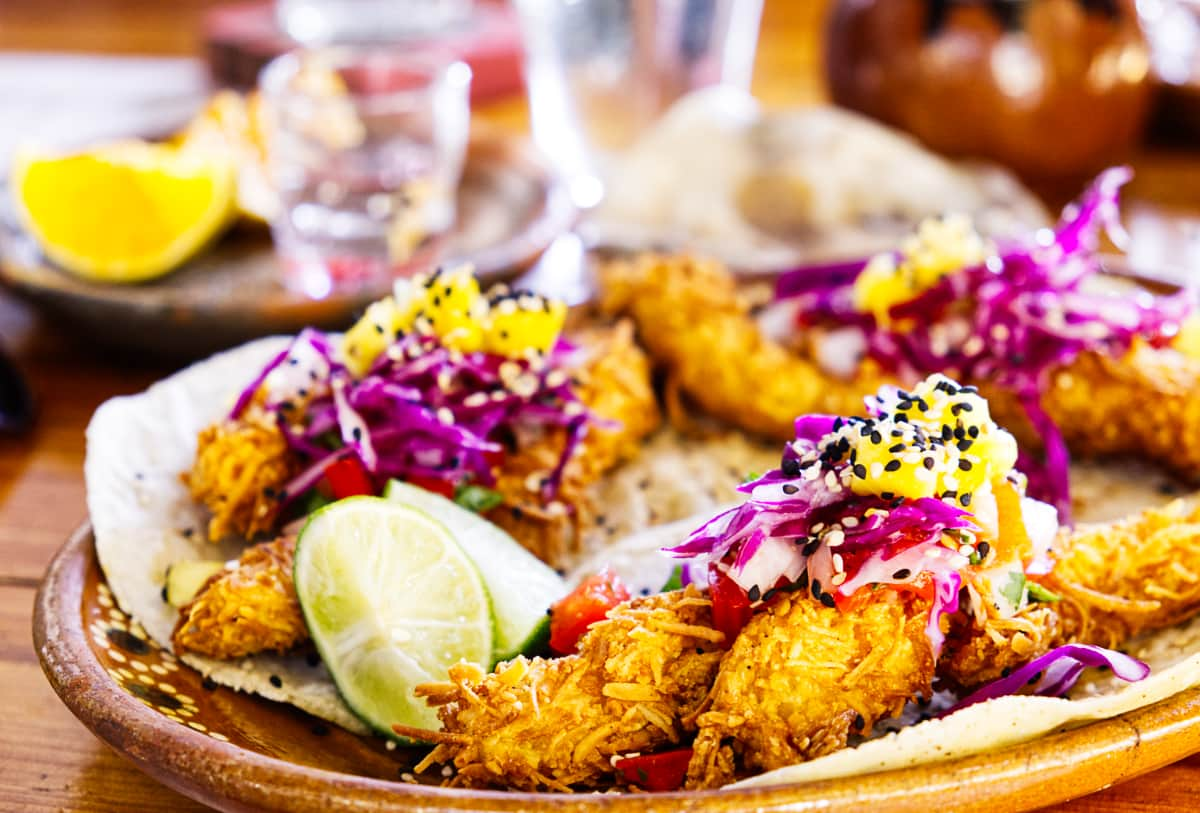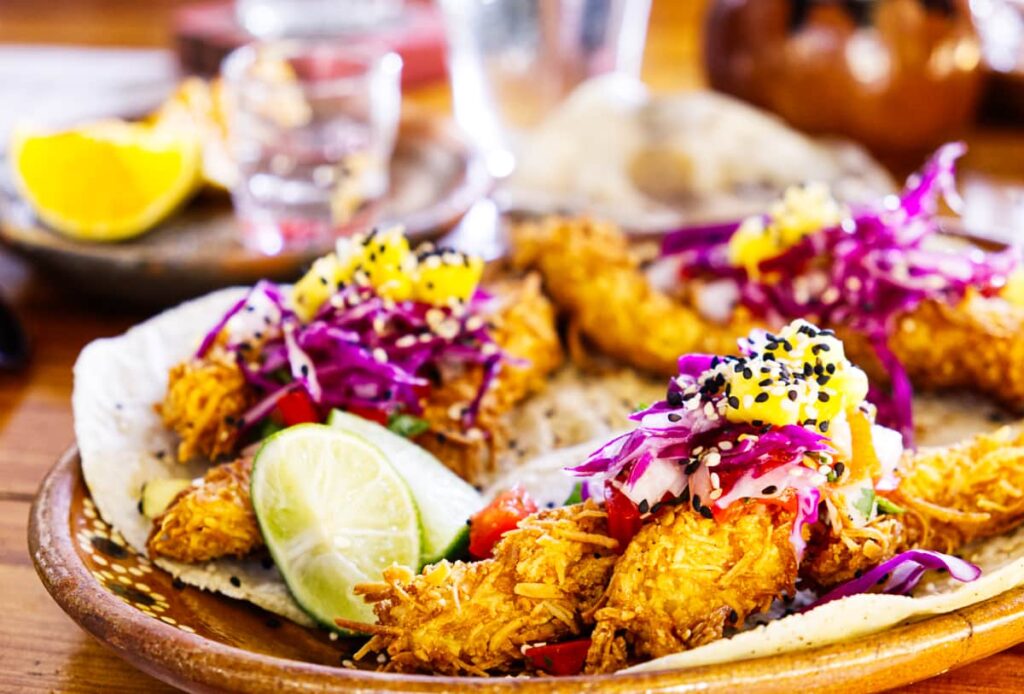 This restaurant in Puerto Escondido is open all day, but I recommend coming in the late afternoon or evening so that you can sample their affordable mezcal with your meal.
Or opt to double up with their mezcal plus beer special which is oh so very Oaxacan. You'll find this combination at other bars as well as open mic night in La Punta.
While the fish tacos also tasted good, the specialty here is the fried coconut shrimp tacos. They are filled with a lot of shrimp dipped in sweet coconut and beautifully fried, topped with shredded purple cabbage.
As one reviewer accurately said, Restaurant Rey Shaman is the best balance between price and quality.
6. Almazul | Elevated Seafood
$$$ | View Location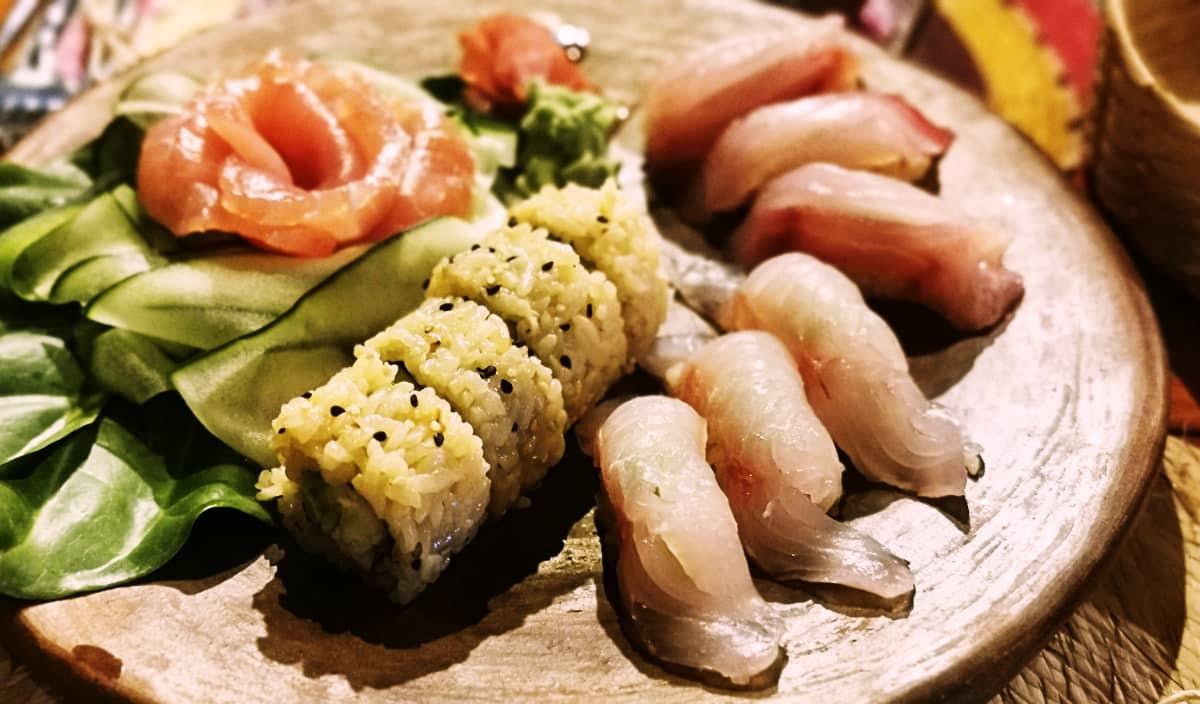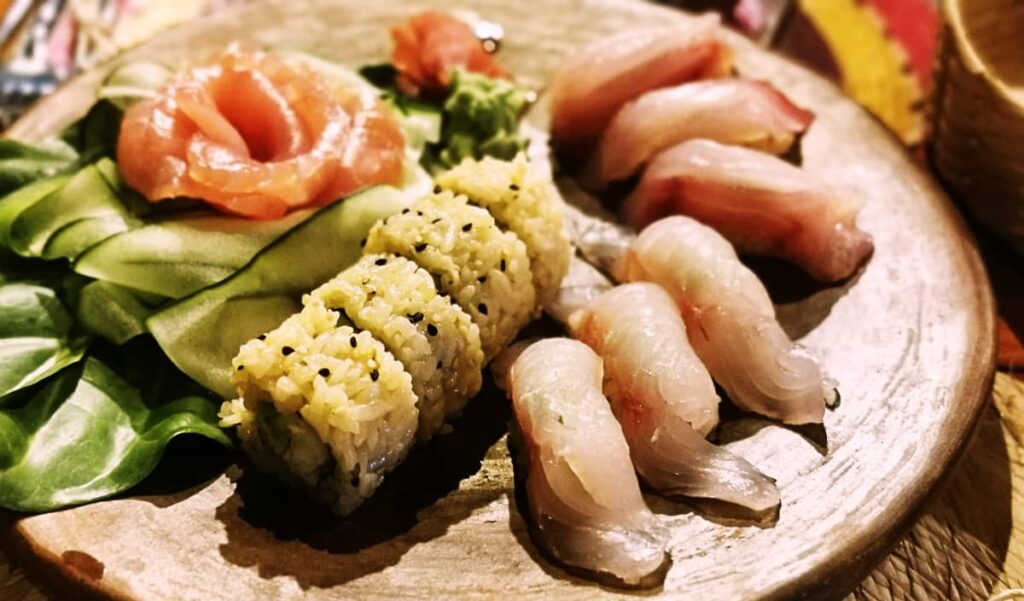 After our habitual sunset swim at Playa Carrizalillo, my friend and I decided to take a peek at the menu of this seafood restaurant in Puerto Escondido. She was craving a burger at the time but she took one look at the restaurant and the ambiance won her over.
The wooden tables and light-colored woven chairs are surrounded by tropical plants. Simple coastal light fixtures hang from the palapa overhead and colorful placemats are positioned on the tables to welcome diners.
Ignacio and Manon, an Argentinian-French couple, have created a fine dining Puerto Escondido restaurant experience that focuses on fresh fish and masterful cocktails.
And while the chef's sushi sampler caught our eye, there are other items on the menu that highlight the freshness of the fish such as an aguachile negro, sashimi with leche de tigre, and a marinated octopus dish.
There are also a couple of options for vegetarians have a couple of options. One of which is tempura vegetables which looked to be incredibly light and fluffy.
READ NEXT – Is Puerto Escondido safe?
7. La Batata, Sabor Argentino
$$ | View Location
If you're looking for Argentinian baked empanadas, you are in luck. These are easily the best in Puerto Escondido and I'd give this restaurant high ratings for the chimichurri sauce alone.
Upon ordering, I spoke with the two Argentinian men who I assume are the owners of La Batata. As they enthusiastically explained the fillings, their passion for good empanadas became apparent.
The empanadas themselves were amazing. But the side of incredibly fresh and flavorful chimichurri sauce was equally as good.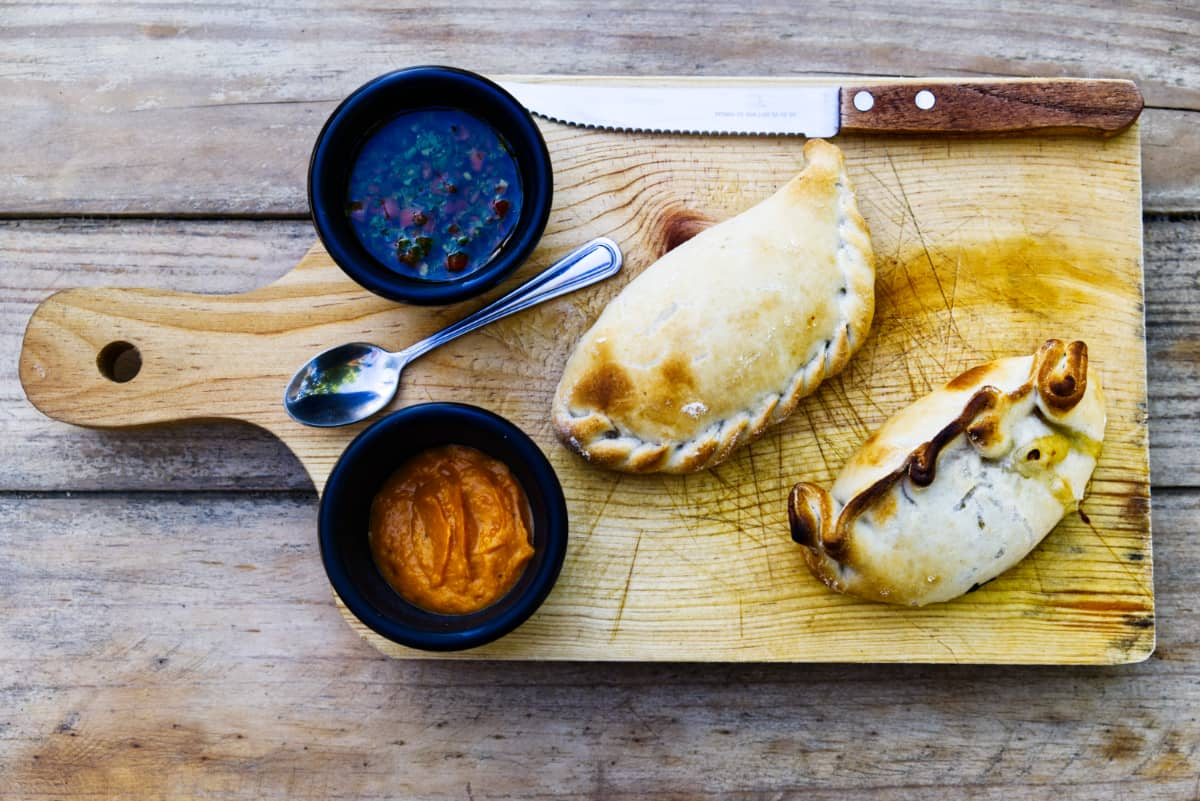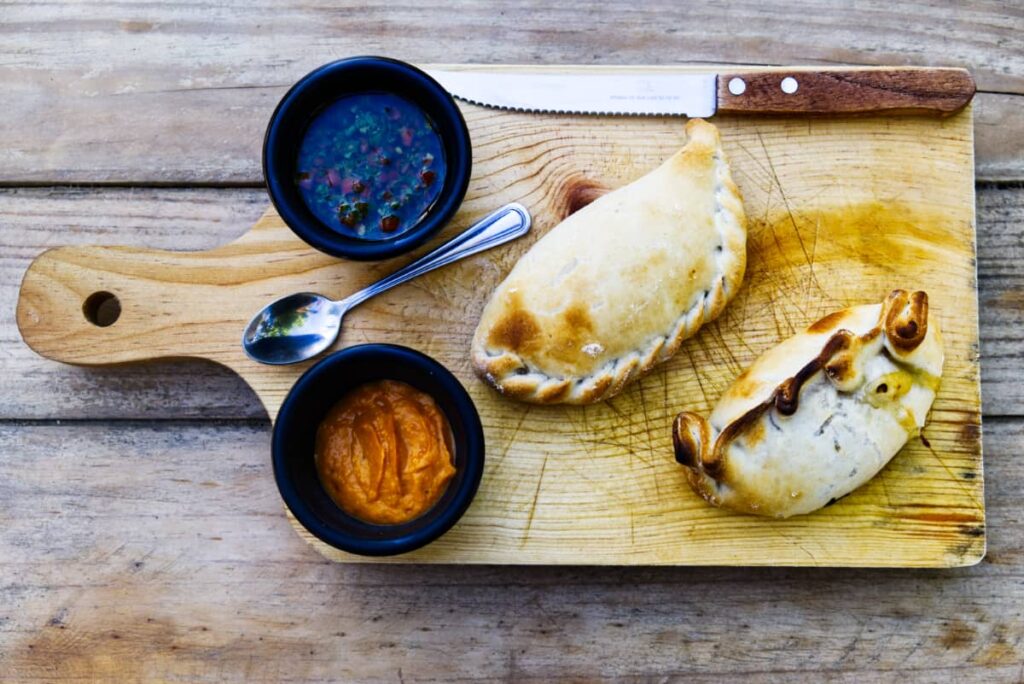 The options start with two classic Argentinian empanadas. The Malbec is filled with beef cooked in red wine, egg, and scallion. The Costilla is filled with potatoes, scallions, and a pork rib stew that's roasted in the oven for hours.
There are also a couple of vegetarian empanadas, including an intriguing one filled with sweet potato, corn, toasted sunflower seeds, caramelized onions, and cheese.
If you like dough-filled snacks as much as I do, I recommend adding this to your list of the best restaurants in Puerto Escondido.
Planning to visit this surfer town? You must read this guide to the best beaches in Puerto Escondido.
8. Oaxaca Grill | Best Burger in Puerto Escondido
$$ | View Location
Just as the name implies, the grill is the centerpiece of this Puerto Escondido restaurant. But the atmosphere feels like you're walking into your friend's house for a cookout.
Their specialty is hamburgers. The options include wrapped in bacon, stuffed with Gouda, and Hawaiana. And let me tell you, these hamburgers are the real deal.
On the edge of the garden, Martin tends to the meat while Ali takes care of the customers under the patio and Mitch works in the kitchen.
The large, juicy burger is one of the best I've had in Mexico. Martin cooks the handmade patties to perfection and tops them with grilled onions (and whatever else you order). The sweetness of the onions balances the pickled jalapenos. By the way, you're going to need extra napkins.
You can also order a "double-patty" which takes a twist on the classic to include one hamburger patty and a piece of arrachera.
Speaking of which, arrachera is the other specialty. A grilled plate includes chorizo, onions, grilled nopal cactus, and of course tortillas. The only other things to note – the french fries are extra and they also serve beer.
9. Metxcalli
$$$ | View Location
Among the high-end restaurants in Rinconada, the creative menu at Metxcalli stood out to me as the most interesting. The chef has created a menu of dishes that use Oaxacan ingredients in unique ways. 
It's the type of restaurant that beckons you to order an array of appetizers and entrees to share with the table.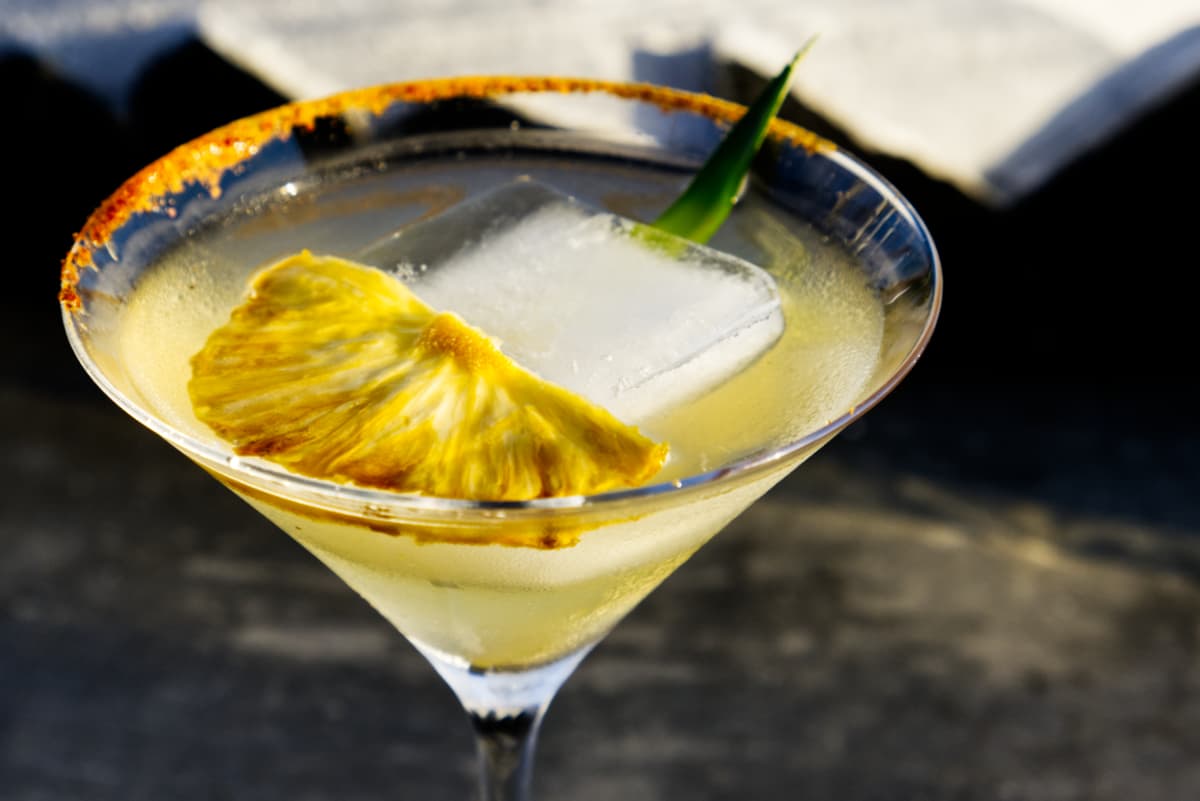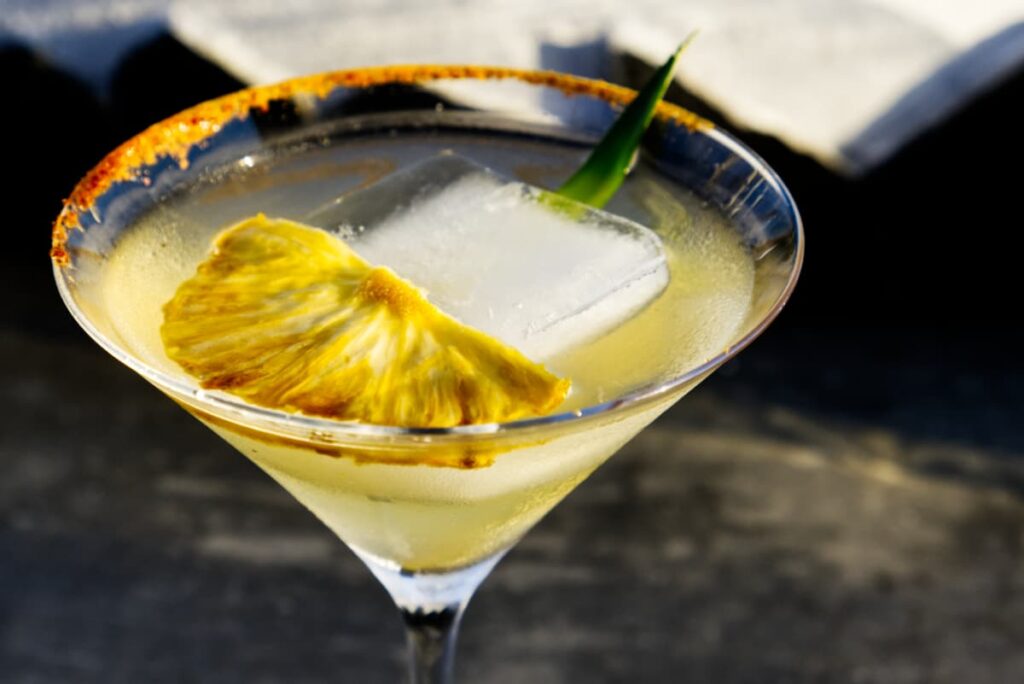 The menu is divided into sections – cold appetizers, hot appetizers, tostadas, tacos, and main dishes. Highlights include equites served with bone marrow, octopus and tuna tostadas, coconut fish, and lechon (slow-cooked baby pig) which is offered as both tacos and as a main dish.
The menu includes a few vegetarian options as well as a separate vegan section. Offerings included mushroom tacos with lentil puree and roasted cauliflower in a pumpkin seed sauce.
And now you understand why I anticipate you'll want to order a variety to share.
Now let's get to the other important part of the menu – the cocktails. I ordered the house mezcal cocktail with clarified pineapple juice, rosemary, and chile.
The server arrived with the cocktail in a small beaker which he then poured tableside into a pre-chilled and garnished martini glass. I started to fear the presentation was created to mask an underwhelming cocktail. But it was amazing!
Perhaps the most well-balanced cocktail I've ever tasted.
To dine at Metxcalli, you'll need to ascend two flights of stairs to the modern outdoor dining space. To your right is a long wood bar with seating that curves as if to mimic the coastline. The nearby rooftop dining area includes beautiful wooden tables and chairs near the small bar.
The only thing missing from this Puerto Escondido restaurant is an ocean view, but the food is on such another level that you won't even realize you miss it!
10. Sushido | Sushi in Puerto Escondido
$$ | View Location
Located on the far end of the strip of restaurants in Rinconada, this is one of the original sushi restaurants in Puerto Escondido.
While you may need to ask for some of the rolls without cream cheese (a Mexican specialty), the most important part is the fish is always fresh. And that's probably the reason Sushido is often busy.
This is a solid place to eat sushi in Puerto Escondido with a wide variety of items, including miso soup, sashimi, poke bowls, and more. There's also a section for Japanese street food.
11. Chill a Kill
$$ | View Location
Based simply on the name, you would assume this bar and restaurant specializes in chilaquiles. And while they do serve several variations, including a vegan version with tofu, the menu is wide-ranging.
Chilaquiles, enchiladas, and a few sandwiches are served all day. The simple breakfast menu from 10 am-1 pm includes omelets, various egg plates, and waffles (including sandwich waffles with savory ingredients, yum).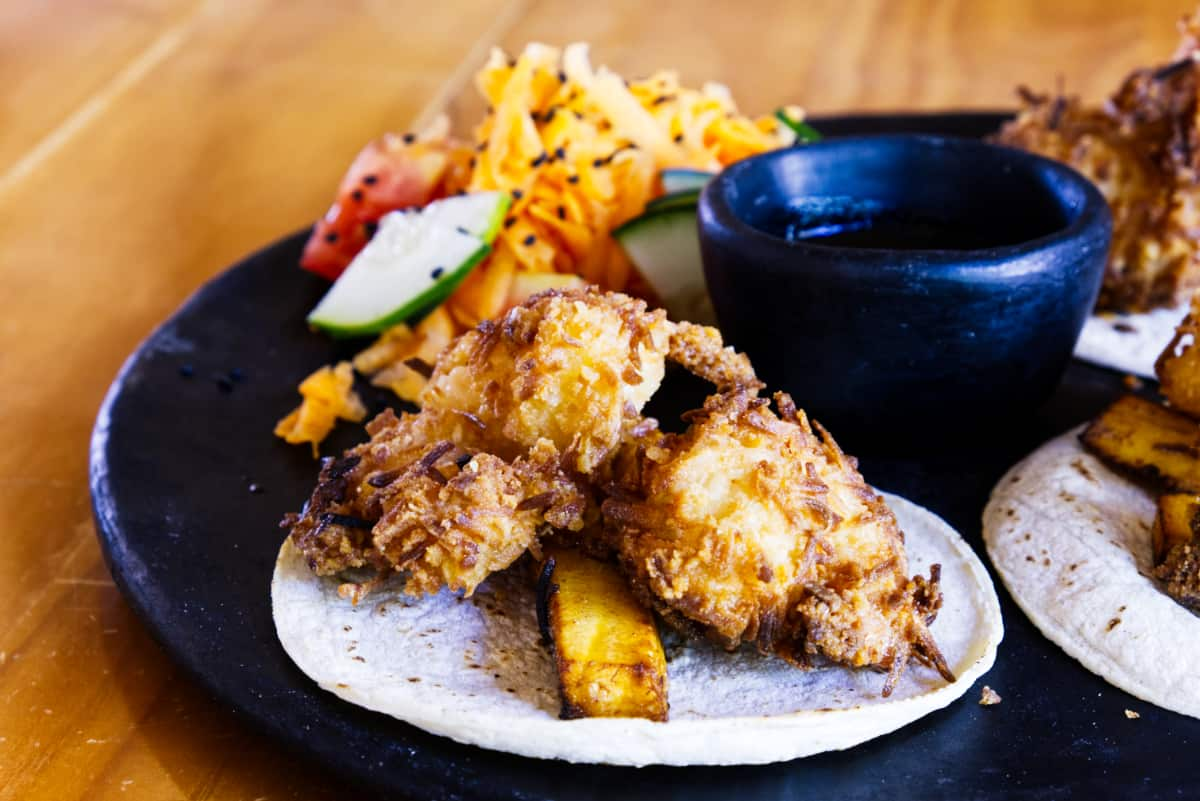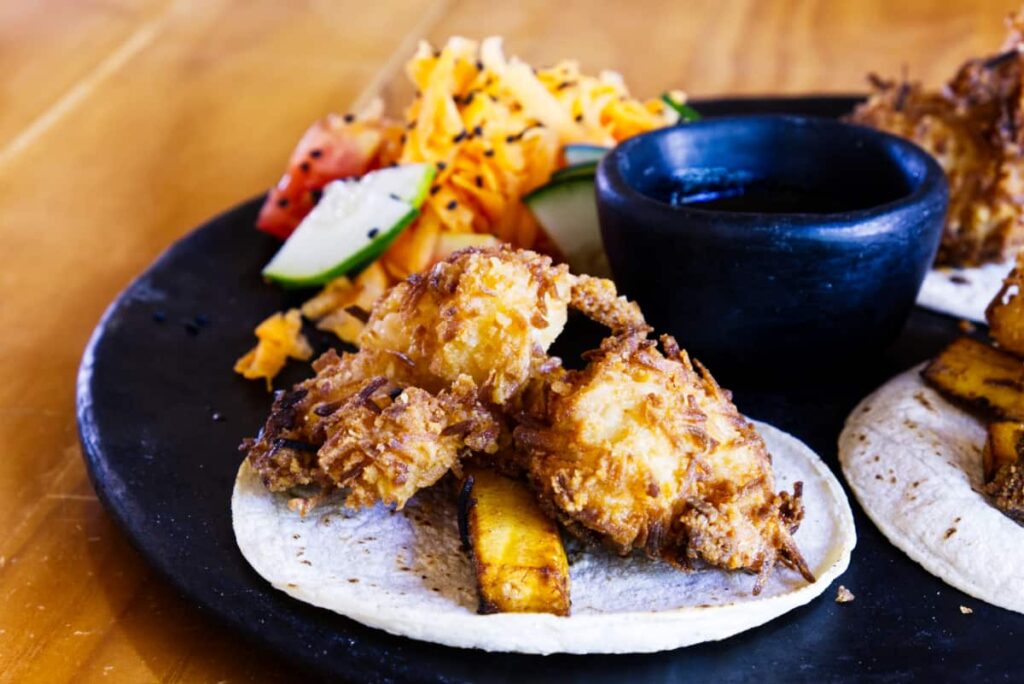 From 1 pm-10 pm, the menu expands to include a few salads, stuffed baked potatoes, a hummus plate with lamb kabob, fish tacos, and various specials of the day.
There is also a small vegan and vegetarian section. The garbanzo burger is accompanied by a cucumber carrot mix while the lentil burger comes with plantain chips.
And perhaps one of my favorite finds for vegan/vegetarian is the tinga tacos using carrots and beets. I really love when restaurants branch out from soy-based products and create vegetarian versions of traditional Mexican dishes.
12. Restaurant El Nene
$$ | View Location
This place feels like a staple seafood restaurant in Puerto Escondido. If it weren't for the palapa, I'd think I was at one of the old school seafood restaurants back home where I used to serve tables during the summers between college.
Under the palapa are fishing memorabilia, a welcome breeze from the multiple fans, and comfortable wooden tables and chairs. It's a great place to get out of the heat, enjoy a beer, and refuel.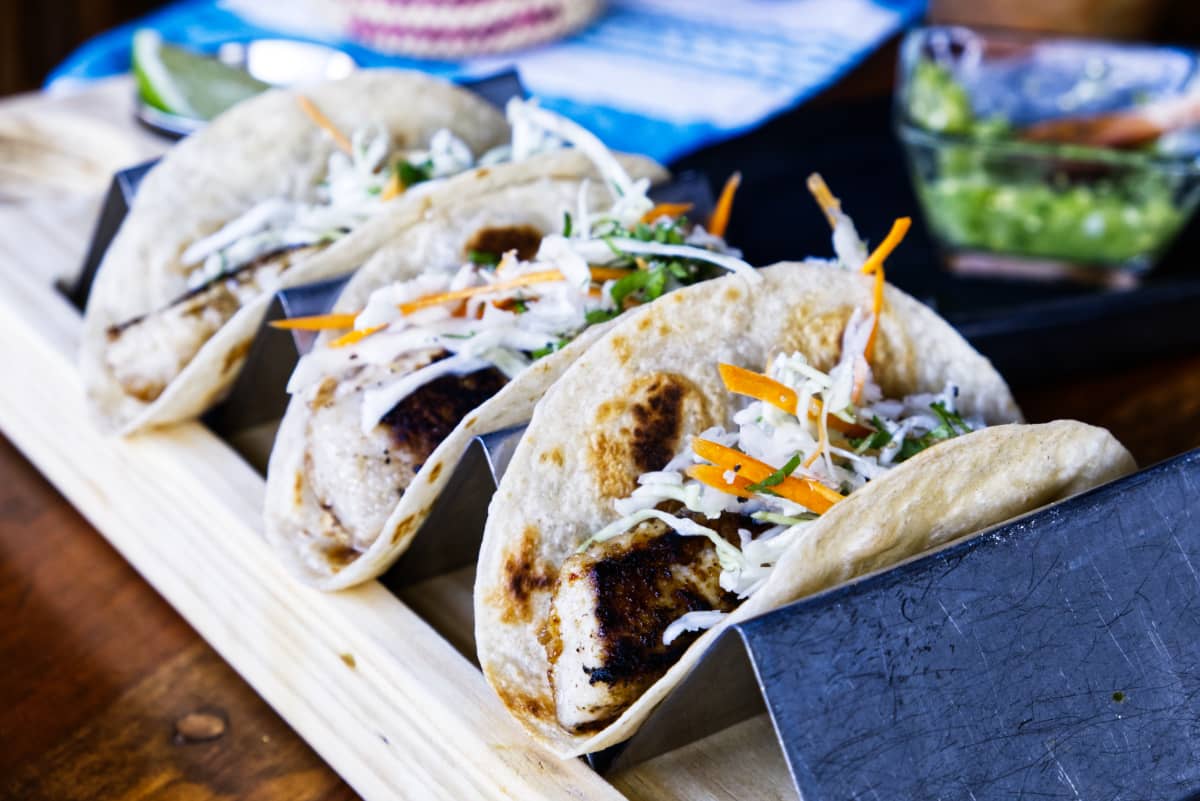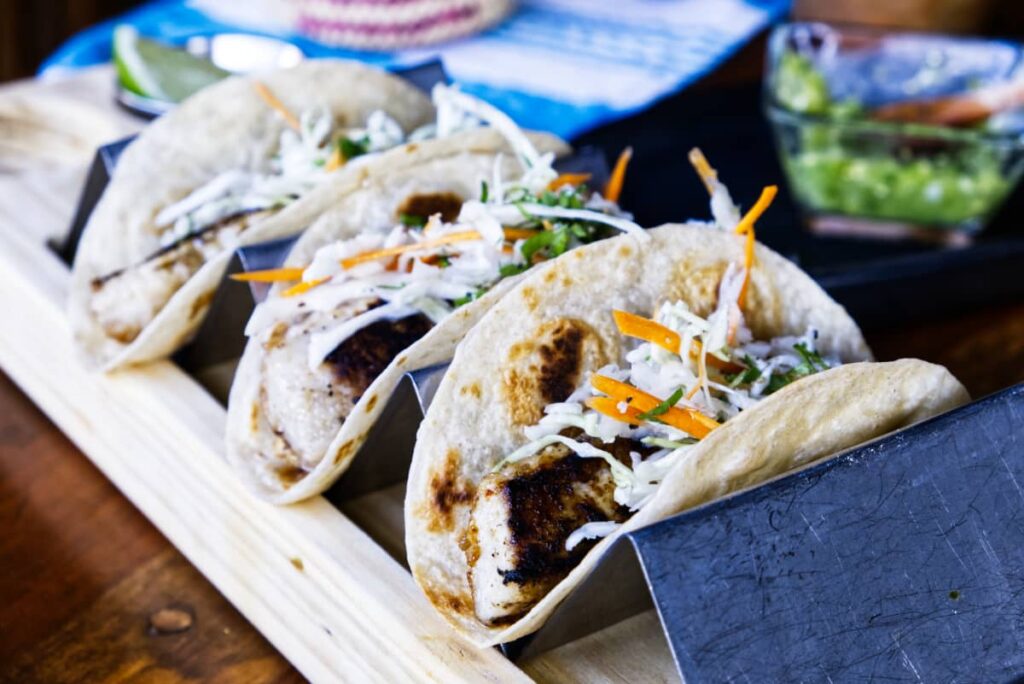 When I asked about the type of fish used in the sashimi, tartar, and tacos, the answer was always dorado (mahi-mahi). So I went with the grilled fish tacos. Three tacos arrived, each with a beautiful cut of fish inside, julienned cabbage, and a creamy chipotle sauce. The fish was well-seasoned and perfectly cooked.
I added the amazing tomatillo salsa which I had been devouring with the chips that were served shortly after ordering. They also have a unique peanut salsa that I imagine goes well with some of their meat dishes.
13. ChupAlitas
$ | View Location
It was a Sunday afternoon when I walked into ChupAlitas, a small restaurant and bar along Rinconada's strip. There was a decent crowd watching American football playing on the TV above the bar.
I was instantly welcomed by the owner, Joe, who was also enjoying a beer and watching the game. Fellow patrons assumed I had an interest in the TV, but in reality, I was drawn to this Puerto Escondido restaurant for the promise of great chicken wings.
I later learned that Joe's wife makes all of the sauces from scratch using original recipes. The exception is the buffalo sauce. Instead, they chose to use the recipe from the famous Anchor Bar in Buffalo, NY. Yum, yum, yum!
These wings are big. Joe sources them from a local butcher specifically for their meaty quality. A plate of six is enough for one person. And the tortilla chips they are served with are helpful to scoop up the extra (delicious) sauce.
If you want to spend the afternoon in a low-key bar, consuming wings and beer while watching football, this is the spot.
Bonus: Palma Negra Ice Cream
$$ | View Location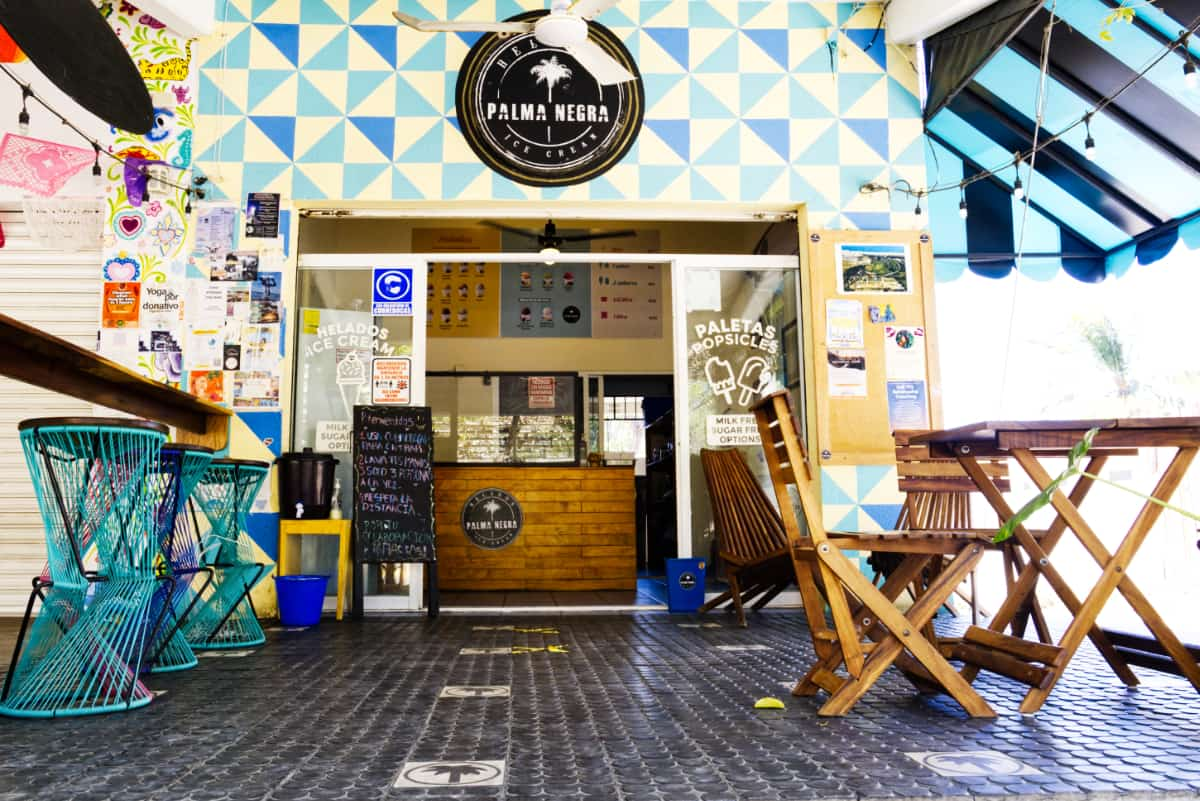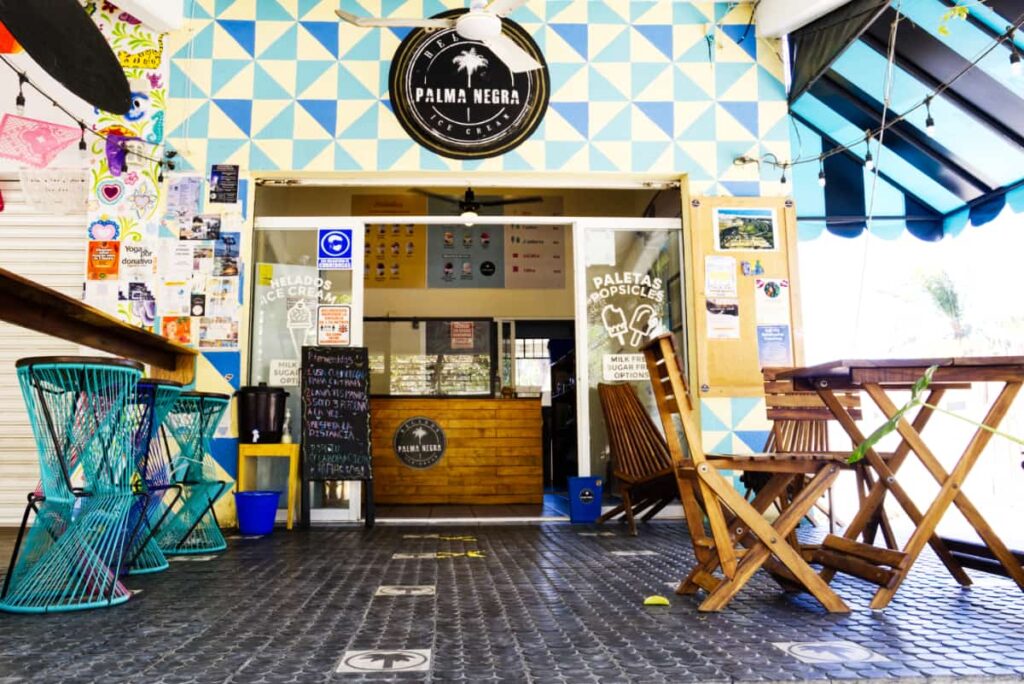 This isn't exactly a restaurant, but the hot coastal climate is the perfect place to seek an ice cream cone. So when I heard Palma Negra makes the best ice cream in Puerto Escondido, I knew I'd stop in at least once.
The variety of flavors is split into two sections. The more typical ice cream flavors are milk-based with added sugar. The others are more fruit-based, without milk or sugar.
I paired pistachio with Italian chocolate in an ice cream cone and it was delightful.
Central Puerto Escondido Restaurants
I found the biggest variety of restaurants in Puerto Escondido's downtown area. It's also where you'll find several restaurants serving traditional Oaxacan food, cheap tacos, and some of the best pizza I've had in Mexico.
14. Pepe's Fish Tacos
$ | View Location
If you only manage to visit one place on this list of the best restaurants in Puerto Escondido, make it Pepe's Fish Tacos. Pepe's friendly energy will warm your heart. And the large fish and shrimp tacos will warm your belly.
After growing up in Puerto Escondido, Pepe moved to the Big Island of Hawaii. He lived there for 13 years while perfecting his tacos, Hawaiian style.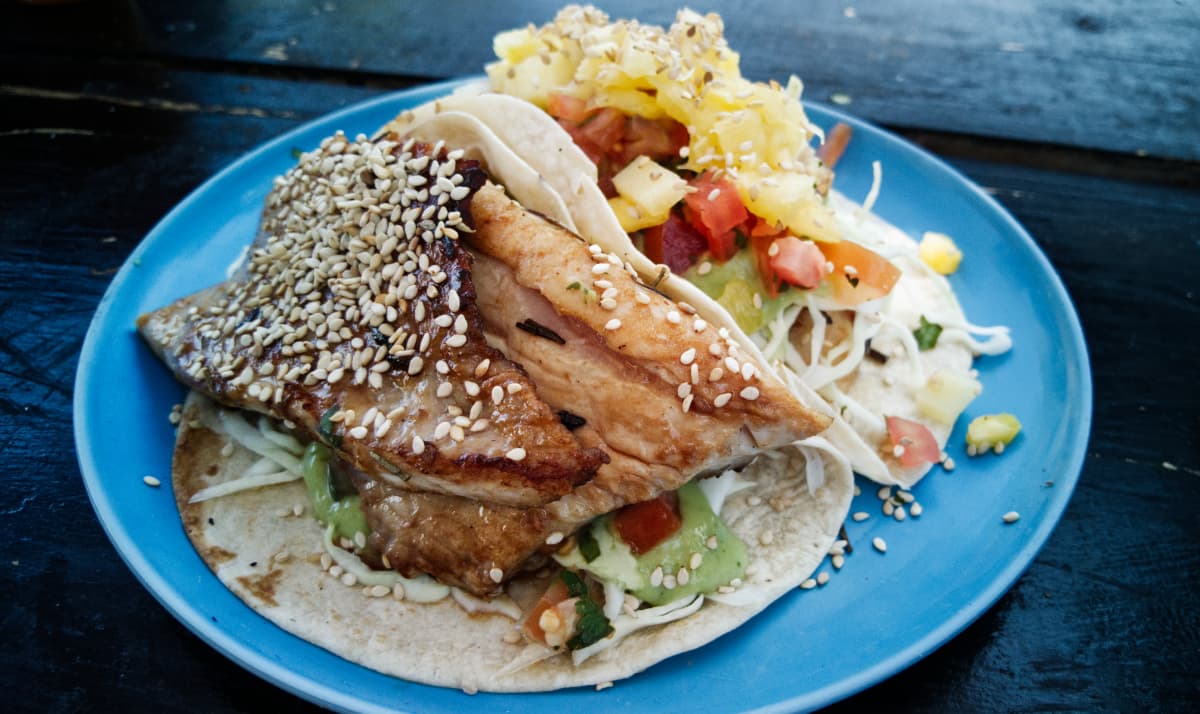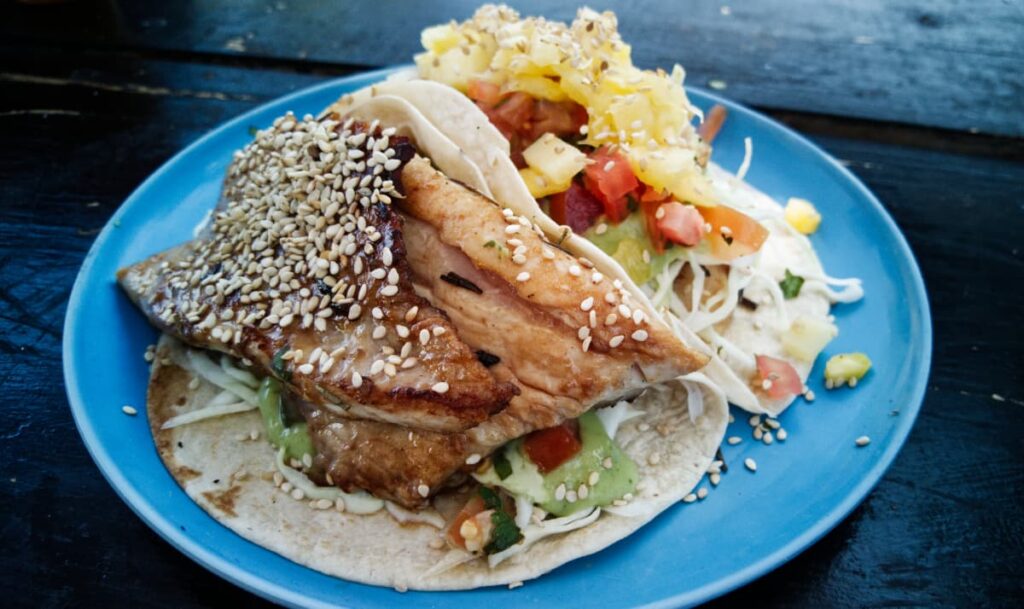 Pepe is still setting up his new location inside of a large fenced yard. It's a bit of a makeshift palapa with chickens and roosters running around. So you can imagine I was wondering if I was in the right place when I arrived.
But suddenly, I heard a voice in English ask, "Are you looking for tacos?"
I nodded and he quickly suggested he would create one taco of grilled fish with cabbage and the other coconut style with pineapple. And so I agreed.
The generous portion of fish was fresh and cooked to perfection. The sweetness of the coconut peeped through as well while the pineapple rounded out the tropical, Hawaiian flavors.
These are some of the largest, most delicious fish tacos in Puerto Escondido for a really fair price.
15. Cocofam – Vegetarian Restaurant in Puerto Escondido
$ | View Location
The rough-sawn wooden tables and benches under the breezy patio set a rustic, modern vibe. Cocofam has got to be one of the best restaurants for healthy vegan and vegetarian food in Puerto Escondido.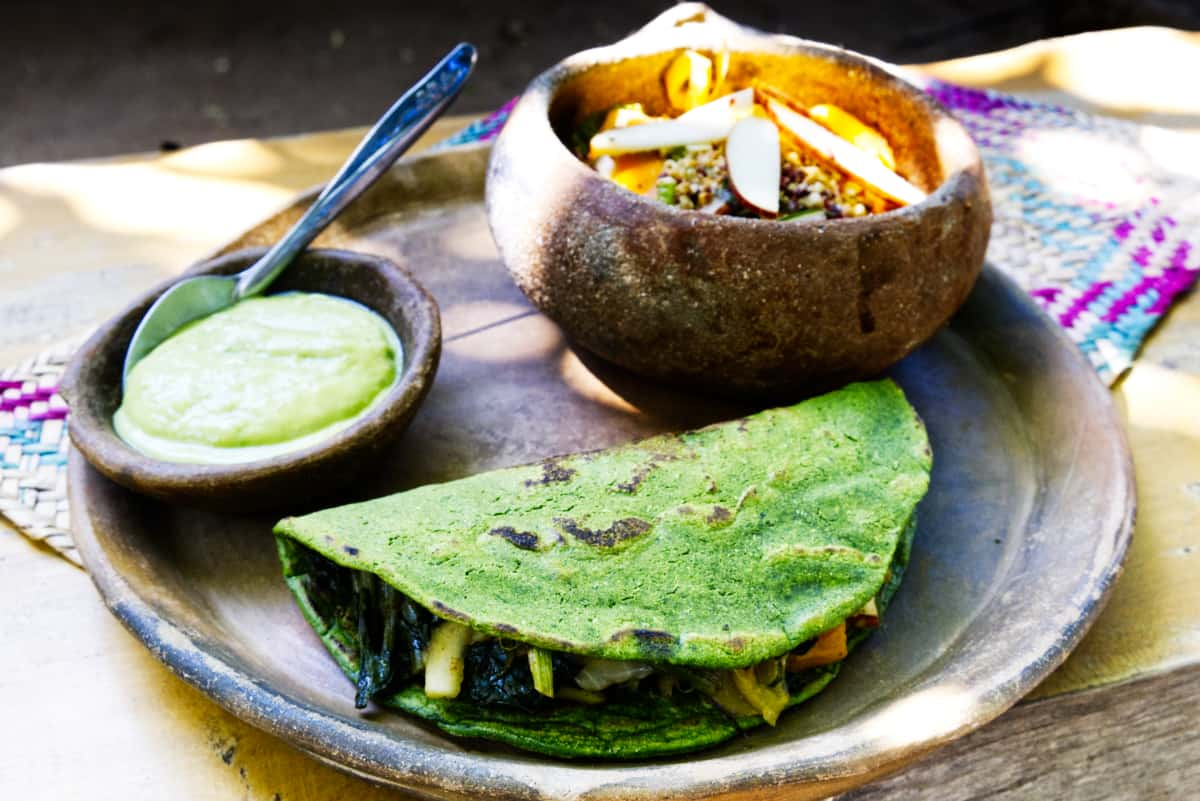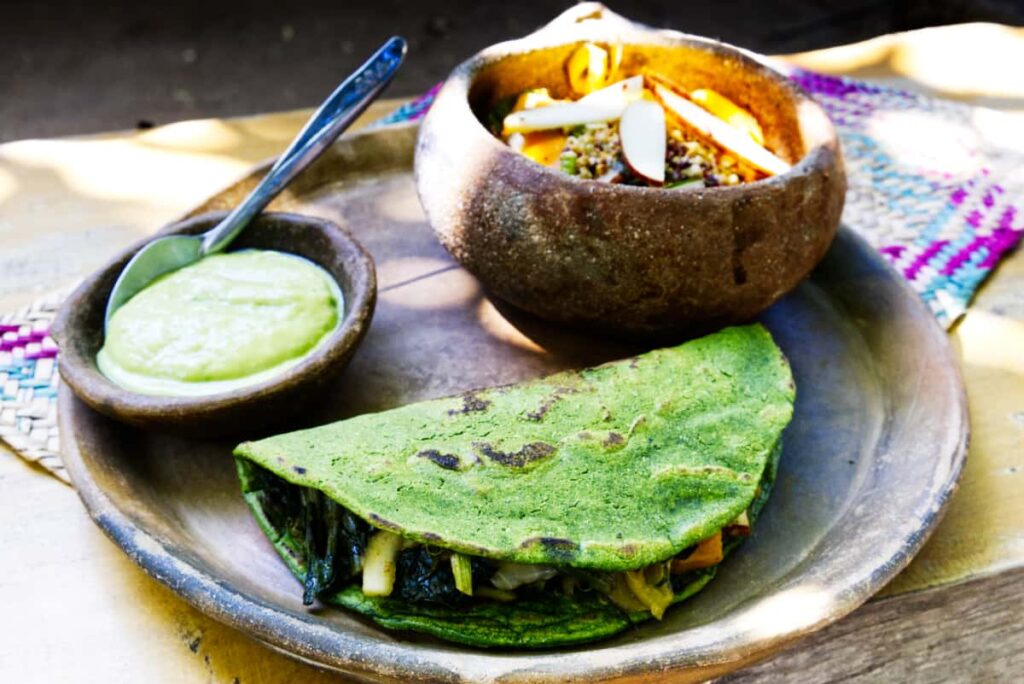 The small menu features tortas and tacos with heavy use of mushrooms, beans, and vegetables. The menu may be small but the large plates are full of vegetables and served with a side salad.
The mushroom taco with sauteed vegetables is stuffed inside a bright green, homemade spinach tortilla. The salad had long thin strips of carrot, thinly cut lettuce, and apple slices. The salad tasted as though it was marinating in the dressing before being served. This made it especially tasty.
Even if you aren't vegetarian, this restaurant is a must for healthy food in Puerto.
16. Chili Garden – Asian Food in Puerto Escondido
$$$ | View Location
Chili Garden is hands down some of the best Asian food I've had in Mexico. A sign on the door mysteriously asks you to ring the doorbell. So I did. A moment later one of the servers appeared and asked in English if I had a reservation.
"Oops, do I need one?" I replied.
A reservation is recommended for groups. Luckily it was early and I was just one person.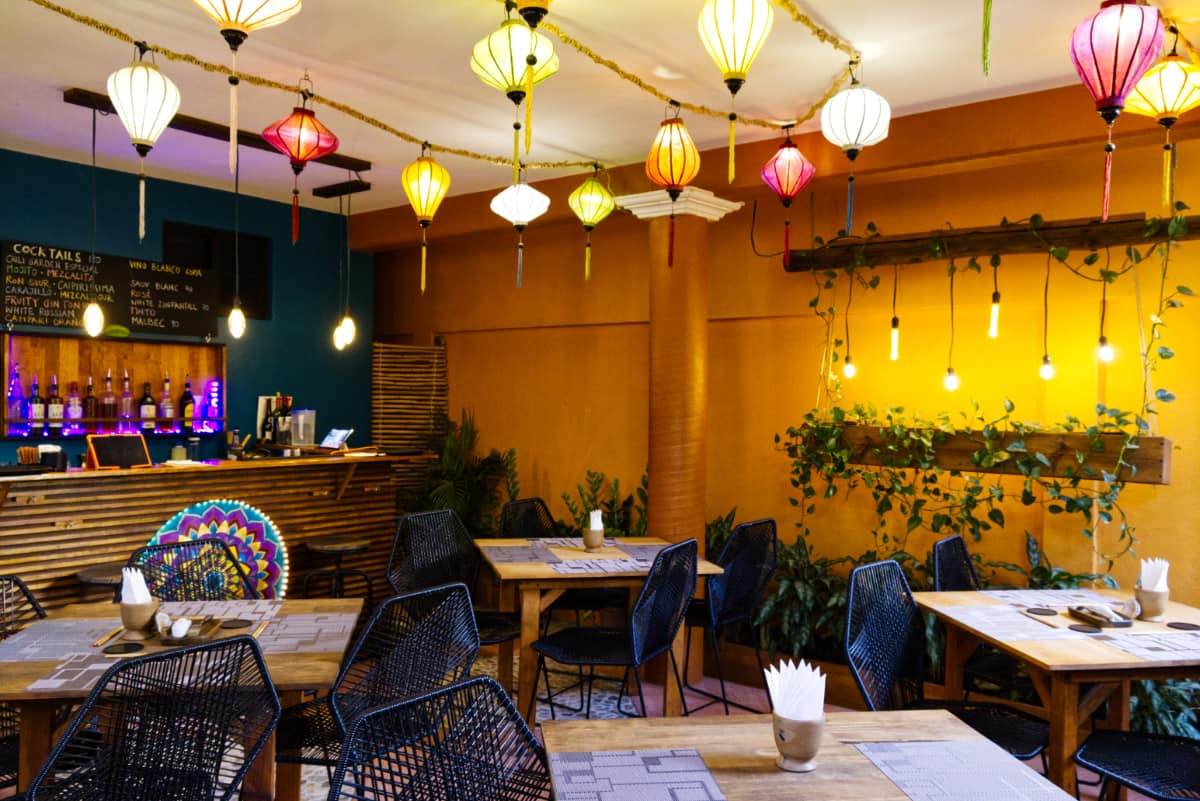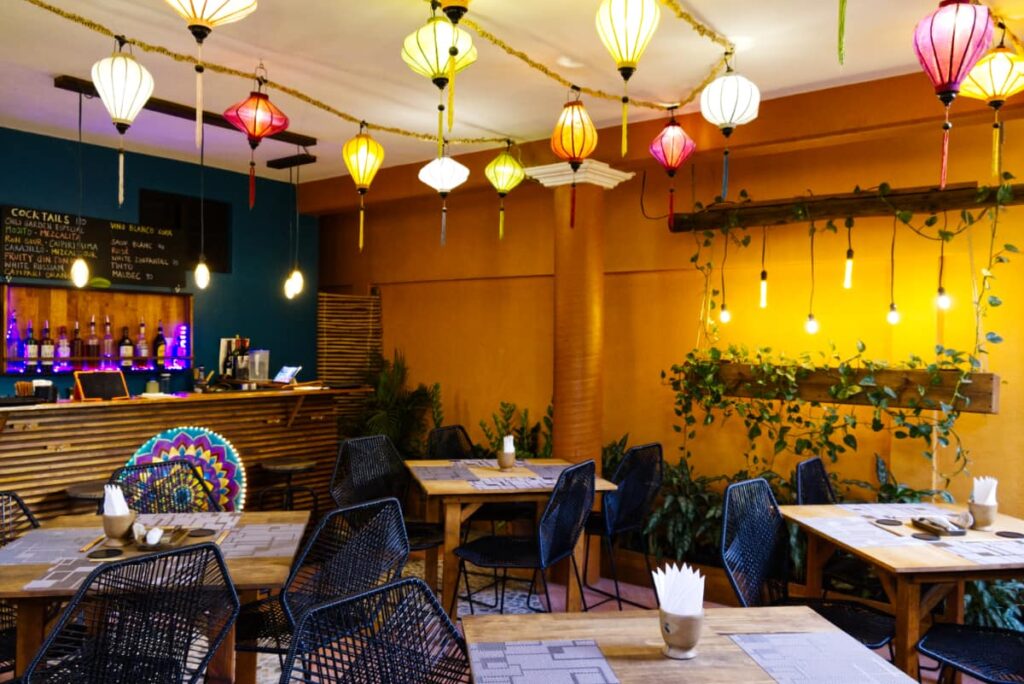 As I walked through the doorway, the colorful lanterns hanging overhead transported me to a little bit of Asia, with an experimental atmosphere, if you will.
The menu is impressive. It manages to incorporate a variety of Asian dishes in one place.
Vietnamese, Thai, Indonesian, Indian, Korean cuisine are all represented. The flavors marvelously continue on the back of the menu with a list of various sauces to add to your meal.
There are some classic dishes, such as butter chicken, pad thai, phó, green papaya salad, and Korean BBQ. In addition, vegetarians will be satisfied with the option to use tempeh in many of the dishes.
Since I was trying desperately not to order my usual pad thai, I decided on one of the house specialties, Nasi Uduk. It was described as an Indonesian-spiced coconut rice dish with caramelized tempeh, egg, chicken satay, beef, and fried onions.
It's probably not the best choice unless you're looking for more of a sampler platter. On the other hand, I can now tell you that the chicken satay is tender, the beef is flavorful, and the tempeh is real. Like really homemade, fermented soybeans.
But I regret not ordering the BBQ pork noodles as an alternative to pad thai. The multiple variations of curry were also calling my name. However, the food is so good that before I left, I was already contemplating when I could return.
Visiting Oaxaca City next? Check out my picks for the best restaurants in Oaxaca.
17. Non Solo Pizza
$$ | View Location
The menu at Non Solo Pizza is authentically Italian with more pizza and pasta dishes than I could count. The specialty handmade pasta – tagliolini, tagliatelle, gnocchi, ravioli, and cannelloni is available in a variety of sauces.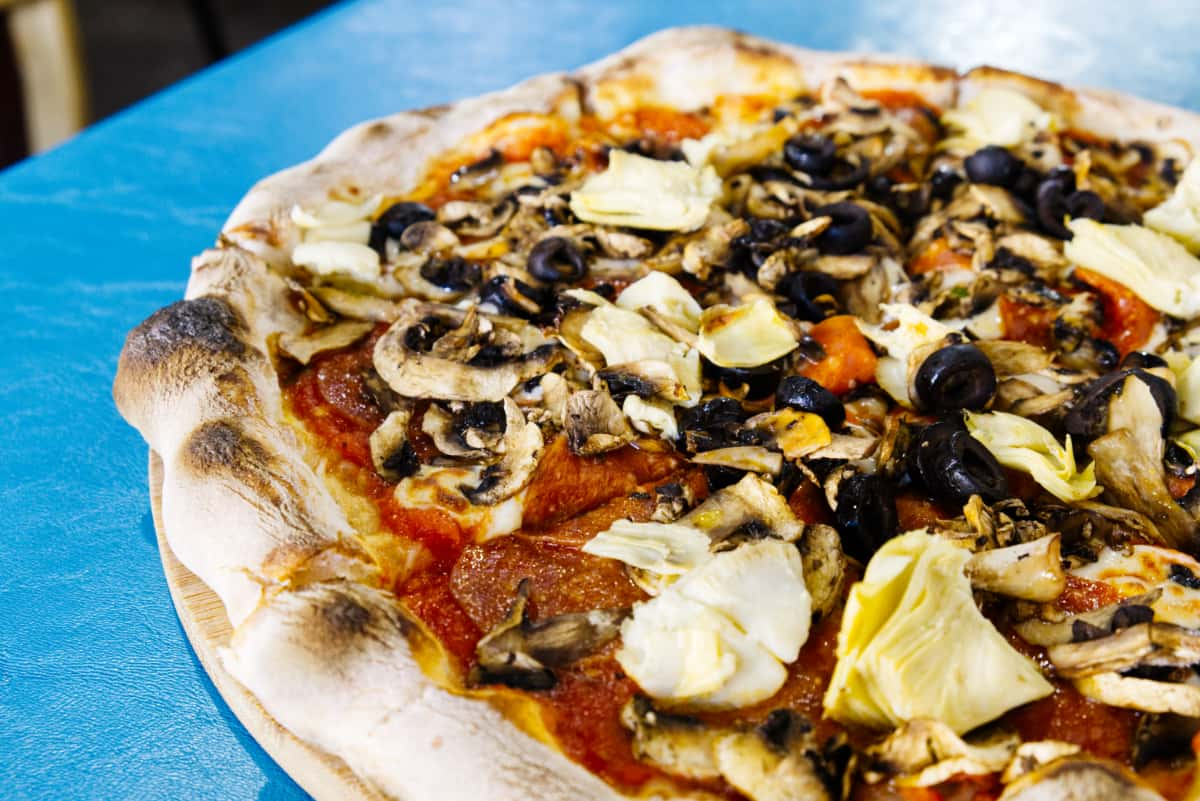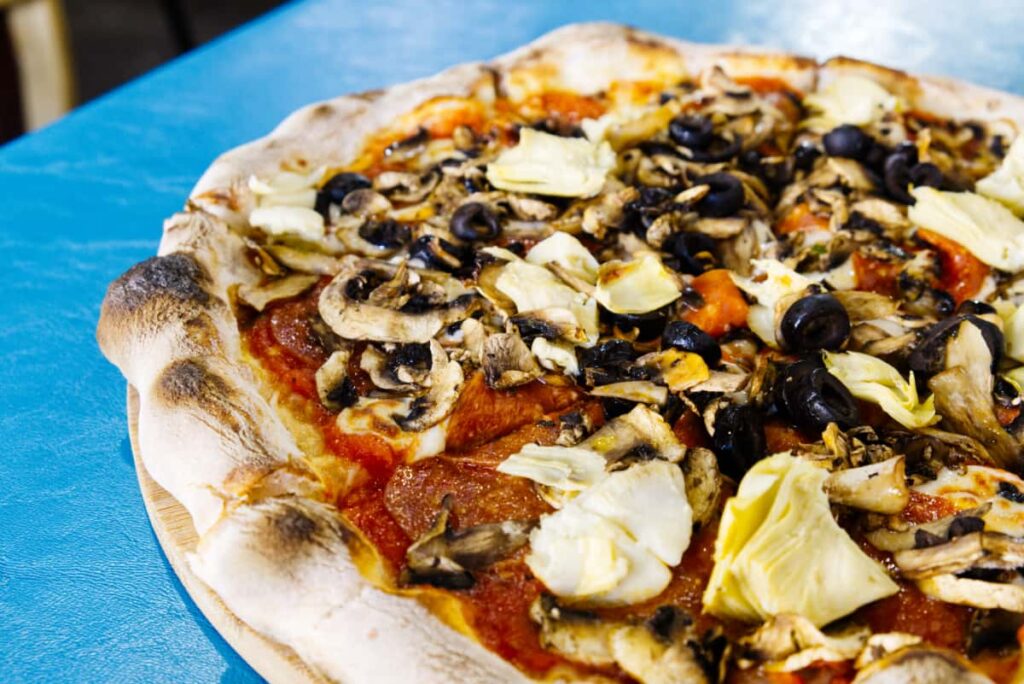 And the pizza.
Well, a restauranteur told me this is the best pizza in Puerto Escondido. And I believe him! The crust was thin and perfectly baked. Keep in mind, pasta is available all day but the pizza is only available after 4 pm.
They also offer a menu del día until 5 pm. It includes soup, entree, fruit water, and bread for 150 pesos. Not the least expensive menu del día, but I'd be willing to bet it's fabulous!
18. Leños & Carbón Barbecue Puerto Escondido Parilla
$ | View Location
As I was walking towards Leños & Carbón Barbecue, the smell of burning wood permeated the air and lead me the rest of the way.
This Puerto Escondido restaurant is only open on the weekends and serves just two things. Saturdays are reserved for succulent ribs and baked potatoes while Sundays feature barbacoa de borrego, or lamb).
When I arrived, a few men were sitting around a table laughing and answering multiple phone calls for orders of lamb barbacoa, which I took as a good sign.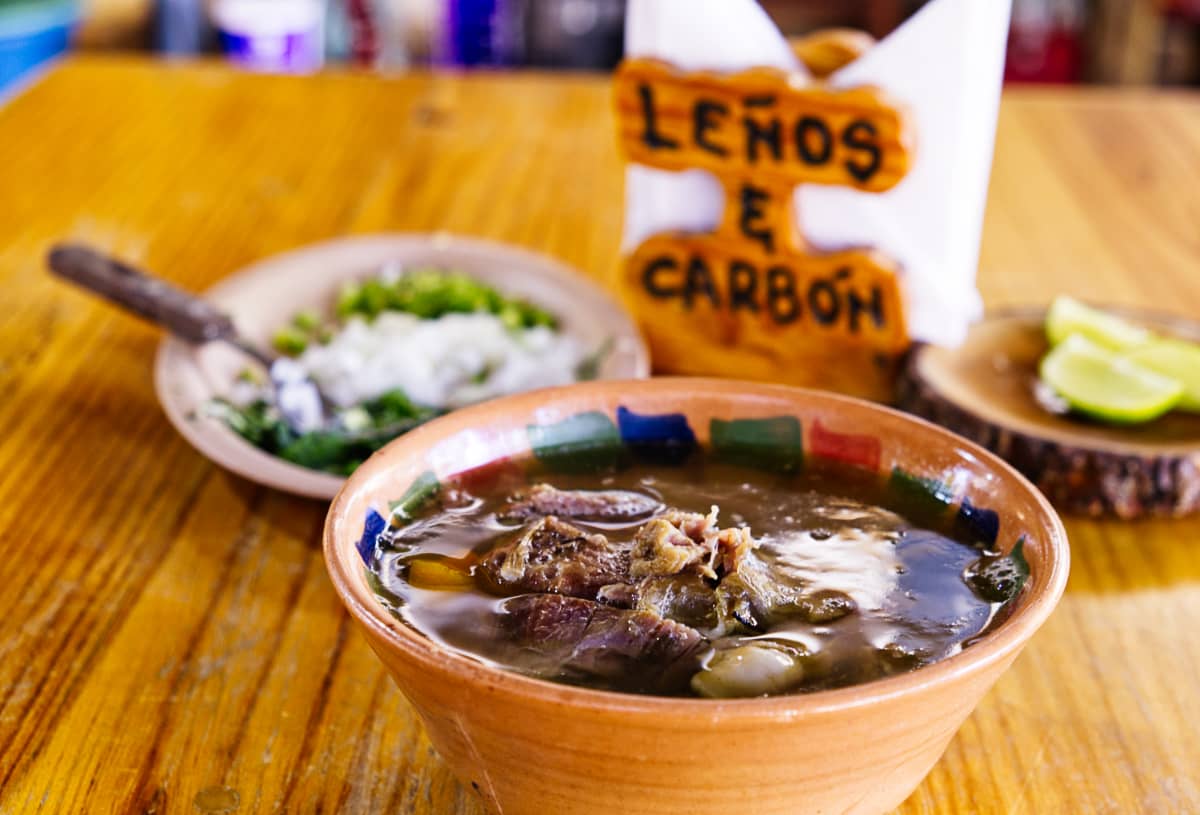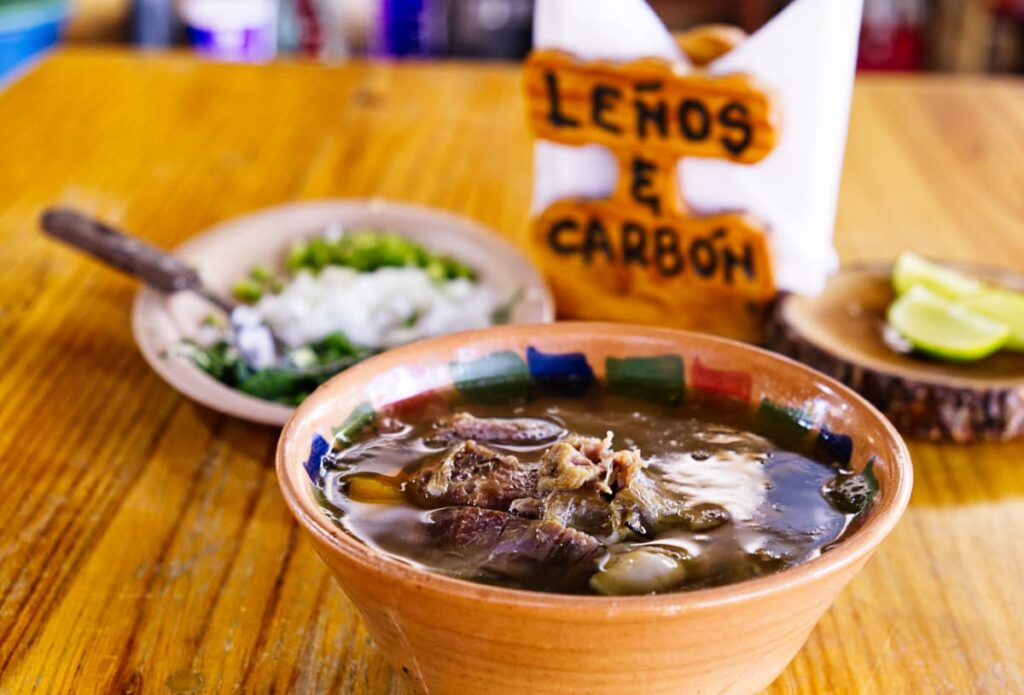 I came in search of barbacoa since it's often a Sunday tradition for me while living in Oaxaca City. The bowl of consume had lots of meaty, tender lamb and I enjoyed the carrots, potatoes, and occasional chickpea. I found the broth to be a little basic though heightened with the addition of lime, onion, and jalapeno.
If you're looking to eat something different yet traditional, Leños & Carbón Barbecue is a solid option. Although you may want to continue with seafood by the coast and save your lamb cravings to try some of the best barbacoa in Oaxaca City.
Tip – This ribs and barbacoa restaurant is only open Saturdays and Sundays. And while the hours are listed until 10 pm, they told me the barbacoa usually runs out by 1 and the ribs by 2 or 3. It's best to go for a late breakfast or early lunch.
19. Antojitos Regionales Las Juquileñas
$ | View Location
As the name suggests, this is a traditional Oaxacan restaurant to enjoy breakfast, lunch, or a quick snack. Long wooden tables line the corridor under colorful paper cut-out decorations that flutter under the welcome breeze of the ceiling fans.
An army of cooks is deployed in the kitchen. They tend to the comal, a round flat metal cooking surface that is ubiquitous in Oaxacan cooking, as well as a grill, and various pots of stews.
If you have yet to try mole amarillo (with chicken) you should definitely order the empanada here. A quick note, Oaxacan empanadas are more like a quesadilla although they don't always contain cheese. They aren't fried or baked but rather heated on the comal.
The mole amarillo (which is more of an orange than yellow color by the way) is incredibly flavorful with a subtle spiciness. In Oaxaca City, they are large but I've noticed along the coast the empanadas are smaller.
So I recommend ordering at least two different kinds to try. I also asked for a mushroom and chorizo empanada (mixto) with cheese which was fabulous with the added salsa on the table.
20. La Parrilla Mixteca (Tacos)
$ | View Location
Inside, this Puerto Escondido restaurant, ceiling fans whip the air through the open dining area like a refreshing ocean breeze. Outside, a single man tends to the rotating spit of pastor.
He continuously trims the meat with a large knife, only taking a break to add another round of pineapple to the top. As a result, the pastor tacos are fresh, fast, and when I was there, beautifully marbled with fat.
This is a no-frills kind of place that features pastor tacos, tlyaudas, and several "specialties" that mix different meats with cheese and sometimes vegetables (tortillas on the side of course).
If you're looking for cheap tacos in Puerto Escondido, La Parrilla Mixteca is a great spot in the heart of downtown.
Read Next – My picks for the best hostels in Puerto Escondido whether you want to party, surf, or chill by the beach.
21. Street Food for Cheap Tacos
$ | View Location
Another option for tacos is this street in Centro. Several taco stands are set up here in the evenings.
A fellow traveler at my hostel recommended we go by after venturing out to watch the sunset one evening. He prefers the last stand because he thinks the meat looks best and they have plates of five tacos for 50 pesos.
Not being one to order five of the same type of taco, I questioned if I could order individual tacos. We were both surprised to discover that you can order a mixed plate at the same price. So basically 10 pesos per taco, which is a good value in Puerto Escondido.
The choices are typical of Mexico – barbacoa, bistec, suadero, etc. And honestly, if you're tired of eating fish or simply looking for cheap tacos, this is one of your best bets near the city center.
Best Restaurants in Zicatela
Zicatela is full of beach bars that tend to serve mediocre food at inflated prices. But I did find a beach restaurant with a fabulous sunset view and the freshest sashimi in Puerto Escondido.
Plus, once you get a few blocks from the beach there are some really good restaurants in Zicatela, many of which are featured below.
22. Tistal Cocina Traditional
$ | View Location
I highly recommend having breakfast at this traditional Oaxacan restaurant. From the beach, follow the road toward the highway. There is a steep set of steps to climb at the end. But it's totally worth it for the ocean views from the balcony seating.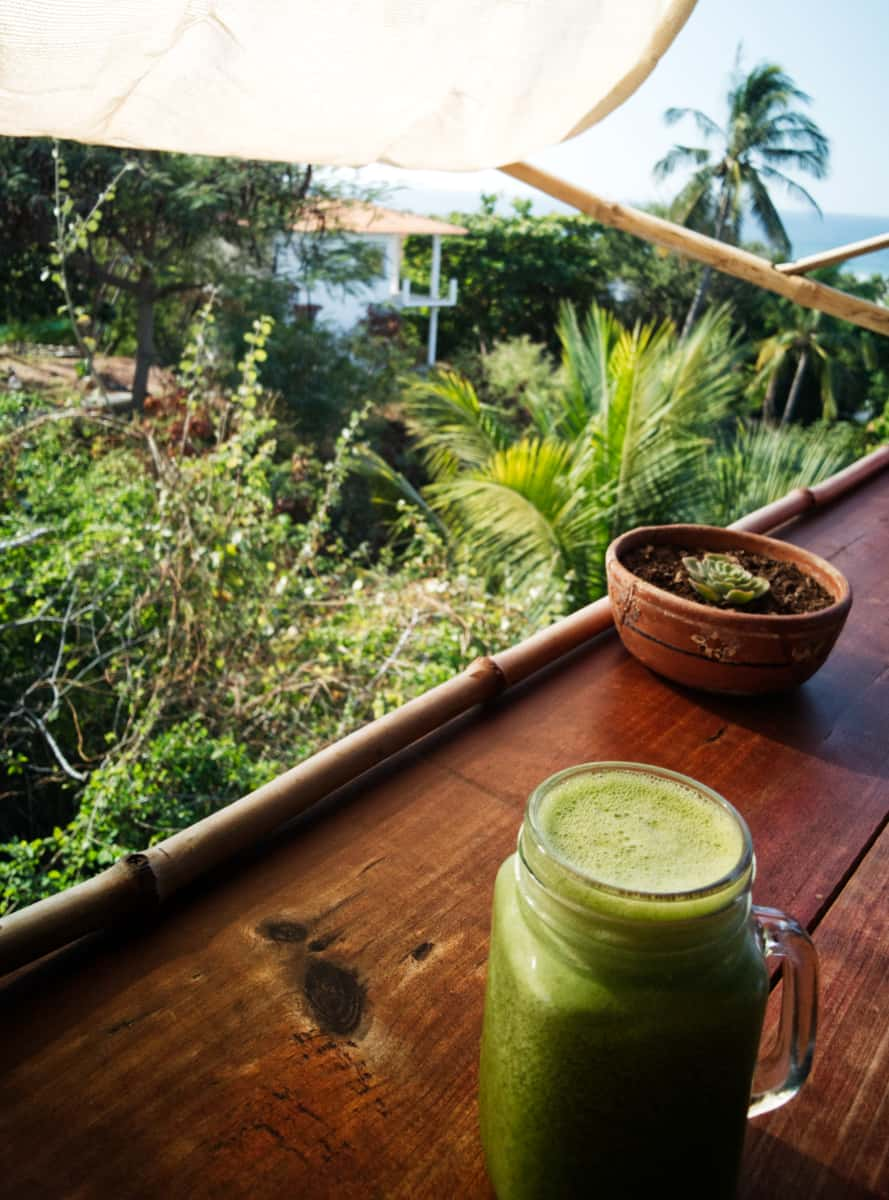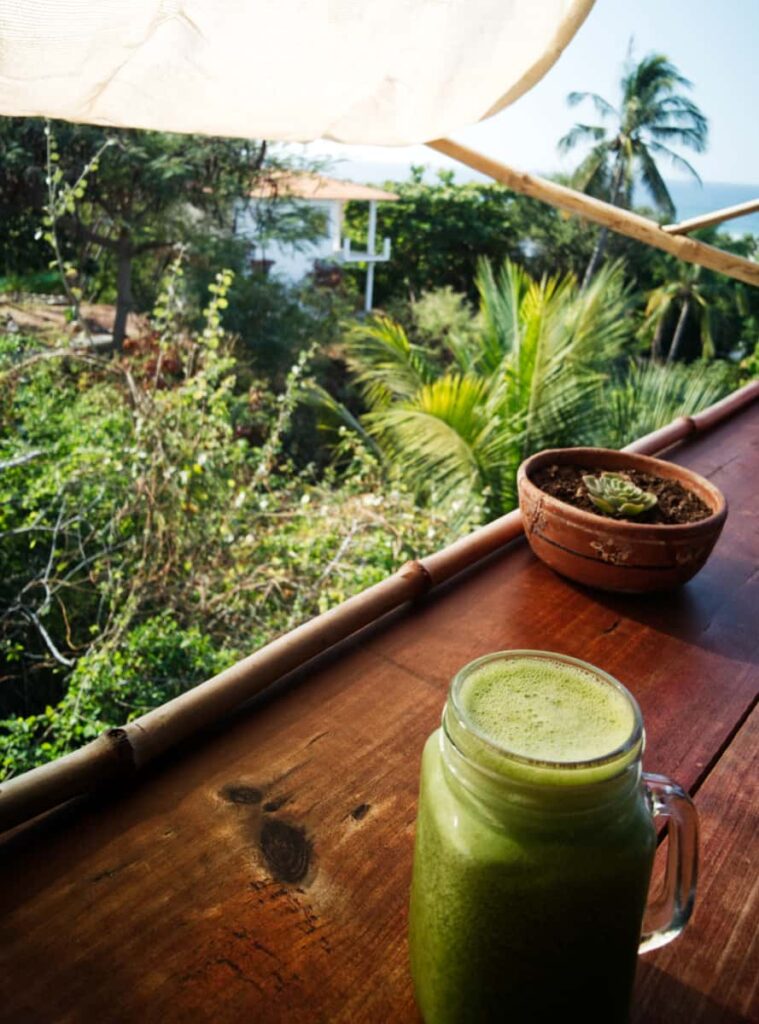 And for the food of course! This is one of the best places to eat in Puerto Escondido.
As you walk up, you'll see several women – some making tortillas and others tending to the comal. It's exactly what you'd expect at a traditional restaurant in Oaxaca.
The menu includes various plates of eggs as you wish, empanadas, chilaquiles, tlayudas, and more. To drink there are fresh juices, smoothies, coffee, and hot chocolate. The food is delicious and the prices are super reasonable.
And I have to add, the service was fast and on point, which is sometimes hard to find at a restaurant in Puerto Escondido.
23. Taqueria Los Molcas
$ | View Location
For over 50 years, this restaurant has been serving some of the best tacos in Puerto Escondido. They are authentic, cheap, and tasty and all the better washed down with a cold beer or one of their fruit waters.
While Taqueria Los Molcas is best known for tacos al pastor, they also have chorizo, bistec, chuleta, arrachera, and others. They also have interesting vegan and vegetarian taco options that use mushrooms, nopal cactus, onion, and pineapple.
Keep in mind like most taco places, Taqueria Los Molcas opens at night and stays open until 1 am.
24. Zicachela
$ | View Location
Zicachela serves tacos, wings, and burgers with mezcal and chelas (beers) to wash it down in a chill atmosphere located just above the highway in Zicatela.
Mondays are the busiest since it's the only night they offer suadero tacos. The slow-cooked, tender meat is stuffed into corn tortillas and topped with onion, cilantro, and crunchy homemade potato sticks.
While Zicachela may be highly regarded for their suadero tacos, you really can't go wrong with anything on the menu. The burgers are incredibly flavorful and the optional fries are perfectly cooked which is often rare in Mexico.
25. Mariinera
$$ | View Location
This is one of the best restaurants in Zicatela on the beach. Come here for fresh fish and sunset views. Choose to sit at one of the shaded wooden tables or lounge in the hammocks suspended between palm trees.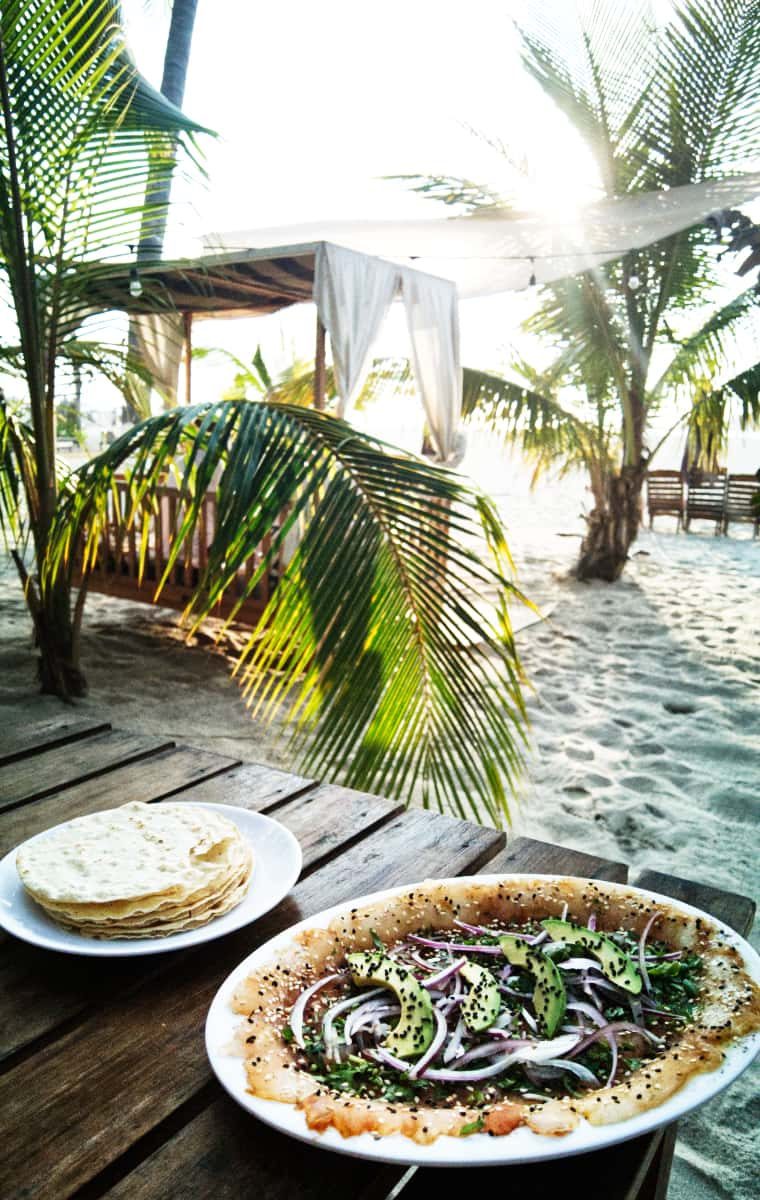 Mariinera is known for serving fresh seafood sashimi and tostadas. And if you're only looking for a quick snack, the tostadas are available to order individually.
The price for a large plate of sashimi depends on the type of fish you order. I opted for dorado, or mahi-mahi, which seems to be the main type of fish served in Puerto Escondido.
Tostadas similarly vary in price based on the type of seafood. The options include marinated fish, shrimp, octopus, mixed, and options of the same prepared in a curry. The margarita was decent and the beer was cold.
26. Mercado de Zicatela
$$ | View Location
Zicatela Market is a relatively new mercado with a sweeping view of Playa Zicatela. And while the market resembles a traditional Mexican market, it's also a haven for some of the best restaurants in Zicatela.
International restaurants include Restaurant Da Marco for homemade Italian pasta, La Gitana for paella and other Spanish specialties, Restaurante y Pizzería Juliana for pizza, and Bistrot du Marché for rich French food.
In addition, Casa Naranja serves Mexican classics, VéGe Express serves vegan and vegetarian tacos, and you can't miss the fresh croissants at Panaderia Marcelo.
27. OCHO
$$ | View Location
This seafood restaurant in Zicatela is a welcome relief in an area full of overpriced beach bars serving mostly mediocre food in Puerto Escondido.
The focus at OCHO is fresh seafood whether served as aguachile, ceviche, or in tacos.
They also have an array of mezcal and beers, including some craft Mexican beers. The incredibly refreshing cucumber mezcal cocktail with lime is also a favorite.
Best Restaurants in La Punta Puerto Escondido
This is one of the most expensive areas in Puerto Escondido. And that seems to transfer to the restaurants in La Punta as well.
It's also where you'll find the most international restaurants, which inherently tend to be more expensive in Mexico. Nonetheless, my tastebuds were happy for a change of pace as I sought out Thai, Vietnamese, and Korean food.
I highly recommend you choose where you want to go ahead of time and arrive soon after sunset. At this time, everyone seems to exit the beach and flood the restaurants.
28. Fish Shack La Punta
$$ | View Location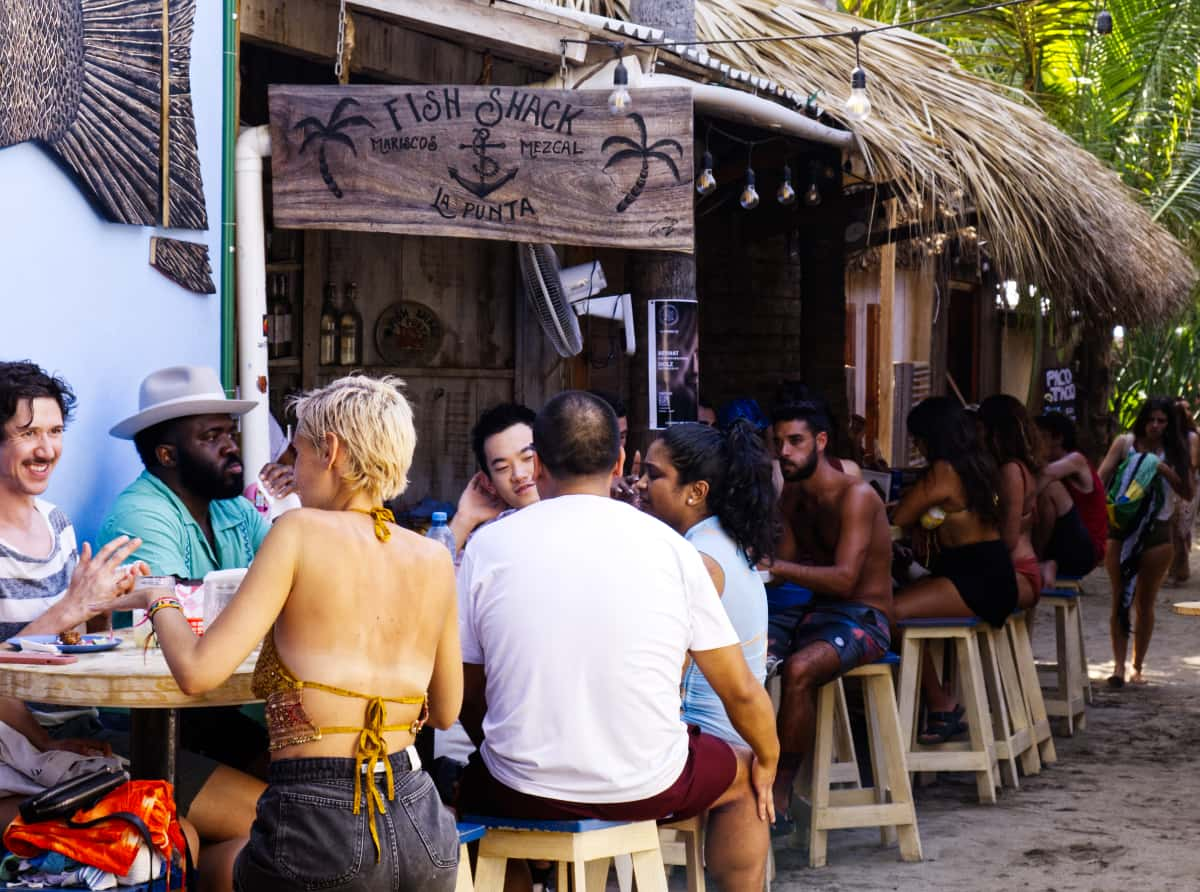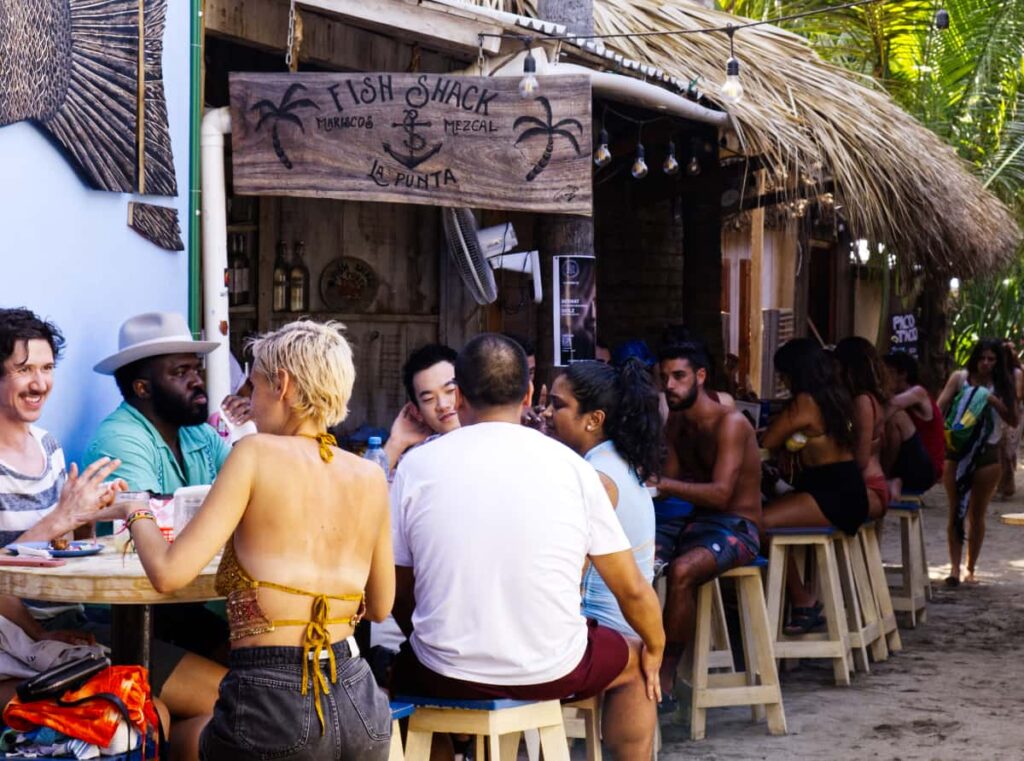 This is a proper fish shack located on one of La Punta's narrow alleys that lead toward the beach. Two long community tables and several smaller tables line the corridor just outside. Place your order at the cash register and then listen for your name as the servers bring out food and drinks.
I questioned the owner about why he has a po-boy on the menu (and more specifically what type of bread they use). He told me that he knew he wanted to open a fish shack. And well, you can't have a fish shack without a po-boy.
By the way, he told me they use a baguette (as they should). The bread of the fish sandwich was so good (soft and slightly sweet). I can only imagine it's a killer fried shrimp po-boy.
The southerner in me can tell you, they do know how to properly fry. The girl to my right was served perfectly crispy fish bites and french fries. I literally heard them crunch when she bit into them.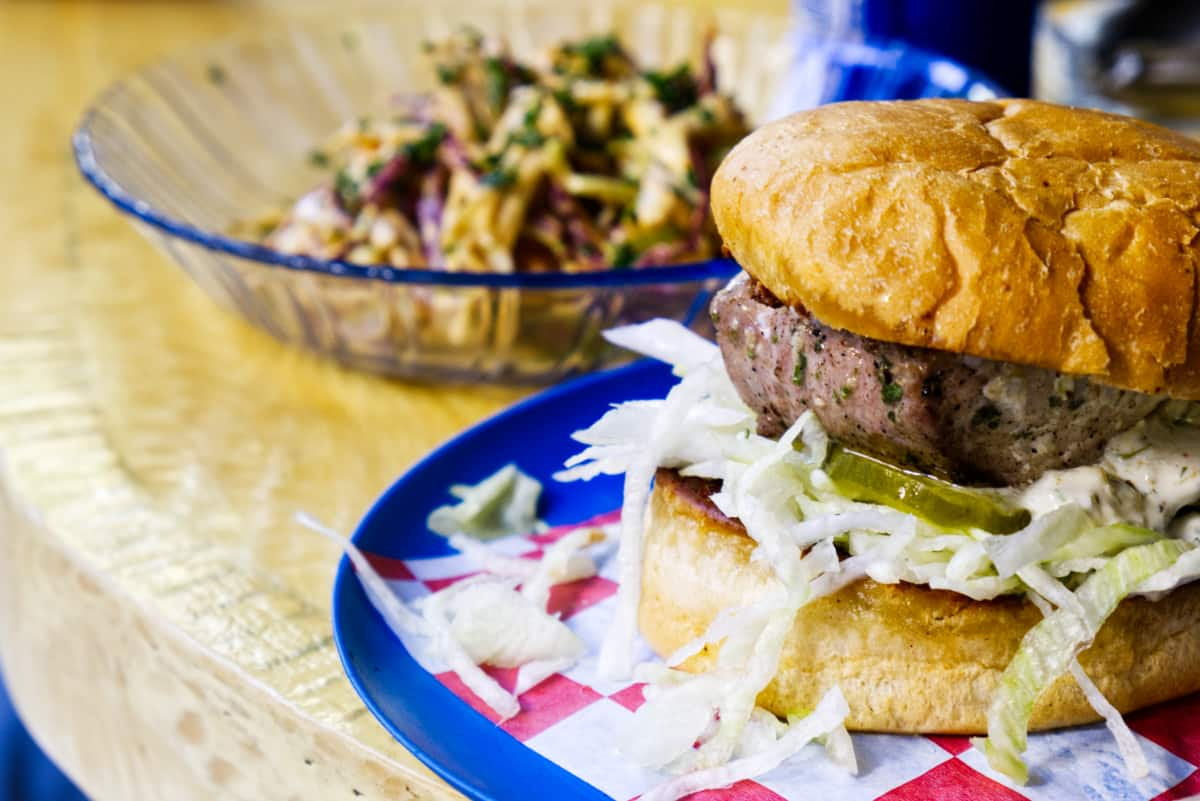 However, I highly recommend ordering the grilled fish sandwich. The grilled fish filet was thick and juicy, layered on a mixture of shredded iceberg and cabbage with pickles and a serrano tartar sauce.
This restaurant is known for fish. But vegetarians will be happy to see (fried) veggie baskets as well as a cauliflower taco on the menu.
Check their Facebook page for their weekly specials Tuesdays-Thursdays as well as their different weekend offerings (hint, the Sunday brunch menu includes fried chicken and waffles).
29. Chilango Taco
$ | View Location
As soon as you walk up to this taco restaurant, you can feel the passion of the chef and owner as he mans the grill just outside the front door.
Inside, his wife takes care of the customers. She answers questions about the menu, promptly takes orders, and keeps the cold beers flowing.
I originally decided to come here for cheap tacos. But after seeing the menu, I was swayed into ordering one of their house specialties. The nopal special includes your meat of choice, cactus, avocado, and tomato.
It was definitely intriguing because, you know, vegetables. But I decided on Mixteca because I'm a sucker for pineapple. And I believe these house specials are where they shine.
The passion I saw when I arrived came through in the flavors of the meat, onion, and pineapple which seamlessly blended together (no doubt helped by the stringy quesillo). If you're looking for delicious and cheap food in La Punta, Chilango Taco is your spot.
30. Mictlan Antojitos Veganos
$ | View Location
Located within El Árbol, one of the most enchanting food courts in La Punta, Mictlan takes classic Mexican dishes and puts a vegan spin on them.
I love when a vegan restaurant does this in an inspiring way, such as creating a carrot tinga or mushroom chicharron. As a result, I think this is some of the most interesting vegan food in Puerto Escondido.
The menu features guisados, which are an incredibly flavorful mix of ingredients cooked together and added to various corn bases. In this case, you can add your own to create a taco or choose from one of their creative dishes.
31. Wang-tta 왕따
$$ | View Location
Just when you thought La Punta restaurants couldn't become any more international, here comes Wang-tta bringing Korean food to Puerto Escondido.
Located inside of Food Market, one of a handful of food courts in La Punta, this Korean restaurant serves the classics you'd expect such as bibimbap, Korean ribs, dumplings, kimchi, and more.
Sammy, a Korean-American, explained to me that his mother taught him how to make kimchi and other dishes. And after tasting other kimchi being sold in Oaxaca, he felt inspired to bring the real flavors of Korea to La Punta.
I have to agree, this is the most authentic kimchi I've found while living in Oaxaca. It's so good, I purchased a container to take home and tried to express to Sammy that his kimchi would be very welcomed in Oaxaca City as well.
As a dining bonus, the food court bar runs a consistent special of 2 for 1 cocktails as well as a mezcal plus beer promo which is classic Oaxaca.
32. Sommo | Japanese Sushi in Puerto Escondido
$$$ | View Location
If you're craving traditional Japanese sushi, you should dine at Sommo in La Punta, Puerto Escondido. Their specialty is the long list of nigiri available to order by the piece or as several pre-selected combinations.
They also have tiraditos and sashimi, sushi rolls, rice bowls, and more. Or their omakase experience allows the chef to choose your sushi creations.
In addition to creating some of the best sushi in Puerto Escondido, Sommo serves sake and handcrafted cocktails, which is exactly what you would expect at this fine dining restaurant.
33. Nu'ó'c Sabor Vietnamita
$$ | View Location
The small menu at Nu'ó'c includes Vietnamese classics like spring rolls, banh mi, and of course Pho. Most dishes can be ordered vegetarian since each has the option of soy meat, tofu, or chicken.
I ordered the tofu lettuce wraps filled with carrots, cucumber, rice noodles, and mint, served with a side of peanut sauce. The marinated tofu was well-seasoned and cooked perfectly.
Reviews also rave about the Pho which looked to be a large bowl of deliciousness.
The half palapa, half tree-shaded open seating with a sand floor and modern lighting creates an inviting dining space along the main strip.
And the happy hour (5-8 pm) features margaritas, mojitos, and glasses of wine for 50 pesos as well as 20 peso beers. A great deal among the elevated prices at most restaurants in La Punta.
34. Chicama Peruvian Food & Bar
$$ | View Location
Chicama is one of the most popular restaurants in La Punta. And I would argue it's for good reason – mainly their delicious seafood creations and Peruvian ceviche.
Although it doesn't stop there. Chicama also has a lively atmosphere and tasty cocktails including a Peruvian classic, the pisco sour.
If you want to continue eating seafood in Puerto but change up the flavors a bit, I highly recommend dining at Chicama.
35. Thai Food + More
$$ | View Locations
This restaurant is part of El Arbol, an outdoor food court with an enchanting atmosphere. Individual palapa stands line the wall, each offering a different cuisine – seafood tacos, sushi, French food, and obviously Thai food.
A single window in the building along the back serves as the bar for the entire place. They have mezcal, beer, and a large selection of liquors.
My suggestion? Go early.
Impressively, they cook all of the hot dishes using a single wok. So, when I arrived an hour into dinner service (8 pm) on a Tuesday, they weren't taking more orders at the moment. They offered to make my order in 30 minutes, for which I was willing to wait.
She also informed me they were starting to run out of some dishes. So I asked if they still had green papaya salad, a dish I was delighted to find in Mexico. Since it's a cold dish, she informed me they could make it right away.
The papaya salad seemed to lack the spicy Thai pepper. But I can say this kitchen creates fairly authentic Thai food.
Well, that rounds out this exhausting list of the best restaurants in Puerto Escondido. Let me know your favorite restaurants in the comments!