A Traditional Día de Muertos in Atzompa with Coyote Aventuras
I was given the opportunity to experience this tour in exchange for this article. However, all opinions are my own. For full information, please see my disclaimer here.
Like the spirits in the night, we're guided by the cempasúchil flowers along a path that leads us to the most mesmerizing altar I've ever seen.
We're at the house of Paco and his family, who are one of several clay artisans in Atzompa. We've been invited to participate in a traditional Día de Muertos celebration with Coyote Aventuras.
Placed among the altar's multiple levels are handmade clay vessels, at least one of which takes the form of a pre-Hispanic god. As copal burns inside several of the containers, I can feel the energy that is evolving around us. This altar feels alive.
The copal smoke flows down, past the vessel and glides over the flower petals, the cacao, and maize to greet us with its heavenly scent.
Carlos of Coyote Aventuras introduces us to Paco and his wife, Arely. And then Paco's daughter, Keren, appears at the top of the steps.
Her face is painted for the Muertos celebration and a headband of marigold flowers frames her face. The bright yellow color of the flowers perfectly matches her skirt. As she descends down the stairs, everyone is captivated by her presence.
And that's when I knew we were about to spend an unforgettable evening with an extraordinary family.
If you're visiting for Oaxaca's Day of the Dead festival, don't miss my complete guide with itinerary.
Atzompa Día de Muertos Rituals
To start the celebration, we participate in a ritual cleansing using copal, which is typical to do before entering one's home during Muertos. I hold out my arms and as Keren passes the vessel of burning copal in front of my body, the intoxicating smell of copal again permeates my nose.
I close my eyes and try to absorb her calming energy. She completes a pass along the back of my body, asks me to turn around again, and finishes by saying, "From your heart to your mine. Ometéotl."
This is an interesting read about Ometéotl. It was considered the god of duality, though the origins of that concept are sometimes debated. Regardless, it's a word I became familiar with while participating in many traditional temazcal ceremonies in Oaxaca.
Next, we gather in a circle and give our attention to each of the four directions which correspond as well to the four elements of fire, water, earth, and air.
It's also a moment of reflection and a reminder not to forget the purpose of this celebration – to welcome and be with your loved ones that are no longer physically on this earth.
What to Expect From this Día de Muertos Experience
As a culturally responsible tour operator in Oaxaca, Coyote Aventuras is one of the top choices for an authentic Day of the Dead experience. Their commitment to the community and traditions of Oaxaca is evident in each tour they curate.
In addition, I value their commitment to sustainability. One of their objectives is "no trace left behind." And a perfect example of this is the provided drinking water for all of their tours. They encourage you to refill your own containers, but they have glass bottles available if you do not have your own water bottle.
For this Aztompa Día de Muertos event, you'll meet at the centrally located Coyote Aventuras office around 3 pm on October 31st. There your transportation will be waiting to drive you approximately 45 minutes to the town of Atzompa.
Included in this magical experience are dinner, beer, and of course, mezcal. Be sure to bring a jacket as Oaxaca and the surrounding areas cool down significantly after the sun goes down. Expect to return to Oaxaca City just before midnight.
Why Experience Day of the Dead in Atzompa?
Santa Maria Atzompa is a Zapotec village located close to Monte Alban. This area has its own archeological site and was also considered sacred by the Zapotecs. Today Aztompa is known for handmade clay pieces using a traditional green glaze.
It's the perfect location for an intimate day of the dead celebration with a family of artisans.
Carlos explained to us that many of the Day of the Dead traditions in Oaxaca are more associated with Catholicism. Coyote Aventuras created this Día de Muertos experience with Paco and his family because they are still connected to pre-Hispanic philosophy.
To start, Paco's family honors Mother Earth every day when they work with the clay. In addition, they profoundly believe in the ancient gods, both Aztec and Zapotec. And they are focused on connecting with their tradition and lineage.
What is Day of the Dead?
Celebrating Day of the Dead is not about DJs, music, parties, parades, or the painting of faces. It's more intimate than that.
As Carlos explains, "What's happening right now in terms of energies is that a portal just opened. And it's open right now, the souls are visiting. So we don't want to go out to listen to a DJ from Belgium. We are here to spend time with our loved ones."
"It's also a good time also to celebrate life," He continues. "Because how we understand death is completely different from the rest of the world."
Día de los Muertos Altar
We are encouraged to have a moment of introspection while we make our own contributions to the altar. Before we arrived at Paco's house, we were given various flowers and small paper bags of cacao, maize, copal, and tobacco.
Using the contrasting colors of the cacao and maize, we each create pleasing patterns in hopes that they will lure the spirits to the altar. The marigold flower petals add a bright splash of color which along with their distinct aroma is also thought to help guide the spirits to the ofrenda.
Día de Muertos Dinner
As we enter the home of Paco, I'm mesmerized again. This time by the Zapotec depictions that adorn the ceiling and frame the home's arched doorways.
We're then led to the upper courtyard with stunning nighttime views overlooking the city of Oaxaca. With the city lights twinkling below, we toast a taste of mezcal and savor the moment.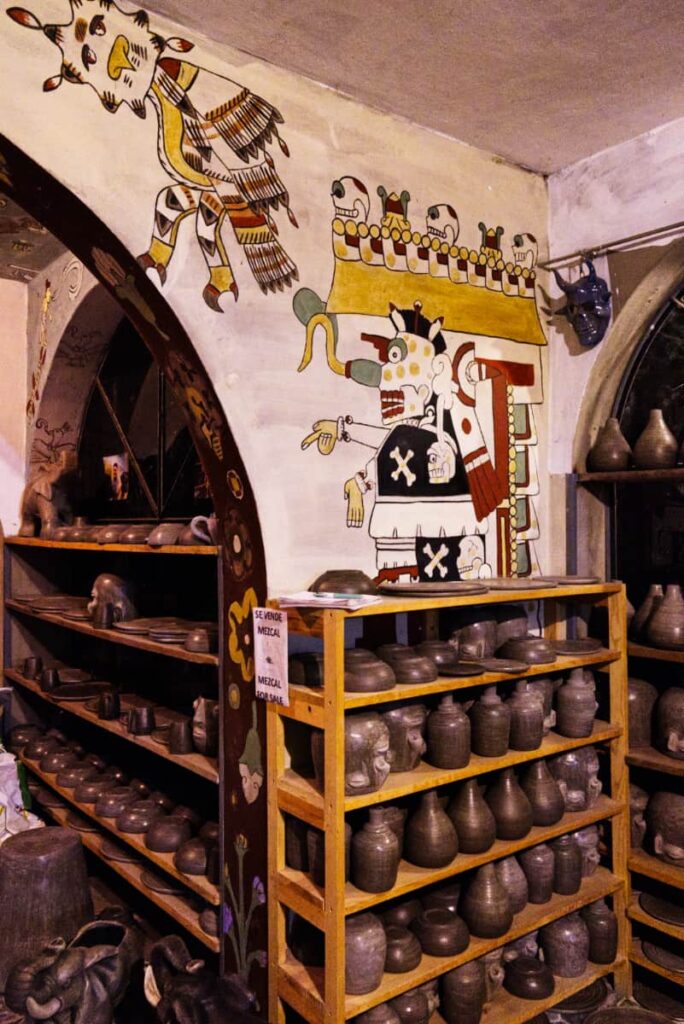 At the tables, each place is set with a large round plate. I assume they are our dinner plates until I discovered the bags of raw clay on the table.
With Paco by our side, we all delve into the clay and our own creativity. The latter of which is spurred by each sip of mezcal and conversation.
Then Paco brings out an incense vessel he's been working on and sits down to start working beside us. As we finish up our pieces, talk about dinner begins.
It's typical during Muertos, to start with a cup of hot drinking chocolate and bread. While we're enjoying the rich beverage, the conversation continues to flow and it feels as though we're at a party more than attending a guided tour.
The main course is the most delicious mole negro I've ever had. Even in many of Oaxaca's best restaurants, the flavor of mole negro is too sweet for me. But the mole Paco's wife prepared is more earthy, with a base of richness I can't describe.
Dinner turns into dancing in front of the altar. And during this moment, Paco's youngest daughter comes alive, twirling in place with a large smile on her face.
Conclusion of This Authentic Experience
After dinner, dancing, and some pottery shopping, we say our many thanks to Paco and his family for the hospitality.
We drive several minutes into the town of Atzompa and the home of Paco's mother. She graciously opens her doors for us to view her altar.
This entire Day of the Dead experience was magical. It truly felt more like hanging out with friends and family than an organized tour.

We could not have asked for better hosts than Paco and his family. It was an honor to experience such an intimate evening with them. I highly suggest you book with Coyote Aventuras as soon as you start planning your Día de Muertos trip.